Most people with an affinity for the outdoors discover sooner or later that they want to get off the grid and really get out into the wild.
Maybe that means climbing some remote peak, maybe it means backpacking the AT, or maybe it means backcountry bushwhacking. But whatever the objective, if you're spending days (or weeks) out in the backcountry, you've got to haul all of your gear and supplies along with you.
That means you need a pack that can handle heavy loads. And if you don't want your shoulders and back to hate you by the end of your first day, it means you need to find a good one.
Shoulder and back pain was what led me to abandon my old pack and replace it with something much, much better: the Mystery Ranch Glacier. Like many, I was put off at first by its inflated price tag. But after using it to repeatedly lug 60+ pounds up and down a hill for hours on end, I can tell you with confidence that there's a good reason this pack costs what it costs.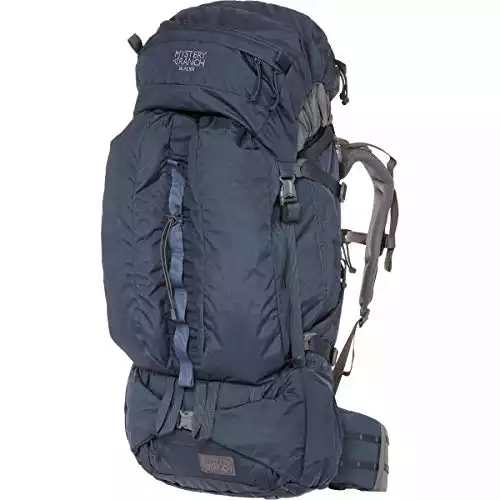 Mystery Ranch Glacier Review
You may not be familiar with the Glacier's maker, Mystery Ranch. But outdoor old-timers will probably recall Dana Design, which was famous for making high-end, bomb-proof, load-haulin' mountain packs before the company got acquired and the brand was shut down. Decades-old Dana Design packs are still floating around on the used market because they were so well built.
The Glacier is essentially a modern reincarnation of Dana Design.
The company was founded by the same guy (Dana Gleason), and its pack designs are in many cases quite similar to old (and battle-tested) Dana Design models. And like Dana Design, Mystery Ranch has quickly built a reputation for quality among those in the know. Its military packs are even used by the US Navy Seals.
Features of the Mystery Ranch Glacier
The Mystery Ranch Glacier is a 70L top-loading backpacking pack. It weighs in at almost six pounds, and sports more or less every feature you could ask for in a pack of its size:
Adjustable yoke for totally customizable fit
Removable pack head with two smaller storage pockets for the gear you need to access quickly
Compression straps on both sides
Ice axe loops
Water bottle pockets
Water bladder pouch
Side access zipper
Bottom access zipper for sleeping bag access
Two large external "torpedo" pockets for stashing additional easy-access gear
Daisy chain for attaching even more to the outside
500D Cordura fabric and beefy YKK zippers
In short, it has pretty much everything.
Mystery Ranch Glacier Features in Action
Of course, all the features in the world can still add up to a bad pack if they're not well implemented, but thankfully that is not a problem for the Mystery Ranch Glacier. It has been really thoughtfully built, and although some users may prefer something a bit more stripped-down, if you're looking for a handle-it-all pack for backcountry trails and mountains, this one is hard to beat.
The pocket configuration, for example, is really well designed. The vast majority of the pack's storage space is in its cavernous main compartment, of course. But the small pockets in the head of the pack give you a great spot for storing small gear you might need quick access to during a hike (map, compass, snacks, spare gloves, etc).
The torpedo pockets on the back are a great place to store any technical gear you might need easy access to (rock climbing shoes, climbing rack, crampons, whatever), or to stuff a few extra layers so you can grab one quickly if it gets cold without having to even open the pack's main compartment.
If you do have to go into that main compartment, though, you still won't need to unpack your stuff, because although the Glacier is top-loading, it features both side and bottom access zippers.
Being able to access your stuff without having a "yard sale" mid-hike is convenient, and it can be a literal lifesaver on steep slopes where anything you're forced to unpack to get at whatever you need is at risk of sliding down the slope and getting lost.
Anything else you need easy access to can be strapped to the outside. Between the daisy chain, the compression straps, additional back straps, and shoulder straps, the water bottle pockets, and the ice ax loops, the Glacier can take whatever you throw at it.
I can get trekking poles, two ice tools, and snow pickets strapped to this thing without even touching the daisy chain or the bottom hip belt strap. It's incredibly versatile, and it's hard to imagine any situation where you might need to bring some gear on a trip that the Glacier couldn't somehow accommodate.
Comfort and Fit
Now that we've loaded and strapped the Glacier with everything under the sun, how does it carry? Amazingly well. Let me put it this way: the first time I ever strapped mine on, I had 60 pounds in it (more weight than I'd previously trained with) and I wanted to do 1,500 feet of elevation gain.
With my previous pack, even that relatively small amount of gain with less weight (50 lbs) was enough to hurt my back and shoulders. But my first day out with the Glacier, despite the heavier weight, I felt great after 1,500 feet – great enough that I just kept going until the park was about to close.
One thing is certain. The Glacier provides excellent lumber support with a smartly designed lumbar pad, in additon to the versatile straps and cinches. Obviously, how comfortable a pack feels depends on getting the right fit, but thanks to the Glacier's velcro-adjustable yoke, getting a perfect fit is easy.
The pack is available in six different sizes for men (XS-XXL) and four for women (XS-L), but once you've picked the right size, you then further customize the fit by adjusting the yoke to the perfect height for your body.
It may take a little trial and error to find the best settings and to figure out how tight you like the straps for maximum comfort, but once you've got this pack dialed it really feels like you're carrying less weight than you actually are.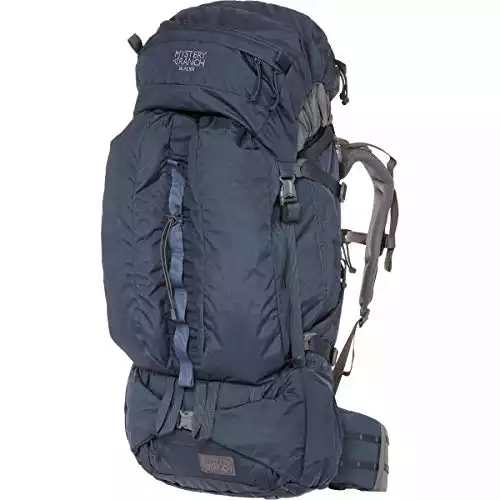 Build Quality
Not much needs to be said about the Glacier's build quality beyond this: it's bomb-proof. The 500D fabric is about as tough as you'll find on any pack. You can drag this thing through brambles, slide it down snow and ice, drop it in the mud – it's going to be fine. There's a reason the military buys packs from Mystery Ranch; these things can take a serious beating.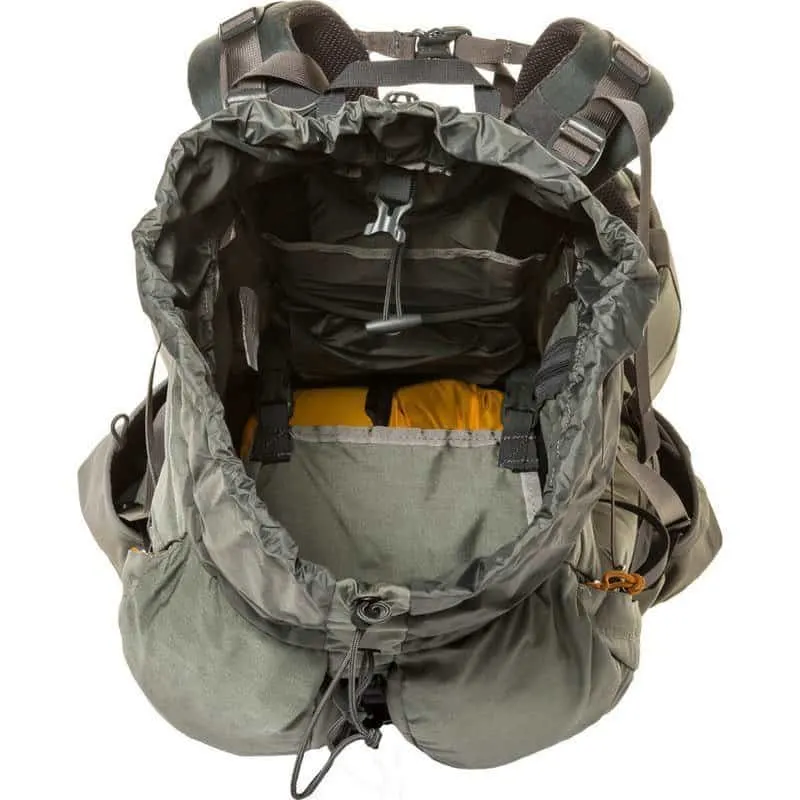 The Downsides: Weight and Price
The downside of that extreme durability, of course, is the weight. It's almost two pounds heavier than lightweight alternatives like the Mountain Hardwear South Col 70, and it's still a full pound heavier than more comfort-focused packs like Osprey's Aether 70.
The Glacier is emphatically not an ultralight pack, although since it carries weight so comfortably, this is a difference that you may not notice in practice. The other downside is the price.
Unless you find an incredible deal on one, the Glacier costs more than almost any other pack in this size range. As with most things in the world of outdoor gear, the price is a trade-off, because these packs will last you for years, hold their value well if you're looking to resell, and they're covered by a pretty good warranty if anything should somehow break.
In the long-term, I think buying the Glacier will probably save you money; you might literally never have to replace it. Still, though, the high upfront cost can be difficult to fit into a budget, and there are other companies making cheaper packs that also offer replacement guarantees.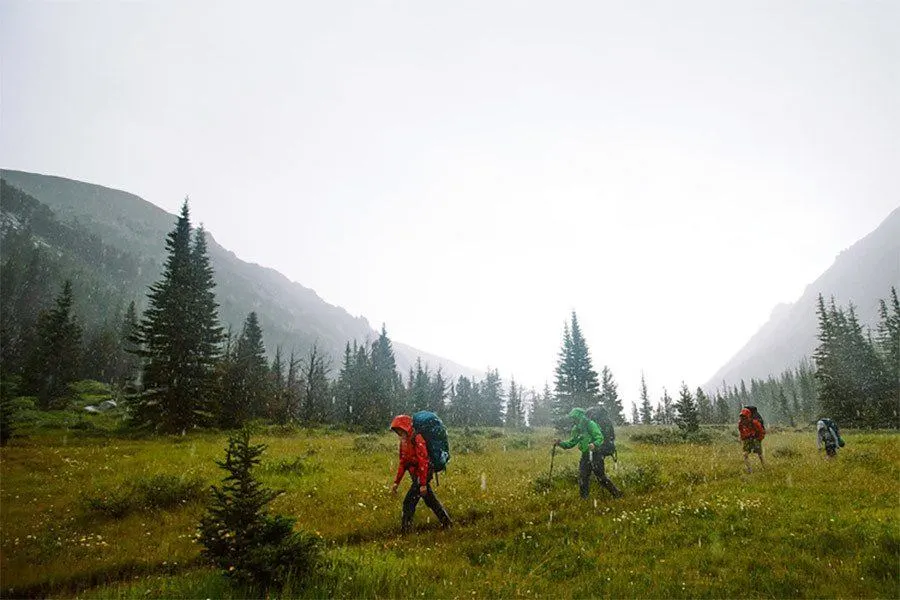 Is the Mystery Ranch Glacier Worth it?
I think so. Personally, I'm not bothered by the extra weight, and I think the high price was worth paying if for no other reason than to set my mind at ease.
Even the world's best warranty isn't going to be much help if a cheap pack breaks on day three of a weeklong backcountry hike, and the Glacier feels like the sort of pack I'll never need to call customer service about. It's hard to imagine any part of this pack breaking under anything less than catastrophic circumstances (and if the pack's fabric rips because I'm being mauled by a bear, I've got bigger problems to worry about than my backpack investment anyway).
Of course, that's just my personal take. Whether or not this pack is right for you is going to depend on some individual considerations. Does it fit your budget? Do you need something this durable? How much weight are you likely to be hauling?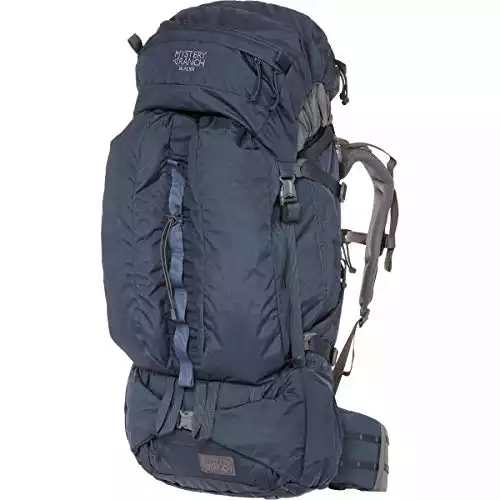 Bottom Line: The Glacier may not be the right pack for everyone, but I can say with confidence that if you're doing anything long or heavy in the backcountry, it will not disappoint you. It's a comfortable, bomb-proof pack that's built for hauling while still making it easy to access virtually anything inside or outside its cavernous frame during pit stops. What more could you ask for? Be sure to check out the latest deals directly at Mystery Ranch here.
Further Reading on Ultralight Backpacks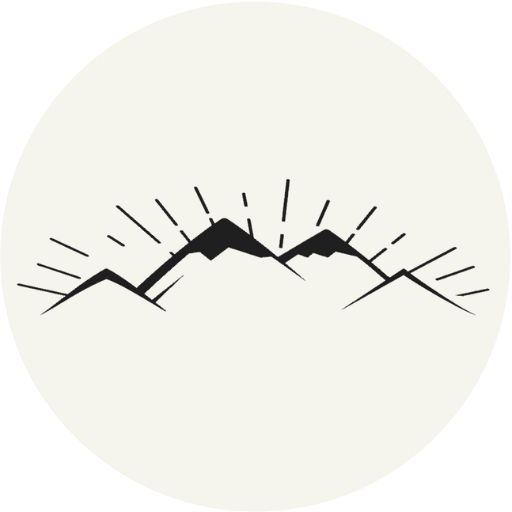 The All-Outdoors Guide team is comprised of enthusiastic experts that enjoy helping others that aspire to be better at outdoor fun. Part of that is making sure you have the right gear and information when it's time to go out and have fun. Some of our team have accomplished amazing feats like climbing 6000 feet to the top of mountains, others have explored every dirt trail they could find and we even have some people that have backpacked solo on various continents. No matter what our readers want to learn and do, our team is here to help them accomplish those goals.