Our Verdict
The REI Flash 45 is definitely affordable, but we were not impressed with it's overall performance. Put simply, for just a bit more money you can find a MUCH better value with better capacity for weight performance AND a superior load-bearing design.
Instead, consider the Patagonia Ascensionist for ultralight adventures, the Osprey Exos 44 for comfort, or the Outdoor Vitals Rhyolite for a more spacious option that beats the Flash even on price.
Introducing the REI Flash 45
Affordable, high-performing backpacks are few and far between. On our never-ending quest to locate and share with our readers the best kit available on the market, we've found plenty of models that tick either one box or the other, but rarely both.
When REI's most recent iteration of the popular Flash 45 Backpack popped onto the market last year, we were intrigued — what had the guys and gals at REI been up to since the last version of this popular pack first hit the shelves? And would this new, updated model finally deliver on both the price and performance fronts?
In this review, we aim to deliver our findings, starting off with a few insights that we hope will facilitate the selection process when choosing the ideal backpack for your adventures and then moving onto an in-depth review of REI Co-Op's Flash 45 to see how it measures up against these benchmark criteria for badass backpacks.
What to Look for in a Backpack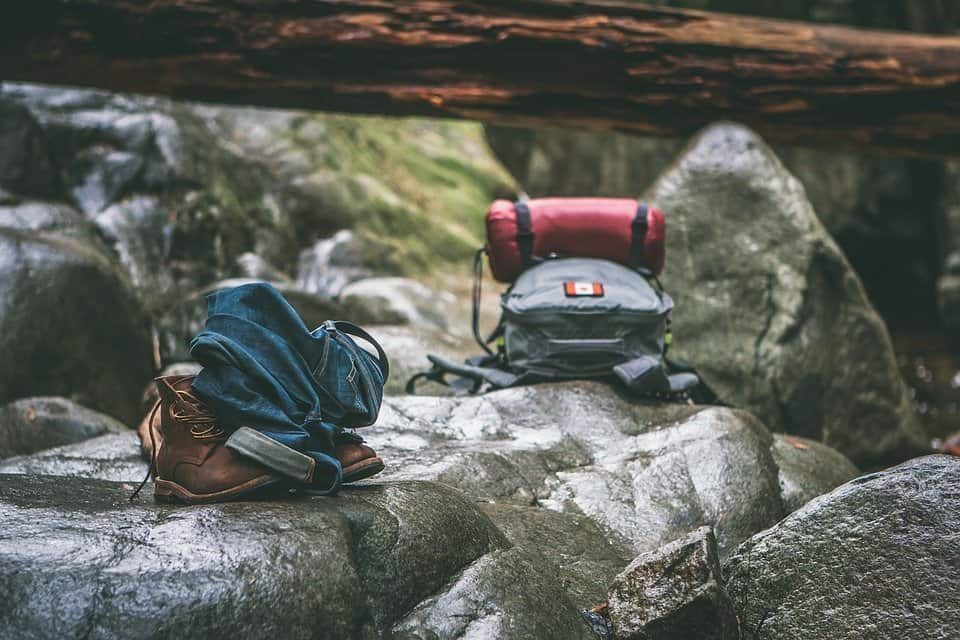 Capacity
The capacity you require in a backpack will depend on what you plan on getting up to while out in the outdoors. Are you mainly a day-hiker? A day-hiker who throws in the odd overnighter? A thru-trekker or multi-day adventurer? Are you an everything-but-the-kitchen-sink kind of backpacker or an ultralight, gram-counting minimalist?
Answering the above questions and knowing your own, personal MO when hiking (lightweight wanderer or carefree-carrier-of-the-whole-kit-and-caboodle come what may) will narrow down the capacity range you need to be buying in.
Most backpack manufacturers list their pack's capacity in liters (i.e. '40L.', '55L', '80L,' etc.). To give you a very broad idea of how suitable these capacities might be for various trip durations, the following list offers a ballpark overview:
Trip Duration
Ballpark Backpack Capacity Required*
1-2 nights (20-50 liters)
3-5 nights (60-80 liters)
* These figures will vary, naturally, depending on the season you're hiking in (winter gear is bulkier and heavier) and the type of gear you have (ultralight and highly packable or old school and less so).
In addition to overall interior capacity, a few other considerations relating to storage determine a backpack's suitability for your needs, most notably:
Compartmentalization
If you happen to be a particularly untidy human or just prefer to have things stored in such a way that they can be located/accessed quickly and easily, then a pack with multiple storage pockets will help you keep things in order and also separate wet from dry and sharp from delicate contents.
Contents
Before buying, check that the dimensions of the central well or storage compartment of the backpack are big enough to accommodate any larger items of gear you need to pack, i.e. a tent, tent poles, or sleeping bag.
External Storage
When considering the capacity of prospective packs, remember to take into account their external storage capabilities — some models feature multiple external attachment points that allow you to carry plenty of extra gear on the pack's exterior
Weight
As with most outdoor gear items, a backpack's weight or lack of weight compared to its competitors usually has a direct bearing on several other factors, in this case, storage capacity, durability, and ruggedness.
For most savvy buyers, one of the most important factors weight-wise when buying a new backpack is finding a pack that boasts a favorable weight-to-volume ratio.
Model and Capacity
Weight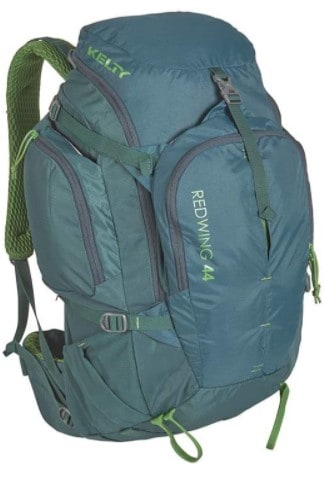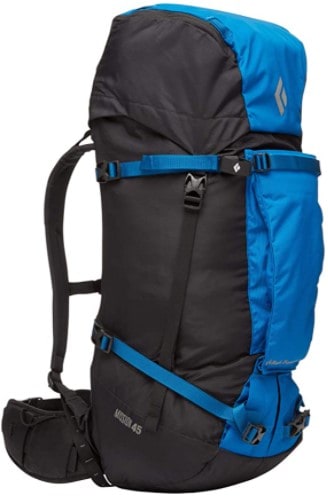 The above table shows just how greatly pack weights can vary even within a limited range of storage capacities. It doesn't, however, tell the whole story…
The two ultralight models in this chart, the Kelty Redwing 44 and Patagonia Ascensionist, both use very thin and less durable fabrics, while the Black Diamond Mission 45 and Deuter Air Contact 45 +10 use incredibly hard-wearing materials that are designed to deal with a lot more rough treatment out on the trail.
The bottom line? When you get down to making your pre-purchase shortlist of potential packs, be sure to check what compromises are made in order to achieve any weight savings before heading to the checkout.
Materials
The materials used in your backpack will determine just how rugged and durable the pack will be. Material thickness is measured in "denier", which is usually abbreviated to a simple "d" in product specs. Put simply, the higher the denier count the tougher the fabric.
From the above list, the ultralight Patagonia Ascensionist uses 210d Cordura ripstop nylon, which (and the author can, sadly, speak from experience), is not the most rugged fabric out there and not built to withstand too many confrontations with rock, branches, or sharp objects inside your pack like crampons or (sadly), even plastic sporks.
At the other end of the scale, the BD Mission uses super burly 420d ripstop nylon, which we've seen hauled up a cliff on the end of a rope on a multi-pitch climbing route (on spiky granite, no less) and come off no worse for wear.
A quick glance at the specs of the two aforementioned packs is revealing as regards the trade-off for tougher materials — while the Ascensionist weighs in at an incredibly friendly 2 lbs 0.5 oz, the Black Diamond Mission tips the scales at a ponderous 3 lbs 8 oz.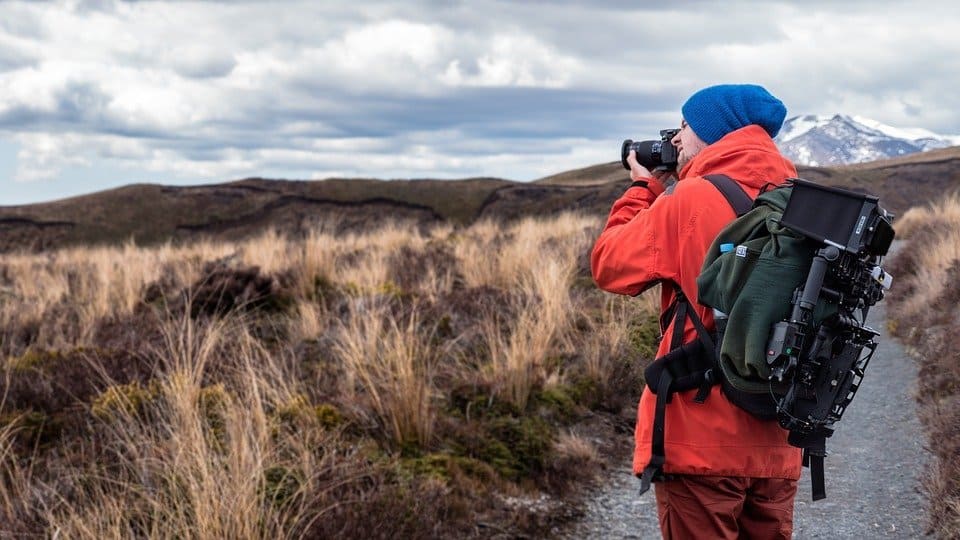 So how do you choose between the two? Well, knowing where you're likely to be headed, what sort of terrain you'll be traveling in, and how clumsy or indelicate you tend to be with your gear (!) will go a long way towards helping you make the decision.
If you are likely to be strolling along wide, well-maintained trails in fairly open terrain then you can afford to go light on the denier count. If, however, you envision trekking through the dense forest, narrow slot canyons, scrambling, taking on the odd via Ferrata or two, or simply know that a sturdier material would give you more peace of mind, then shooting for a pack with 300d+ fabric is likely to be the best choice for you.
Compartmentalization
Although we touched on storage and compartmentalization briefly above, it's worth reiterating that it's easier to make your pack fit your gear than vice-versa — it would, of course, be a bit of a shame to spend a wad of your hard-earned $ on a new pack only to then discover your tent, tent poles, or sleeping bag don't fit inside the main compartment.
The solution to these potential problems is simple: before buying, get out your measuring tape and take the measurements of all large gear items so you can check the measurements off against those given in your prospective backpack's product description.
Another point of note with regard to storage is that the compartments of your backpack can be viewed as something akin to an email inbox, with separate 'folders' (in this case the pockets and compartments) in which you can store any gear you would prefer to keep separate.
This can be useful for two reasons: first up, you can locate your gear more easily and keep certain items you're likely to use frequently (or on and off) close to hand (map, windbreaker, water bottle); secondly, wet, sharp, or smelly gear items can be safely separated from dry, fragile, or clean items.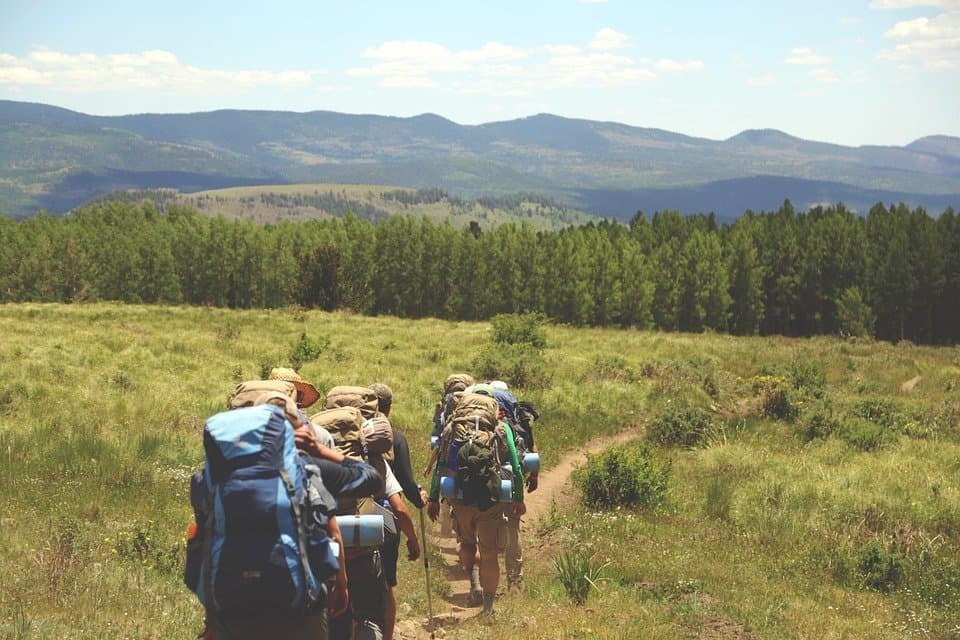 Comfort
A backpack that doesn't score high in the comfort stakes is, essentially, not one worth having. Your backpack comes second only perhaps to your shoes or boots in its potential to be the cause of serious discomfort while out on the trail.
As such, ticking this box with room to spare should be one of your top priorities. Gauging comfort isn't easy if buying online, but, in addition to user reviews, a few factors which will allow you to make an informed decision on a pack's comfort levels include the following:
Padding
Instinctively, most of us are prone to think that shoulder padding is the most important aspect in ensuring a pack's comfort, whereas, in reality, a well-adjusted backpack will transfer most of the weight onto the hipbelt.
This being so, before choosing any pack make sure your pack has adequate padding around the hipbelt, particularly where it comes into contact with your lower back and hips. This becomes all the more important if carrying a heavier load — if the waist strap is too flimsy, then the majority of the weight of the pack will remain on your shoulders.
While many minimalist day packs opt to forego a decent hip belt, for longer trips the bottom line is this: the heavier the load you see yourself carrying, the more padding you need in your hipbelt.
Fitting/Sizing
With lighter loads, the size of your pack is less likely to impact comfort levels, but for longer trips with heavier loads choosing wisely can make the difference between a happy hike and a miserable one (followed by a trip to the outdoors store to make a remedial purchase!).
The most important point to bear in mind when buying a pack is that it is not your height but the length of your torso that counts when it comes to getting the sizing right. Many packs come with "regular" and "large" options (and some with "small", too) and will quote a length in inches that this size of pack covers.
For example, a regular length pack may be suitable for those with a torso length of 18 to 22 inches, and a large pack for those with a torso length of 21-25. Before you buy, check the specs to see what the parameters are for each size, and then prepare yourself for some fun and games with your measuring tape and a mirror (and/or very patient friend)…
Measuring your back/torso length when fitting a backpack is done as follows:
Locate your iliac crest by finding the top of your hip bone and tracing it around your hip/pelvis to the center of your back.
Locate your vertebra prominent (better known as the C7 vertebra) — it's the knobbly bone at the base of your next that sticks out when you tilt your head forward.
Making sure to stand up straight while you do so, measure the distance between the two points and you have your torso length.
Ventilation
Backpacks with a less contoured back panel can quickly soak up a lot of sweat and, as a result, not only feel mightily uncomfortable and acquire odors that would make your average skunk blush in embarrassment but also gain weight on account of the water subsequently being carried in its fabric.
Manufacturers have, over the years, tried to get around this problem in many ways but the most efficient designs in terms of ventilation used molded foam back panels with a network of air channels passing across the surface area in a variety of designs.
Other packs combine this type of design with a mesh panel that helps to provide a thin buffer between your (sweaty) back and the material of your backpack, thereby boosting airflow.
Review of REI Co-Op Flash 45
Now that we're all clued up on the ins and outs of a backpack and its main features, let's see how the REI Co-Op Flash 45 performs in each of the categories highlighted above.
Capacity
At 45 liters, the Flash 45 straddles the ground between a very large day pack and backpacking pack suitable for 2 or 3 nights on the trail. This kind of versatility might appeal to buyers who don't see themselves doing any long-distance thru-hiking and want one pack that's suitable for every outing they're likely to be making, from a short day hike to an (at a squeeze) 3 or 4-nighter.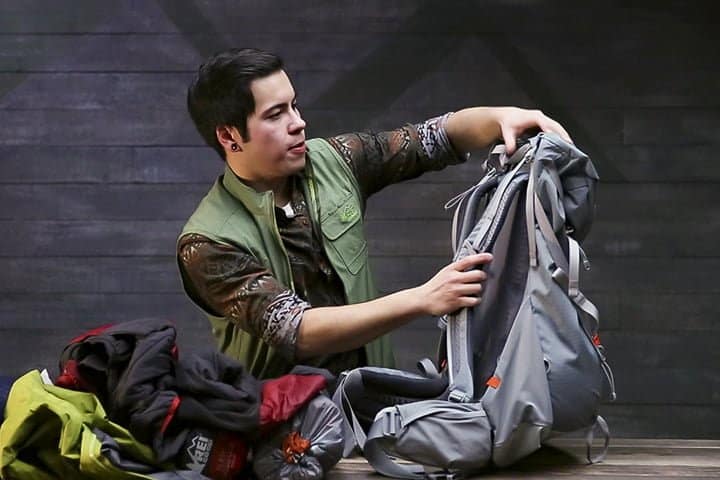 Weight
Weighing in at 2 lbs and 12oz, the Flash 45 is a little heavier than most other packs in its performance range that have a similar capacity.
All told, the weight-to-volume ratio in this pack is fairly poor and a definite drawback compared to more expensive models, but, given the Flash 45's palatable price, those added few ounces may be easily overlooked for those working on a tighter budget.
Materials
The Flash 45 uses very tough, durable, 420d ripstop nylon materials in the main body of the pack, making it equal or superior to most of its competitors.
On the downside, the mesh panels and pockets on the exterior of the pack are a touch on the flimsy side and it's not hard to envision a stray branch or sharp gear item poking or ripping right through the material should the user not exercise a great deal of care.
Compartmentalization
All of the Flash's 45-liter capacity is comprised in a single, large central well that measures 13 x 26 x 9 inches. One more endearing aspect about this pack's design, however, is that the removable top lid allows you to customize the pack's volume and either tighten and secure the load when traveling with less gear or squeeze in a few extra items when on longer trips.
On the exterior of the pack, a duo of belt-strap pockets, two water-bottle pockets, a shoulder-strap pocket, and one large mesh pocket on the front of the pack offer plenty of additional storage points for gear items you don't need to keep inside the pack.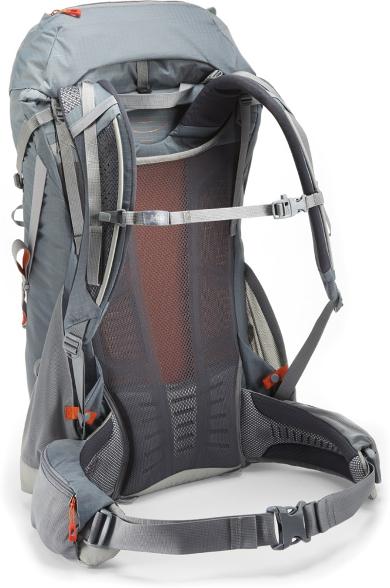 Comfort
Padding/Cushioning
The Flash 45's 3D, contoured hip belt in itself is very well designed and packs plenty of cushioning, but the pack frame's slightly excessive flexibility means that with heavier loads the weight of your load remains mainly on your shoulders.
Weight Distribution
The Flash's innovative "uplift system", which amounts to a duo of straps that cinch over the pack's load about a third of the way up from the base, is intended to prevent too much weight sliding too low down in the pack and resting on your backside.
In theory, this is a good idea and smaller loads certainly helps users keep their balance and not feel like their pack is tipping them backward. In practice, however, when using the uplift system with a heavier load the weight seemed to be shifted just a little too high and place too much strain on the shoulders and upper body.
Ventilation
The Packnit™ back panel on the Flash 45 uses molded, triangular foam segments that work well in providing airflow and breathability. The frame is also covered with ventilated mesh that increases the air channel between your back and the fabric and helps wick perspiration.
Sizing
By using an adjustable frame that allows you to custom fit the pack to your torso length the Flash 45 overcomes the sizing dilemma posed to many would-be buyers when trying to choose between two frame sizes. This adjustment system, moreover, is intuitive and quick, using a Velcro panel that can be removed and replaced in a matter of seconds.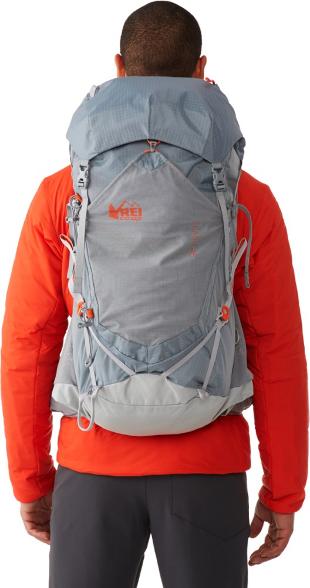 REI Flash 45 Features
Unlike many budget models of a backpack, the Flash 45 packs a very healthy number of appealing features. The most notable of these include:
A removable, "floating" lid that allows you to adjust the pack's capacity easily
A large mesh pocket on the front of the pack — ideal for storing items you want to be able to access easily or for drying out wet gear
Two large mesh water-bottle pockets — the positioning of these (over the belt as opposed to attached to the sides of the pack) is slightly strange, but actually works well and allows you to access your H20 without taking the pack off
Interior hydration bladder sleeve
Shoulder strap pocket
Two large mesh pockets on the hip belt — as mentioned above, the mesh material is a little on the flimsy side but as long as you don't tear through them these pockets come in very handy for storing things you might otherwise have to keep in a pant pocket or in your hands (i.e. a map, GPS device, or phone)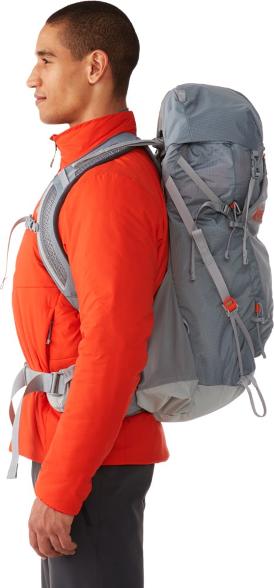 Flash 45 Pros and Cons
Pros
Very affordable (check the latest REI deals here)
Wealth of external storage points
Adjustable frame
Very effective ventilation
Side water-bottle pockets can be accessed without removing the pack
Handy pocket on the shoulder strap
"Uplift" straps on the rear of the pack allow you to position your load closer to your center of gravity, thus improving balance and stability
Nicely padded hip belt
Large pockets on hip belt handy for map, GPS, or phone storage and allow you to keep your hands free
Cons
Not the most comfortable with heavier loads as most of the pack's weight remains on your shoulders
Weight distribution: shape of central compartment places too much weight and bulk too high in the pack
Mesh panels on the exterior and hip belt pockets are very fragile and fail to inspire confidence
In order to access the central well of the pack, you have to disconnect a minimum of two of the buckles that are needed to hold external gear in place (facepalm design flaw!)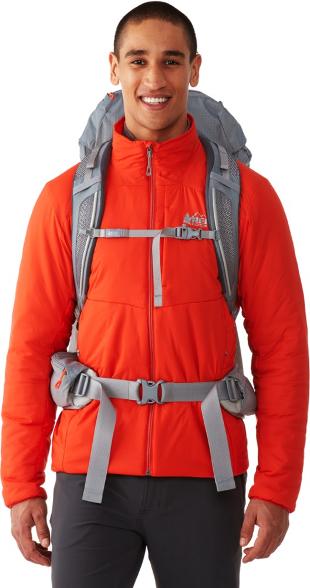 The Verdict: Is the REI Flash 45 Worth it?
We're gonna avoid any beating about the bush here and call a spade a spade: the REI Flash 45 is a budget-priced pack that offers budget-priced performance.
While there are certain endearing aspects to this pack — most notably the adjustable torso length, the wealth of exterior storage options, and the handy placement of the water bottle pockets — there are too many downsides and bugs in the pack's design and overall performance for us to recommend it to anyone prioritizing performance over price.
If you're looking to buy cheap, then yes, it's hard to do a great deal better than the Flash 45, but by throwing just an extra $50 or so into your kitty you could get your hands on a pack that offers far greater comfort, a superior weight-to-volume ratio, and far more impressive overall quality of the build.
So What to Pick Instead?
Our top pick of alternatives would be the Patagonia Ascensionist for ultralight pack adventures, the Osprey Exos 44 for comfort, or the Outdoor Vitals Rhyolite for a more spacious option that beats the Flash even on price.
Other REI Flash 45 Alternatives
Still not sold on the Flash 45? Check out these popular alternatives to the REI Flash 45 pack that our team has a review: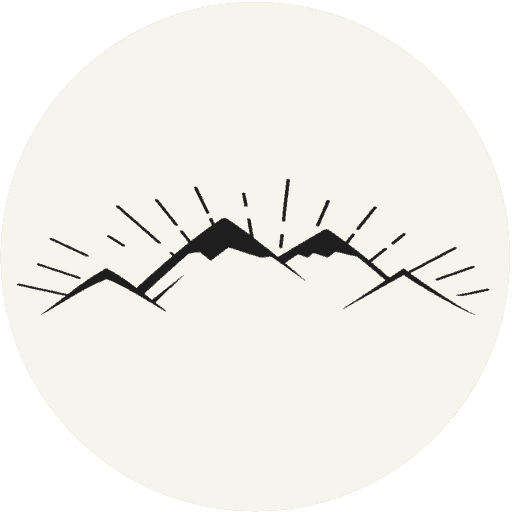 The All-Outdoors Guide team is comprised of enthusiastic experts that enjoy helping others that aspire to be better at outdoor fun. Part of that is making sure you have the right gear and information when it's time to go out and have fun. Some of our team have accomplished amazing feats like climbing 6000 feet to the top of mountains, others have explored every dirt trail they could find and we even have some people that have backpacked solo on various continents. No matter what our readers want to learn and do, our team is here to help them accomplish those goals.