Ultralight and lightweight backpacking is becoming quite popular throughout the world. The advantages of downsizing to a lighter load are numerous with the primary benefit being as simple as not having to carry so many pounds on your back.
Going with an ultralight or lightweight load means you can often hike longer and maintain a faster pace, with increased stamina and endurance.
Although some of the big brands have gear lines directed at this demographic of backpackers, many of them still fall short. Either they weigh too much, the bags are far too thin and thus easily damaged, or they lack a lot of features traditional backpacks have. Thankfully Osprey, a company well-known for their backpacks, stepped in and created their Exos line.
The Osprey Exos line consists of 3 different bags in 58, 48 and 38 liter capacities. Osprey has these bags listed as an ultralight pack suitable for Appalachian Trail, thru-hiking and long trail backpacking. All three backpacks are virtually identical save for the gear carrying capacity, but the Exos 48 is the perfect midrange model for the average UL backpacker.
Osprey Exos 48 Features and Specs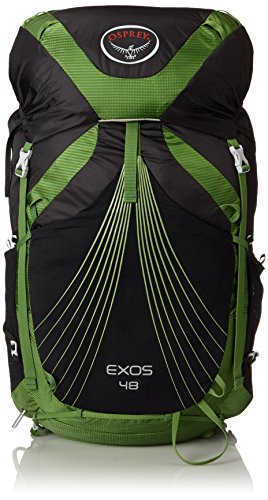 If you are a gear junkie or someone that really enjoys a beautiful yet functional design, the Exos 48 is going to really impress you. As usual, Osprey nailed their goal of creating a backpack that has enough features to really give you a great backpacking experience while excluding unnecessary items that would only have added weight.
Here is a rundown of the specs and main features of the Exos 48:
Osprey Exos 48 Specs
Available in 2 colors, Basalt Black (green & black) and Pacific Blue (blue & white).
Available in 3 sizes options:

Small – 45 liter gear capacity & weighs 2.6lbs
Medium – 48 liter gear capacity & weighs 2.8lbs
Large – 51 liter gear capacity & weighs 2.10lbs

Rough dimensions of sizes:

Small – 26" x 14" x 12"
Medium – 28" x 14" x 12"
Large – 30" x 14" x 12"

Materials used in construction include:

Body – 100 denier high-tenacity Nylon & 100 denier ripstop Nylon
Internal Frame – 6065 super lightweight aluminum
Some features of the backpack also include the use of stretch mesh (including mesh pocket), metal zippers, cordage, foam and plastic buckles
Osprey Exos 48 Advantages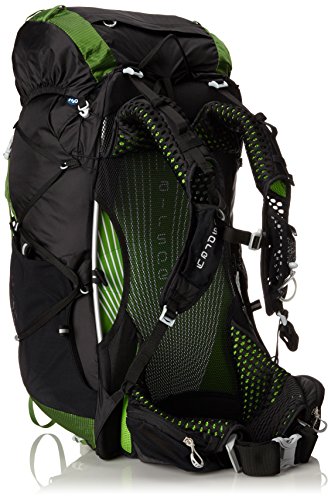 The Exos 48 suspension system is Osprey's Airspeed which includes ultralight and durable aluminum framing and a 3D back panel made of a tensioned mesh which gives the wearer side ventilation.
Shoulder straps are made of ExoForm technology, consisting of flexible mesh encapsulated dense gel along with a quick adjustable sternum strap. There is a built in whistle on the sternum strap for safety.
Exoform technology also present on the padded hip belt which gives a custom, ergonomic fit. The hip belt is seamless to prevent chafing and has a cinch closure which is pulled forward to adjust, making it easy to tighten or loosen the belt while on the trail.
Top of the backpack is Osprey's FlapJacket lid which serves as weather protection for the main compartment as well as additional storage. The lid is completely compressible and removable. Lid has zipper closure on top and under for easy access.
Exos 48 is compatible with internal hydration reservoirs. Behind the back panel there is a space to insert a reservoir that will keep it protected from the rest of the gear in the main compartment. Reservoirs are sold separately by Osprey but you may use a different brand.
Side of the backpack has webbed compression straps for cinching down your bag to a compact size. Strap set up allows you to cinch down over or under the side pockets. Other straps on the backpack include tool and sleeping pad attachments. Aside from web straps there are also bungee-style straps and strong cord loops for additional storage of outerwear and gear.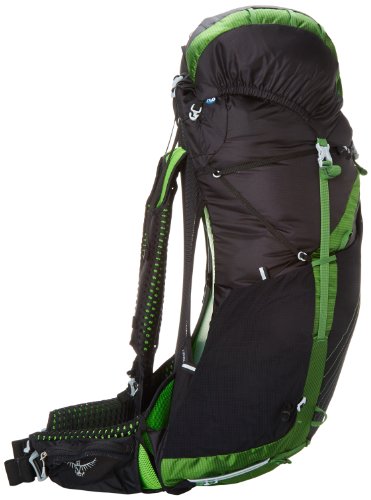 Numerous pockets both inside and outside of the backpack to keep your gear organized. The pockets on the front and side of the pack (hip belt pockets) are made from a strong woven mesh that are stretchy enough to securely hold a water bottle, gloves, even a lightweight shell-style rain jacket. The hip belt also has zippered pockets which is perfect for storing your cellphone, GPS, maps and snacks.
While not a physical feature, another benefit of the Exos 48 is Osprey's guarantees on their gear. If for any reason you decide you no longer want your backpack you can send it back for a refund or replacement.
You will find that the Exos 48 has been thoroughly tested by many people and has a 5 star rating on the Osprey website as well as throughout numerous retailer websites. This backpack is a truly awesome product that has nearly anything a backpacker could wish for.
Strengths of the Exos 48
There are a lot of advantages of the Exos 48 but there are 3 major strengths of this model.
Ergonomic Frame Technology Allows a Custom Fit for User's Back (Comfort & Support)
When it comes to ultralight backpacking, the fit and frame of a backpack is particularly important. Even though you are carrying lighter base weight it doesn't mean you can skimp on the fit of your pack. The ExoForm technology used in the padded hip belt and suspension system ensures that the backpack melds to fit your individual anatomy, from the sternum strap to the shoulder straps. Additionally, despite the backpack being unisex, this natural ergonomic, self-customizing fit from the gel and foam means both genders can wear it comfortably.
Numerous Pockets and Straps Keeps Gear Organized and Reachable
A huge benefit of the Exos 48 is how many storage options are on and in the bag. Just because you may carry less gear doesn't mean staying organized isn't important. If anything, it's more important because you may have downsides items such as your cooking kit which could get lost within the main compartment. The various pockets and straps make this backpack super user-friendly while on the trail as well since you can access water, snacks and the top lid without removing the bag.
Materials are Super Durable with Weather Resistant Features
Bad weather, primarily wet weather, can ruin a backpacking trip if you aren't prepared. Since weight is so crucial Osprey used only high quality Nylon that is fairly water resistant in light rain. There is also a built in rain cover for the backpack which is included in the total weights listed in the specs section.
Downsides of the Exos 48
There aren't any obvious downsides or weaknesses of the Exos 48 but some people may wish there are gender-specific models to allow for differences in anatomy or more color options.
Overall Osprey really created an amazing backpack that is suitable for all lightweight backpacking activities up to ultralight trips.
Osprey Exos 48 Alternatives
I'll be honest, I looked at a LOT of packs before settling on the Exos. AND, our team has reviewed a TON of backpacks over the years. Here's a few alternatives to the Osprey Exos 48 worth checking out:
Who is the Exos 48 Best For?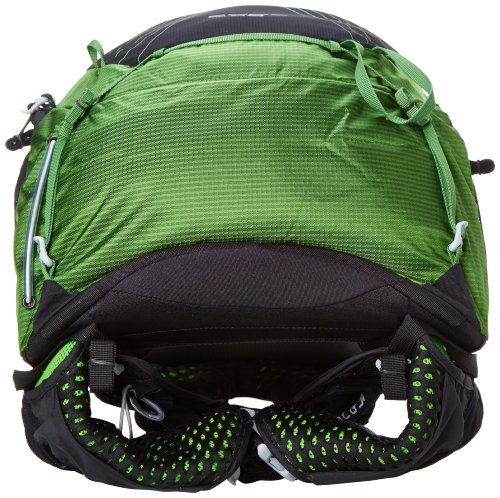 The Exos 48 is ideal for any person who is interested in ultralight and light backpacking regardless of experience.
Depending upon your experience with this method of backpacking, this pack is large enough for long weekend trips possibly up to a week based on your usual gear load.
For the beginner you will easily be able to use this bag for weekend trips. Osprey recommends this bag maximum weight stays under 30lbs so even if you are new to UL backpacking, you could start using the Exos 48 immediately even if you haven't started downsizing your gear yet. You can check this listing for the latest pricing.
Where to Buy the Osprey Exos 48
There are a few different online retailers stocking the Exos 48. These are the best places I've found (price, availability, service):
On Amazon

: Amazon is always a good place to check for Osprey packs as they typically are competively priced.

Check this listing here

.
On REI: REI is a GREAT spot to find the best selection of gear, including the Exos 48. REI members save additional with the member dividend. Check this listing here.
On Backcountry.com: Another reputable retailer to check is Backcountry, known for their wide selection and customer service. Check this listing here.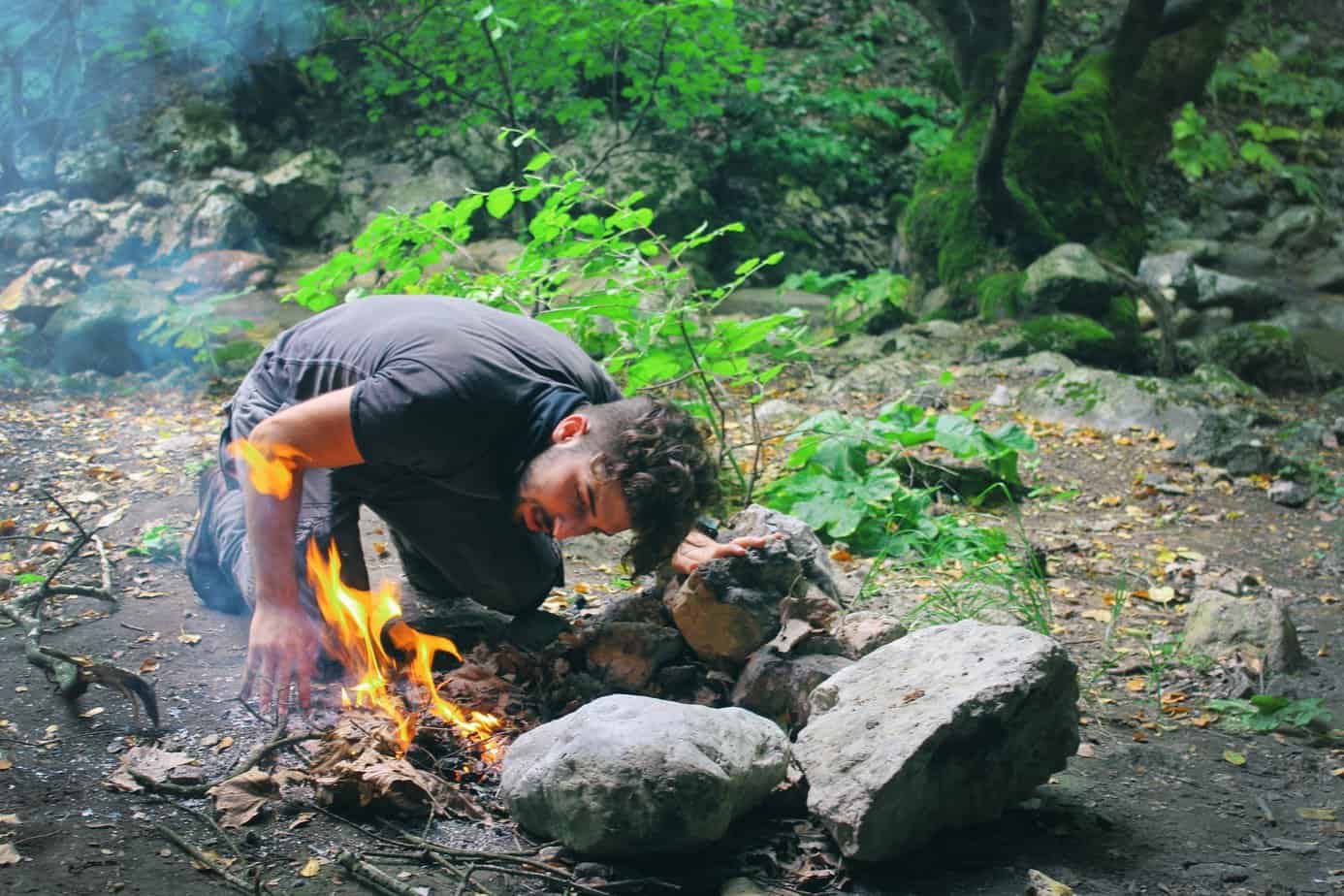 Sam Hardy is an outdoor enthusiast with a penchant for survival skills. He writes about the great outdoors and his favorite equipment here.