Finding the right pack for all your backpacking trips can be a difficult process. With the wrong pack, you can end up with unnecessary soreness. Especially as women who have a smaller frame.
Osprey has been an industry leader in outdoor backpacks for years and has to lead the industry in women-specific backpacks. Aura and Ariel are backpacking backpacks made specifically for women who typically have a smaller torso than men.
There are a few key differences between the two backpacks that will make up your buying decision. Depending on what type of trips you plan to take with your backpack and how much space you may need will affect which backpack you choose.
Editor's Choice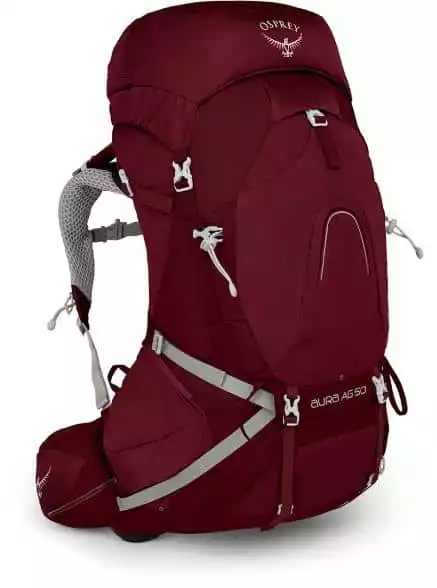 Main Differences Between the Aura vs Ariel
The main differences between the Osprey Aura vs Ariel are:
The Osprey Ariel has versions up to 75L, whereas the Aura only goes up to 65L
The Osprey Ariel has 7 compressions straps, whereas the Aura has 5
The Ariel has top and front access, whereas the Aura only has top access
The Aura has 9 pockets, whereas the Ariel has 8
The Osprey Aura is generally 10-15% less expensive than the Osprey Ariel
| | |
| --- | --- |
| | |
| 50 L – 65 L | 55 L – 75 L |
| 4.1 lbs – 4.4 lbs | 4.8 lbs – 5 lbs |
| 5 Compression Straps | 7 Compression Straps |
| 25 lbs – 50 lbs Load Range | 35- 60 lbs Load Range |
| Top Access | Top and Front Access |
| 9 Pockets | 8 Pockets |
| Fit on the Fly hip belt | IsoForm5 harness and CM hip belt |
Comfort
The Aura series just slightly beats the Ariel Series in comfort. The Aura is up to a pound lighter than the Ariel, which is very important when backpacking strenuous treks. They both are equipped with Osprey's famous Anti-Gravity technology, although Ariel's suspension system is much bulkier.
Versatility
The Ariel series is more specific to heavy load and long trips, such as thru-hikes, alpine expeditions, and trips with children. Aura series is more versatile as it can carry both heavy and light loads comfortably. The Aura can be used for a wide range of outdoor activities.
Organization
Two of the best things about the Ariel backpack are the removable daypack that attaches to the top lid of the pack and the access zipper on the front of the pack. This pack has one less pocket than the Aura, but the extra pocket doesn't make up for the easier access of the Ariel.
Suspension
The suspension in the Aura and the Ariel series are very similar. They both have Osprey's anti-gravity technology which includes a wireframe and a mesh panel that hugs your back from top to bottom. The main difference is the hip belts. Aura has a fit on the fly hip belt and the Ariel has an IsoForm 5 CM hip belt.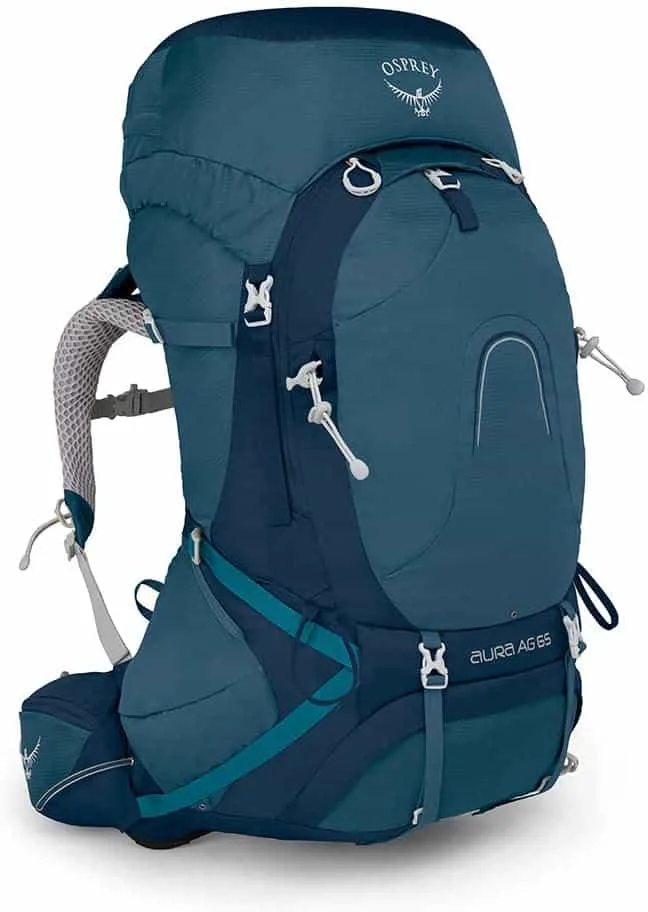 The Aura series is known as the universal backpacking backpack designed specifically to fit a woman comfortably. Rather you are going on a short weekend trip or a week-long trip. It is also known for being one of the most ventilated and least straining backpacks in the industry.
Pros
The number one thing on the pack to point out is the suspension system. Osprey came out with anti-gravity technology over 10 years ago and has been improving it since.
The Aura specifically has been rated the most ventilated pack out there with a mesh back that is suspended from the pack with a wireframe. This feature also makes your pack seem lighter and more balanced.
Osprey Aura's Fit-on-the-fly hip belt is one of a kind and only available on this pack. This hip belt is so adjustable that it can fit just about anyone and with minimal effort. If you need more length on the hip belt, you simply pull the extenders out from inside the belt behind the belt pockets. You don't have to have your hip belt fitted and replaced ever!
You can choose between the 50-liter and 65-liter pack in this series. Both are astonishingly light for their capacity. The 50-liter pack is 4 pounds to 4.2 pounds and the 65-liter weighs between 4.2 and 4.4 pounds depending on if you get a size extra-small, small, or medium.
Both packs can also carry a fairly heavy load for their size, making them great for any length of trip you are going on.
The Aura has a ton of useful features that make organization and access to things while hiking so much easier. These include:
Removable top lid for lighter loads
A flap jacket to protect your gear when the top lid is removed
Trekking pole loops so you can stow them easily and quickly when you need your hands
An internal water reservoir sleeve that can hold up to a 3-liter reservoir
Stretch mesh pocket on the front to hold rain gear and other gear you may need
Dual access side mesh pockets with top and side entry
Two hip belt pockets for snacks and other things you may need handy
A zippered sleeping bag compartment on the bottom with a removable divider
Ice tool loops
Removable sleeping pad straps on the bottom
Cons
This is not a pack for heavy expeditions. If you need special equipment for your trip, this bag may not hold up compared to the Ariel series. It can't carry nearly as heavy of a load as the Ariel for more equipment. It also doesn't have the removable day-pack or front access zippers to the main compartment.
There are also not as many organizational features as Ariel in this pack. There is only a top entry to the main compartment, which is actually standard for most packs. Also, the top lid does not convert into a removable day pack as Ariel's does.
Another thing that I've noticed while hiking with the backpack is the hip belt makes noise. It's not a huge deal. It doesn't make the bag any less durable or comfortable. Although, it may be an annoyance for some.
Editor's Choice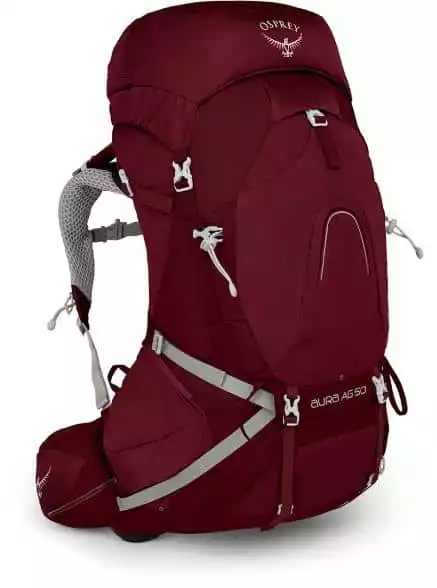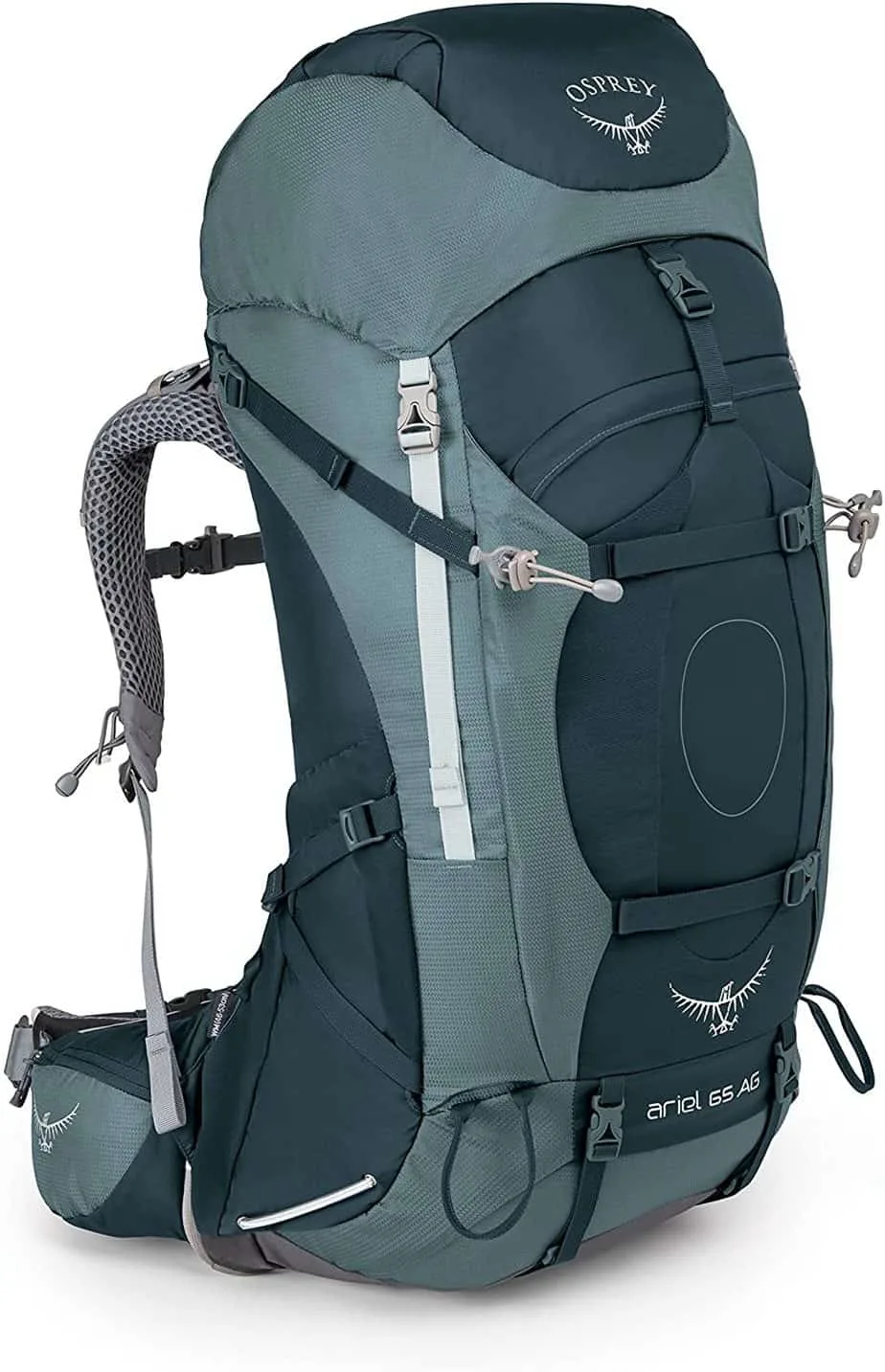 The Ariel series is made for those who love to go on extreme adventures. From alpine expeditions to trips that will last more than a week. It is durable and heavy enough to carry all of the belongings you may need for those more exciting trips.
Pros
What sets this bag apart from most backpacks is the front access zipper and the top lid that converts into a day pack. Not only is there access to the main compartment from the top, but zippered access from either the sides or the front of the pack (depending on the litter size).
Also, the top lid converts into the Daylite daypack so you can leave your large pack at base camp and hike throughout the day with your smaller pack.
This pack is also equipped with Osprey's Anti-gravity suspension technology. It is slightly different from the Auras anti-gravity system with bulkier mesh and a larger frame to accommodate those heavier loads. With mesh that hugs your whole back and a wireframe to balance and make your pack seem lighter, it will feel like your pack has a few fewer pounds.
There is also a large variety of sizes in the Ariel series. There are 55-liter, 65-liter, and 75-liter that come in sizes extra-small, small, and medium. These packs can also carry a heavier load due to the higher capacity choices. With slightly more capacity options than the Aura, you can make sure that you are getting the exact size you need to fit your adventure's requirements.
The Ariel also comes with most of the same features as the Aura and maybe even a few extra. These include:
Two extra compression straps on the front of the bag for extra balance
Additional flap jacket to cover the top when using the day pack
A large mesh stretch pocket on the front
Zippered hip belt pockets for snacks and things you need to keep handy
Dual ice tool loops that bungee
Top and side access side mesh pockets
A sleeping bag compartment with zippered access at the bottom
Removable sleeping pad straps
Trekking pole loops for easy stowing when you need your hands
An internal water reservoir sleeve (hydration sleeve)
Attached Daylite daypack to use when you don't want to carry your whole pack
Cons
This pack also has a problem with the hip belt making noise when hiking. It is simply due to the durable structure of the frame in the backpack. This is definitely not a make-it-or-break-it problem for most but it may cause some irritation.
The worst thing about the Ariel backpack is it is much heavier than the average backpack, weighing up to a pound heavier than the Aura. This is due to it being made for heavier loads. If you are only doing backpacking trips that last under a week or aren't super technical, then this pack may be too heavy for you.
Osprey Ariels are equipped with the IsoForm 5 hip belt rather than the fit-on-the-fly hip belt. There's nothing wrong with this hip belt other than it is more inconvenient than the other.
You have to find the right size belt then have it heated up at a store and fitted directly to you. They are not adjustable. If your weight ever changes, you may have to replace your hip belt.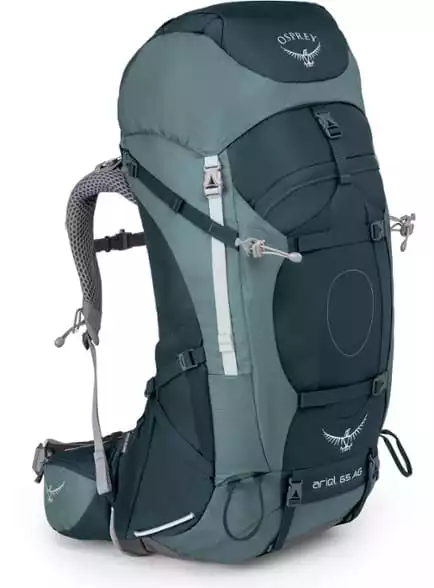 FAQ's
Question: Can the Aura or Ariel fit as a carry-on on a flight?
Answer: Not all of the sizes will be able to fit as a carry-on. The Aura 50-liter will definitely fit as a carry-on bag in a flight and the Ariel 55-liter may as well. The Ariel 55-liter may be pushing it though since it is a bulkier pack than the Aura. You can check the dimensions with your favorite airline.
Question: Are these bags safe to check as luggage on a flight?
Answer: Yes! You can check any size of these backpacks, but be careful of your straps and buckles. I recommend getting the Osprey Airporter to cover your bag during flights. You don't want one of your straps or buckles ripping off in airport machinery.
Question: What is a "Fit-on-the-Fly" hip belt?
Answer: The fit-on-the-fly hip belt is the hip belt specific to the Aura series. It makes it so that the hip belt can fit any size person comfortably. The fit-on-the-fly hip belt has extenders attached to it that can be pulled out from the inside of the belt underneath the zipper pockets. You can make them as long or as short as you would like.
Question: What is an "IsoForm 5" hip belt?
Answer: The IsoForm 5 hip belt is older technology than the fit-on-the-fly hip belt. It is a removable hip belt that can be replaced with an appropriately sized hip belt for you. These hip belts are also formed to the shape of your body by being heated up in a special oven at your local Osprey dealer and buckled around your waist while they cool.
Question: Is a rain cover included in these packs?
Answer: Rain covers are not included with these packs. You can find the appropriate rain cover by visiting Osprey's website or by visiting your local Osprey dealer. I would highly recommend having one handy as well. You really don't want your gear getting wet.
Question: Are these packs waterproof?
Answer: No, these packs are not completely waterproof. They are water-resistant as they are made of Nylon. This means that if you flick water onto your pack while hiking or your pack gets splashed, the contents should stay dry. You should get a rain cover if your pack will be getting continuously wet.
Conclusion: Aura vs Ariel
Overall, the Aura is the best backpack for the everyday woman. It is much lighter than the Ariel, which is very important for staying comfortable on long backpacking trips. It also has way better ventilation to keep you cool, less bulky suspension, and a superior hip belt. It has most of the same features as the Ariel and has plenty of space for any length of the adventure.
If you plan to do mostly rigorous activities that require more heavy gear, the Ariel may be a better choice for you. Alpine expeditions, thru-hiking backpackers, and winter adventures will be better with the Ariel backpack as it is meant to carry heavier loads. You also have more zippered entrances and an attached daypack, making your long trips more organized.
Although the Ariel series is better for these types of rigorous activities, the Aura will also do fine in these situations. If you are planning to do a variety of activities rather than mostly alpine climbs and winter hikes, the Aura is still the better choice for you. The Ariel is made more for those more extreme people who like to mostly do thru-hikes and intense climbs.
Bottom Line: Most readers will be better suited to the more affordable and and ultralight Osprey Aura here. Although, IF you are doing through-hiking the extra capacity Ariel is the better bet. BOTH are among the best backpacks for women that our team tested.
Editor's Choice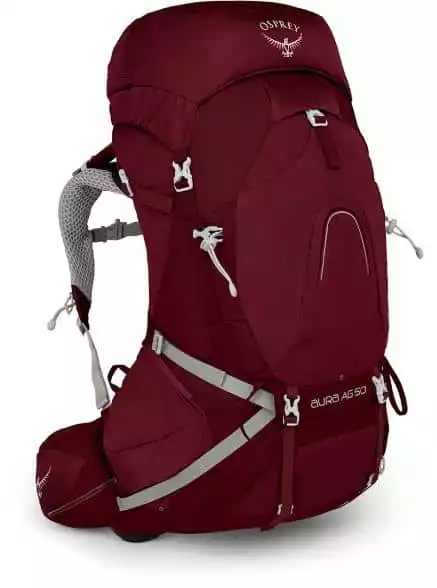 Other Options to Consider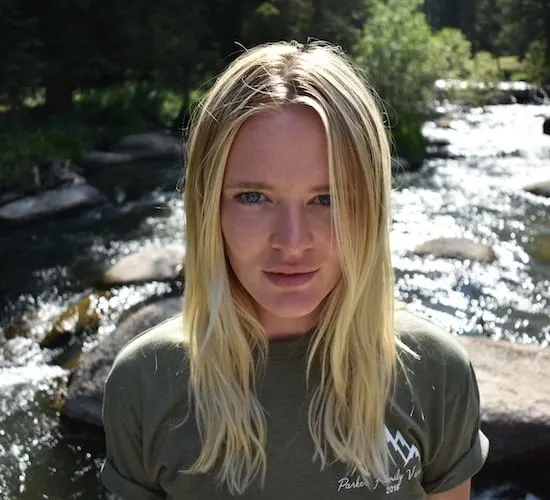 Haley loves hiking and camping. That state of calmness is like no other. A top 14er rock scrambler, Haley wants everyone to experience the highs and joys of outdoor living and here is to help prep the rest of us to do so safely. Here to share her top gear, tips and climb to the top hiking strategies, Haley is a bonafide outdoors guide to love!