Originally meant for military purposes, the Camelbak Trizip also works as an effective travel backpack. The triple zipper design and adjustable features ensure that gear can be easily accessed while the load remains comfortable and balanced.
This adjustable structure is ideal for carrying heavy loads and staying hydrated in any environment.
Additionally, many features of this bag can be removed in order to adapt to your needs. This kind of flexibility is vital when it comes to selecting a multi-purpose pack such as this one.
Created in collaboration with the Mystery Ranch guys and Camelbak, this pack comes with a lifetime guarantee.
First Up – Consider the Pros and Cons (up front)
PROS
CONS
Easy Access to all gear

Load carrying capacity

Versatility

Lots of customizable feature

Height adjustment

Minimal Water Resistance

Straps can be awkward

Air Mesh is not ideal
Space Considerations
One of the most impressive features of the Camelbak Trizip is the volume of gear that can be packed within it. While it doesn't look particularly large, its design offers a huge amount of flexibility. It has been described as having "TARDIS" like room (see "Doctor Who" to understand that reference).
High internal pockets keep gear out of the way when traveling. However, the placement of these pockets is awkward, but only if you are trying to access them while wearing the pack. They can only be reached when the pack is off.
While the pack only has a couple of outside pockets, the Molle webbing used on the exterior makes this an easy fix. Any Molle compatible accessory pouches can be purchased separately and attached to the Camelbak Trizip, if needed.
As mentioned earlier, many components can be removed from the Camelbak Trizip. Whether you are looking to lighten the load or simply have no need for a specific feature, the option to remove it is usually there. From the hydration pack to the waist and shoulder straps, this is a pack that is designed to travel well.
All About Access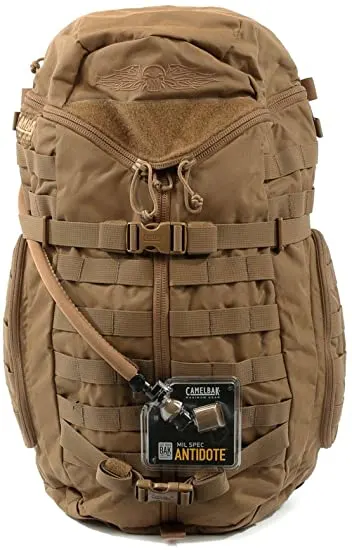 Most impressive of all is the amazing access that the Camelbak Trizip affords. Due to the triple zipper design, this pack unzips fully allowing its user to access even the smallest things at the bottom of the pack.
It goes without saying that the trizip design is the best feature of this pack, ensuring that any piece of gear can be accessed, no matter the angle of the pack (standing up or lying down). The only drawback is that you have to unclip a compression strap to do it. It's a small price to pay for such incredible accessibility.
Besides that, the only real flaw of the trizip design is that if one of the three main zippers breaks or fails, the whole bag becomes useless and will need to be replaced.
Hydration Features
With the 3-liter Hydration pack, you no longer need to carry along a water bottle, making it easy to stay light and hydrated. This item includes top of the line features. The tube shuts off automatically when full, ensuring a faster refilling speed.
There are multiple exit ports for the tube offering a great amount of flexibility. Additionally, the hydration pack can be easily removed if not required.
Water Resistance
The Camelbak Trizip has little to no water resistance, which is a real let down. It may fit a lot of gear, but if it rains this pack will not keep that gear dry. While the zippers are coated, they won't provide much resistance when it comes to anything above a light drizzle.
Additionally, the drain port at the bottom of the pack tends to let water in more than drain water out.
Ultimately, this is not an issue on day trips or when walking to work. It is not so great if embarking on a multi-day expedition. In that case, it should be paired with a rain cover to ensure clothes and gear stay dry.
Comfort Factors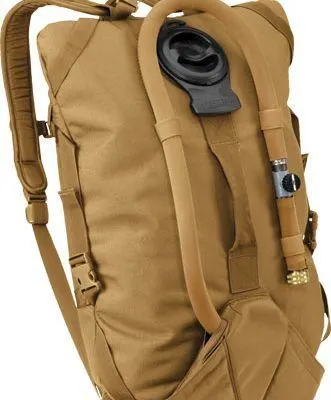 The Camelbak Trizip is very comfortable, provided the correct size is bought. With its many adjustable features, this pack can be fine-tuned to fit your form. The height adjustment feature allows users to match the pack to their individual torso length, ensuring that the waist belt carries the weight appropriately.
A blade in the back of the pack can also be altered in order to fit into the curve of the users back. If you forget to do this it can render the pack very uncomfortable!
The air mesh on the back is not too desirable. If worn with bare skin, it tends to scratch and absorbs moisture, such as sweat, very easily. There have also been several issues with the shoulder straps. While they are comfortable when walking and hiking, they are less versatile when it comes to more irregular movements, such as biking.
The Camelbak Trizip is definitely a pack that should be bought in person to ensure that the fit and limits of the pack suit the needs of the buyer. Online purchasing is not recommended.
Design Features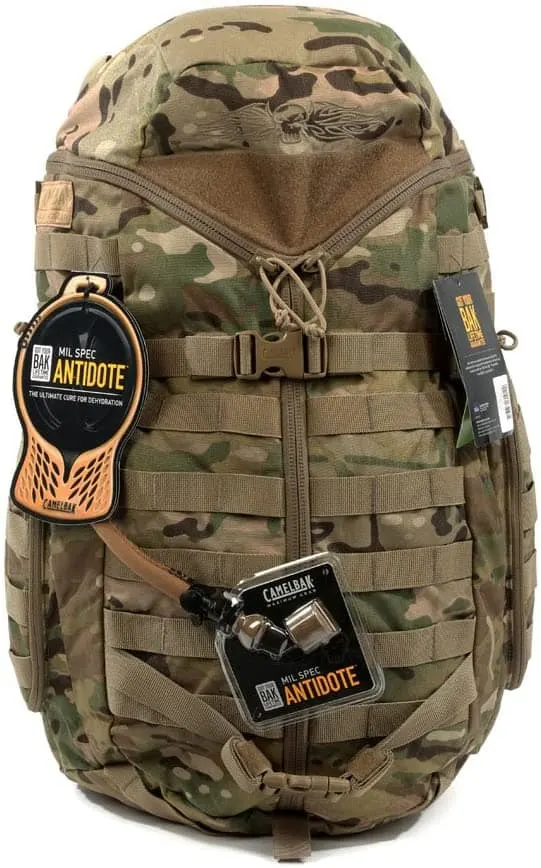 The Camelbak Trizip is designed to be a load-carrying pack. The thick foam on both the shoulder straps and waist belt ensures a perfect combination of structure and flexibility. For that reason, it is extremely adaptable and balances extremely well when climbing through rough terrain.
It is important to note that this is not a pack that is light in weight on its' own. It does however feel light in comparison when fully loaded. This is a great feature that only further enhances its ability to provide great balance on the trail.
There have been a few complaints regarding the trizip design and the size of the pack. Many have run into issues due to the fact that there is no lock for the zippers on the trizip design. This means that any of the zippers can easily come undone if the pack is tossed around too much, especially if the pack is heavily loaded.
Others have been disappointed in the small size of the bag. I urge you to test out its gear carrying capacity before returning the Camelbak Trizip just because it "looks" small. It is not meant to be a large pack, but it does still carry more than expected.
Overall Value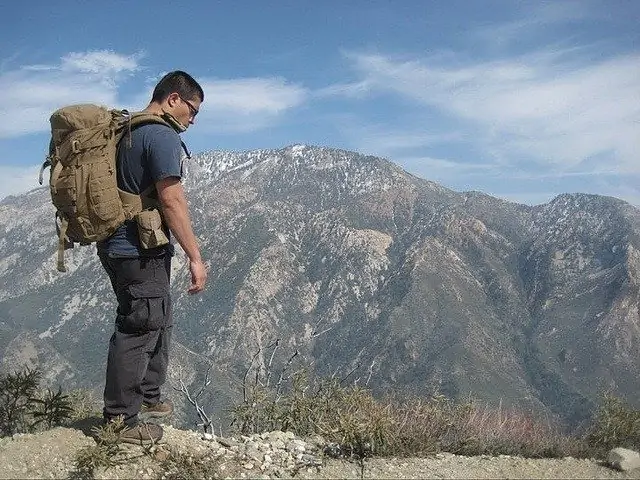 The Camelbak Trizip is a great pack that functions well, inside and outside of a combat environment. With all of its adjustable and removable features this is a pack that is well suited for traveling and for the casual hiker.
It is recommended for casual hiking and camping trips, with the ability to fit enough gear for about three days. It is definitely a worthwhile purchase if only because it can be easily adjusted to fit many needs.
Wrapping Up – Final Take
The Camelbak Trizip is a high-quality backpack that is essential for those who are looking for hydration, flexibility and stability. It is designed for running and easy access, which is essential on any kind of outdoors trip, from hiking to canoeing.
The Camelbak Trizip is a great pack for frequent travelers and those who like to explore and hike on a casual basis. The removable features offer a wide variety of options to fit your needs. It is designed for users who are looking for a high range of flexibility and load carrying capacity. It is not designed for longer expeditions in more unforgiving terrain.
Ultimately, this is a hybrid daypack. While it can last a bit longer, we wouldn't suggest it as the sole pack for a trip that lasts longer than three days.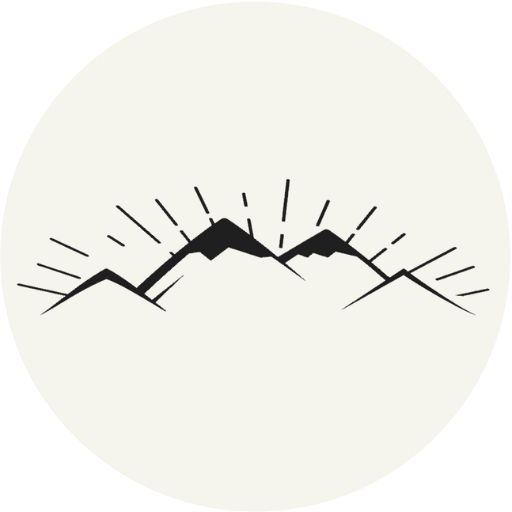 The All-Outdoors Guide team is comprised of enthusiastic experts that enjoy helping others that aspire to be better at outdoor fun. Part of that is making sure you have the right gear and information when it's time to go out and have fun. Some of our team have accomplished amazing feats like climbing 6000 feet to the top of mountains, others have explored every dirt trail they could find and we even have some people that have backpacked solo on various continents. No matter what our readers want to learn and do, our team is here to help them accomplish those goals.