The Porter 46 from Osprey is an excellent travel-friendly backpack with enough organization to keep your bag sanely packed throughout your trip.
There aren't an overabundance of pockets and sections, though, so you won't "lose" your cell phone or passport because you safely tucked it in the sixth-largest interior pocket that you now can't seem to find.
Overall, the Porter 46 is created for the tech-savvy traveler who wants a modern way to safely carry their belongings along for the ride. The "46" in the name refers to its capacity: 46 liters.
That's the ideal size for a lot of travelers – it's large enough to fit a lot of gear, but not so big that it'll be a pain to maneuver in tight spaces or on transportation. Also, it'll sometimes (but not always) be accepted as a carry-on, depending on the airline.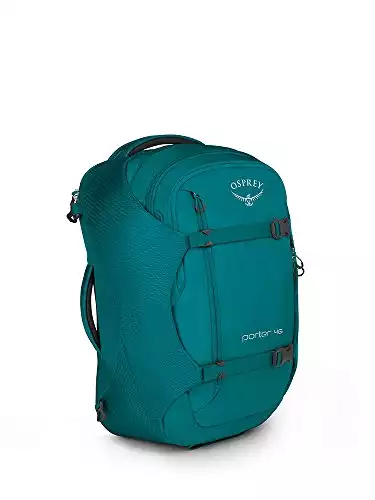 Osprey Porter 46 Travel Backpack
Our TOP choice is Osprey Porter 46. Its integrated organizational storage, intuitive and functional design makes it the best long-lasting travel pack option.
Check Price
We earn a commission if you click this link and make a purchase at no additional cost to you.
The Main Features of the Osprey Porter 46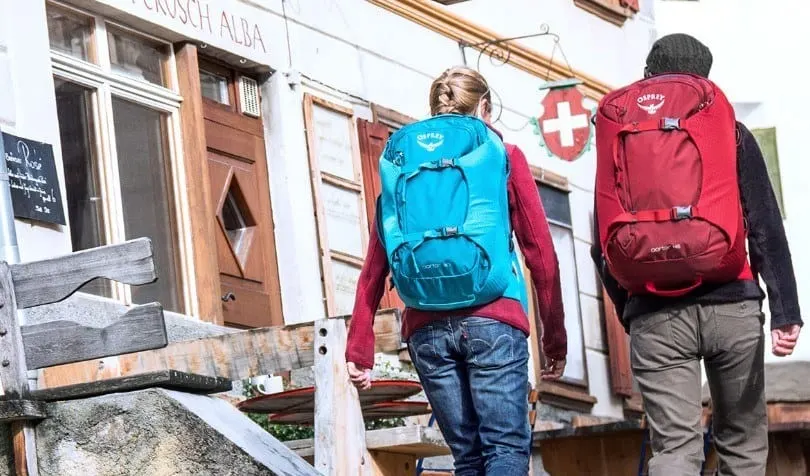 Osprey bags have a classic, old school look, which a lot of customers love. They're designed for modern users, though – it's just the appearance that's traditional. The Porter 46 comes in Kraken Blue (which is like an extra-dark navy), Diablo Red, Castle Grey, black and Mineral Teal. Now, let's go over the backpack's features.
Size
You already know that the Porter 46 is a 46-liter backpack. Here are its other dimensions:
Height: 22 inches
Width: 14 inches
Depth: 11 inches
Weight: 3.4 pounds
Note that while there are definitely larger bags out there, the Porter 46 is still pretty broad, and you may not find it comfortable or easy to wear if you have narrow shoulders.
Main Compartment
The main compartment of the Porter 46 zips down all the way ¬– this feature makes it more similar to a duffel bag than a backpack, which is extra-convenient when traveling.
You can access anything in your bag without removing anything else, whether you've packed the item toward the top, in the middle or at the bottom. This compartment is also roomy enough to pack with a few packing cubes, which can help with the organization.
Belt and Straps
Both the hip and shoulder belts are padded, which makes them comfortable to wear even for a long period of time. The sternum strap is a standard, non-padded strap. All of the straps are easy to adjust with just a pull, even as you're rushing through an airport or train station.
And if you do have to wear the bag for a full day, these adjustable straps make it possible to alleviate discomfort and properly distribute weight.
Along with the back panel is a zippered compartment that you can use to store the hip belt and harness straps when you're not using them. You can then carry the backpack like a regular piece of luggage if it's more convenient.
Compression Straps
The Porter 46 has padded sidewalls that help with bag compression, which you can use to better protect your items or make the bag smaller (to check it, carry it on a plane or simply have an easier time moving it around).
The compression straps do a pretty great job, and your bag will become noticeably smaller when this feature is used. However, you may not save much space if you try to compress a completely full pack – the straps are there for when the bag is partially empty and you want to constrict its size.
Access Handles
Once you've tucked away the harness straps and compressed your bag, you need an easy way to carry it. The Porter 46 has top and bottom handles so that you can carry it like you would a duffel bag.
The handles are padded and sturdy, so you don't have to worry about them snapping as you toss around the backpack during travel. Unfortunately, even though it can be made into a duffel bag size, it doesn't have a single, long shoulder strap to make carrying even easier.
There are two D-rings on the sides of the bag, so you can attach a strap to them if you want to buy one separately. Alternatively, you can attach carabiners to these D-rings to hold additional items, like water bottles (especially since there isn't a dedicated water bottle pocket).
Front Pockets
There are two zippered front pockets on the Porter 46. One of them is the perfect size for stashing your book, Kindle or journal. It's also a good place to put the travel documents you'll need to grab quickly.
The other pocket has extra organization inside, with compartments for small items like pens, keys, cash, your passport, etc. This pocket also expands and can fit something as large as a book or journal inside.
Top Pocket
The top pocket on the Porter 46 isn't the place to store items you'd be upset to lose – like your credit cards – because it's a bit too exposed. However, it's great for those things you want quick access to, like Kleenex, Chapstick, your phone charger, etc.
Laptop Sleeve
A lot of backpacks come with a designated laptop sleeve, but what makes the Porter 46 particularly useful is that the sleeve is in the back of the bag instead of in the front.
Most backpacks place the sleeve in the front of the bag, which can put extra pressure on your laptop when the bag is packed to its capacity. Having the sleeve in the back of the bag keeps it away from all that damaging pressure, and your computer will stay extra safe by resting between your back and your packed belongings.
Plus, there's a lock included to secure your laptop even more. One other thing that's notable is the zippered mesh pocket in the laptop sleeve. This is the perfect place to store laptop-related items, like a battery pack or charger.
Buckles and Zippers
The Porter 46 has heavy-duty buckles and YKK zippers, so you don't have to worry about your bag falling apart or breaking down mid-trip. The plastic pulls on the zippers are large, making them easy to grip and pull. Also, the main compartment and the laptop sleeve have lockable zips, adding to the bag's security.
If you are in desperate need of a new backpack, check out how Gregory vs Osprey Backpackscompare and how to find the right choice for what you are planning to use it…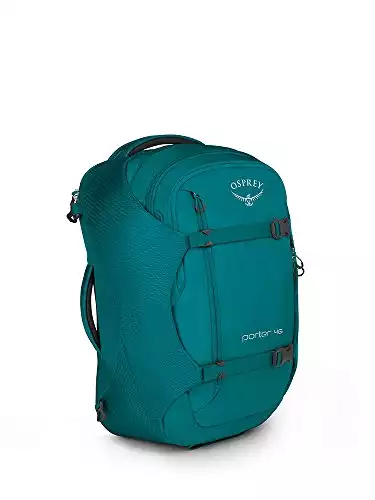 Osprey Porter 46 Travel Backpack
Our TOP choice is Osprey Porter 46. Its integrated organizational storage, intuitive and functional design makes it the best long-lasting travel pack option.
Check Price
We earn a commission if you click this link and make a purchase at no additional cost to you.
What Does the Porter 46 Cost?
Normally, the Osprey Porter 46 is $140, but it's currently being offered for $84 on the Osprey website. Like all of Osprey's products, the Porter 46 comes with a lifetime guarantee.
Should something go wrong, they'll fix it at no cost (aside from the shipping you'll have to pay). Note that certain types of damage, like airline damage, water damage, and general wear and tear, aren't covered.
What to Consider Before You Buy the Porter 46
While we love this bag for travel, there are some situations that it won't fit well.
Airplane Carry-On
If you need a backpack that will absolutely double as a carry-on, don't rely on the Porter 46. Yes, some airlines will let you on with it, but it's not guaranteed since it's not technically an across-the-board-compliant size.
In general, larger airlines are more flexible when it comes to carry-on size, but smaller airlines are more likely to have you check it if it's too large. And even if you can take the Porter 46 aboard, it's probably going to be too big to store under a seat, so you'll need to put it away in an overhead bin.
Camping or Hiking
The Porter 46 isn't a solid outdoor bag, because it doesn't have enough organization or purpose-built sections to make it convenient for campers or hikers.
For example, it doesn't have a water bottle pocket on the outside or a reservoir sleeve inside. Furthermore, this backpack doesn't have serious back padding (and, as a result, weight distribution) that you need when you're roughing it outside.
Extra-Light or Extra-Heavy Packing
The Porter 46 is best if you're going to use it to right around its capacity – but no more (and not much less). If you're only going to fill the bag partway, go for a smaller 40-liter one. If you need to cram in a lot more, level up to a 70-liter bag.
Mobility
While the Porter 46 is great for travel, especially if you'll be packing some tech gear, it's not designed to be worn for several hours every day. Yes, bring it along on your trips as easy-to-carry, convenient luggage, but don't wear it if you're backpacking through Europe – there are much better backpacks for that purpose.
Water Exposure
The Porter 46 is not waterproof, which is why you won't want to wear it during outdoor adventures. Also, if you'll be traveling somewhere that gets a lot of precipitation, this may not be the best bag for you, even if you don't intend to wear it on your back all day, every day.
A little bit of rain may not do much harm, but heavy rain can get your belongings wet – which is especially troublesome if you're carrying electronics. Overall, the Porter 46 is not the most comfortable backpack around – and it's not designed to be.
It's purposely missing support framework because it's not meant to be worn for several hours in a row or while doing demanding activities, like climbing a mountain. Also, the lack of back support is why the bag is affordable – and since you won't be depending on it for hours on end for several days in a row, you probably won't notice its lack of comfort features, anyway.
Best Alternatives to the Porter 46
While the Porter 46 is a great backpack, it's not for everyone or every type of excursion. Here are three alternatives to consider:
Osprey Farpoint 40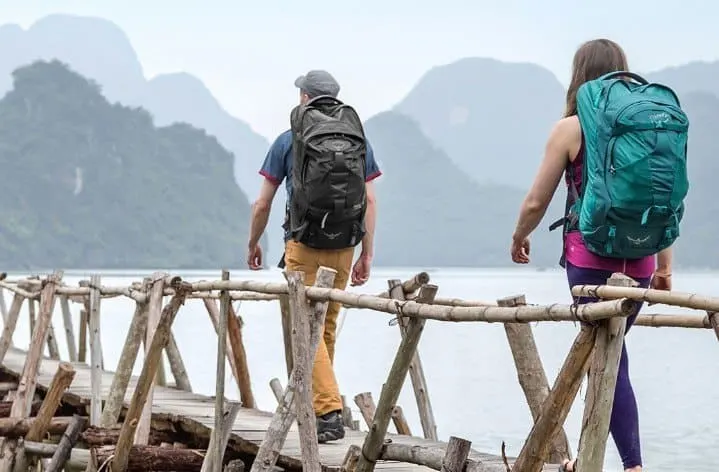 If you like how the Porter 46 is designed and you want similar organization options, but you need something that's a bit lighter and easier to take around with you, consider the Farpoint 40. This backpack may be more comfortable on a person with a smaller frame, and it's also a universal carry-on size.
<p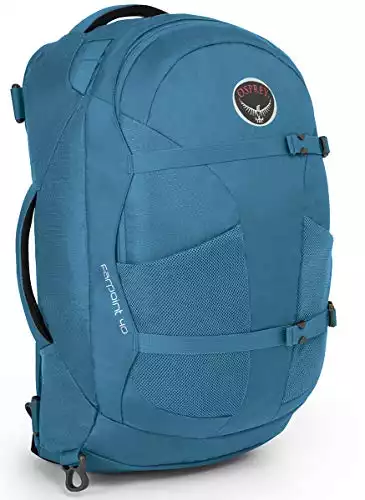 /p>
Osprey Sojourn 60
If you need something to serve as a bigger piece of luggage, consider the Sojourn 60. If the Porter 46 is a cross between a backpack and a duffel bag, then the Sojourn 60 is a cross between a backpack and a suitcase. You'll have to check it, but it could possibly serve as your one and only piece of luggage.
Nomatic Travel Bag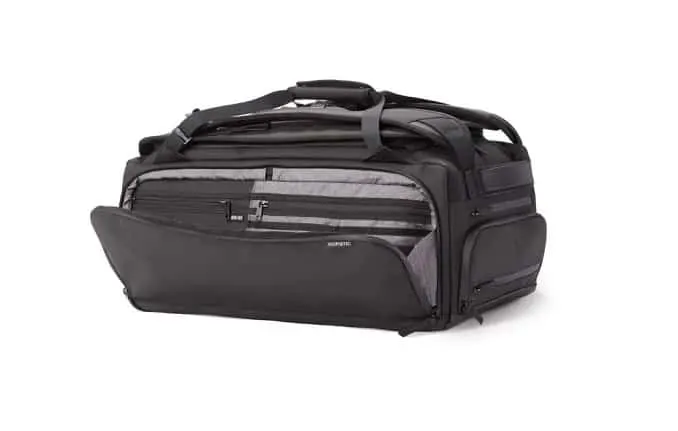 If you need a lot more organization than the Porter 46 offers, try the Nomatic Travel Bag. It has so many different arrangement options that you may have trouble finding enough gear to organize.
<p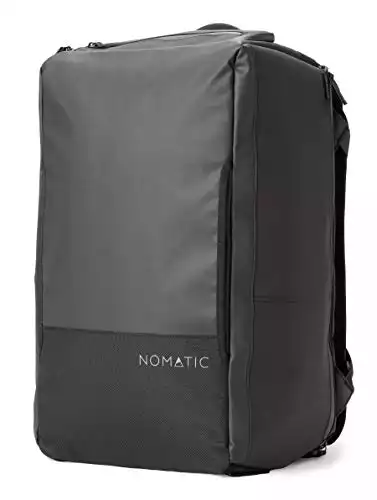 /p>
FAQs
Question: Are Osprey backpacks worth the money?
Answer: Osprey is a leader in the world of backpacks, and while everyone will have their own preference when it comes to style, features, and brand, we feel that Osprey definitely produces high-quality items. They have a pretty good lifetime guarantee, but even without it, Osprey packs tend to last for a long time. Treated well (or even banged around, if you get an outdoor-ready pack), you'll likely use yours for years to come.
Question: Is the Osprey Porter 46 carry-on size?
Answer: That depends on the airline you're flying with. The Porter 46 isn't a universal carry-on size, but it is small enough to take as a carry-on on some flights. In general, larger airlines have more space and more flexible guidelines when it comes to carry-ons. If you're flying with a small airline, though, you may have to check it. Remember to use the compression straps first, though, which can reduce the size of the pack, possibly turning it into a carry-on size. Note that even if you're allowed to take the Porter 46 with you as a carry-on, it's frame will probably be too big to stash under the seat in front of you. Instead, you'll likely have to put it in a storage bin, which means you won't have a lot of access to it throughout your trip.
Question: How do you pack the Osprey Porter 46?
Answer: The great thing about the Porter 46 is that the main compartment has a full zipper, so you can open it up completely and access anything inside, no matter where you packed it. You can also use packing cubes in the main compartment if you need more organization.
That said, your heavier items should be close to your back and in the middle of the bag, which helps the weight to be distributed in a way that's comfortable.
Put your smaller and lighter options at the top. Try to keep the back part flat so that it won't be uncomfortable when you wear it. There are also zippered pockets on the sides and top that will safely hold your smaller items.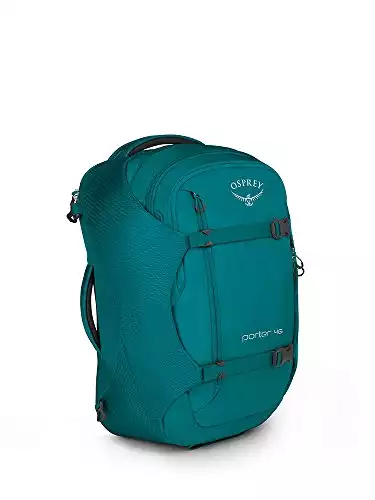 Osprey Porter 46 Travel Backpack
Our TOP choice is Osprey Porter 46. Its integrated organizational storage, intuitive and functional design makes it the best long-lasting travel pack option.
Check Price
We earn a commission if you click this link and make a purchase at no additional cost to you.
Why Buying the Osprey Porter 46 is the Best Decision You'll Make
The Porter 46 has a lot going for it: its size fits more than you could in a regular backpack, and it has enough organization so that you won't misplace your most important belongings. It's pretty versatile, too, especially since it can handle traditional travel items along with tech and gadgets.
This is a conveniently-sized bag (not too big and not too small) with the tech-focused, slow-ish traveler in mind. No, this isn't the bag to bring with you if you'll be in the backwoods on a nature retreat or dashing through a fast-paced city on your feet for three weeks straight.
However, it is perfect for the slower-paced traveler, specifically a blogger or other type of digital nomad. If you'll be traveling and then spending a lot of time at your destination – or dropping your bags in a hotel before you head out to sightsee – the Porter 46 is an excellent part-time companion.
Ultimately, we think you'll love this bag, and that you'll find all sorts of excuses to use it, both when you're traveling the globe or when you're just heading out for a day of errands. But just to be sure you're making the right choice, check up a few more Osprey Options like the Osprey Daylite vs Daylite Plus.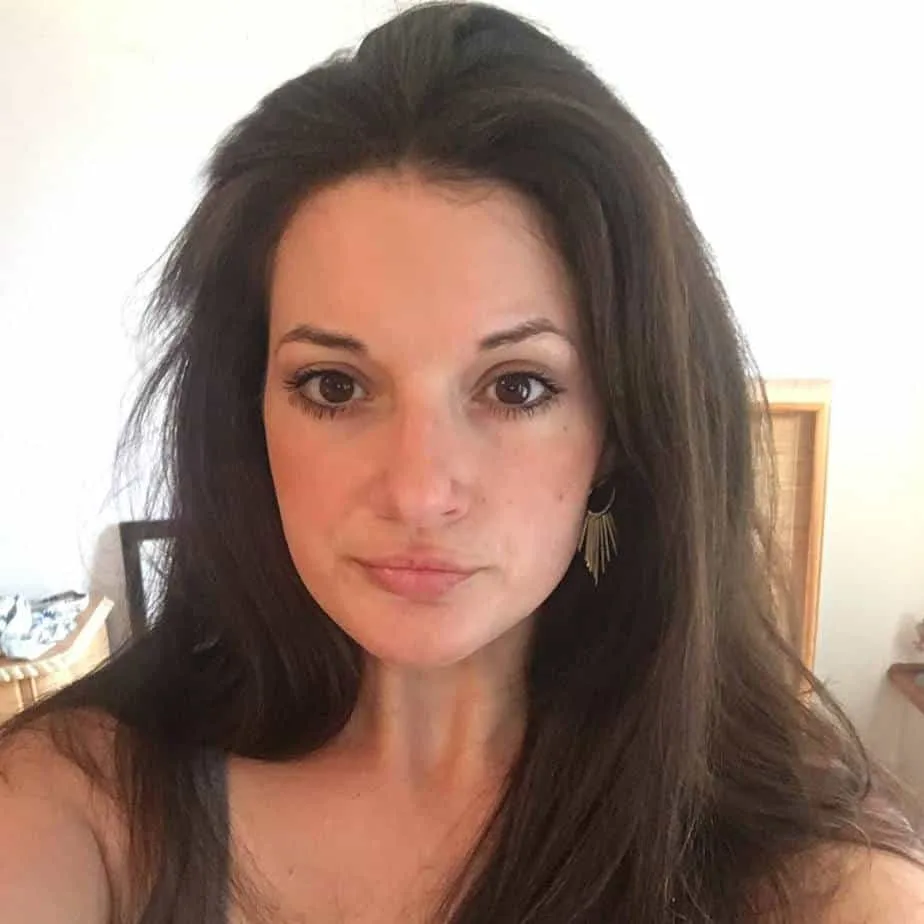 Lindsay is an adventurous soul and a columnist in New York. She's a frequent hiker around the park in the Hudson Valley. Her backpack and boots are ready when nature calls. She has figured out tricks that will make that uphill struggle calm your soul.