REI might be better known as a retail store than a manufacturer but don't let you throw that off from their brand name products.
The REI Kingdom 6 tent is an excellent example of a high-quality, large capacity shelter that easily performs with popular tent brands like Nemo and Big Agnes. For the size, it is extremely budget-friendly, and it has many advantages over any competing six-person tent.
In many ways, it has become the go-to, quality tent for family camping.
The Kingdom 6 was just redesigned in 2016 with some excellent design improvements, and it continues to perform just as well as the old model. The similarities between the two models are vast and many fans of the first Kingdom 6 are still happily using their tent after many years.
"If you've been looking for a multi-person shelter than can handle almost all weather conditions, (including inclement weather) this model is one you'll want to consider."
Continue reading for my full Kingdom 6 review…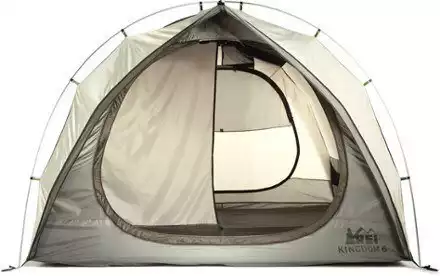 REI Kingdom 6 SALE
Look, I LOVE this tent. I've used it in my backyard dozens of times when we had overflow guests, but I've also used it on weekend treks with friends. Right now it's on sale for a RECORD discount.
Save 25% Off
We earn a commission if you click this link and make a purchase at no additional cost to you.
Specs and Features of the REI Kingdom 6
REI Co-op took a lot of time designing their REI Kingdom tent series. Here is a rundown of all the basics of how this 6 person tent is constructed (tent body) and what you can expect from it.
Important Details of the Kingdom 6:
Recommended for 3 season use
Offers maximum 6 person tent capacity
Packed weight – 19 lbs 12 oz
Packed dimensions – roughly 25.5″ x 16.5″ x 9.5″
Tent floor dimensions – 120″ x 100″
Tent floor space – 83.3 square feet
Vestibule area – 29 square feet
Peak ceiling height – 6′ 3″
Retails for $439 (but check this listing for the latest deals)
REI Kingdom Materials:
Canopy – nylon and mesh
Floor – water-resistant coated polyester oxford
Rainfly – water-resistant coated polyester taffeta rain fly
Pole material – 14.5/11 mm 6061/7001 aluminum poles
1,500 mm hydrostatic rating
Key Tent Features and Specs
Combination of a classic rectangular floor + vertical walls allows for max. headroom and sleeping space
Freestanding design with pole sleeves
Tent set-up requires only 3 poles and pole clips
Double door set up – one entrance/exit and one interior privacy door
No-See-Um style mesh panels keeps bugs at bay
Large vestibule for gear storage (better than a gear loft) + awning to keep rain out
Various pockets and other interior storage spots
Ability to section tent into two rooms
Removable rain fly is seam sealed
Cut-in floor keeps water away
Compatible with Connect Tech for tent expansion
Footprint recommended for most terrain (sold separately)
Comes with a backpack style carrying bag (ideal for backpacking), which includes poles, guyline stakes, guylines, line tightener and a mini pole repair kit for emergencies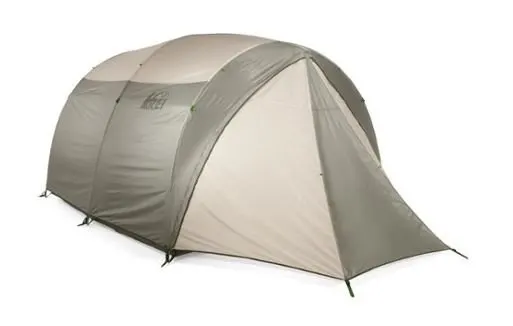 The Kingdom 6 has a lot going for it but it isn't so feature-rich that it would feel like it's too much for the camper that enjoys simple shelters.
REI really hit the nail on the head with the freestanding tent design of this model, as the numerous positive reviews for it prove.
Advantages of the REI Kingdom 6
There are a lot of little things to love about Kingdom 6 tent but they can be summed up into these 3 main advantages:
Extremely Roomy with Impressive Livability and Ventilation
This super airy, open tent is everything you could want for camping trips that call for maximum living space with minimal fuss.
"With the Kingdom 6 you will have plenty of storage pockets and interior space for everyone's gear and still have comfortable sleeping space for 4+ adults."
It is particularly ideal for parents camping with their children as the tent can be divided in half via an interior door for privacy.
With nearly 84 sq ft of floor area and a tall 6′ 3″ ceiling, this tent isn't going to leave you feeling claustrophobic at all. The size of this tent also means it is fairly versatile. It would be perfect as a "base camp" campsite tent at an all day festival or picnic, with plenty of space for people to gather inside.
Take off the rain fly and you will have a great bug-free hangout spot for summer. There's even enough room for an air mattress or sleeping cot, should you desire.
Screen Canopy Allows for Perfect Summer Night Camping Experience
One of the coolest features about the Kingdom 6 is that the new 2016 redesign added more mesh to the canopy of the tent. This offers two benefits – awesome views and incredible airflow. During warm weather camping where there is no fear of bad weather, it makes sense to not use the rainfly in order to keep cool.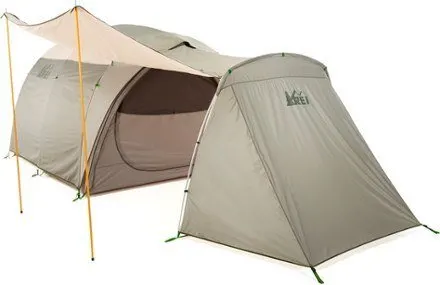 "The No-See-Um mesh keeps out all bugs and you still get side protection from any breezes."
Camping is fun for a lot of reasons but most people will agree that the experience of being surrounded by darkness and looking up at the sky is amazing. With the Kingdom 6 tent you can get an unobstructed view of the sky at night.
If you love the feeling of sleeping under the stars but still want protection from insects and the ability to quickly get under cover if the need arises, this tent is going to really make you happy.
The canopy actually makes it a great family camping tent, ideal for younger campers to star gaze (check out the sailor moon) and otherwise enjoy the night sky!
Compatible with Kingdom Garage Attachment
Every REI Kingdom camping tent is compatible with the Kingdom Garage Attachment. Majority of the fans of this tent urge potential customers to invest in this accessory for the Kingdom 6. The Kingdom Garage is a pole-support awning that zips right onto the tent via the Connect Tech zipper.
It adds an additional 61 sq ft of storage and living space. Just like the tent, it is completely weatherproof and can be configured in many different ways to suit your purposes (including as a makeshift addition for a car camping setup. You can purchase REI 6′ poles separately to get the most of being able to use the Garage as an awning. This is ideal for use as a true camping tent or larger groups as a backpacking tent.
Most people that are interested in the Kingdom 6 want it because of the sheer amount of covered space it offers. It only makes sense to invest in the Garage to maximize your experience with this tent.
The tent footprint doesn't cover the garage, but most people choose to use the garage as a kitchen, dining room or dirty gear storage space which makes it work out well.
Disadvantages of the REI Kingdom 6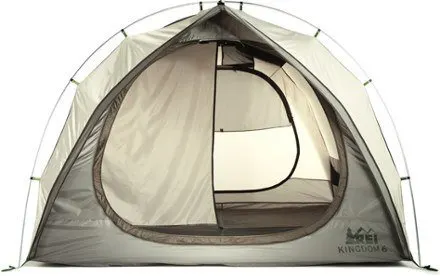 The Kingdom 6 is easily a 5 star tent experience, but no model is completely free of faults. This model's only fault coincides with its advantage of being so large.
Design Struggles in Heavy Wind Storms
There is only one downside to the design of the Kingdom 6, but it's one that can't really be helped. Due to the tall height and vertical sides of the tent, it can catch wind easily. While some customers haven't had issues with their tent in high winds, others have found that sudden bursts can cause the tent to crumple or topple over.
Though this REI camping tent is freestanding in design, it's recommended that if you could experience windy conditions that you should tie it out properly. The tent comes with stakes, guylines, and stakes for the guylines but many customers find that using extra stakes to make the tent taut as possible is the best option.
Frequently Asked Questions About the REI Kingdom 6
How does the REI Kingdom 6 respond to strong winds?
It seems that many users have had problems because of their flexible poles, specifically used to pin up the front vestibule. So it does not have a good performance in climates with particularly strong winds. Note, you can also mitigate wind issue by proper camp placement (with wind block) or just ditch the vestibule awning entirely in windy conditions.
Does this tent need to be folded to fit in its case or can it simply be stuffed?
Yes! It is a very big tent but the tent's case is big enough for the tent to be folded in (with just a little attention to the folding technic). The garage poles fit in the bag's center divider the bag with the other tent poles, and it has an excellent advantage in terms of weight. It is very light.
How many people can comfortably sleep in the REI Kingdom 6 tent?
The REI Kingdom 6 can easily handle 4, or even 5, average-sized adults, but, 6 average adults can be a challenge. If you are a family of 6, including children, this tent will fit perfect for you.
REI Kingdom 6 vs 4
Which is the Better Option for Families / Groups?
I get this question a lot, particularly from families but also for couples who are camping together.
My short answer is that I strongly prefer going with the six- person REI tent option. The extra space for gear and "no elbow touching" is a really nice luxury to have on the trail. While the 4 person technically fits 4, you will have to get cozy with your gear (and family / friends).
The other added benefit in my book is the sand mat and "front porch" standard on the 6-person version. The only consideration is for campgrounds or conditions where the larger footprint just isn't practical (or allowed).
Note: Learn more about our top recommended best 6-person tents.
REI Kingdom 6 Alternatives
If the Kingdom 6 doesn't quite hit the mark (or you just want to check out some other options), I've curated some similar tents below:
The Final Stake: Is This REI Co-Op Tent Worth it?
Overall the REI Co Op Kingdom 6 is an excellent example of a roomy, multi-person capacity tent for 3 season use. It is perfect for warm summer nights but can easily handle cold fall temperatures or spring rainstorms.
Those that need something roomy for a long-term camping trip will find that this tent can almost function as a complete living area for two by dividing the floor space into a bedroom and living room. The amount of livable space is a clear win for the Kingdom 6.
This room divider is perfect as a family tent, separating the grownups from the little ones OR for couples camping.
For the price and all the praise it's garnered, the Kingdom 6 is a must-have for campers needing a bigger tent that won't break the bank or be too bulky that it won't compress down into a backpacking stuff sack.
For the latest pricing and deals, be sure to check this exclusive listing.
Looking for a tent that can handle windy conditions? Consider the Big Agnes Flying Diamond, or any of the tents in our guide of the Right Tents for Windy Weather!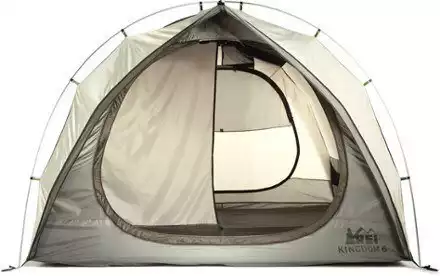 REI Kingdom 6 SALE
Look, I LOVE this tent. I've used it in my backyard dozens of times when we had overflow guests, but I've also used it on weekend treks with friends. Right now it's on sale for a RECORD discount.
Save 25% Off
We earn a commission if you click this link and make a purchase at no additional cost to you.
Further Reading: Camping Trip Checklist (don't leave camp without these items) and read up on the best camping activity ideas for kids.
Motorcycle tent camping? Yes, that's a thing! Check out our top 6 best tents for motorcycle camping.
Just need something for 2 people? Check out our REI Half Dome 2 Review.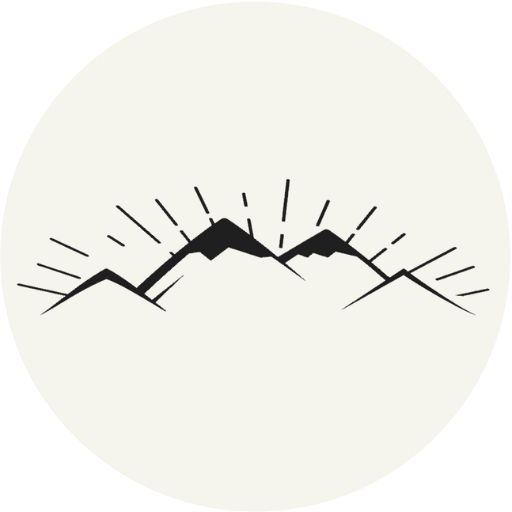 The All-Outdoors Guide team is comprised of enthusiastic experts that enjoy helping others that aspire to be better at outdoor fun. Part of that is making sure you have the right gear and information when it's time to go out and have fun. Some of our team have accomplished amazing feats like climbing 6000 feet to the top of mountains, others have explored every dirt trail they could find and we even have some people that have backpacked solo on various continents. No matter what our readers want to learn and do, our team is here to help them accomplish those goals.