Choosing a new climbing shoe can be a difficult task, especially for beginners. There are a wide variety of brands and models, and most of them are carefully tuned for a particular style of climbing. Pick the wrong one and you'll have a less-than-optimal experience, but pick the right one, and they'll keep you on the wall even when you were sure that toe was going to slip.
For that reason, it's hard to give a blanket verdict on the La Sportiva Tarantulas. There's no such thing as the right climbing shoe for everyone. But since these shoes are priced as a great entry-level option, let's take a closer look at the types of climbing shoes that are out there and which one is the right fit for which situation.
Types of Climbing Shoes
In the world of climbing shoes, we can break most models down into one of three options along two different spectrums: sole downturn and lacing.
Lacing is the easier of the two to understand. Climbing shoes come in three styles: laced, velcro, and slipper.
Laced climbing shoes are fastened with laces, just like regular shoes, and this allows for a lot of customizability in the fit. You can pull them as tight or as loose as you want, and you can use the laces to make particular sections of the shoe tighter or looser. This makes them more time-consuming to put on and take off, though. That matters because a lot of climbing shoes are pretty uncomfortable to wear for long periods.
Velcro climbing shoes are fastened with hook-and-loop strips like Velcro, and they're a bit of a middle ground option — the fit is not as customizable as it is with laces, but you can still make some fit adjustments with the straps, and they're much easier to take on and off than laces are
Slipper climbing shoes are the far end of the spectrum, and they're not fastened with anything, they simply slide on and off of your foot like a tight-fitting slipper using stretchy synthetic fabrics. Slipper-style shoes are easy to slip on and off, but that comes at the cost of all adjustability.
The other spectrum is a shoe's sole downturn, which refers to the extent to which the shoe has a downturned (camber) sole and to also to how thick the sole is.
Neutral climbing shoes feature relatively flat, thick soles with the little downturn. This makes them the most comfortable type of climbing shoe, which is appealing both to beginning climbers and to outdoor multi-pitch climbers who don't want to be taking shoes on and off constantly and need long-term comfort.
They're also a good choice for crack climbing, as the lack of a rigid downturn makes it easier to work them into smaller cracks in the rock. The downside is that the lack of a downturn makes them less grippy on overhanging terrain, and the thicker soles make it harder to feel the details of the rock and make small adjustments accordingly.
Moderate climbing shoes occupy the middle ground, with thinner soles and more of a downturn than neutral shoes, but still thicker soles and less downturn than aggressive shoes. As you'd expect, this means they offer better performance and precision than neutral shoes (but less than aggressive shoes), and better comfort than aggressive shoes (but worse performance). These shoes are a popular all-around choice for climbers who want to be able to handle a variety of routes.
Aggressive climbing shoes usually sport a pretty extreme downturn and thin soles. This makes them quite uncomfortable to wear for long periods of time, but it also makes them the highest-performance shoes, particularly on overhanging terrain. They're a popular choice with boulderers (sport climbing), rock climbing and technical climbers who like tough, overhanging routes and don't mind slipping shoes on and off between climbs to relieve the pressure on their feet.
All of this brings us to the La Sportiva Tarantula…
La Sportiva Tarantula Features
The La Sportiva Tarantula is a neutral climbing shoe (technically it does have a downturn, but it's quite mild) that uses a velcro lacing system (although a laced version called the "TarantuLace" is also available). It's targeted at beginning climbers and climbers looking for all-day comfort.
One of the core features of the Tarantula is its velcro attachment strips, which lock into a kind of web-like pattern on the shoe that allows for a bit more fit customizability than the shoes would otherwise offer. That helps with getting the shoes quickly on and off, and two large cloth loops at the back of the shoe assist with that task as well.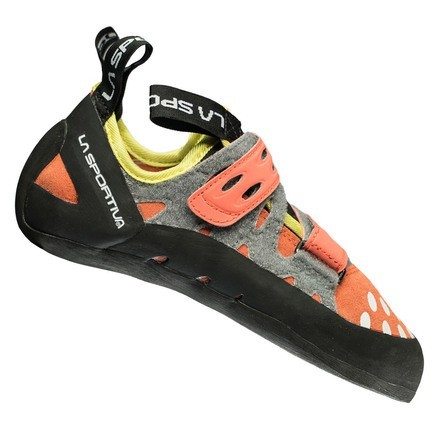 The other important feature is the sole, which sports 5mm FriXion® RS rubber. Some "stickiness" tests have found this to be one of the stickier rubbers found on climbing shoes — that's a good thing — but rubber stickiness may not matter a lot on an entry-level shoe, as most of a beginner's foot-slips are going to be related to technique rather than any inherent fault of the shoe.
Other than that, there's not much to say about the Tarantula. Climbing shoes are simple. Like many of them, it sports a leather upper that will last long after you've worn the rubber on the bottom out. But what really matters, of course, is how well they climb.
Advantages of the La Sportiva Tarantula
In my own climbing, I've found that the La Sportiva Tarantulas are precisely what you'd expect based on their market position and pricing: great entry-level shoes that can handle a wide variety of routes effectively, with less foot discomfort than you'd get from a more aggressive shoe.
It's difficult to empirically measure the stickiness of one type of rubber versus another, but anecdotally, I felt like the FriXion® RS rubber of the Tarantulas held better on a few holds where I might have expected my shoes with Five Ten's Stealth C4 to slip. On the other hand, those Stealth C4 shoes are older and more worn-out, so that's not a particularly fair comparison. In any event, the rubber shouldn't really be a selling point for entry-level shoes.
The vast majority of climbers can probably blame technique for their falls, rather than any minute difference in rubber sole materials. I've certainly fallen off the wall plenty in these Tarantulas, but I never felt like it was the shoes' fault.
The thing I really loved about the Tarantulas was the velcro fastening system. Because there are a lot of angles at which it can be attached, it really felt like I had some control over how the shoes were fitting me, even though there were only two straps.
And of course, those two straps make it really quick and easy to slip the shoes on and off. Being used to lace-up shoes, I used to just suffer from mild discomfort and keep my shoes on throughout a climbing session, but with the Tarantulas, it's really easy to slip them off for a moment while I'm taking a breather to give my feet a well-deserved breather, too.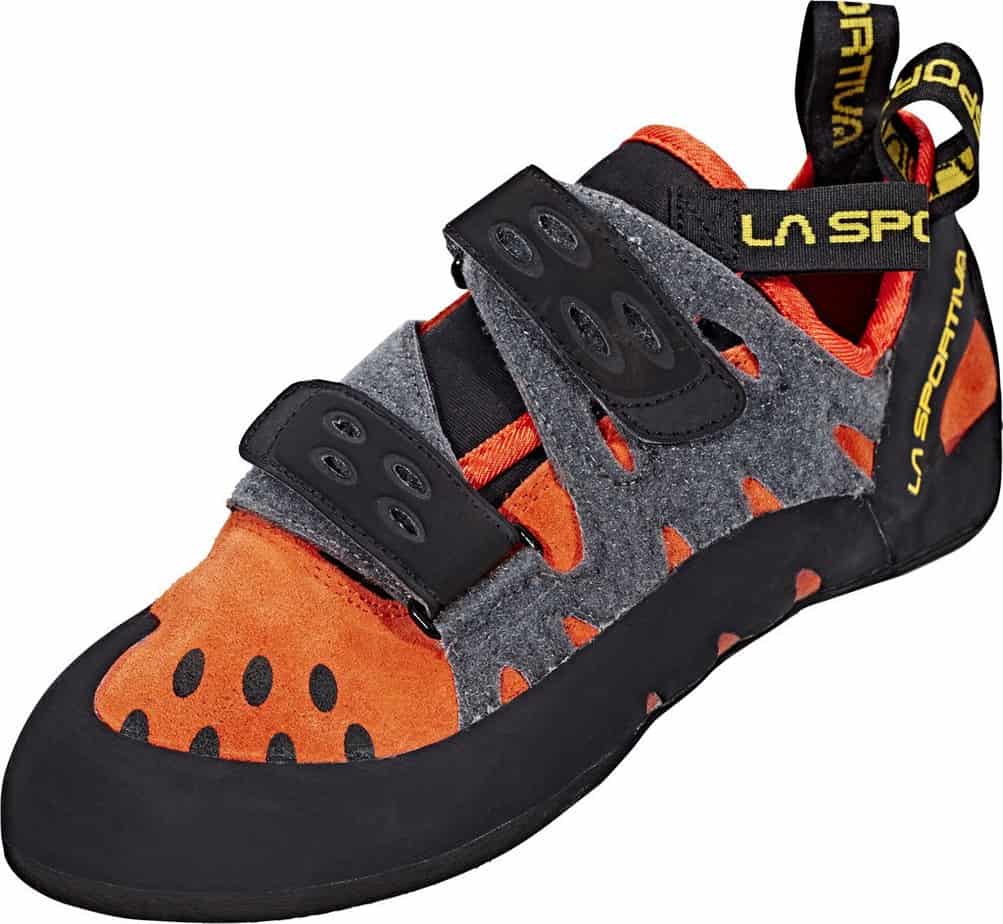 I also really liked the large double loops the Tarantulas have at the back, which also helps with quickly pulling them on and off. All climbing shoes have loops there, but the fact that the Tarantulas have two makes them feel a bit easier than the Five Ten Rogues I'm used to.
Another advantage is the price. The Tarantulas have an MSRP of just $90, which makes them one of the most affordable options out there for climbing shoes. That's a really small investment to start a new hobby, so it's great that for the cost of just these shoes and a gym day pass anybody could pick up climbing. That said, these aren't only useful for beginners, and more experienced climbers looking for a shoe that can provide longer-term comfort should check them out as well.
Disadvantages of the La Sportiva Tarantula
Honestly, I have no significant complaints about these shoes. They're not particularly comfortable — you can probably find neutral shoes that would be nicer to wear for long stretches of time — but no rock climbers are really comfortable, and they're certainly better than moderate or aggressive performance shoe options.
Other than that, the only downsides are things you'd expect based on their design. Because there's no aggressive downturn, they're not ideal for climbing overhanging routes (although they'll certainly still work for them). Because there are no laces, the fit isn't quite as down-to-the-inch customizable as a laced shoe. But these things are by design, and those design choices give the shoe advantages in other areas.
Aesthetics
Aesthetics really don't matter when it comes to climbing shoes, and whether you like the Tarantulas or not will probably come down to taste. There are some clever aspects of the design, such as the web-like pattern of velcro attachment, which seems fitting for a shoe named after a spider. Personally, the lime green color doesn't do much for me, and for climbing, I like the more ostentatious looks of some of Sportiva's higher-end offerings. That's purely a question of personal taste, though.
La Sportiva Tarantula Alternatives
While I personally love my Tarantula's there are also other great climbing shoes worth considering. Here are the ones I've also looked at:
Should You Buy the La Sportiva Tarantulas?
In a word: yes.
The Tarantulas are great all-around, entry-level shoes (great sport climbing or bouldering shoes), and chances are if you need something more specialized than that, you already know what you need and stopped reading this review long ago.
If you're not sure what climbing shoe is best for you, the Tarantulas are an answer that will work for anyone.
Where to Buy La Sportiva Tarantula?
While we've linked out to Amazon throughout this article, there are a few other online retailers worth checking as well.
Other Climbing Gear You Might Need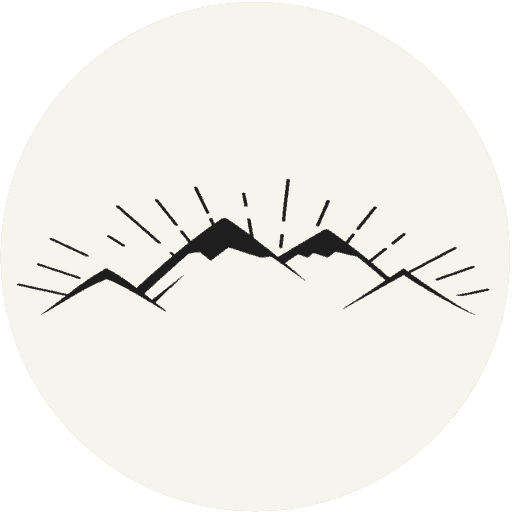 The All-Outdoors Guide team is comprised of enthusiastic experts that enjoy helping others that aspire to be better at outdoor fun. Part of that is making sure you have the right gear and information when it's time to go out and have fun. Some of our team have accomplished amazing feats like climbing 6000 feet to the top of mountains, others have explored every dirt trail they could find and we even have some people that have backpacked solo on various continents. No matter what our readers want to learn and do, our team is here to help them accomplish those goals.