If you want a quality pair of climbing shoes you can't go wrong with Scarpa. This Italian brand has been around for generations and is easily one of the best outdoor footwear manufacturers out there. One of their many rock climbing shoe models is the Helix.
The Helix is available for both men and women, and is equally liked amongst both genders. Scarpa developed the Helix with a few purposes in mind. For one they wanted a shoe that could be used for beginners.
Something climbing instructors can use for those new to the hobby but would still give them the support that typical "beginner's" shoes often lack. Scarpa also wanted this shoe to be able to handle everything up to technical alpine climbs.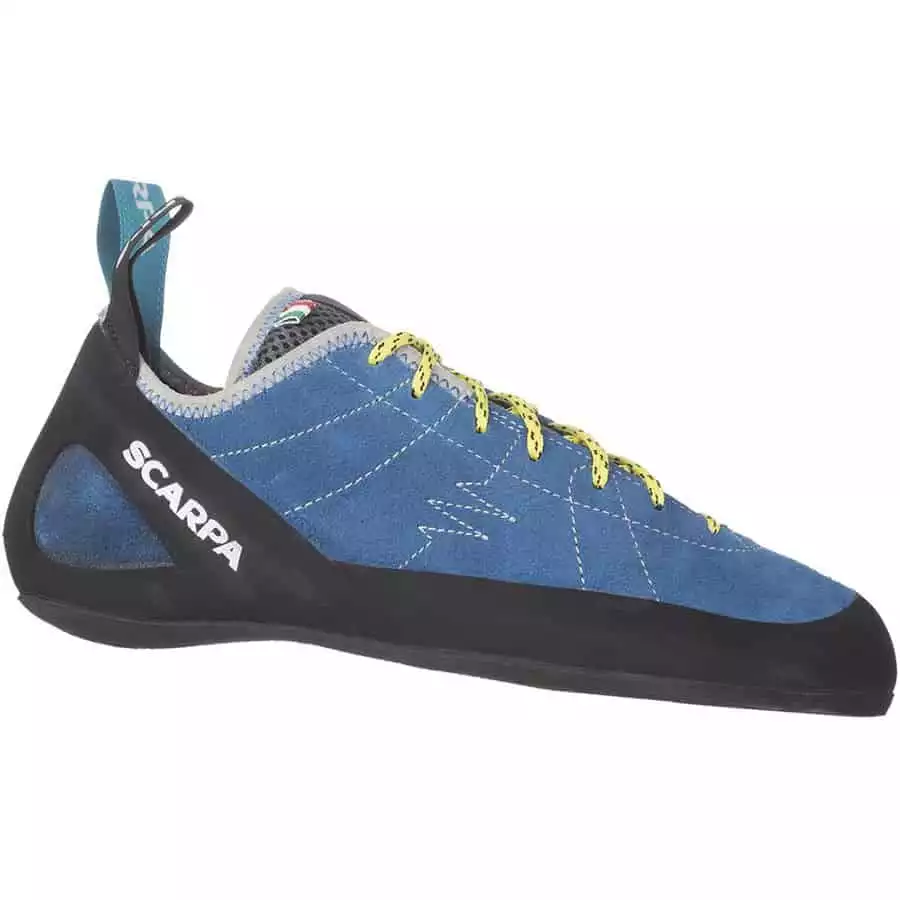 It's safe to say that Scarpa met their goals with the helix. These leather lace-up shoes will let you stick to the smallest holes or ledges with ease.
They are like pillows on the feet and are made of durable materials, yet remain very reasonably priced. If the Helix sounds like something you've been wanting to add to your climbing shoe quiver, you might want to give them a try.
Note On Where to Buy: The 2 places I've reliably found this shoe are 1) at this Backcountry listing here, and 2) and available at REI here (with REI Member discounts).
Details & Design of the Helix
Before delving into reasons you may or may not want to invest in a pair of Helix shoes, here is a rundown of all the details you need to know.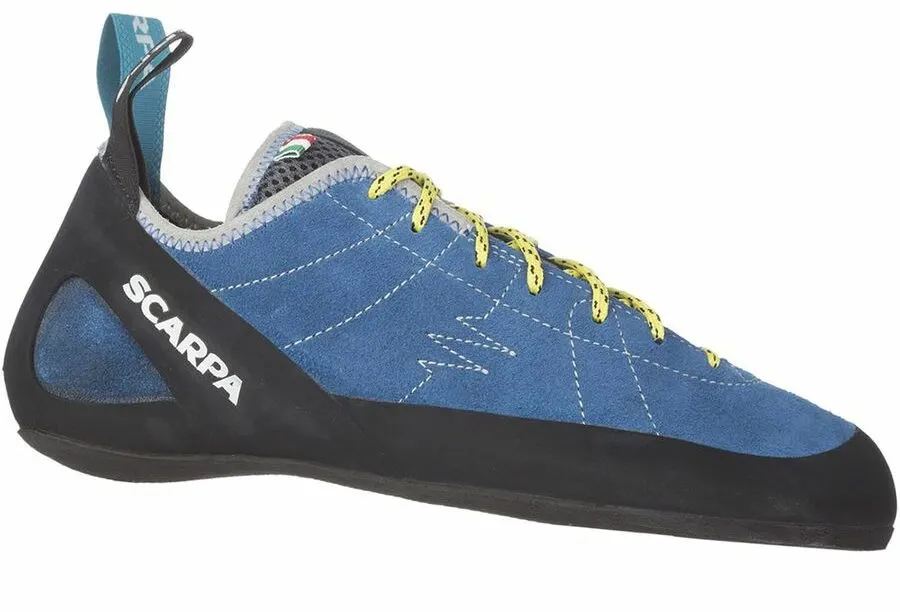 Materials:
Upper – suede high-quality leather
Rubber Outsole – TAC 100 rubber
Midsole – Flexan
Slip lasted
No lining
Men's:
Sizes 39 to 50, with half sizes for 39 to 46
One-color – Smoke/Parrot
Average weight per pair – 16.8 ounces
Women's:
Sizes 34.5 to 42, with half sizes up to 46
One-color – Pewter/Plum
Average weight per pair – 14.3 ounces
Scarpa Helix Features:
Moderate type rock climbing shoe
Can be downsized or upsized based on activity
Versatile enough to handle almost any grade
Classic hook and loop lace-up closure for a precise fit
The sticky rubber sole gives plenty of traction
The slip-lasted design gives sensitivity
Combination of no lining and suede upper keeps feet comfortable
More breathable than most climbing shoes
Able to be resoled
At first glance, the Helix looks like typical Scarpa craftsmanship that I'd expect from Scarpa shoes. It is attractive and made of quality materials, but most importantly it performs very well. If you're in the market for a new pair of shoes to handle outdoor climbs, you might want to add this model to your wish list.
FAQs
Question: How thick is the sole in this shoe?
Answer: The Scarpa Helix rubber sole has Vibram® XS Edge technology. The outsole has a thickness of 3.5mm, which might seem thin, but it should be enough for climbing.
Question: Can I use these shoes for the Gym?
Answer: Some Amazon customers claim they bought these shoes for the Gym, but they are actually designed for rock climbing only. They might be uncomfortable for indoor use.
Question: Are these shoes good for professional Climbing?
Answer: The design of the Scarpa Helix is for beginner climbing and climbers. They provide good traction on walls, but if you need a pair of shoes for professional or advanced climbing, this model might not be for you. It can be a little bit slippery on some surfaces, e.g. casual bouldering.
Question: How long should these shoes last?
It depends a lot on how often you use them, the conditions in which they are worn, and how you take care of them.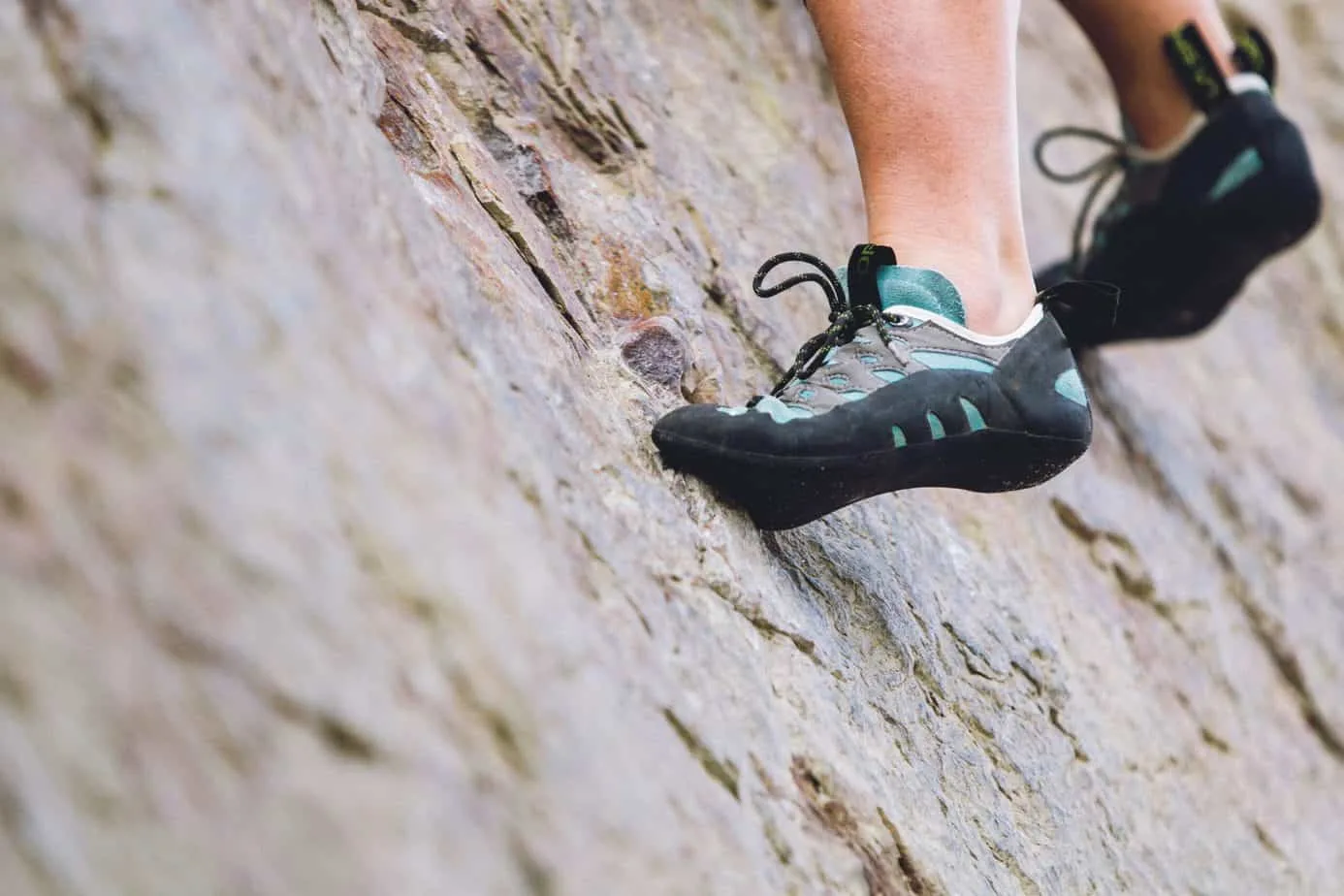 Advantages of the Helix
The Helix has a few advantages going for it that can be summed up in the following three pros.
Super Soft and Fitted Design
Finding the perfect fit for climbing shoes is always a little tricky. Some climbers, depending on their style, may prefer getting a shoe a couple of sizes smaller while others find going with their street size is the best choice. Climbers with narrow to average feet shouldn't have a problem with their normal size to a size smaller, but those with wide feet may have to size up.
Scarpa offers their usual extended size range, plus half sizes, for both men and women. It is best to look to the website for help on sizing, especially for Americans not used to European shoe sizing. The classic lacing system makes getting the perfect even easier.
Overall the shoe is extremely soft and flexible. If you've only ever worn very aggressive, down-turned climbing footwear before, the Helix will be a real treat.
Excellent Versatile Starter Shoe
The Helix is quite a versatile shoe but is particularly ideal for new climbers just learning the ropes. Even Scarpa mentions that this model is perfect for first-timers being taught how to smear, edge, and jam.
The sticky rubber sole gives enough traction for edging and smearing for those with more experience as well, without having to resort to sizing down for more aggression.
Despite seeming like a beginner's shoe, the Helix is equally useful for pro climbers. Climbers with only one pair of shoes quickly discover that it's easier to invest in a few models rather than try and do everything in one. If you don't have a comfy rock shoe that can handle more laidback climbs, the Helix will still leave you happy.
Sensitive without Lack of Protection
The TAC 100 sole combined with the suede upper offers the perfect amount of protection from heel to toe without sacrificing sensitivity or good grip. Being able to have a good feel for the rock under your feet is paramount for a safe and enjoyable climb. TAC 100 rubber is thin enough that it won't interfere with gripping but won't cause soreness or blistering from too thin of a sole.
The suede is rigid enough to provide some stability for the foot and also functions as a protection against harsh rock faces. The toe is capped to ensure your toes have more of a barrier than only a single layer of suede.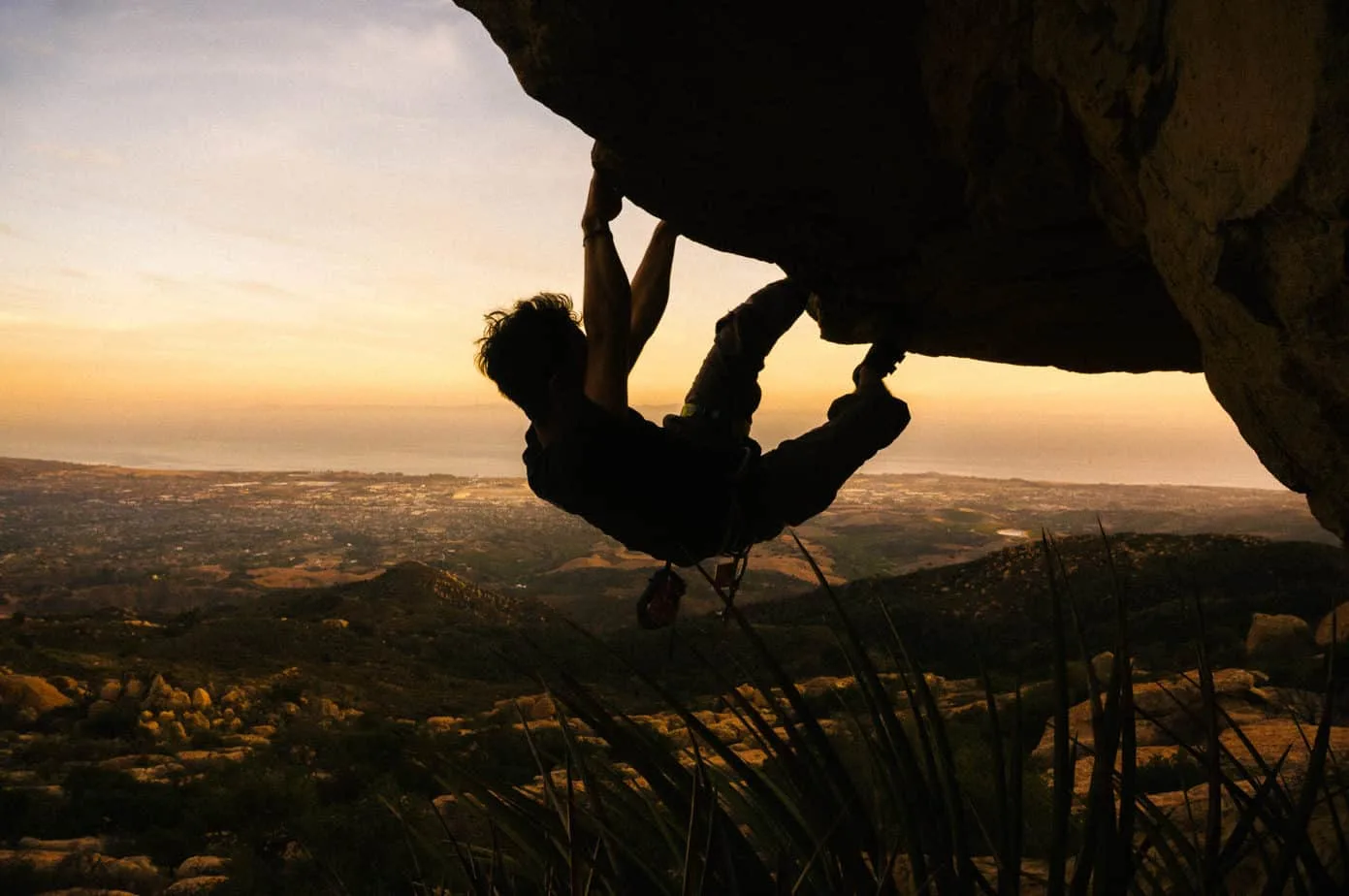 Disadvantages of the Helix
Before buying the Helix climbing shoe, it's important to weigh the pros and cons. There are a few issues with this model to consider.
Not Ideal for Indoor/Gym Use
Even though a major advantage of the Helix is the traction it offers, many climbers find that this traction doesn't apply to indoor climbs. Slippery faux rocks in gyms require a more aggressive sole than the Helix has. Easy climbs can still be done but advanced courses will likely leave you straining yourself to keep your balance.
Isn't for Advanced Climbing Needs
More experienced climbers agree that while this shoe is excellent for numerous styles of climbing, it isn't going to be able to handle the rigors of advanced outdoor climbing. Sizing down one or two sizes, or more can give a more aggressive feel, these aren't going to be the shoes you want to take on super technical climbs.
Stretchy Material May Affect Fit
The suede upper and Flexan midsole make this shoe fit the foot amazingly well with plenty of flexibility but this benefit also has a downside. Regular, extended wear usually leaves the Helix feeling a little loose after a while, particularly along the heel. This is an annoying issue but can be remedied by buying a size smaller than you originally planned on wearing.
However, this fix also means the shoe will be on the right side at first. Some climbers that are big fans of this model end up buying two sizes – one looser fit for casual climbing comfort and a more aggressive fit for when they really need a lot of feels.
The Final Climb: Is the Helix Worth it?
The Helix by Scarpa is overall a great climbing shoe to add to your collection of gear. While it isn't good for every single style of climbing, it performs very well as an introductory shoe or for experienced climbers that want a comfortable fit for easygoing weekend excursions. If you're unsure of the sizing or have other questions, contacting Scarpa will give you the answers you need.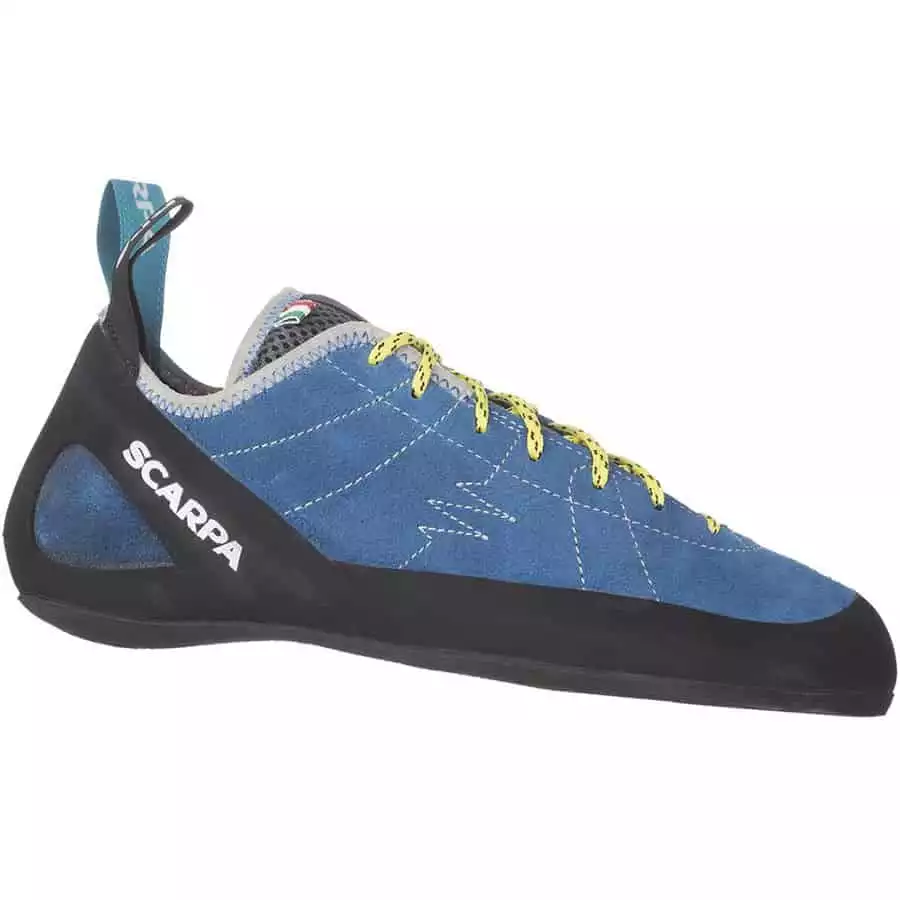 Where to Buy the Scarpa Helix?
There are two places that I would check for the Scarpa Helix:
Scarpa Helix Alternatives
Here are some other climbing shoe options in case the Helix isn't quite what you need: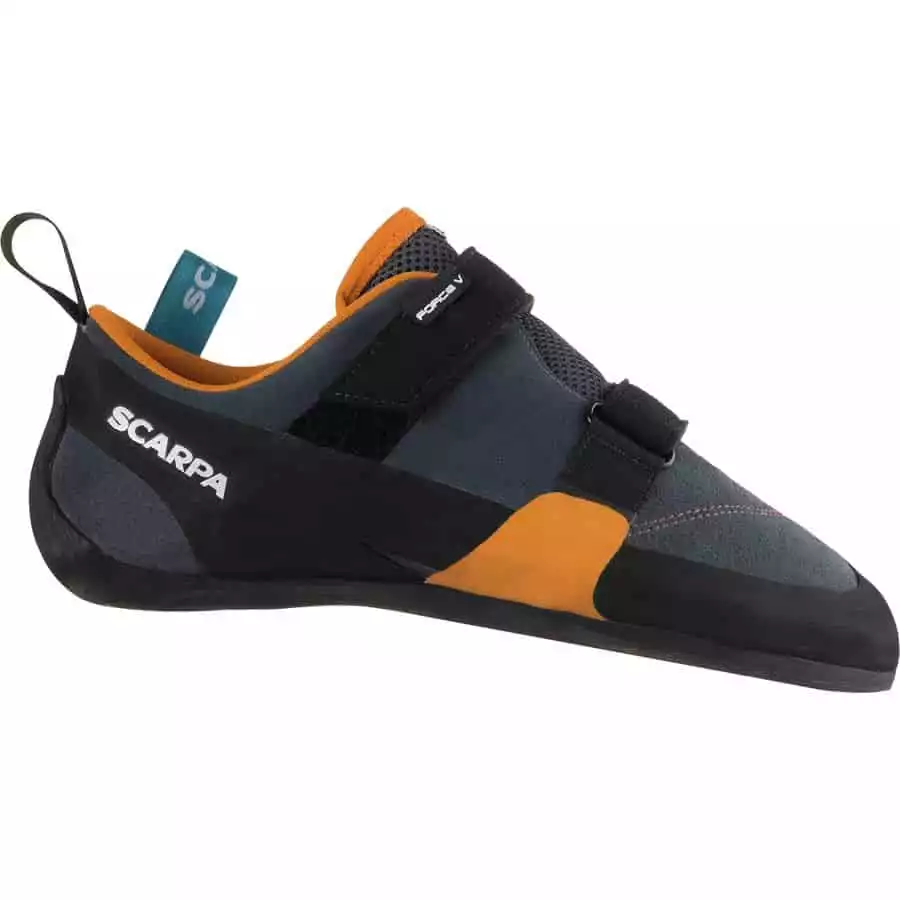 Scarpa Force V Climbing Shoe | Backcountry
Slip into Scarpa's Force V Climbing Shoe when you start tackling overhung climbs whether you're bouldering or sport climbing. An ideal introduction to the steeps, this downturned climbing kicker has a comfortable asymmetry so you don't feel pain while you learn how to fight gravity.
Check Price
We earn a commission if you click this link and make a purchase at no additional cost to you.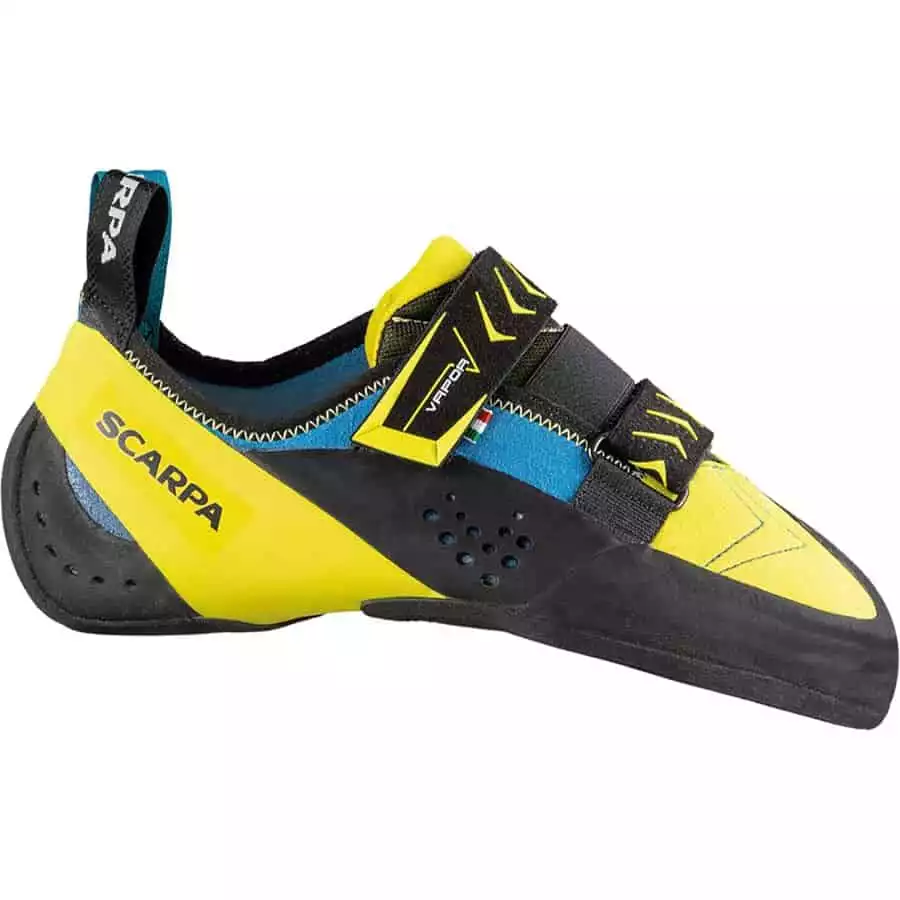 Scarpa Vapor V Climbing Shoe | Backcountry
Upgrade your sending arsenal with Scarpa Men's Vapor V Climbing Shoe before hopping on your lifelong projects again. This shoe focuses on precise footwork over a variety of footholds, both overhung and vertical. Bi-Tension randing reverses standard slingshot randing in order to connect your toe to your heel, instead of uncomfortably bunching your toes towards the front of the shoe. The result is a more powerful performance, assisting any movement from technical static moves to huge dynamic jumps.
Check Price
We earn a commission if you click this link and make a purchase at no additional cost to you.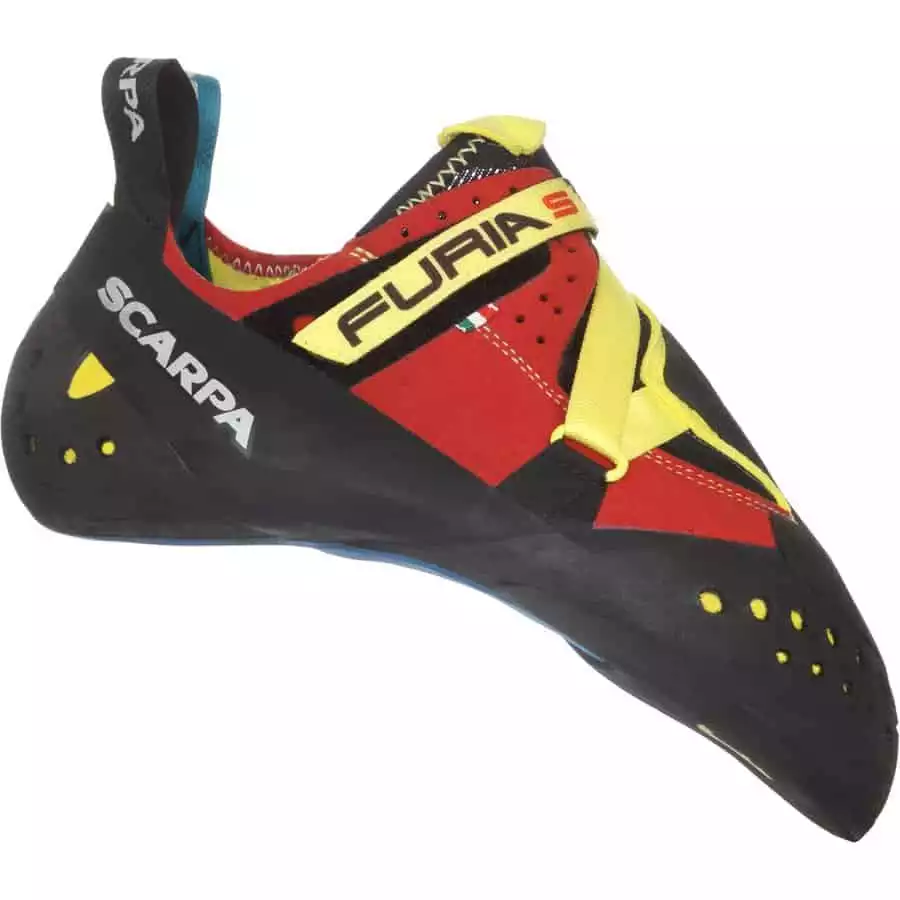 Scarpa Furia S Climbing Shoe | Backcountry
Steep lines and small holds call for a shoe that can deliver high performance. Scarpa built the Furia S with a sensitive feel to easily find those small crystals and dime edges to position your toes on. Vibram XS Grip2 rubber sole then sticks to those tiny features so you can confidently position your body weight while you make your move from one hold to the next. The heel cup hugs your foot giving not just a snug feeling, but also a secure feeling while holding a heel hook.
Check Price
We earn a commission if you click this link and make a purchase at no additional cost to you.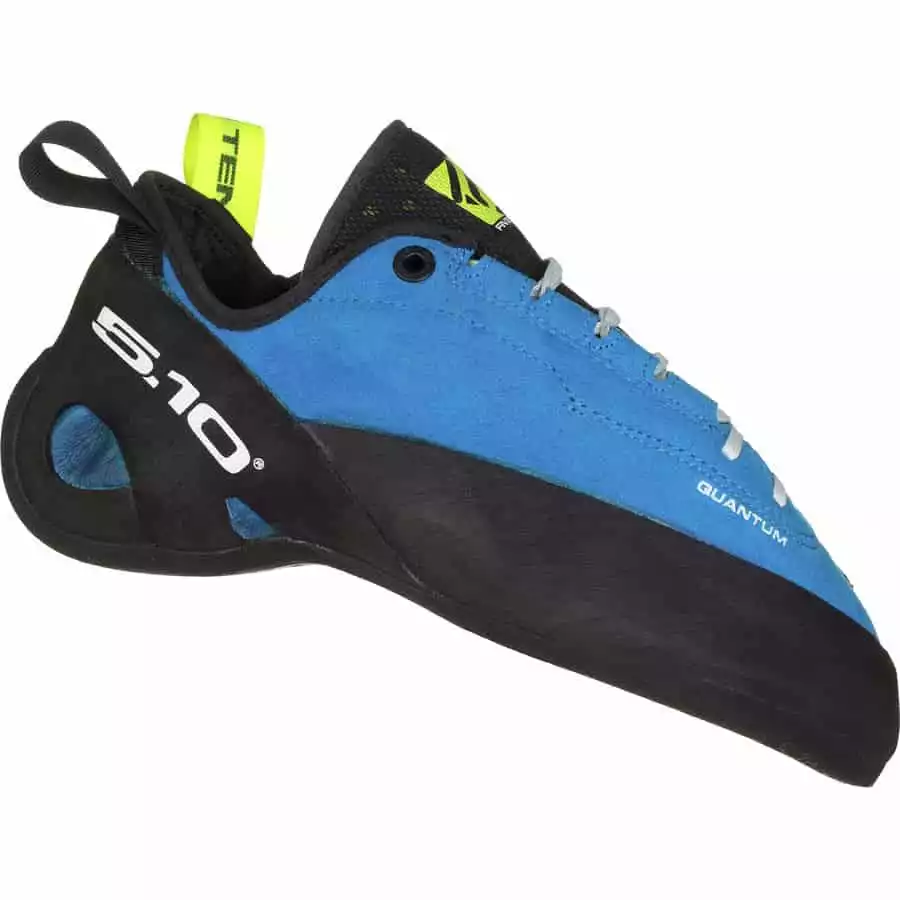 Five Ten Quantum Climbing Shoe | Backcountry
The Five Ten Men's Quantum Climbing Shoe defies gravity when you're climbing steep sport routes and bouldering overhung problems. It has an aggressive downturn, sharp curvature, and stiff midsole to ensure the highest performance you can muster. Five Ten's famous Stealth C4 rubber gives this shoe good grip on microscopic edges, small smears, and technical terrain.
Check Price
We earn a commission if you click this link and make a purchase at no additional cost to you.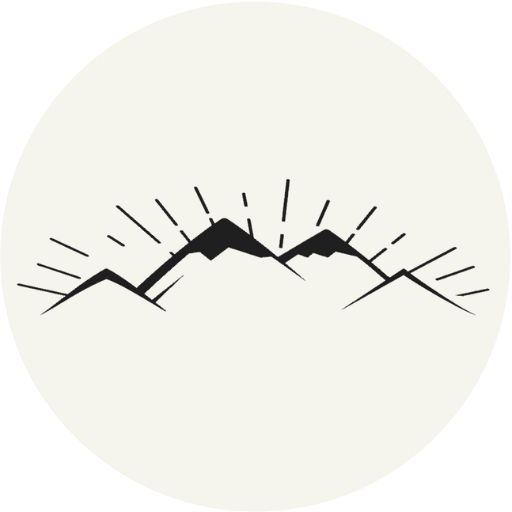 The All-Outdoors Guide team is comprised of enthusiastic experts that enjoy helping others that aspire to be better at outdoor fun. Part of that is making sure you have the right gear and information when it's time to go out and have fun. Some of our team have accomplished amazing feats like climbing 6000 feet to the top of mountains, others have explored every dirt trail they could find and we even have some people that have backpacked solo on various continents. No matter what our readers want to learn and do, our team is here to help them accomplish those goals.