When most people think of chalk and athletic activities, they tend to think of gymnasts or even bodybuilders. However, chalk is also relied on in climbing, for the very same reasons others athletes use it.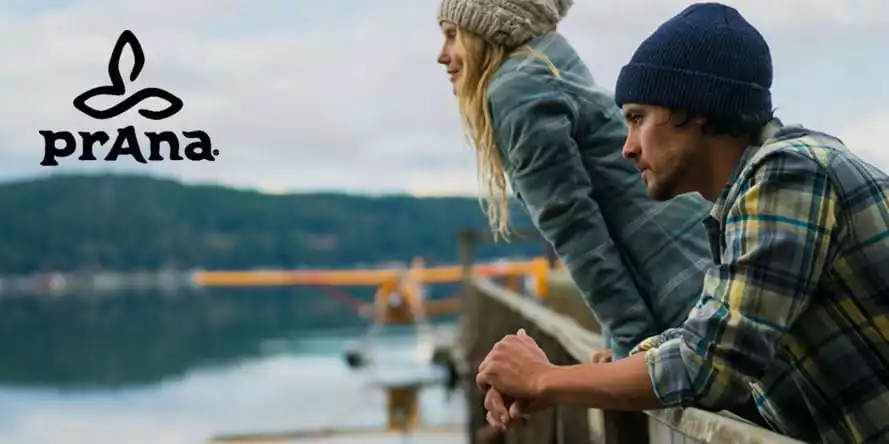 Clothing for Positive Change - prAna
Premium lifestyle clothing from prAna. Sustainable clothes for yoga, travel, & outdoor adventure enthusiasts. Save money and protect the environment - it's a double win! Explore prAna's collections.
Shop Outlet Sale Now
We earn a commission if you click this link and make a purchase at no additional cost to you.
Chalk, which is made of magnesium carbonate and occasionally other drying agents, is ideal for quickly drying clammy hands in order to improve grip.
Sweaty hands are hardly going to help you climb up a rock face and simply wiping them off isn't going to work.
In these instances, you need to have chalk ready to apply to your hands.
Chalk and Chalk Bags
There are a few different types of chalk on the markets for climbers, including some high-tech options like liquid chalk.
However, the majority of chalk used is going to be crushed in powder form. You might crush it yourself if you buy chalk bulk in blocks or you may simply buy a bag of loose chalk. If you are eco-conscious or climbing in an area that bans chalk, then eco-chalk is a good solution.
Regardless of which route you go, loose chalk is most commonly what is used. But where do you keep this chalk so you can quickly dry your hands?
The answer is a chalk bag. If you watch rock climbers at work you'll likely notice a small, dangling bag hanging from their carabiners or waist belt. Chalk bags are carried right on your body along with the climbing harness / belay device so you can quickly apply in the middle of a climb (easy access).
There are also chalk balls, but these aren't as common as getting a good layer on your hands is difficult. Chalk balls are likely a better option for bouldering, with less constant stress on the hands. Chalk bags are very versatile and actually come with a surprising number of options.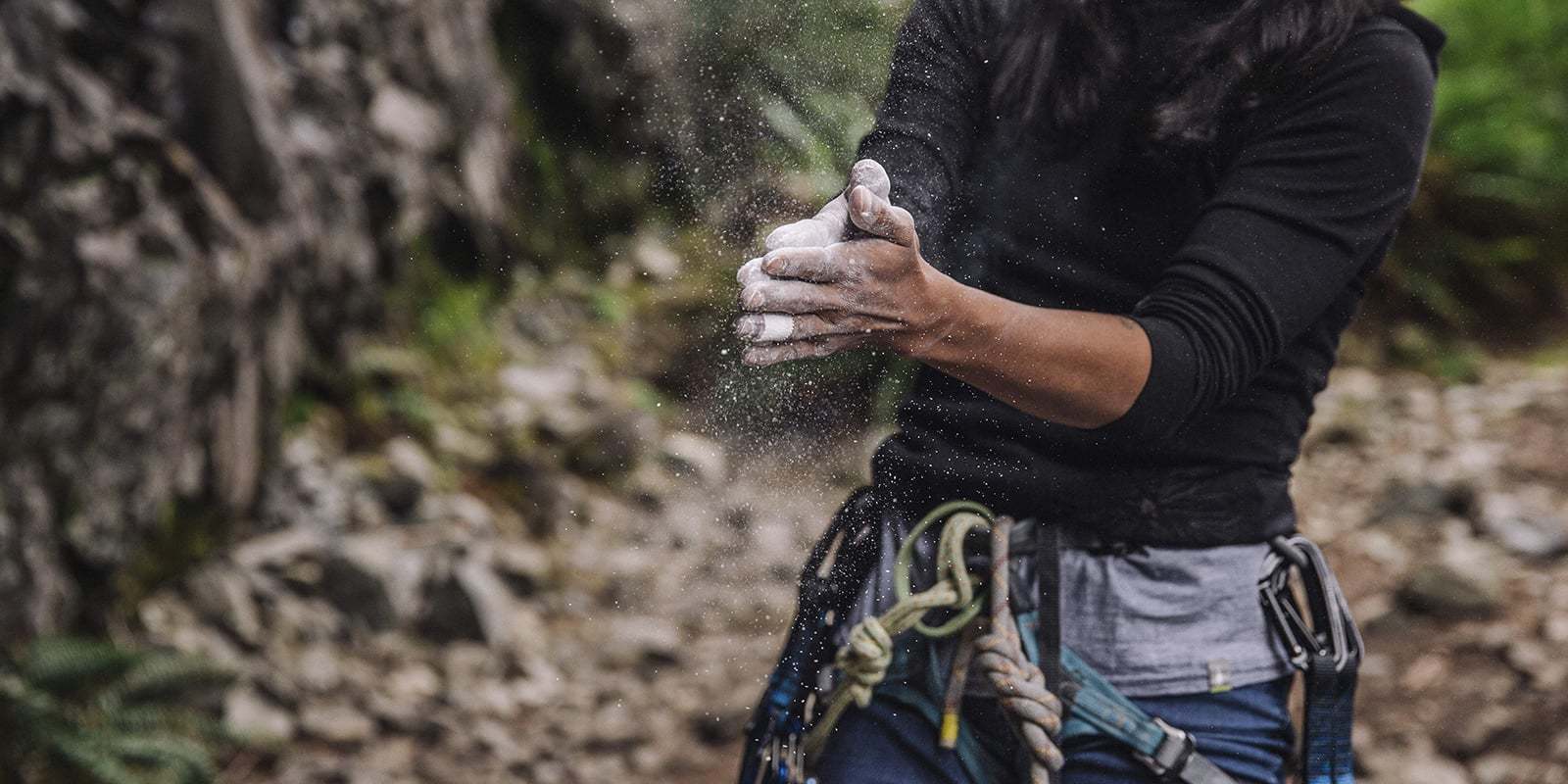 Types of Chalk Bags
There are three main factors to consider when shopping for chalk bags – size, shape, and features.
Size
Chalk bags aren't typically sold in traditional sizes (S, M, or L, for example) but most often as Small, Standard, and Bucket.
Small bags are often used by youth, women, and any climber that wants the bare minimum when it comes to extra weight on their belt. Technical climbers will often choose small bags as they won't get in the way during advanced climbs.
Standards bags, as their name suggests, are the most commonly used. This bag is a great size for an adult and allows you to easily chalk up your hands (perhaps even up to wrists and forearms as well). Chances are if you're carrying chalk with you, you'll want a Small or Standard bag.
Group climbing sessions will call for a Chalk Bucket bag. Buckets are the largest chalk bags and aren't usually carried by the climber. Instead, you'll coat up heavily prior to starting your climb up the crag. These are favored by climbing groups working on bouldering.
Shape
Chalk bags also come in two main shapes – Cylindrical and Tapered.
Cylindrical bags are the most common and hold the most chalk. They also allow for easier application since they are uniform in shape. Cylindrical bags may or may not have a flat side. When a flat side is required or you're concerned about the bag getting hung up on technical climbs, you'll instead want a tapered bag. Tapered bags hold less chalk so are better suited for short climbs or when maneuverability is most important. These also may have one flat side.
Features
There are a nice variety of features chalk bag manufacturers might add to their bags. These include different types of rims, linings, and closures.
A common feature added to chalk bags is a stiff rim. This stiff collar helps hold the chalk bag open, allowing you to dip your hands more easily. A stiff collar also helps prevent spills. Speaking of accidental spills, you'll find that while some chalk bags are completely open others have some type of closure.
Most often there will be a cord and toggle closure, which allows you to close up the bag when not in use. The last thing you'd want to find is that your chalk bag has spilled on the ground, in your car, or in your gym bag.
Some companies will also add a lining to their bags. Fleece lining, for example, is soft to the touch and helps distribute the chalk over your hands more easily. It also helps keep down dust when chalking your hands. Chalk bags may also have a brush loop, designed to hold a small brush that would be used to clean off old chalk from rocks.
Other nice little features to well-made chalk bags include a belt and a zippered pocket for holding small items (i.e. your phone, car keys, chapstick, small snack bar, etc).
Top 3 Chalk Bags
There is a wide variety of different chalk bags on the market, but if you're unsure of where to start your search here are three awesome products that come highly recommended.
prAna Chalk Bag with Belt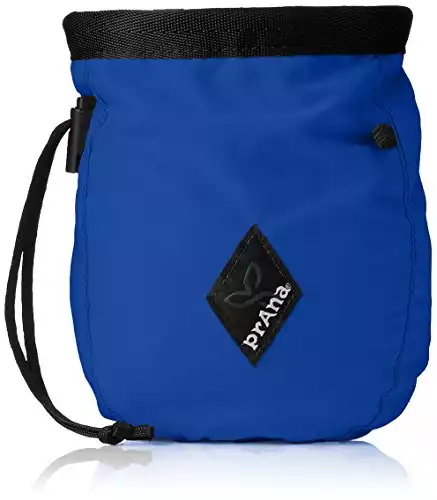 The prAna chalk bag is a great choice for a first bag. This chalk bag comes in three colors (Black, Citrus, and Metal) and is priced very reasonably at $20 from REI.
The prAna chalk bag is a fairly standard size, ideal for adult men and women. The exterior is made of durable suede nylon while the interior is lined with super-soft, deep fleece. The fleece lining holds in plenty of chalk powder and makes it easy to coat hands.
The prAna bag comes with a nylon webbing belt and also has a built-in elastic brush loop. Lastly, a drawcord closure keeps your chalk in the bag where it belongs. This is overall just a great chalk bag to have for your typical length climb of average to moderate difficulty.
Mammut Multipitch Chalk Bag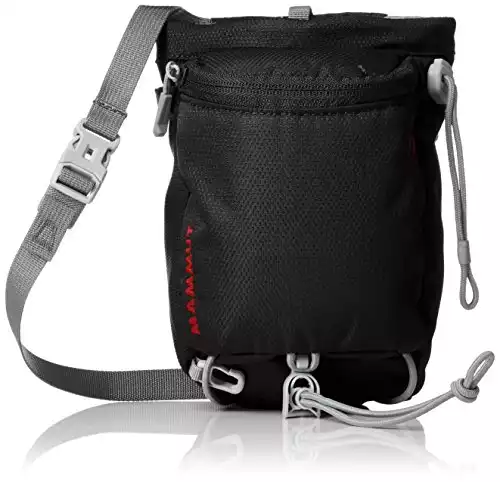 A step up from the prAna bag is the Mammut Multipitch Chalk Bag. The Mammut Multipitch is a tad bit bigger, between your typical Standard and Bucket size.
This makes it perfect for adults with larger hands, particularly bigger men than have trouble getting their hands coated without making a mess. This bag retails for $39.96 from REI and comes in black color with gray and red details.
As the name suggests, the Mammut Multipitch is designed for long rock climbs in mind. It comes with a webbing belt that offers plenty of adjustment. Since it is designed for very long climbs, Mammut added storage pockets on this bag as well as a bungee cord under the bag for handing a jacket. Inside the main storage, the pocket is also a keyring.
Static Ranger Waxed Chalk Bucket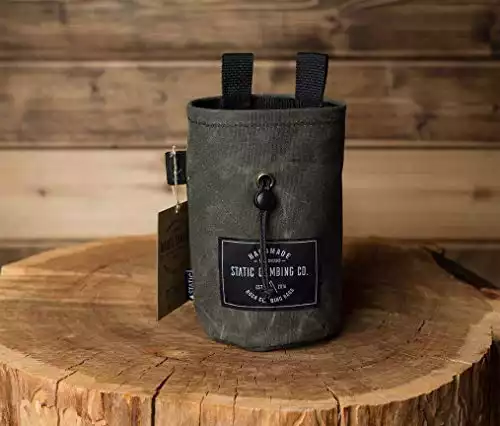 Finally, if you really need a big bag for groups then the Static Ranger Waxed Chalk Bucket is a great choice. This is not only a beautiful bucket bag but also very nicely designed. Static handmakes these bags, ensuring high-quality control and a very durable end product. It retails for $52 but is worth every penny (NOTE: REI Members can save an additional $5.20)
The bucket has an interesting hook and loop closure rather than a drawcord. You simply roll it down once and snap it shut with the additional buckles. This really gives you peace of mind when carrying your chalk bucket in your car or in a gym bag.
The coated exterior is highly water-resistant and won't take on damage from rock face scrapes. The interior is a heavy fleece that holds a lot of chalk. A nice little touch is that this bucket bag is also infused with lavender for a relaxing, pleasant scent.
The Final Touch
Even if you're brand new to climbing, chances are you'll be needing to purchase a chalk bag soon if you plan on advancing in this hobby. With a solid, well-designed chalk bag in the right size and a good quality chalk, you'll be well on your way to improving your climbs while also staying safe by preventing slips.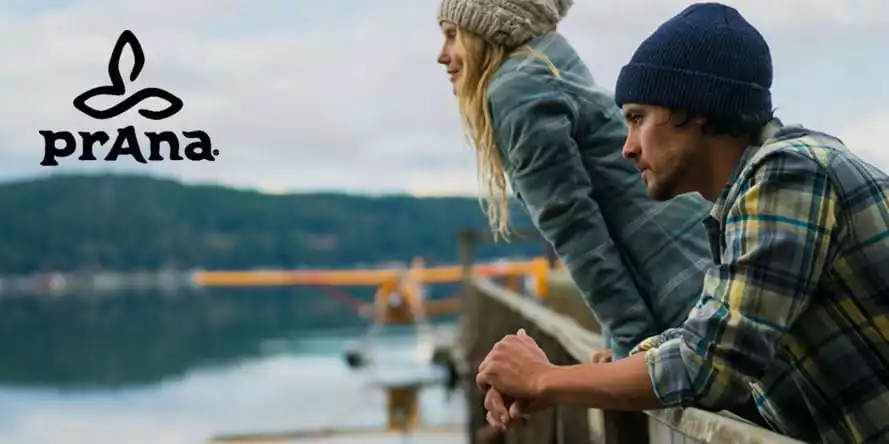 Clothing for Positive Change - prAna
Premium lifestyle clothing from prAna. Sustainable clothes for yoga, travel, & outdoor adventure enthusiasts. Save money and protect the environment - it's a double win! Explore prAna's collections.
Shop Outlet Sale Now
We earn a commission if you click this link and make a purchase at no additional cost to you.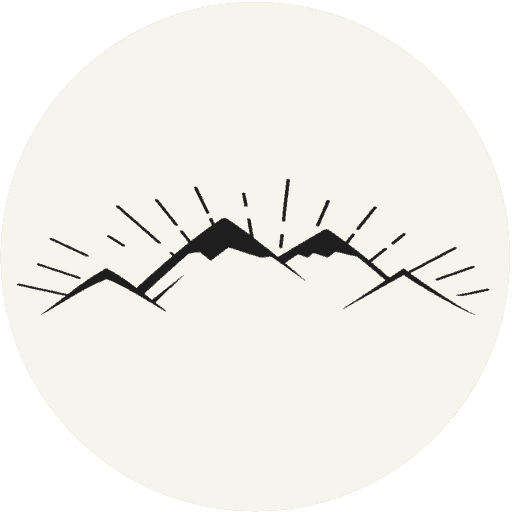 The All-Outdoors Guide team is comprised of enthusiastic experts that enjoy helping others that aspire to be better at outdoor fun. Part of that is making sure you have the right gear and information when it's time to go out and have fun. Some of our team have accomplished amazing feats like climbing 6000 feet to the top of mountains, others have explored every dirt trail they could find and we even have some people that have backpacked solo on various continents. No matter what our readers want to learn and do, our team is here to help them accomplish those goals.