Hawaii attracts thousands of visitors annually, and it's probably safe to say that most of them arrive because of the unique natural beauty of this archipelago. Looking for inspiration for the best hikes in Kauai?
Today we'll discuss the top 10 trails in the area that will help you enjoy your Hawaii adventure to the fullest. Let's begin with some general recommendations and things you should know in advance.
What you should know about the best hikes in Kauai
Hawaiian archipelago certainly offers some of the most unique, breathtaking environments you can find within the U.S (and beyond).
Nevertheless, this also means that you should pay special attention to preparation for your Kauai adventure. Here are some important factors to consider:
Natural environment
Kauai is also known as the 'Garden Isle' since most of its surface is covered with lush and dense rainforests. Besides this wet, muddy, slippery, and potentially confusing terrain, the rugged landscape of Kauai is also full of dramatic cliffs and picturesque pinnacles, which means that you'll come across some rocks and boulders on most of the trails too.
To prepare for this combination of factors, make sure to wear sturdy yet light hiking shoes, always have some reserve clothes if you get uncomfortably wet or sweaty, wear some rainproof protection on your backpack, and pay extra attention to slippery parts of the trails.
You should also make sure that you study your trail well ahead and stick to it all along the way – getting lost in Kauai is certainly not difficult, as even the most popular trails can overgrow and deteriorate here very fast. Also, don't rely on your smartphone too much, as large portions of the island are not serviced by any carrier.
Weather
One of the main reasons why Kauai island is so popular with hikers throughout the year is its relatively stable and reliable weather. The winter temperature usually sticks to the mid-70s °F, while the summer heat only rarely exceeds mid-80s °F.
This makes the planning of your Kauai adventure very simple and the hike itself conveniently light, as you certainly don't have to carry a large variety of clothes in your backpack.
Nevertheless, don't underestimate the traditional tropical downpours, which can often result in flash floods. It's also a good idea to watch predictions of possible hurricane occurrence – you certainly don't want to experience something like that in the middle of nowhere. Of course, bring enough water and food too, since there are definitely no snack shops along these trails.
Wildlife
Kauai is mostly known for its bustling marine life – those, who hope to spot some rare species of whales, seals, or sea turtles will have many opportunities here. Nevertheless, the lush forests around the island are full of life too.
Fortunately, you don't really have to worry about any dangerous predators. There are no big cats, no bears, and even no venomous snakes in here.
Nevertheless, you should know that some of the spider species on the island can be poisonous, and there are also some centipedes around that should certainly be avoided. To spare yourself from mosquito attacks, bring a good repellent.
Now when you know the essentials, let's move to the top 10 hikes in Kauai.
Top 10 Best Hikes in Kauai
Waipo'o Falls Trail
Before you embark on some of Kauai's more demanding trails, start with something simple, easy, yet still very rewarding. Waipo'o Falls Trail is a straightforward out-and-back style hike within the Waimea Canyon area that can be recommended to hikers of all fitness levels and ages.
What can you see along the way? Although the name of this trail suggests it, you're not going to see much of the actual waterfall here, as you'll head towards its stream and not the cascades. Nevertheless, the whole trail is full of magical views of the surrounding canyon, so you surely won't be disappointed.
| | |
| --- | --- |
| Distance | 3.6 miles |
| Elevation gain | 1,210 feet |
| Estimated duration | 2 hours |
| Difficulty | Easy to moderate |
Kalepa Ridge
Another great example of a simple, quick, yet memorable Kauai hike. Kalepa Ridge Trail is a spectacular 30-minute walk towards a viewpoint overlooking the great Kalalau Valley all the way to the famous Cathedral's section of the Na Pali coast.
The trail itself is really simple and can be done pretty much anytime – it's also very popular as a romantic sunset viewpoint.
Just beware that towards the end it becomes very narrow, muddy, and crumbly, so you should definitely mind your steps. If you dare to continue, you can follow the unmarked hunter trail even further, but it's going to get much more strenuous past the viewpoint.
| | |
| --- | --- |
| Distance | 1.95 miles |
| Elevation gain | 610 feet |
| Estimated duration | 1 hour |
| Difficulty | Easy to moderate |
Sleeping Giant Hike
Sleeping Giant Hike is definitely one of the most popular trails in Kauai – if not the whole Hawaii archipelago. The trail, also known as Nounou Mountain Trail, is relatively easy and the biggest attraction here is the massive ridge vaguely resembling a body lying on the ground on its back. The legend has it that it's a giant who ate too much and never woke up from his afternoon nap.
Another remarkable attraction along the way is a magnificent pine forest surrounding a large portion of the trail. There are also numerous picturesque lookouts – make sure you reserve enough time for the hike and avoid just rushing past them.
Note that there are actually three trails leading towards the Sleeping Giant (Nounou mt.) – East Trail, West Trail, and Kuamo'o Trail. Their difficulty levels and lengths vary, both all can be considered moderate.
| | |
| --- | --- |
| Distance | 3 – 8 miles |
| Elevation gain | 1,000 – 1,063 feet |
| Estimated duration | 1.5 – 3 hours |
| Difficulty | Moderate |
Hanakapi'ai Trail
Hanakapiai Trail is considered to be one of the most beautiful scenic hikes on the island. If you like the combinations of rugged cliffs, impenetrably dense forests, and endless blue ocean, this trail has pretty much everything you're looking for. Make sure you don't forget to charge your batteries, as you'll surely make tons of pictures along the way.
The trail ends with a beautiful Hanakapiai beach, but beware that it's not a safe place to swim. Instead of the sea, enjoy a freshwater refreshment in the crystal clear pool and streams near the Hanakapiai Falls.
Although the distance and elevation gain of this trail are both moderate, beware that it can get extremely dangerous during the heavy rains. Flash floods are quite common and very unpredictable here. With all that being said, it is still beautiful and definitely one of the Best Hikes in Kauai
| | |
| --- | --- |
| Distance | 4.2 miles |
| Elevation gain | 1132 feet |
| Estimated duration | 2.5 – 4 hours |
| Difficulty | Moderate |
Maha'ulepu Heritage Trail
If you like coastal hikes, the popular Maha'ulepu Heritage Trail is just perfect for you. Expect blue waves dramatically splashing on the cliffs around you, hidden coves, tide pools, and beaches all along the way, as well as picturesque viewpoints all over the coast and the ocean.
This area is also very interesting from the geological viewpoint, as there are many unique lava formations to be explored and admired.
As its name suggests, this trail is also special due to its significance for the human history on the island – make sure not to miss the famous Waiopili Petroglyphs along the way.
| | |
| --- | --- |
| Distance | 3.7 miles |
| Elevation gain | 318 feet |
| Estimated duration | 2 – 3 hours |
| Difficulty | Easy |
Kawaikini Peak
The majestic Kawaikini Peak is one of the most demanding and at the same time the most attractive hiking destinations on the island.
Towering 5,243 feet above sea level, this peak within the Mt. Waialeale ridge is the highest point on the island. Naturally, it provides some of the most rewarding lookouts in the whole Kauai, but you have to prove you deserve them by overcoming various obstacles along the way.
First and foremost, this area is believed to be one of the wettest places in the whole world, so it's often hidden in dense clouds and rain must be expected here at any time of the year.
The access to this peak is also limited by dense and swampy forests on the west and steep slippery cliffs on all other sides of the peak. As a result, this demanding 2-day hike can only be recommended to the toughest and most experienced adventurers.
| | |
| --- | --- |
| Distance | 32.3 miles |
| Elevation gain | 2537 ft |
| Estimated duration | 2 days |
| Difficulty | Difficult |
Waialeale Blue Hole Falls Trail
If you want to stay within the highest ridge on the island, you can also try a bit less demanding and more popular (although still fairly classified as difficult) hike to the Waialeale Blue Hole Falls.
This moderately trafficked 5-mile trail will lead you straight to the base of Mount Waialeale, the island's second-highest peak formed by a shielded inactive volcano.
The main attraction of this trail is the so-called Weeping Wall, a verdant rock wall with dozens of crystal clear waterfall streams considered to be one of the most beautiful natural sights in the whole Kauai.
Just keep in mind that this trail is very demanding, and hiring a guide is definitely a good idea. Expect deep muds, slippery slopes, and confusing unmarked paths through the dense vegetation.
| | |
| --- | --- |
| Distance | 4.9 miles |
| Elevation gain | 1503 feet |
| Estimated duration | 7 – 8 hours |
| Difficulty | Difficult |
Alaka'i Swamp Trail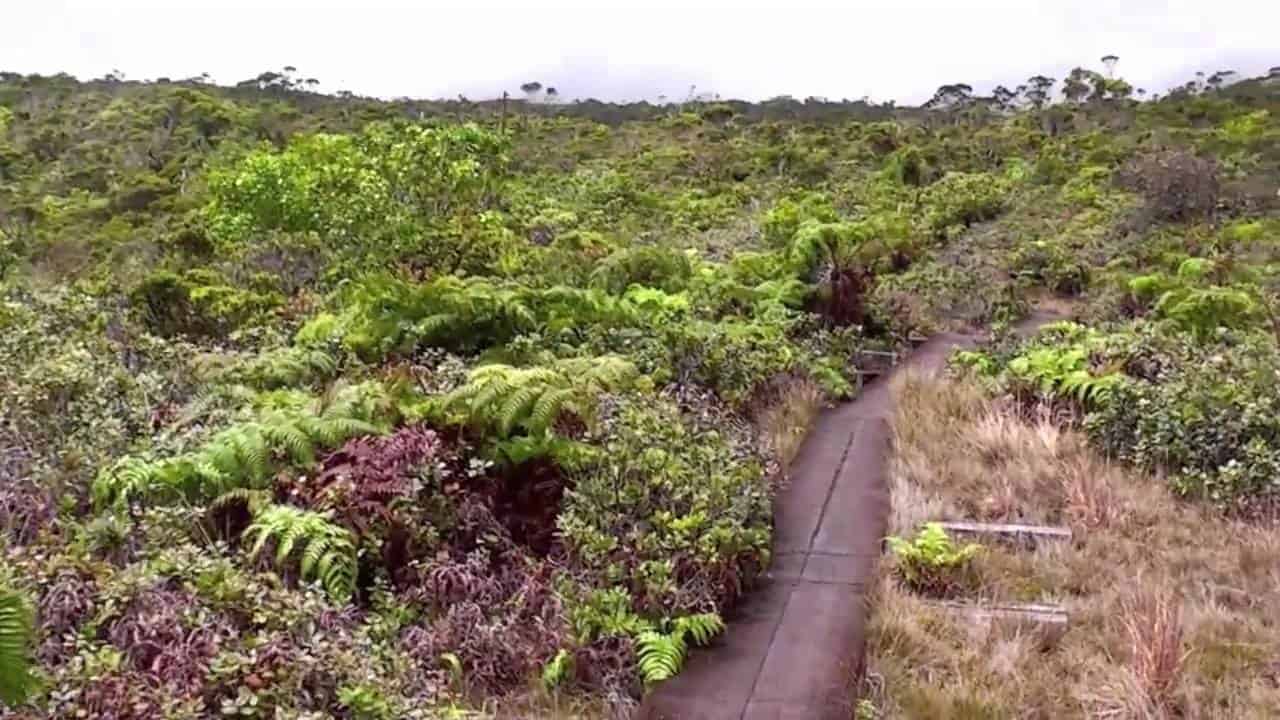 Kauai might be famous mostly for its stunning cliffs, dense rainforests, and wild rocky beaches. Nevertheless, the picture would not be complete without Kauai's famous swamps.
This unique biotope is actually the world's highest swampland, and it provides a dramatic change of scenery in comparison to any other area on the island.
Due to the extremely wet ground, large portions of Alaka'i Swamp Trail are secured by comfortable boardwalks. Nevertheless, do not underestimate this hike at all – you will come across some very steep, rocky, and muddy sections here too. The trail ends with a beautiful viewpoint, and it's advisable to visit it only in good weather.
| | |
| --- | --- |
| Distance | 7 miles |
| Elevation gain | 1332 feet |
| Trailhead | 3 – 4 hours |
| Difficulty | Moderate |
Okolehao Trail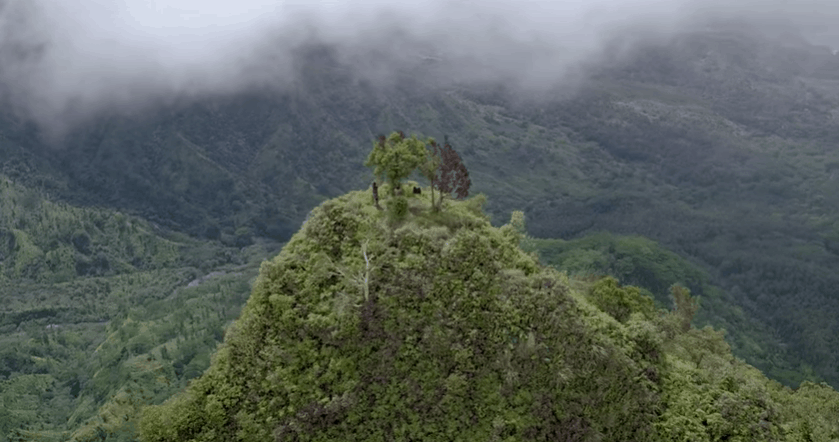 Okolehao Trail is also known as Hanalei River Trail and Hihimanu Trail, and it's probably one of the most visited trails in Kauai. What makes this relatively short hike so special is the picturesque coastal scenery that can be admired from several different angles along the way.
Another great thing about this trail is that it can be adjusted to your actual level of fitness and experience. While the most adventurous and brave can complete the trail by rope climbing to the top of Hihimanu Ridge (it's also known as Kauai's Twin Peaks), others can simply turn around when they reach some of the milestones (e.g. the 2nd bench) and still enjoy a great hike with many rewarding moments.
| | |
| --- | --- |
| Distance | 2.8 miles |
| Elevation gain | 856 feet |
| Estimated duration | 3.5 hours |
| Difficulty | Moderate to difficult |
Kalalau Trail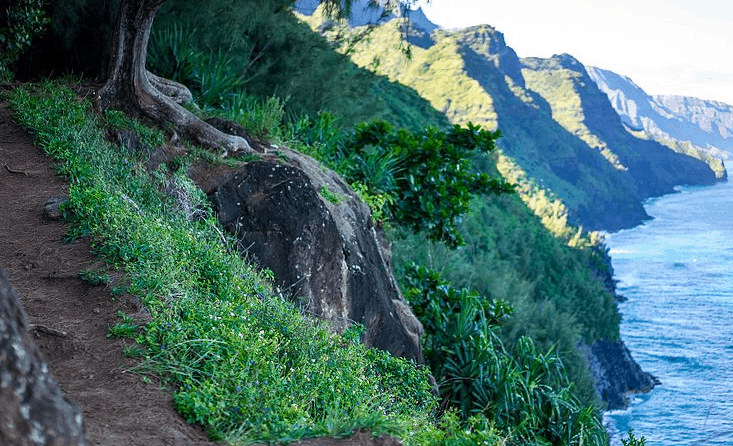 We'll finish this list with one of the most famous and most difficult trails on the island – the great Kalalau Trail along the breathtaking Napali Coast.
If you're not up to the real adventure, don't even think about this strenuous hike. Some sources even claim that it's one of the most dangerous trails on Earth due to the high numbers of tragic accidents that took place on some of its steep slippery slopes, narrow crumbling paths, or rough river crossings.
Nevertheless, those who dared to complete this trail swear it was an experience of a lifetime. Awe-inspiring views over the coastline, hundreds of unique encounters with local fauna and flora, and memorable nights under the starry skies (yes, beware that this hike takes several days!) – those are just some of the incentives that bring hundreds of brave adventurers here every month of the year.
One important note: The Kalalau trail (including overnight camping) can be completed only with a valid permit – you can get yours here.
| | |
| --- | --- |
| Distance | 22 miles |
| Elevation gain | 6178 feet |
| Estimated duration | 3-5 days |
| Difficulty | Difficult |
FAQs
Need some more information? Check out some of the frequently asked questions on hiking in Kauai below:
Question: Do you need permits to hike in Kauai?
Answer: While most of the standard day hikes on the island can be accomplished without any officialities and documents, there are also some trails and areas in Kauai where you need a permit to hike or camp overnight. To stay on the safe side, always check the situation with the authorities or through the official websites.
Question: What is the best month to go hiking in Kauai?
Answer: In general, the best time to visit Kauai is from April to September. These are the driest months of the year, which means that it's much easier to navigate through the trails and much more pleasant to camp overnight. Nevertheless, there are also the hottest and most expensive months on the island.
That's why some experienced hikers prefer visiting Kauai in October or November, which are also great months for bird and whale watching.
Question: Is hiking in Kauai dangerous?
Answer: Kauai is, in general, considered very safe. The crime rate is low, the weather is stable and pleasant year-round, and there are no dangerous predators on the island either. Nevertheless, always take precautions and prepare for various situations that can come your way.
Some of the trails will take you near dangerous drops or crumbling cliffs, others can lead you to beautiful yet dangerous beaches with deadly rip currents. If you want to stay safe, hiring a local guide can be a good idea.
Conclusion
Breathtakingly beautiful cliffs, wild natural beaches, endless waterfalls, and tropical rainforests full of wildlife. Kauai is simply a great place for hikers of all ages and fitness levels.
Great views, lush greenery, and adventures are basically guaranteed wherever you go on this magical island. Just make sure that you don't underestimate the possible dangers or overestimate your capabilities since help can be often very far away in this authentic wilderness.
We hope that our tips will help you choose the most suitable hike for you or your family. Nevertheless, if you need more inspiration, how about reading our Best Hikes in Missouri or Best Hiking Trails in Scotland articles next?
Further read: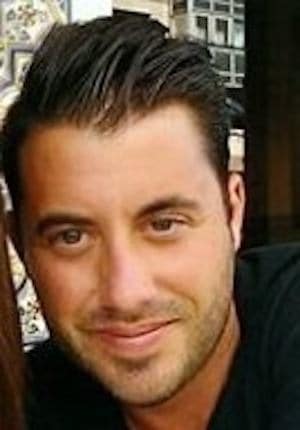 David is a strong advocate of outdoor-related activities and has many years of experience backpacking and hiking around the world, including the Italian and Austrian Alps in Europe as well as central and southern Asia.
Locally, he has also led many groups cycling through Vermont, Nova Scotia, and Wisconsin. David constantly uses and tests the latest gear for the outdoors, which in turn allows him to help others make more informed buying decisions. He's excited to share more of his knowledge and to see others enjoying the great outdoors more because of his advice and recommendations.