Choosing a great hiking shoe is one of the most important decisions you are going to make when prepping for a through-hiking trip. Getting the wrong shoe could leave you extremely uncomfortable, tired, and ultimately end your trip early. Make sure you research different hiking shoes and find one that fits your needs specifically. It could make or break your hiking trip.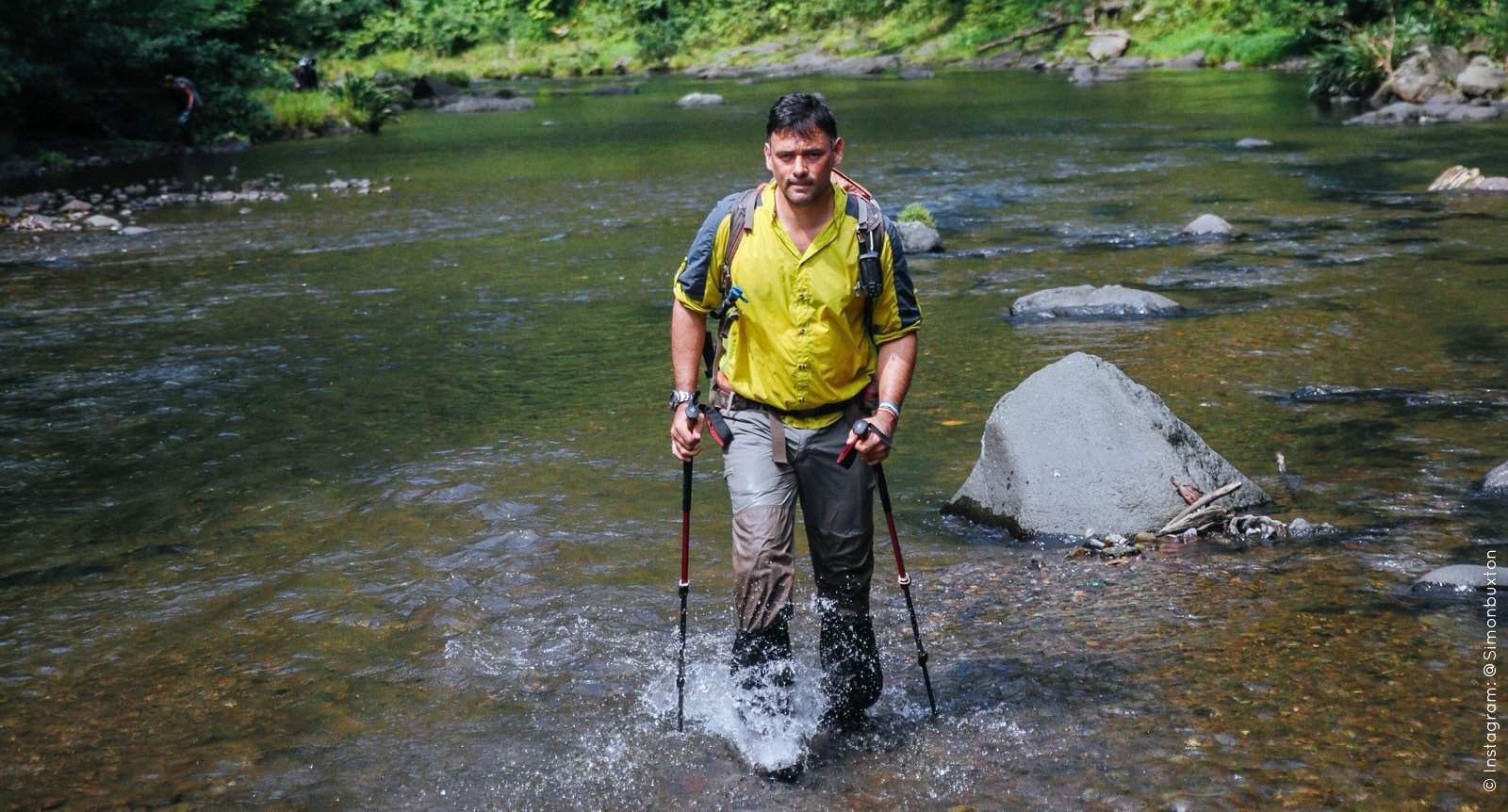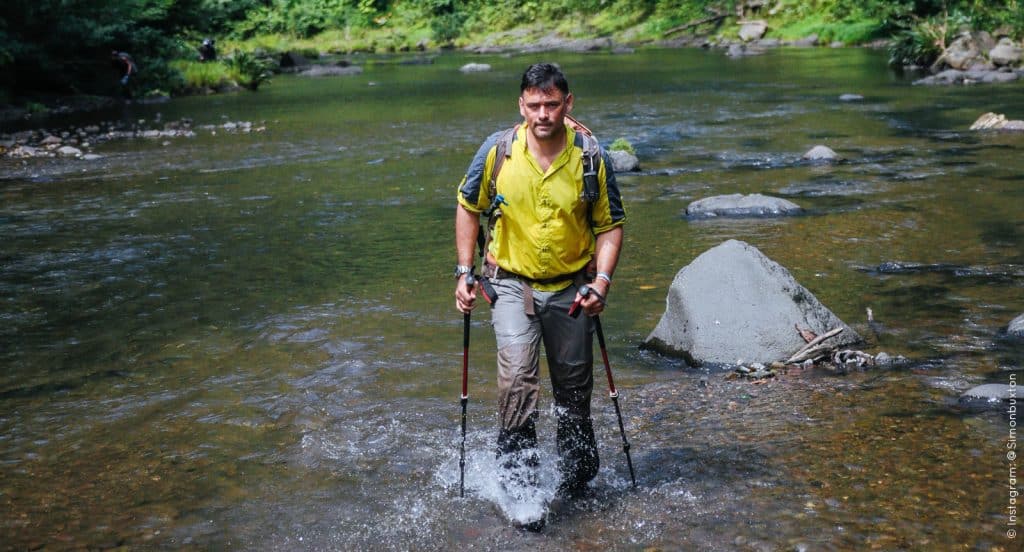 Trail Runners vs Hiking Shoes/Boots
Many backpackers have started to choose trail runners over hiking shoes. Trail runners are much more lightweight and comfortable than hiking shoes or boots. They have a lot of the same characteristics as hiking shoes, such as a durable rubber sole with great traction and toe caps to protect you further. Trail runners outcompete hiking shoes by being much more flexible and having more cushioning.
However, trail runners will not last you as long as a hiking shoe will. If you plan on taking longer hiking trips with trail runners, plan to bring a couple pairs in case your original wear out. You will also be sacrificing the added ankle support, but if you are athletic you usually do not actually need the ankle support.
Hiking shoes and boots are the original choice for backpackers because they are very durable and will protect your feet from rough terrain. They have a stiff midsole that protect you from sharp rocks and roots when carrying a heavier load. You can also get hiking shoes and boots in waterproof versions, which would be great if you planned to hike through snow or really wet conditions.
Along with the extra durability and protection comes more discomfort. The shoe is stiffer making it difficult for you foot to move naturally inside the shoe. Hiking shoes and boots also weigh quite a bit more than trail runners. The extra weight can leave you feeling wore out much sooner and reduce agility. Waterproofing can also be a really bad thing, especially for through-hikers. It keeps water out, but also keeps water in, which can cause blisters.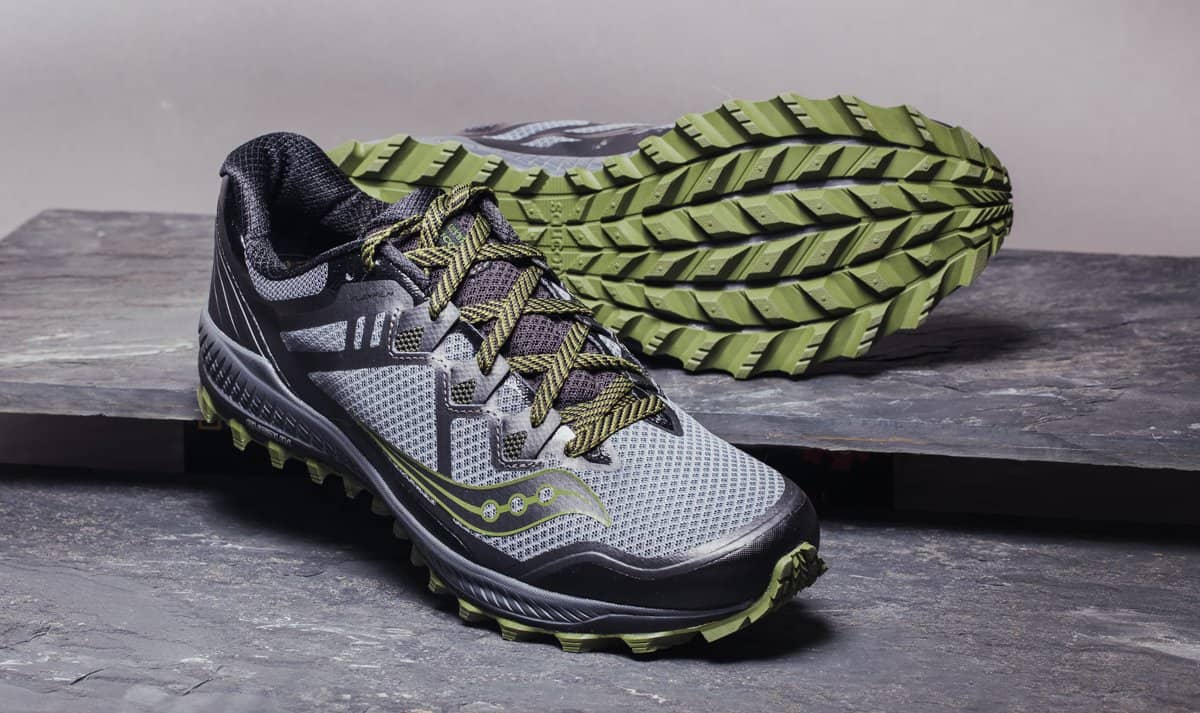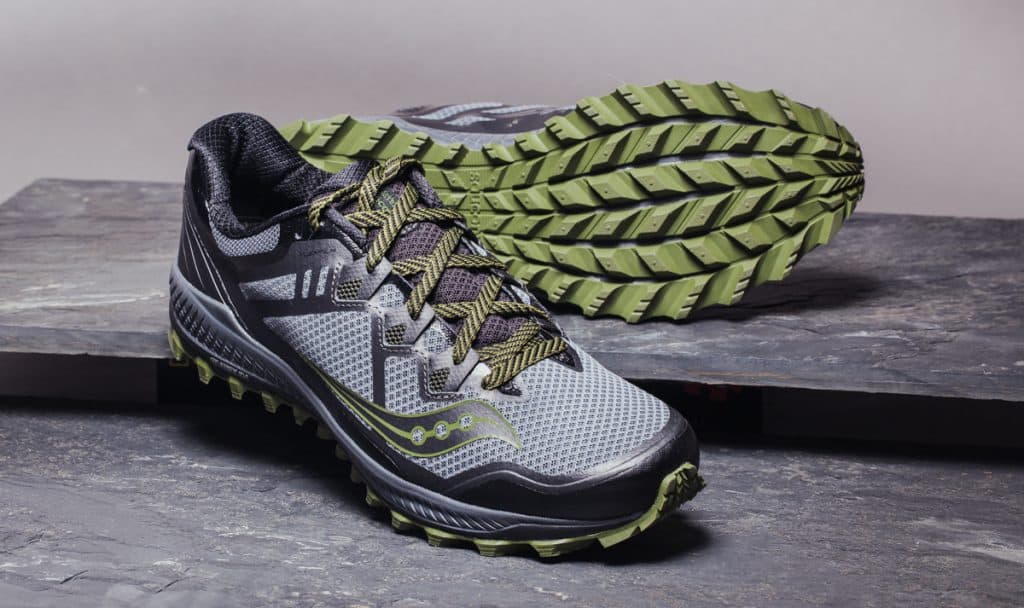 What to Consider When Shopping.
Do you want trail runners, hiking shoes, or hiking boots?
This is the most important question to ask yourself. There are so many underlying questions to this, such as "Do you want the most lightweight?", "Do you want ankle support?", and "Which will be me comfortable for you?" You can refer to the above comparison to choose what type of shoe you want.
Do you want your shoes to be waterproof?
For through-hiking in Spring, Summer, and Fall, the answer should be "No". No matter what your feet will get wet with sweat or water and mud splashing into your shoe. Waterproofing holds that water inside the shoe and dries very, very slowly. Although, if you plan to do a short trip during the winter, waterproofing may keep your feet warm.
Do you prefer support or a "zero drop" shoe?
Traditional shoes have cushioned support that raise the heel slightly higher than the toes. Zero drop keeps your heels and toes at equal heights like being barefoot. Zero drop is growing in popularity due to research showing that it is better for your feet and back.
What will your budget be?
Trail runners and hiking shoes are generally around the same price, but due to trail runners being less durable you may have to buy two pairs. If you have a lower budget, it may be better to buy hiking shoes that will last you the whole trip.
Altra Lone Peak 4
This is Altra's newest Lone Peak shoe. It was just released this summer and came with updates, such as a better gripping sole and a more comfortable top. These also come with a hook and loop feature to add a gaiter for added comfort. They are great for keeping you dry and keeping dirt and rocks out.
Details & Features
Trail Runner
Four colors- Green, Blue, Grey/Orange, Grey/Yellow
Men's and Women's options
Zero Drop
Weight- 10 oz
Stonegaurd protection in midsole
Quick-dry mesh
Textured toe cap
Energy-return cushioning
Rubber sole with carved lugs
Gaiter attachment hooks and loops
Pros
If you want some of the most lightweight trail runners, these are them. You will be able to hike all day in these without feeling like your feet are dragging you down. Also, if you do decide to bring the extra pair with you, these will be lighter in your backpack.
The Altra Lone Peaks will keep your feet on the ground. The canted lugs are positioned so that take-off has more traction. There are also hook and loop tabs that allow you to attach gaiters that keep dirt and mud from building up inside your shoes.
You can expect your feet to feel comfortable in these shoes as well. They've sandwiched Stonegaurd protection into the layers of the midsole to give you flexible protection from rugged terrain. The cushioning inside the shoe is energy-returning meaning it reduces impact and adds some bounce. These shoes also have a toe box that allows movement and a textured tow cap to protect your toes from roots and rocks.
There is no need to worry about a constant heavy, wet feet with these trail runners. They are equipped with quick drying mesh located in the heel and forefoot that allows breathability and easy drainage. If your feet get too wet or sweaty it won't be long for them to be dry again.
Cons
You won't get any ankle support from these shoes like you do with hiking boots. Some could see this as a bad thing, but sometimes the added ankle support can act like a cast and reduce movement. It depends on if you feel more comfortable with the added ankle support or with better movement.
Find the Men's Altra Lone Peak 4 HERE.
Find the Women's Altra Lone Peak 4 HERE.
Brooks Cascadia 13
The Cascadia 13 is another pair of trail running shoes that has just been released this Summer. They are a very popular trail runner in the through-hiking community and probably the closest things you will find to an actual hiking shoe. Brooks has added a few key features to build onto the older Cascadia model.
Details & Features:
Trail Runner
Two colors- Black/Orange and Red/Yellow
Men's and Women's options
Gore-Tex waterproof version
Weight- 11.9 oz
Rubber mudguard and rock shields
Gaiter connectivity
Close to foot fit with saddle system
10 mm heel to toe drop
BioMoGo DNA cushioning
Pivot post system with fifth point at toes
Lace guard
Pros
Comfort is key with the Brooks Cascadia 13 trail runners. This upgraded version includes gaiter connectivity and an internal saddle system that hugs your foot. The Cascadia 13 along with the previous Cascadias are equipped with a pivot post system that holds the shoe together and creates a suspension system that makes you feel more comfortable on rough terrain. This new version includes a fifth pivot point at the toes to give your toe area more flexibility.
BioMoGo DNA is a feature special to this shoe that adapts to your stride. That means the cushioning inside the shoe will form the way you walk. The cushioning in this shoe also gives great arch support with a 10 mm height difference between the heel and toes.
You have a choice in if you want waterproofing in this shoe as well, so you get all the comfort and lightweight of a trail runner without having to worry about stepping in mud or snow. If you prefer the more breathable non-waterproof option, you still will not have to worry about mud. This shoe is equipped with a rubber mudguard that keeps mud and debris from soaking into your shoes.
Cons
These shoes are a bit heavier than your average trail runners. Although, with the extra rock shield in the soles and optional waterproofing, you have to expect a little added weight. If you plan on purchasing two pairs of trail runners to take with you on your trip, these may not be the best option.
Find the Men's Brooks Cascadia 13 HERE.
Find the Women's Brooks Cascadia 13 HERE.
Saucony Peregrine 8
The Saucony Peregrine 8 does its job well. They have great traction to keep you from sliding all over the trail and have the perfect amount of comfort added. They are lightweight but give you all of the protection and support that you may need.
Details & Features:
Trail Runner
Four color- Blue/Grey, Black/Red, Blue/Vizired, and Black/Green
Men's and Women's options
Everun cushioning
PWRFoam midsole
Tacky rubber outsole
4 mm heel to toe drop
Weight- 10 oz
6 mm outsole lugs
Rubber mud and rock guard on toe and heel
Internal lock down system
Pros
The traction on the Peregrine 8 is amazing. They're equipped with PWRTrack outsoles, which is a tacky runner that sticks to things like slab rock really well. The outsoles are also equipped with 6 mm lugs. The lugs cover the whole entire bottom of the shoe giving these shoes a huge amount of traction.
Everun technology has given these shoes ultimate comfort with energy-return that gives a little bounce in every step and added protection against the terrain below. The PWRFoam technology in the misole also adds comfort by adding even more rebound and resistance against rough terrain.
These trail runners are another super-lightweight option. Weighing in at 10 oz each, 1 lb 4 oz per pair, you could easily carry an extra pair on a backpack without worrying about adding too much weight. Your feet won't become weighed down and your legs won't be so sore after a day of hiking.
Cons
The Peregrines do not come with a waterproof option but do come with rubber mudguards to cover the toes and heel. Even though there is no waterproofing, stepping in mud will not be a big deal because the rubber guards keep the mud out. You also do not have to worry about wet shoes weighing you down for too long either. They dry exceptionally fast.
Find the Men's Saucony Peregrine 8 HERE.
Find the Women's Saucony Peregrine 8 HERE.
Merrell Moab 2
The Merrell Moab 2 is a hiking shoe that very much looks like a hiking shoe. For those of you that want that added durability and protection, these are for you. They also come in boot and waterproof options if you prefer those.
Details & Features:
Hiking shoe/boot
Six colors- Charcoal Grey, Castlerock, Beluga, Black Night, Earth, and Walnut
Men's and Women's options
Made of suede leather and mesh
Rubber toe cap
11mm heel to toe drop
Vibram TC5+ sole
5 mm lugs
Waterproof option
Weight- 12 oz
Air cushioned heel
EVA contoured foot bed
Nylon arch shank
Pros
These hiking shoes have so many variations to choose from. They are available in both men's and women's options, have six color choices, and are available in both an ankle-high shoe and boots. You can also choose between a waterproof version and a non-waterproof version.
The suede leather exterior makes these shoes highly durable. Leather is going to last you nearly forever making these shoes very hard to rip or break. The rubber toe cap also makes these very durable along with adding protection. Stubbing your toe won't cause a giant hole in your shoe or a hurt toe.
Even though these shoes may be stiffer than any trail running shoes, they balance comfort and stability really well. There is an added air-cushioned heel that gives you extra rebound and the midsole has a nylon arch shank that protects you from rugged terrain without adding a ton of weight.
Cons
With durable suede leather comes added weight. Not only does the fabric weigh more alone, if it gets wet it weighs almost double what it does dry. Therefore, you almost need the waterproof versions of this shoe or else these shoes will tire you out much faster than the lighter options.
Find the Merrell Moab 2 HERE.
Find the Merrell Moab 2 waterproof hiking boot HERE.
Salomon X Ultra 3
The Salomon X Ultras are hiking shoes that look more like a regular tennis shoe. They are super easy to get on and off with a quick lace pull instead of a lace that you must tie and keep your feet from slipping around, especially on those slippery descents. All while keeping your feet comfortable and well protected.
Details & Features:
Hiking shoe/boots
Two colors- Dark Spruce and Phantom
Men's and Women's options
8 mm heel to toe drop
Gor-Tex waterproof option
Weight- 13 oz
Protective heel cap
Leather upper
Rubber toe cap
OrthoLite sockliner
Quicklace
Countagrip rubber outsoles
Descent control technology
Pros
Salomon X Ultras were made so that you can really control where you are going. The Countagrip rubber soles are made of two different rubbers and have lugs positioned just right to prevent slipping down descents. These are also sculpted to keep your feet from sliding forward while going downhill.
There is a large variety that you can choose from in this shoe. Salomon makes these in men's and women's options, an ankle-high shoe or a boot, and have waterproof options. Almost anyone will be able to find what they want out of these shoes.
Salomon went above and beyond with comfort for the X Ultras. The midsoles feature Ortholite, which combines Ortholite foam that is a cooler, drier cushion, and an EVA heel cup. This allows for better support and pleasant cushioning. They've also got rid of the need to tie your shoes all the time with their quick lace. A strong lace that tightens with a pull.
Cons
Even though these are much more durable than trail runners, they are much heavier than any other shoe on this list. These are also going to be tighter on your foot due to the descent control technology, so it may take a while for you to break them in.
Find the Salomon X Ultra 3 HERE.
Find the Salomon X Ultra 3 Mid (Boot) GTX HERE.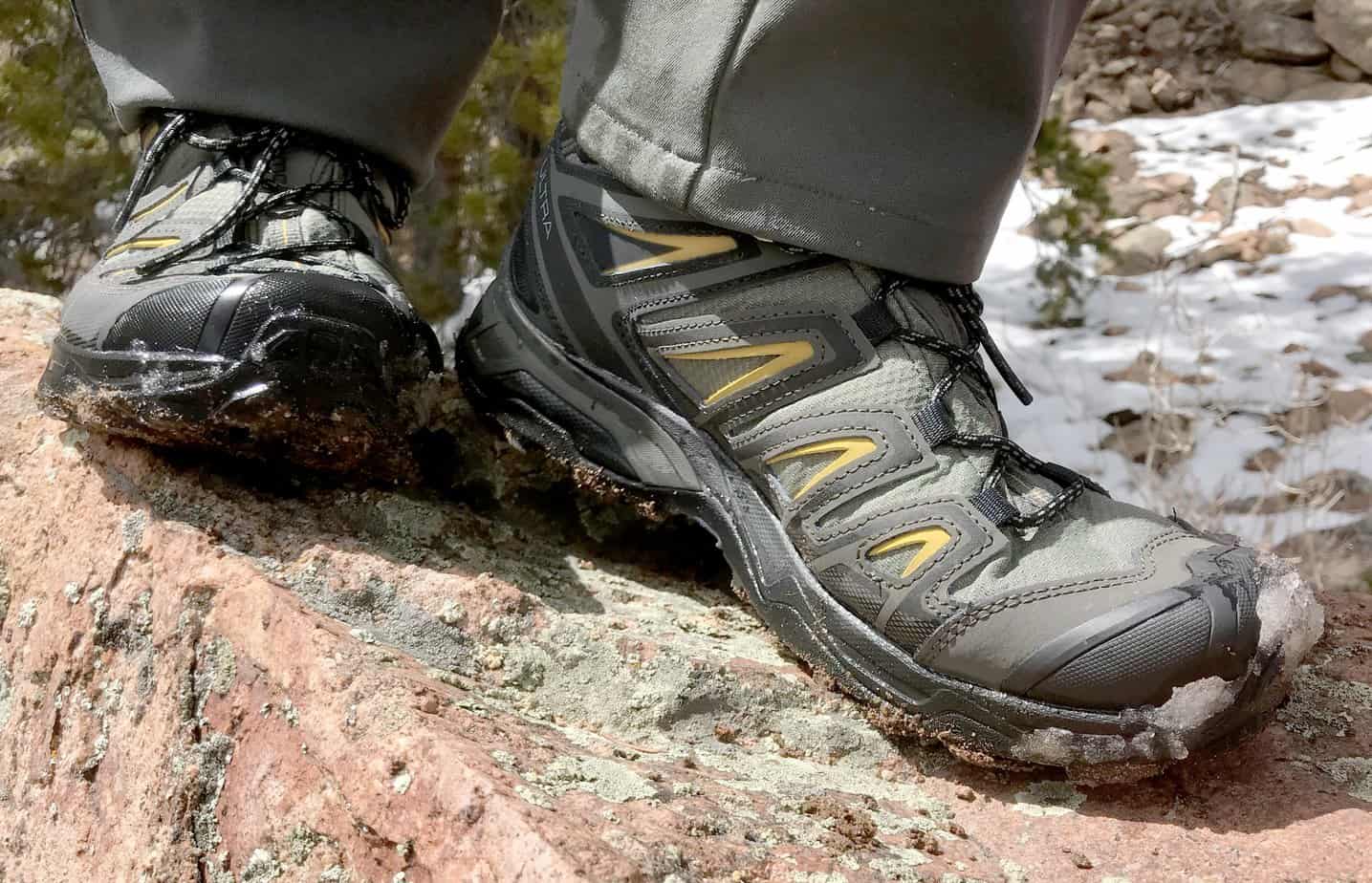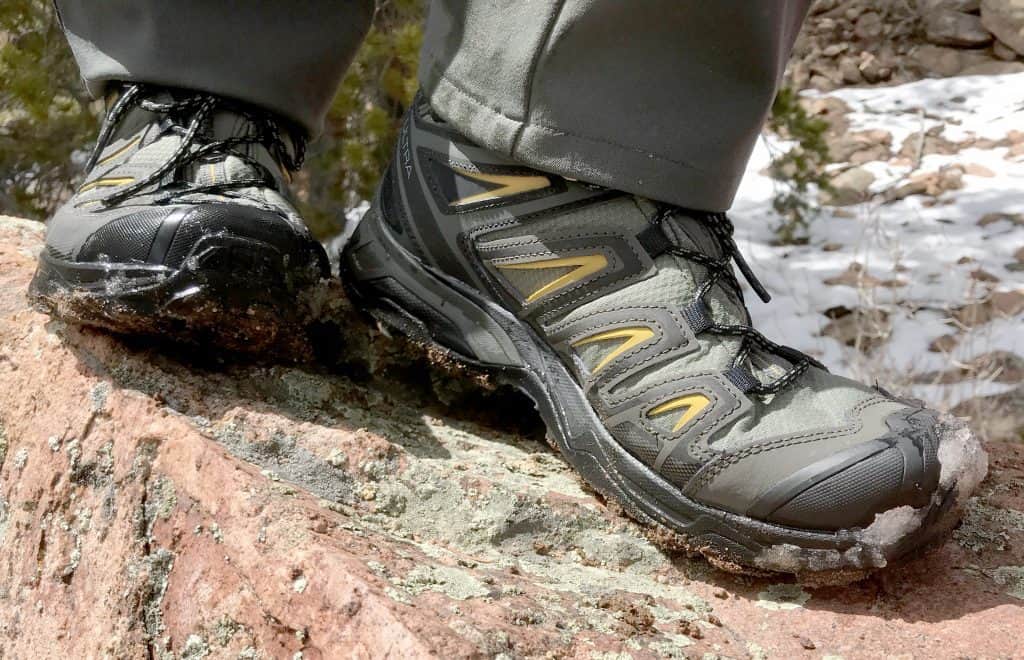 Side by Side
| | | | | | |
| --- | --- | --- | --- | --- | --- |
| | Altra Lone Peak 4 | Brooks Cascadia 13 | Saucony Peregrine 8 | Merrell Moab 2 | Salomon X Ultra 3 |
| Colors | Green, Blue, Grey/Orange, and Grey/Yellow | Black/Orange and Red/Yellow | Blue/Grey, Black/Red, Blue/Vizired, and Black/Green | Charcoal Grey, Castlerock, Beluga, Black Night, Earth, and Walnut | Dark Spruce and Phantom |
| Trail Runner or Hiking Shoe | Trail Runner | Trail Runner | Trail Runner | Hiking Shoe | Hiking Shoe |
| Heel to Toe Drop | Zero Drop | 10mm | 4mm | 11mm | 8mm |
| Waterproofing | No | Optional | No | Optional | Optional |
| Quick Drying | Yes | Yes | Yes | No | No |
| Ankle Support | No | No | No | Boot Option | Boot Option |
| Mud/Rock Guard | No | Yes | Yes | No | Yes |
| Toe Cap | Textured | No | No | Rubber | Rubber |
| Weight (per shoe) | 10oz | 11.9oz | 10oz | 12oz | 13oz |
Don't let your trip go poorly because of a lousy pair of shoes. Research and invest in the right pair for you. You want to make sure you get a pair that satisfies all of your needs and won't ruin your trip by giving you blisters or falling apart along the way. On top of that, make sure that you wear your new shoes around for a while before heading out for a backpacking trip. You might need to break them in or decide you hate them.
Read more about what to wear for hiking here!
Our Keen Durand Mid WP Review – Pros and Cons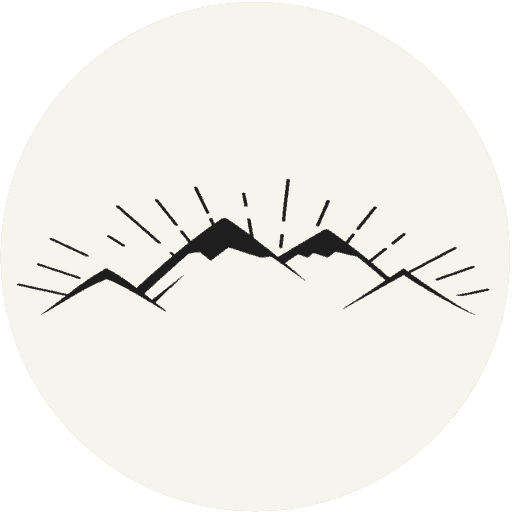 The All-Outdoors Guide team is comprised of enthusiastic experts that enjoy helping others that aspire to be better at outdoor fun. Part of that is making sure you have the right gear and information when it's time to go out and have fun. Some of our team have accomplished amazing feats like climbing 6000 feet to the top of mountains, others have explored every dirt trail they could find and we even have some people that have backpacked solo on various continents. No matter what our readers want to learn and do, our team is here to help them accomplish those goals.