The Keen Durand Mid WP hiking boot is designed with your outdoor needs in mind. Crafted with KEEN PU and a dual compound rubber outsole, this is a hiking booth that offers comfort and durability that will serve you well on the trails.
Additionally, keeping with the Keen brand, the Keen Durand Mid WP is waterproof, but breathable, allowing users' feet to stay cool and sweat-free during hotter weather. Features like this are what help to set the Keen brand apart from others. They offer quality, but also flexibility.
Here they are offering a stable hiking boot that isn't going to weigh you down. It will drive you forward, offering the ankle support needed to explore rough (or easy) terrains. This is a hiking shoe that is designed to take you places, whether that is gardening in the rain or hiking in Arizona. The Keen Durand Mid WP will provide the support and comfort needed to explore or just do what you do!
It is versatile in its ability to transform from an everyday shoe to an adventuring one. Provided it fits, the choice is yours. You can stay or go. Either way, this is a hiking boot that will support you either way.
Pros and Cons to Consider
PROS
CONS

Waterproof & breathable
Great traction
Lightweight

Inaccurate sizing
1 year warranty only
Key Features of the Keen Durand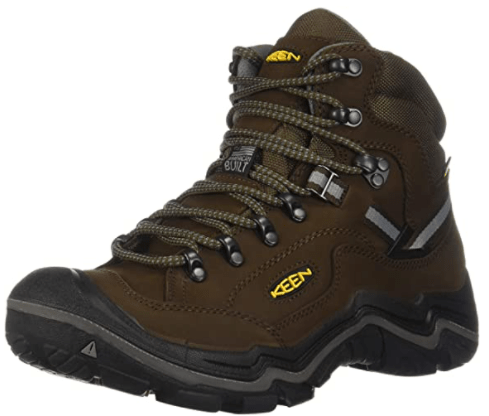 The Keen Durand Mid WP is a powerful outdoor product with features to suit your hiking needs. This lightweight shoe provides excellent grip on all terrains. A built-in arch offers natural support along with flexibility and movement.
Designed with KEEN PU, the Keen Durand Mid WP hiking boot is durable while resisting any kind of compression, ensuring its shape to be long-lasting. This helps it to preserve its shock-absorbing qualities as well.
While it may not be compatible with harder plastic insoles, the built-in midsoles will cushion your feet, leaving you comfortable and dry after a long day on your feet.
Sizing
Sizing remains an issue with Keens products. The Keen Durand Mid WP fits small and wide. While this can make it a great hiking boot for those with wider feet, the same cannot be said about those with narrow feet. This is a hiking boot that is meant to fit snugly to the shape of your foot.
The wrong size can result in unwanted rubbing resulting in terrible blisters and painful feet. While people with wider feet can probably get away with ordering online, this is not recommended for those with narrow feet. In-store purchases are a must to ensure the fit is right for you.
Overall, the Keen Durand Mid WP hiking boot is great for people with flat wide feet.
Comfort
The Keen Durand Mid WP hiking boot is highly comfortable, perhaps even to a fault. Let's start with the good. The interior cushioning and integrated polyurethane heel and midsoles fit naturally to the shape of your foot ensuring no blisters or hotspots after long periods of walking or hiking.
Dual-density footbeds offer additional support but can be removed if desired. This hiking boot is crafted to allow your feet to breathe, keeping the shoe's interior comfortable and moisture-free. Great traction makes the Keen Durand Mid WP hiking boot excellent when you're ascending and descending.
While you would think that ankle support would be a good thing, some have claimed the opposite. Too much ankle support can shift physical strain as far up as the knees. This is a feature that has rendered the shoe quite painful for some.
Others have complained, calling the Keen Durand Mid WP hiking boot too comfortable. They claim that the uppers and midsole are too cushy, which causes the hiking shoe to feel less stable. Like the Keen Koven WP hiking shoe, the Keen Durand Mid WP also has reported issues with the tongue creating a pressure point on top of the foot (something I noticed too).
Comfort can vary from person to person. If you are an experienced hiker, you know what kind of support you need. I like some ankle support, so I didn't experience this problem.
Water Resistance
A true strength of the Keen Durand Mid WP hiking shoe is its water resistance. Personally, I've had my feet remain dry and comfortable after hiking 40 miles in mud and snow. Others have gone on to claim that they waded through streams, puddles, and deep mud with not so much as a drop getting in.
The Keen Duran Mid WP hiking shoe is great for those taking on a longer expedition in wetter conditions. Keep in mind that the boot will fill with water if the water is higher than a boot.
Men vs. Women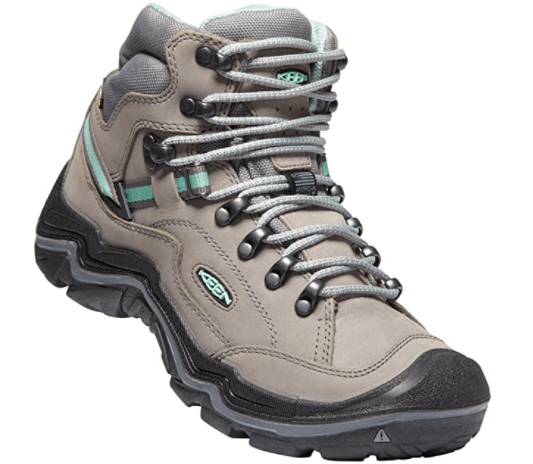 The distinction between the men's and women's boots is quite minute. The only real difference is the price and the size. Since women's boots tend to run smaller, they are generally cheaper.
In regards to sizing, men have stated that the Keen Durand Mid WP hiking boot runs small and often have to buy a size larger than usual. I did this and it was perfect for me (slightly big, but I could cinch it down with proper lacing). The women claim the opposite! They have stated that the hiking boot tends to run large, and have been purchasing a size smaller than usual.
Value
All in all, there have only been a few complaints about the quality of the Keen Durand Mid WP hiking boot. While it is very possible that they could be the result of manufacturing mistakes, they deserve a mention at the least.
In some cases, it has been reported that the side stitching of the Keen Durand Mid WP hiking boot has been known to come undone. Customers have issued complaints claiming that the materials used on this hiking shoe are cheaper than in previous models.
Another example is the ribbon holding the eyelet is glued, instead of stitched in place, meaning it could be easily torn off. The shoe itself only carries a 1-year warranty, so some customers don't trust the boot right out of the gate.
Despite these claims, the Keen Durand Mid WP hiking boot has done remarkably well in wide range of situations. From mud to snow this is a shoe that has held up for most. It works well as an everyday shoe and a hiking boot.
Ultimately, the value will depend on the fit. If it fits properly, the Keen Durand Mid WP is a worthy purchase. However, if you can't get it to fit right, you will only run into more issues.
Conclusion – Final Take
The Keen Durand Mid WP hiking boot is a versatile product that is designed to handle the elements. It is perfect for people who work outdoors, or who like to explore and hike. It is particularly effective for those who have wider feet. That doesn't mean it will not work for those with narrow feet. They just need to assure the size is correct and comfortable.
If you are looking for a shoe that will take on adventures while offering support and keeping you dry, the Keen Durand Mid WP hiking boot is a great option for you. While this may not be a lifelong shoe, it will certainly give you a few good years before an update is needed. Be sure to check out this listing for the latest discounts.
Further read: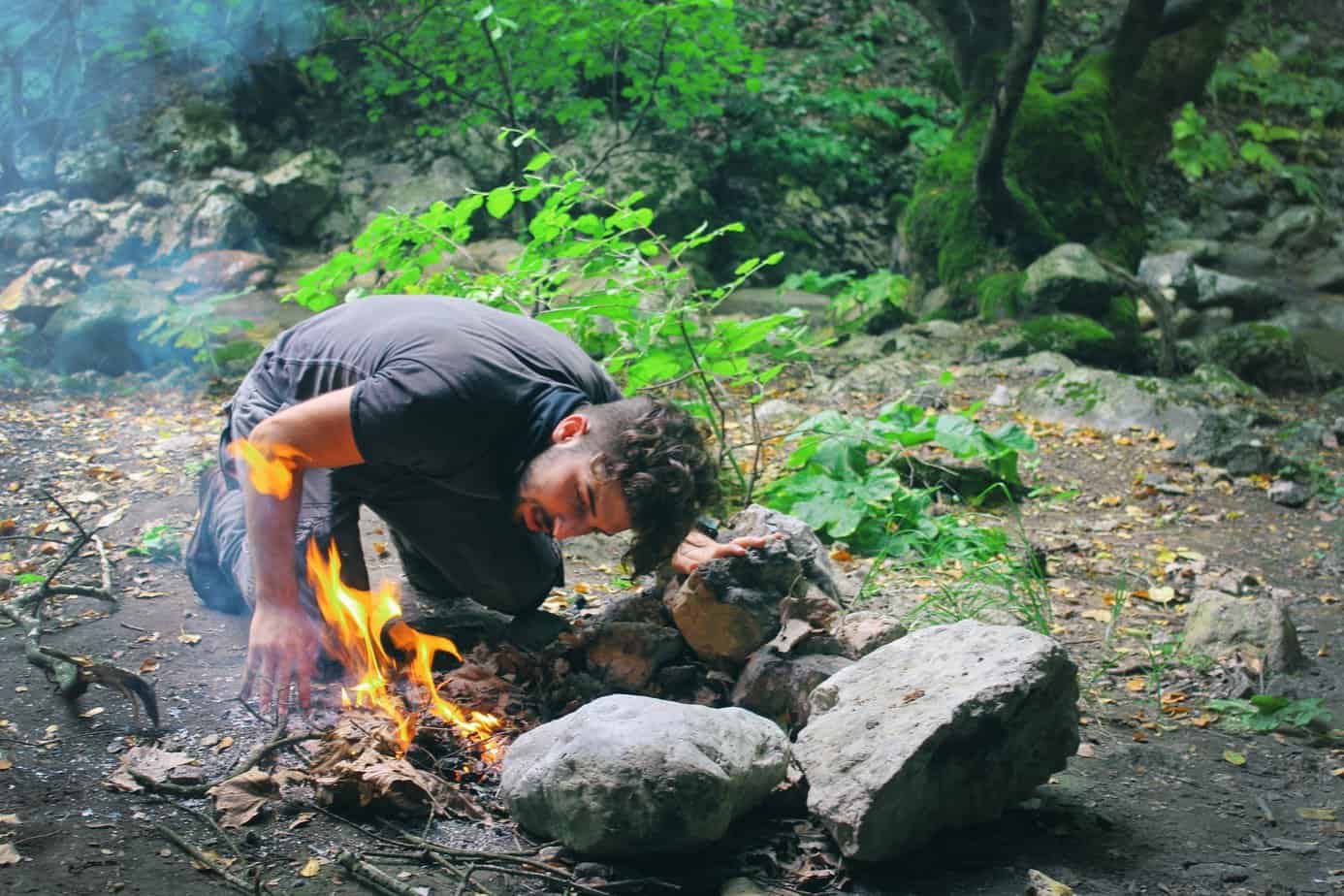 Sam Hardy is an outdoor enthusiast with a penchant for survival skills. He writes about the great outdoors and his favorite equipment here.