The Merrell Moab has become a staple hiking shoe in the hiking world. It's one of the original hiking shoes with modern technologies, such as Vibram outsoles, mesh inner lining, and a rubber toe cap. Now that the Moab has been on the market for almost 3 decades, Merrell has come out with the Moab 2. Below we will be talking about the differences between Merrell Moab vs Moab 2.
Merrell Men's Moab Ventilator Hiking Shoe | Amazon
The Moab Ventilator sports day-one comfort, support, and versatility in a reasonably priced package. This Merrell hiker also receives great acclaim and applause for having excellent longevity and a superb overall aesthetic.
Buy at Amazon.com
We earn a commission if you click this link and make a purchase at no additional cost to you.
About Merrell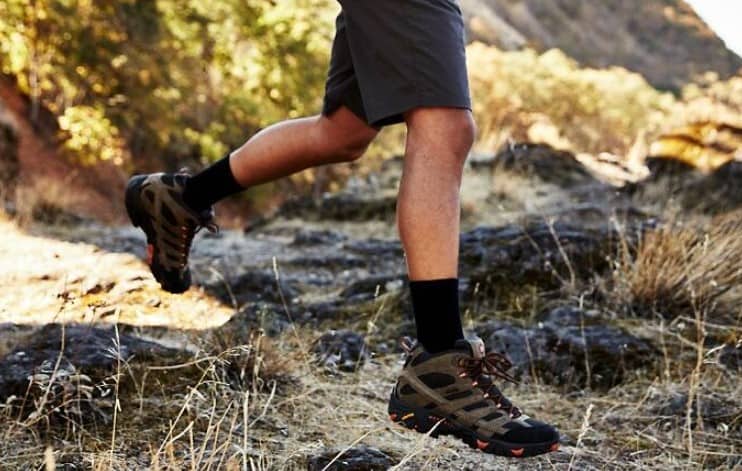 Merrell was founded in 1981 when two ski executives, Clark Matis and John Schweiser, decided to partner with Randall Ivan Merrell to make a new hiking boot. R.I. Merrell specialized in making custom boots and decided to make a more affordable boot with the same top-of-the-line performance. In 1982 the Merrell Moab hiking boot was born.
The Moab is still the most sold product by Merrell. Since the original pair of Moabs, Merrell has made a large number of variations. A few variations are the mid, tactical, adventure, and work shoe. All of these variations have the same looks and comforts as the original.
Another fun thing to know about the Merrell Moab is the word MOAB is actually an acronym for mother of all boots. The original makers of these hiking boots must have had a lot of confidence in these shoes for a name like that.
Since the arrival of the Moab, Merrell has expanded their products to a wide variety of other outdoor sports products. They now offer clothing, bags, sandals, and so much more. With 30 years under their belt, it's no wonder hikers see Merrell as a top choice for all their hiking gear.
Main Differences Between the Moab and Moab 2
| | | |
| --- | --- | --- |
| | | |
| Foot Bed | Ortholite | M Select Fit.Eco+ |
| Material | Dura Leather | Performance Suede Leather |
| Weight | 1 lb 14 oz | 1 lb 15 oz |
| Tongue | Mesh Padded | Bellowed, Closed-Cell Foam |
| Traction | Vibram Multi-Sport Outsole | Vibram TC5+ Outsole |
The Better Moab at a Glance
The Moab 2 has updates that the original Moab can not match. Merrell's designers and engineers made advances that were initially substituted with outsourced products, such as the footbed and outsole. Now that Merrell has made their own technology specifically for their customers, the Moab 2 exceeds the first Moab.
What to Look For in Your Moabs
Durability
When hiking you will be walking over the roughest terrain you will ever walk on. It makes sense that you would want your hiking boots to be durable. They should be able to withstand any scuffing, snagging, and stress they are put through.
Merrell prides itself on being one of the most affordable brands for its quality. That being said, the Moab shoes are very durable for the leisurely hiker. They should last you well over 500 miles. If for some reason they don't last very long, Merrell has a 60-day guarantee.
Waterproof
Wet feet during a hike is not a good thing. If your feet get wet inside of your shoes during a hike, it can easily cause blisters, cold feet, and overall discomfort. Waterproof coatings are usually added to hiking boots to avoid these discomforts.
Certain Moabs come waterproof. The versions that say "waterproof" and the Gore-Tex versions. The Gore-Tex is meant to be slightly more breathable than the simply waterproof Moabs and comes at a slightly higher price.
Light Weight
Heavy feet can add a lot of difficulty to your hike. Imagine walking around with weights on your ankles. Having heavy shoes is essentially doing the same thing. Good hiking boots are usually under 4 pounds.
Merrell's Moabs are tough competition for other hiking shoes. Their lightest Moab, the Moab 2 Ventilator, weighs only 1 pound and 15 ounces. That's about the same weight as most trail runners.
Comfort
What is on your feet has a big effect on how the rest of your body is feeling. If you don't have the correct support, your knees, hips, and even your back can pay the consequences. Also, you will not be hiking on even terrain and for long distances. You will want something that doesn't rub in weird places or lose support over time.
The Moab, in both the ankle and mid-height, is known to minimize ankle rolls on rough and rocky terrain. Although there is less ankle rolling, there is still quite a bit of flexibility to these shoes. Making them quite comfortable for the day hiker, but may not have enough support for a multi-day backpacking trip.
Traction
Rough, loose terrain is common while hiking. Therefore, traction is a huge factor to consider while searching for hiking shoes. Most hiking boots have large lugs on the outer soles that easily grip whatever surface you are hiking on.
Merrell Moabs have a Vibram sole, making them long-lasting, slip-resistant, and waterproof. All Moabs also comes with 5-millimeter lugs, which is about average for hiking shoes. The traction on Merrell's shoes lasts a long time and does a pretty decent job at gripping the ground.
Merrell Men's Moab Ventilator Hiking Shoe | Amazon
The Moab Ventilator sports day-one comfort, support, and versatility in a reasonably priced package. This Merrell hiker also receives great acclaim and applause for having excellent longevity and a superb overall aesthetic.
Buy at Amazon.com
We earn a commission if you click this link and make a purchase at no additional cost to you.
Breathability
Airflow throughout your hiking shoes is a must during warm months. As we discussed earlier, wet feet are not good for hiking. If you are sweating in your feet a ton, you want some breathability in your shoes to cool them down.
Breathability for Merrell's Moab collection depends on the variation you chose. The Ventilator series is going to be the most breathable, whereas the waterproof variations are going to be the least breathable.
Merrell Moab and Moab 2 Comparison
Foot Bed
The most notable difference between the Merrell Moab and the Moab 2 is the footbed. The Moab has the original Ortholite footbed, whereas the Moab 2 has the superior M Select Fit-Eco+ footbed.
The Ortholite footbed that comes with the original Moab is a 4.5-millimeter cushion that provides comfort and breathability. The best feature of the Ortholite footbed is its open-cell structure. This creates moisture-wicking and maximum airflow.
Merrell decided to design their own footbed with the Moab 2 called the M Select Fit.Eco+. This technology was created to mimic the natural tendons in your foot. Giving you maximum heel and arch reinforcement and stability. This footbed is also said to last longer.
Both shoes have the Air Cushion heel pocket. This feature is part of what makes Moabs comfortable right out of the box, so it makes sense that they kept it. The Air Cushion adds a little more shock absorption and stability to your step. Along with that they also kept the nylon arch shank in both shoes for added stability.
Material
Another key difference between the Moab and Moab2 is the leather that they are made of. Durablend leather is used for the original Moabs. The new Moab 2 uses performance suede leather. These two types of leather have very different characteristics.
Durablend leather is a type of leather made from little bits of scrap leather being compounded together with polyurethane. Creating essentially a form of affordable leather. This leather is durable and water-resistant. With this, you know the Moabs will be able to last you a long time.
The Moab 2 was upgraded to suede leather making these shoes more comfortable right out the box. Suede is softer and more flexible than regular leather. You don't really have to go through the break-in stage with the Moab 2 like you do with the original Moabs. However, these features make the Moab 2 less durable. Wear and tear are more likely to happen over time.
The Moab and Moab 2 both still have their nylon mesh lining as well. Leaving both shoes highly breathable. They also both still have their rubber toe caps providing extra protection on rough terrain.
Weight
Both Moabs are relatively the same weight. The lightest version of the two shoes is the ventilator. The Moab ventilator weighs 1 pound 14 ounces and the Moab 2 weighs 1 pound 15 ounces.
The extra ounce in the Moab 2 probably comes from the added weight of the Merrell engineered footbed. However, this weight difference is hardly noticeable. Unless you are going to be doing long backpacking trips with this shoe, I wouldn't even count one ounce as a difference.
Tongue
The tongue of the Moab has changed in the Moab 2 as well. A mesh-lined, padded tongue is in the Moab. The Moab 2 features a bellowed, closed-cell foam tongue. These two tongues may not sound very different but certainly have different effects.
Moab's mesh-lined tongue allows for maximum breathability. Even with the strings tight, you will still get airflow through the top of your shoe. The padding helps keep the laces from putting too much pressure on the top of your foot. The combination of these two things keeps you comfortable throughout your hike.
The new tongue of the Moab 2 is meant to keep your feet dry and free from debris. This surrounds the entire opening of the shoe. Assuring no dust, water, or pebbles will enter your shoe keeping you from injury or blistering.
Outsole
Vibram is the leading company for outsoles in the hiking industry. It was the first manufacturer to produce rubbed lugged soles which is far superior to older mountaineering soles. It's no wonder, Merrell, simply put a newer version of Vibrams on the Moab 2. Here is the difference between the two Vibrams.
The original Moab is equipped with the Vibram Multi-Sport outsole. This sole is meant for a number of uses, including trail running, adventure racing, and hiking. The lugs are designed for a 360-degree grip.
When Merrell updated to the Moab 2, they changed the Vibrams to the TC5+ version. These outsoles were designed by Merrell and are more specific to trail walking and hiking. They have a mixture of lug density and shape. These outsoles have been known to work well even on wet surfaces.
FAQs
Question: Are Merrell Moabs waterproof?
Answer: Certain Moabs can be waterproof. There are a variety of different Moabs to choose from. One of those varieties is their waterproof version. This is the only variation that is waterproof.
Question: Can you run in Merrell Moabs?
Answer: Moabs are not meant to run in. They have a stiffer build meant for hiking. However, you could run in the ventilators without a problem. They are not as comfortable as trail running shoes, but are lightweight enough and grip loose and rugged terrain brilliantly.
Question: Do Merrell Moabs run true to size?
Answer: Most people find that Merrell Moabs run small. You should go half a size up or a full size up if you plan on wearing thick socks or your feet swell while hiking. The best way to avoid a poorly sized shoe is to visit a retailer or find an online retailer with a good exchange policy.
Question: Are Merrell shoes guaranteed?
Answer: Merrell has a "Make it Right Guarantee". This gives you 60 days to return or exchange your Merrell products without any hassle. That means if you have been hiking on them for 60 days straight and something happens or you don't like them, you can return them.
Question: How do you clean Merrell Moabs?
Answer: Do not put your hiking boots in the washer. Hand wash your hiking boots in the sink or outside with warm water and mild soap. Let them air dry by opening the tongue, removing the insole and laces, and letting it all dry separately.
Merrell Moab vs Merrell Moab 2 Verdict
Even though the Merrell Moab has been around for almost 30 years, the Moab 2 is superior. As with anything else, technology and knowledge advance. It was time for Merrell to come up with a newer, better Moab.
The original Moab is still a great hiking shoe. If you are on a budget, the Moab will always be a great purchasing decision. They last a long time, have a variation for every need, keep you comfortable for the long haul, and can get you up any mountain.
With the Moab 2's newer design and advances engineered by Merrell itself, the Moab 2 is the better hiking boot. They still have all the great qualities of the original Moab with some features that make them more comfortable.
Merrell Men's Moab Ventilator Hiking Shoe | Amazon
The Moab Ventilator sports day-one comfort, support, and versatility in a reasonably priced package. This Merrell hiker also receives great acclaim and applause for having excellent longevity and a superb overall aesthetic.
Buy at Amazon.com
We earn a commission if you click this link and make a purchase at no additional cost to you.
Your feet will thank you with the new M Select Fit-Eco+ midsole and suede leather material.
It's also great that the new tongue keeps water and debris out since this was a big issue with the mesh tongue in the original Moab. The new outsole that Merrell created is also very specific to their ideal customer, the leisurely hiker.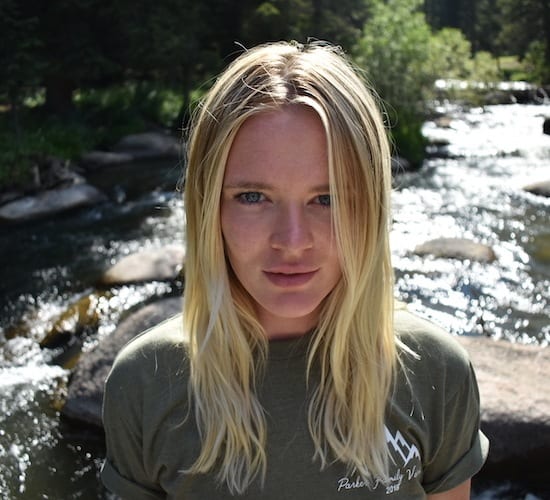 Haley loves hiking and camping. That state of calmness is like no other. A top 14er rock scrambler, Haley wants everyone to experience the highs and joys of outdoor living and here is to help prep the rest of us to do so safely. Here to share her top gear, tips and climb to the top hiking strategies, Haley is a bonafide outdoors guide to love!