When you think about trusted outdoor footwear brands or running shoes there are few companies that spring to mind as fast as Merrell. Merrell was founded over 30 years ago and has since grown to be one of the top tier shoe and boot brands for outdoor enthusiasts.
Merrell has gained numerous awards and continues to produce athletic shoes that beat out the competition for long distance. Not only do they produce quality shoes and boots, with amazing shock absorptions and stability but they continue to innovate and advance their design technology building great lightweight shoes.
Merrell shoes and boots all align with four core values of the brand – Comfort, Design, Durability and Versatility. The company believes that the shoes or boots you buy should always have a comfortable fit and not only looks beautiful but also be built with function in mind perfect for any exercise and sweat.
Additionally, footwear should provide the user with as long of a life as possible through the use of highly-durable materials and high-performance manufacturing.
Last, but not least, although you will find specific categories within Merrell (i.e. Hiking Boots or Trail Running Shoes), the company strive to really create multi-sport footwear, so you can use your workout footwear, as comfortable walking shoes.
Hiking shoes tend to be one of the most popular styles of outdoor footwear. They tend to be great for all aspects of hiking up to moderate backpacking or workout, while also looking nice enough for daily wear or as walking shoes. They are lighter weight than boots and a bit more useful for the average person wanting to get as much use out of their shoes as possible.
Merrell offers a nice selection of hiking shoes for both men and women. One model with very positive reviews is the Grassbow Air hiking shoe.
Replacement Pick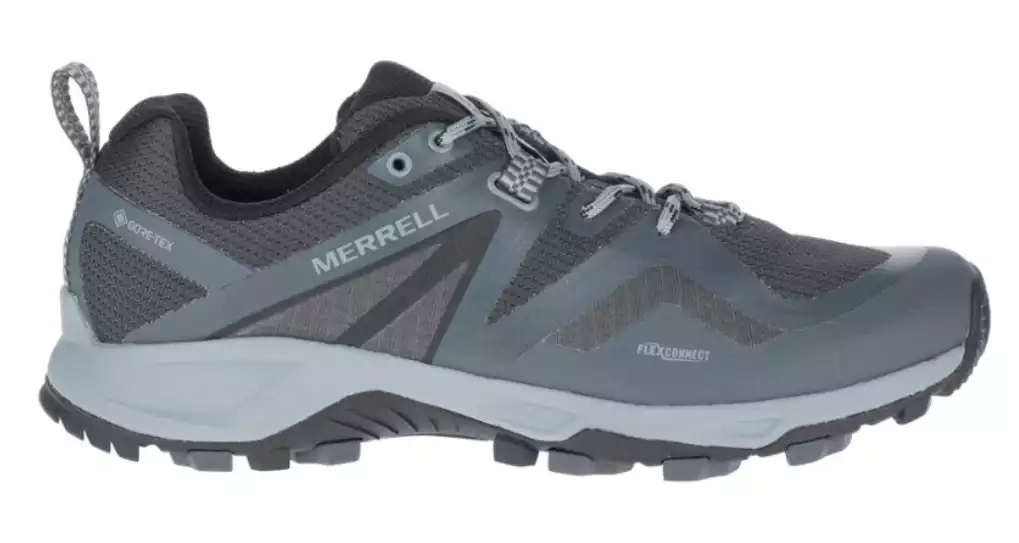 Merrell MQM Flex 2
Since the Grassbow Air has been discontinued, we recommend the MQM Flex 2 as the spiritual successor, specifically the GORE-TEX variety for added weather protection!
View Prices at REI.com
We earn a commission if you click this link and make a purchase at no additional cost to you.
Design and Features of the Grassbow Air Hiking Shoes
The Grassbow Air Low Hiking Shoes are designed to keep your feet cool and dry on the trail while offering a grippy sole to ensure you don't lose traction and stability. At first glance, the Grassbow might seem like a fairly typical-looking hiking shoe, but it really was designed for hikers that really hit the trails hard.
This model has a narrower forefoot and a stiffer outsole compared to other hiking shoes, somewhat like you might find with a trail running shoe.
Hikers that tend to move at a faster pace or expect a more athletic feel to their shoes will enjoy the Grassbow Air, that might fit like running shoes in some conditions. Consider the model to be hiking boot meets trail runner. Before getting more in-depth into what the Grassbow Air offers, here is a quick rundown of this model's technical specs.
Low Ankle Hiking Shoe w/ Lace Up Closure
Synthetic Leather and breathable Mesh Upper
Synthetic Breathable Lining
Molded EVA Midsole
Shock Absorption Pads in forefoot
Merrell Air Cushion shock absorption in heel
Rubber outsole with 3.5mm lugs
Average weight of 1 lb 5 oz
Retails new for $99.95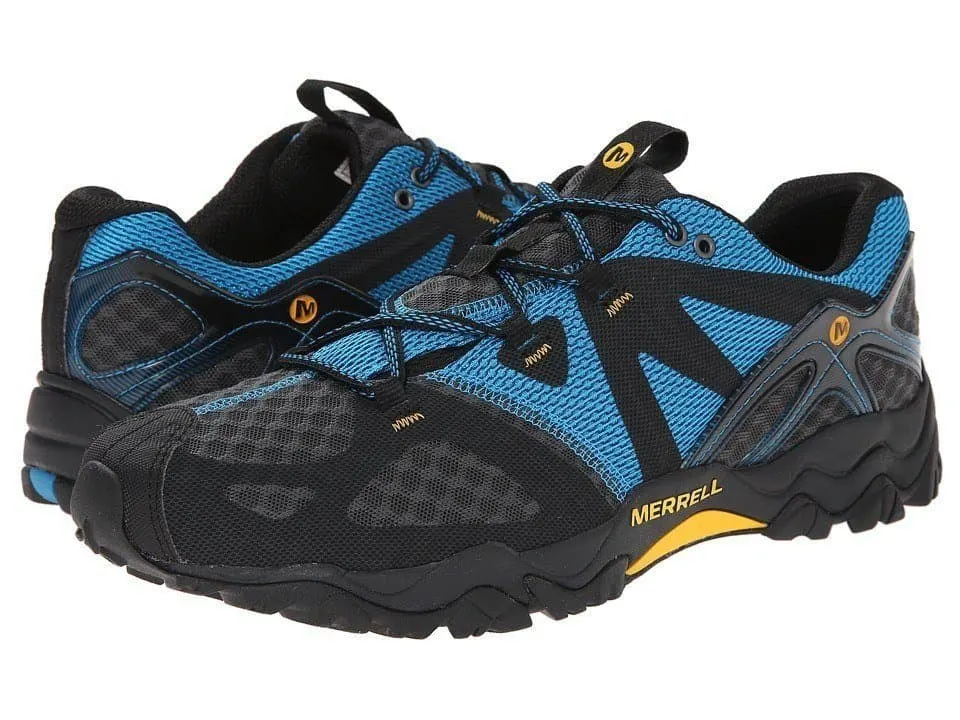 As far as features of the design and construction go, here is what you need to know.
Combo of synthetic leather and mesh uppers keeps feet well-ventilated and dry
Mesh lining offers maximum breathability and moisture evaporation
EVA footbeds are removable and pre-treated with M Select FRESH odor control technology
Bellowed tongue design helps keep gravel, sand, pebbles, and other debris out
Shock absorption pads and Merrell Air Cushions give comfort to forefoot to heel
Molded thermoplastic urethane (TPU) heel counters give maximum foot and ankle stability
3.5mm lug outsoles made of winter compound rubber offer amazing traction, even in cold weather & wet keeping you dry.
It's clear that Merrell carefully designed their great shock absorption Grassbow Air hiking shoes just as carefully as any other trail shoe or boot they offer.
Not surprisingly, plenty of customers who have tried out this model stand behind the brand and have found these shoes to performing exceptionally well.
Replacement Pick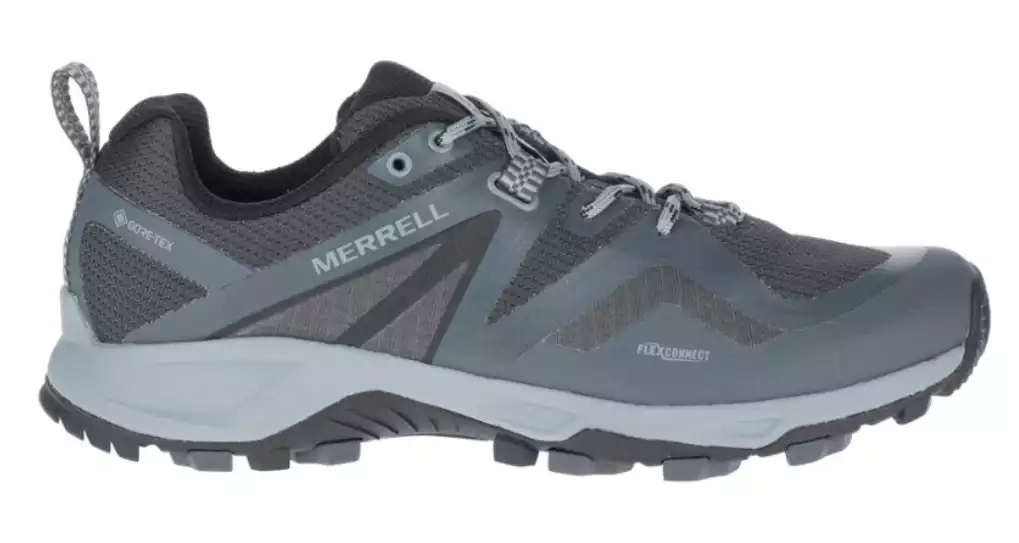 Merrell MQM Flex 2
Since the Grassbow Air has been discontinued, we recommend the MQM Flex 2 as the spiritual successor, specifically the GORE-TEX variety for added weather protection!
View Prices at REI.com
We earn a commission if you click this link and make a purchase at no additional cost to you.
Advantages of the Grassbow Air Hiking Shoes
For the most part the Grassbow Air is an outstanding trail shoe and has quite a few advantages. Here are just a few reasons why the Grassbow Air comes so highly recommended.
Exceptional Comfort with an Extremely Short Break-In Time
The first thing you'll notice when you put on the Grassbow Air is how well they fit and how comfortable they are right out of the box. Although you should never chance a long hike right out of the box with any shoe, the Grassbow Airs come pretty close to having a super easy breaking-in period. Pair them with a nice pair of hiking socks and you'll be ready to hit the trail.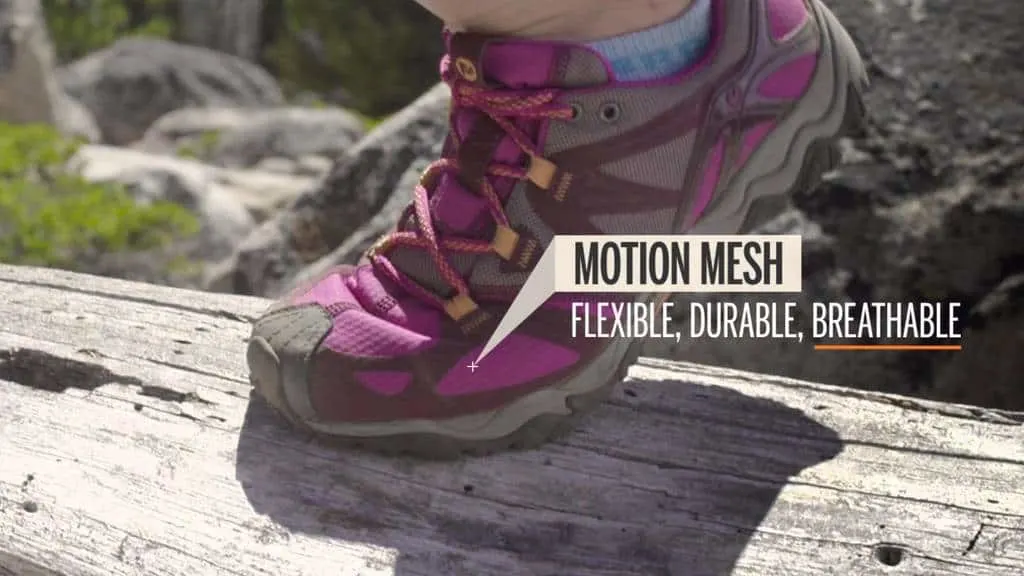 Very Durable Shoe with High-Quality Construction
Merrell shoes are designed to last and the Grassbow Airs are no different. The average wearer can easily put a long distance on these athletic shoes without failure. If you wear these only for hiking and you really put them through the ringer, you'll naturally see wear and tear faster. That being said, compared to competing for hiking shoes these are super tough and will last you a very long time.
Ventilation and General Breathability is Great for Hot Weather
As mentioned above, the primary purpose of the Grassbow Air's design is to keep feet cool. The combination of a breathable mesh lining and the synthetic mesh-paneled upper really go a long way in keeping your feet ventilated and cool. Each step you take will push out warm, humid air within the shoe. These shoes are superb for hot weather hikes, but they also do great in fall weather as well.
Offers Greats Traction Across Mixed Terrain and Weather
The rubber outsole material, combined with the 3.5mm lugs, make the Grassbow Airs great for a variety of terrain. They can handle rocks and steep hills to wet pavement. Although not designed for trail running specifically, runners do agree that these work well for short trail runs.
These are very supportive shoes and can be worn in nearly all weather, save for winter conditions or excessive/wet mud. Even if you purchased the Grassbow Air simply based on the advantages, chances are you'd be quite happy with your purchase. That being said, there are two disadvantages that might change your mind.

Disadvantages of the Grassbow Air Hiking Shoes
Despite all the good things going for the Grassbow Air, it does have two downsides to consider.
Doesn't Offer Any Water-Resistance
If you need a hiking shoe that is water-resistant, the Grassbow Air is not the shoe for you. This isn't a fault of the shoe itself as it was specifically designed for ventilation and makes no promises for water resistance. However, if you're looking for a versatile shoe that can handle water crossings you should be aware that these shoes will leave your socks soaked.
No Longer Being Manufactured
By far the biggest issue with the Grassbow Air is that it seems Merrell is no longer producing this model and may not bring them back. Although you'll no longer be able to purchase these shoe brand new from the retailer, you can still find them through other retailer's websites. If you really find these shoes to be promising and something you want, a quick Google search will help you find a pair.
Overall, the Grassbow Air hiking shoe is a wonderfully designed trail shoe that has some amazing advantages. It really is a long-lasting, comfortable, and tough shoe that aligns with the high-quality level you'd expect of Merrell.
It's unfortunate that these shoes are no longer actively being made, but there is still hope of finding your size through a different retailer. If you have no luck being able to find the Grassbow Air but really want something similar, consider Merrell's Outmost Ventilator or Tetrex models.
Merrell Grassbow Air Replacement
There are a few "spiritual successors" to the Grassbow Air that we like.
Highest on this list is the new Merrell MQM Flex 2, which features many of the same benefits (durability, flexibility for trail running or hiking, shock absorption, and breathability), WITH some noted improvements like a lighter weight and better designed toe box.
Replacement Pick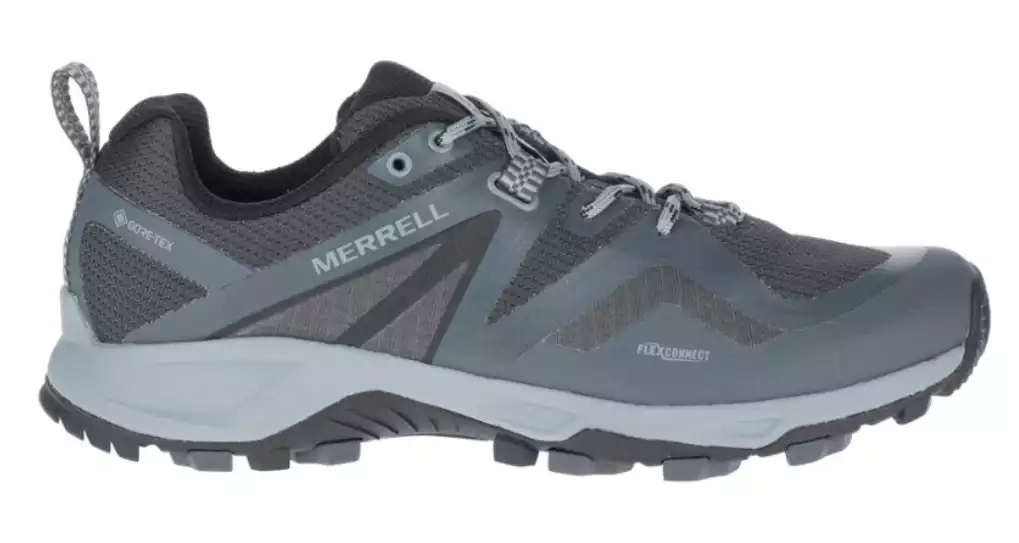 Merrell MQM Flex 2
Since the Grassbow Air has been discontinued, we recommend the MQM Flex 2 as the spiritual successor, specifically the GORE-TEX variety for added weather protection!
View Prices at REI.com
We earn a commission if you click this link and make a purchase at no additional cost to you.
Other Merrell Grassbow Air Replacements
If you want to shop around a bit further, the following are also worth checking out as worthy comps: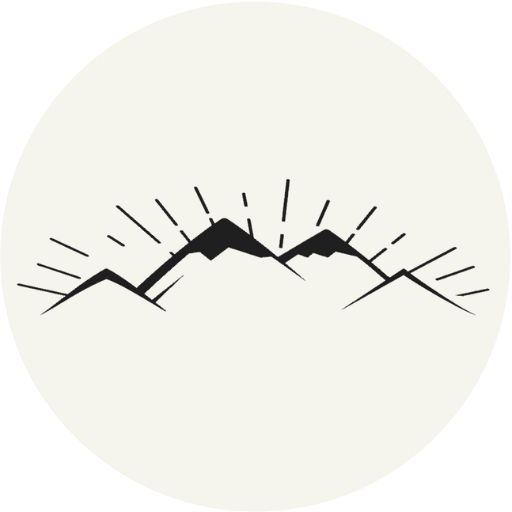 The All-Outdoors Guide team is comprised of enthusiastic experts that enjoy helping others that aspire to be better at outdoor fun. Part of that is making sure you have the right gear and information when it's time to go out and have fun. Some of our team have accomplished amazing feats like climbing 6000 feet to the top of mountains, others have explored every dirt trail they could find and we even have some people that have backpacked solo on various continents. No matter what our readers want to learn and do, our team is here to help them accomplish those goals.