A good folding knife is perfect for everyday carry and an essential part of your outdoor gear, but when you're heading for the woods it's a good idea to add a larger fixed blade as well. Folders are great for cutting tasks but the extra size and weight of a belt knife will also let you chop, baton, pry and dig.
A Primer on Fixed Blades and the Best Bowie Knife
The variety of fixed blade knives on the market is almost endless, and the same can be said for the range of basic designs – everything from classic European-style hunting blades to high-tech survival knives.
There are a few styles that stand out though, and one of these is the Bowie knife. It's an American cultural icon and also a very practical choice.
Why Go With a Bowie Blade?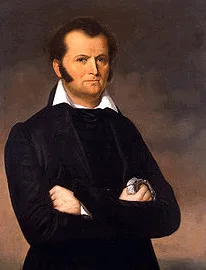 Despite the Bowie knife's popularity it's not easy to pin down what one actually is, and there's a lot of debate among knife experts. The original inspiration is a knife made for legendary frontiersman Jim Bowie in the 1820s, but nobody's very sure what that knife was like**.
There are a few core features that a Bowie knife needs to have, though.
The first is a full tang blade at least six inches long;
Second is a clip point with a full false edge. These are essentials – a knife without any or all of them isn't a Bowie.
More debatable ones are that the false edge must be sharpened and that the knife has a full crossguard.
**For more on the Bowie Knife debate, check out this page.
Core Advantages of a Bowie Knife
Choosing a Bowie offers a lot of advantages. These are big, heavy knives with a long cutting edge, so they can slice and chop effectively. The clipped blade puts the point in line with the center of the handle and makes accurate stabbing or piercing possible.
A sturdy blade and full tang handle makes for an incredibly robust tool that can be used to loosen packed earth, lever open containers or split large logs. A steel pommel makes a workable hammer, or you can use the back of the blade.
Pick the right Bowie and it can handle a whole range of tasks.
How to Find the Best Bowie Knife – Evaluation Criteria
There are a few points to consider when choosing a Bowie; most of them are personal preferences. These are the main ones:
Size. A bigger knife will have a longer cutting edge, which is a good thing, but as the blade gets larger it also becomes heavier and harder to control. There are Bowies out there with blades up to 18 inches long and they're fearsomely capable tools, but they can be pretty hard to wield properly. A knife you can't fully control is dangerous to you and anyone around you; size is good, but too much size is definitely not. Jim Bowie's original knife apparently had a 9½ inch blade, and a couple of inches either size of that is ideal for most people.
Material. Traditional Bowie handles are made of wood, antler or bone. Properly finished these are good materials, but they're not as durable as some modern synthetics. For the blade look at a tough, resilient steel that holds an edge under heavy use. 440C or D2 are good, affordable choices.
Blade style. There's a lot of room for interpretation in a Bowie blade. It has to have a clip point with a false edge, but the length of the clip can vary. Sometimes it's over half the length of the blade; sometimes it's an inch or less. The false edge can run the full length of the clip or only part of it. A longer clip gives a slimmer point that's better for fine work, but can be less robust. Finally you need to decide if you want the false edge sharpened. A sharp one can be used to cut on the backswing, but is more likely to get stuck once you've stabbed it into something – plus you can't put your thumb on it for extra control when carving.
Keeping all those points in mind, let's look at some of the best Bowie knives you can buy.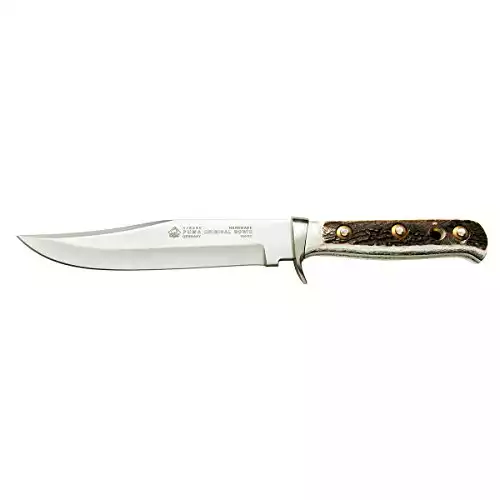 Puma Bowie Stag German Made Hunting Knife with Leather Sheath | Amazon
Puma gold series- these knives are made in Solingen, Germany and have long set the standard for the ultimate hunting knife. Whether for skinning, camping or general work, puma knives are the best you can get. The stag handles are formed from the shed antlers of wild stag deer and each stag-handled knife is a truly unique one-of-a-kind tool.
Buy at Amazon.com
We earn a commission if you click this link and make a purchase at no additional cost to you.
Features At A Glance:
6-inch 440C stainless blade
Riveted stag horn handle
Half guard
The German-made Puma Bowie is a classic design that's been popular for decades. The current model is a mid-priced knife at around $60 see here for listing; in fact, it's one of the most affordable decent quality Bowies on the market.
Older models can still sometimes be found in stock and cost about $135 but are worth the extra if you can find one.
Puma's Bowie is a very traditional design. The 440C stainless blade has a shallow clip running nearly half its length, with an unsharpened false edge the full length of the clip. The cutting edge is straight for about four inches and curves up late, leaving a strong tip.
The handle is staghorn and simply shaped, with no grooves and just a slightly hooked pommel end. It's fairly comfortable and gives a good grip however you're holding it. There's also a brass half-guard to prevent your hand from slipping onto the blade.
This is a simple and solid knife that's easily capable of most heavy-duty tasks. Because it's at the smaller end of the Bowie class it won't double as a machete, but it's still big and tough enough to tackle most things. The rough stag handle stays grippy even when wet or covered in slime, and along with the guard that makes it very safe to work with.
If you can find the old version – you can recognize it because the handle has three rivets instead of two – snap it up; the steel is D1.4 stainless and it comes with a leather sheath instead of the current nylon one.
Verdict: A dependable knife that's been around for a long time, and looks like lasting a while yet. No frills but plenty of quality – one of the best bowie knives available.
Where to Buy the Puma Bowie Knife?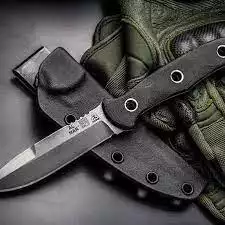 Get your Bowie here at KnifeCountryUSA.com
Elite online retailer of pocket and fixed blade hunting knives. Shop over 30000 knives and outdoor survival gear from brands like Buck, Kershaw, W.R. Case XX, and more.
Check Price
We earn a commission if you click this link and make a purchase at no additional cost to you.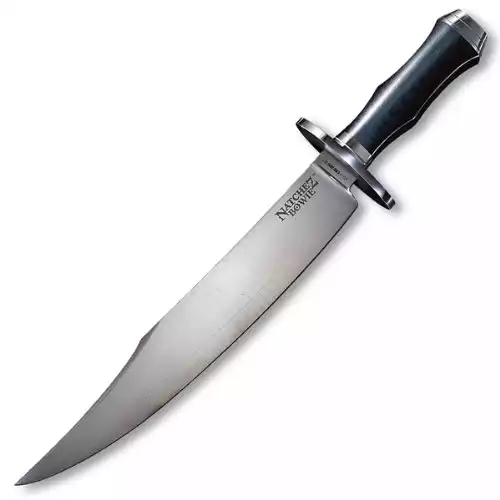 Cold Steel 16ABSJ Natchez Bowie | Amazon
Cold Steel's Natchez Bowie was born "Under-The-Hill" and takes its pedigree from those seedy taverns and dimly lit streets. Line-bred for battle, it's the definitive fighting Bowie. Its long blade is perfectly shaped for strength, reach and leverage, and its significant heft is flawlessly balanced, giving it unparalleled liveliness and velocity.
Buy at Amazon.com
We earn a commission if you click this link and make a purchase at no additional cost to you.
Features At A Glance:
11¾ inch SK-5 high carbon steel blade
Micarta handle
Full crossguard
Cold Steel has an excellent reputation for making quality knives and they've excelled themselves with this beast of a Bowie. Quality comes at a price, and this one will cost you about $190, but if you want a large knife that can handle anything it's a great investment. I've been able to find it for less here.
The Natchez is built around a massive 11¾ inch blade that follows the traditional fighting Bowie shape; there's a clip about five inches long with an unsharpened false edge running its full length, and the bottom edge curves smoothly up to meet it in a long, slim tip.
Don't worry about its strength through – the spine of the blade is almost a third of an inch thick, so there's plenty of metal even very close to the tip. This is a very strong knife. At 22oz it's also a very heavy one, so if you want to do some serious shopping it's perfect.
The Natchez has a full straight crossguard made from brass, so there's no chance of your hand finding itself on the edge. The downside is you can't place your thumb on the blade to guide it but with a knife this size that doesn't matter much anyway.
The one modern touch is the simple, slightly grooved Micarta handle which is sandwiched between a brass base and pommel. It's extremely comfortable, and while it's not as grippy as the Puma's horn it should be more durable.
Despite its size and weight the Natchez sits beautifully in your hand and is easy to handle for most tasks, but it's not made for precise work – and if you don't have a lot of strength in your arms it might not be for you. If you can manage it, however, it's a very powerful tool.
The Natchez comes with a molded Kydex sheath that gives you a belt loop and plenty of attachment points, as well as retaining the knife very securely.
Verdict: A real monster of a knife that will cut through just about anything – but it's certainly no lightweight. Check out this listing for pricing.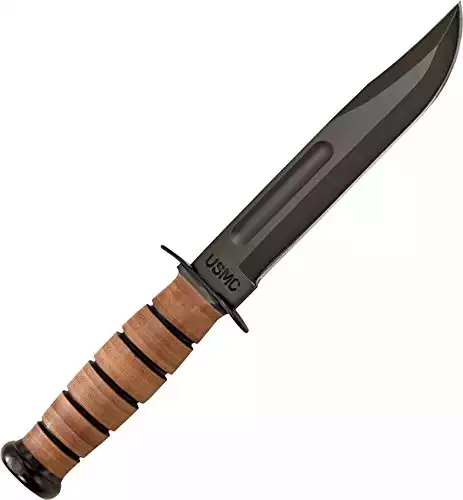 KA-BAR Full Size US Marine Corps Fighting Knife, Straight
Perfect for gift-giving, celebrating a military anniversary or retirement or just to showcase your pride in serving the USA. The KA-BAR Knife features a gold-plated brass guard and pommel. Made with tough 1095 Cro-van steel, the blade of this knife is durable and sharp.
Buy at Amazon.com
We earn a commission if you click this link and make a purchase at no additional cost to you.
Features At At A Glance:
7 inch 1095 chromium-vanadium steel blade
Leather handle
Full crossguard
This is one of the most famous and popular knives in the USA (and probably in the world). Designed for the United States Marine Corps in 1942, it's a modified Bowie design that was built to serve as a tool, survival knife, and weapon – and it's been doing all of that flawlessly for over 70 years.
The Ka-Bar has a solid 7-inch blade that runs parallel for most of its length, with an almost straight clip just over two inches long and a robust tip. It was designed to withstand digging and prying, while still being used as a fighting knife when needed. There's a wide fuller on each side to reduce weight and most knives have USMC stamped on the base of the blade.
One of the most distinctive features of this knife is its handle, made of stacked leather washers that are then waterproofed with oil. The handle has a circular section to allow a variety of grips; it's grooved, and slightly barreled in the center to fill your hand nicely.
It's capped by a heavy steel pommel that's directly pinned to the full-length tang and can be used as an effective hammer. Standard Ka-Bars comes with a leather sheath, again stamped with USMC and the globe and anchor.
There are a lot of cheaper copies of the Ka-Bar out there, but as a genuine one, they're not worth bothering with. Ka-Bar also makes updated versions with a choice of synthetic handles and straight or partly serrated edges, and Kydex sheaths are a common – and useful – accessory.
Verdict: This is an American icon. It's also a sturdy and utilitarian knife that will serve almost anyone extremely well. Highly recommended. Pick it up right here on Amazon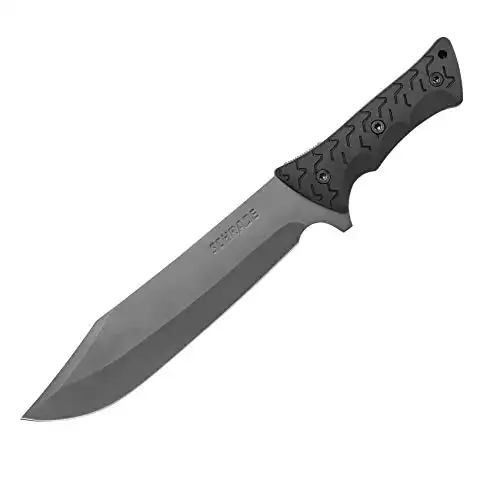 Schrade SCHF45 Leroy Blade Knife | Amazon
Schrade Leroy Full Tang Fixed Blade Knife has a titanium coated high carbon stainless-steel bowie blade featuring finger guard and choil. Its TPE handle slabs with finger grooves and lanyard hole, nylon fiber belt sheath with grommet holes.
Buy at Amazon.com
We earn a commission if you click this link and make a purchase at no additional cost to you.
02/14/2023 12:49 pm GMT
Features at a Glance
Overall Length: 16.49″
Blade Length 10.35″
Blade Thickness: .20″/5.15 mm
Blade Steel: Titanium coated 8Cr13MoV High Carbon Stainless Steel
Handle Length: 6.14″
Handle Material: TPE Handle Slabs with Finger Grooves
Weight: 1.31 lbs.
Sheath: Nylon Sheat (Fiber Belt Sheath with Grommet Holes)
Origin: China
Schrade, a subsidiary of the Taylors brands, is known for making big blades that deliver massive cutting power. At over 16 inches in length, the company's SCHF45 Leroy Fixed Blade Bowie Knife is a full-tang, sturdy knife with a sharp edge that can take care of any cutting task while in the great outdoors.
Despite its huge size, however, the profile of the knife is well-balanced and has a good feel in the hands, making it a perfect cutting tool for hunting, camping, and other outdoor adventures. Plus, this knife comes in a breathtaking design that is quite attractive.
Like its other offerings, Schrade spares no effort and materials to make the SCHF45 Leroy Fixed Blade Bowie Knife a great camper's knife with superior functional and aesthetic qualities. It's certainly the best bowie knife that Schrade has released.
The SCHF45 Leroy Fixed Blade Bowie Knife sports a large 10.35 inches-long titanium-coated 8Cr13MoV high-carbon stainless steel blade. The blade features a clip point and a beautiful swedge along its spine, similar to the vintage bowie blade designs. The blade has a broad pattern that increases the surface area and ultimately the cutting power.
The SCHF45 Leroy Fixed Blade Bowie Knife is forged from a solid slab of 8Cr13MoV high-carbon steel. With a massive thickness of 5mm, this stainless steel blade is exceptionally strong and rugged to withstand any challenge in your many wilderness survival travels.
8Cr13MoV high carbon stainless steel is a strong Chinese stainless steel comparable in hardness, strength, edge retention, and anti-corrosion coating to 440B, AUS-8, and AICHI stainless steels. The only difference between the 8Cr13MoV and the others is that it has a lower edge holding ability, but it compensates by being easier to sharpen.
The SCHF45 features the iconic clip point design of the bowie knife. The clip point offers maximum penetration during piercing and thrusting, making it a perfect survival weapon when you are in the wilderness.
The blade also features a swedge which increases the angle as it tapers toward the clip point, making it a potent stabbing and piercing tool. Additionally, the blade has a slight compound bevel and deep, hollow-grind which makes maintenance and sharpening easy. To reduce finger-slippage, the spine of the blade has thirteen notches, known as jimping cut into the thumb-ramp at the top of the handle.
The SCHF45's blade is made from incredibly tough stainless steel which is rust-resistant but not rust proof. To make the SCHF45 serve you for a lifetime, it's important to dry the blade or apply a protective oil on its surface before storage.
The handle of the SCHF45 is a beauty to behold. The handle consists of two removable black-textured TPE slabs covering the full-tang with each end featuring a lanyard hole. TPE or Thermoplastic Polyester Elastomer is a highly durable and hard material made by combining rubber and plastic polymers to produce a substance with properties of the two materials.
The TPE handle sports a groovy pattern that provides a non-slip grip as well as an ergonomic shape which makes using the knife easy, safe, and comfortable in dry or wet weather conditions. The finger guard features a finger choil which offers increased blade control and higher pressure while cutting.
Because the two halves of the TPE handle are bolted through the full tang with Allen bolts, the knife can absorb the shock of chopping or batoning by transferring the shock into the handle. Three-finger cut-outs on the handle, a moderate palm-swell, and tapered ends provide comfortable gripping positions with or without gloves.
When not in use, the SCHF45 Leroy Fixed Blade Bowie Knife is protected by a highly durable, molded nylon sheath. The sheath comes with a hook and loop strap which reduces rattle to the barest minimum. The belt loop has four 1-1/4″ strap slots on each side as well as six and five grommet holes on each side of the belt loop for strapping the knife to your person or backpack. The belt loop can be strapped to belts up to 1-3/4″ width.
Extensive tests and on the field use show that the SCHF45 is capable of any cutting task. Whether for chopping, batoning, feather stick, kindling, shaping, dressing game, and others, the SCHF45 is a proven survival knife that won't bend under pressure.
Due to its hefty blade, this bowie knife is excellent for cutting branches or limbs, and its balance and weight make it a powerful chopping tool. Its chopping power is comparable to a hatchet if you can handle the size.
Verdict: This impressive bowie knife combines power with ease of use. Its broad blade design and durable stainless steel material pack an immense cutting power. It's perfect for chopping, kindling, making tinder, dressing game and the likes. It's large and feels comfortable to hold with its non-slip, TPE handle. If you are a hunter, camper, trapper, or hiker, the SCHF45 will do the job of a knife and hatchet perfectly and some more. Pick it up right here on Amazon!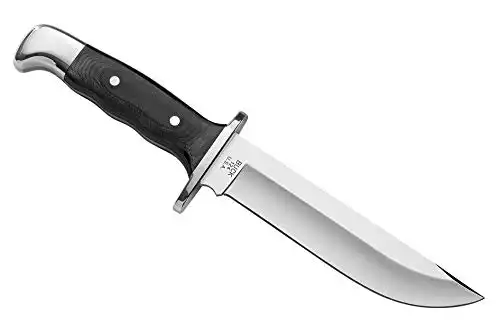 Features at a Glance
Overall Length: 11.75 Inches
Blade Length: 6.25 Inches
Weight: 13.3 oz.
Steel Style: 420HC Steel
The Buck 124 Frontiersman is one of the most popular hunter's knives on the market. For over 110 years, Buck has established itself as one of the leading knife makers in the world.
The Buck Knives 124 Frontiersman Knife is a lightweight, multipurpose, hunting knife with an impressive design. With a beautiful and ergonomically efficient handle design, this knife features a sharp blade that can cut and penetrate most things you will encounter in the wilderness.
One of the most important tools in the kit of a hunter or trapper is a high quality knife that will prove effective for any cutting task in the outdoors. The Buck 124 has everything you need regarding blade quality, quality materials, functionality, and design among others.
The Buck 124 is a straight-back bowie featuring a full-tang design with a 6.25-inch-long blade, black aluminum pommel, and aluminum guard Micarta handle, as well as a leather sheath.
The Buck 124 offers exceptional strength and blade quality due to its full tang build. The blade has superb wear resistance abilities as well as corrosion resistance, making it easy to sharpen and maintain for a lifetime. Buck offers a Buck Forever Warranty coverage, a sure indication that their knives are worth every penny.
In terms of design and functionality, the Buck 124 Frontiersman Knife is in a class of its own. The knife is ideal for every cutting task in any condition, and the strong stainless steel blade delivers a powerful blow during heavy-duty activities.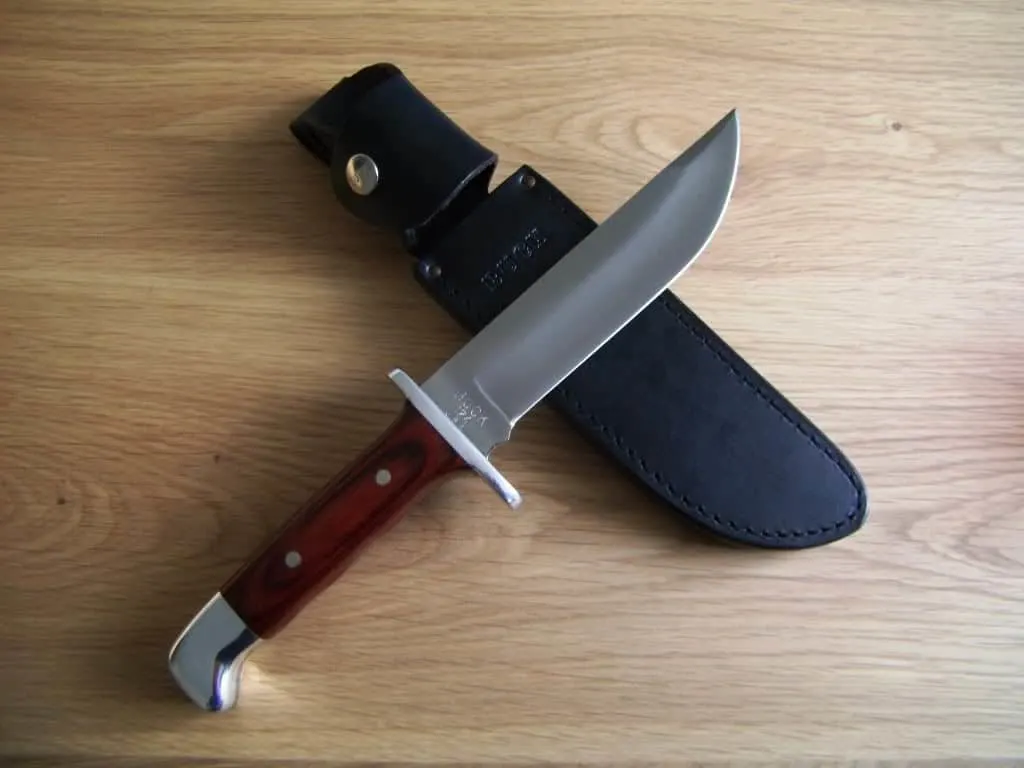 At only 13.3 ounces, this knife is a lightweight tool that's easy to carry around and excellent for multiple functions. From kindling, making tinder, dressing game, general camp use, and meals preparation, the Buck 124 has the strength and versatility to deliver always.
While the lightweight design and satin finish makes it adorable and easy to pack, it also makes it a bit poor at chopping wood. The blade is made from 420 high carbon steel which offers excellent corrosion resistance, strength, and edge retention. Plus, the blade is extremely durable and easy to sharpen.
Getting a grip on this knife is easy with the black Micarta handle which finger guards and aluminum pommel, making it easy and comfortable to hold while handling any cutting task.
Additionally, the knife features a large guard for increased protection during use, and the fit and finish are nothing short of excellent. The size of this full tang bowie knife and its sharp blade make it an excellent piece for hunting, camping, trapping, backpacking, hiking, and other outdoor adventures. The Buck 124 is kept in a genuine leather sheath when not in use.
The only downside to the Buck 124 is that it doesn't have a rubberized grip which will help reduce the likelihood of slip when used in wet conditions. Other than that, some people might find the knife a bit bigger to handle. However, it's an excellent all-around knife that suits a wide range of applications.
Verdict: The Buck 124 Frontiersman Bowie Knife is a perfect companion for the outdoor adventurer. With a sharp and strong blade, classic satin finish, and enough cutting power to handle most tasks in the field, this knife is a great tool to have in your survival kit. Plus, it comes with a lifetime manufacturer's warranty. You can pick the Buck 124 up right here.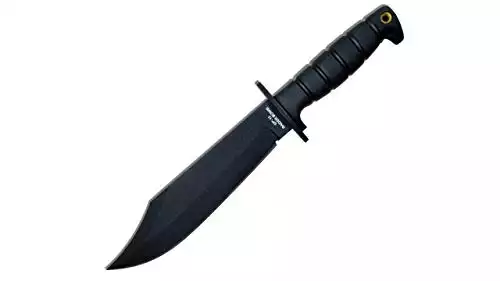 Ontario Knife Company Spec Plus Marine Raider | Amazon
Spec plus Series knives are designed for military, sporting and rescue use. The spec plus products are a diverse mix of top-selling and innovative knife and tool patterns designed for military, sporting and first responder purposes. Each knife in the spec plus Series features a comfortable Kraton handle, epoxy textured powder coated 1095 carbon steel blades, full tang construction and a tactical sheath.
Buy at Amazon.com
We earn a commission if you click this link and make a purchase at no additional cost to you.
02/14/2023 11:04 am GMT
Features at a Glance
Overall Length: 15.125 Inches
Blade Length: 9.75 Inches
Weight: 22.4 oz.
Steel Type: 1095 Carbon Steel
The Marine Raider is a solid knife with some fantastic qualities. If you want a knife that is perfect for cutting and chopping, Ontario's Marine Raider combines strength and durability in its 1095 carbon steel blade coated with epoxy powder.
The Ontario Knife Company has been being the business of making knives since 1889, so the company sure does know something about making high-quality knives. The Marine Raider Bowie knife is spectacularly beautiful. If you love your sharp tools to have exceptional aesthetics, then the Marine Raider is an excellent choice. If you love the outdoors and want to travel light, this knife should be on your list.
This superb-looking knife features a full-tang construction which gives it an excellent balance point, and the sheer 650 grams of the knife makes it the ultimate small chopping tool.
The Marine Raider features an almost 10-inch long blade made from 1095 stainless steel. The blade is heavy and has a massive surface area that delivers massive chopping power.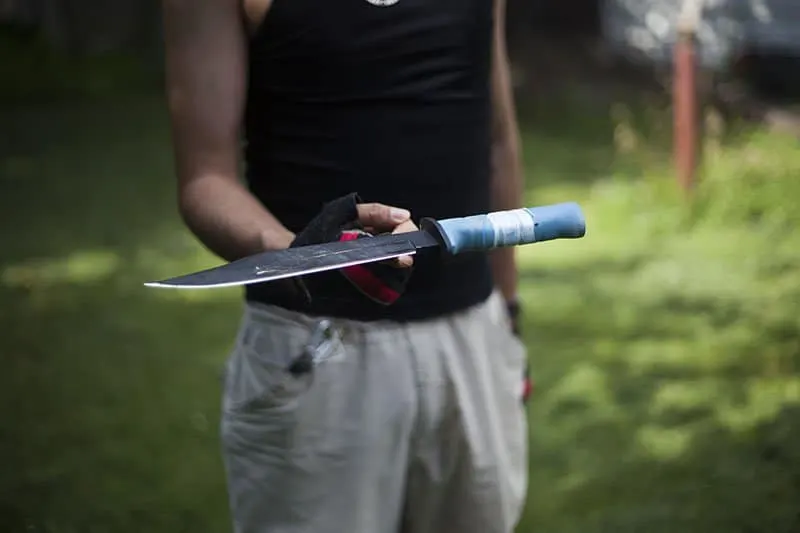 While this knife is built for combat, its weight makes it too slow to wield during a life and death combat situation. What it does best is heavy-duty tasks such as chopping, batoning, and other high-stakes cutting activities thanks to the blade's quarter-inch spine. This knife will cut through moderately thick branched with a single strike.
The knife features an unsharpened clip point, but you can easily sharpen it because it's extremely lean. The thinness of the clip creates a little problem during batoning as the clip can quickly chew your baton away and break it apart, so you need to be careful not to hit your baton on the clip.
The blade is exceptionally strong and has impressive edge-holding properties even under intense and rough use. With a 1/4-inch-thick stock, rest assured this blade is sturdy enough to withstand any rigorous task, be it chopping, batoning, kindling, making tinder, or cutting stakes.
The Marine Raider sports a beautiful Kraton handle that offers a strong grip and feels comfortable during any task. The handle also has a piped lanyard hole for attaching it to your belt or retrieving the knife during chopping and other heavy-duty tasks.
The sheath is made from a combination of ballistic nylon at the front to reduce abrasion and increase toughness while the back is made of leather to protect your legs while strapping it to yourself.
The sheath is solidly built to protect the knife and yourself and also makes transportation safe and easy. However, hauling a 22-ounce knife on your person might be a bit too much for some people during long treks in the outdoors, but it's perfect for backpacking.
With its large, heavy blade that delivers immense cutting power, this high-quality knife is an excellent survival and combat tool for military and outdoor enthusiasts. While it may not be the best combat knife, its sheer weight is enough to wreak havoc if you ever encounter trouble in the wilderness.
If you are looking for a big knife that packs a punch without breaking the bank, Ontario Spec Plus Marine Raider Bowie is a great choice. It has a well-balanced design, a shock-absorbing, non-slip handle, and a sharp and strong blade that handles well in most cutting tasks.
Verdict: The Ontario Spec Plus Marine Raider Bowie is an excellent combat knife for outdoor enthusiasts. It's ideal for campers, backpackers, hikers, and hunters. Plus, it's surprisingly affordable for a knife of its size. Check out this listing for the latest prices.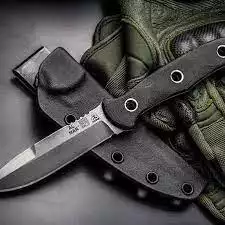 Get your Bowie here at KnifeCountryUSA.com
Elite online retailer of pocket and fixed blade hunting knives. Shop over 30000 knives and outdoor survival gear from brands like Buck, Kershaw, W.R. Case XX, and more.
Check Price
We earn a commission if you click this link and make a purchase at no additional cost to you.
FAQ | Frequently Asked Questions About the Best Bowie Knife
What is a Bowie knife good for?
The unique design of the Bowie knife makes it ideal for use as a hunting knife for skinning and butchering meat. The Bowie knife is an essential for any outdoorsman, but particularly for hunters.
What makes a Bowie knife a Bowie knife?
There are some more technical interpretations, but the original intent was to serve a dual purpose: "long enough to use as a sword, sharp enough to use as a razor, wide enough to use as a paddle, and heavy enough to use as a hatchet."
Is a Bowie knife legal?
Yes, Bowie knives are considered legal most states, although some states make carrying a weapon with the intent to commit a crime a separate legal offense.
Further Reading on Outdoor & Survival Knives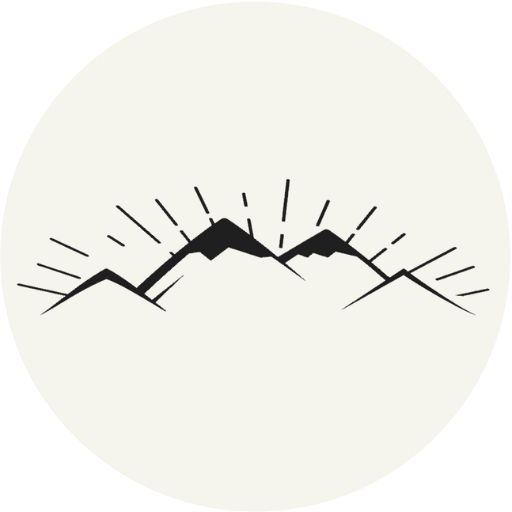 The All-Outdoors Guide team is comprised of enthusiastic experts that enjoy helping others that aspire to be better at outdoor fun. Part of that is making sure you have the right gear and information when it's time to go out and have fun. Some of our team have accomplished amazing feats like climbing 6000 feet to the top of mountains, others have explored every dirt trail they could find and we even have some people that have backpacked solo on various continents. No matter what our readers want to learn and do, our team is here to help them accomplish those goals.