Marmot was founded in the early 1970s, starting as an outdoor club aptly named the Marmot Club that quickly grew into one of the most trusted outdoor gear retailers today. Marmot is well-known for offering technical outdoor gear that is ideal for amateurs backpacking all the way up to the more serious of thru-hikers and explorers.
You'll find basically every piece of apparel and equipment you'll need for your adventure from Marmot, but this brand is particularly respected for its line of tents.
Arguably the most important piece of gear is your choice of shelter, making tent-buying a process that shouldn't be rushed. Aside from whatever you might be wearing, it is your tent that you will rely on to keep you dry and out of the elements.
For newer backpackers and campers it can be a bit frustrating to try and find a tent that will work for your needs but also not break the bank. Thankfully the Marmot Tungsten 3P, which is an excellent all-around shelter for the average camping trip.
If you don't have a whole lot to spend but want the quality of a name-brand tent to start off with, chances are you'll be very happy with what the Tungsten 3P offers.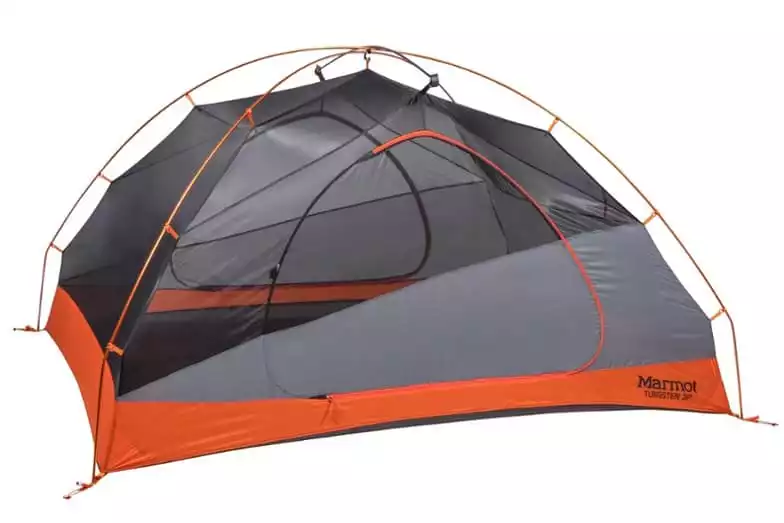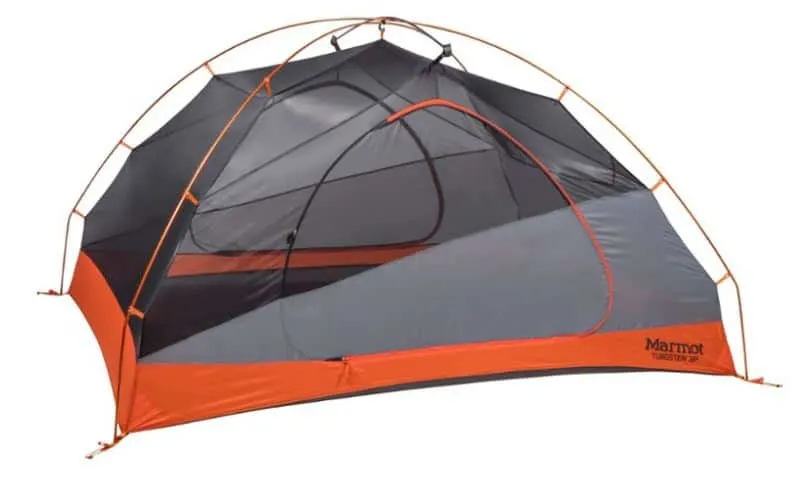 Before delving into the main reasons why the Tungsten 3P tent may or may not be the right shelter for your needs, here is a rundown of all the basics you need to know about this model.
Designed for 3-season backpacking use
Sleeps a maximum of 3 adults
The packed weight of 6 lbs 4.5 oz
The minimum packed weight of 5 lbs 13.5 oz
Total dimensions of 8″ x 22″ in stuff sack
Total floor dimensions of 90″ x 66″ (41.5 sq ft)
Double vestibules with 10.6 and 7.8 sq ft of gear storage
Peak ceiling height of 46″
Double doors allow for easy exit/entrance
Rainfly and floor made of 68D polyester taffeta material
Canopy made of 68D polyester taffeta and 40D polyester No-See-Um mesh
Catenary cut floor and taped seams for water resistance
Full coverage taped seam rainfly keeps water out while allowing air in
Available in bold Blaze/Steel color
Retails with footprint for $259.00
Advantages of the Tungsten 3P Tent
There are four major advantages of choosing the Tungsten 3P.
High Ceiling Maximizes Comfort and Accessibility
With an impressive 46″ ceiling height you'll find that the Tungsten 3P is a very comfortable space for two adults (more on that below), especially if you happen to be a bit taller than average. Visually the vaulted ceiling helps create an illusion of more space.
Additionally, have extra headroom makes it much easier to maneuver around as well as enter or exit the tent. If you tend to get a bit claustrophobic intents you'll really appreciate this feature.
Priced Very Reasonably When Combined with Footprint
Name brands tents naturally tend to cost more, which is reflected in the company's reputation and quality. The Tungsten 3P is priced very reasonably at $259.00, which includes the recommended footprint.
A 3 person tent for under $300 is an excellent bargain. This tent is very well-crafted and constructed of high-quality materials, meaning it is made to last. Overall this model is an excellent investment that isn't going to break your budget.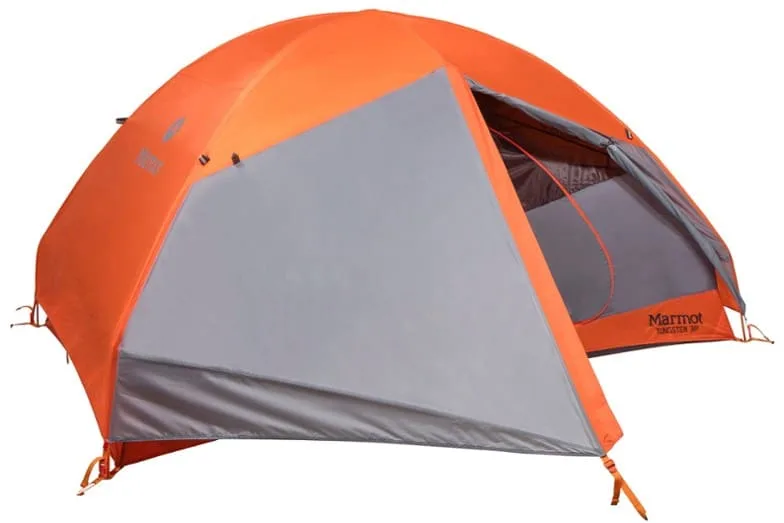 Simplistic Setup Isn't Difficult to Learn
The Tungsten 3P uses a combination of 3 poles and color-coded Easy Pitch clips. Like most tents, the first time you set it up will take the longest so it is wise to practice set up before you actually head out into the woods.
That being said, even very experienced backpackers enjoy how easy the tent is to pitch. If you happen to be caught in the rain the design of the Tungsten 3P allows you to get it in place without getting the interior wet as well.
Impressive Weather Protection for Occupants and Gear
The Tungsten 3P offers all the weather protection you'd expect from a quality shelter. It is exceptionally waterproof and durable. Keep in mind that this is a 3 season tent, so it isn't made to hold up to bitterly cold temperatures, extreme winds, or snowfall.
For casual camping trips, this model will offer all the protection you'll need. The vestibules are large enough for storing quite a bit of gear under and also shed rain very well, except for perhaps the very edges if you get caught in heavy rainfall.
Disadvantages of the Marmot Tungsten 3P Tent
There are three potential downsides to consider prior to purchasing the Tungsten 3P.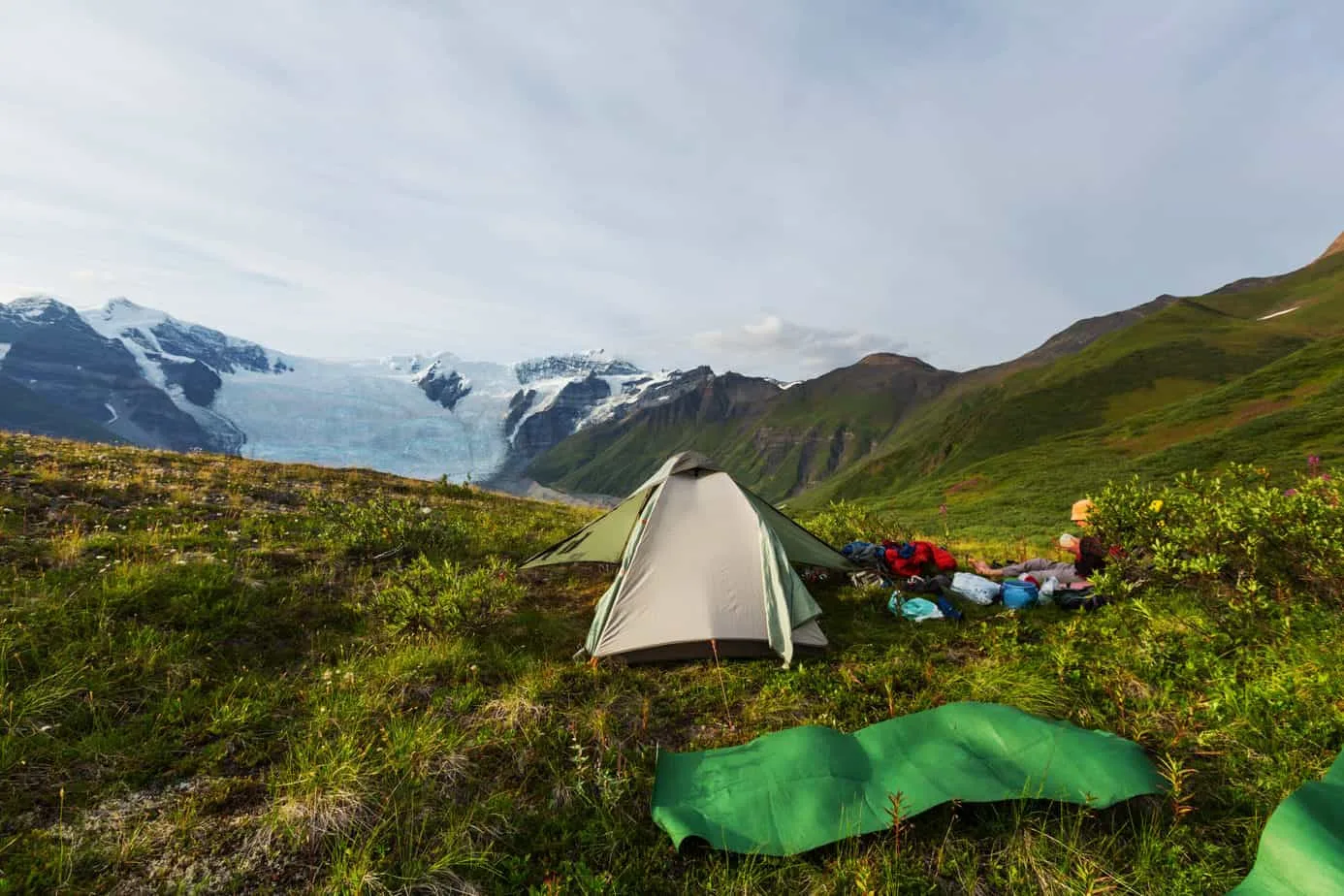 Fairly Compact Floor Space for 3 People
This is really a disadvantage, but rather something to be aware of. Plenty of more experienced backpackers already know that the maximum occupancy of a tent is often not the most comfortable. While the Tungsten 3P offers a comfortable space with plenty of headroom you'll likely agree with others that it will be a tight fit for 3 adults.
It will be "cozy" so to speak and if one person is a restless sleeper you may all suffer. Typically a 3P tent is best for 2 average adults, perhaps with a dog or child. Seeing as how the Tungsten 3P has a minimum floor space you'd be better off upgrading to the Tungsten 4P if you truly want to comfortably fit 3 adults.
May Not Stand Up to High Winds
Marmot claims the Tungsten 3P will "keep you comfortable and dry adventure after adventure". While it does clearly hold up well in some rain and less-than-pleasant weather, more than a few users have found it does not excel when it comes to high winds.
Light winds shouldn't be an issue, but as you get into weather conditions where winds are over 40mph you'll find that the sides tend to buffer in. This is due to the pivot of the unique pole design. Chances of actual tent collapse are very slim, save perhaps for the harshest gusts you'll likely not experience.
But it is still a good idea to take into consideration whether you'll be dealing with sustained high winds before you choose this tent.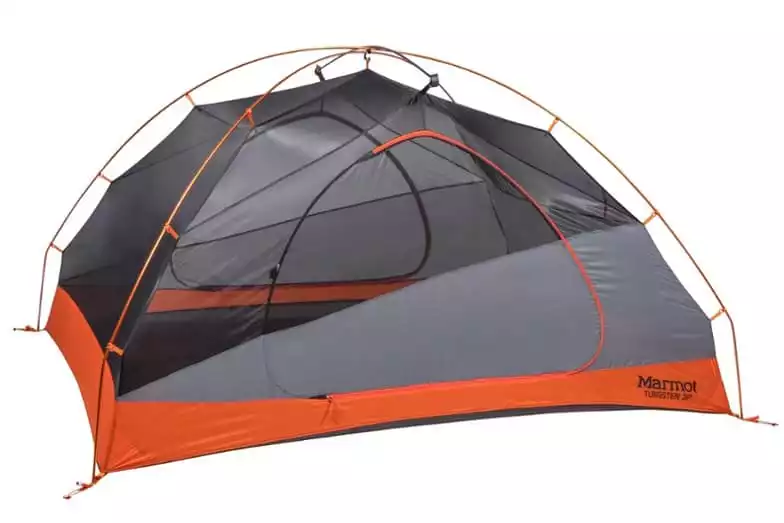 Best for Car Camping or Short Hikes
The packed weight of the Tungsten 3P is over 6 lbs, which may not seem like too much but actually is on the heavy side for a 3 person shelter. Even at its minimum weight of 5 lbs 13.5 oz you're still going to find that this model is heavier than many prefer. The overall packed dimensions of 8″ x 22″ also is somewhat large.
Considering these two points it is safe to say that the Tungsten 3P is best suited for either short, easy backpacking hikes or for car camping. Long hikes or strenuous terrain may warrant having to share the weight between two people.
Despite having a few flaws, overall the Tungsten 3P is a solid 4-star tent. As mentioned earlier the Tungsten 3P is likely best suited for amateur campers that likely won't be camping in inclement weather and situations where lightweight isn't a big concern.
If you are fairly experienced and looking for a go-to 3 season tent to handle all kinds of weather you may be somewhat disappointed in this model. That being said if your stable of gear is missing a comfortable warm-season tent for casual camping, the Tungsten 3P could be a perfect fit.
Marmot x All Outdoors Guide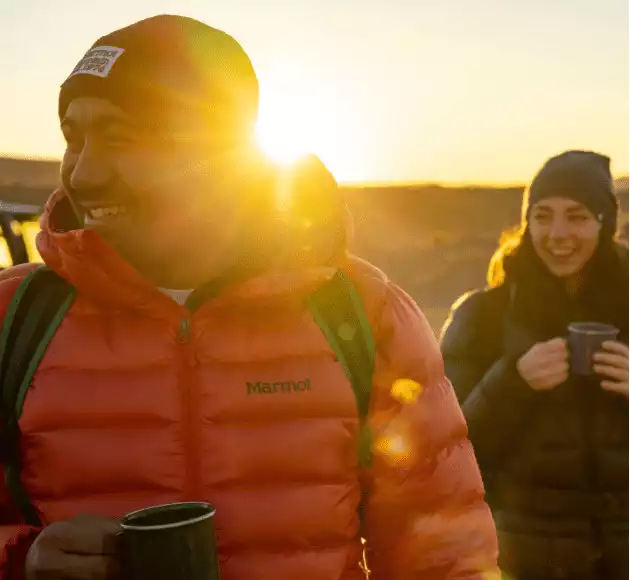 Marmot: High Quality Clothing and Gear | A Special Offer
The exceptional quality of Marmot's outdoor performance clothing and gear is an all-time favorite of ours. That's why we teamed up with Marmot to bring you this Special Offer on all their outdoor clothing and gear: Save 30-60% off sale items.
Start saving!
We earn a commission if you click this link and make a purchase at no additional cost to you.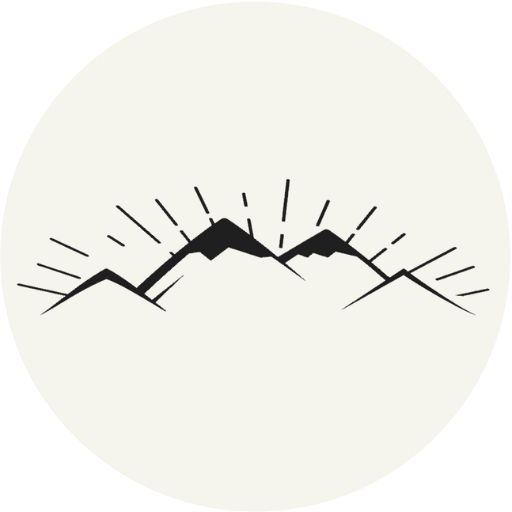 The All-Outdoors Guide team is comprised of enthusiastic experts that enjoy helping others that aspire to be better at outdoor fun. Part of that is making sure you have the right gear and information when it's time to go out and have fun. Some of our team have accomplished amazing feats like climbing 6000 feet to the top of mountains, others have explored every dirt trail they could find and we even have some people that have backpacked solo on various continents. No matter what our readers want to learn and do, our team is here to help them accomplish those goals.