Outdoor adventures are arguably the best way to spend any free day, but they can be make or break depending on the outfit you choose. No one wants to be hiking up a mountain and realize you've worn the completely wrong pants and they're chafing where nothing should ever chafe.
Or you go climbing and realize the top you've chosen is too baggy and is at any moment going to catch the wind and fly straight over your head.
Well, hopefully, this review will help you figure out if the Prana Moraine Tank Top is a good choice for you and your lifestyle. Choosing a tank top really depends on where you plan on wearing it, what you'll be doing, but mostly it is just personal preference on style and fit.
I'm hoping to shed some light on all the different features as well as the pros and cons of the Moraine Tank in hopes it saves you some time on your quest for THE perfect tank.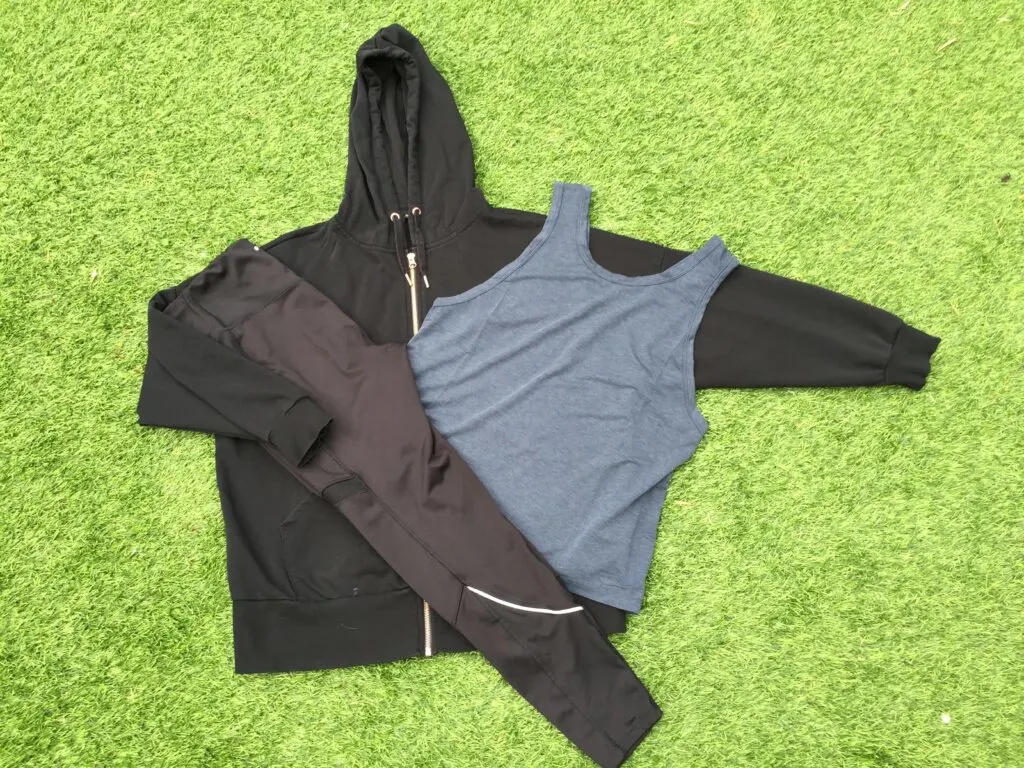 Features
Soft, comfortable material
High neck front
Low, v-neck back
Side seam slits
Two-tone diagonal knit
Made with recycled materials
Fair Trade certified
Specs
Front-Style: High, round neck
Back Style: Low v-neck
Sizes: XS-XL
Colors: Nautical, gingerbread, multi-stripe, camel, kale, nordic pink
Material: 88% recycled polyester, 8% TENCEL Lyocell, 4% elastane
Made for: Yoga/general exercise
Pros
When I'm looking for a new tank top, I want it to be comfortable, breathable, and durable.
If you plan on wearing your tank top for yoga, hiking, climbing, or something else, you'll probably have a different idea of what you need from your top, but here are some of the positives I found when it came to the Prana Moraine Tank Top.
Sustainability
One thing I love about Prana as a brand, in general, is its effort to help change what we expect and accept from our clothing brands. They're not only aware of the issues that the earth faces due to clothes manufacturing, but they're actively trying to be better.
For a full list of what Prana is doing to enact positive change, check this out. One thing I think is particularly cool, is the fact that Prana posts their entire supply chain for everyone to see. It's not often you see a company do this, and many of Prana's factories are Fair Trade Certified and share the same values of sustainability as Prana.
Being mindful of clothing waste is also high on Prana's agenda and they're helping combat this by implementing a kind of recycling system for damaged or returned inventory.
They send that stuff to a renewal workshop and give it a new purpose, redirecting more than 44,000 pounds of material from ending up in landfill already. Not only this, but they also use recycled materials whenever possible.
Soft Material
One of the first things I noticed when I unpackaged this was just how soft it felt! I couldn't wait to try it on. It turns out the Prana Morain Tank is made with 88% recycled polyester, 8% TENCEL lyocell, and 4% elastane. Now, I don't know exactly which one of those is making it so soft, but I don't care!
Rather than just a plain old tank top, Prana has adopted a two-tone diagonal knit for this tank top and I have to say, I love it. It gives the tank a bit of depth and for some reason, makes it look and feel pretty high-end.
Durability
I've really been trying to reduce my carbon footprint on this earth and one way to do that is to buy fewer clothes. Buy less, wear more. Isn't that how the saying goes? Anyway, this is only possible if the items that you do buy are durable and will stand the test of time.
I believe the Moraine Tank will do just this. For one, the material and the diagonal knit make it feel a lot more durable than most other tanks out there. But also, the proof is in the details. The seams all around this tank are very well made and they've even gone as far as to include a reverse self-binding technique at the neck and armholes.
Versatility
Another important factor when you're looking at sustainability is how often you can wear an item? Can it be worn in multiple different situations, with different accessories, and with a range of other color items? When it comes to the Moraine Tank, the answer to all of these questions is yes!
Personally, I went for the nautical color and I love it. It's subtle and it matches a whole bunch of the clothes I already have. They also have this tank in gingerbread, multi-stripe, kale, nordic pink, and camel colors. In English, that means orange, multicolored, green, pink, and mustard.
The colors aren't bright, though, and they all mesh very well together, so you can probably pair these tanks with most things in your wardrobe. It's not just about the color, though; I like that this tank can be worn with a variety of different items. I can pair it with jeans, cargo pants, hiking pants, leggings, joggers, and more!
If you're looking for a tank that will serve you in all areas of your life, you may have found one. Wear it when you go for a hike, go to yoga, the gym, a restaurant, or simply the park. It's the "one size fits all" when it comes to the lifestyle of its wearer.
Design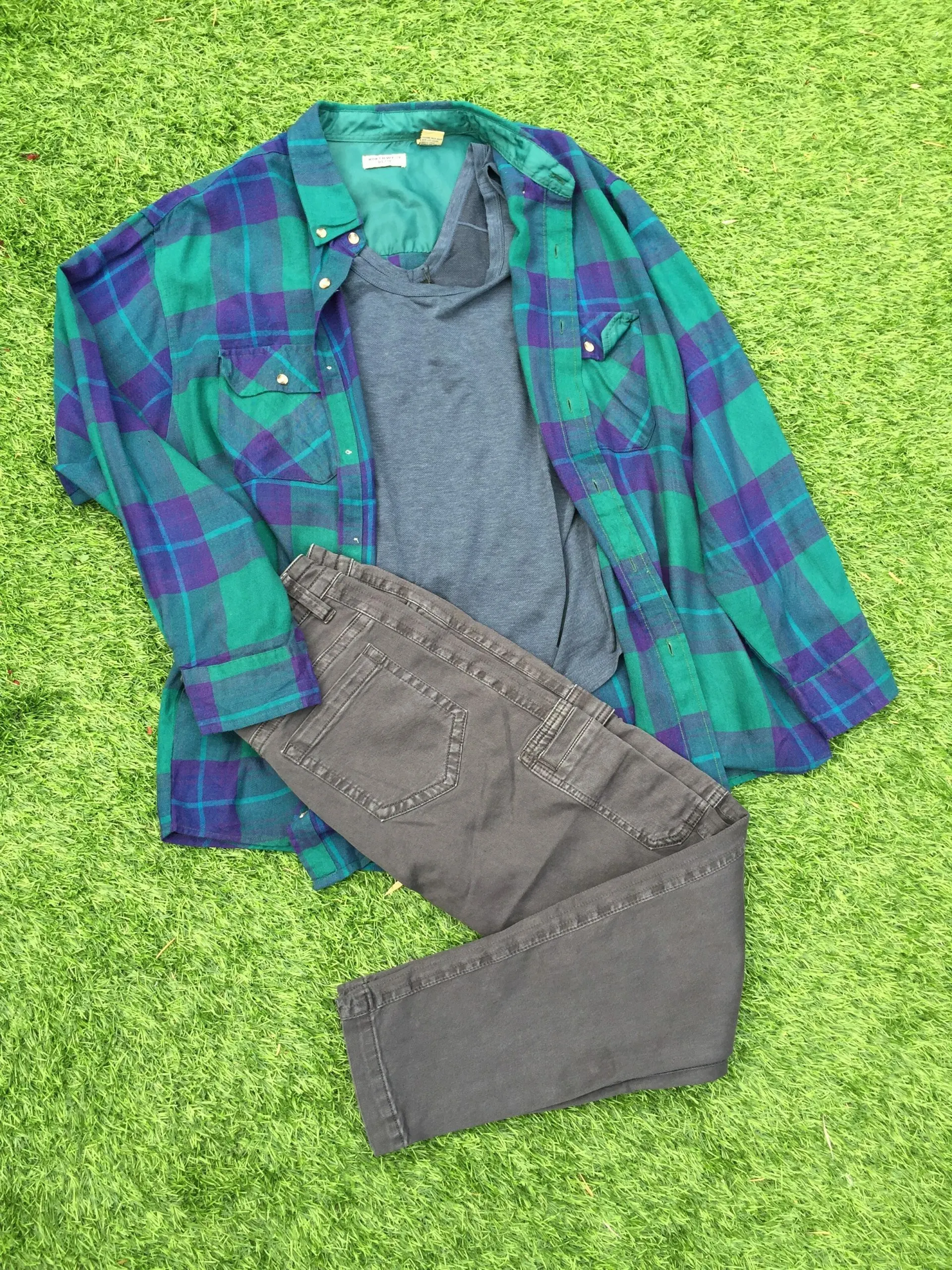 This one is definitely just a personal preference, but I love the armholes in this tank. They're super low, which is great for when I want to do some exercise or go for a hike. It lets everything breathe and that's exactly what I was looking for! I also really love the design at the back with the low v-neck. It lets you show off your favorite sports bra or just the toned shoulders you've been working on at the gym! Either way, I'm here for it!
Cons
Of course, it can't all be rainbows and sunshine! There are a couple of things that don't sit right with me when it comes to the Prana Moraine Tank Top and here they are.
Length
I'm a tall lady, about 5'11", I think, but even so, this tank top is quite short! I know it's probably the style and how it's supposed to be, but for me, I'm not a huge fan.
I prefer my tanks to be regular length or even a little long. The last thing I want to be worrying about in the gym is that every time I do a squat that my top is riding up my back. That being said, if you were just going for a walk, going to the store, or going out to a restaurant, this wouldn't be an issue. Also, if you're a shorter lady, you'll probably find the length to be just right on you.
Suitability For All Body Shapes
We're about to get personal, so are you ready? Are you sure? Okay. Let's talk chest size. I'm fairly small, about a B cup, so this tank fits quite nicely across my chest, but there have been reports that ladies with a larger chest find the tank to not fit quite so well.
It's said to be quite tight, which then pulls the armholes weirdly to the front. It would be better if they maybe had two options for this tank to address this problem.
Alternatives to the Prana Moraine Tank Top
If you're not sure the Moraine Tank Top is for you, but you still want a tank top from this lovely sustainable, eco-conscious brand, then I've got some great news for you. There are more! Let's dive in.
Rogue Sleeveless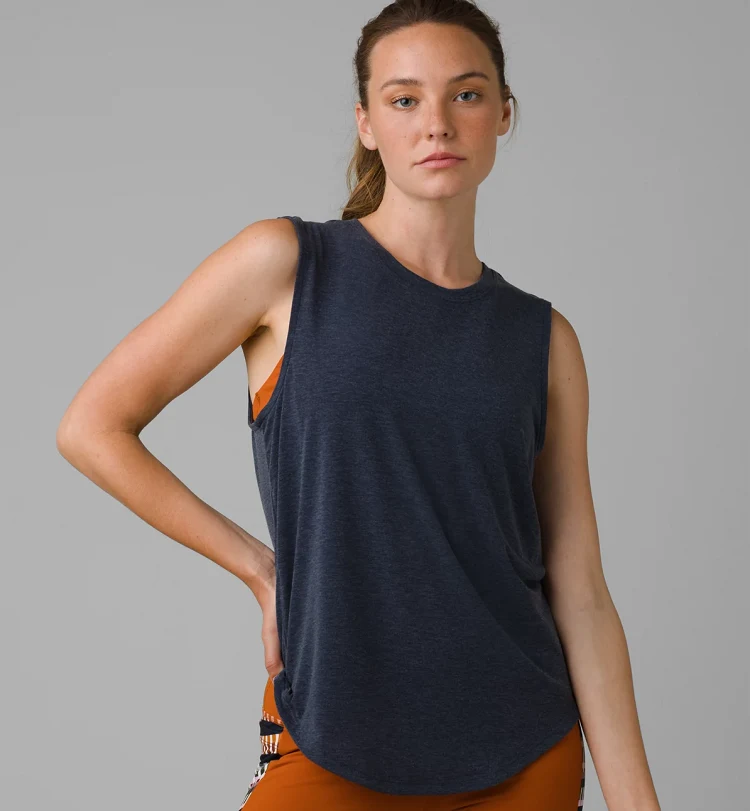 The Rogue Sleeveless tank top has a classic look to it with drooped armholes and a high neck. It comes in five great colors; nautical, red berry, black, white, and grey heather, so you're bound to find one that matches items you already have.
Just like the Moraine Tank, it is made with a combination of recycled polyester, TENCEL lyocell, and elastane, so it's super stretchy and super soft. A cute little twist detail on the back sets this tank apart from your standard tanks as well as the moisture-wicking properties, so you're ready for any adventure, any time.
Becksa Tank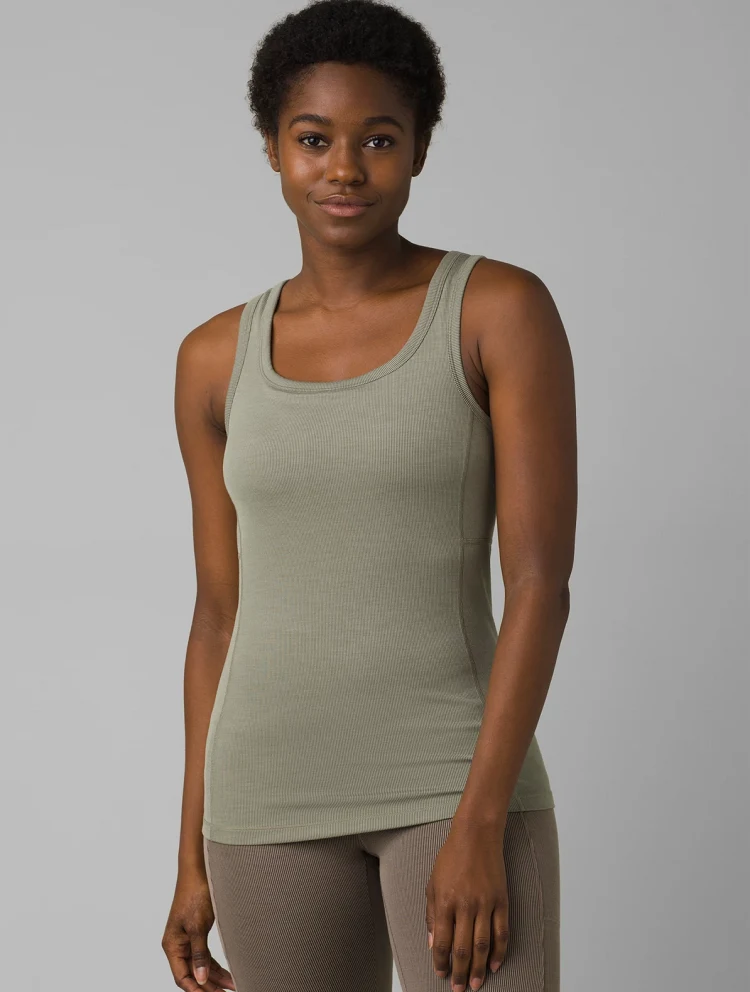 Prana has a habit of taking a classic, but boring, item of clothing and making it better in almost every way. That is what they've done with the Becksa Tank. It's a classic tank top but with a few improvements. Prana takes the iconic ribbed look but elevates it with extra stitching.
In true Prana fashion, the Becksa Tank is made with recycled polyester that's super soft, but it's also made with 1×1 compression meaning it'll keep its shape wear after wear.
This tank will not only serve you in the gym, out on the trails, and in the studio but switch out the leggings for jeans, throw on a blazer and you're ready to go out on the town too! Choose from five neutral colors and get going.
Becksa Tank Plus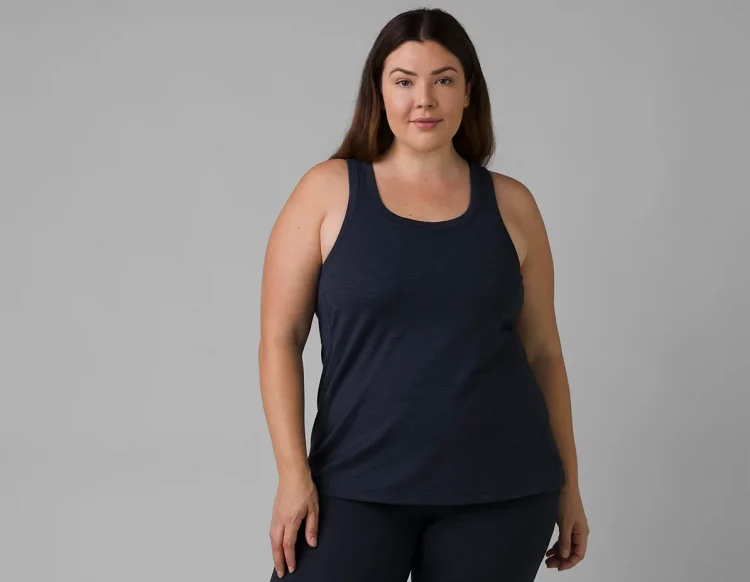 Yes! I love it when brands expand their range to include plus-sized, tall, or petite items. This should just be standard practice for every item of clothing, but unfortunately, we're not quite there yet.
Anyway, the wonderful Becksa Tank is available in 1XL, 2XL, and 3XL sizes also and is made with 4-way stretch material to keep you comfortable no matter the activity. Speaking of remaining comfortable, both tanks are also UPF 50+, so they'll protect you from the sun rays during your long hike or walk in the park.
Unfortunately, one downside to the Becksa Tank Plus is that it's only available in two colors; nautical heather and black heather.
FAQs
Question: What Colors Does the Tank Come In?
Answer: The Moraine Tank Top from Prana comes in nautical, gingerbread, multi-stripe, camel, kale, and nordic pink.
Question: Are the Sizes Accurate?
Answer: Although they are quite short, the sizing seems to be accurate, so if you're a tall person, I would recommend sizing up.
Question: Can I Wear this Tank to the Gym?
Answer: Absolutely! The Moraine Tank is lightweight and breathable, with low armholes, making it ideal for wearing to the gym or to your yoga or pilates class.
Question: What's it Made From? Will it Irritate My Skin?
Answer: The Prana Moraine Tank Top is made from 88% recycled polyester, 8% TENCEL lyocell, and 4% elastane, so it should not irritate your skin unless you are allergic to any of the materials. It is very soft to touch and extremely comfortable.
Conclusion: Should I Get the Moraine Tank Top from Prana?
If you are looking for a tank top that will look good out on the trails, in the gym, and at the bar, then yes! You should get the Morain Tank Top from Prana. It's lightweight, soft, and has a unique design that will look great wherever you wear it.
However, if you are a tall person, I would not recommend this top as it comes up quite short. I would also recommend buying a size up to make it a more comfortable fit. Overall though, the Prana Moraine Tank Top is versatile, durable, and stylish, perfect for almost any outdoor adventure.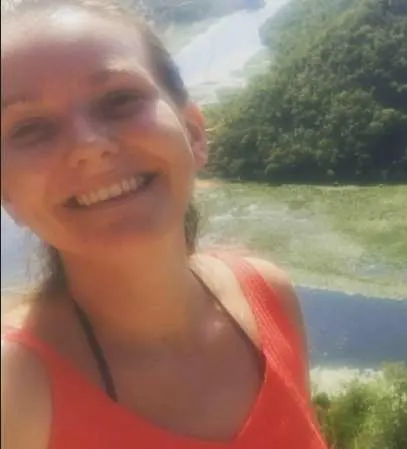 Daisy Hubbock loves spending time in the outdoors and has fun meeting random dogs along the way. Converting her van into her full-time home is her idea of fun. She loves traveling around the UK writing and exploring.
Daisy was born just outside of London, England. As soon as she turned 18, she went off on her first international adventure. She backpacked through Asia and learned how to travel on a tight budget. After learning these things, she had such a good time and wanted to teach other people how to do it as well.
As she travels, she spends a lot of her time volunteering helping animals, hiking, or hanging out with locals. Daisy enjoys finding little-known-to-tourist locations she can enjoy.