One of the more pricey pieces of gear you'll need for a pleasant camping trip is a tent, but buying one certainly doesn't need to break the bank. With a budget of $200 or less, you can easily find a sturdy shelter that'll protect you and your camping buddies from the elements.
There are a few things to think about when shopping for a tent, such as:
Capacity – Keep in mind that maximum capacity could still be a "cozy" fit. If you want some extra space get a larger capacity than you think you'll need. For example, sizing up to a 4P tent if you regularly camp with one or two other people will give more elbow space and storage for gear.
Seasonal Use – Do you need a 2, 3, or 4 season tent? If you only camp during the warmer spring and summer months or live in a very mild climate, you can save money by choosing a 2 season tent.
Durability/Weather-Resistance – Any tent you choose should be able to some wind and rain, as well as a few years of use without repairs, but if you're a casual camper you don't need a heavy-duty tent. The more durable the tent, the thicker the materials used, the more expensive it will be. If you only like to camp on sunny weekends, go with a lighter duty model.
Once you have an idea of the bare basic requirements you'll need in a tent, you can start shopping around within your $200 limit. Here are 3 budget-friendly tent options that are tough, easy to set up, and will keep you comfortable in average 2-3 season conditions.
#1 REI Passage 2 Tent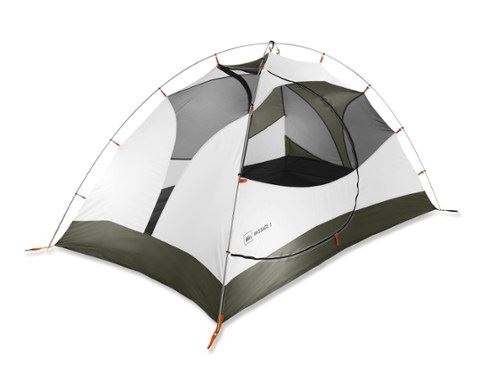 REI's Passage 2 is an all-around 2 person, 3 season tent that is priced well under $200 right here. This model is wonderfully designed, including features that make it seem far more expensive than it really is.
Features:
Double doors and vestibules – Having more than one door is a bit of a luxury for a 2P tent but a nice addition when sharing tent space with someone. Both doors have their own vestibule which means both campers can not only enter/exit without disturbing the other person but also have their own space for wet clothes or dirty boots. Even solo campers will find double vestibules useful as one can be used as a small kitchen space.
Setup is quick and easy – The Passage 2 uses poles and clips that are color-coded so you won't need to rely on a manual to get it up. This is a useful design when you've arrived to camp late and need to get it pitched as quickly as possible with limited light.
Can be setup with just fly and footprint – If you're camping in pleasant, warm weather there is no reason you have to take the entire tent with you. The Passage 2 can be set up with just the rainfly, footprint, poles, and stakes for a lighter shelter. This is handy for ultralight backpackers. Passage 2 doesn't come with a footprint (which is recommended) but you can easily purchase it separately and still remain under the $200 budget.
REI claims this tent has high livability and it's true. The rectangular-shaped floor and decent ceiling height give maximum space while allowing for two people to not feel claustrophobic. There are various little mesh pockets and gear loops for storage. The tent also comes with a gear loft, which really comes in handy for multi-day camping trips.
Check out the latest deals on the Passage 2 here
#2 Wenzel Pine Ridge 5 Person Tent
It can be tough to find a large tent for under $200 but it's certainly not impossible. The Wenzel Pine Ridge 5 person tent is spacious, fairly durable, and retails for only $119.95. If you are a summer camper that really just needs lots of space and basic weather protection, this might tent might be the one for you.
Features:
Lite Reflect technology – Lite Reflect is Wenzel's new ambient lighting system for the interior of the tent. Simply place a headlamp or flashlight up into the gear loft, aiming the beam at the reflective material above. This reflective panel will bounce the light around the inside of the tent so you can see what you're doing, hands-free.
Ideal for two couples or a small family – With a 5 person max. capacity there is plenty of space for two couples or parents with a couple of kids. Since this is a large tent Wenzel added a curtain divider that can be put into place to separate the Pine Ridge into two sleeping areas. This is excellent for privacy at bedtime, but can easily be removed during the day for socializing.
The Pine Ridge 5 has two large doors and 3 windows. With a floor plan of 10′ x 8′, this shelter feels more like a small room than a tent. It has a ceiling height of 58″, so it's high enough for sitting and moving around but isn't so tall that it would perform badly in wind gusts. This tent is made of good-quality polyester and welded polyethylene.
It's durable enough for weekend camping trips through the spring and summer, perhaps early fall, but because of the thinner material to keep the price point low, most agree you wouldn't want to take this tent into cold or harsh weather.
#3 The North Face Stormbreak 3 Tent
The North Face is one brand that you probably wouldn't think of when it comes to budget-friendly camping gear. Surprisingly, there do have a few tents that are the high quality you expect from TNF but for a very competitive price. The Stormbreak 3 is a versatile model that is priced right under $200. While 2P tents are often a popular choice, sizing up to a 3P can really give you the extra room you've been wanting.
Features:
Impressively weather-resistant – There is a trend among budget tents and weather resistance. In order to keep retail prices, low brands need to reduce the cost of making their shelters. Typically this involves using a less expensive, thinner material. TNF used 68D and 75D taffeta throughout the tent and added DWR coatings to keep out any rain. This tent is very tough and can handle harsher weather conditions than the other two tents featured here. It really will perform reliably for 3 season use.
Very comfortable livability – There are a lot of little things about this tent that make it so nice to camp in. First off it the Stormbreak 3 has double doors with vestibules. There is 46″ of headroom so the average adult can easily lounge or move around without discomfort. It has excellent ventilation which reduces the chances of condensation or overheating when camping in warm weather.
TNF does recommend getting a gear loft and footprint for a total experience, but these are sold separately and will naturally end up going over the $200 limit. With some careful searching, you can find this tent for even less than the normal $199 retail value so you may want to look around before purchasing.
Looking for Something a Bit Different?
We also created some awesome guides for finding specific tents by size, if you have specific limitations in mind:
Anything larger and you are probably exceeding a $200 budget. A trending popular alternative to traditional tents is hammocks. They are generally affordable and portable, two key ingredients for outdoor adventuring. You can check out our top recommendations here.
Final Call
While you might be able to get by with a cheap sleeping bag, you definitely don't want to skimp on your choice of tent. Having a sturdy shelter that won't leak in a surprise rain shower or threaten to blow away in a sudden gust of wind is important.
Thankfully, as these 3 models prove, you can purchase a reliable tent for well under $200. If none of these tents fit the bill, be sure to check out our latest tent deals tracker here.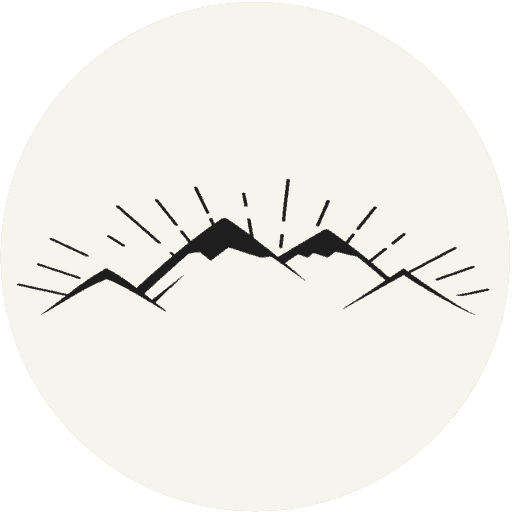 The All-Outdoors Guide team is comprised of enthusiastic experts that enjoy helping others that aspire to be better at outdoor fun. Part of that is making sure you have the right gear and information when it's time to go out and have fun. Some of our team have accomplished amazing feats like climbing 6000 feet to the top of mountains, others have explored every dirt trail they could find and we even have some people that have backpacked solo on various continents. No matter what our readers want to learn and do, our team is here to help them accomplish those goals.