What can be more romantic than sleeping under the stars? Just some fresh air, the Milky Way, and cuddling with your sweetheart; it can't get better than that. And then it hits you. The swarms of mosquitoes start biting your legs. The clouds start pouring down on you. Okay, maybe it would be more romantic if you were in a tent.
Shopping for a tent can be stressful. There are hundreds of tents in the marketplace today with more bells and whistles than you need. A quality tent is probably one of the most important items of any multi-day gear kit. Whether you're a backpacker camping on the trail or just car camping at the local state park, it's important to find the perfect tent for both you and your significant other.
2-Person Tent Criteria
We've spend some time reviewing various tents for the following criteria:
Livability – You need a tent that meets your camping needs. We considered things like size, footprint, door, wall material, height, and whether the tent can muffle the sound of your partner's snoring. Okay, maybe not the latter.
Weather Resistance and Durability – If you think about it, tents aren't extremely protective. All that separates you from a blizzard or downpour is a thin piece of material. We've scoped out each tent's pole design, the number of pole intersections, the mechanism for attaching poles and rainflys, and the quality of the materials.
Ease of Set-Up – Have you ever spent hours trying to set up a tent? It's like a jigsaw puzzle, right? If we couldn't set it up in 10 minutes, we didn't include it in our review.
Our Top 3 Picks for Two-Person Tents for Couples
Hilleberg Anjan 2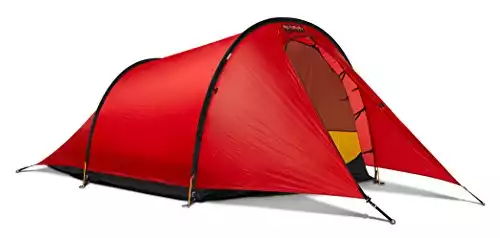 The Hilleberg Anjan 2 tent is one of the best tents on the market. It is versatile, durable, and extremely weather-resistant for its 3.6 lb weight. The Anjan 2 is designed for three-season use in snow-free environments and well-protected terrain. The tent is a tunnel design constructed with Kerlon 1000 fabric and 9 mm poles.
The tunnel design allows for ample space at a minimum weight making it ideal for backpackers. Since the tent is for three-season use, the outer walls are constructed of water-resistant material that does not touch the ground. The inner walls have large mesh panels that help with airflow and cooling.
We found tent set-up to be extremely easy if you're familiar with tunnel design tents. If not, it might take you a little longer, but once you've done it once you'll be much quicker the following times. Anjan's design is simple.
You insert two-pole through their respective sleeves and apply tension to the guy lines and now your tent is pitched! If you're looking for a free-standing tent, the Anjan is not for you. We found that one person can easily pitch this tent even in the worst weather conditions.
For its lightweight design, the Anjan is quite spacious. The inner tent has a peak height of 28 inches, which means that a six-foot person can sit up comfortably by the door. The interior floor is 51 inches wide and 86 inches long, with enough space for two people. The interior walls are bright yellow giving the tent a happy, homey feel.
The vestibule is very spacious at 14 square feet meaning you have lots of room for gear. As an added bonus, you can just pitch the outer tent for a floorless tarp shelter. The Anjan is one of the few tents that have this added feature allowing you to save weight if you wanted.
One of the only complaints about the Anjan 2 tent is the quality of the included stakes. The "shepherd's hook" design is both heavy and has low holding power.
Pros

Constructed with the best materials
Spacious
Removable inner tent

Cons

Heavy for backpacking
Stakes are moderate quality
No zipper covers
REI Half Dome 2 Plus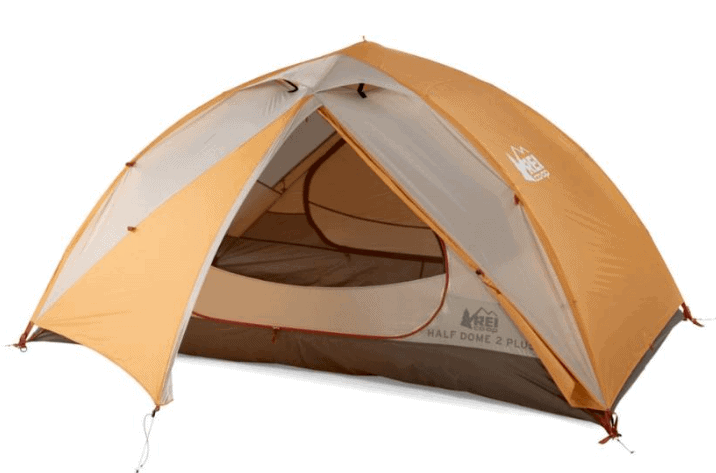 Are you looking for a more budget-friendly option? Look no further than the REI Half Dome 2 Plus retailing at $219. The Half Dome 2 Plus is a lightweight and sturdy 3-season tent that comfortably fits two people and their gear.
The Plus size has an extended floor plan compared to the standard REI Half Dome 2. The fly comes in multiple colors and is designed to allow you to roll up the sides and ends for maximum views of the stars and increased airflow.
Weighing in at almost 6 pounds, the Half Dome 2 Plus is best used for car camping as it is quite heavy for backpacking. The set-up is a little complicated at first, but once you get a hang of it, the tent goes up fast. The Half Dome 2 Plus utilizes a three-pole configuration with two large hubs that connect all three poles together.
Thankfully REI designed the poles with color-coding that corresponds to match the webbing and grommets at the bottom of the tent body. Most reviewers found the rainfly a little floppy and not as taut for rain and wind protection. We found that there are not enough guy lines that cause the fly to touch the inner tent, which could lead to getting the inner tent wet.
The REI Half Dome 2 Plus is very spacious at 38.1 square feet. You could even squeeze a third person in the tent if you needed. Due to the tent's price point, it is constructed of a lower-quality polyurethane-coated fabric that is slightly more susceptible to hydrolysis.
As long as you completely dry your tent and store it properly, you should get a long life out of the tent. While the REI Half Dome 2 Plus is not best for backpacking or heavy wind and rain conditions, it's a great budget-friendly tent for car camping at a campground or in your own backyard.
Pros:

Budget-friendly
Spacious
Durable

Cons:

Heavy for backpacking
Not enough stakes or guy lines
Lower quality materials
Terra Nova Solar Photon 2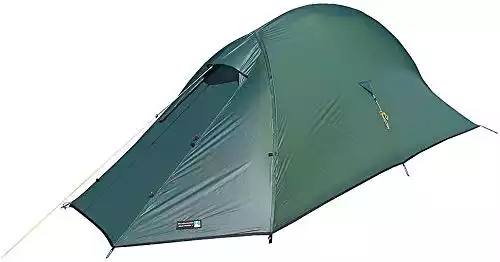 If you're looking to go backpacking with your sweetheart the Terra Nova Solar Photon 2 is one of the lightest and most compact tents on the market weighing in at 2 lbs. 1 oz. The Photon 2 is one of the fastest tents to pitch due to its Y-shaped pole design.
You just insert the single pole into three grommets, stake the corners, slip the inner tent through the pole, attach the rainfly, and guy it out.
The Photon 2 has a high space-to-weight ratio and a very large vestibule that provides plenty of room for all your gear. However, the floor area is slightly smaller than other tent options so plan on getting cozy with your partner.
The tent has solid nylon walls with front and rear vents that block blowing dirt but still provide ventilation. The inside walls of the tent are bright yellow giving it a more cheerful look.
The Terra Nova Solar Photon 2 is one of the most water-resistant ultralight tents on the market. It has ripstop nylon impregnated with silicone on both sides of the fabric, which makes it much stronger and durable than polyurethane-coated fabric. For even more water resistance, the Photon 2 is sewn in a way that makes the seam highly water-resistant.
There are very few complaints about Photon 2. The Photon 2 comes with tiny "shepard's hook" stakes that are weak and rather useless. We recommend purchasing other stakes for this tent. Secondly, the outer tent guy points have elasticized which leads to a weaker and not as taut pitch.
Pros:

Small pack size
Lightweight
Large vestibule for storage
Great ventilation
Quality materials

Cons:

Not as spacious as other two-person tents
Elastic guy loops
Poor quality stakes
Inner walls don't clip to the outer tent
Sometimes not available at major online retailers
The Verdict – Final Thoughts

Picking a tent is a difficult process. Do you want a tent for backpacking or car camping? Do you like tunnel style? Each of the above tents has its positives and limitations.
If you're looking for lightweight and quality, the Hilleberg Anjan 2 and Terra Nova Solar Photon 2 are great options. If you're looking for something a little more budget-friendly and lots of room, the REI Half Dome 3 Plus is worth trying out. Now it's time to go shopping. Don't forget the marshmallows!
| | | | |
| --- | --- | --- | --- |
| | Hilleberg Anjan 2 | REI Half Dome 2 Plus | Terra Nova Solar Photon 2 |
| Weight: | 3 lbs. 15 oz | 5 lbs. 15 oz. | 2 lbs. 1 oz. |
| Style: | Front entrance/tunnel | Two-door | Front entrance |
| Floor Space (sq. ft.) | 30.1 | 38.1 | 25.7 |
| Outer Material: | Kerlon 1000 | 40-denier nylon | Si/Si Nylon R/S 3000mm |
| Poles: | 9 mm/3 poles | 8.7 mm/3 poles | 8 mm/1 Y-shaped pole |
| Colors: | Red or Green | 6 color options | Green |
| Recommended Use: | 3-season backpacking and camping | Car camping | 3-season backpacking |
| Manufacturer Warranty: | Lifetime warranty against defects | Lifetime | Lifetime warranty against defects |
| Retail Price: | $630 here | $219 here | $490 here |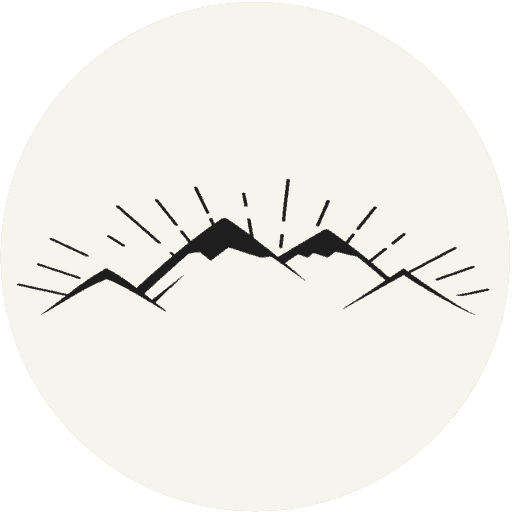 The All-Outdoors Guide team is comprised of enthusiastic experts that enjoy helping others that aspire to be better at outdoor fun. Part of that is making sure you have the right gear and information when it's time to go out and have fun. Some of our team have accomplished amazing feats like climbing 6000 feet to the top of mountains, others have explored every dirt trail they could find and we even have some people that have backpacked solo on various continents. No matter what our readers want to learn and do, our team is here to help them accomplish those goals.