There is little doubt that the best way for climbers to improve their grip strength is to actually climb, but sometimes getting on the wall as often as you'd like is difficult. Whether you're stuck at a desk job or find yourself traveling often and unable to get in climbing time, there are certain grip strengthening options to consider.
Grip strengtheners are often thought of as mere gimmicks, but there are actually a few options on the market that actually do what they are supposed to do. Grip strengtheners even come in a variety of styles, not just the classic hand grip strengthener commonly seen in gyms.
If you're looking for a device that will help you increase your grip strength to specifically help with climbing, here are the top 5 models to choose from.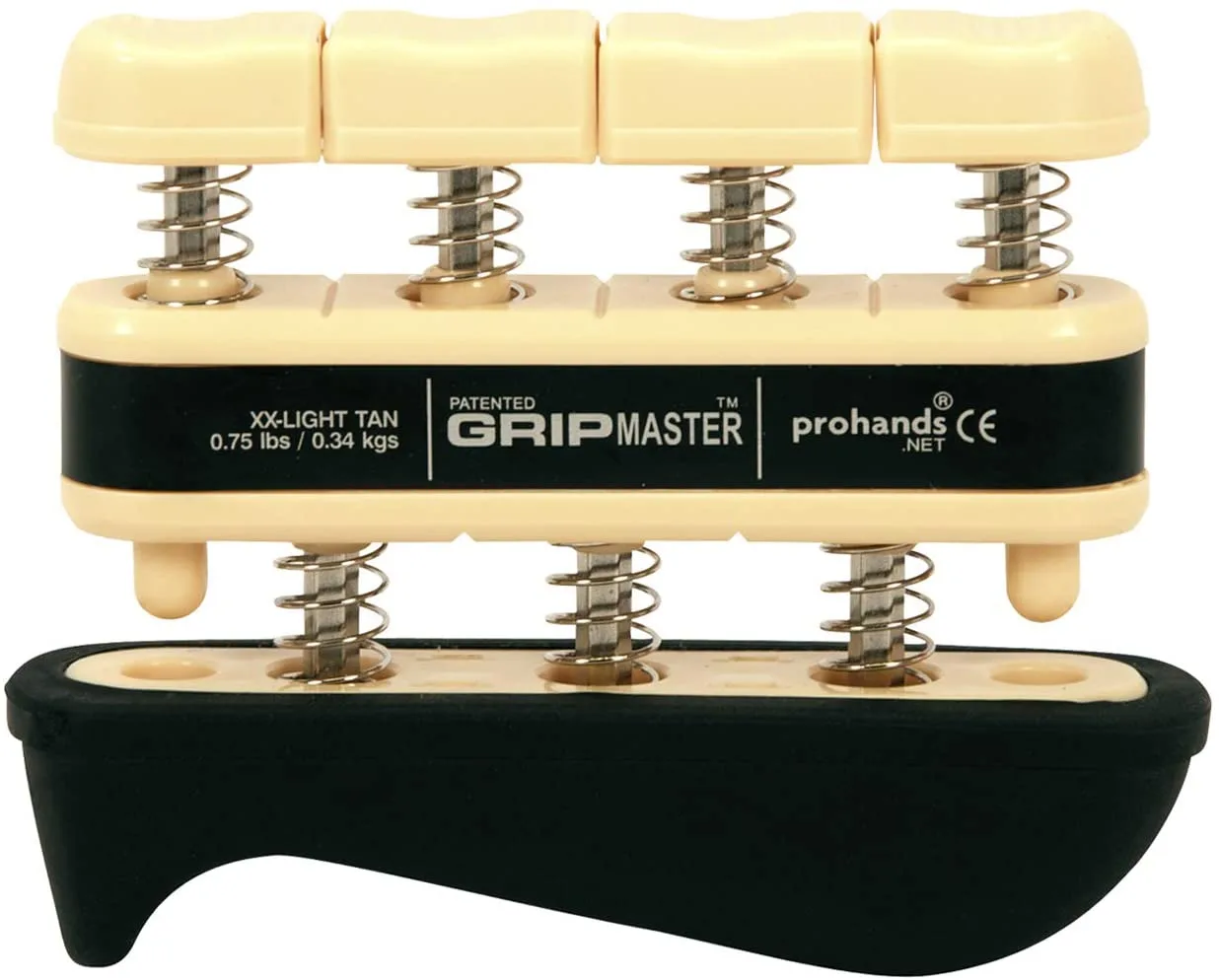 Up first is the Gripmaster hand strengthener, a very effective device that is equally popular amongst musicians as it is among climbers. The main reason behind how well the Gripmaster works for climbers is that it doesn't just focus on total grip strength, but also helps in individual finger strength.
The original Gripmaster comes in three different resistance options that would be useful for climbers:
Blue/Light – For the average woman and men that prefer high rep/low resist. (5lbs)
Red/Medium – For the average man (7lb)
Black/Heavy – For experienced climbers that already have a good grip strength (9lb)
Each lb of resistance is per each finger, not the overall device.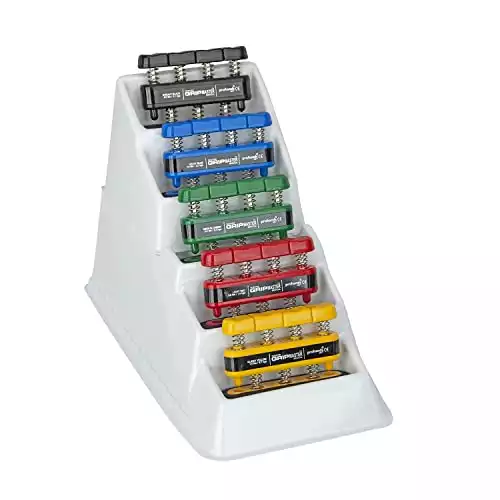 PROHANDS Gripmaster Rehab Hand Exerciser | Amazon
Prohands Gripmaster is the original, patented hand exerciser with individual power buttons. Now that our patents have expired, many imitators have appeared, and these products do not have the engineering and quality which goes into every hand exerciser we make.
Buy at Amazon.com
We earn a commission if you click this link and make a purchase at no additional cost to you.
02/14/2023 06:09 pm GMT
The Gripmaster works for both the left and right hand, plus it is small enough to fit in your pocket, backpack, purse, etc. Each finger button is spring-loaded, allowing you to not only improve your finger grip but also practice a controlled release of tension as well. The palm bar is nicely shaped and is comfortable on the hand for extended sessions.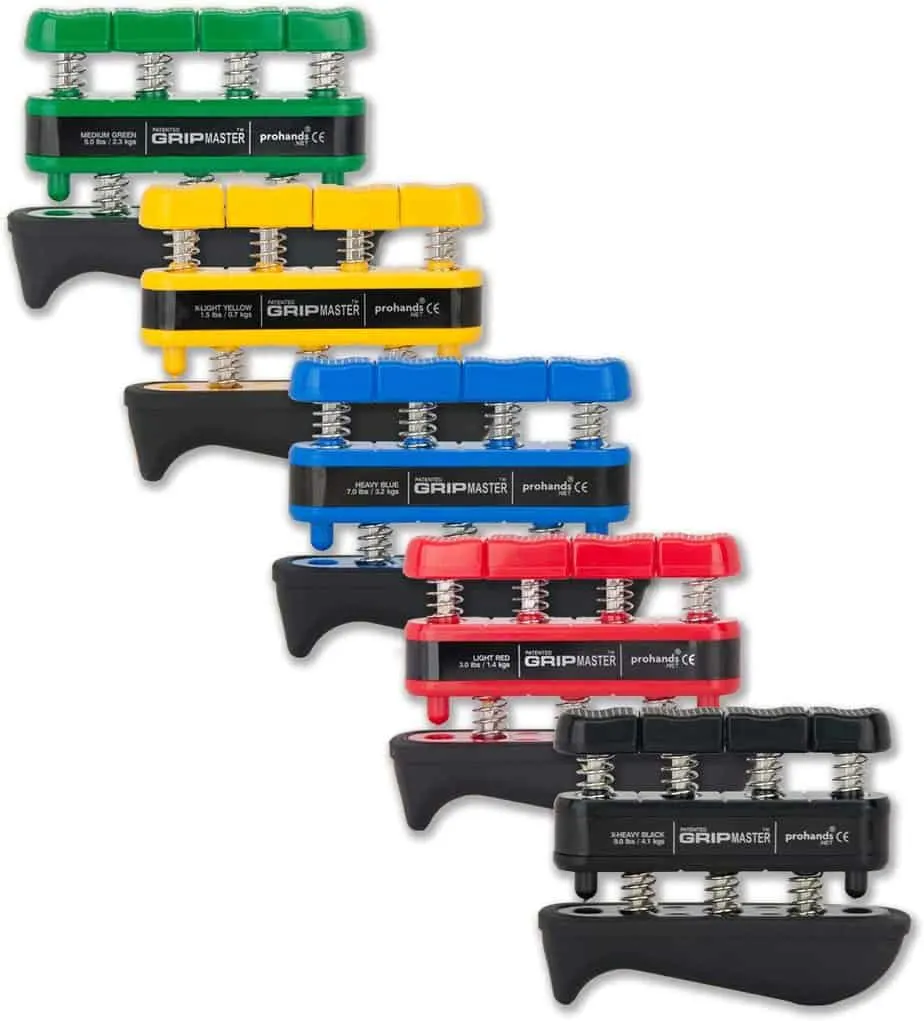 Prices for the Gripmaster vary slightly from retailers but may be found for around $14.50 up to $16.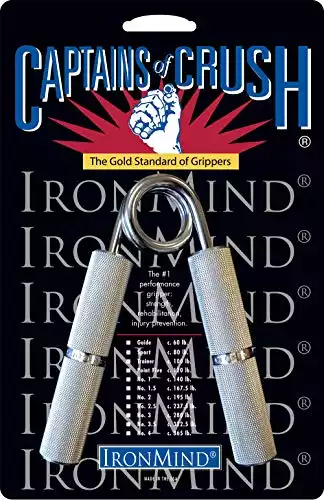 IronMind Captains of Crush Hand Gripper | Amazon
If you don't have any grip training equipment, chances are your hand strength is less than it should be, and if your grip training equipment looks like a toy that could have come in a box of cereal, the same thing is true.
Check Price
We earn a commission if you click this link and make a purchase at no additional cost to you.
02/14/2023 10:09 am GMT
Let's say you are a big fan of the classic grip strength tools often used by bodybuilders. These aren't going to help a lot with finger strength, but are still very effective for overall hand strength. If you want this style, you can't go wrong with Captains of Crush Grippers.
The Captains of Crush Grippers are incredibly durable and well-designed., and better yet, they come in an incredible array of strengths. You can find 11 different strengths to choose from, which vary from a 60lb resistance for novices up to an incredible 365lb resistance that is reserved for only the strongest individuals.
Chances are if you're a climber you'll get the most use from the 60lb (#1401), the 80lb (#1402), and the 100lb (#1250). Experienced climbers that already have a super grip may even work up to the 195lb (#1252) depending on how often they use their Grippers.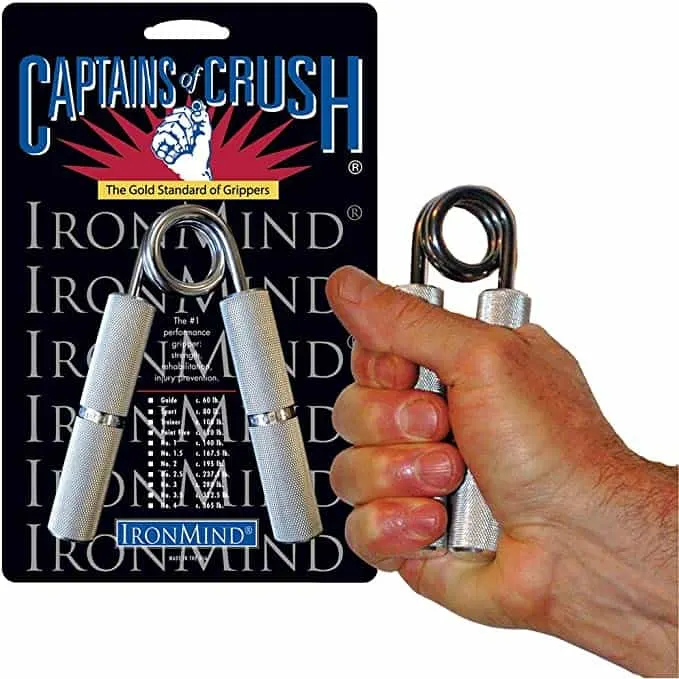 Captains of Crush Grippers are made in the USA and are made of GR8 accurate, precision springs. They are comfortable to hold and have enough texture your hand won't slip but not so much it is uncomfortable to use. The Grippers are sold individually and retail for around $22.95 each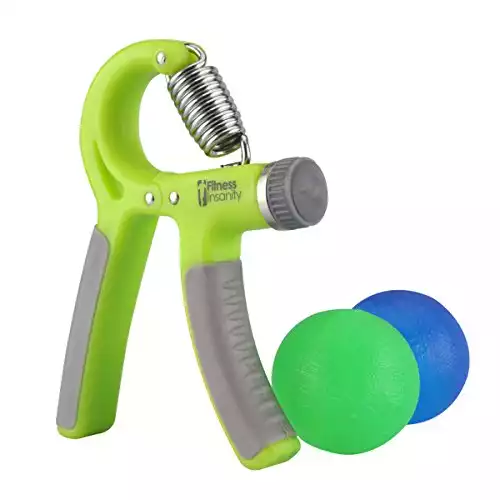 Hand Grip Strength Trainer Kit | Amazon
Hand grip strengtheners are a key part of a fast, healthy recovery from ailments like tennis elbow, carpal tunnel and tendonitis. People with ongoing afflictions such as rheumatoid arthritis will truly appreciate the relief they can get from working with the gripper and therapy squeeze balls. Recovery after surgery or a broken wrist will progress much more smoothly with regular practice using the hand exerciser.
Buy at Amazon.com
We earn a commission if you click this link and make a purchase at no additional cost to you.
02/14/2023 12:49 pm GMT
A unique take on the classic Gripper-style hand strengthener is Fitness Insanity's Hand Grip Strength Trainer Kit. This kit is available on Amazon, retailing for only $12.88. While this product is sold for general strengthening and stress/anxiety relief, it works great for the average climber.
The kit comes with the grip strength trainer (grip trainer) itself along with 2 hand therapy balls, similar to your typical stress ball in design but with greater resistance. The range of resistance on the gripper itself is 22lbs up to 88lbs. There is a knob device on the trainer to adjust the resistance easily.
The ability to adjust resistance is very useful as it eliminates the need to carry multiple tools with you. It also allows for a safer "workout", meaning you can adjust the device low as a warm-up, gradually build up the intensity, and then cool down back as a lower resistance.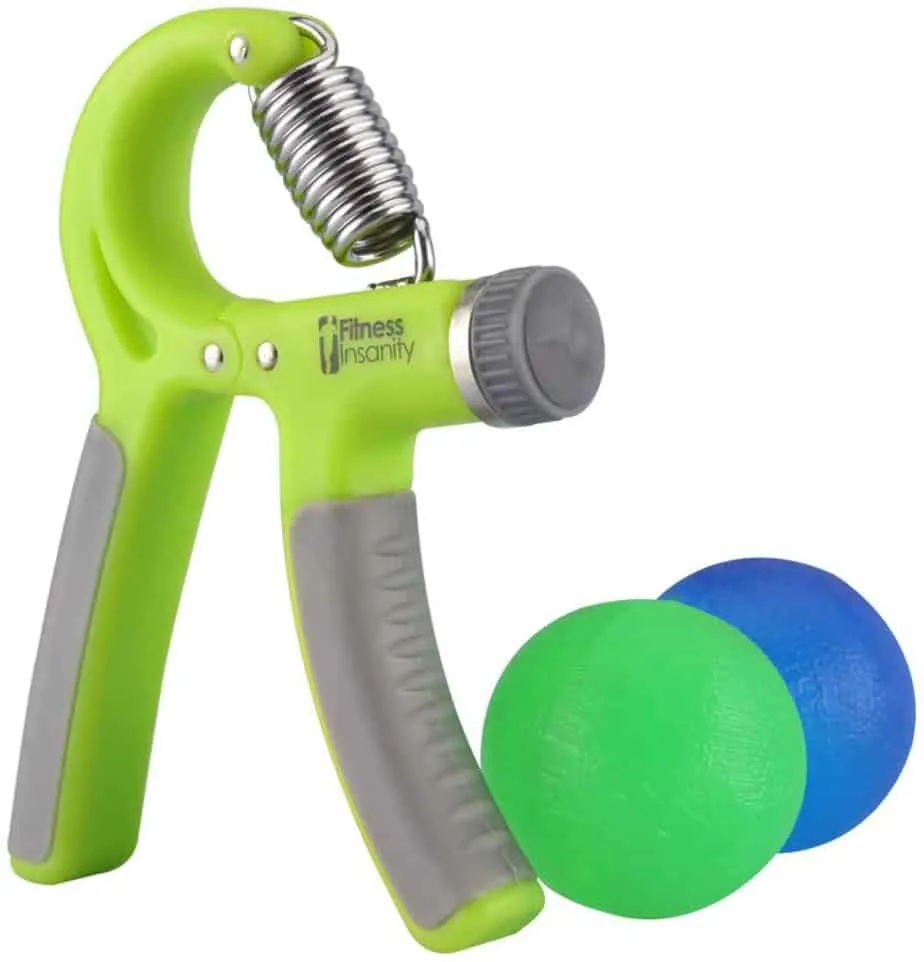 The versatility combined with the incredibly low price means the Hand Grip Strength Trainer is a great choice for more novice climbers that don't want to spend $20+.
PowerFingers Climbing System
Many grip strengtheners naturally focus on increasing total hand grip, but this leaves the fingers only getting a minimal amount of work.
Even devices like the Gripmaster which do work on the fingers only work on adduction, meaning the resistance occurs when gripping down. Effective climbing requires finger strength not in just the grip, but also in abduction, which equates to strength in opening your fist.
The PowerFingers Climbing System is one of few devices which works on finger strength via abduction. This odd-looking disc-shaped device also aids in building hand, wrist, forearm strength, and elbow strength training as well. PowerFingers Systems are sold in a multi-pack of 5, each color-coded for their tension. The intensity grows from the lightest color to the darkest.
There is a huge number of ways you can use these stretchy devices, including with one hand or both, and abduction or adduction exercises. PowerFingers sets come in a variety of different systems, but obviously, the one specifically made for climbing and climbing muscle is your best bet.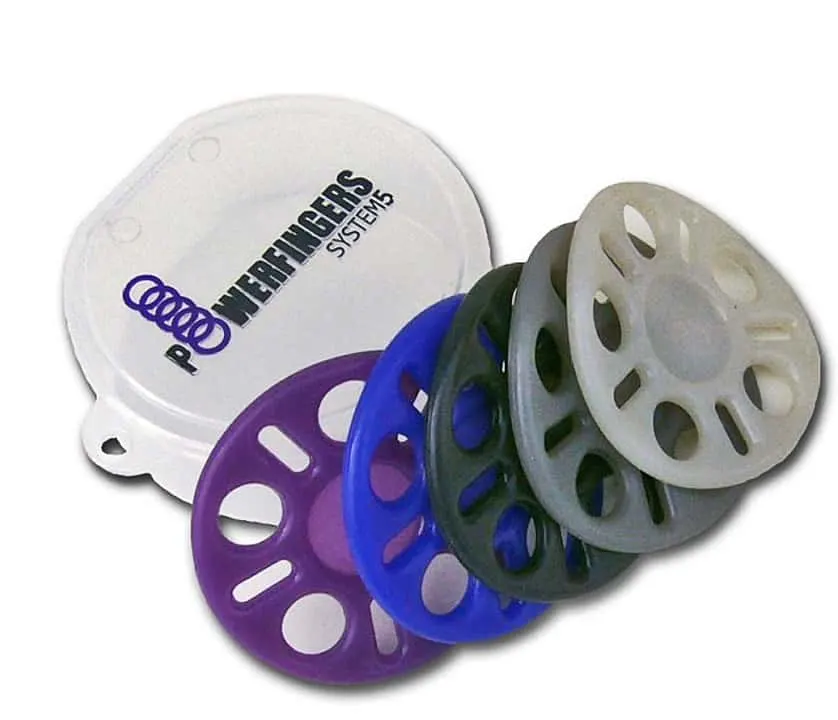 Included in the around $29.95 price tag are all 5 devices as well as a list of helpful exercises specifically chosen for climbers.
Metolius GripSaver Plus Training Tool | Amazon
Metolius GripSaver Plus::Designed by a doctor to strengthen and balance the muscles of the hand, wrist and forearm. Super-effective for rehab or prevention of climbing-related finger, wrist and elbow injuries. Exercises the hand through a full, natural range of motion. An essential tool for serious climbers. Includes step-by-step instructions.
Buy at Amazon.com
We earn a commission if you click this link and make a purchase at no additional cost to you.
02/14/2023 02:49 pm GMT
Metolius GripSaver Plus is not only unique in its design, but also in the fact that it's one of few grip strengtheners specifically made for climbers.
The GripSaver Plus combines the classic squeeze resistance of a stress ball and the finger strengthening power of the aforementioned PowerFingers system. In fact, the device itself looks like a finger strengthener sprouting out of a stress ball.
The GripSaver Plus is ideal for everything from rehab to serious training. It has been carefully designed by a doctor to ensure it safely works the fingers, wrist, forearm muscle (forearm strengthener), and elbow safely and effectively.
It focuses on enhancing the natural range of motion, which helps eliminate the danger of injury or stress from poorly designed devices. This makes the GripSaver Plus perfect for serious climbers that want a total hand workout, including improving their finger strength and dexterity.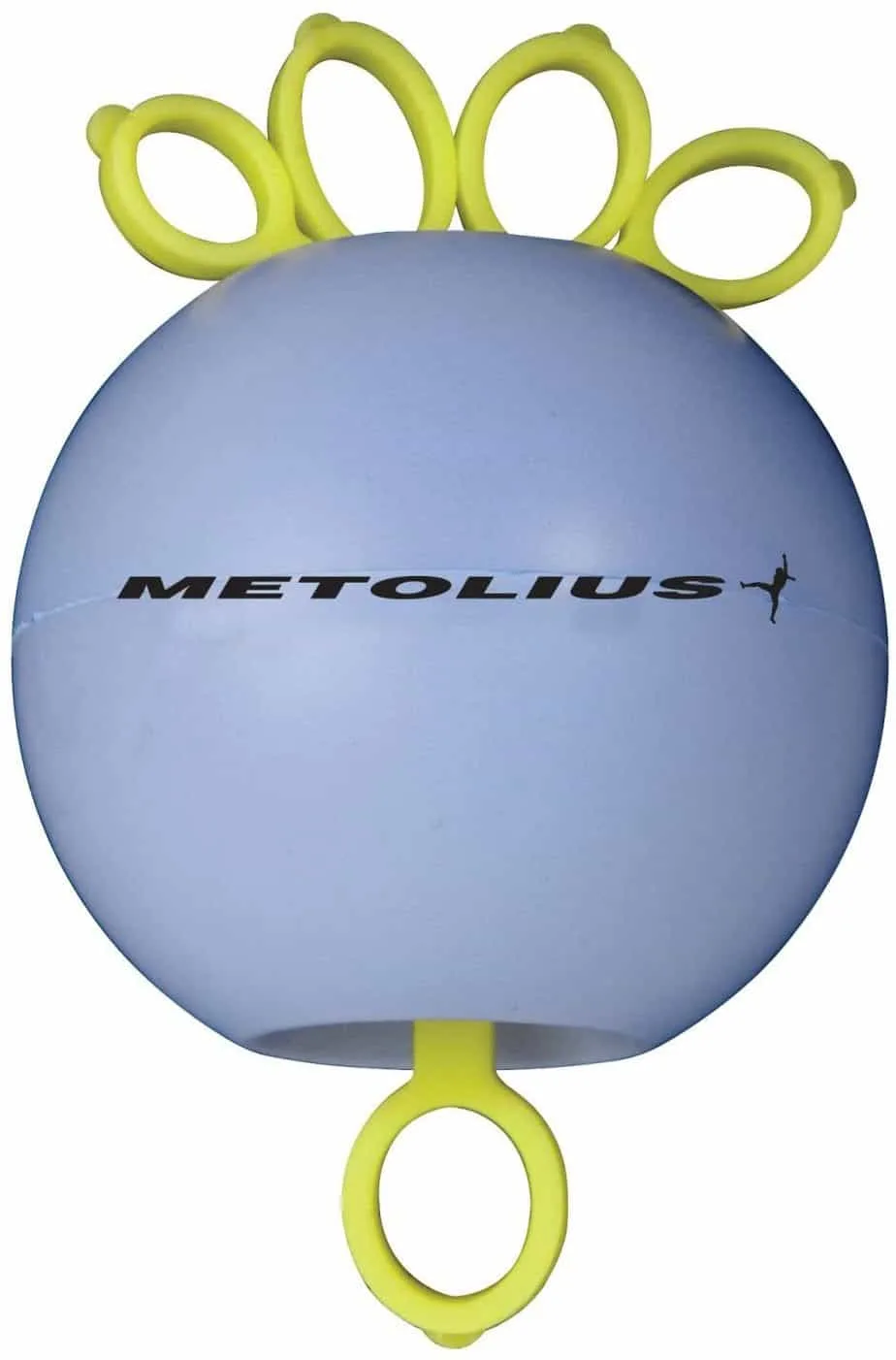 The GripSaver Plus comes in 3 different firmnesses – Soft/Blue, Regular/Red, and Hard/Orange. You can purchase this item individually or save money by purchasing a trio (including one of each firmness level). If purchased individually it will cost around $17.95. If you're torn between the idea of the PowerFingers but need more grip training, this device is the sweet spot.
Final Word: Best Rock Climbing Grip Strengthener
It's important to keep in mind that there is no tool on the market that is a replacement for actual climbing when it comes to improving your hand and finger strength.
However, in combination with regular climbing sessions and perhaps even some time in the gym, these tools can be very helpful in maintaining or increasing overall motion and strength on a daily basis.
Don't forget that these devices can also be helpful for therapeutic use or to help with symptoms of carpal tunnel and other climbing-related stresses. If you do have an injury be sure to consult your doctor prior to using any of the above devices.
Further Reading on Climbing Gear: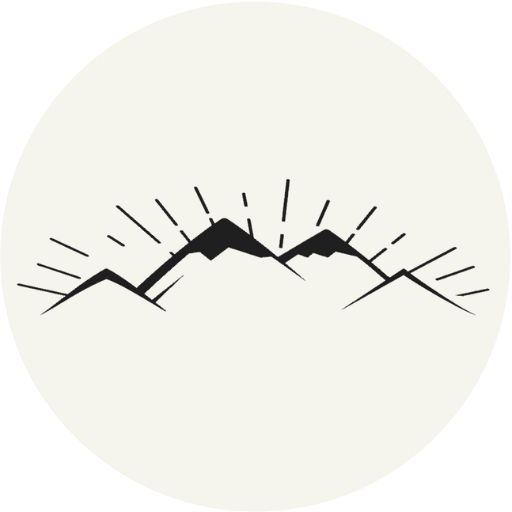 The All-Outdoors Guide team is comprised of enthusiastic experts that enjoy helping others that aspire to be better at outdoor fun. Part of that is making sure you have the right gear and information when it's time to go out and have fun. Some of our team have accomplished amazing feats like climbing 6000 feet to the top of mountains, others have explored every dirt trail they could find and we even have some people that have backpacked solo on various continents. No matter what our readers want to learn and do, our team is here to help them accomplish those goals.