Twenty years ago, the monopoly that big-name brands like Hilleberg, The North Face, Mountain Hardwear, and Wild Country had over the tent-maker market was such that any newcomers attempting to enter the scene would have been considered short on sanity, or at least entrepreneurial wisdom.
One brand, however, saw an opening, an exploitable niche into which they might squeeze themselves and their selection of fantastically light, functional, user-friendly products: Big Agnes. Fast forward a few years and now this Colorado-based brand is a household name in the outdoor community, so much so that any mention of top tent-makers in the business is incomplete, or at least flawed, without reference to the offerings of "Big A."
In this article, we're going to take a look at Big A's three-season, two-person Tiger Wall UL2 tent. We'll start off with an analysis of the features we look for in a three-season tent and then get down to a review of the Tiger Wall to reveal whether or not it merits all of the hype it has generated amongst lovers of all things ultralight since its introduction a few years ago.
What to Look for in an Ultralight Tent
Lightness
Once that communal "no, duh!" has died down, I'll explain…
Here goes. So, throwing the label "ultralight" on any product isn't a guarantee of lightness, or at least not of lightness relative to other models in that performance category. Sadly, and unlike certain other features like waterproofing, fabric thickness, the extent to which a tent can be said to be light/ultralight is unregulated and so something of a free-for-all for less ethical and honest manufacturers and their marketing people.
The moral of the story? Be wary. Pay attention to the specs. Remember that a tent's "trail weight" may be significantly lighter than its "packed weight." Also, look out for anything missing from the tent bundle as sold — the most common absentee is the footprint, which in many cases is sold separately and can add up to a pound of weight to your overall carry.
And then, in order to understand just how light a tent you need, ask yourself a few questions:
1. Do I prioritize a lighter pack weight over weather resistance, durability, and/or livability and spaciousness?
2. Just how much am I willing to sacrifice in order to save a few ounces?
3. Am I more likely to be backpacking and thru-hiking or just pitching up at a campsite near where I park the car?
4. Am I going to be carrying all the camping equipment on my own or will I be splitting the weight with a partner?
Spaciousness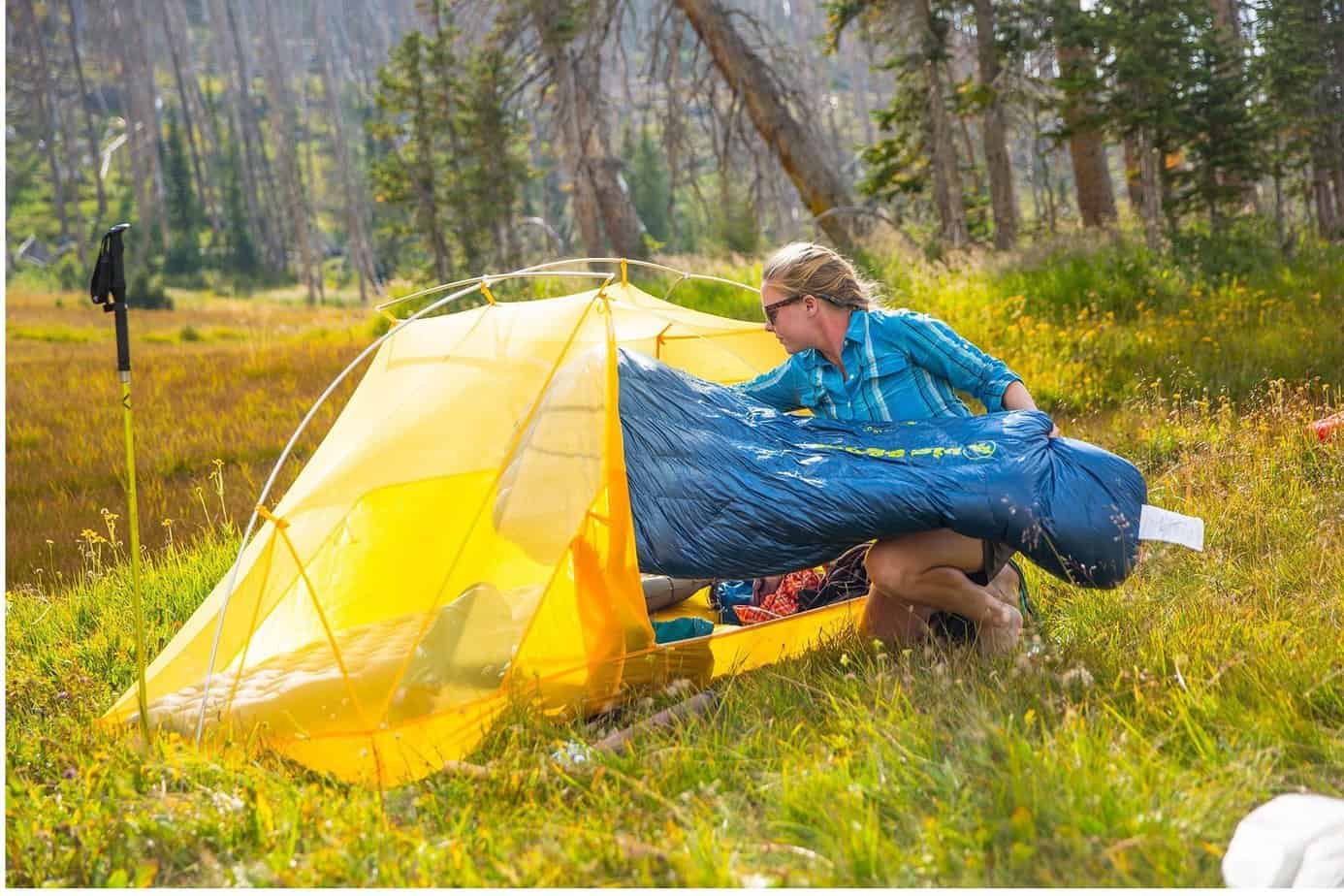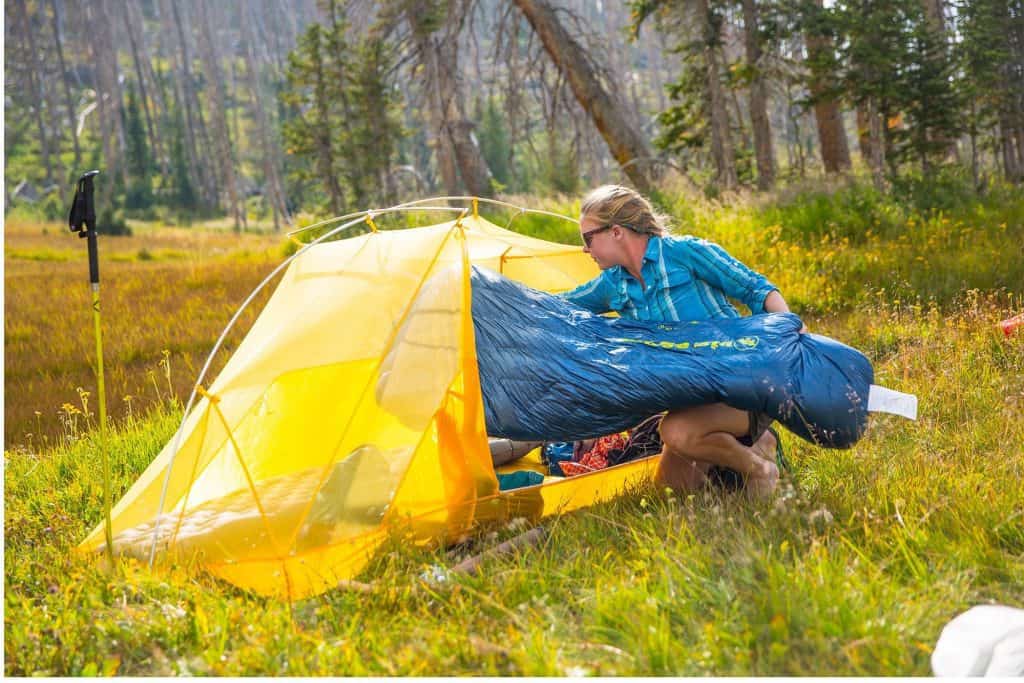 Spaciousness comes down to both square footage and peak height. For a two-person tent, most models measure in with 25 to 35 square feet of floor space on the interior. At the lower end of this scale (25 sq. ft.), two adults will be feeling the squeeze; at the higher, larger end, even a pair of 6-foot plus sleepers will be more than comfortable and adequately accommodated, even in models in which the "top-to-tail" length is on the short side.
A peak height of around 40 inches is okay for users under six feet tall, but for larger humans or anyone at all claustrophobic, we'd recommend something a little loftier.
Naturally, you won't be standing up even with a 50-inch peak height, but it will at least let you do any maneuvering around the tent on your knees without coming into contact with the tent ceiling and poles. Anything under 35 inches is exceptionally snug (a euphemism, to be sure) and will provide a coffin-like feel that's sure to test your sanity if you're in there for more than just a night or two.
Weather Resistance & Materials
Whatever time of year you happen to do most of your camping, solid weather resistance is an absolute must — without it, you're likely to find yourself dodging around iffy weather days and missing out on a whole lot of fun because of a lack of confidence in your kit. Otherwise, you'll just be wet.
When choosing your tent, look for tough, ripstop fabrics with a high denier count (this measures the thickness of the tent's fabric), particularly if you do any camping in mountainous or other particularly windy areas. As a ballpark-figure recommendation, we'd look for at least 15d on the rainfly and upward of 20d on the tent floor, where the added pressure of body weight and gear upon the fabric makes it more liable to leakage, rips, and tears.
In terms of waterproofing, a flysheet with a hydrostatic head rating in excess of 1,000mm (the closer to 1,500mm the better) and flooring with a hydrostatic head rating over 1,500 are absolute musts if you intend on staying dry when the wet stuff comes to town.
For groundsheets (or "footprints"), an even higher hydrostatic head rating of around 3,000mm and upwards is your best bet in order to ensure that added pressure mentioned above doesn't result in groundwater gatecrashing your tent's interior during the night.
Added Features
A few much-appreciated add-ons can greatly enhance a tent's livability and user-friendliness, most notably the number of doors, the number and size of the vestibules, the zippers (trust us, this can be a really big deal!), and ventilation panels. Far from being simple frills or bonus bling in your tent's construction, these features can be real deal-breakers. Here's why…
Doors
In short, one door means one point of entry and lots of clambering over your partner to get in and out of the tent when need be. This may be all very well should you happen to be in the throes of the honeymoon phase of your relationship with your camping partner, but is sure to be less so after a few outings or when you're absolutely dying for a pee (!).
The bottom line? Two is better than one. In addition to letting you move in and out of the tent without disturbing each other, a two-door set up will allow you to ventilate the tent better when need be by downing the zippers to create a two-way airflow.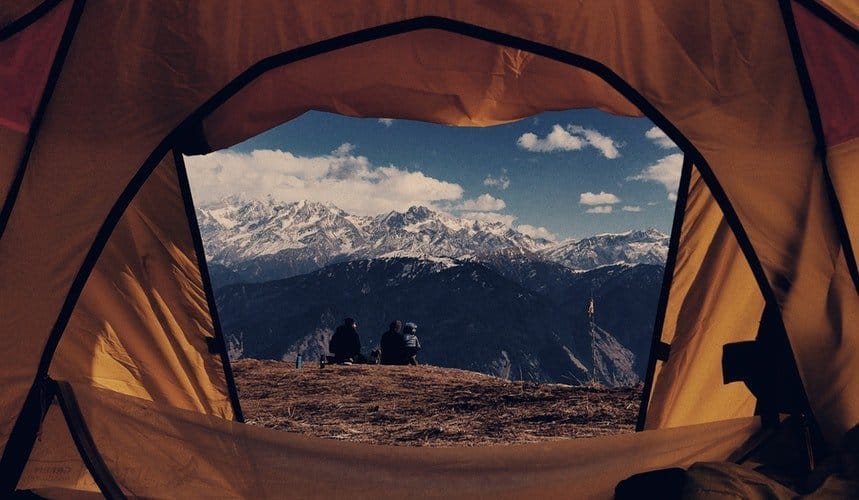 Vestibules
These small porches inside your tent's outer or rainfly are not only handy for storing gear at night but also make getting dressed (particularly when donning boots, jackets, or other gear that you don't use inside the tent) and cooking a lot more comfortable.
The bigger the vestibule, essentially, the better it is — there may we weight savings to be had by choosing a tent with a smaller vestibule area, but in total this saving is barely worth considering and definitely not enough to warrant the corollary loss of overall convenience.
Zippers
Tent zippers are one of the few things in the world that defy the logic of that old saying "what goes up, must come down." Yes, for some reason, tent zippers have frustrated campers for decades, snagging in the material, catching in a loose thread, locking up due to dirt, dust or, sand blockage, or just refusing to budge without any obvious explanation.
Gauging this one's tricky as most manufacturers now use high-quality YKK zippers that don't snap between your fingers and are robust enough to deal with the exceptional demands placed on them by the rough and tumble of backcountry pursuits. Even if buying in a store, then chances are there won't be a patched version of the tent to let you see for yourself.
As such, and in order to spare yourself the frustrations of a malfunctioning zip when a storm blows in, a marauding army of mosquitoes wings its way into your campsite, or your dying to get outside to answers nature's calls, head online and read some user reviews to get an idea of how stubborn, useless, or user-friendly the tent's zippers may be.
Ventilation
Condensation inside the tent is probably the most oft-quoted bane of the backpacker's life. A close second is the various odors — from feet, AWOL sandwich portions, tentmate, and personal flatulence, dirty clothes etc. — that can quickly accumulate and ferment in such an enclosed space after a day or two on the trail and several hours of aerobic activity. Things which can help to alleviate both of these problems include:
Ventilation panels in both the tent body and the rainfly
Door or vestibule zippers that zip down from the top and feature a flap to protect the area below from rainfall
A double-walled construction (allows for airflow between the two layers of the tent)
Two doors instead of one to permits in-and-out airflow
Storage Pockets
This might not strike you as a such a big deal, but a few pockets in the walls or on the ceiling of your tent can free up a lot of floor space and, as such, contributes directly to the tent's overall livability.
Also, if you're on the trail for a long time, the organization quickly becomes very important, particularly as regards things you'd like to have out of your backpack at night and close to hand for convenience's sake (glasses, toothbrush, toilet paper, bear spray, headlamp, for example).
Ease of Set Up
Any hiker or camper who tells you they've never spent a many minutes of their lives looking and feeling very silly as they fumbled and fought with the components of a newly purchased tent is either a) lying, b) that one camping companion who always mysteriously disappears when it's time to pitch the tent, c) some backcountry camping version of Chuck Norris.
Avoidance of that whole silliness and all the associated frustrations and foul-mouthed exclamations that may come with it can be aided by a few simple features in your tent's construction, namely:
color-coded poles
color-coded webbing and grommets
clip-in (rather than peg-out) rainfly
free-standing design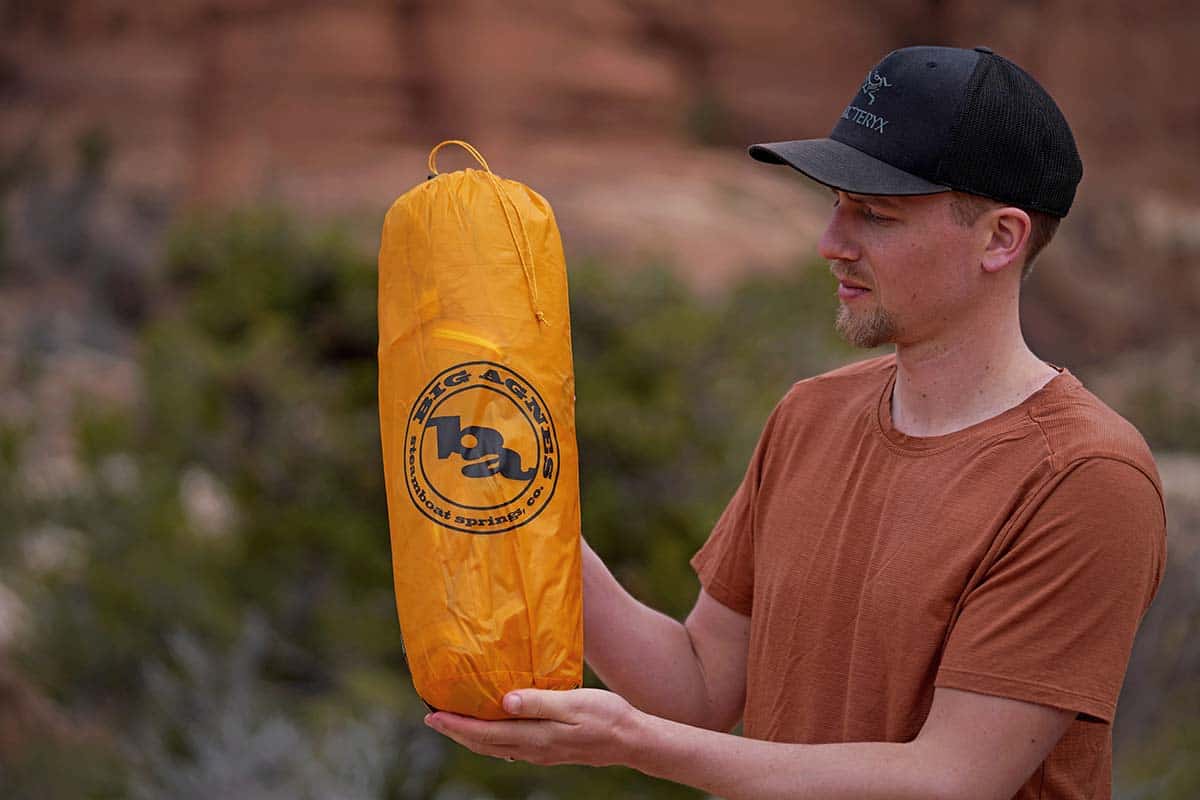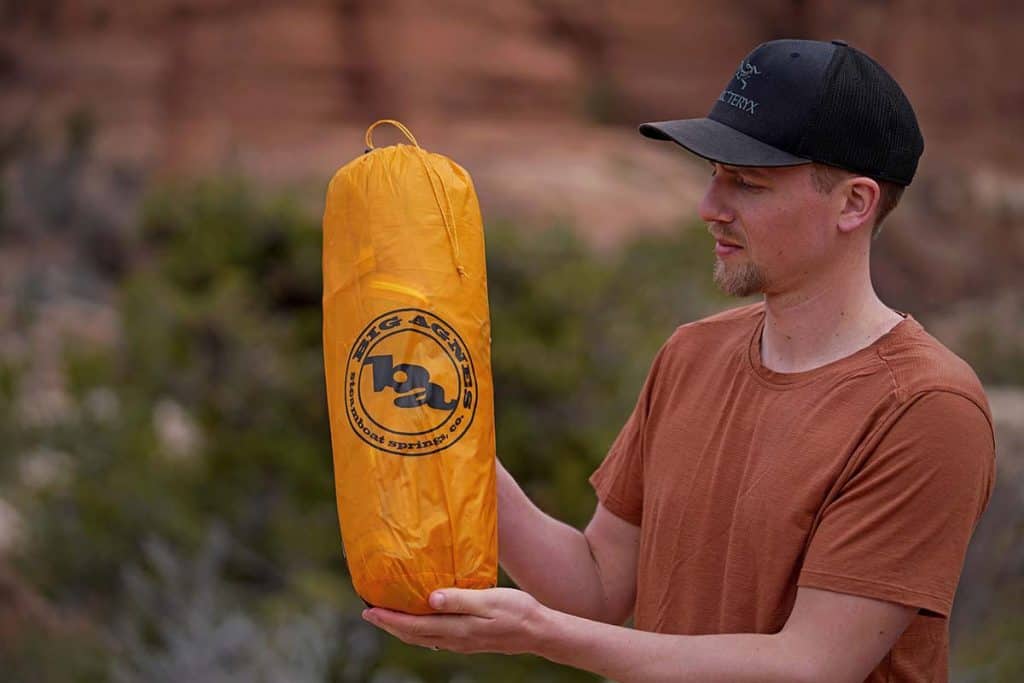 Single or Double Wall?
Double-walled tents are widely favored by backpackers and three-season hikers for a number of reasons. Firstly, they provide two layers between you and the elements, thereby giving a more comfortable living space that doesn't feel quite so exposed to whatever may be happening outside.
Secondly, they ventilate far better owing to the air pockets and conduits contained between the two layers and as such are far less prone to condensation. Finally, double-walled models of the tent are usually far stronger, warmer, more durable (if the rainfly rips you can replace it) and
For some backpackers, however, comfort, space, optimal breathability, and hardiness are luxuries that need to be foregone in favor of more pressing concerns, namely — weight. Enter the single-walled tent. One-wallers do have their drawbacks, otherwise, there's a chance we'd all be using them, but if cutting down on pack size and shedding every excess ounce you can are top of your list of priorities, then this alternative becomes a very worthy of consideration.
Also, single-walled tents usually have much smaller footprints, so if you're going to be pitching up in tight spaces (dense forest, steep mountainsides, or rocky ledges) then this is a more functional and appropriate choice than a double-walled one. Finally, single-walled tents are also usually much easier to set up and pack down to a far tidier bundle than their double-walled brethren.
So, which is best? Your activity type will, in most cases, decide for you. If weather protection, livability, and ventilation are to the fore, then we'd recommend going for a double-walled tent; if, however, you need to keep things as light as possible, don't mind losing a few square feet of space, and can live with a drop in durability and hardiness, then a single-walled tent will most likely prove to be the most practical option.
Big Agnes Tiger Wall UL 2: At-a-Glance Specs
Tent type: Semi-freestanding
Best use: Ultralight, three-season backpacking
Minimum trail weight: 2 lbs. 3 oz.
Packed weight (including stuff sack and pegs): 2 lbs. 8 oz.
Packed size: 5.5″ x 18″
Features: semi-freestanding, double-wall, 2 doors, 2 vestibules, large interior pockets (x3)
Floor dimensions: 86 X 54 (top)/42 (bottom). 28 square feet total
Peak height: 39 inches
Pros
Wonderfully lightweight for a double-walled, three-season tent (you'd be hard-pressed to find lighter one with similar specs and space)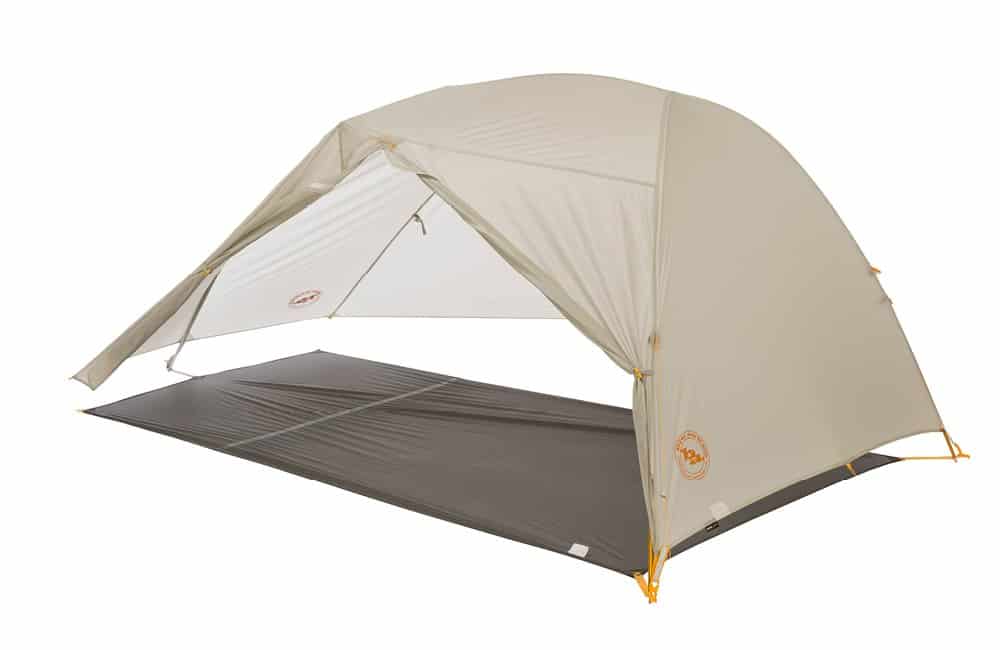 Plenty of storage pockets
Very easy to set up
Color-coded poles
Reflective guylines help avoid trips and facilitate pitching in the dark
2 doors and 2 vestibules make things a little less claustrophobic inside
Cons
Not the most spacious two-person tent out there
A little short on headroom for taller campers
Floor material is only 15 denier, around half of the thickness found in other three-season tents, and so is fairly fragile
Zippers on the rainfly can snag from time to time
Stakes are poorly made and will probably need replacing after just a few outings
While listed as "freestanding", you actually need to peg out front of the tent to get things going
Key Features of the Big Agnes Tiger Wall UL2
Weight
At a mere 2 lbs 8 oz the Tiger Wall is one of the lightest three-season, (semi-) freestanding tents out there. As such, it's an ideal choice for long-distance through trekkers or even weekend warriors who just want to shave a healthy number of ounces (or even upwards of a pound) from their pack weight.
The weight loss comes at a little bit of a cost in terms of durability and hardiness — the 15d fabric used on the fly and flooring is a little on the light side for clumsier users or those particularly keen on avoiding rips (and the subsequent patchwork look post-repairs).
Design
While marketed as a "freestanding tent", anyone who manages to get the Tiger Wall pitched without first staking out the front of the tent is something of a magician. As such, the term semi-freestanding is more appropriate. While this isn't a big deal most of the time, in very windy conditions it does mean the tent will have a little less stability than a fully free-standing tent and may be tricky to pitch if you're camping on your lonesome.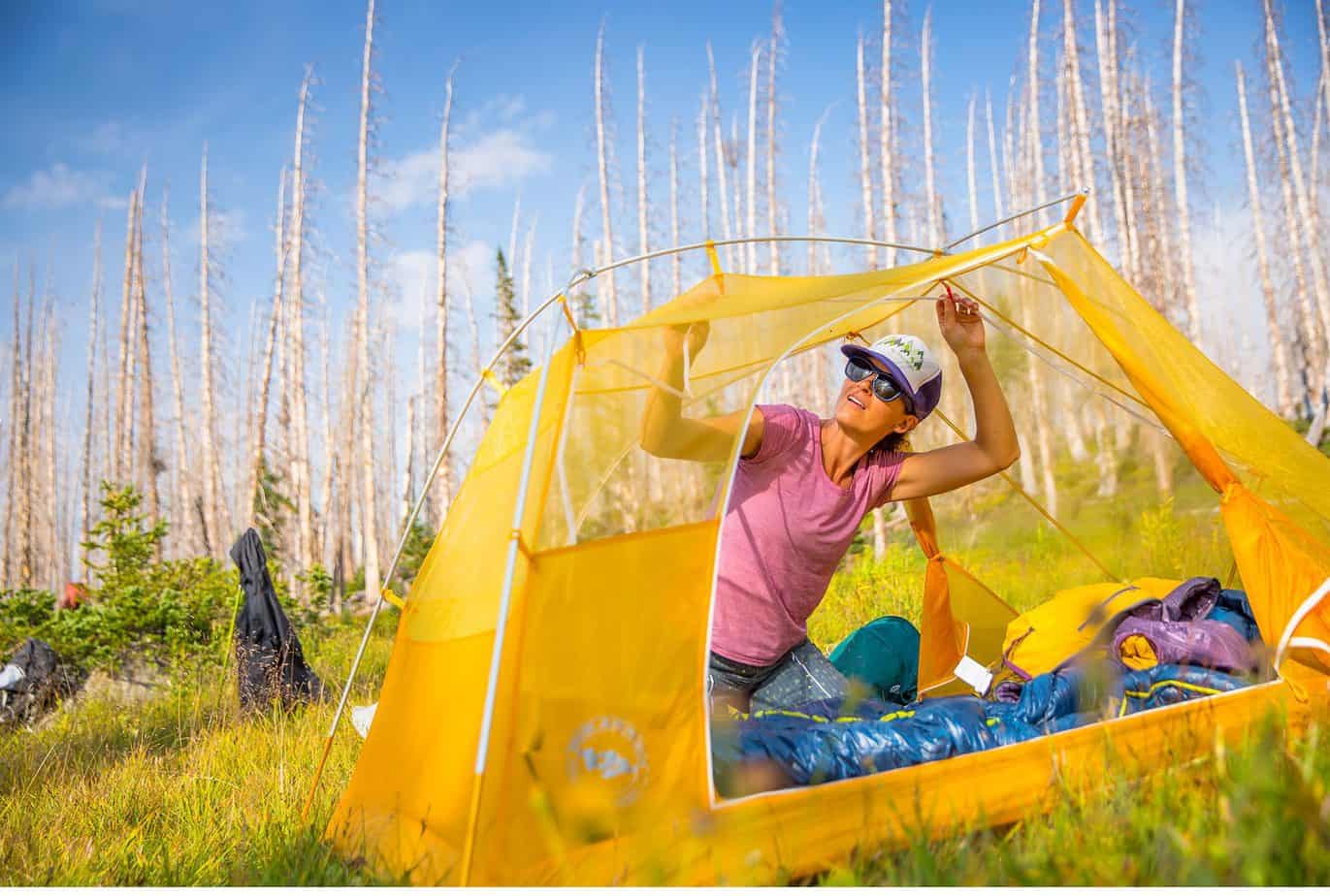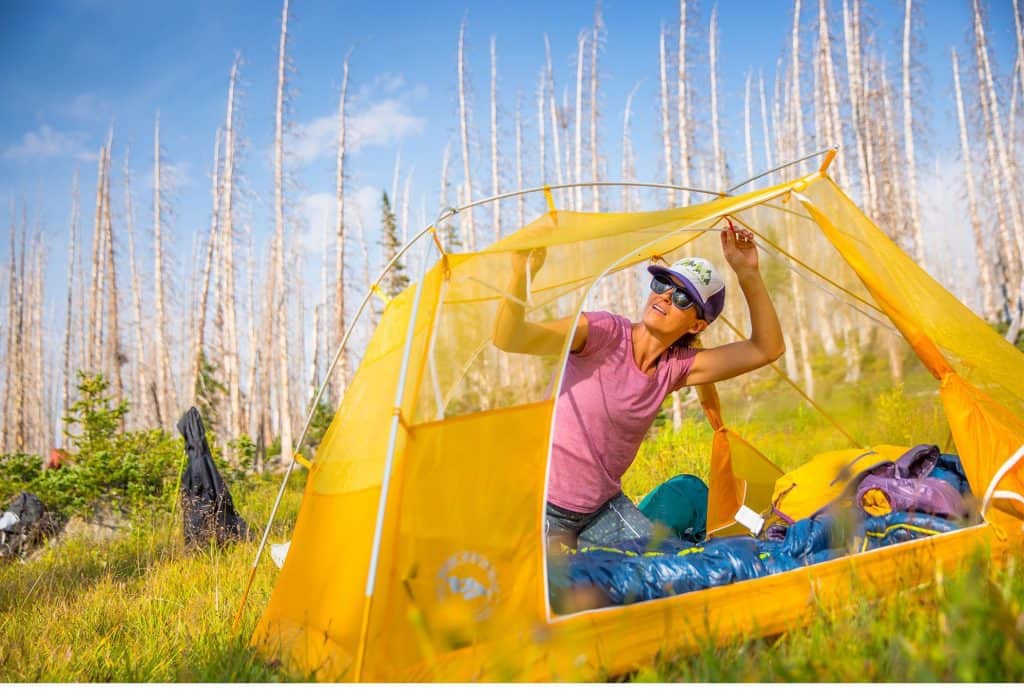 Otherwise, the Tiger Wall's design has little we can find fault with. The walls are steep enough to shed water in a hurry and maximize interior space while maintaining a relatively small overall footprint. The single pole construction may give some more wary users a fright on the first inspection, but we found that the tent retained its shape even in moderately high winds and didn't seem to suffer too much as a result of the lack of more substantial pole/frame support.
Space
With a total of 28 square feet of floor space on the interior, the Tiger Wall UL2 is on the smaller end of the scale in terms of livability in two-person tents. Given that most ultralight tent models to compromise on space in order to cut down on ounces, this isn't a deal-breaker relatively speaking.
If however, you happen to be over 6 feet tall or just like a little more legroom, we'd recommend biting the bullet (and carrying the extra few ounces) an shooting for the Tiger Wall UL2's more sizable sibling, the Tiger Wall UL 3, which boasts an additional 10 square feet of interior space.
At 52 inches wide at the top and 42 inches wide at the bottom, the width of the Tiger Wall UL2 is enough to accommodate two regular sleeping pads with a little bit of room to spare.
The true let-down for most users is this tent's lack of peak height — at 39 inches, it's fairly ungenerous even by the standards of the lightest of ultralight tents. This might not necessarily be too much of an issue in better weather, but if you happen to get stuck inside the tent for a few days in inclement conditions that lack inches above can give the tent a slightly coffin-like feel.
In short, the Tiger Wall UL2 is not the roomiest tent out there, but that's the price you pay to save some serious poundage from your pack weight…
Weather Resistance & Materials
The Tiger Wall UL2 doesn't quite fall into the "bombproof" category of waterproofing but holds its own among its three-season ultralight peers. Both the fly and the floor are made with a polyurethane coating with a hydrostatic head rating of 1,200mm.
While this is a little light on protection for flooring, most users will be purchasing the separate footprint to bolster defenses underneath the tent. With regard to a lightweight rainfly/outer, this rating is pretty much par for the course. For more solid waterproofing in stormy conditions, a rating closer to 1,500mm would be more confidence-inspiring, but in all but a torrential downpour or winds in excess of 40 miles per hour, this should hold you in good stead.
The Tiger Wall also features fully taped seams and effective storm flaps over the zippers — not things that make it a standout compared to competitors but two boxes that require ticking and that it ticks more than adequately.
As mentioned above, the biggest disappointment with the Tiger Wall is its performance in high winds and the low denier-count of its fabric. The former of these can result in a partial collapse when things get particularly blowy and the latter in rip-ridden fabric if you aren't particularly careful.
Neither of these drawbacks is necessarily a dealbreaker, but they do mean you'll need to be wary about where you pitch the tent (finding a wind block on very windy days is advisable) and also carry a roll of tent repair tape in case you happen to puncture or tear the flooring or rainfly.
Set Up
One of the most lovable features of the Tiger Wall UL2 is just how quick and easy it is to set the tent up. It uses color-coded poles and grommets to save any trial and error when putting up the frame and the rainfly clips onto the tent body in seconds.
As mentioned above, this tent isn't entirely freestanding and requires a peg/stake or two to keep it upright at the start of pitching, but this is a very small hassle, easily overcome, and won't set you back more than an extra 45 seconds.
Other Features
Doors & Vestibules — There are two of each, thus ticking a sizable, highly desirable box on the feature front. With 8 square feet of vestibule area outside each door, moreover, there's plenty of room for both sleepers to stash all their gear.
Zippers — Both of the doors on the tent body/interior have dual zippers which allow you to open or vent either at the top or bottom of the door and are not prone to snagging. The same, sadly, can't be said about the zippers on the rainfly, which snag quite easily on the storm guard and can take a fair amount of maneuvering to get moving again. It's a small quibble, but worth noting if you happen to be a potential buyer who's particularly short on patience. In terms of robustness, the zippers are the lighter #3 variety and so are a touch more delicate than the #5s you'd find on tents not so hellbent on trimming down every available ounce.
Ventilation — The double-wall design works well to maintain airflow in even the stickiest of conditions. The rainfly lacks the ventilation flaps in the walls that are featured on many other tents in this performance category but you can easily shed air by zipping down the rainfly from the top at either of door openings, safe in the knowledge that the mini-awning or flap above the zipper area will keep out any precipitation or water on the tent's exterior.
Pockets — The Tiger Wall's roof area is particularly large and contains a huge storage pocket that helps to free up floor space. Additionally, there are two interior mesh pockets with cord routing portals (for electronic devices) and gear loft loops for hanging up kit.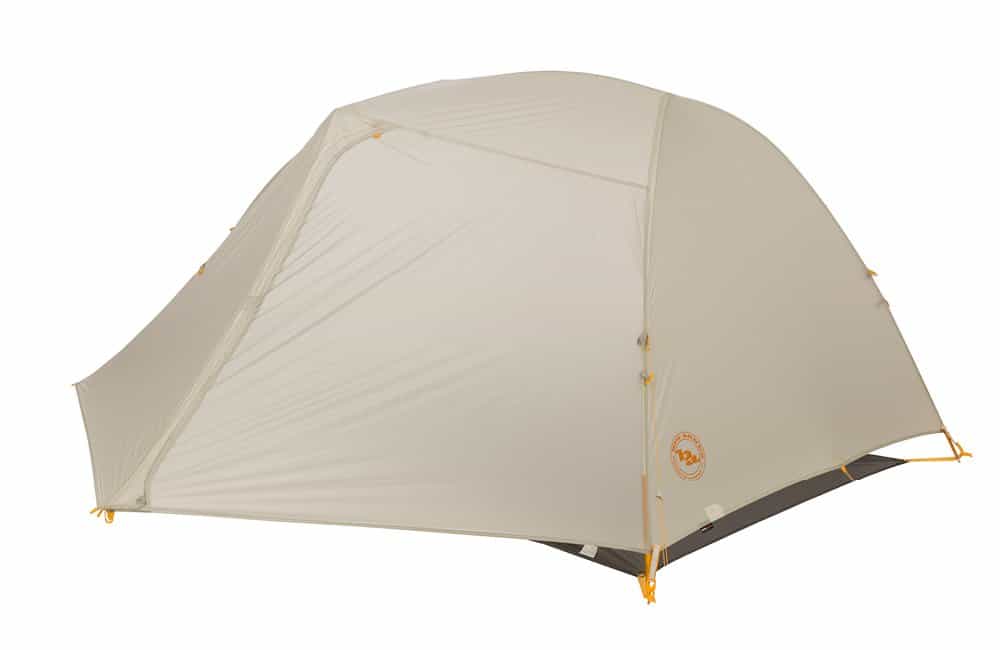 Big Agnes Tiger Wall UL2 FAQs
1. My camping partner and I are both over 6 feet tall. Is the Tiger Wall going to be a tight squeeze for us?
In a word, yes. Although the Tiger Wall does everything it can to maximize interior space with overhead pockets and sizable vestibules, there's no doubting that the peak height of 39 inches and 28 square feet of interior space make things pretty darn cozy for two fully grown adults. If "cozy" isn't a problem for you, then great, we'd highly recommend the Tiger Wall.
If, however, you are fan of personal space, elbow room, or are planning on a longer trek during which a little bit of breathing room might be appreciated then we'd plump for a larger option, such as the Big Agnes Tiger Wall UL 3, which weighs in at only 2 lbs 15 oz but boasts 38 square feet of living space and a peak height of 42 inches.
2. How does the Tiger Wall UL2 compare to other tents in Big Agnes' range?
Gooooood question! First up, it's worth reiterating that the Tiger Wall UL2 is intended for use on ultralight backpacking trips and, as such, cuts out a few frills and features to keep the weight down to an absolute minimum. The other two-person models most appropriate for comparison are the Copper Spur HV UL2 (read my full review here!) and Big Agnes Fly Creek HV UL2 models. Below, we've added a small chart to let you see how this three measure up side-by-side.
| | | | |
| --- | --- | --- | --- |
| | Tiger Wall UL 2 | Copper Spur HV UL 2 | Fly Creek HV UL2 |
| Weight | 2 lbs 8 oz | 3 lbs 1 oz | 2 lbs 5 oz |
| Space | 28 square feet | 29 square feet | 28 square feet |
| Fly material | 15 denier | 20 denier | 15 denier |
| Floor material | 15 denier | 20 denier | 20 denier |
| Doors and vestibules | 2 | 2 | 1 |
| Peak height | 39 inches | 40 inches | 40 inches |
| Max Length | 86 inches | 88 inches | 86 inches |
3. In terms of value for money, how would you rate the Tiger Wall UL2?
On a scale of one to ten, the Tiger Wall sits at around a very impressive 8 with regard to value for money. The thinner fabrics will strike some as a decline in quality or at least a facet that detracts from overall value, but it's worth remembering that you really aren't in the market for a tent like the Tiger Wall UL2 unless you're really looking to shave off the ounces. This being so, such compromises are a small price to pay and not prohibitive to durability or lifespan as long as you exercise a little caution and make sure items that might rip the fabric are kept outside the tent or safely stowed in a backpack.
This isn't the cheapest tent in its performance range, granted, but ticks all the boxes a lightweight adventurer needs ticked and, despite that thin fabric, is a tent that will last you a very long time if you treat it well.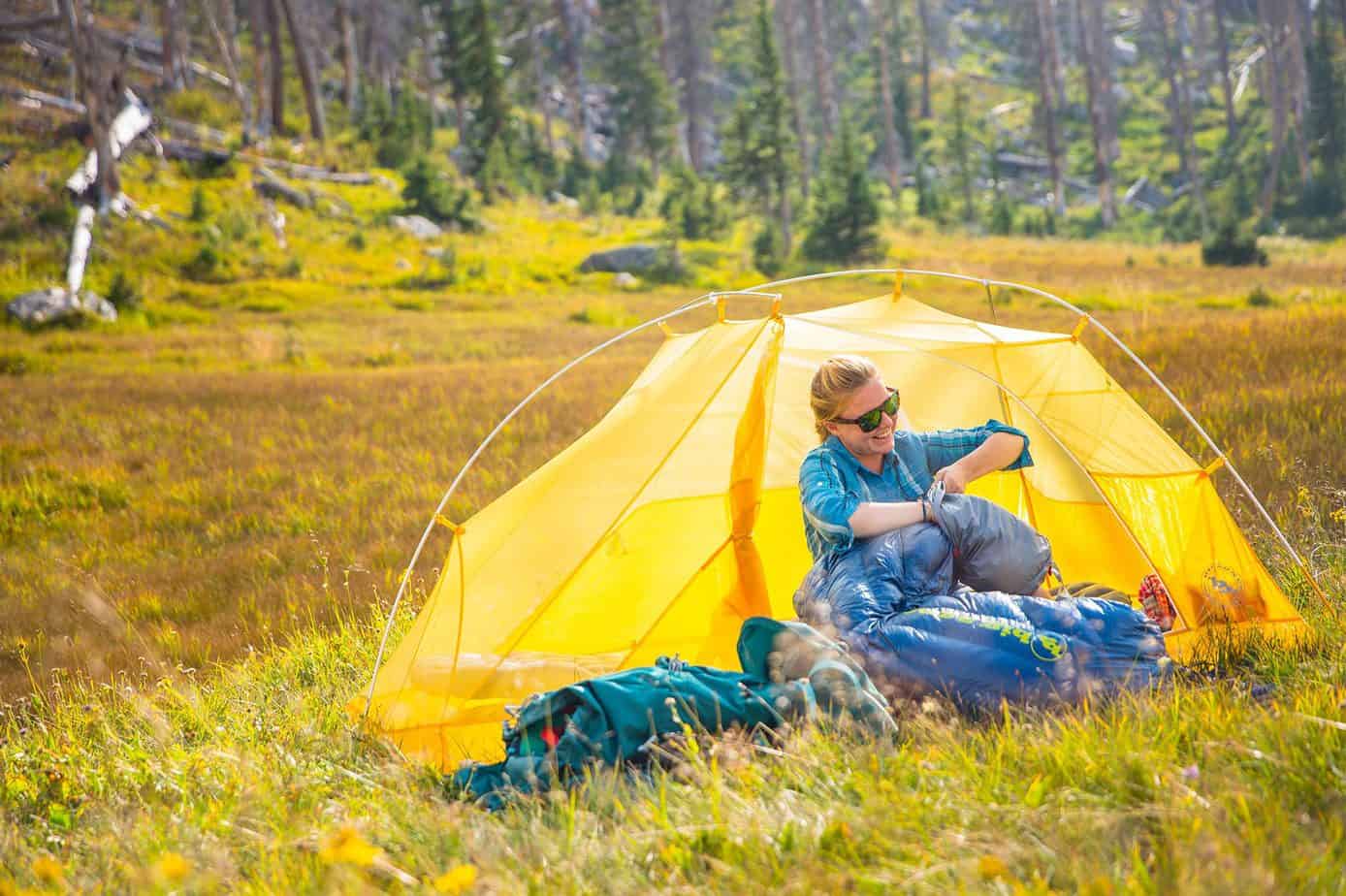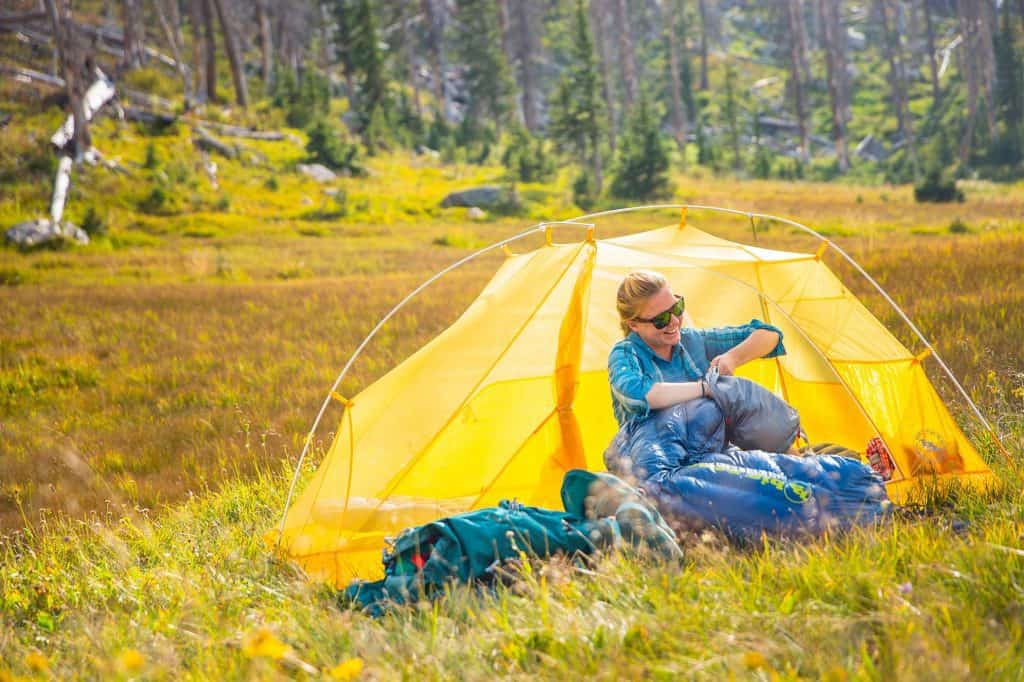 Conclusion: The Tiger Wall UL2 in a Nutshell
The Big Agnes Tiger Wall UL2 encompasses all of the qualities and characteristics that have been responsible for and spurred Big Agnes' meteoric rise to the top of the crop in the field of tent-making: it's one of the lightest double-wall, 2-door, 2-vestibule tents out there, it's spacious, very livable, and boasts a quality of build that translates into both optimal performance in almost all three-season conditions and, for such a light and packable piece of kit, offers more than reasonable durability.
While we wouldn't want to entrust our lives to this tent in a serious storm, in non-extreme conditions it performs admirably and is unlikely to let you down.
Most lovable among the Tiger Wall's many lovable features, however, is its almost idiot-proof ease of use. Unless you're handling a tent for the first time ever, it's unlikely it'll take you much more than four or five minutes to take this one from packed to pitch. The bottom line? If you're looking for an ultralight, high-performing tent for two people who aren't exceptionally tall, the Tiger Wall's a winner.
Further read, The Best Big Agnes Tents on the Market!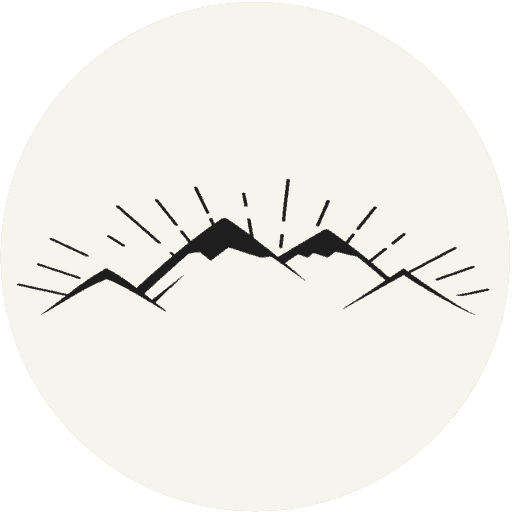 The All-Outdoors Guide team is comprised of enthusiastic experts that enjoy helping others that aspire to be better at outdoor fun. Part of that is making sure you have the right gear and information when it's time to go out and have fun. Some of our team have accomplished amazing feats like climbing 6000 feet to the top of mountains, others have explored every dirt trail they could find and we even have some people that have backpacked solo on various continents. No matter what our readers want to learn and do, our team is here to help them accomplish those goals.