While out in the cold weather, a warm jacket can make all the difference between a comfortable and enjoyable experience, or a cold, clammy and miserable one.
Whether out on a walking tour in the city, shopping for groceries, biking on the streets, hiking or alpine mountaineering, good gear that is suitable for the activity and clothing that helps you keep your body at the right temperature is a must.
When choosing outdoor clothing (and in this case outdoor jackets), there are a lot of factors to be considered. There is so much on offer that it becomes difficult to choose the right gear.
It is important to understand the basics and the science behind the technology used to create outdoor gear, and how one product scores over the other, and how to make the right choice. Read on to understand all of these and more.
Main Differences Between Marmot vs North Face
The main differences between Marmot vs North Face are:
Marmot usually uses Gore-Tex technology, whereas North Face uses DryVent technology.
Marmot is rated as a medium-priced jacket, whereas North Face is in a more luxurious category.
Marmot is great for outdoors activities, whereas North Face three-in-one line is perfect for extreme weather.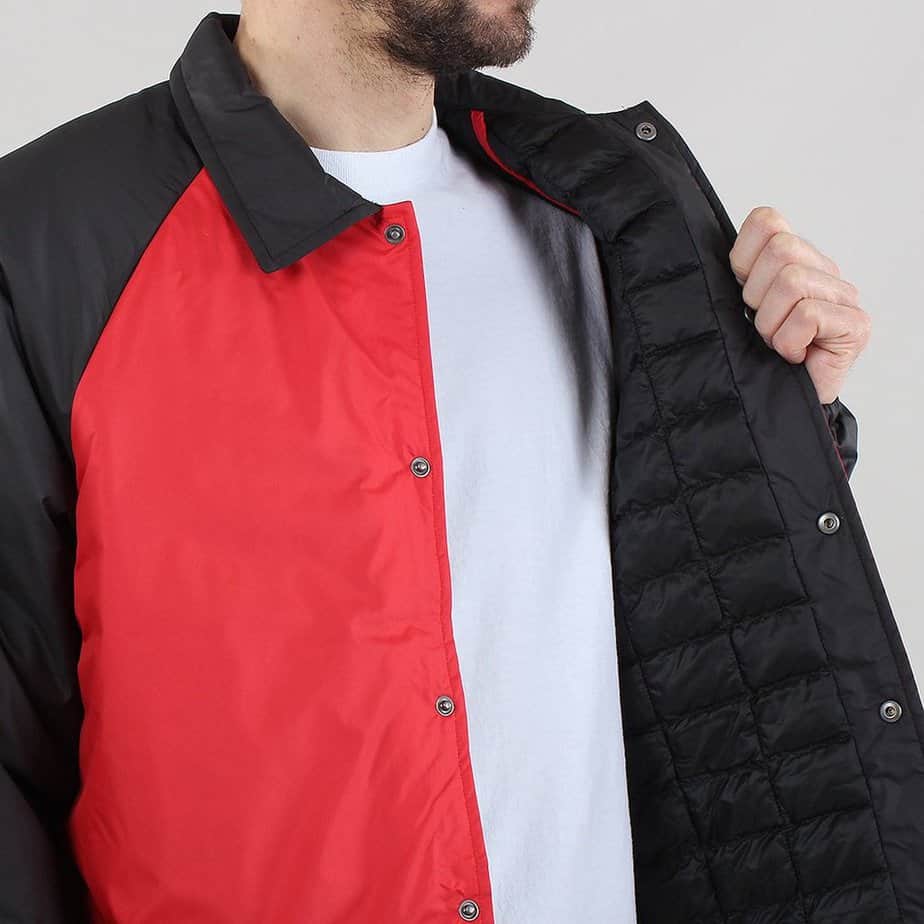 How to wear clothes for the cold weather?
When it is cold, choosing the right clothing becomes very important. A very common mistake that all of us do is wear regular clothing underneath an outdoor jacket. While this is good enough for mild temperatures, it can cause terrible misery in extreme temperatures.
Another common mistake is forgetting to dress for indoors. Most often, people don't carry a light jacket that can be worn indoors, relying only on normal clothes and a thick outer jacket. If the room is not sufficiently warm, you will end up sitting shivering through your meetings and social engagements.
A good rule of thumb is to dress in layers whenever the weather is cold. This allows you to peel off the layers when you are hot and put them back on when you feel cold. Additionally, accessories like hats, gloves, and scarves can help you a lot in keeping you warm and comfortable.
Related Topic: What Should You Wear Hiking?
What is the science behind layering?
When you wear multiple layers, there is a small gap between the layers that traps a layer of air. This layer of air acts as an insulator. It absorbs heat from the body and traps it in these air pockets. This allows you to stay warm and not lose body heat easily.
When you start feeling very hot, removing a layer allows the warm air trapped to be released, allowing the body to cool down.
Layering serves very well to control the body temperature. As compared to wearing a single layer, it gives you a better control of maintaining body temperature.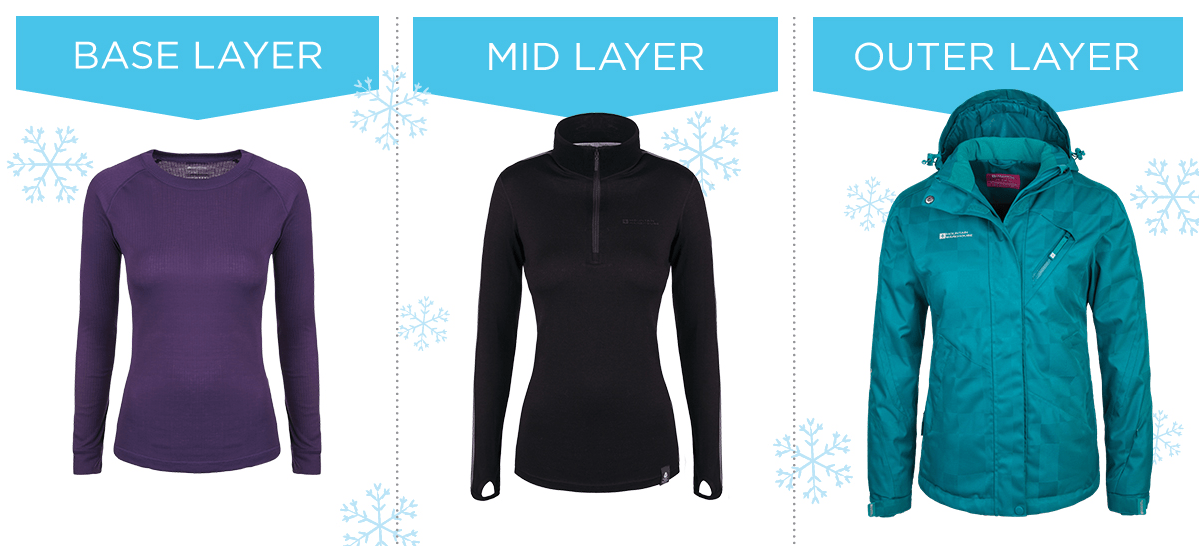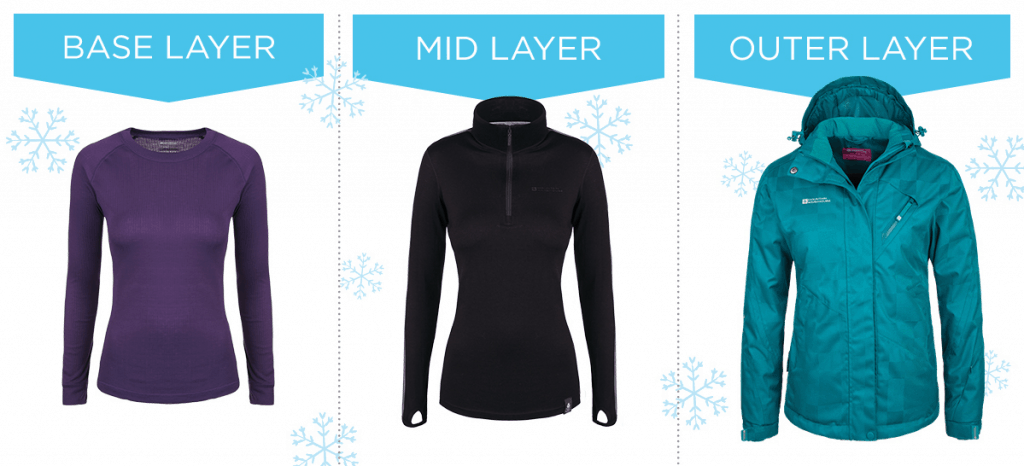 Basics of Layering
While layering can be done in many ways, the most common method of doing this is using three layers. Layering using three layers is done as follows:
This layer allows for managing moisture generated by sweat by moving it away from the skin using a process called as wicking. Fabrics such as synthetics, merino wool, and silk are most commonly used as a base-layer during outdoor activities.
If you are not going to do any intensive activity, then the base layer could be the regular clothes that you wear to work or outside. However, even choosing this clothing appropriately can help you keep comfortable.
The mid-layer acts as the insulating layer. It can help by trapping the warm air between the base-layer and itself, and between itself and the outer layer. Mid-layers are typically made of fabrics like synthetic fill goose down or polyester fleece. Choose the right mid-layer depending on the weather. Synthetic fill and goose down jackets can keep you warmest, while polyester fleece can work well in milder conditions.
The right outer-layer can help to protect you from rain and snow. Breathability is the most important factor for you to look out when you decide on an outer layer. Highly breathable fabrics can help in moving moisture away from you, keeping you from feeling clammy. Under extreme conditions, insulated outer-layers having a down or synthetic lining can further help in maintaining comfort.
Dressing Indoors when it is cold
While indoors, it is necessary to be dressed according to the temperature in the room. While it is easier to control the temperature indoors, it may not always be optimum for an individual's personal preference. Therefore, it is best to be dressed correctly, so that you are comfortable.
Most of us must be dressed appropriately for an occasion when indoors, whether it is a casual lunch or a boardroom meeting. Choosing the right fabric for the clothing is important. However, it may not always be possible for you to dress in the fabric of your choice.
The next best thing is to have a good layering for indoors as well. Light jackets, light sweaters, accentuated by accessories like a scarf or a stole add a touch of elegance, while keeping you warm.If the room is crowded and it starts to get hot, it is always easy to remove the layers to keep yourself cool and comfortable.
What are the best base-layers?
Base-Layers are usually made up of materials like synthetic, Merino Wool, or Silk. Here is a comparison of how each kind of material performs.
Synthetic materials cost the least, offer good wicking, and are very durable. However, the downside of synthetic materials is that it retains odor and stain.
Merino Wool is expensive, but offers good moisture-wicking, stays fresh for a long time, and is decently durable.
Silk offers mediocre wicking capability and very low durability, but it is the most comfortable on the skin.
| | | | |
| --- | --- | --- | --- |
| Parameter | Synthetic | Silk | Wool |
| Wicking Ability | High | Medium | Medium |
| Resistance to Abrasion | High | Very Low | Medium |
| Maintenance | Low | Very High | High |
| Body Odour Retention | High | Medium | Low |
| Stain Retention | High | Medium | Low |
| Cost | Low | Very High | Medium |
| Suitability in Warm Weather | Very High | High | Medium |
| Suitability in Cold Weather | Low | Medium | High |
| Suitability for High-Intensity Activity | High | Medium | Low |
| Suitability for Low-Intensity Activity | Low | Medium | High |

What are the best mid-layers?
Mid-layers are made of materials like polyester fleece, goose down and synthetic fill. Polyester fleece is the most affordable of all, while it doesn't keep you too warm. Goose down keeps you warmest, but it can cost a lot.
| | | | |
| --- | --- | --- | --- |
| Parameter | Polyester Fleece | Goose Down | Synthetic Fill |
| Warmth-to-weight ratio | Moderate | Very High | High |
| Compressibility | Moderate | Very High | High |
| Water Absorption Performance | Very High | Moderate | Very High |
| Warmth when wet | High | Very Low | High |
| Durability | High | Very High | Moderate |
| Moisture-Wicking Performance | Very High | Moderate | Moderate |
| Drying Time | Very Low | Very High | Moderate |
| Price | Very Low | Very High | Very Low |
What are the best outer-layers?
Outer-layers can be classified based on the waterproofing technologies (laminate-based or coating-based) and on the method of construction (2-layer, 2.5 layers, or 3 layers).
Here is a comparison between the different kinds of constructions.
| | | | |
| --- | --- | --- | --- |
| Parameter | 2-Layer | 2.5-Layer | 3-Layer |
| Waterproof | Medium | Medium | High |
| Breathability | Medium | Medium | High |
| Durability | Low | Medium | High |
| Weight | Midweight | Ultralight to lightweight | Lightweight |
| Price | Medium | Low | High |
While choosing an outer-layer, waterproofing and breathability are the most important factors that should help you choose the right one. Waterproofing is the ability of the material to keep away rain and snow from penetrating beneath the outer layer.
Breathability is the ability of the material to allow moisture from inside to escape.
A good outer layer should achieve a balance between the waterproofing and breathability.
Since the outer layer is the most visible layer, fashion choices and trends also play a good role in helping to select the right outer-layer. For many people, the right fit, color, pocket placement etc. also matters a lot while choosing an outer-layer.
Opting for an insulated outer layer can help tremendously in extreme conditions, especially when going on activities like alpine mountaineering.

How should the layers fit you?
Fitting of each of the layers is very important to help maintain body temperature, allow wicking of moisture and keep comfortable in general.
Very tight clothing can lead to discomfort like feeling cold, clammy and having abrasion and bruising where the clothing touches the skin. On the other hand, wearing very loose layers defeats the purpose of layering, by allowing heat to escape easily.
Therefore, all the layers of clothing must adhere to a few basic rules:
The clothing should fit snugly, but not tightly.
Middle and the Outer layers should fit in a way that they have room to accommodate the inner layers.
It must be easy to open and close all the fastenings like buttons and zips, without compromising on the heat retention and comfort factors.
What are the factors that influence the choice of clothing for outdoors?
While everyone's choice and criteria for choosing outdoor clothing are different, here are some factors that influence those choices.
Weather Constraints
All the layers of clothing must be chosen extremely carefully depending on the weather conditions. It is especially difficult to choose clothes for extremely cold weather conditions, where lack of warmth could lead to potentially life-threatening conditions like hypothermia.
Activity Level
Wearing very heavy clothing, or clothing that does not have good wicking ability while performing intense outdoor activities like hiking, trekking, mountaineering or biking can make one very uncomfortable. On the other hand, wearing light clothes while camping in cold conditions could be potentially a threat to life.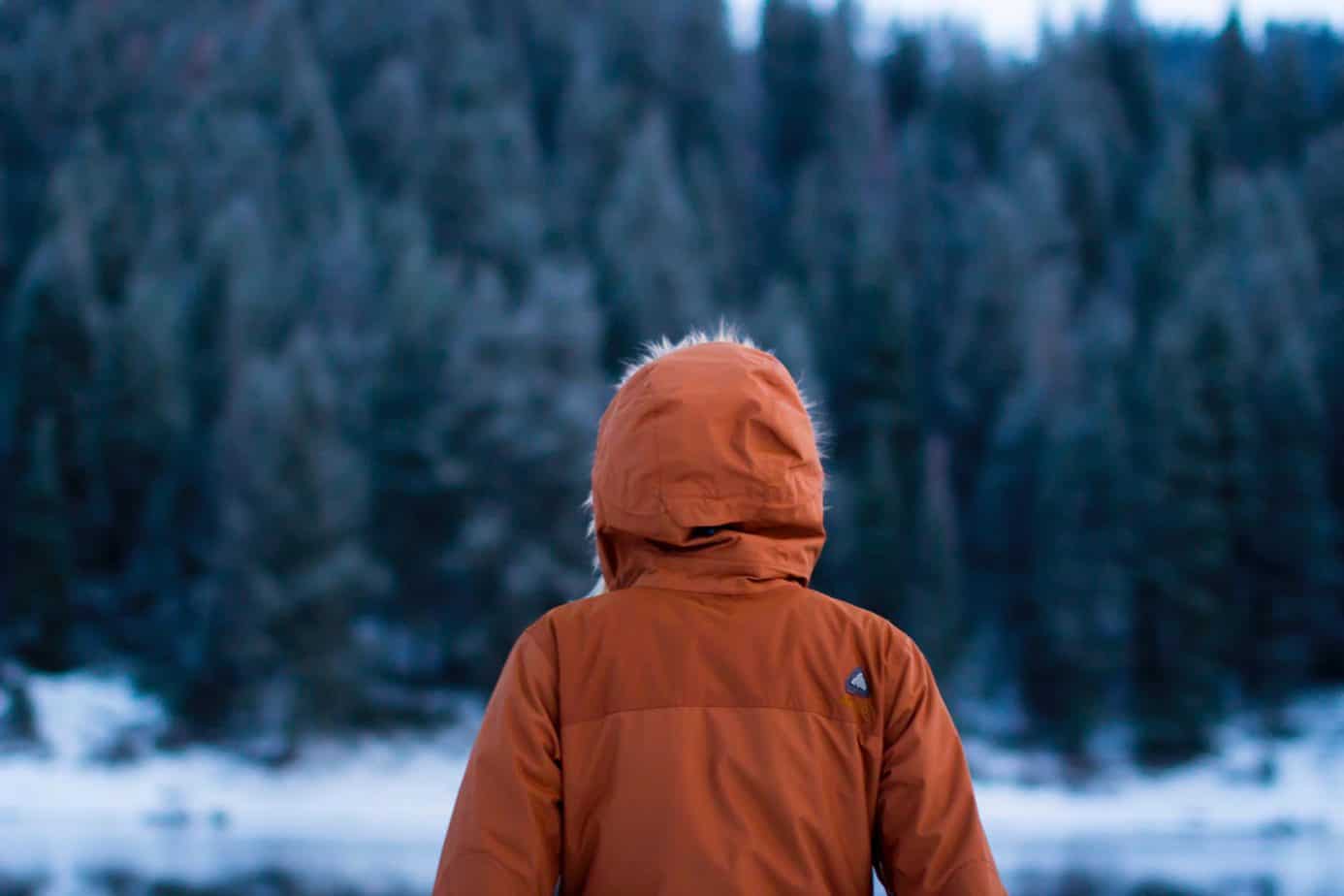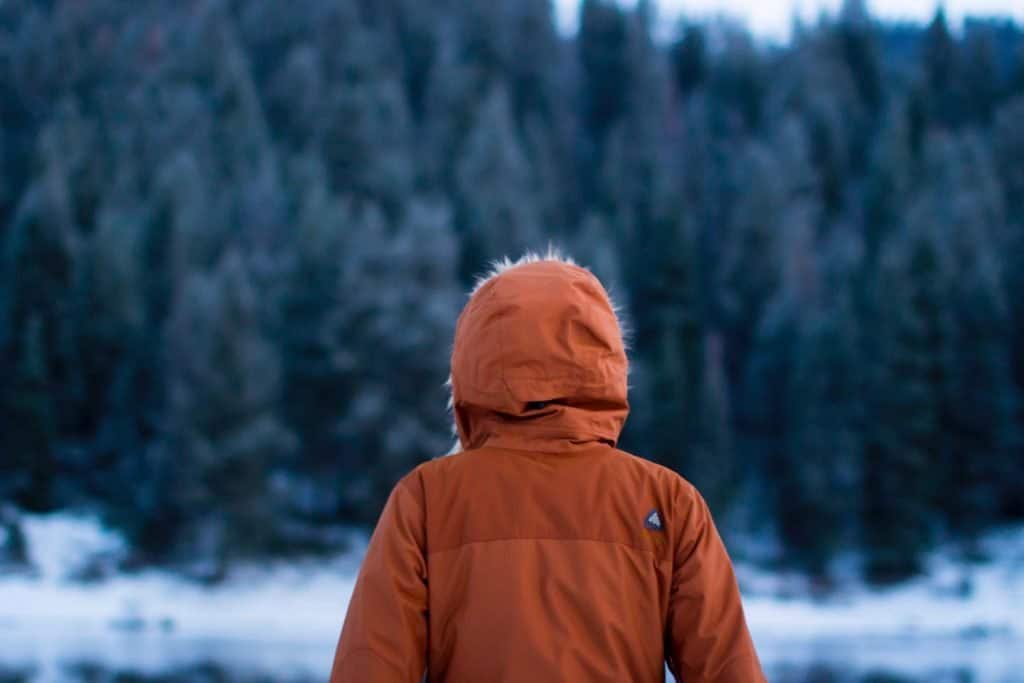 Correct Fit
It is always important to try out outdoor clothing before purchasing them. If buying online, look for options that have an easy exchange or return policy, so that there is no compromise on the fit. Wearing ill-fitting clothes for outdoor adventures can ruin all the fun.
Fashion Choices
Colors, fabrics, cut and style are all individual choices. Fashion trends can play a big role in the purchase of outdoor clothing. While fashion may not be a top priority for athletic activities, it is certainly a parameter for urban wear.
Pockets and other practical factors
When going on outdoor activities, most of us like a few extra pockets to hold cell phones, water bottles, mints and chewing gum, some cash, keys and other odds and ends. Having strategically located pockets that allow easy access, or help in protecting electronics from moisture, or pockets that deter pickpockets are a few nice-to-have features.
In addition to pockets, adjustable cords at the waist and hips can go a long way in helping with the right fit.
Zippers and fasteners that look trendy while performing their jobs well is also important. Loose fastening can let in cold air and let out body heat. Therefore, care must be taken to see that they work well while purchasing outdoor clothing.
Popular Outdoor Clothing Brands
Here are some of the most popular outdoor clothing brands, in no order of preference. These are the brands that have scored high on the lists of some of the biggest outdoor activity enthusiasts. Each of these companies has a lot to offer in terms of product variety, quality, performance, and pricing.
A lot of these companies also strive to create products that are ecologically sustainable, adding more value to their offering.
Patagonia
Patagonia is a well-known brand that is environment-conscious. They manufacture all their products using recycled cotton cloth scraps and renewable sources of wood. They offer a great quality and variety of products at a midrange price.
The North Face
One of the most popular brands of outdoor clothing, they are the manufacturers of some of the best looking and best performing outdoor clothing.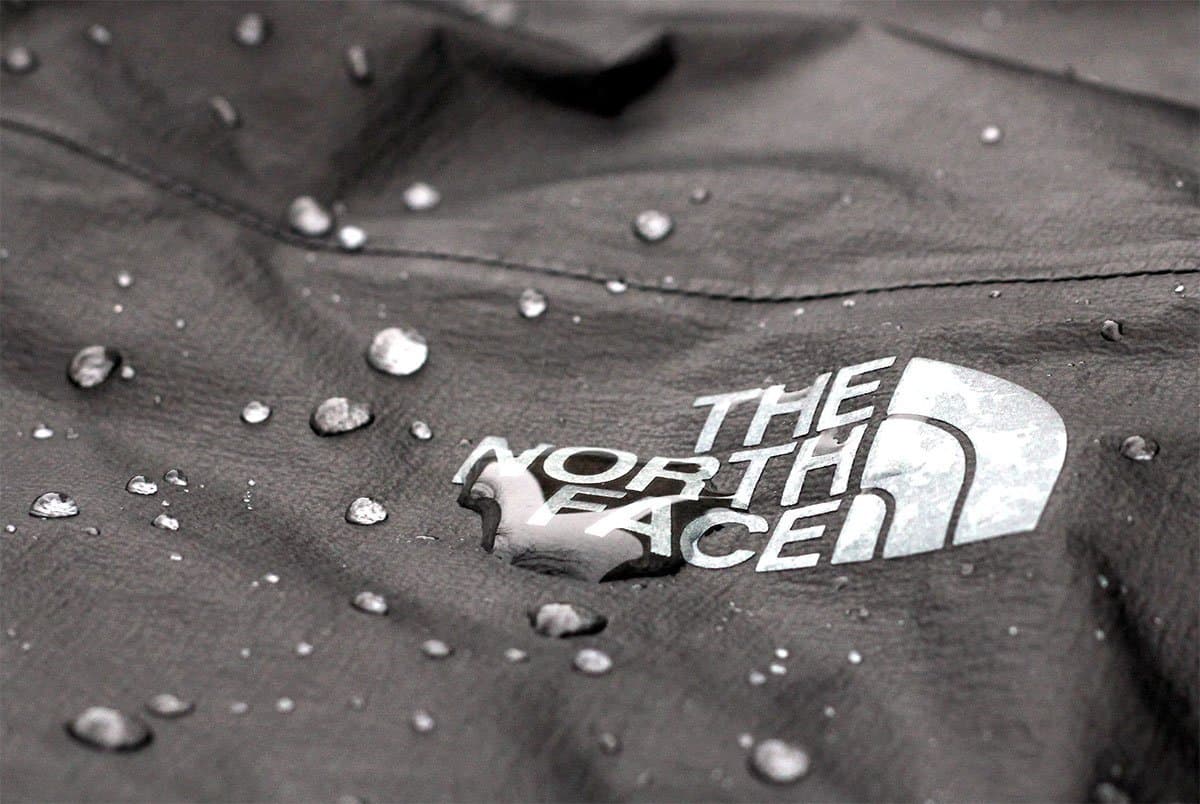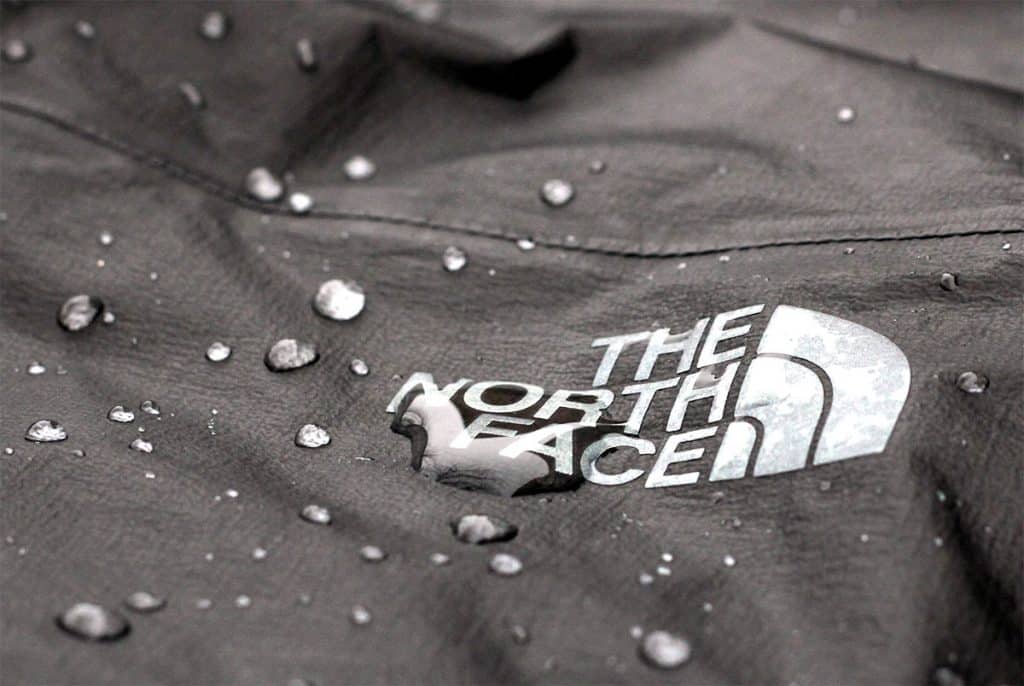 Columbia Sportswear
Columbia Sportswear is a highly affordable brand that produces outdoor gear for practically all sports. They produce good quality products at an affordable cost. They have also owned the company Mountain Hardwear.
Arc'teryx
While certainly heavy on the pocket, Arc'teryx outdoor clothing is known for the most practical designs, and practically "last-for-a-lifetime" kind of durability.
Kathmandu
Specializing in products made from Merino Wool, Kathmandu produces a wide variety of outdoor products, ranging from footwear, accessories, luggage, sleeping bags, base layers, mid layers and outer layers.
Give'r
Give'r is best known as a manufacturer of the toughest gloves that can handle the coldest temperature to the hot boiling water. They have a very limited and a very unique line of products.
Marmot
Marmot is known for offering the best quality products at an affordable price. They have a large range of outdoor activity gear to choose from. Products from Marmot are known to be durable and last for a long time.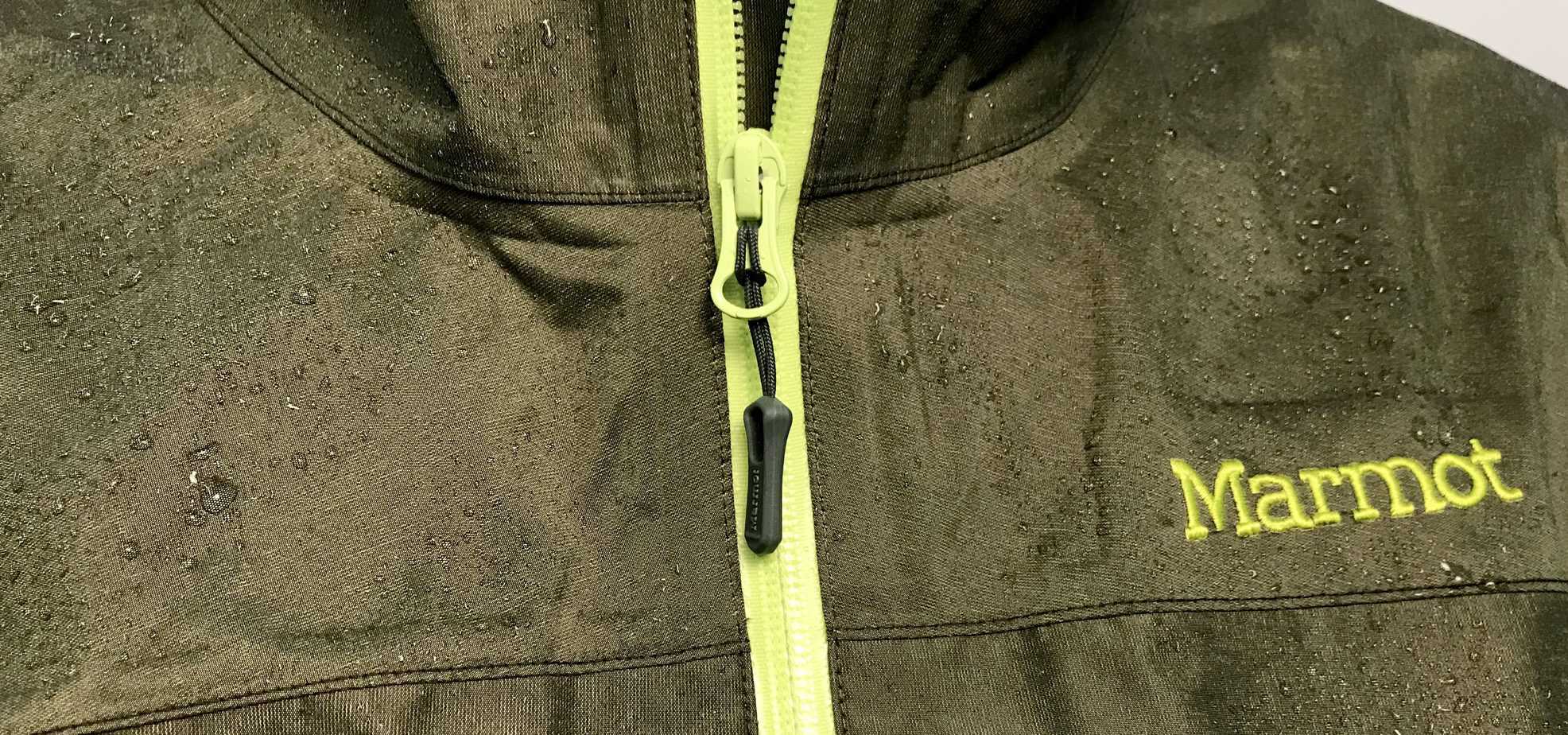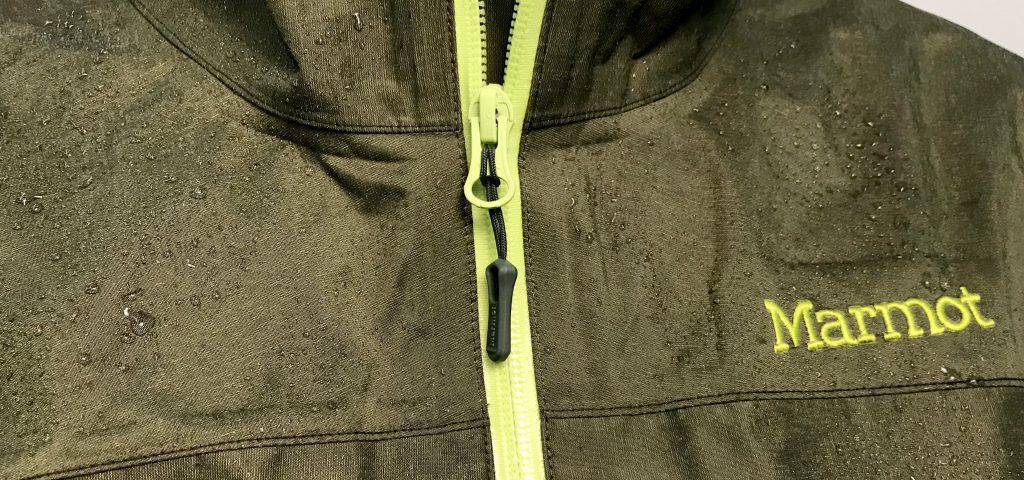 Cotopaxi
The brand is named after a famous volcanic mountain of Ecuador. This brand is priced on a lower side, but the material used is high-end and the quality of products is very good. They also fund projects that help in reducing poverty, so they are a brand with sustainability as their bottom-line.
Osprey
Osprey specializes in outdoor luggage. They have a bag for every need, be it casual urban use, hiking, skiing, gym bag, backpacks etc.
Bambool
Manufacturers of eco-friendly, sustainable outdoor clothing which is a mix of Merino Wool and Bamboo. This company takes "eco-friendly" very seriously. The products perform extremely well in cold weather conditions, thanks to the Merino Wool component in their blends.
How to Research before purchasing Outdoor Gear?
With so many companies and brands offering practically the same kind of things, it is hard to choose one brand and a product.
Not all products are built equally. While some are durable, they fail in the looks department. A good-looking jacket may not keep you warm, and a jacket that works well in mild conditions can fail you in extreme weather.
It is extremely important to do your research well before purchasing products. Researching products before you buy them can save a lot of heartburn and disappointment later on.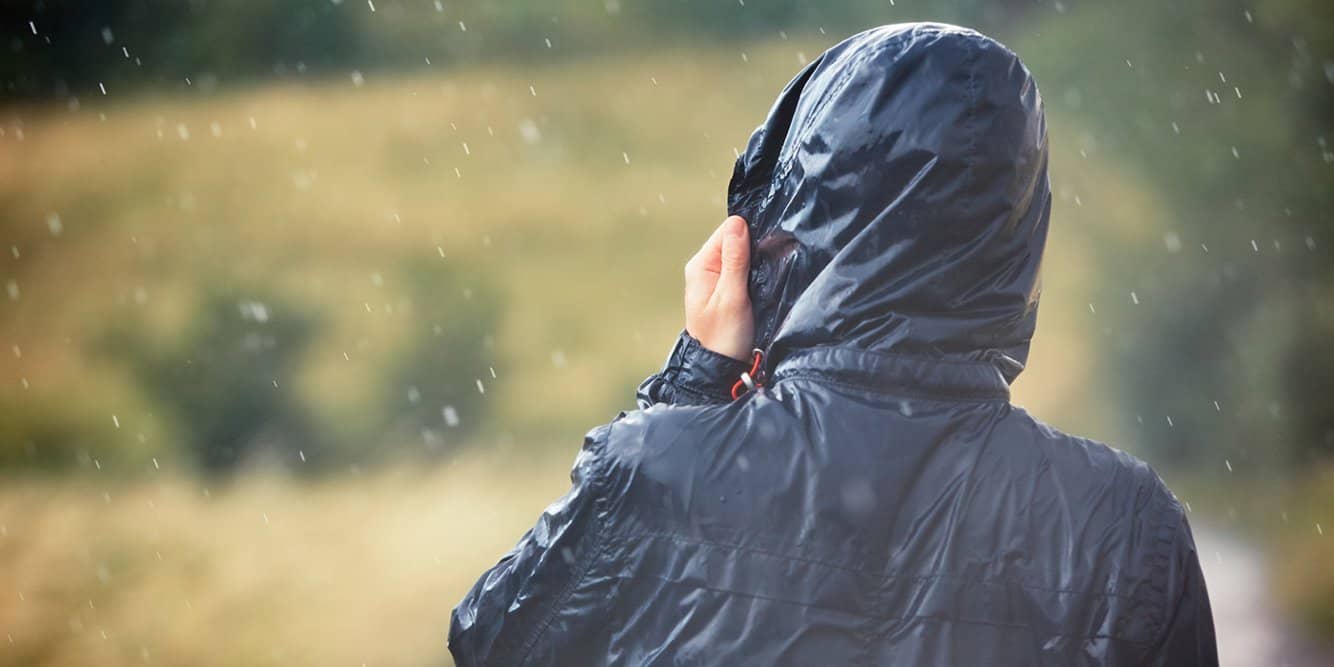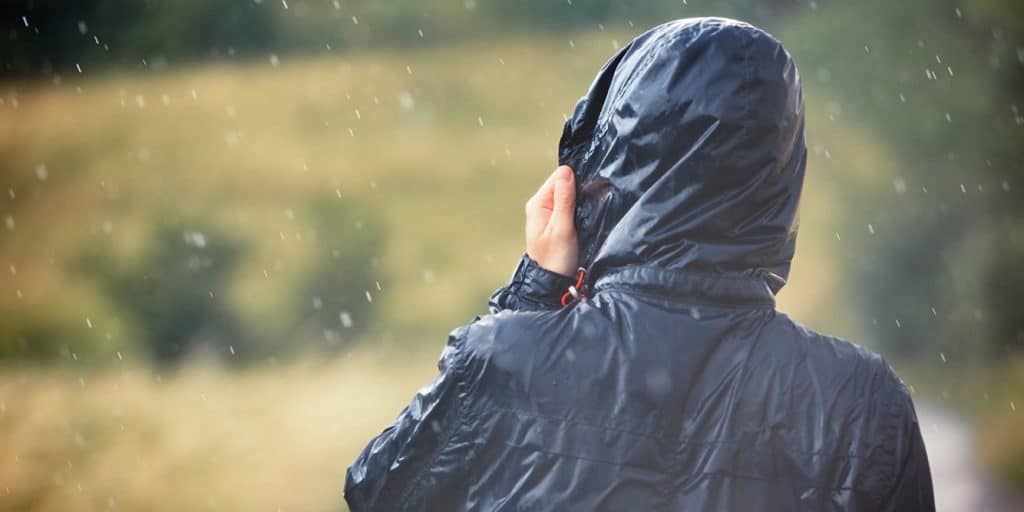 Here are a few pointers that can help you when buying outdoor gear:
1- Know the conditions that you will be exposed to
This one is the most important. Find out the weather conditions like temperature, the probability of rain or snow etc. before you decide on buying a gear. If you buy gear without knowing the conditions you are going to be exposed to, it is going to be a disaster.
2- Know the technical details of the products that you will purchase
It is very important to understand the technical details about the products. You should understand what are the possible materials that can be used to make the products, the advantages and disadvantages of those materials, manufacturing standards, detail about the accessories used, care instructions, maintenance cost, and the return on investment factor.
It will take some work to find these details, but when you have the information handy, it is a piece of cake to select a product.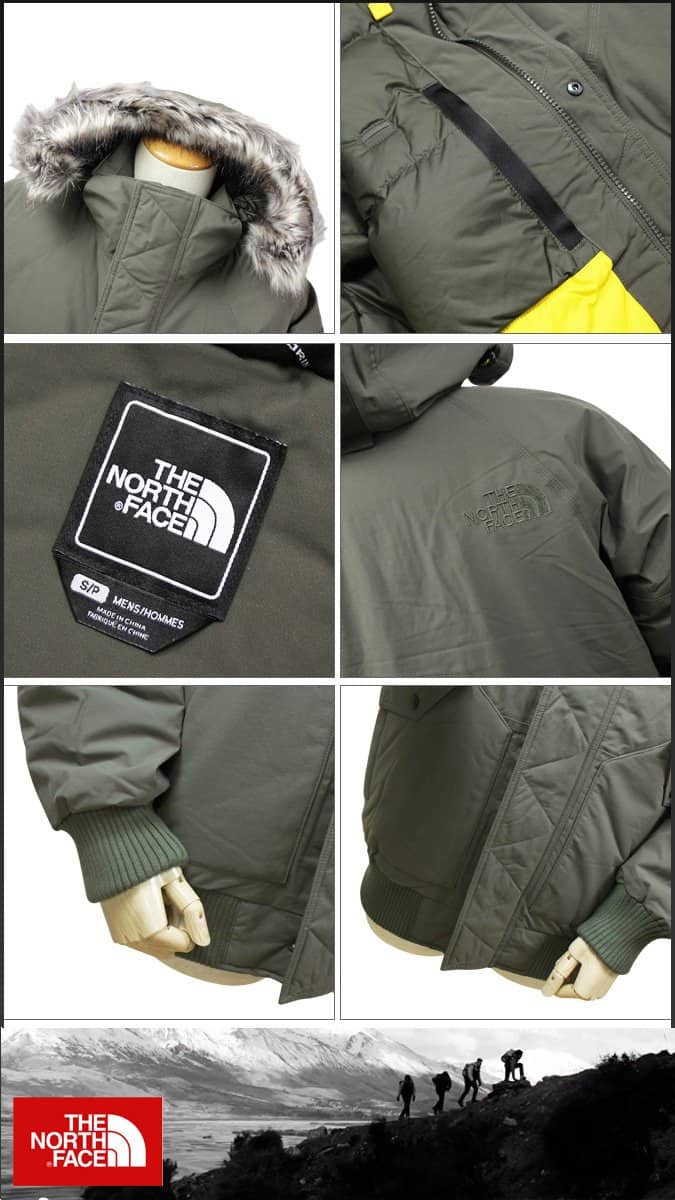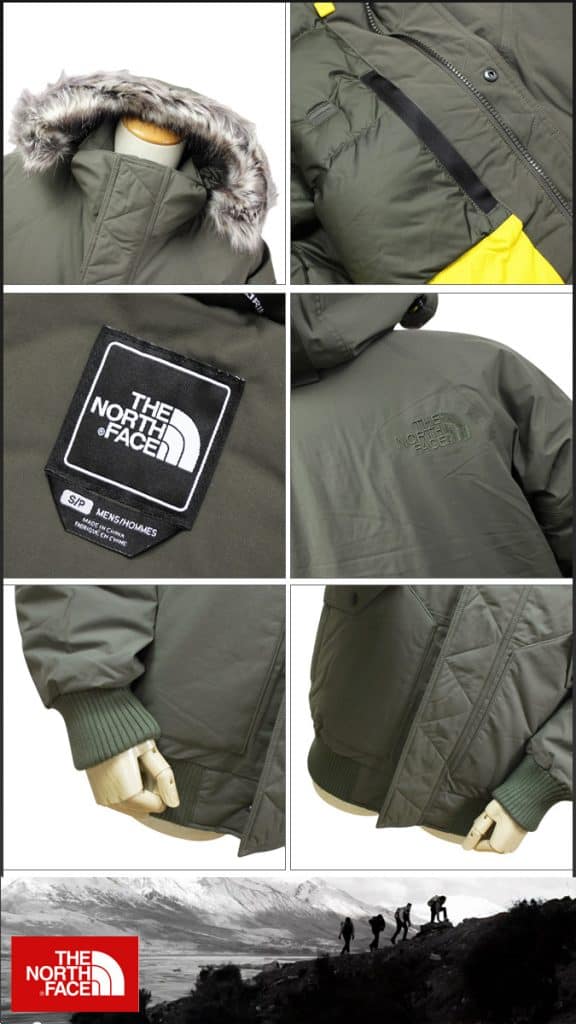 3- Compare the products
You are always going to find products from different companies that match your requirement. However, it is important to always compare before purchasing. When you compare, you see the pros and cons of a product and you know where you stand with the product that you intend to purchase.
4- Set a Budget
Most of us fail to do this while trying to purchase outdoor gear. Set a maximum limit on how much you would like to spend, and then, based on the budget, requirement and research, zero in on a product that you will purchase. It can get overwhelming if you don't have a budget set in your mind.
If you don't have any idea on how much something is going to cost, or if it is your first time purchasing something, there are plenty of resources and forums available online that can help you to take this decision.
5- Check for after-sales support of a product before purchasing them
Most of us forget to do this. It is very important to see if the product manufacturer provides after-sales service for repairs. Check for the guarantee and warranty conditions before you purchase a product and make sure that it has an easy exchange policy.
Outdoor gear can get expensive, and there is nothing that can spoil a trip like a faulty piece of equipment which cannot be repaired or exchanged.
6- Read online reviews
Online reviews are usually posted by customers who have already purchased the products and have used them. These reviews are usually great starting points when you must decide on the product that you want to purchase. The reviews are often posted by enthusiasts who know what to look for and provide a to-the-point opinion that can greatly help you narrow down your options.
About The North Face (TNF)
The North Face is a company established in 1966, based out of San Francisco. TNF is one of the best-known manufacturers of outdoor gear, especially clothing line for cold outdoor activities like alpine mountaineering.
TNF invests heavily in research and development aspects, that enables them to create good outdoor gear.


Outdoor Jackets by TNF
The North Face manufactures some of the best outerwear jackets.
They have a range of three-in-one jackets, that provides a layer of insulation in addition to providing weather protection. A three-in-one jacket serves as an insulation layer, offers rain protection, and serves as a windbreaker.
The North Face offers outerwear made of Gore-Tex, as well as DryVent (formerly known as HyVent).
The North Face has a wide variety of outer shells that offer good protection from rain and snow. The best models of the collection right now are Venture 2 and Resolve 2. Both jackets use the DryVent technology and are constructed using the 2-layer method.
These jackets are reasonably priced and are known to last very long. They are built very practically, with the right number of pockets, and the fit and cut are impeccable. Both jackets are highly compressible and packable and offer excellent breathability.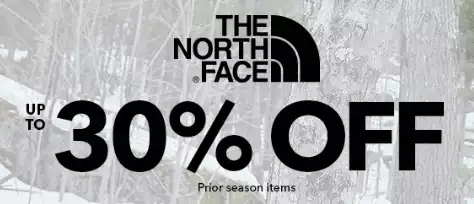 TNF Jackets at Moosejaw
There are a bunch of places you CAN buy The North Face jackets online, but there is ONE place I always find great selection and deals. That's Moosejaw.
View TNF Deals
We earn a commission if you click this link and make a purchase at no additional cost to you.
Further Research on North Face Jackets:
About Marmot
Marmot was started in Alaska in the year 1974. They specialize in producing outdoor clothing line, which is especially useful in extremely cold conditions.
Marmot usually uses the Gore-Tex technology in their outer-wear products.
Outdoor Jackets by Marmot
Marmot PreCip Rain Jacket is one of the best outer shells by Marmot. It is highly breathable and perfect for high-intensity activities.
It has a great packability factor and is priced at medium, and affordable range.
Further Research on Marmot Jackets:
Comparison
When we try to compare TNF with Marmot, there are a good number of supporters for both companies. Here are some of the factors that can influence the decision.
It is important to understand that TNF favors the use of DryVent technology, while Marmot prefers the Gore-Tex. Therefore, a lot of comparisons are influenced by these factors.
Both the companies prefer the laminate-based construction method, which makes both of them highly durable.
Durability
The North Face scores well on the durability factor. While a Marmot jacket is durable, when compared with TNF, it fails in this department. TNF jackets are known to last for a very long time, even when used extensively.
Waterproofing Capability
In terms of waterproofing capability, Marmot scores well on the waterproofing capability. This is because of the Gore-Tex technology that is used. Though the waterproofing capability of TNF is not bad, it is not as good as Marmot. However, the difference is not much, and the waterproofing capability is certainly not one of the deciding factors between TNF and Marmot.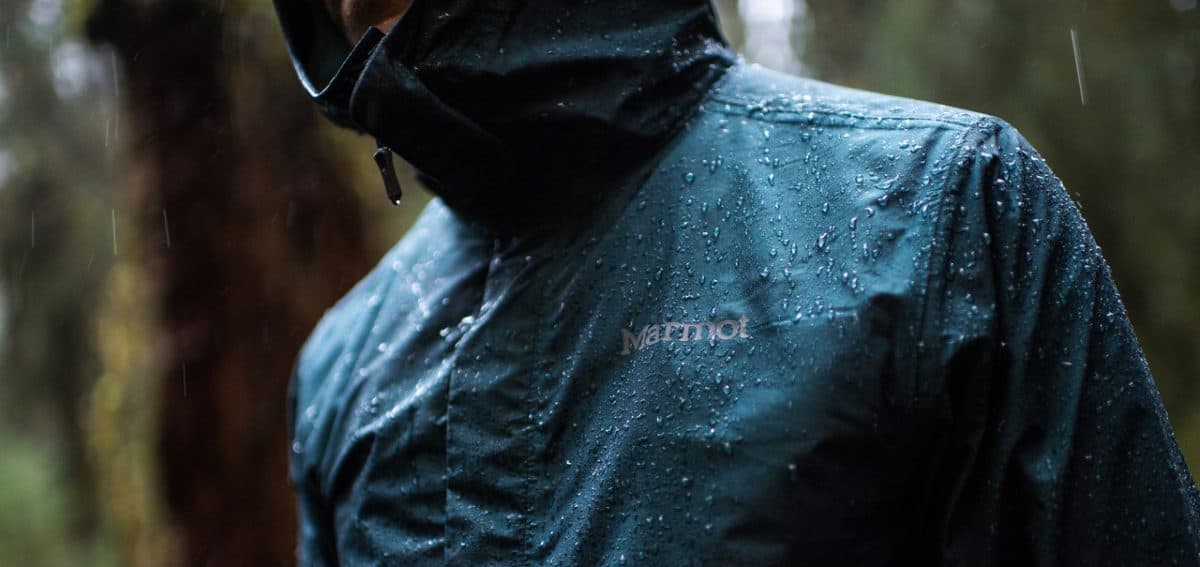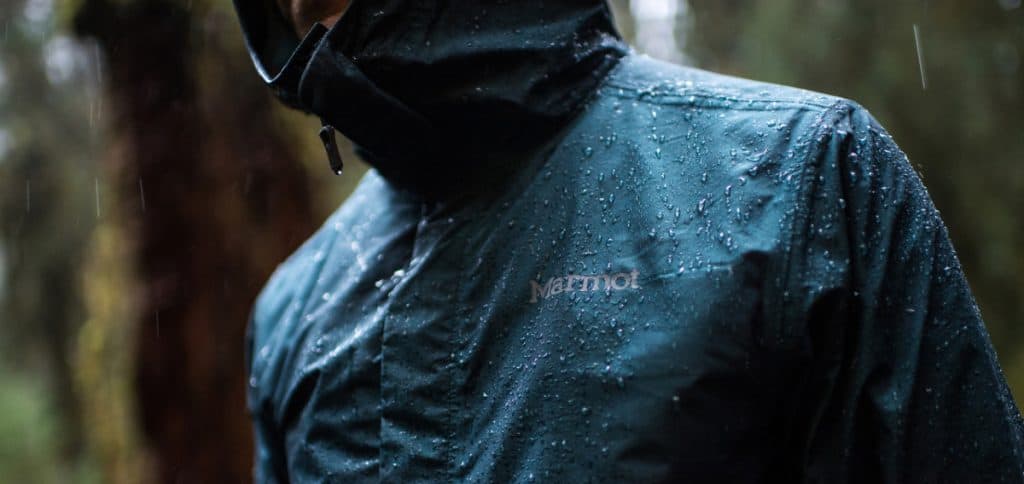 Breathability
TNF fabrics clearly score very well over Marmot in terms of breathability. A number of reviews on the Marmot jackets show that customers are not happy with the breathability factor. Marmot outer shells do not tend to wick the moisture easily and there is a clammy feeling inside the jacket. This complaint is especially high for the Marmot PreCip jacket.
Performance in extreme weather
TNF Jackets clearly win in the performance department. Their three-in-one line is especially a hit in the alpine mountaineering community when compared to Marmot. Though TNF compares lower in terms of other brands like Arc'teryx and Patagonia in terms of performance in extreme weather, it still scores well over Marmot.
Quality
In terms of quality, both TNF and Marmot score well, but TNF scores better, in terms of the liners, fabrics, durability, and fasteners.
Packability
TNF is much more packable than Marmot, thanks to the DryVent technology. Marmot also packs well, but not as good a TNF.
Pricing
In terms of pricing, TNF has a large range, starting from extremely high to moderate depending on the product. Marmot is mostly priced at a moderate range, even for the most premium products in their range. Marmot is a good choice when the budget is a constraint.
Here is a comparison table between the two brands:
| | | |
| --- | --- | --- |
| Parameter | TNF | Marmot |
| Durability | Very High | High |
| Quality | Very High | High |
| Waterproofing | High | Very High |
| Breathability | Very High | Moderate |
| Performance in Extreme Weather | Very High | Moderate |
| Brand Value | Very High | Moderate |
| Packability | Very High | High |
| Price | High | Moderate |
Where to Buy North Face Jackets Online
I've found that North Face jackets are readily available online, but not always at competitive prices. Here are the best online retailers that I've found:
Where to Buy Marmot Jackets Online
Marmot is carried by most online retailers but might be a little harder to find the full selection than TNF. Here are some of my preferred sites:
Moosejaw: They have a very good selection at very competitive prices (they are now owned by WalMart – which gives them some additional pricing power). In particular, this sales page tracks ALL of the Marmot deals on jackets in one place.
REI Coop: One of my go-to's for sure, you can check out their Marmot selection here.
Final Verdict
While Marmot scores on the waterproofing and pricing factors, TNF emerges as a clear winner in all the other areas. A lot of people complain that the designs from TNF are not as updated as it should be, the level of practicality that it offers and the other advantages that it gives over Marmot makes TNF a clear choice among the two.
Further Jacket Research
Here are some other jacket line comparisons that we've done recently: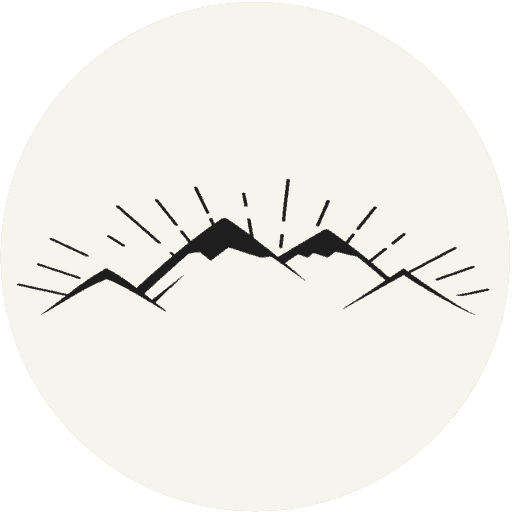 The All-Outdoors Guide team is comprised of enthusiastic experts that enjoy helping others that aspire to be better at outdoor fun. Part of that is making sure you have the right gear and information when it's time to go out and have fun. Some of our team have accomplished amazing feats like climbing 6000 feet to the top of mountains, others have explored every dirt trail they could find and we even have some people that have backpacked solo on various continents. No matter what our readers want to learn and do, our team is here to help them accomplish those goals.