The fleece jacket has undergone a number of changes since it first entered the fray of competing for outerwear fabrics back in the late 1970s. With each new iteration, however, one common denominator has remained: the soft, cozy, lightweight warmth that has made this fabric a staple in the wardrobes of hikers, climbers, mountaineers, backpackers, and campers the world over.
While several big-name brands have conjured up numerous fleecy classics over the years, few have blessed our chilled bones with their offerings quite so well or quite so frequently as Patagonia.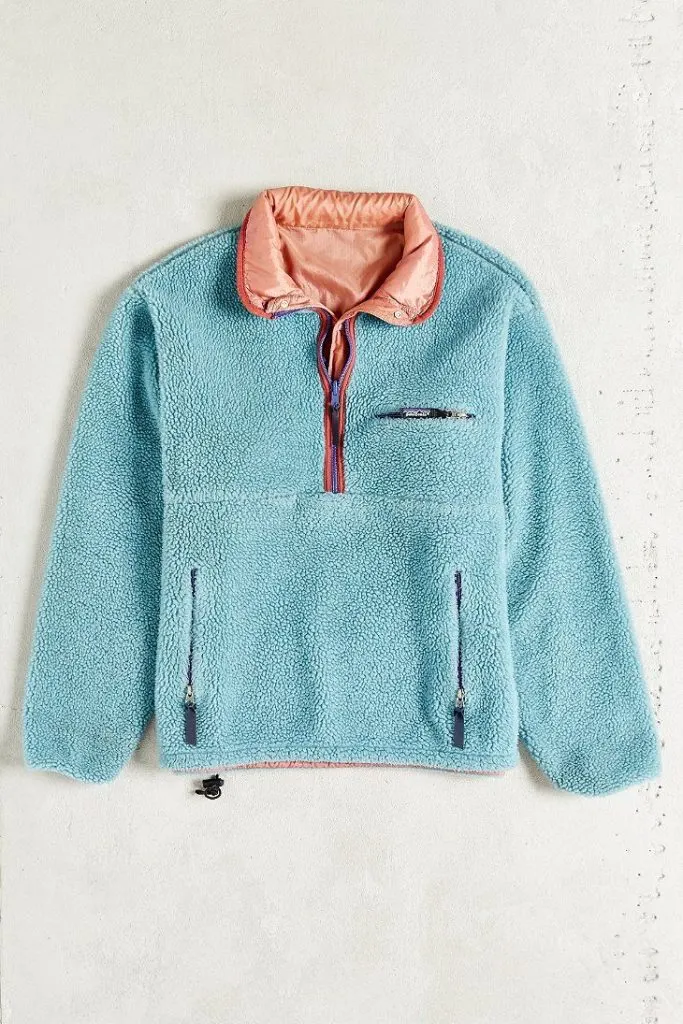 Since its founding back in 1970, Yves Chouinard's Patagonia has become almost synonymous with quality outdoor clothing and conscientious consumption.
Not only does this most ethical of brands produce some of most functional, durable, and stylish fleece jackets to have graced the shelves of our stores, but they do so with one very virtuous eye keenly trained upon the welfare of their staff and the welfare of the environments in which their gear is designed to be used.
Before we get down to our selection of the eight best Patagonia fleece jackets out there, let's first take a look at what goes into the making of a great jacket so you can decide for yourself which of our top picks will be best for you.
What to look for in a fleece jacket
Why Choose Fleece?
Whether used as an insulating mid-layer or as a standalone outer, most buyers who opt for fleece over other insulating fabrics do so because of its wonderfully soft, cozy feel, excellent warmth-to-weight ratio, quick-drying ability, breathability, and relatively low cost. Any fleece jacket that doesn't fulfill the above criteria is, necessarily, not doing what it should be.
While other insulating fabrics and materials—down, for instance—can offer most of the attributes listed above, fleece has stayed the course in the battle with its long-term competitor fabrics on account of its ability to insulate even when wet, far lower cost, and (in most cases) superior breathability.
Those headed into extremely cold environments might prefer down products because of their unbeatable warmth-to-weight ratio, but for the pleasure of the protection all that duck or goose plumage provides they'll also pay a very high premium, one that makes fleece a better choice regarding overall value for money.
In a nutshell, fleece is a cheap but very cheerful alternative to other insulating fabrics and one that can't be matched in terms of both next-to-the-skin comfort and per-dollar warmth.
In recent years, moreover, many big brands have taken a step towards more ethical practices in the manufacturing of fleece products by using recycled plastics or, in the case of Patagonia, recycled fleece garments and thereby making fleece not only an economically wise choice but an ethical one too.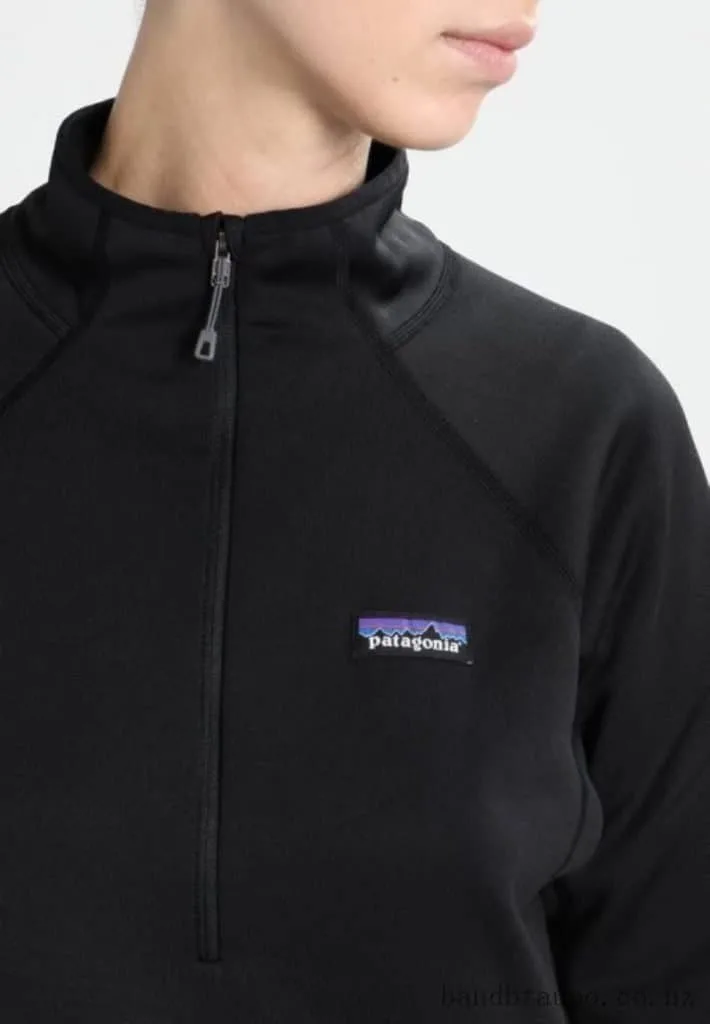 Warmth and Insulation
If you're in the market for a fleece jacket, the chances are that somewhere near the top of your list of must-have features is the stellar insulating capacity or a favorable weight-to-warmth ratio. Generally speaking, the heavier and thicker the garment, the warmer it will be.
The primary consideration before buying any fleece jacket is how you intend to wear it. If buying the jacket as a mid-layer you'll be wearing under an outer shell, then breathability comes to the fore, and warmth, although still a factor, is not quite so critical.
If, however, you plan on wearing your fleece jacket as a standalone outer, then a number of other attributes come into play, most notably water resistance and wind resistance. In both cases, the conditions and time of year in which you will be doing your hiking will dictate just how warm you need to go, as explained in our section on weight classifications below.
Finally, if you want a fleece jacket primarily for casual use, both out in the backcountry and around town, then all of the above factors take a back seat, allowing you to use warmth and comfort as the sole benchmarks by which you can gauge any jacket's appeal.
In this case, a simple rule of thumb is that the heavier the fleece, the warmer it will be, but bear mind that a few added features like a hood, thumb loops, and a tight-knit can all boost your jacket's insulating capacities.
TIP: When buying a fleece jacket either as a mid-layer or outer, bear in mind that fleece is naturally hydrophobic, meaning it repels water. While this is great news about the wet stuff falling from the sky, it's not so great news for the stuff we create through perspiration on the jacket's inside. When doing any highly aerobic activity—like hiking—a single, heavyweight layer of fleece will not wick moisture as well as two or three thinner layers.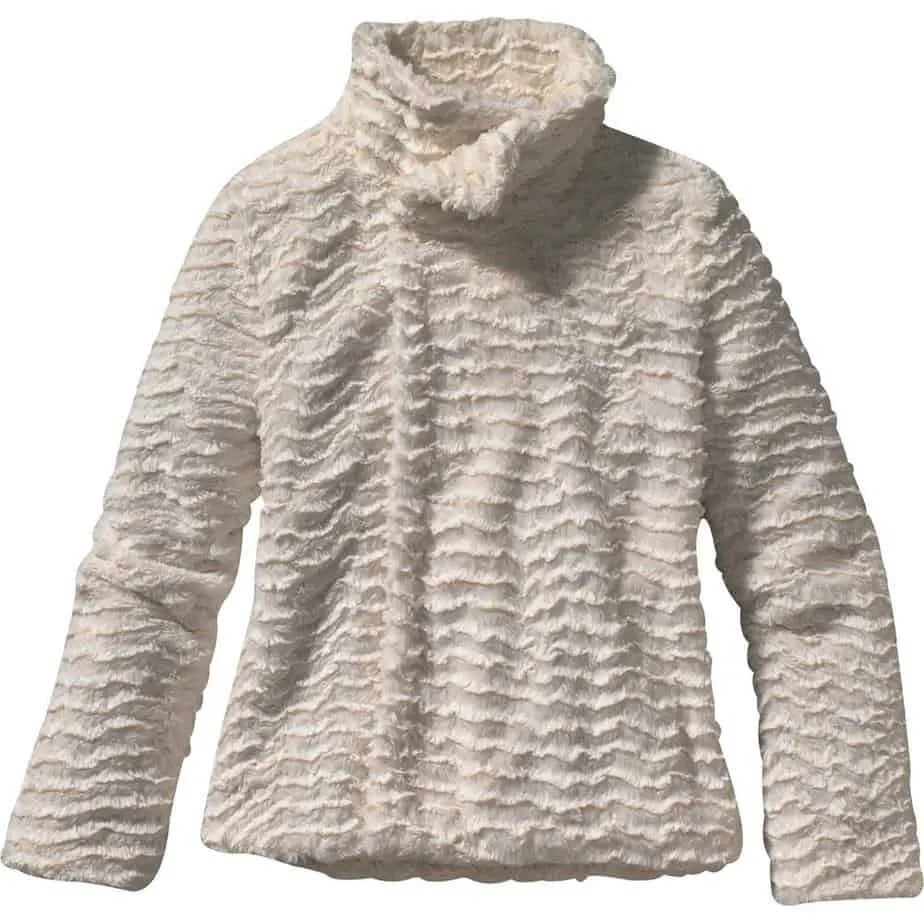 Weight Class
The "weight" of any fleece garment is classified using the quantity of material in grams used per meter square. In the product description or specs, this most commonly reads as either g/m² or gsm, for example, "200gsm".
Generally speaking, manufacturers place different weights of fleece into the following categories:
| | | |
| --- | --- | --- |
| Weight | Classification | Best use |
| 100 gsm and under | Ultralight | Summer hiking/light mid layer |
| 100 gsm | Lightweight | General hiking/outer layer in mild weather |
| 200 gsm | Midweight | Outer layer in cooler conditions/mid-layer in very cool conditions |
| 300 gsm and above | Heavyweight | Outer layer in temps below freezing |
Note: the above section on "best use" is best taken with a small pinch of salt—many lightweight varieties of fleece have wind or water-resistant properties and added features (a hood and thumb loops, most notably) that may make them suitable for use in slightly cooler conditions and heavier models may have a highly breathable knit or design and ventilation panels that provide added airflow, meaning they can be worn in warmer temps without causing you to overheat or sweat excessively.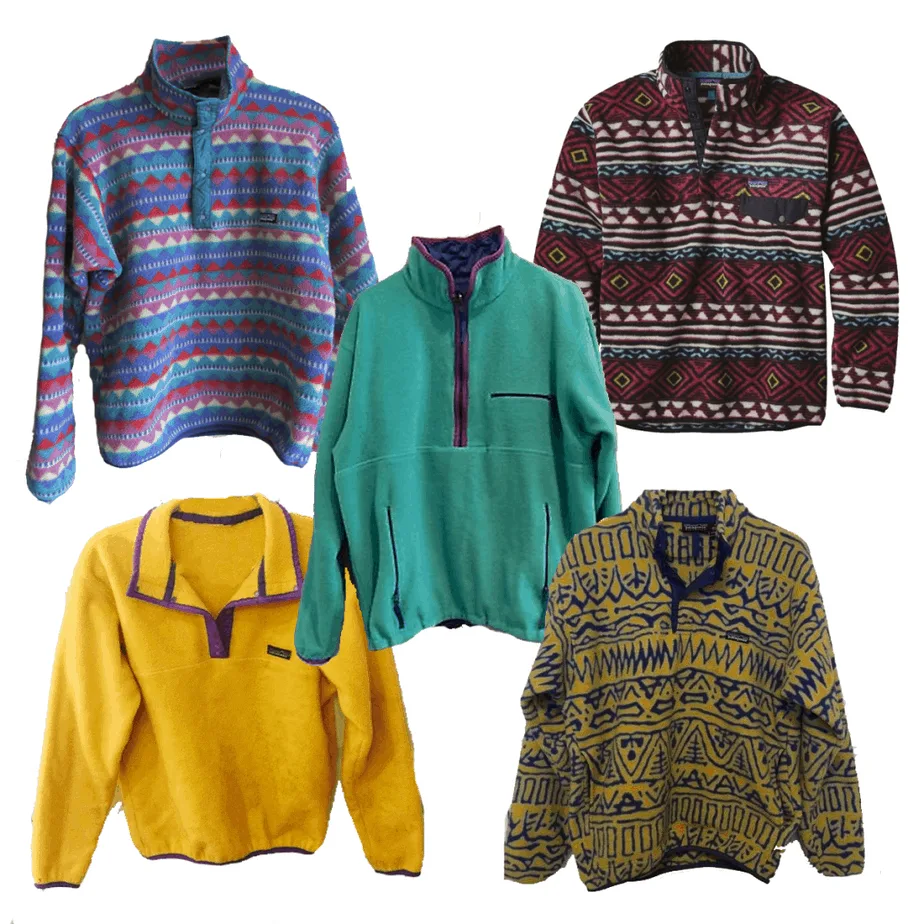 Breathability
Breathability refers to a garment's ability to allow sweat to pass through the fabric from inside to out. These days, in the case of synthetic fleece, a variety of designs exist that counteract—to a certain extent, at least—what had for many years been fleece's one great failing: breathability.
Most of these designs boost breathability by using thin inserts or patches which provide added ventilation in strategic locations, usually in the armpits or in stretch panels on the flanks above the hip.
While breathability is less of a concern for those who intend on using their fleece as a cozy top layer for everyday use, for anyone involved in more aerobic activities it's all but essential to avoid the risk of soaking your jacket in sweat, which is one of the prime causes of hypothermia.
As a general rule the heavier and thicker the jacket, the less breathable it will be, but a few additional factors can contribute to the jacket's degree of breathability. The first of these is the inclusion (or absence) of the stretch ventilation panels mentioned above.
These work by allowing airflow where it's most needed (the armpit area) while the jacket's main component, fleece, provides insulation throughout the rest of the garment.
The second breathability booster in fleece jackets is found in the use of a grid-style pattern, a feature that has become increasingly common in performance fleece garments in recent years. This design works by creating a miniature network of air passages in the material that facilitate the wicking of sweat through the jacket's fabric from the interior to the exterior, where it can then evaporate in the ambient air.
Weather Resistance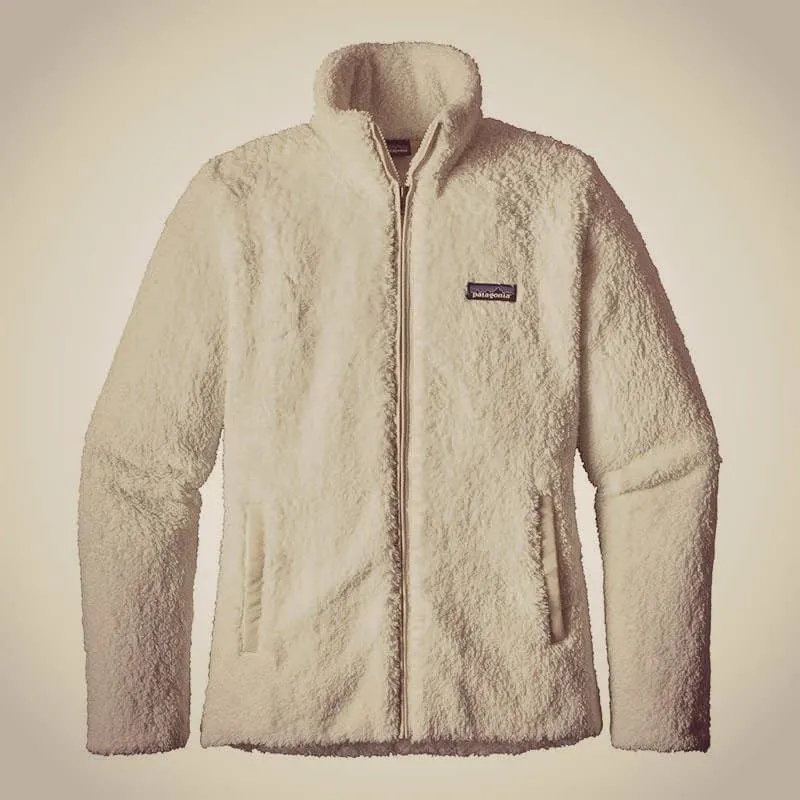 Weather resistance probably isn't top of the list of must-have features you're looking for when buying a fleece jacket. In most cases, garments made with fleece excel in cool, drier temperatures or when worn under a weatherproof outer in a two or three-part layering system.
Nonetheless, a fleece that also provides some degree of water and wind resistance can add some serious versatility to fleece's more innate attributes (warmth, wicking, breathability, low weight), allowing you to wear it worry-free when the wind kicks up or you get caught in a light shower or two.
Many more recent fleece jackets—like the Patagonia R1 Techface Hoody and CrossTrek, both featured below—use "hybrid" designs that combine the best of a softshell or even hardshell jacket with the best of a fleece jacket, featuring a "hard face" polymer outer on the fabric that enhances wind resistance and durability and a durable water repellent finish to help fend off the wet stuff.
The downside to this upgrade in weather resistance, however, is a slight drop in breathability, and it's well worth bearing in mind that even the best of the hybrid model fleece jackets out there will be no match for even a very mediocre soft or hardshell as regards their ability to offer protection from wind and rain.
Features
A handful of features can elevate the performance of your fleece jacket from passable to downright peachy, the most notable of the bunch being decently sized pockets, hem cinches, thumb loops, and an adjustable hood.
Hood
There was a time when the inclusion of a hood in fleece jackets was a rarity—oh, how we pity our backcountry forebears and their wind-dashed domes!
Not only does a good hood provide insulation and weather protection for our heads, however, also helps prevent drafts slipping down our necks, saves us from having to use the often claustrophobic hoods on sleeping bags when camping, and handily hides the often frightful sight of our morning hair when stumbling onto the trails straight from our bed or tent.
But a lot more goes into the making of a good hood than you might expect.
Firstly, a hood has to be big enough to accommodate what you're putting into it. While for most of us this will be our heads alone, for many hikers it also includes a helmet. In this case, a helmet-compatible hood becomes a must-have feature.
These hoods boast an extra few inches of material, allowing you enough room to wear the hood over the top of your helmet as opposed to underneath it—which, we can assure you, is second only to the wedge in terms of clothing-induced discomforts.
Also, the added length of the material between the base of the neck and the top of your head ensures that pulling the hood over your helmet won't cause the hem of your jacket to ride up and expose your midriff to the elements.
The second important feature to look out for in a fleece jacket hood is toggles or cinches. These allow you to customize the hood to your dome's dimensions and thereby ensure there won't be any excess material flapping about or the hood won't be blown into your eyes or off your head if the wind kicks up.
Finally, a stow pocket in the nape of the neck will let you tuck your hood away when not in use

Pockets
While the inclusion of pockets in any fleece jacket is hardly going to make it a standout amongst its peers, the functionality and usefulness of the pockets used in different models can vary significantly.
For hikers and backpackers, the ideal configuration pocket-wise usually consists of two hand pockets and one chest pocket. The chest pocket is the ideal place to store smaller items like maps or GPS devices without having these dig into your skin, as can happen if storing them in a leg or hip pockets.
The hand pockets on your fleece should, ideally, be backpack-friendly—that is, located high enough that they can be accessed or you can pop your hands in them when things get a touch nippy without having to unclip your backpack's hip belt.
Finally, if you are buying a fleece jacket as an outer layer for winter use, more substantial toggles are a very welcome inclusion as they make it much easier to open and close the zippers while wearing thick gloves.
Thumb Loops
This relatively new addition to the feature set of outdoor garments has been a highly welcome one. While many users will appreciate thumb loops because they simplify the process of pulling one layer over the top of another without the arms of the interior garment disappearing up the sleeve of the exterior one, their main benefit is in providing a little added warmth at the wrists and limiting the entrance of cold air up the sleeve of your jacket.
Elasticated Hem
An elastic hem on your fleece jacket functions as a very simple but effective draft-blocker. While some jackets use cinch cords instead of an elasticated hem, these are often all too easy to damage or pull out entirely with some over-zealous tugging.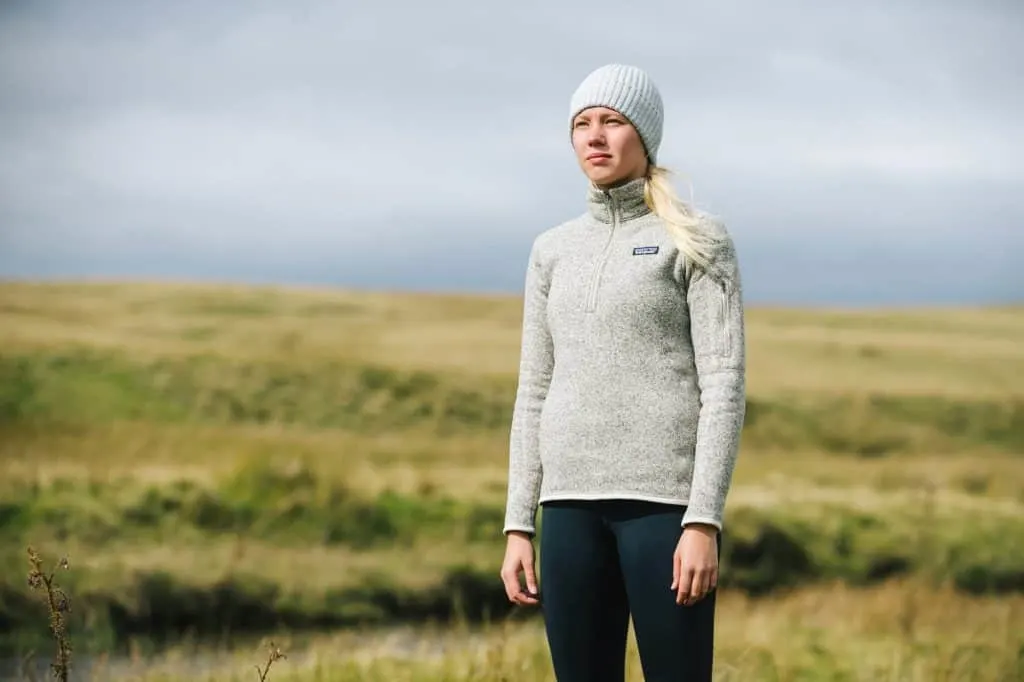 Fit and sizing
Gauging the size and fit of any jacket is always tricky business. While most brands will list their garments as having either a "casual" or "athletic" fit, without actually trying the thing on there's really no way of knowing for sure if any given model will be right for you, mainly because sizing varies from brand to brand.
That said, a few things can be done to make sure you reduce the risk of an ill-fitting jacket arriving through your mailbox (and all the hassle that entails) if you can't get to a store to try one on beforehand.
First up, read online user reviews to find out whether or not the jacket runs true to size. Secondly, factor into your sizing and fitting considerations just how you intend to use the jacket.
If it's as a mid-layer, then a more athletic, snug fit is likely to prove more suitable because it will reduce bulk and bunching and aid breathability. If buying your jacket as a standalone outer, then going a size up will provide the added room required for the layers—if more than a thin base layer, that is—you'll be wearing underneath.
Fleece Jackets Types
When perusing the specs or characteristics of fleece jackets, you'll notice that most brands lump their products into three categories: lightweight, midweight, and heavyweight.
Lightweight fleece jackets are generally intended for use as a mid-layer in shoulder seasons or as a standalone outer in summer months for more aerobic activities. While most lightweight fleece jackets will offer little in the way of warmth, by and large, they excel in both breathability and versatility.
Midweight fleece jackets are most commonly used as mid-layers in colder conditions or as standalone outers in shoulder seasons or summer months, depending on where you happen to be in the world. Some midweight products incorporate DWR (durable water repellent finishes) or a windproof membrane to offer enhanced weather protection but in most cases, unfortunately, will set you back a hefty additional whack of $ compared to standard fleece jackets.
Heavyweight fleece jackets are ideal for cold winter days and are usually the go-to garment for creature-comfort lovers the world over, whether at the campsite or kicking around the house.
While these fleece jackets offer excellent warmth and often include Windstopper membranes, they are, as the name suggests, a touch on the heavy side for more dynamic pursuits, lack breathability, and are fairly bulky. As such, items in this category are not the best choice for those who prioritize performance over warmth.
Hybrid fleece jackets have been something of a game-changer since first appearing on the market a few years ago. Combining all the benefits of fleece with the weather resistance and high performance of softshell jackets, hybrid models boast the kind of versatility that we've been dreaming of for years and which is sure to see a sharp decline in the sales of standard fleece and softshell jackets in those to come.
Cozy, warm, quick-drying, and lightweight, hybrid models raise the bar over old-school varieties of a fleece jacket with the inclusion of durable water-repellent and wind-resistant finishes and stretch ventilation panels for improved mobility and breathability.
The Eight Best Patagonia Fleece Jackets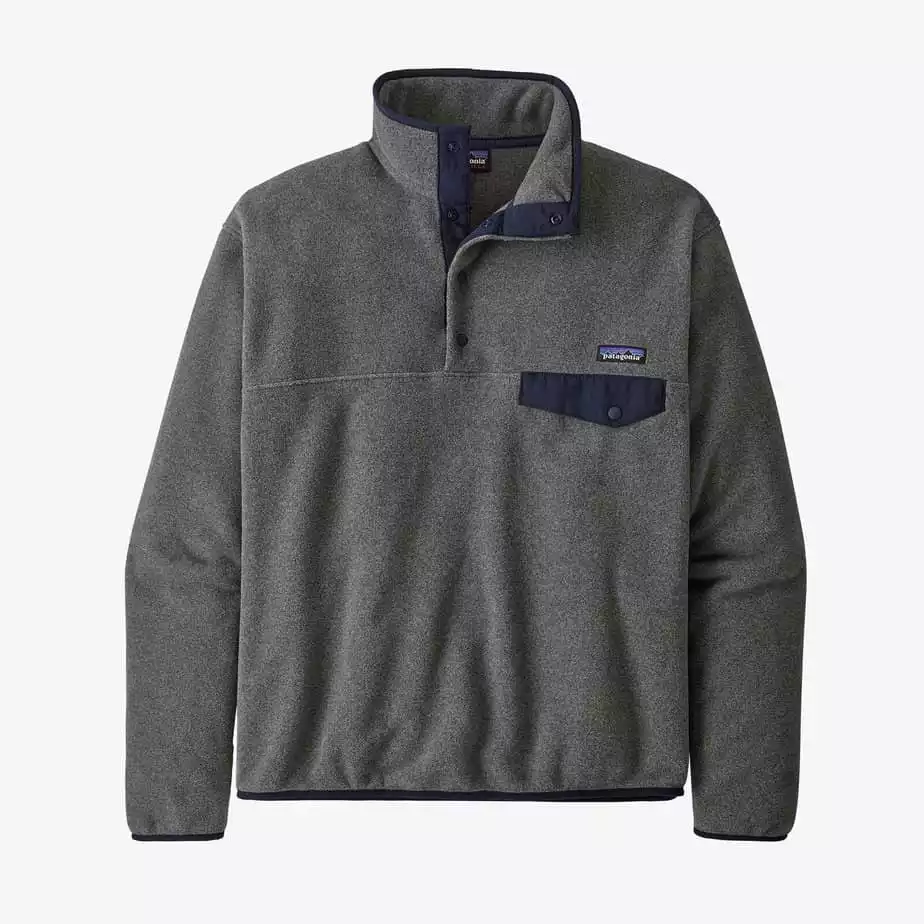 This casual, super-stylish pullover fleece is something of a throwback to Patagonia fleeces of the 1980s. Boasting only one button-closure pocket in the chest and precisely zero else in the way of features, this is a no-frills, simple fleece that's ideal for everyday use and offers excellent warmth and surprising coziness given its lightweight.
What we love most about the Synchilla are its relaxed, casual fit and the incredible softness of the material, both of which make it one of our list's top performers in the comfort stakes.
While the Synchilla doesn't offer much in the way of performance, for nights around the campfire or a leisurely stroll around town or through the park it's just about ideal.
Pros
Lightweight (14.3 oz)
Incredibly comfortable
Very warm for its weight
Relaxed fit
Cons
Not the most breathable jacket on our list
Short on features
Lacks weather resistance
No hood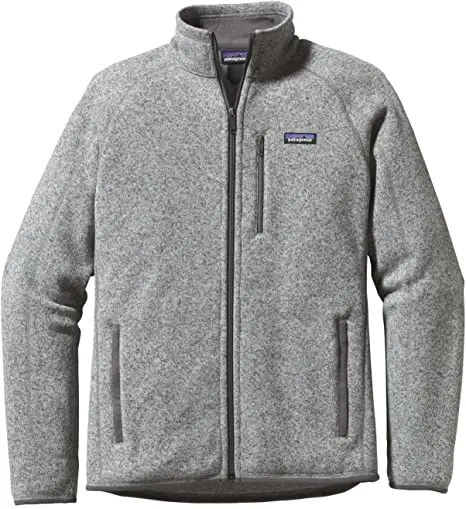 While similar to the Synchilla in its relaxed fit and casual, around-town aesthetics, the Patagonia Better Sweater offers an upgrade in terms of both warmth and performance. Weighing in at 20.7 oz, this is a heavyweight fleece that will serve you well either as a standalone outer for shoulder seasons or a mid-layer in cooler conditions.
While a few features—a hood, thumb loops, stretch side panels—would have endeared us to this jacket a lot more, given its relatively low price (by Patagonia standards, at least!), excellent comfort, and versatility, the Better Sweater's still a winner for those not too fussed about the lack of some of the frilly (but functional) bells and whistles found on more performance-oriented jackets.
If you prefer a more athletic fit and a little more in terms of performance, the aptly named Performance Better Sweater offers all the comfort of the standard version but with improved mobility and breathability and a slight trimmer cut around the midriff.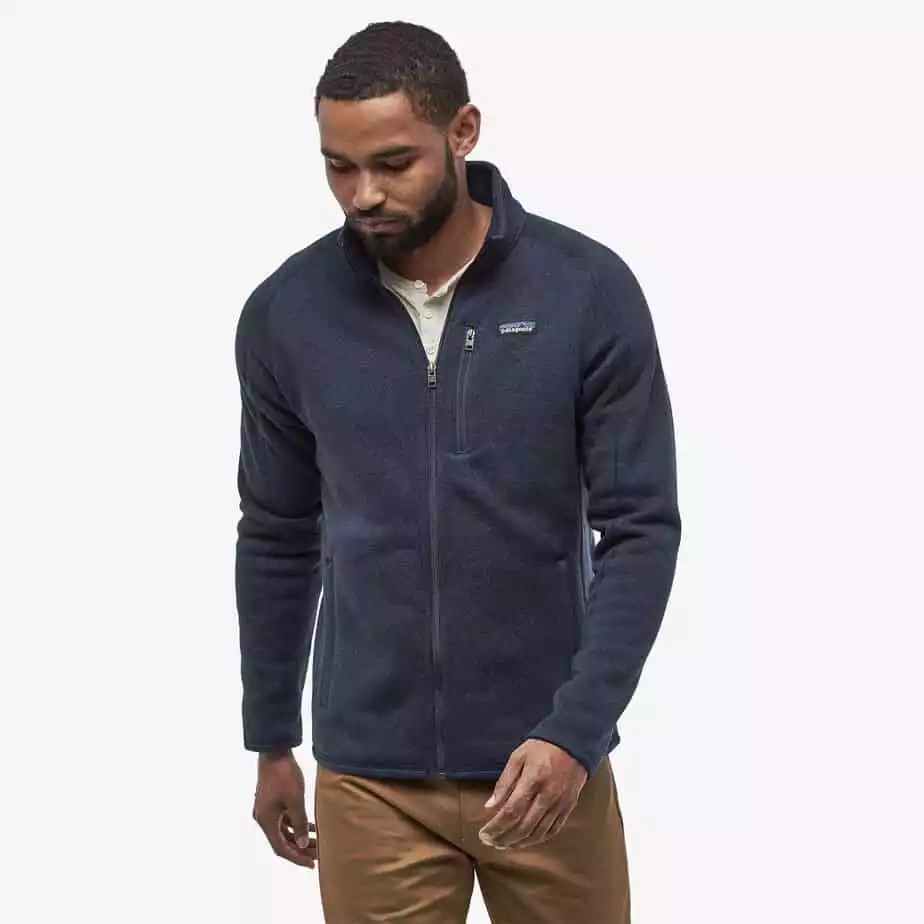 Patagonia Men's Better Sweater Fleece Jacket | Patagonia
By their nature, knitted garments are prone to pilling, and this style is no exception. Removing pills can help lengthen the life of your Patagonia sweater, plus it's easy to do with a sweater stone.
Check Price
We earn a commission if you click this link and make a purchase at no additional cost to you.
Pros
Very warm
Versatile: works well both as a mid-layer and standalone outer
Two hand-warmer pockets and one chest pocket
Super stylish
Reasonably priced for a heavyweight fleece
Very comfortable
Cons
Quite heavy (20.7 oz)
Can lose its shape over time
Short on weather resistance
Hip pockets hard to access when wearing a pack
No hood
Prone to pilling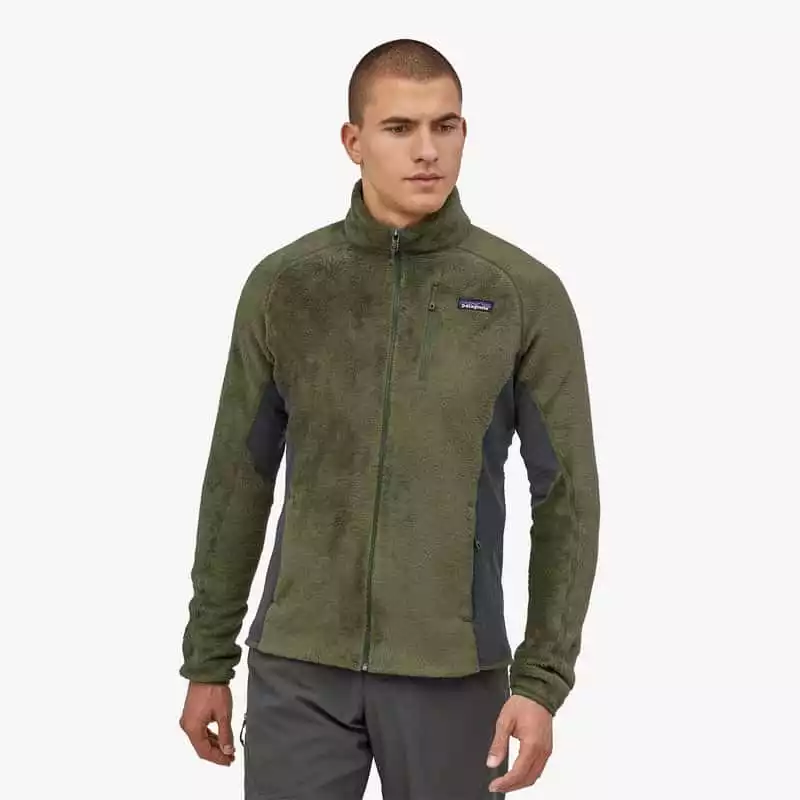 Weighing in at under a pound and offering superb coziness and warmth in combination with highly breathable, high-loft fleece, the R2 represents a happy medium between heavyweight winter-warmer fleeces and lightweight mid-layer models.
It also boasts a respectable feature set that includes two large hand-warmer pockets, a chest pocket, elasticated cuffs and hem, and stretchy side panels that allow this jacket to provide greater freedom of movement than the two jackets already covered above.
The main selling point of the R2 is that it offers all of the above at a relatively lightweight while still providing the thick, pillow-like feel that makes this one of the coziest fleece jackets in our review and a long-term favorite of campers, climbers, and hikers everywhere.
The only real downsides to the R2 are the absence of a hood and a lack of weather resistance—while this jacket is amply warm for summer use as a standalone outer or shoulder-season use as an insulating mid-layer, in windy or rainy conditions it offers little to no protection.
Pros
Quite light (13.4 oz)
Very comfortable
Good breathability
Two large hand-warmer pockets and one chest pocket
Good mobility
Cons
No hood
Lacks weather resistance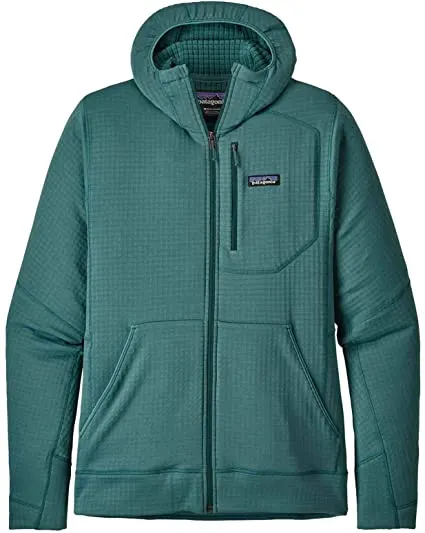 Like its sibling, the R2, the Patagonia R1 hoody is a long-term favorite of climbers, mountaineers, and hikers the world over.
Combining warm and high-performing Polartec Power Grid fleece with a full set of highly practical features, this lightweight hoody is one of the best mid-layer fleeces we know and among the top standalone outers in warmer climes and dry conditions.
The most endearing thing about the R1 is that it manages to combine the cozy feel of a heavier fleece jacket with the type of performance typically found in more technical baselayers or mid-layers.
The most impressive feature the R1's brings to the table is its superior breathability to standard fleece jackets. The "Power Grid" system on the jacket's interior creates a network of small air channels through which air can circulate and sweat can wick more easily to the jacket's exterior, thereby leaving things pleasingly unsoggy on the inside.
There are, however, a few downsides…
While the R1 offers a substantial improvement in terms of breathability compared to many other jackets in our review, this feature comes at the cost of weather protection. It might be ideal as a standalone outer for dry summer afternoons or a warm day in the shoulder seasons, but as soon as the wind picks up or the rain starts falling, the R1's fairly skimpy fabric puts up very little in the way of a fight before its defenses are breached.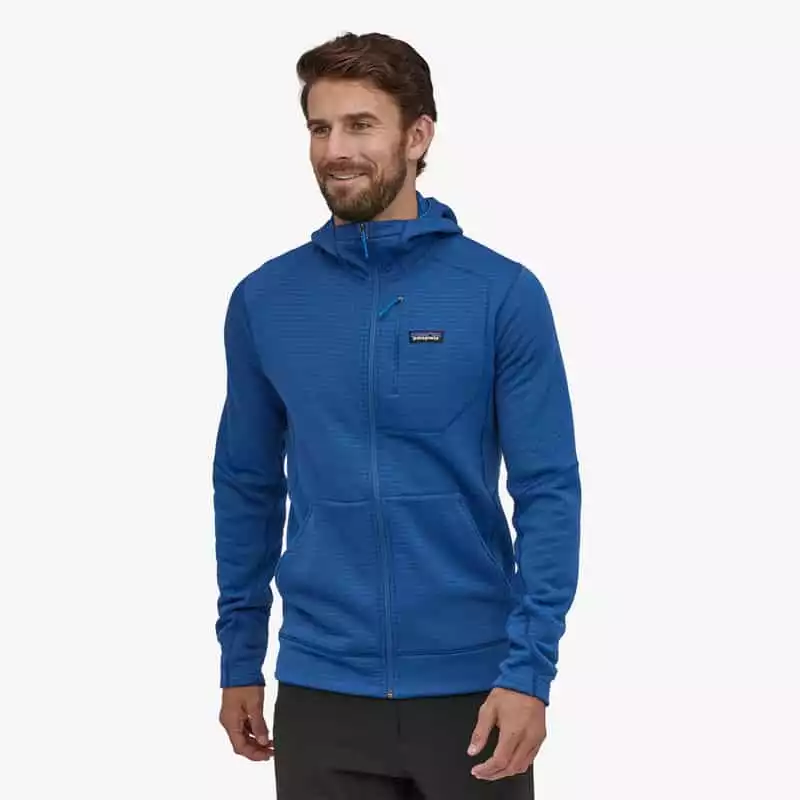 Patagonia Men's R1 Regulator Fleece Full-Zip Hoody | Check Price
The R1® Full-Zip Hoody is a versatile, technical, midlayer fleece for stop/start activities in cold conditions. Made from 93% recycled polyester 7% spandex and constructed in a classic grid pattern to trap heat and wick moisture.
Check Price
We earn a commission if you click this link and make a purchase at no additional cost to you.
Pros
Lightweight (12.85 oz)
Balaclava-style, adjustable hood
Highly breathable, grid-patterned fabric
Thumb loops
Elasticated Hem
1" longer torso than regular Patagonia fleece jackets
2/3rds-length zipper
Cons
Negligible weather resistance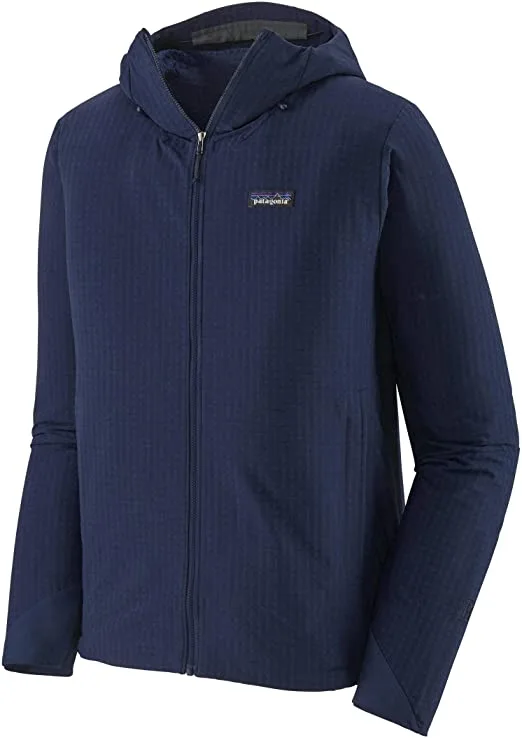 Offering all the versatility, comfort, and practicality of the hugely popular R1 but with the added benefit of water and wind resistance, the R1 TechFace is a performance-oriented hoody that does pretty much everything you could possibly ask a fleece jacket to do.
It's light, breathable, offers excellent mobility, and packs a handy set of features that make it one of the most functional jackets we've ever come across, including thumb loops, an adjustable hood, an abrasion-resistant exterior, three pockets, and a DWR finish.
As with the standard version of the R1, those who are in the market for a chunky, cozy, cold-weather insulator will be disappointed by the TechFace's minimal loft and lack of insulation, but for anyone in search of a high-performing, mobile, versatile fleece jacket that can deal with a bit of wind and light rain, there aren't too many competitors that do so quite as well as this.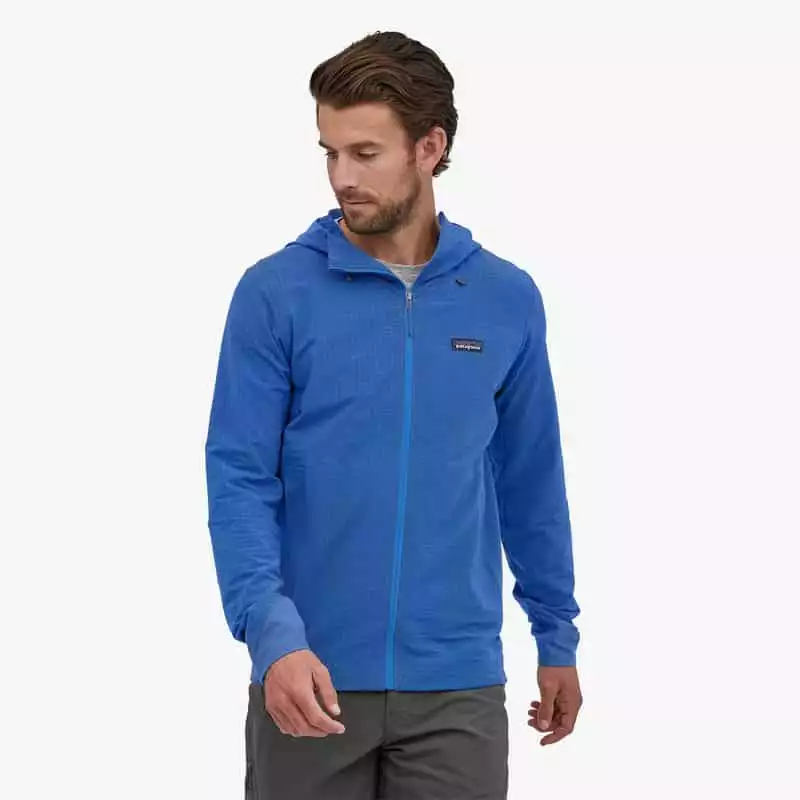 Patagonia Men's R1 TechFace Hoody | Patagonia
Warm, stretchy and breathable like our Regulator® fleece, but with the added benefits of abrasion and weather resistance. This cool-weather cross-layer was designed for extended versatility in shifting mountain conditions.
Check Price
We earn a commission if you click this link and make a purchase at no additional cost to you.
Pros
l Lightweight (13.8 oz)
l DWR finish provides water resistance
l Wind resistant
l Highly breathable
l Reasonably durable
l Thumb loops
l Adjustable hood
l Elasticated hem
l Stretchy material provides added mobility
Cons
l Not an out-and-out insulator
l Interior fabric not as soft as on R1 or R2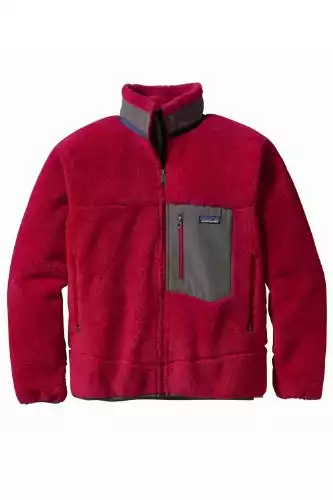 Patagonia Classic Retro-X Jacket | Amazon
The Classic Retro-X Jacket packs a surprising amount of warmth for its lightweight. The sooner you get this jacket, the sooner you'll be able to mat down the AAAAAA 1/2-inch Synchilla for its real Classic look.
Buy at Amazon.com
We earn a commission if you click this link and make a purchase at no additional cost to you.
With the super-stylish Retro-X, Patagonia has married the best of old-school, no-nonsense insulation with a handful of performance-oriented mod cons to deliver a jacket that's pretty much ideal for cold-weather wandering or loafing around the campfire.
What makes the Retro-X unique amongst the other jackets in our review is its use of a windproof membrane bonded between a tough, sherpa fleece exterior and a highly breathable, high-wicking, knitted-mesh interior.
This feature may add an ounce or two in weight and does take a little away from the jacket's packability and breathability, but it also makes the Retro-X an absolute winner in cool and windy conditions and one of the warmest jackets on our list.
At 27.3 oz, this jacket is the heaviest in our review and so definitely isn't going to win any prizes for portability. It's also, we should add, a touch on the pricey side of things for a garment that offers a lot less than many of the other items on our list in terms of performance.
Nevertheless, in the category of chunky, cozy, wind-blockers that will in all likelihood last you a lifetime, the Retro-X is up there with the best of them.
Pros
Wind-resistant membrane
50% recycled materials
DWR finish on chest pocket, outer collar, and pocket wind flap
Polygiene permanent odor control
Two hand-warmer pockets and one chest pocket
Cons
Expensive
Heavy (27.3 oz)
No hood or thumb loops
7. Patagonia Crosstrek Hybrid Hoody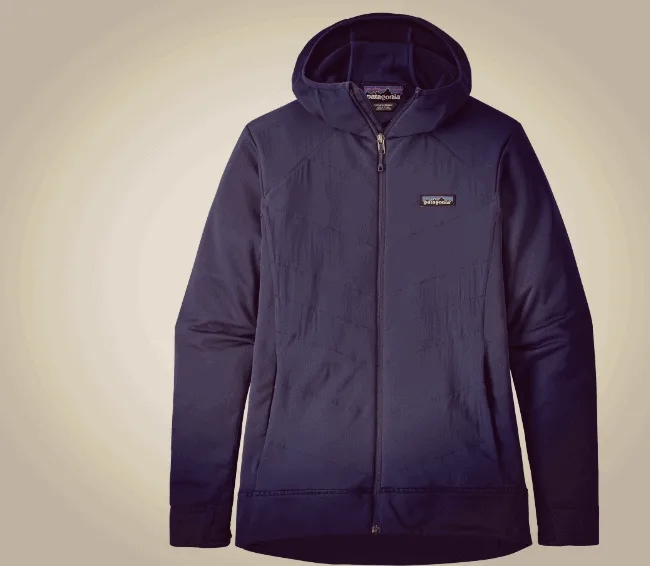 In most cases, fleeces fall into either the warmth and all-day-wearability category or into the performance category. Very rarely do we come across any that manage to bridge the gap between the two and even less quite so flawlessly as the Patagonia Crosstrek Hybrid.
This, in short, is a jacket that has a lot to love. Like the R2 (above), the body of the CrossTrek uses super-soft, cozy Polartec Power Stretch with a fleece back to bring superb comfort and mobility. The face material on the Crosstrek, however, ups the stakes significantly, using 20-denier ripstop nylon with a durable water-repellent and wind-resistant finish.
In practice, this combination of materials makes the CrossTrek one of the most versatile jackets out there, giving you the option to wear it as true standalone outer in windy and moderately wet conditions or as a more substantial mid layer in colder months.
And the downsides? Well, you didn't think you were going to get all of that goodness on the cheap, did you?!
Pros
Light (16.3 oz)
Thumb loops
Very comfortable
Ripstop nylon face fabric
DWR finish
Bluesign-approved fabrics
Two zippered pockets
Elasticated hood
Cons
Pricey (but represents good value for money nonetheless)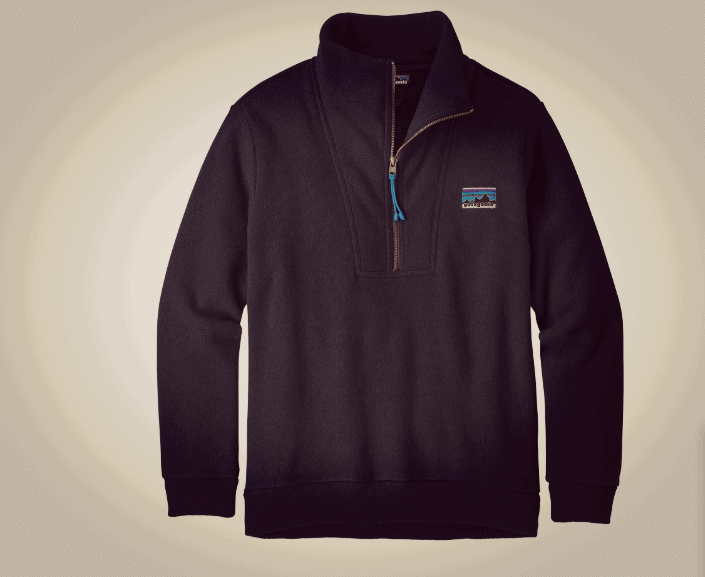 For the ethical consumer, there are few—if any—better buys on the market than Patagonia's Woolie Fleece Hoodie. Using 100% recycled materials and with Fair Trade certification, the Woolie has laid down something of a benchmark to which we can only hope other big brands will aspire in future.
Made with a super-soft, toasty blend of recycled wool, cotton, and nylon, the Woolie is one of the warmest and most comfortable fleece jackets in our review. It also packs a decent set of features, boasting two sizable hand-warmer pockets, an adjustable hood, and elasticated cuffs that stop any chilly air sneaking up your sleeves.
With little in the way of water or wind resistance and weighing in at a fairly hefty 25.2 ounces, this isn't a jacket made for serious adventures in the backcountry.
It is, however, just about the ideal choice for lounging around the campfire, moderate hikes, or even a trip to the bar with your buddies. (While you're there, moreover, you can grant yourself a sneer at their less ethically produced garments and school them in the ways conscientious consumerism!)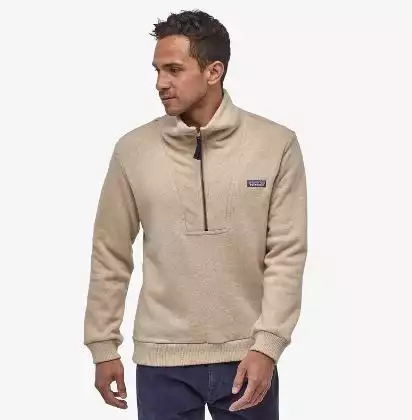 Pros
Fair Trade Certified™
100% recycled materials
Very comfortable
Adjustable (drawstring) hood
Very warm
Cons
Heavy (25.2 oz)
Quite pricey
Minimal weather resistance
Prone to pilling
Comparison Chart—Patagonia Fleece Jackets
| | | | | |
| --- | --- | --- | --- | --- |
| Model | Weight (oz) | Water resistance | Wind resistance | Features |
| | 14.3 oz | Minimal | Minimal | Slim to none (only one, small chest pocket) |
| | 20.7 oz | Minimal | Moderate | Stretch side panels; elasticated hem; 2 hand-warmer pockets; 1 chest pocket |
| | 14.3 oz | Minimal | Minimal | Stretch side panels; elasticated hem; 2 hand-warmer pockets; 1 chest pocket |
| | 12.85 oz | Minimal | Minimal | Stretchy material; elasticated hem; 2 hand-warmer pockets; 1 chest pocket |
| | 13.8 oz | Excellent | Excellent | Helmet-compatible, adjustable hood; DWR finish; stretch side panels; elasticated hem; 2 hand-warmer pockets; 1 chest pocket |
| Patagonia Retro-X Fleece Jacket | 27.3 oz | Minimal | Excellent | Windproof membrane; stretch side panels; elasticated hem; 2 hand-warmer pockets; 1 chest pocket |
| Patagonia Crosstrek Hybrid Hoody | 16.3 oz | Excellent | Excellent | Thumb loops; helmet-compatible hood; elasticated hem; 2 hand-warmer pockets; 1 interior media pocket |
| Patagonia M's Woolie Fleece Hoodie | 25.2 oz | Minimal | Moderate | 2 hand-warmer pockets; adjustable hood |
Conclusion
Losing a few hours after wandering into a Patagonia store or while browsing Patagonia's online merch is easily done. The above review of Patagonia's best fleece jackets, we believe, has demonstrated precisely why: with so many high-quality products to choose from and dozens of details to consider before buying, making a decision on the garment that's right for you is a bit of a task.
Picking an outright winner from the above selection, likewise, has been no cake-walk. While our inner gear-grabbers scream "I'll take one of everything, please!", our bank balances are a little less endeared by the prospect of the blow such a spree would deal with them.
This being so, we've bitten the bullet and plumped for the most versatile all-rounder in the Patagonia pack, the Patagonia Crosstrek Hybrid Hoody.
The Crosstrek wins our vote for a number of reasons, but the most compelling of these is the way it combines the performance of an out-and-out softshell jacket with the comfort and warmth of a standard fleece, bringing us the best of both worlds without carrying over any of the drawbacks usually associated with either of those "worlds" on its lonesome.
It might not be the cheapest jacket out there, granted, but like all things Patagonia the Crosstrek oozes quality and is made to last you a very long time.
Recommended Reads: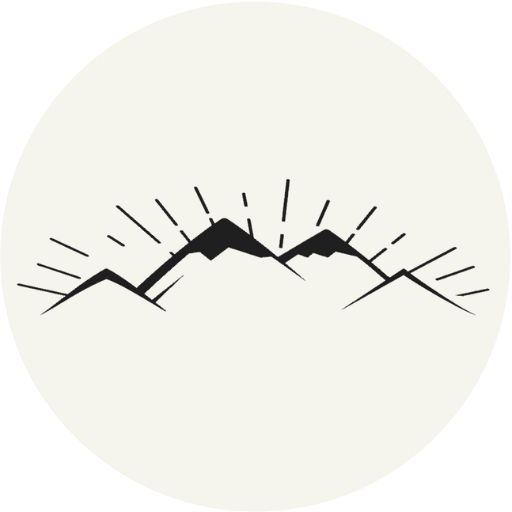 The All-Outdoors Guide team is comprised of enthusiastic experts that enjoy helping others that aspire to be better at outdoor fun. Part of that is making sure you have the right gear and information when it's time to go out and have fun. Some of our team have accomplished amazing feats like climbing 6000 feet to the top of mountains, others have explored every dirt trail they could find and we even have some people that have backpacked solo on various continents. No matter what our readers want to learn and do, our team is here to help them accomplish those goals.