Having a backpacking towel can completely change the experience of your trip. Some of the worst circumstances during backpacking are when something gets wet.
Wet feet, a sweaty face, wet dishes that need to be packed right away are all things that could make your trip not so much fun.
That being said, we can't simply use any towel that we have around the house while backpacking. Cotton bath towels are bulky, heavy, and don't dry very fast. A hand towel would not be large enough or soak up enough water to use for most things you would need it for.
Things tend to get wet while backpacking regardless of if you wanted them wet or not. A great backpacking towel can turn things around really fast and just overall make your trip a lot more comfortable and easy. So, what makes a great backpacking towel?
What to look for in a Backpacking Towel
Light Weight
As with any backpacking product, one of the most important factors is weight. The less weight in your backpack, the easier it is to carry it for long periods of time. Towels made for backpacking (travel/camping towels) usually weigh under 1 pound.
Size
The size of your towel largely depends on what you plan on using it for. If you only plan to use a towel to wash your dishes, you will not need a very big towel. However, if you plan to be on a beach, you may want a very large towel to lay on.
Generally speaking, you want your towel to be as small and compact as possible. The best way to have the right size towel for any backpacking trip is to go with a variety of sizes. You can then have a wash rag-sized towel to dab sweat or wash dishes and a large towel big enough to lie down on.
Packability
Like size, you want your backpacking towel to pack down as small as possible. A standard cotton bath towel is bulky and could take up half the space in your pack. Backpacking towels should be able to roll up to fit into one hand, lie almost completely flat in your pack, or fold up into a small stuff sack.
Absorbency
Have you ever had a towel that spreads water rather than soaking it up? Different towels absorb different amounts of water. You do not want things going back in your pack with slightly wet or slightly wet feet. For that reason, you want the towel that absorbs the most amount of water.
Quick Drying
When backpacking, you generally don't have a lot of time to let things hang to dry. Putting a semi-wet towel into your pack can create humidity in your backpack and cause everything else inside to become wet. On top of everything becoming wet, it can create a nasty moldy smell inside your pack. The best backpacking towels dry in a few hours.
Antimicrobial Finish
Most companies that make microfiber towels claim that they do not need an antimicrobial finish. In some cases, they may be correct, but it is always better to have one.
Antimicrobial finishes are what keep your towel from harboring odor-causing bacterias. If you are drying your towel thoroughly before packing it, this wouldn't be an issue. However, when backpacking you are usually packing up and moving on too fast to let a towel dry thoroughly.
Durability
Like anything else you have for backpacking, you want your towel to be durable. Tearing or snagging could ruin the towel for the rest of your backpacking trip.
If you are using the towel to wipe things off or laying it on the ground, it should be able to endure those hard, rough surfaces.
Feel
You don't have to give up every single luxury while you are backpacking. Scratchy towels can make your skin feel irritated. Especially when you get sweaty during the day. A towel that is soft to the touch, along with all the other criteria above is easy to find.
7 Best Backpacking Towels
Specifications at a Glance
| | | | | |
| --- | --- | --- | --- | --- |
| | Price | Sizes | Weight | Pack Size |
| Packtowl Ultralite | $14.95 – $49.95 | S, M, L, XL | .5 oz – 5.1 oz | 7 in x 5 in |
| Nomadix Ultralight | $29.95 | One Size | 8.6 oz | 2 in x 5 in x 5 in |
| Dock & Bay | $16-$18 | M, L, XL | 9.6 oz – 17.6 oz | 8 in x 4 in to 11 in x 6 in |
| Eccosophy | $25.99 | One Size | 13 oz | Size of small book |
| Wise Owl Outfitters | $13.95 – $16.95 | Two Sizes | 6.8 oz- 10.8 oz | 7 in x 5 in |
| REI Multi Towel Lite | $4.93 – $11.93 | S, M, L, XL | .75oz – 6.4 oz | 9 in x 5 in |
| Sea to Summit Tek Towel | $12.95 -$39.95 | XS, S, M, L, XL | 2.8 oz- 15.7 oz | 3 in x 8 in x 5 in |
Packtowl Ultralite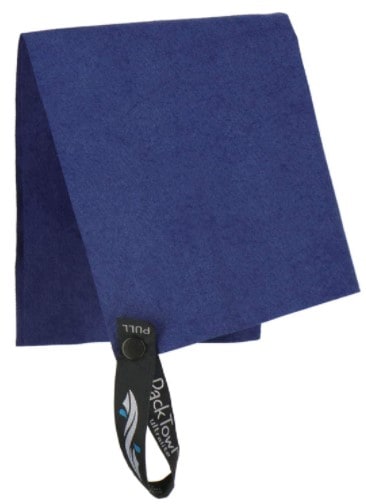 The Packtowl Ultralite is the lightest backpacking towel on the market. Its largest size at 36 inches by 59 inches weighs in at 5.1 ounces. That is a third less than its closest competitor.
This towel is also larger than any other towel in its size and weight. The extra-large towel is 12 inches wider and 5 inches longer than the REI Multi Towel Lite and weighs 1.3 ounces less than the REI Multi Towel. This towel is basically a light packer's dream towel.
Although you are taking up hardly any space and weight in your backpack, you will be sacrificing more money and comfort with this towel. It costs more than triple some of the cheaper options and isn't quite as soft to the touch.
Pros
3 fun designs

Weighs a third less than its closest competitor

Absorbs up to 4x its weight

Dries 80% faster than cotton towels

Hang loop

Comes with pouch

Antibacterial finish that lasts 25-30 washes
Cons
Higher price

Not the most comfortable feel
Nomadix Ultralight
For all of the environmentally-conscious backpackers out there, the Nomadix Ultralight is your backpacking towel. Nomadix's mission is committed to sustainability. From manufacturing to shipping, this company dedicates itself to using recycled materials and not creating more waste.
Not only will you make the world a little better when purchasing a Nomadix towel, but you will also love using it. These towels are treated with an antimicrobial finish that keeps mildew and bacteria that cause stench out. On top of that, they are slip-resistant, making them a great replacement for a yoga mat.
Unfortunately, these towels only come in one large size of 54 inches by 30 inches. This is a great size for a shower towel, but not so great for drying off dishes or dabbing sweat off. They also take slightly longer to dry than some other microfiber towels.
Pros
Made from recycled plastic bottles

No plastic used in shipping materials

Donates 1% of sales to environmental causes

12 fun designs (double-sided)

Small pack size

Slip-resistant

Antimicrobial treatment
Cons
One size

Takes slightly longer to dry
Dock and Bay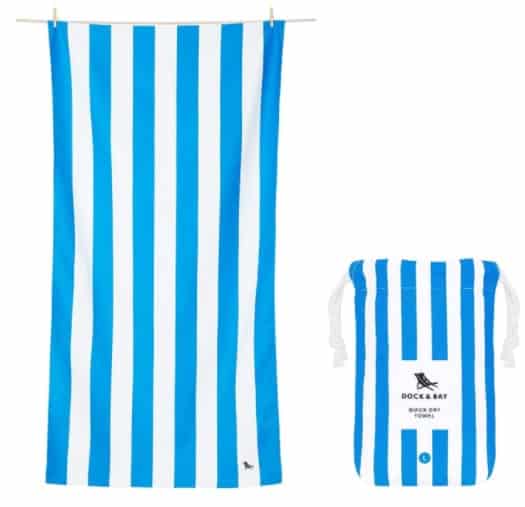 Dock and Bay is another eco-conscious brand that recently started making its products from recycled plastic. They also donate 5% of their profits to Whale and Dolphin Conservation and One Tree Planted.
On top of doing good when you purchase a Dock and Bay towel, you will look good as well. They have a ton of fun designs and colors to choose from and you can even personalize your towel. One to three characters on your towel costs $10 and up to twelve characters cost $12.
Even though these towels look and feel great, they are massive and heavy compared to other backpacking towels. Towel sizes go all the way from 40 inches by 20 inches to 78 inches by 35 inches with the largest only being able to pack down to 11 inches by 6 inches. The largest towel also weighs over a pound.
Pros
Can be personalized

5% of profits go to charity

A ton of fun designs and colors

Hanging loop

Made from recycled plastic
Cons
Heaviest towel

Pouch size
Eccosophy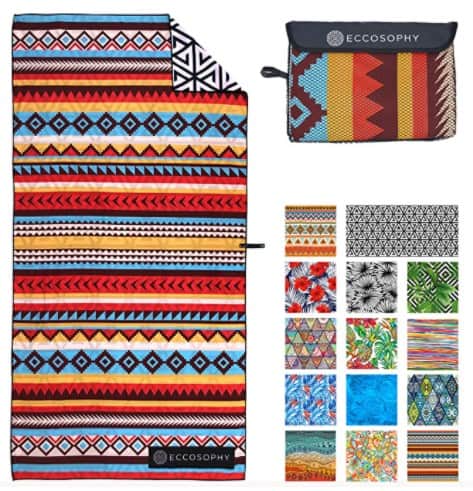 This towel is perfect for those that want a large enough towel to lay on completely without all the extra weight. It's nearly as large as the Dock and Bay towel at 71 inches by 35 inches. Yet, it only weighs 13 ounces compared to the 17.6 ounces that the Dock and Bay towel weighs.
Eccocophy towels also come in 13 bright designs that are double-sided with a black and white geometric pattern. Even though these look as fun as a beach towel, they still have all the benefits of microfiber, such as fast drying times, maximum absorbency, and being lightweight. You get the beach towel look, without sacrificing the practicality of a backpacking towel.
Although these towels are more lightweight than other towels their size, it still comes with the large packing size. It can only be packed down to about the size of a paperback book or rolled to the size of a soda bottle.
Pros
Absorbs 4x its weight

⅕ the weight of a cotton towel

Dries 3 times faster than cotton

Mesh pouch

Hanging loop

13 fun designs/double-sided design
Cons
One size

Larger pack size
Wise Owl Outfitters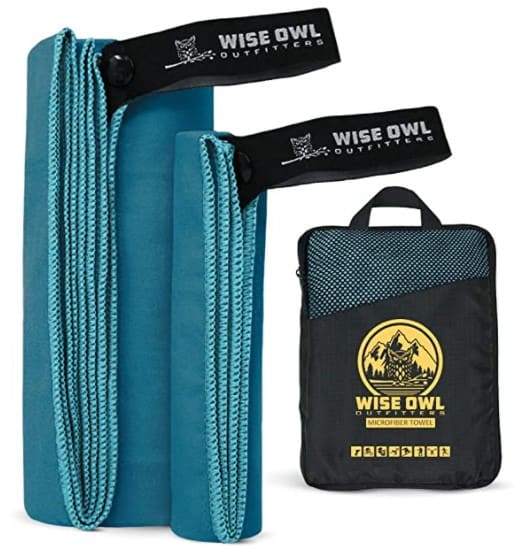 Wise Owl Outfitters is a brand that makes an assortment of quality outdoor gear. Including hammocks, camping pillows, rain tarps, and so much more. If you've used any of their other products, you know that their camping towels are going to be high quality as well.
The nicest part about the Wise Owl towels is along with your choice of a medium or large-size towel, they include a 12 inch by 12-inch hand towel for free. This smaller towel is great for dabbing sweat, wiping down things, or just as a backup in case your larger towel is soaked. It fits right inside the included mesh bag with your main towel.
Another major benefit to purchasing a Wise Owl towel is you will receive excellent customer service. If anything happens to your towel, they will replace it without asking any questions.
The one downside to this towel is there is no antimicrobial finish on the material. If you are in a rush and pack this towel wet, it will start smelling after a while. However, this shouldn't be a huge issue because this towel seems to dry faster than most others.
Pros
Includes an extra 12 inch by 12 inch towel

Mesh carry bag with loop

Snap hanging loop

Dries up to 10 times faster than cotton

Great customer service
Cons
Leaves lint fuzzies after drying

No antimicrobial finish
REI Multi Towel Lite
The REI Multi Towel is the best value towel you will find. REI makes products that are very similar to expensive name brand products at a fraction of the cost. Even though this towel is much cheaper than others, you most certainly will not be forfeiting quality.
The REI towel is smaller than some other towels but absorbs almost double the amount of water. They claim to be able to absorb up to 8 times their weight in water, which I wouldn't doubt. Along with that, it has one of the most buttery feelings to the touch.
Due to this towel being able to absorb so much water, unfortunately, it does take much longer to dry than other towels. Other towels seem to dry in about 2-4 hours, where the REI Multi Towel takes 5 hours or more to dry depending on the humidity.
Pros
Absorbs up to 8 times its weight

Snap hanging loop

Mesh carrying pouch

Great price
Cons
Slightly larger pack size for a smaller towel

Takes longer to dry
Sea to Summit Tek Towel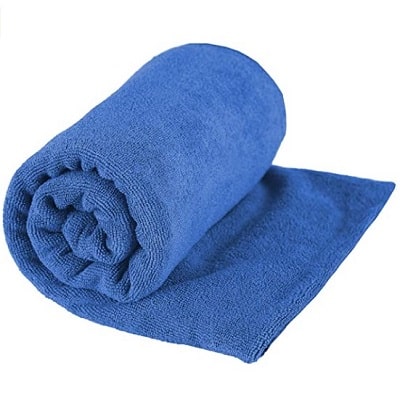 If you are looking for the most comfortable backpacking towel out there, look no further. The Sea to Summit Tek Towel gives you the feeling of home while backpacking. It has a plush, terry cloth feel that doesn't drag along your skin like most other microfiber towels.
This towel is extremely absorbent due to its thicker material. This towel would be great to use as a washcloth, dishrag, to clean off dirt and mud, and other tasks that involve a lot of water. However, once you start getting into the larger sizes, this towel does not pack as well.
While it resembles a standard cotton towel the most compared to all the other towels, it is still much lighter and compact than a cotton bath towel.
The largest size at 60 inches by 30 inches weighs in at just under a pound and packs down to about the size of a cigar box. Although, I would stick with the smaller variations of this towel to save space.
Pros
Plush-terry cloth feel

Extremely absorbent

Snap hanging hook
Cons
Heavier weight

Doesn't pack as small

No antibacterial finish
FAQs
Question: Should I bring a towel backpacking?
Answer: Bringing a towel on your backpacking trip can make a huge difference in your experience. A towel can be used to pat off any sweat, clean dishes, wipe off things that get wet, and so much more. In short, yes, you should definitely bring a towel backpacking.
Question: Why shouldn't you use a regular bath towel for backpacking?
Answer: Regular bath towels are usually made out of cotton. Although cotton is comfortable, it is a bad choice in fabric for backpacking. It can be heavy, bulky, and slow drying. Microfiber towels or similar materials are lightweight, pack small, absorb a lot more water, and dry much faster.
Question: What is microfiber?
Answer: Microfiber is a synthetic material made of polyester, polyamide, and/or polypropylene. This fabric is lightweight, durable, moisture-wicking, and can be coated with antimicrobial finishes. When it comes to sports gear, microfiber is superior compared to more natural fabrics.
Question: How do you wash and dry microfiber towels?
Answer: When washing your microfiber towels, use a mild detergent in warm or hot water. Do not use fabric softener. Make sure to not wash your towels with other cotton fabrics because it can snag these types of fabrics. Since microfiber can melt when put in extreme heat, hang dry your towels.
Overall Best Backpacking Towel
The best backpacking towel is the Wise Owl Outfitters camping towel. It hits most of the criteria for a backpacking towel while keeping the price at a very reasonable amount.
The size of the towel is large enough to wrap all the way around an average person and cover everything you want to be covered, but it keeps its weight to a manageable backpacking weight.
The Wise Owl towel is also the only towel that comes with an extra small towel to use for things other than drying yourself off or to lay on, giving you a variety to use for any situation. Even if you did only want to bring one of these towels at a time, it dries so much faster than the others. It wouldn't take long before it was dry enough to use for a different situation.
It's hard to find much wrong with the Wise Owl camping towel. Even if you did find something wrong with it, their customer satisfaction guarantee is there for you. They will give you your money back or replace your towel without hardly any trouble.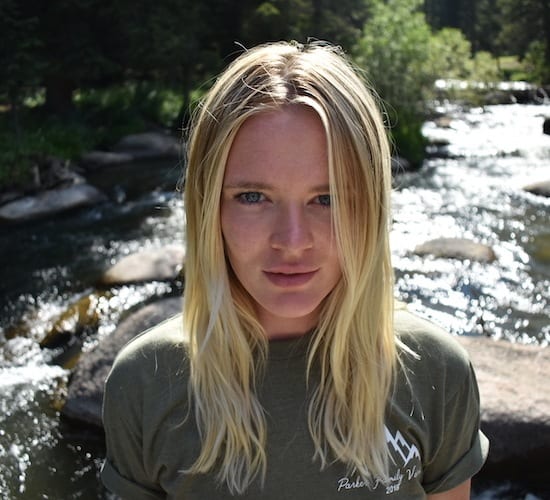 Haley loves hiking and camping. That state of calmness is like no other. A top 14er rock scrambler, Haley wants everyone to experience the highs and joys of outdoor living and here is to help prep the rest of us to do so safely. Here to share her top gear, tips and climb to the top hiking strategies, Haley is a bonafide outdoors guide to love!