When it comes to backpacking meals, simplicity and nutrition are key factors. When you have to carry all of your cooking equipment and food in a backpack, along with everything else, you just don't have the luxury of a bunch of pots and pans or bulky ingredients.
Store-bought dehydrated meals are popular for backpackers but often they just don't have a great taste or not enough nutrition. Thankfully with a little planning you can create delicious meals that will keep your energy up and reduce the time spent cooking, so you can enjoy more time exploring.
Here are 5 ideas for some of the best backpacking meals you can put together.
DIY Freeze Dried Meals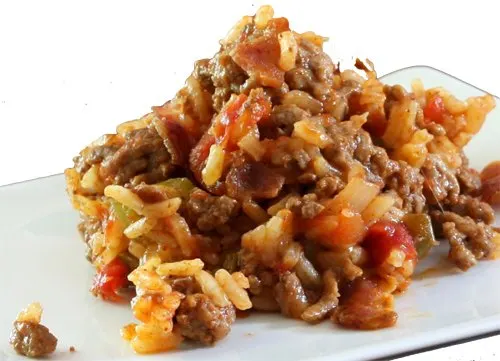 Freeze-dried (FD) meals are one of the most popular options for backpackers. They are lightweight and easy to prepare. Most only require you to boil water and add it right to the bag. Unfortunately, many people agree that majority of dehydrated meals don't taste that great. Some can experience stomach troubles due to the cheaper/artificial ingredients or preservatives in some brands.
Simple is always good when it comes to meal prep on the trail and it doesn't quite get any easier than making your own FD meals to go. You will be able to choose the exact ingredients you want and customize recipes to your liking. Not to mention that you'll save a lot of money and make your taste buds much happier.
Here is a recipe to you get you started:
Spanish Rice with Beef
If you love Mexican food, you're going to love this tasty meal with a bit of spice.
1 cup of instant brown rice
⅔ cup diced freeze-dried beef (may also substitute FD ground beef or chicken)
⅓ cup FD diced tomatoes
⅓ cup FD corn
Seasoning mix:
½ tablespoon onion flakes
½ teaspoon cumin powder
½ teaspoon dried Mexican oregano
1 teaspoon dried cilantro
½ teaspoon garlic powder
2 teaspoons chili powder
Pinch of salt and pepper
Optional ¼ teaspoon of cayenne powder to taste
Add all ingredients into a BPA-free large freezer Ziploc bag. To make this meal, add 1 ½ to 1 ¾ cup of boiling water and let sit for 10 minutes or until rice is tender.
GORP or Trail Mix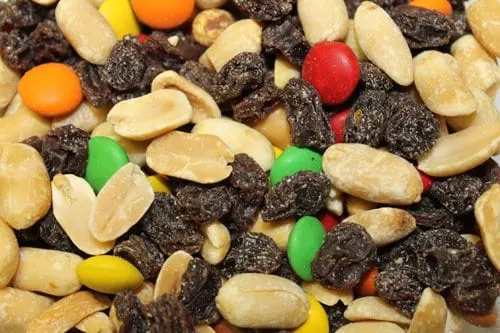 Trail mix is about as basic as you can get when it comes to backpacking foods but is often reserved as snacks only. Skip the sugary, candy-like mixes and make your own gorp. With the right ingredients, you can easily make a tasty but filling lunch that is going to keep up your energy until dinner.
Ultimate Sweet, Salty, and Chocolatey GORP
Cravings for something sweet or salty are common, and (almost) everyone loves chocolate. This delicious mix will give you the boost you need to get to your campsite before nightfall but won't cause a nasty sugar crash.
Note: GORP or trail mix stores well so it is best to make up a large batch.
2 parts raw almonds and raw macadamia nuts (or peanuts)
1 part mini pretzel balls
1 part toasted sunflower seeds
1 part chocolate nubs or M&Ms
1 part of your favorite dried fruits
If you're really going to be doing some strenuous hiking you can add more dried fruit.
Homemade Meal Replacement Bars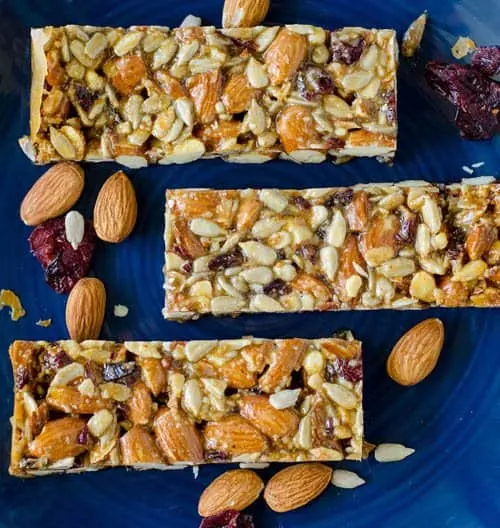 The average person doesn't consume enough protein which means ensuring you are getting enough protein on hiking trips is vital. Similar to trail mixes, a common issue with store-bought protein bars is that they lack the nutrition to be substituted as a meal and many are filled with sugar.
Next time you're preparing your meal for your next trip, make a batch of these meal replacement bars which are ideal for breakfast or lunch.
Cranberry Almond Vanilla Protein Bar
This trio of flavors will make it hard to believe that you are actually eating something good for your body. Either eat one bar as a snack or a couple of bars with water for a fast but satisfying meal.
1 ½ cups rolled oats
¾ cup raw almonds
⅔ cup of dried cranberries
½ cup raw sunflower seeds
⅓ cup ground flaxseed
1 scoop vanilla whey protein powder
⅓ cup of honey
1 cup almond butter
¼ cup apple sauce
Combine protein powder into ground flaxseed powder first, then combine all ingredients together in a bowl. Place parchment paper into an 8″ x 8″ baking dish and press mix firmly into the dish.
Freeze for 2 hours and remove, cutting the slab into your preferred size bars. Place bars into Ziploc bag and store in the fridge until you leave for your trip. If you make a larger batch that won't be consumed right away, you can freeze these bars for a couple of months.
Ramen Noodle Hacks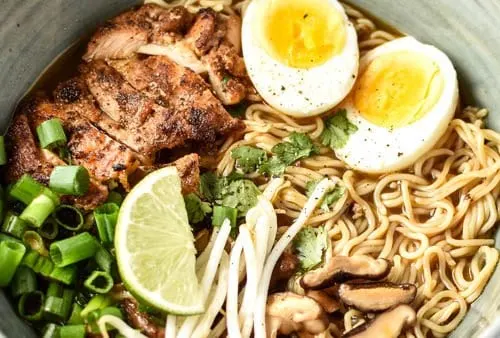 Ramen noodles may be a college student staple but they are actually perfect for backpacking trip meals. The trick to getting a hiking-appropriate, healthy meal out of ramen is adding in some ingredients while removing the amount of sodium you are consuming.
The majority of the "bad stuff" in ramen is that little pack of seasoning. But before throwing out the seasoning packet altogether keep in mind that some extra salt is fine when hiking, especially if you are really sweating.
Shiitake Ramen Rice
If you love mushrooms, you'll love this simple recipe. If you are doing a lot of hiking and sweating, you can use the whole packet. Otherwise, use half.
1 package of instant ramen noodles (any flavor, beef works well) w/ seasoning packet
½ cup of instant white or brown rice
½ cup of freeze-dried sliced shiitake mushrooms
1 cup dried chopped kale
¼ cup dried chopped green onion
Pinch of pepper
1 teaspoon chili powder
1 teaspoon garlic powder
1 teaspoon powdered ginger
Either use a pot or go the route of using a large BPA-free Ziploc freezer bag. If using a freezer bag, add all ingredients to it. Boil 2 cups of water and add mix. Let sit for 5 or so minutes, until noodles and mushrooms are tender. If you prefer a cold soup, cook as directed, and then let it sit in a stream or other cold water to cool. It will be refreshing on a hot day.
Savory Oatmeal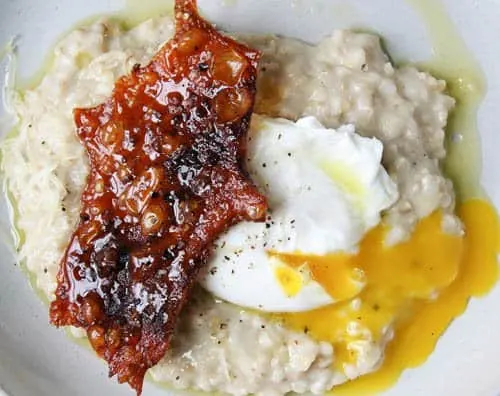 Oatmeal is easily the most popular breakfast for backpackers. Those little packets of fruity instant oatmeal help to warm you up on a cold morning and are definitely more filling than other breakfast ideas. However, oatmeal doesn't always have to be sweet. Cold weather hiking calls for warm means and this recipe often hits the spot.
Bacon Egg and Veggie Oatmeal
Nothing beats an omelet for breakfast but when you have to carry eggs and a pan just isn't worth it for backpackers. You can create a similar meal for breakfast, brunch or dinner with oatmeal and powdered egg. As for veggies, it comes down to personal preference of how much exactly you like in your meal.
½ cup Instant oatmeal
1 tablespoon powdered egg
Freeze-dried bacon, chopped
Dehydrated chopped green onion
Dehydrated bell pepper
Dehydrated chopped spinach
Freeze-dried chopped tomato
Pinch of salt, pepper, and garlic
Add all ingredients into a pot or a large BPA-free Ziploc freezer bag. Boil 1 ½ cups of water and pour into bag. Let sit until the oatmeal has soaked up water and is ready to eat.
There may be some limits to what cooking supplies you can bring in your backpack but there certainly aren't limits to how creative you can get with your meals. Don't be afraid to experiment, and feel free to test out ideas at home before putting them together for your hike.
Recommended Reads: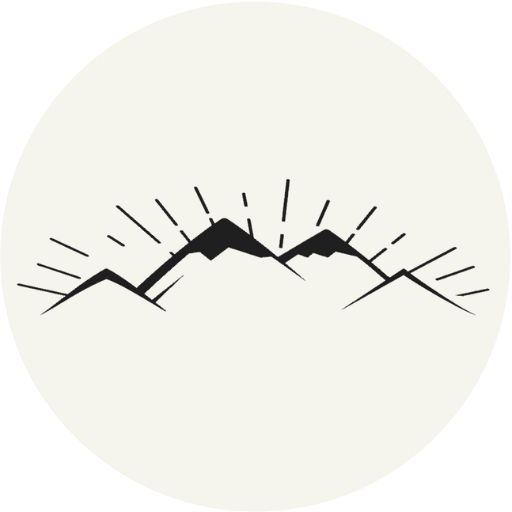 The All-Outdoors Guide team is comprised of enthusiastic experts that enjoy helping others that aspire to be better at outdoor fun. Part of that is making sure you have the right gear and information when it's time to go out and have fun. Some of our team have accomplished amazing feats like climbing 6000 feet to the top of mountains, others have explored every dirt trail they could find and we even have some people that have backpacked solo on various continents. No matter what our readers want to learn and do, our team is here to help them accomplish those goals.