The Titan pocket scope gets you closer to places you wish you could zoom in on without having to move a large and heavy telescope. All that too at an affordable price. There are multiple manufacturers of the Titan pocket scope, which may make it difficult to choose the best one for your needs. To help curb this confusion, here is a detailed Titan Pocket Scope review of some of the best Titan pocket scopes you can buy today.
Gosky Titan Scope
Check Price
We earn a commission if you click this link and make a purchase at no additional cost to you.
02/01/2023 12:35 pm GMT
Titan Pocket Scope Review – First Impressions
In the Titan Pocket Scope Review, we are going to look at the Titan 12×50 pocket scope is a monocular (single scope) that has been launched by a few competing companies which give buyers the freedom to choose one that best suits their needs.
That said, the availability of the same monocular by different brands can also get some buyers a little confused and undecided on which one is the best.
This pocket scope is easy to carry and use, making it ideal for beginners who need a good scope for sightseeing to advanced users who may use them for wildlife exploration or even hunting. It gives the user a combination of performance, durability, and portability that makes it a good monocular in its price range.
The pocket scopes come in different magnification power starting from 5x to 12X or even higher zoom capability.
Want to see how far your Titan 12×50 pocket scope can go? Here are the Top 10 Hiking Trails in California where you can put your Titan pocket scope to the test.
Titan 12X50 MONOCULAR SERIES
Let's review some of the best Titan 12X50 High power Prism monoculars out there made by different manufacturers to help you decide if it's the right option for you.
All the brands listed in this Titan Pocket Scope Review offer a great experience when it comes to sightseeing, watching sports events, hiking, climbing hunting, wildlife observation, and recreational bird watching.
Manufacturers of Titan 12X50 Pocket Scope
Different manufacturers are competing in producing the best Titan series, in this case, 12X50, with each offering their twist to the monocular. I have listed a few manufacturers below and reviewed their edition of the series later on in the article.
Gosky
Gosky is a top brand and provides a range of products in the optical scope world. They deliver quality and excellent features at affordable prices as it is a direct reseller of its products.
Their friendly and professional sales reps are always available before and after the sale. They even have a 14-day money back guarantee policy, which is great!
Wingspan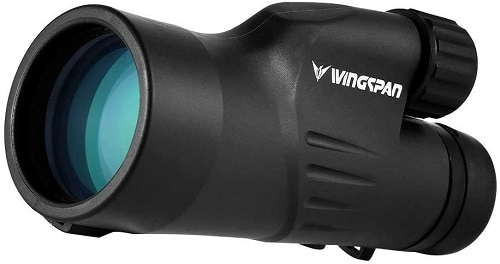 Wingspan is another market leader in this niche. They also boast quality and guarantee to provide the best bird watching experience.
They give a lifetime warranty of their product which alone is a huge statement of their trust in their production and quality assurance process. They also provide all ranges of scopes from monoculars to premium telescopes and are also direct wholesalers and retailers of their products.
Guangzhou SUNCORE Electronic Technology Company
The Chinese manufacturer, more commonly known as Suncore, was established in 2009 and provides OEM and ODM services around the world. The established area covers more than 2700 sqm manufacturing telescopes and flashlights in a dust-free workshop.
Want to be able to move freely next time you go on an adventure? Here's our essential guide to ultralight backpacking. Make sure to add the Titan scope in there!
Common Features of the Titan 12X50 Monocular
Before we look into the features in detail, let's have a quick overview.
| | |
| --- | --- |
| Magnification Power | 12X Zoom |
| Object Lens Diameter | 50mm |
| Focus System | Centre |
| Prism Type | BAK4 |
| Field of View | 268ft/1000yards |
| Close Focus | 2.5m |
| Eye Relief | Yes |
| Durability | Water-proof; fog-proof; dust-proof;shock-proof |
| Extension | Tripod connection. |
| Warranty | Available (trial period money back guarantee) |
| Latest price | Gosky; Wingspan; Suncore |
12X Zoom Power
Lets you see objects 12 times closer which makes it a perfect set to carry out sightseeing, concerts, live matches, bird watching, and other wildlife observation tours.
BAK4 PRISM
Smart Phase Correction BAK4 Prism minimizes glare, ghost images, and chromatic aberration to provide a clearer, sharper and accurate color reproduction.
Durability
The Titan series is made sure to survive the toughest trials of your journey, may it be climate or terrain. The sealed nitrogen makes it dustproof, fog proof, rainproof by preventing dust, moisture, and debris from getting inside the monocular which ensures clear vision always.
Though of different shapes and sizes, the Titan series promises to be sturdy as it comes with a rubber-coated body and a solid framework.
Titan Pocket Scope Review: Product Specifications
Let's now look at the Titan 12X50 product specifications with the different makes.
Gosky Titan 12X50 High Power Prism Monocular

Bring the world closer with the Gosky Titan 12X50 High Power Prism Monocular that delivers high-resolution images with extremely accurate color reproduction.
The centrally focused pocket scope has a 12X zoom and has a field view of around 1000 yards which means you can see a clear view of anything in that range with a field angle of 6.5 degrees.
The large BAK4 Prism and fully multi-coated (FMC) Lens guarantees superior light transmission which makes your view brighter, clearer and produces crisp images.
The compact-sized equipment measures 2.09 inches x 2.95 inches x 5.31 inches and weighs around 14 ounces is covered with rubber armor which makes it durable in harsh terrains or during falls.
The adjustable eye-cups can be twisted up or down for comfortable viewing with or without glasses.
You also get a smartphone adapter that allows you to capture and record your exotic bird watching, or share a famous athlete from a field match by zooming in and capturing his/her presence with your friends and families. The smartphone adapter's extension is a cool gadget that is compatible with almost all major smartphone devices and we get to have that too for free!
That is just way better! Other items include a lens protection cover, a carry case, a strap, and a cleaning cloth.
Gosky provides a 14day money back guarantee for its Titan 12X50 pocket scope as they trust you are definitely to love their edition of the series.
Gosky Titan Scope
Check Price
We earn a commission if you click this link and make a purchase at no additional cost to you.
02/01/2023 12:35 pm GMT
Wingspan Titan 12X50 High Powered Monocular Scope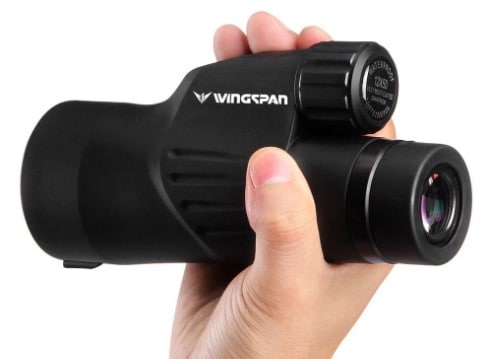 Wingspan claims its Titan 12X50 pocket scope to be the most powerful in the market. It has been specially designed and engineered to compete with other Titan 12X50 scopes.
In addition to BAK-4, its revolutionary and industry-leading optical technology, DiamondBright technology takes you into the new realms of clarity and color definition which they guarantee to produce the world's best bird watching experience.
This Wingspan's edition of the Titan 12X50 measures 6.14 inches x 3.1 inches x 1.9 inches and weighs exactly 14 ounces, which makes it a little heavier compared to Gosky's Titan 12X50.
It also comes with a sturdy rubber coating and nitrogen sealed monocular making it climate-proof and shockproof.
The box comes with a non-abrasive cleaning cloth, protection covers for lens and eyepiece, and a nylon mesh carrying case.
Wingspan takes great pride in the quality and the experience their products provide. They have a 30-day money back guarantee, so if you don't fall in love with their edition of the Titan 12X50 pocket scope series, there's time to reconsider.
They also provide a lifetime warranty just to showboat their build quality and durability of the product.
Suncore Titan 12X50 High Power HD Monocular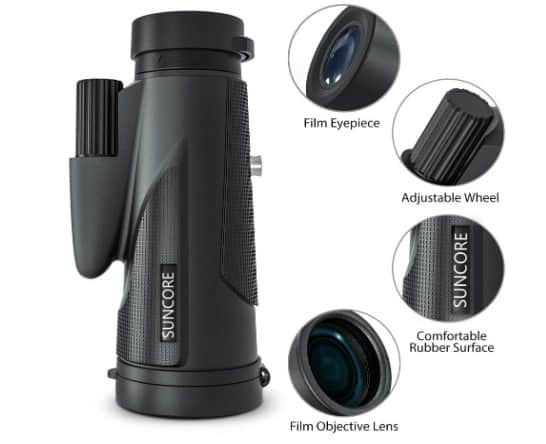 Guangzhou's Suncore Titan 12×50 pocket scope provides an ultra-wide-angle lens compared to other pocket scopes and is equipped with an HD FMC lens and BAK-4 Prism that makes your view wider, clearer, and even more pleasant.
The Suncore Titan scope has adjustable eyecups, making it for people who wear prescription glasses. The eyecups are easy to use and can be quickly twisted up and down. It also comes with a stable tripod and phone clip that helps you to shoot HD images and videos conveniently. Boasting a waterproof, fog-proof, and shockproof design, the monocular can adapt to any weather and environment.
The whole idea of having an HD magnification connected to your smartphone lets you take breath-shots or capture moments from afar with clarity and quality, strengthening your sharing game even more.
Here, Suncore beats its competitors with its low and affordable price along with the extra accessories it delivers with the package including the tripod stand and the smartphone holder, which, by far, is the coolest feature of this edition.
The price point and the inclusion of accessories like the smartphone holder and tripod can be the decisive factor for many people in choosing Suncore's pocket scope.
Adjustable eye-cup feature appeals not only to glass wearers but other users can benefit from it as well, as it is a great eye stress-relieving feature.
The package also includes a dust cover, a velvet bag, an eyecup, and a strap along with a cleaning cloth.
Just like all the Titan 12X50 editions, this one too is a very durable and solid performer.
The item also comes with a 30day money-back guarantee and lifetime warranty.
Comparison Chart between top manufacturers of the Titan 12×50 monocular
Specifications and Features
Wingspan Titan 12X50 monocular
Gosky Titan 12X50 monocular
Suncore Titan 12X50 monocular
Magnification Power
12X Zoom
12X Zoom
12X Zoom
Object Lens Diameter
50mm
50mm
50mm
Focus System
Centre
Centre
Centre
Prism Type
BAK4 with Diamond BrightTechnology
BAK4 with HD FMC Lens
BAK4 with HD FMC Lens
Field of View
268 ft /1000 yards
1000 yards
1310-2000 yards
Close Focus
2.5m
2.5m
2.5m
Adjustable Eye Cups
Yes
Yes
Yes
Durability
Water-proof; fog-proof; dust-proof; shock-proof
Water-proof; fog-proof; dust-proof; shock-proof
Water-proof; fog-proof; dust-proof; shock-proof
Extension
Tripod connection.
Tripod and smartphone connection
Tripod and smartphone connection
Dimension
3.1 x 1.9 x 6.4 inches
3.4 x 7.1 x 2.8 inches
6.8 x 3.7 x 3.2 inches
Weight
14 ounces
13.8 ounces
14.8 ounces
Warranty
YES; Lifetime Warrant

(30-day trial money back guarantee)

Yes

14-day trial with money back guarantee

Yes; Lifetime warranty with 30-day money back guarantee
Latest price
Wingspan
Gosky
Suncore
Titan Pocket Scope Review FAQs
Question: Does it support night vision?
Answer: No. The Titan 12X50 monocular is a Daylight pocket scope but does work anywhere bright enough to see with the naked eyes. This means the monocular can work in the night as long as there is plenty of light to work around with. You can definitely observe the moon on a clear night.
Question: Does it focus well on infinity? Can you focus sharply on the moon?
Answer: Yes, it focuses well on the moon as the bak4 prism has high light transmittance to produce a clear and quality image of the moon in the 12X zoom mode.
Question: Is the Titan 12X50 pocket scope's zoom adjustable?
Answer: No, it has a fixed zoom. You can either zoom out or zoom using the 12X. The adjustable zoom scopes are coded as 10-20X 50mm, for example, which indicates that it is adjustable.
Question: Does it work with my iPhone or Samsung?
Answer: Yes. It has complete compatibility with all major smartphone brands. This includes recent and previous-generation models by iPhone and Samsung smartphones.
Question: My camera has an 8x zoom so can I get a 96 x zoom power with this pocket scope ( 12x*8x=96x) ??
Answer: If your camera has a digital 8x zoom ( or even more) it can be combined with the scopes optical 12x zoom power easily and put to great use. On the contrary, if you have an optical zoom in your phone which physically pops in and out upon focusing, then it is not a very attractive option as the physical design of scope will leave little to no space to let you fix your pocket scope with the phone's camera.
Question: How great is it to use for wildlife exploration or observation?
Answer: From my personal experience, I used it on my latest wildlife exploration trip to the mountains and it was very easy to differentiate between the antler and the small bucks. Apart from the 12x zoom power of the scope, you can use its smartphone adapter and the camera's zoom in combination with the pocket scope to add further zoom power to your arsenal. Nothing is too far away from the awesome Titan 12X50 and its modern extensions.
Gosky Titan Scope
Check Price
We earn a commission if you click this link and make a purchase at no additional cost to you.
02/01/2023 12:35 pm GMT
Titan Pocket Scope Review Conclusion: Which Titan Pocket Scope Brand Is the Best?
If you're in the market for a high-quality monocular that is easy to carry around and offers great value for money, then look no further than the Titan Pocket Scope.
You can use the monocular with a wide range of smartphones and it works well for all types of outdoor activities. That said, they're not very useful if you're planning to get some quality zoom action when the sun goes down.
The real question, though, is which manufacturer or brand is delivering the best Titan 12×50 Pocket Scope? While it's honestly a matter of personal preference and which brand you resonate with more, I really enjoyed playing around with and testing Suncore's take at the Titan 12×50 Pocket Scope.
In terms of value for money, you are getting more out of the Suncore Titan 12×50 Pocket Scope. It comes with a complete kit of a tripod, smartphone holder, and storage bag. It is also similar in functionality and performance to its counterparts.
That said, the Suncore scope does boast a greater field of view which gives it another plus. So if you need the whole package at an affordable price, you can't go wrong with Suncore.
I found the materials used in the Gosky scope to be more high quality in general. I know I have to use them for longer before I can decide which manufacturer makes the most durable Titan pocket scope.
As far as the imaging quality goes, you can't really go wrong with Wingspan and their proprietary Diamond BrightTechnology
To conclude, the Titan Pocket Scope is a pocket-friendly and pocket-sized scope that can become a reliable companion wherever you go sightseeing, hiking, or even hunting, so we hoped this Titan Pocket Scope Review was informational and you finally know what to pick.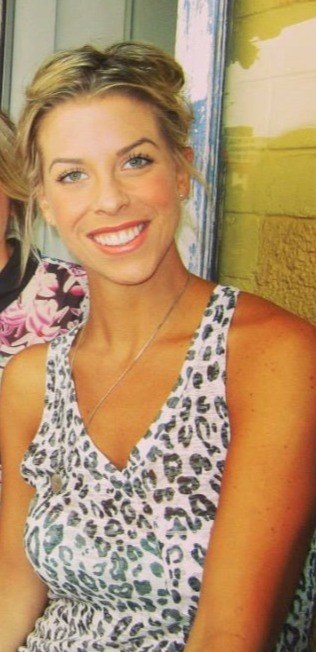 Jodie Chiffey loves the outdoors. If you aren't sure where to find her, check the nearest dirt trail. She loves being outdoors and spends a good deal of time reviewing products like clothing, footwear, and other outdoor gear.
Jodie is a full-time blogger who reviews a lot of the products for us. She writes many of our backpacking gear reviews, outdoor skills advice, and information, and helps visitors find the best destinations for backpacking, camping, hiking, and a lot more.
If Jodie's friends have a travel or outdoors question, they know who to ask and that's why we featured on our website. Now you can get the same great advice her friends enjoy, so you know where to go and what gear to take with you.