These days, Iceland ranks as one of the most popular hiking destinations in the world. Despite its popularity, however, for many would-be visitors it remains a bit of an unknown quantity, particularly as regards what to expect there in terms of both trail and meteorological conditions. While this uncertainty may, for some, be a large part of Iceland's appeal, when it comes pre-trip gear considerations it can leave many of us, well, a bit baffled — never more so than when it comes to deciding what to wear on our feet.
In this article, we aim to help clear up the uncertainty and de-baffle the baffled by taking take you through all the ins and outs of choosing appropriate footwear for your trip to the Land of Fire and Ice. We'll start off with a quick look at the varying trail types you're likely to encounter and then delve into the nitty-gritty of footwear specs, a detailed buyer's guide, and a review of the top options out there for 2018.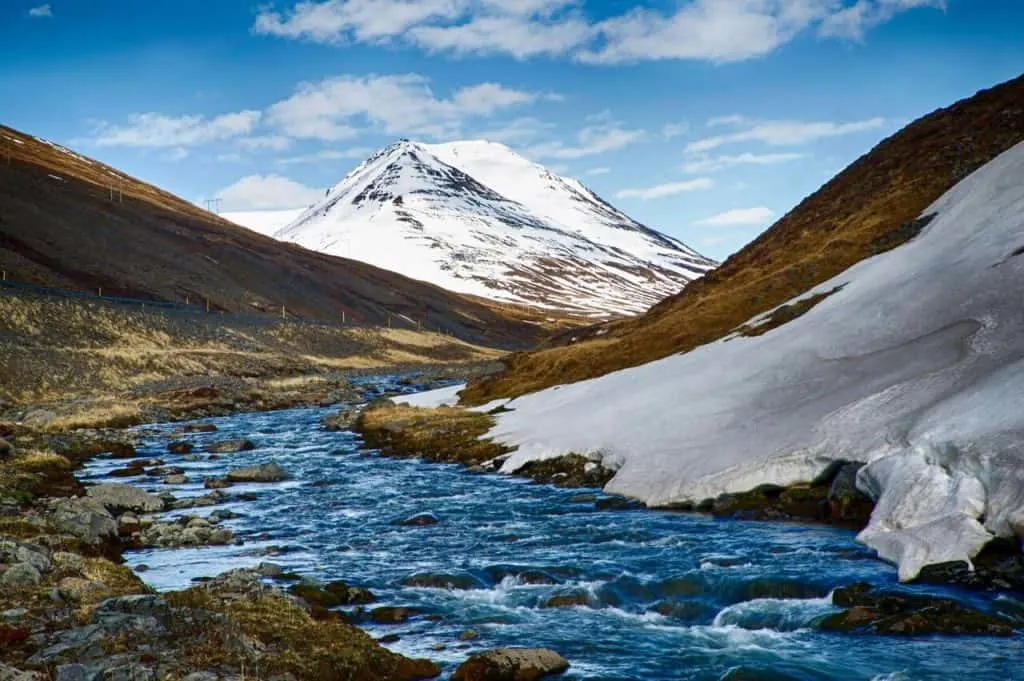 What to Consider When Buying Hiking Boots for Iceland
Deciding what boots will be best for your Icelandic adventures isn't as simple as it might be choosing a pair for your home turf or regular stomping grounds. A number of factors need to be taken into consideration before you hit the checkout. Below, we've selected the most pertinent.
Time of Visit
The time of year you visit Iceland will perhaps have a more significant bearing on the type of footwear you need than any other factor. Though Iceland isn't exactly renowned for its sweltering summer heat, the temperature differentiation between a colder winter's day and a summer scorcher can be as much as 90F. With conditions underfoot varying commensurately, choosing a boot that's season-appropriate is all but essential.
Below, we offer a summary of the conditions you can expect to find in each season and suggestions on the best approach to take footwear-wise.
Winter
In winter time, Iceland becomes a veritable wonderland of snow and ice — great for those who like to imagine themselves the last humans on earth or a troupe of White Walkers from the Game of Thrones, not so great for those who are unprepared as regards appropriate footwear.
With air temps dropping as low as -15 (in the north of the island) and conditions underfoot varying from knee-high snow to icy marshes on lower ground, your regular summer hiking boots just aren't going to cut it.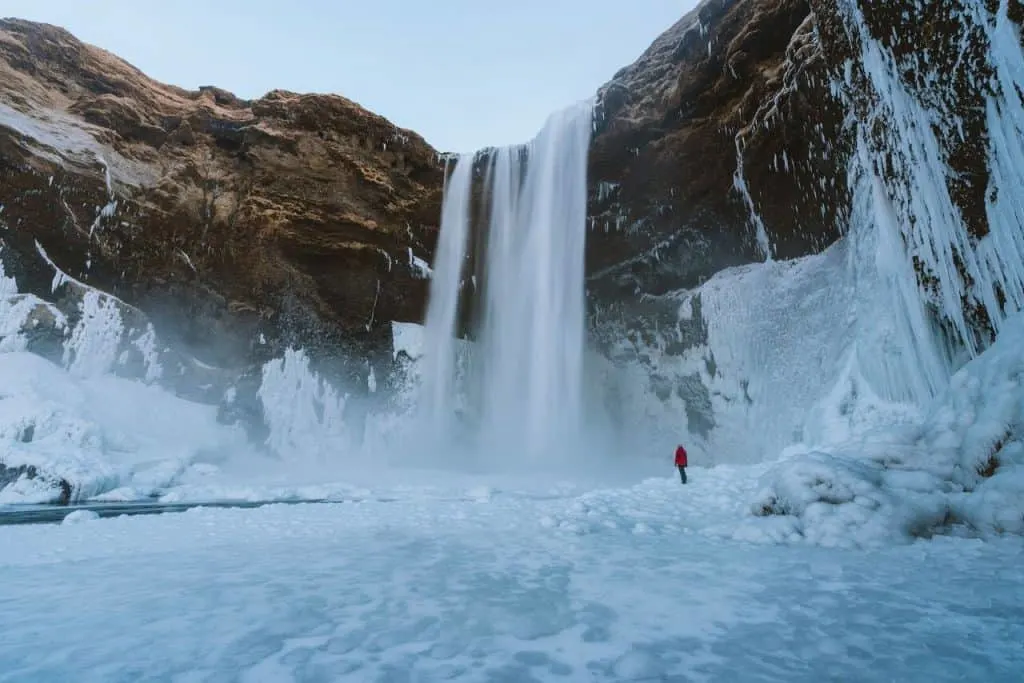 When buying boots for winter hiking in Iceland, bear in mind the following:
Insulation and waterproofing are musts — when buying your boots, choose a pair with a four-season (or at least three-season) rating
Those keen on venturing into more remote and higher terrain will most probably need boots with crampon-compatibility (and the crampons, too, of course!)
Even if you plan on sticking to the more moderate tourist trails, a pair of ice cleats or studded mini-crampons are highly recommended
Summer
Although not prone to sizzling, stable highs, at this time of year the inclement weather conditions that batter Iceland for much of the rest of the year take a bit of a breather and make way for something a shade more amicable. Temps in the region of 75F are not uncommon. That said, the island has been known to regale its inhabitants and visitors with a fun mixture of searing sun, Arctic winds, and semi-Biblical downpours — and all that, sometimes, just in one day.
As such, being prepared for a very "mixed bag" is the way to go in terms of footwear.
The bottom line:
Given that it would be a bit of a party-pooper to have to turn back on any given trail because of boggy conditions or to have memories of your visit tainted by recollections of cold, wet feet, to play it safe we'd recommend plumping for a pair of boots with solid waterproofing and a deep tread, such as any of the five items featured in our review.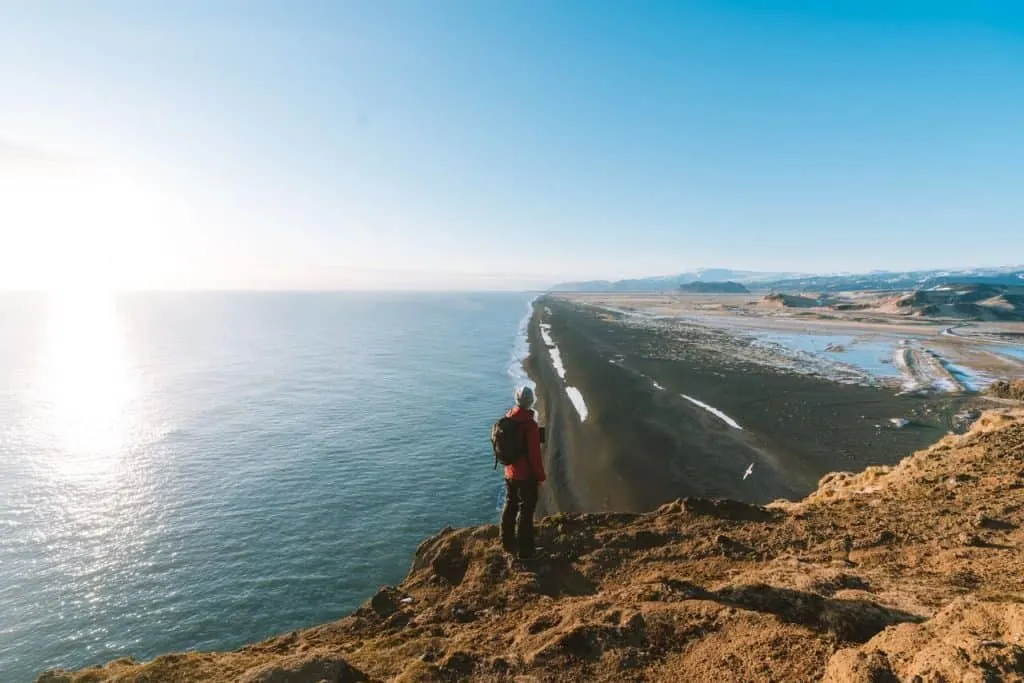 Spring and Fall
Both of these seasons can throw up a few surprises weather-wise, but footwear options are nevertheless streamlined by a simple process of elimination. Out go any inadequately insulated 2- (or even 2/3-) season boots, leaving a smaller selection of sturdier, warmer three-season or even four-season models, particularly for those prone to cold feet or keen on adventuring beyond the shorter and more accessible hiking trails around the Golden Circle and Reykjavík.
Residual snow and hard, frozen ground make crampon compatibility a bonus, but if you plan on staying low and hitting only the easiest of trails then a pair of strap-on mini-crampons or studded cleats will do the job.
Trail Type
Your ambitions or aspirations while on your trip to Iceland will largely dictate what type of boots will serve you best during your stay.
Below, we've included a summary of trail types and suggestions for the best footwear in which to take them on.
Tourist Trails
Trails such as those to the Seljalandsfoss, Kirkjufellsfoss, Gullfoss, and Skógafoss waterfalls are very well maintained and well trodden. As such, the vast majority are doable in trail shoes in drier conditions, and it's not uncommon to spot the odd tourist hitting their hike in a pair of standard sneakers in summer months…
…but we wouldn't recommend it.
As mentioned above, Iceland's weather gods rarely humor hikers' wishes with their earth-bound offerings. This being so, we'd advise leaving sufficient leeway in your boot choice — insulation, waterproofing, full-height (or at least mid-height) upper — to deal with the odd downpour, muddy trail, or chilly day, even for those planning on hiking only the shorter and more well-maintained trails.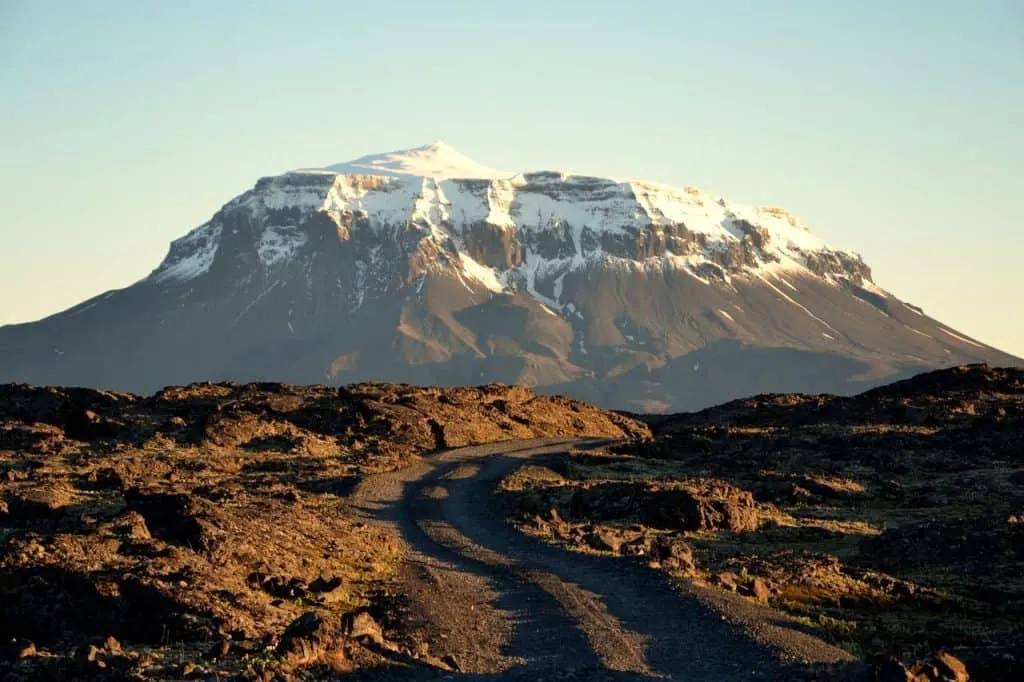 Backcountry Hiking trails
Longer hiking trails that veer off the beaten path are far more likely to require a more substantial, robust, and high-performing hiking boot. Some examples of this type of trail include the Fimmvörðuháls Trail, Laugavegur Trail, and the Thorsmörk Valley-Fimmvorduhals Pass hike.
While these trails are generally very well maintained, waymarked, and trodden by usage, they cross large sections of uneven and rough ground and the terrain covered can vary from tundra-like meadows and lush, marshy upland to scree slopes, small boulder fields, and the rubbled detritus of past volcanic outflows.
Ideally, those planning on venturing further afield should plump for a boot offering good ankle support, adequate waterproofing, a solid toe rand to avoid bumps and bangs, enough insulation to deal with cool air temps and residual snow (even in summer), and one comfortable enough for all-day use (and abuse).
Peak Bagging
Relatively speaking, Iceland's peaks are fairly small, but when you consider that many of the climbs to their summits begin at or only slightly above sea level, they suddenly seem a more challenging (and daunting!) proposition altogether.
Most of the more popular high peaks in Iceland — if undertaken without a guide — require some degree of mountaineering experience and, due to the presence of glacial terrain, also crampons, an ice-ax, and familiarity with crevasse rescue techniques. If that hasn't put you off, some peaks you might consider climbing include:
Although doable with three-season boots and strap-on crampons, if you plan on taking on any of these hikes and wish to do so in as much safety and comfort as possible, we highly recommend getting your hands on a pair of 3/4-season, technical mountaineering boots with a stiffer sole and semi or fully automatic crampon compatibility (and, of course, the crampons too).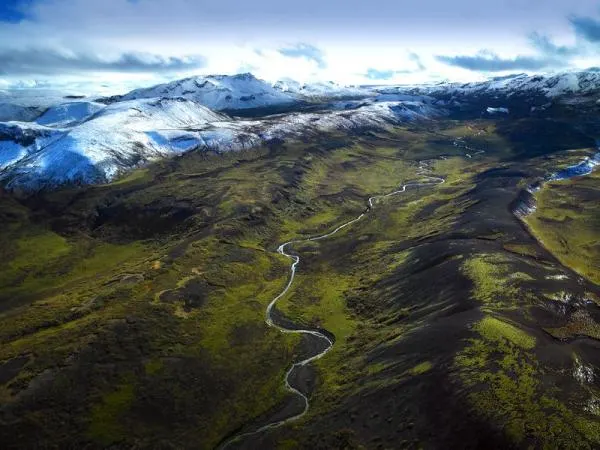 Easier, non-technical peaks that are within the capabilities and comfort zones of most moderately fit hikers include:
Would-be conquerors of the above summits can easily get away with a lighter 2/3-season boot such as the Moab 2 or Salewa Mountain Trainer (see below) in summer months, but a better bet in colder conditions would be a boot boasting thicker insulation, a slightly stiffer sole for the steep ascents, a more substantial toe rand, and an aggressive tread to help avoid slips on the muddy paths.
Glacier Hikes
Visitors to Iceland who manage to take in a glacier hike invariably cite the experience as one of the highlights of their trip. Those keen on following suit will probably already be aware that a standard hiking shoe or boot isn't going to cut it on the frozen stuff, and we wouldn't recommend venturing to find out why (though, granted, some do and have lived to tell the tale).
While many guiding outfits or tour operators will have suitable boots to rent, if you'd prefer to use your own pair, look for the following features when buying:
Crampon compatibility: a B1 or B2-rated boot is ideal, offering a sole stiff enough to hold a crampon and yet not so stiff that it will be uncomfortable when back on non-glacial terrain
Adequate insulation: a three or four-season boot
Crampons:

Semi-automatic: clipped to boot at the heel with a lever and fastened around the toe and forefoot with a strap (compatible with most B1 boots)
Fully automatic: clipped at both the heel and toe with metallic levers (B2)
Strap-on: strapped around the foot and attached by a buckle (can be used on any boots)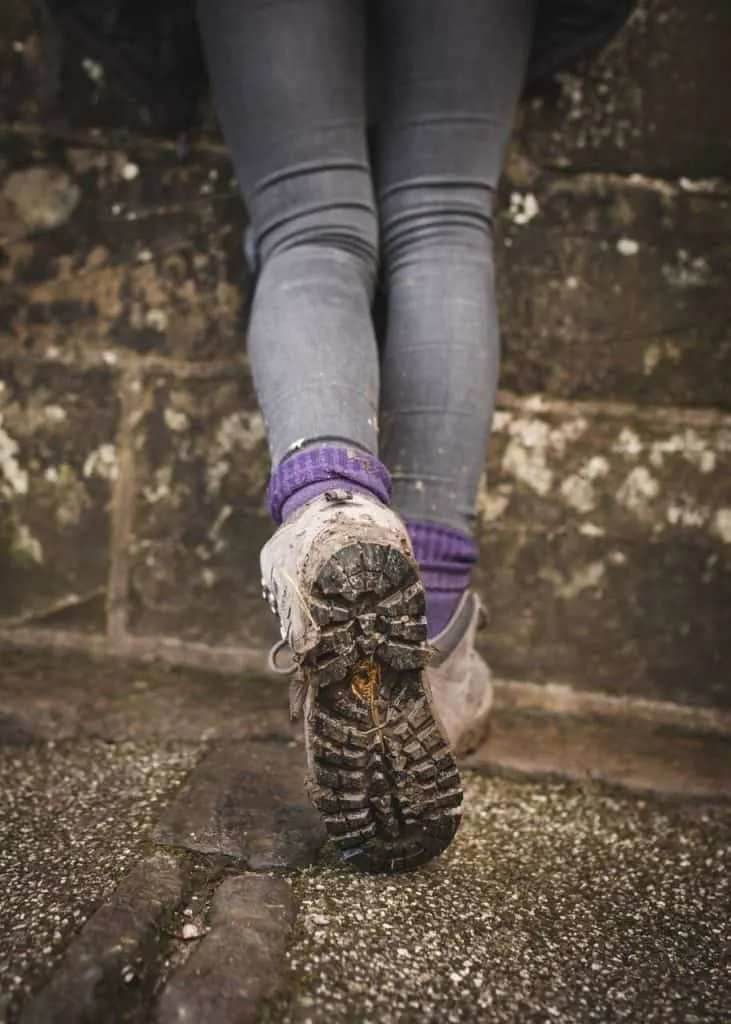 Comfort
When choosing hiking boots for any adventure, comfort is king — without it, your boots can not only limit your enjoyment of your time on the trail but even become downright prohibitive to getting your gander on.
Several factors contribute to a boot's comfort levels, most notably:
Cushioning
Sole stiffness or rigidity
Breathability
Length of time to break in
Midsole performance
Weight
Gauging a boot's comfort levels when buying online is very tricky, and, ideally, you should try the boots on in a store. If this isn't possible, however, take the time to read user and expert reviews before buying and when reading these reviews, pay particular attention to any mention of the factors in the above list.
Specs: The Finer Details
Insulation
This refers, in practice, to the amount of warmth any given boot will provide. While most manufacturers won't delve into the specifics of the insulating material's depth or properties, the degree of warmth they will offer is normally ascertained by the boots' season rating.
2 season: usually lightweight with ventilating mesh or synthetic panels and minimal insulation
3 season: usually feature enough insulation for summer alpine hikes and milder winter hikes
4 season: enough insulation to tackle the higher peaks and winter hikes, but heavy and overkill for most summer visitors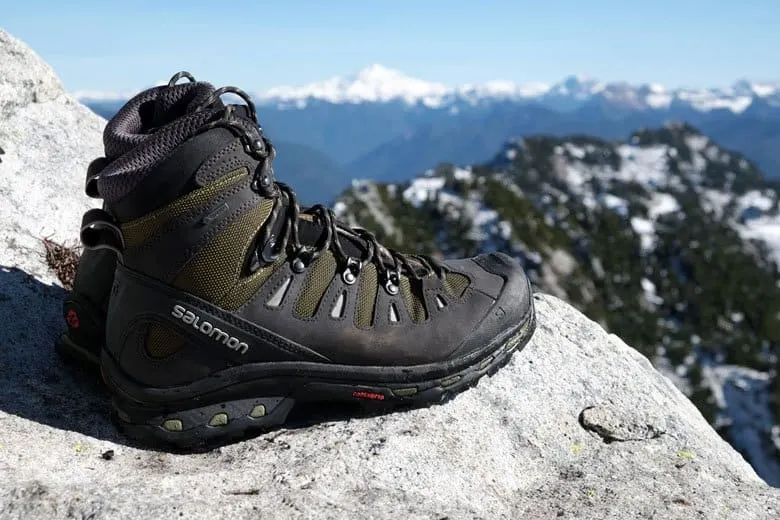 Tread and Lug
The soles of hiking boots feature a wide variety of patterns designed to increase grip and traction on loose or wet terrain. More aggressive patterns (multi-directional work best) and deeper lugs will help keep you upright when conditions underfoot are doing their best to land you on your backside.
Outsole
When hiking on rocky trails, particularly on the descent, a grippy outsole is all but a must for those keen to avoid slips, slides, and more grievous mishaps as a result. While a sole's stickiness may be hard to gauge in the store, read online users reviews and look out for materials such as Vibram, ContaGrip, or Gripex, all of which come in various forms but, generally speaking, are winners when it comes to preventing the aforementioned misadventures.
Foot Support
Both ankle and arch support are vital contributors to a boot's worthiness for your feet. While doing yourself an injury is unlikely on any of Iceland's more easygoing Golden Circle trails, for everything else it becomes a real possibility without suitable footwear.
If you find yourself heading out on longer treks and on rougher terrain, a more substantial EVA or polyurethane (PU) midsole will provide a buffer between your feet and their would-be aggressors (rocks) and potentially spare you the strains, stresses, and moderate traumas that might await you without one. To prevent sprains and twists, shoot for a full-height boot with stiffer material around the ankle. In this respect, leather uppers usually perform better than synthetic varieties.
TIP: It's well worth noting that PU midsoles tend to be much stiffer than the EVA variety — great for steeper terrain and crampons, but liable to cause their own discomforts on more moderate, level, or paved terrain.
Waterproofing
Even if you happen to hit Iceland during a dry spell, some degree of water-resistance in your boots is highly advisable. Whether you're hiking through dew-dappled grass, plodding in puddles, or crossing shallow creeks, streams, or residual snow, the average day hiking in Iceland will throw up plenty of opportunities for you to give your feet a thorough soaking without adequate protection.
Most mid-range hiking boots feature some form of waterproof or water-resistant lining and/or upper. Though there is usually a trade-off between waterproofing and breathability, certain high-tech materials do both very well. Some common examples of these in boot linings are:
Gore-Tex
Columbia OutDry
Keen.Dry
Vasque UltraDry
Weight
While not specific to Iceland, the weight of your boots can have a significant impact on your comfort levels during your hike, and also on how quickly your legs become fatigued and their subsequent recovery time.
For most hikers, the key lies in finding a balance between weight and insulation. As with other factors, which of these takes priority will depend on the type of trails you plan on hitting, and at what time of year. Know thy enemy (or trail type and weather conditions, even), and thou shalt know thy boot!
On the "pro" side, heavier boots tend to offer more in the way of insulation, support, and durability than lightweight models; on the "con" side, they are also likely to be bulkier, more cumbersome, and lead to leg fatigue far more quickly.
Got all that? Great! Now that we know what we're looking for, let's get down to business with our review of…
The 5 Best Hiking Boots for Iceland in 2018
An affordable, lightweight, mid-height boot that feels like a shoe and performs just as well as many of its full-height and pricier competitors.
Sound good?
There's a lot to be loved about the Moab 2, particularly for those who want more stability and performance than a hiking shoe but don't want to compromise on comfort. Weighing in at 3 lbs per pair and packing a meaty EVA midsole, very aggressive tread, a grippy Vibram outsole, and also those all-important extra inches above the ankle, this boot represents a solid happy-medium for summer visitors to Iceland seeking to strike a balance between the dexterity and nimbleness of a shoe and the support and warmth of a boot.
On the downside, the Moab 2 doesn't offer the same level of waterproofing as the other entries on our list but is ideal for occasional hikers headed to Iceland in summer months and who don't see themselves taking on any of the more challenging routes.
Pros
Very comfortable
Lightweight (3 lbs per pair)
Great breathability
Grippy Vibram sole
Deep sole lug offers good grip on muddy terrain
Available in varying widths
Ideal for shorter day hikes
EVA midsoles
Cons
Not ideal for wet-weather hikes or boggy terrain
Less ankle support than full-length boots
Negligible toe rand
Not the most durable
Not as robust as other boots in our list
A hugely popular boot with hikers pretty much everywhere, the Quest has almost single-handedly raised the bar in terms of hiking boots' friendliness to our feet, so much so that these days it's all but synonymous with comfort and performance.
The Quest features a generously cushioned collar, breathable nylon mesh panels in the nubuck upper, a pillow-like polyurethane midsole, and a sticky Contagrip outsole with a deep, aggressive tread — and all at 3.5 lbs per pair.
The bottom line?
It might lack the insulation required for hitting the higher peaks and winter or glacier hikes, but for anything else in Iceland the Quest is a safe bet.
Pros
Sneaker-like comfort
Good value for money
Nubuck leather outer
Gore-Tex lining and synthetic mesh panels very breathable
Waterproof
Grippy ContaGrip sole
Lightweight (3.5lbs per pair)
Better ankle support than mid-height boots
Cons
Not the best for carrying heavy loads when backpacking
Inadequate insulation for colder temps
Very flexible sole not ideal for steeper terrain or hiking in snow
Not crampon compatible
You might have to rob a small bank to get your hands on a pair, but the Salewa Mountain Trainer will reward your efforts with a boot that's built to last, very comfortable, and boasts far more performance-wise than the vast majority of its mid-height competitors. Featuring solid ankle support, crampon compatibility, a sturdy 360° rubber rand, a highly breathable and waterproof Gore-Tex lining, this boot is a safer bet for longer hikes, summit hikes, and glacier hikes than the Moab 2.
The verdict?
A very lightweight, comfortable hiking boot that offers the performance of a more technical alpine boot and bests its mid-height competitors on all but price.
Pros
Light (3.15 pounds per pair)
360° full rubber rand
Compatible with semi-automatic crampons
Performs like a more technical mountaineering boot
Waterproof Gore-Tex lining
More ankle support than Moab 2
Cons
Not as robust a the Nepal Evo or Trango
Short on insulation
Pricey
The Nepal EVO is among the most popular four-season boots ever, and with good reason. This beast of a boot marries technicality with comfort in a smart-looking, high-performing package that's good to go pretty much anywhere you might wish to take it. It might not be the cheapest option out there, but its tough construction and durable materials make it a true 'lifer' that will be a faithful companion long after your return flight from the Land of Fire and Ice.
While you're there, the Nepal is a great choice for tackling the higher, snow-bound peaks and glacier treks, and is ideal for winter hikes on any terrain. Specs-wise, it boasts a waterproof breathable Gore-Tex membrane, a meaty insulated lining, a tough leather upper, detachable inner tongue, and a comfy collar that will keep your feet warm and dry even in knee-deep snow.
The bottom line?
Like any of the best, technical three-season boots you've ever had, but on steroids!
Pros
Toasty insulation — a great choice for winter hikes
Detachable tongue for extra warmth and cushioning
Automatic crampon compatibility
Very sturdy and durable
Extremely high-quality construction
Easy to break in for such a tough boot
Great value for money despite the hefty price tag
Cons
Heavy (4 lbs 9 oz)
Overkill for gentler hikes
A hiking boot that can claim to be a bona fide all-rounder has long been considered the Holy Grail of the hiking world's R&D departments. Given the diversity of trails worldwide, their task has been a tricky one, but with the Trango S EVO GTX, the guys and gals at La Sportiva have come pretty darn close for those not venturing over the 6,000-meter mark.
Where the Trango really stands out, therefore, is its versatility. It's light, durable, breathable, semi-automatic crampon compatible, comfortable enough to walk the dog in and technical enough to take on steep ascents in mixed terrain.
It might not boast as much insulation as out-and-out four-season boots like the Nepal EVO, but shades it warmth-wise over other three-season competitors like the Salomon Quest and weighs in at a very friendly 3 lbs 4 oz.
In short, this is a comfortable, top-end hiking boot with several tips of the hat to a more technical mountaineering boot. More importantly, it's ideal for pretty much anything you might be getting up to in Iceland.
Pros
Very light (3.4 lbs)
Very comfortable
Sticky Vibram Mulaz sole
Incredibly well-made
Breathable
Aggressive, deep tread
Versatility: good to go wherever you might want to take them
A solid 9 out of 10 on the snazziness scale
Cons
You have to take them off at some point
Comparison Chart: The Best Hiking Boots for Iceland
Model

Weight

Materials

Season Rating

Value for Money?

Ideal for…

Not ideal for…

3.5 lbs

Textile/Nubuck Leather;

Gore-Tex lining;

ContaGrip sole

2-3 season

Good despite a few durability issues

Tourist trails and longer treks, even when wet

Colder temps, peak-bagging, and glacier hikes

4 lbs 9 oz

Silicone-impregnated leather; Gore-Tex lining;

Vibram sole

4

Excellent: built to last a lifetime

More demanding winter hikes, glacier hikes, and/or larger, mountaineering peaks such as Hvannadalsnúkur

Strolls about town or hikes on established tourist trails

La Sportiva Trango S EVO GTX
3lbs 4 oz

Cordura and Lorica upper;

Gore-Tex lining;

Vibram Mulaz sole

3/4

Excellent: a very well-made boot that will serve you well almost* anywhere

A true-all rounder suitable for longer hikes, glacier travel, peak-bagging and comfortable enough for daily use on easier trails and around your accommodation

We're still looking…
* Probably not the best choice mid-summer desert hikes in AZ, CA, or UT when you get back home!
Additional Tips
Be sure to break your boots in thoroughly before leaving for Iceland to minimize the risk of blisters, foot cramps, and to loosen off the stiff material
While many tourists choose to venture out onto the glaciers without crampons, we would strongly advise against it — some crevasses are scarily deep and ending up in one is all too easy without a set of spikes
Treat yourself to a pair of breathable hiking socks to complement your boots, such as Darn Tough's Micro Crew Hiker Cushion Socks or Wrightsock's Escape Crew
Conclusion
A number of variables come into play when choosing your boots for any hiking location. Far from being an exception, Iceland is an exemplary case in point, offering a mixture of terrain types, varying trail conditions, hikes that boast appeal to both novices and experts, and, of course, vagaries of weather that are more pronounced than in many other hiking destinations.
That said, the desirable features and attributes used to evaluate any item of outdoor attire remain the same: comfort, performance, and bang for your buck. In each of these three categories, and despite a stiff competition from the other items in our review, the La Sportiva Trango S EVO GTX stands out as a clear winner.
So, just what does this boot offer that others don't?
Well, as mentioned above, Iceland is a place of stark contrasts, and not solely the one — fire and ice — acknowledged in its alias. To see these contrasts in all their glory and in maximum comfort requires an all-weather, all-terrain warrior of a boot that's made to perform in any arena, from snow-laden peaks to the easygoing terrain of the hikes dotted around Iceland's Golden Circle. The Trango is just that, offering the kind of versatility and quality that could save you from ever having to buy another pair and the ideal companion for everything from a simple stroll to the waterfalls at Skógafoss to a summit climb of Hvannadalshnúkur across the Öræfajökull Glacier.
For more information, read here: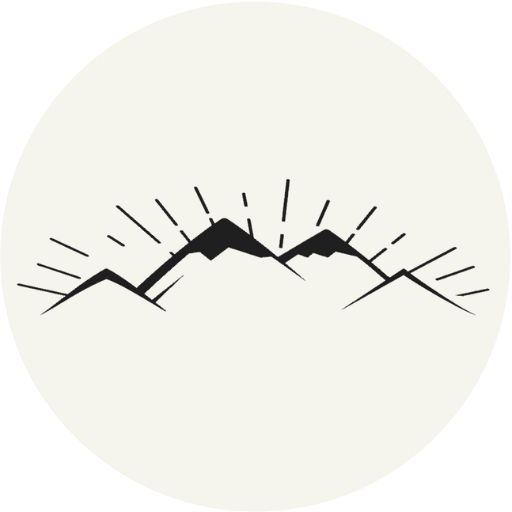 The All-Outdoors Guide team is comprised of enthusiastic experts that enjoy helping others that aspire to be better at outdoor fun. Part of that is making sure you have the right gear and information when it's time to go out and have fun. Some of our team have accomplished amazing feats like climbing 6000 feet to the top of mountains, others have explored every dirt trail they could find and we even have some people that have backpacked solo on various continents. No matter what our readers want to learn and do, our team is here to help them accomplish those goals.