Almost everyone in the world has heard of Canada Goose, the company that is responsible for manufacturing one of the most expensive winter clothes. Search the term Canada Goose Jackets and you will find article after article talking about why this company produces winter clothing that is so extremely expensive. What is it about the Canada Goose jackets that make such a hefty price justifiable? Well, in this article we will explore just that.
Canada Goose claims to be committed to producing the best winter weather outerwear in the world. Their collection of down feather-insulated and travel-inspired stylish outerwear can protect you in the coldest and harshest of conditions, according to the owner of the company, David Reiss.
The Canada Goose Expedition Parka, for example, was developed for scientists in the 1980s who worked in Antarctica. This jacket supported their expedition and kept them warm even in the sub-zero temperatures of Antarctica. It was given the nickname Big Red and became a standard issue soon afterward, because of popular demand. This company is based in Canada itself, with headquarters in Toronto, Ontario, Canada.
Best Pick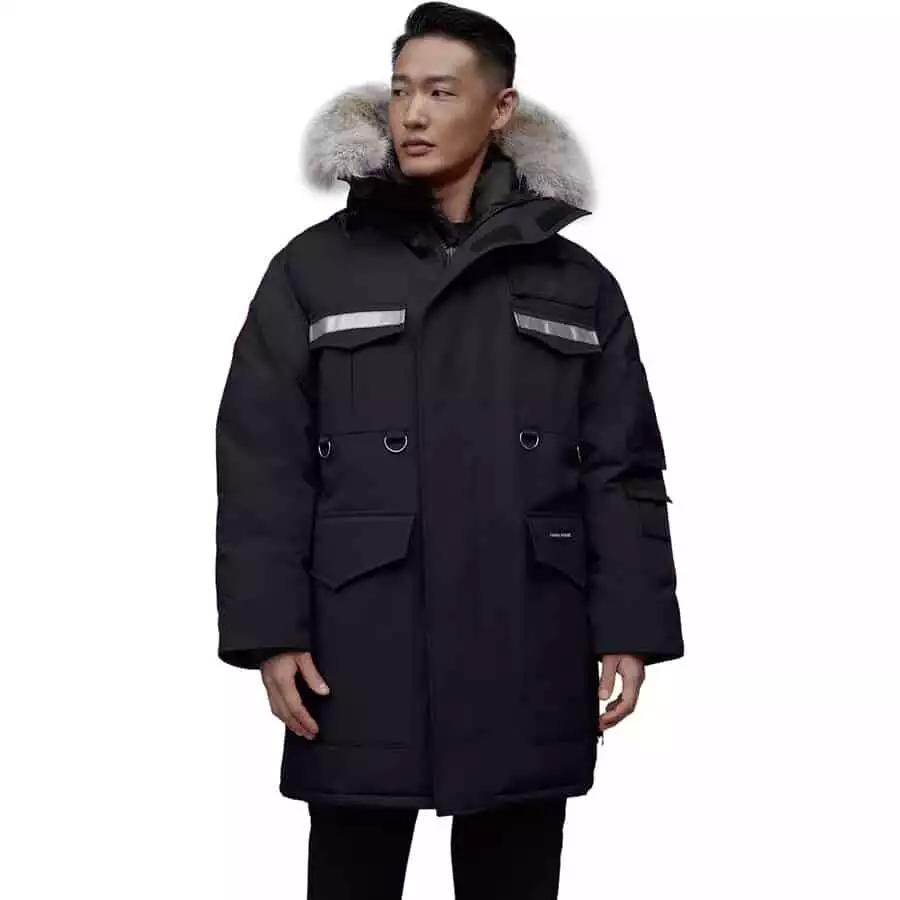 Canada Goose Resolute Down Parka - Men's | Backcountry
The Canada Goose Men's Resolute Down Parka has been field tested for the coldest places on earth, so you'll still feel like you're in Turks and Caicos even if you're hanging with emperor penguins in Antarctica or stationed in Siberia for months on end.
Check Price
We earn a commission if you click this link and make a purchase at no additional cost to you.
However, the retail stores are spread out from the United States in Chicago, New York, and Boston, to Canada in Montreal, Calgary, and Vancouver, to London, Stockholm and even Tokyo. The circular red, white and blue brand logo is popular because it's "a reverse image of the North Pole with the white representing the ocean, islands represented by blue and encircled by red lines of longitude to make it look like a map of the Arctic.
You can find the brand usually placed on the upper arm of their jackets or coats, and it can really make you feel like a part of something bigger, similar to other high-end brands.
The brand has been known to be extremely conservative with respect to what offerings they release or licensing their logo to outside manufacturers in order to prevent diluting the brand logo in the long run and making it too ubiquitous.
In addition to this, the company is firm on its principle of setting up each part of the manufacturing process within Canada, and unlike so many high-end brands out there, does not outsource its manufacturing into Asia to take advantage of lower wages and has stuck to its principle of "Make in Canada."
The company has also set up sewing schools in Montreal, Toronto, and Winnipeg. This is because they wanted, right from the beginning, to be an "ambassador on a global stage." This is, therefore, possibly the only company that produces jackets and parkas within Canada and provides employment to Canadians.
Canada Goose is known primarily because of its various appearances in Hollywood movies. The jackets have been worn by well-known and beloved celebrities such as Kate Upton and Jake Gyllenhaal. In addition, you can also see celebrities out and about in real life wearing these jackets, from Daniel Craig, Emma Stone and Bradley Cooper to Jimmy Fallon.
This product has also been used by plenty of professional sportspersons and athletes, such as David Ortiz, the designated hitter of the Boston Red Sox, who received three custom-made Canada Goose jackets valued at 1000 USD from Toronto Blue Jays players. Canada Goose jackets were also often worn on the UK edition of Top Gear by former hosts during the special episodes shot in the winter.
According to the current CEO, David Reiss, Canada Goose has become the Land Rover of clothing. Initially built for comfort and performance, but eventually becoming a staple for any fashionista wishing to set trends in cold winters.
A Matter Of Price
Much like Apple products, Canada Goose jackets have developed their own reputation that is very highly polarised amongst their fans, as happens to any product that is extremely popular and extremely high-end.
No matter if you love it or hate it, you would have definitely seen Canada Goose jackets everywhere around you from TV to real life. There are enough fans of Canada Goose that would not wish to spend even a single winter without their beloved jackets.
These jackets have become quite the status symbol across the world, and you will see many people trying to flaunt the familiar red, white and blue logo like they would a Chanel purse in the freezing cold winters around the world. A status symbol is considered the only stylish way to bundle up against the cold, irrespective of the sky-high price of the jacket.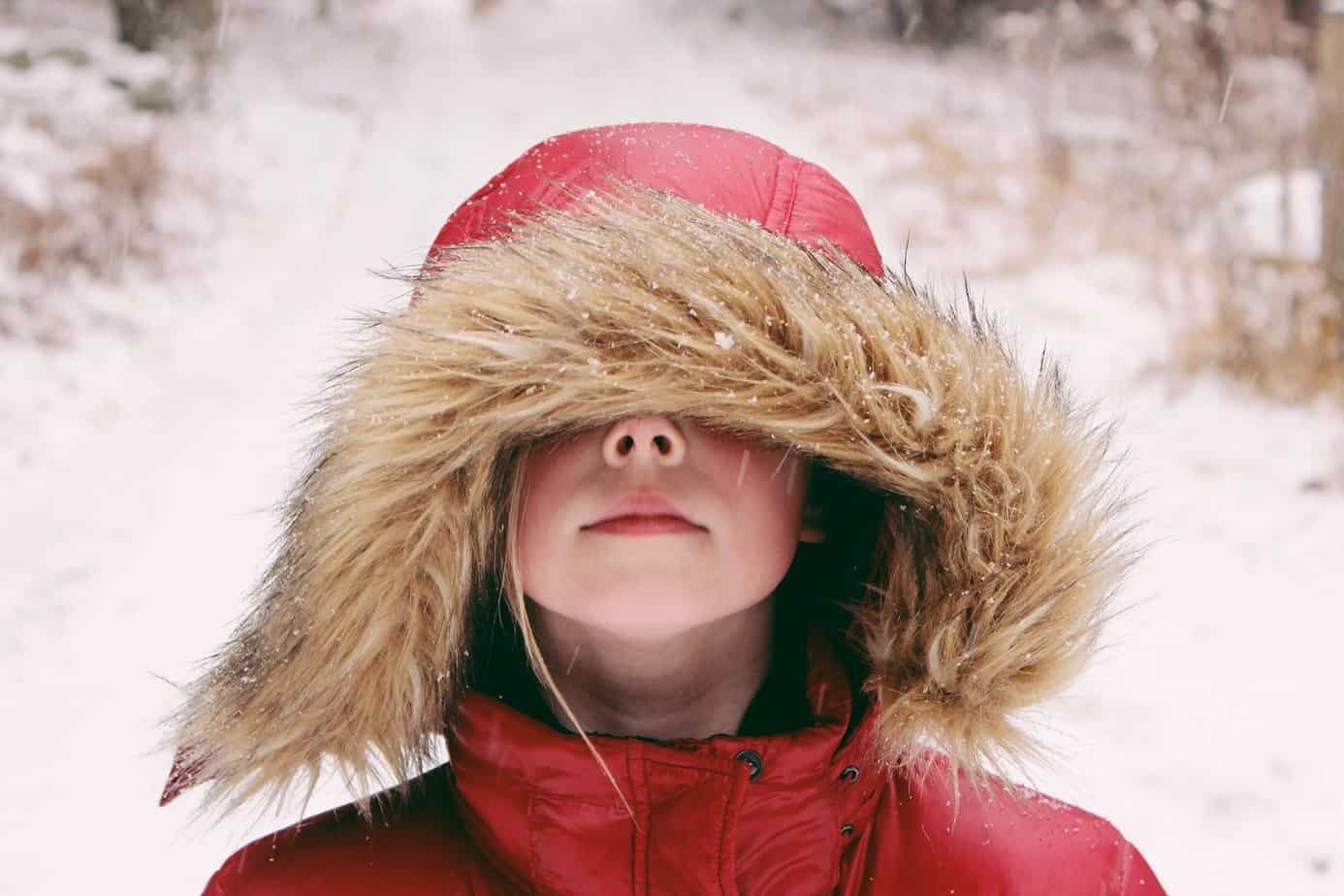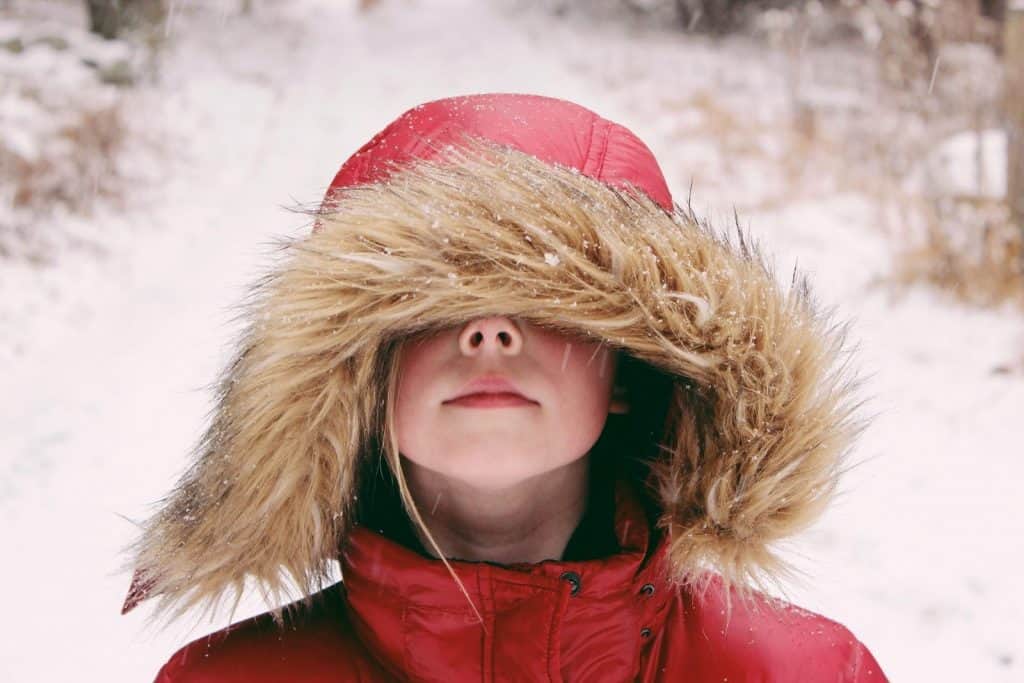 But what it is about Canada Goose's jackets that justify such a high price?
A lot of people love to hate on Canada Goose the way they hate things that are too pricey. Another example of this is Apple products. "Why would I spend $900 on a jacket," they ask. "I can buy a good-quality high-end gadget in that much money. You're only paying for the brand name."
These seem like great arguments to someone who prefers to buys products that are good value-for-money, but in reality, these are the worst arguments for someone who prefers value-for-money products. The reason is that you really are getting great value for your money when you buy Canada Goose.
Think about it. If you look at the quality of the product you are buying and add other important features to buy a long-term outerwear product, such as durability and strength, you will actually realize that Canada Goose jackets are extremely comfortable to wear even in extreme sub-zero temperatures, and they will keep you warmer than almost anything else out there in the market.
So if you do a side-by-side comparison of the build quality you are getting for Canada Goose jackets to any other brand, you really won't be able to find anything cheaper in the market with the same kind of quality.
So if you are the kind of person who wishes to buy a jacket for life, or at least for many, many years, there really is no point in spending half that money on some lower quality jacket with synthetic down feathers, that has also been outsourced to Asia and simply does not deserve the kind of money you are throwing at it, Canada Goose is really a valuable purchase but it is so worth it.
After all, if the only criteria you were measuring the greatness of a product was through money, you would rate a cheap synthetic parka the highest and be done with it.
Canada Goose jackets are used by miners in Alaska and those who work in the far-flung icy cold parts of the world. It is designed to keep you perfectly warm in the coldest possible parts of the world. And if you are investing in a winter jacket that is designed to do just that, spending what you would spend on a gadget doesn't seem like that much of a big deal considering the build quality you're getting.
For the people who say you're just paying for the brand name, this isn't true either. For one, jackets in general really are just this expensive. The manufacturing process for a jacket is long and complicated and considering the fact that most people buying a jacket wish to opt for natural down that requires real animal feathers, and animal fur around your neck as well, the prices don't seem that atrocious if you consider the quality you're getting in return.
For example, many of Canada Goose's competitors charge about the same amount of money for their jackets as well, but often without the same build quality and different features you get with this jacket. Kanuk is a well-known brand from Quebec itself whose prices are far higher than Canada Goose, often going beyond 900 USD.
The expense you are paying for is the fur on the hoods that is extremely expensive, and that is if you only consider the manufacturing expense. Considering Canada Goose does not outsource its manufacturing process outside Canada to cheaper countries where other brands would easily exploit the poverty in Asia by severely underpaying the people there, Canada Goose stays true to its brand.
This is the true value of their jackets. That combined with a selection that is so expansive that it will leave you so totally confused that you will not be able to choose which one to take home, Canada Goose is truly a great investment if you wish to buy a winter coat.

So while you may feel it can be hard to put a price on staying warm. Feeling cold is a horrible feeling, and there is nothing you can do when you're stuck in a cheaply-manufactured jacket that does nothing against the wind chill and extreme temperatures that most cold weather countries have.
That horrid feeling of wet windchill that feels like it's seeping straight into your bones is possibly the worst feeling ever. And with the Canada Goose jacket, there is absolutely no doubt in any user's mind that it works spectacularly in all winter conditions.
The design on these jackets seems like it was personally designed by someone who has spent a night in a wet, disgusting chilling-to-the-bones kind of feeling, and as a result, this is the jacket given to police officers and people working in the government who have to be outside late at night in the hellish winters.
In fact, you will be pleased to know that Canada Goose coats have been standard issue for researching working in the US Antarctic Program. It is also used universally by a film crew that needs to shoot in cold climates. If it is good enough for Antarctica, it is good enough anywhere.
The little details you will find in Canada Goose jackets are unparalleled in quality and build material and attention to detail. There is a little wire that goes around the hood that keeps the fur-trimmed hood totally rigid and prevents it from folding over behind your back when you're out and about.
There is also a robust and high-quality metal zipper that can be accessed easily enough even if you are wearing gloves or mittens in the cold. Some Canada Goose jackets also come with convenient pairs of pockets on either side lined with fleece for your cold hands, so you can just stick your hands into the jackets to feel warm because of the fleece again.
Another great detail is the thick chin-protector around the neck area that is extremely convenient and useful to use, and there aren't many substitutes for these details if you opt for a different brand of jackets.
According to personal finance blogger Kerry K. Taylor of Squawkfox, people she interviewed about their preference for Canada Goose jackets at a bus stop in Toronto had a wide variety of compliments for the jackets. The following were some of the most common reasons people said they preferred these jackets over any other:
High-quality build material: The parkas are constructed from high-quality goose down sourced from Canada itself, harvested by Hutterite farmers, and the jackets also come with a coyote fur-trimmed removable hood.
Durability: People especially loved the stitch and sew quality, the high-end fabric and it was very obvious that the jackets would last for quite a long time. Many said that they viewed the jacket as an investment for many years.
Made In Canada: People especially liked the fact that the entire manufacturing process was restricted to Canada to provide employment to Canadians, and it was not some cheap coat made in China.
Lifetime Guarantee: Canada Goose jackets offer a warranty to its original owner against all defects in materials and workmanship for the lifetime of the product. This makes it seem like a more reliable choice in jackets.
Fashionable: After seeing it in so many movies and worn by so many celebrities in real life, it has become a fashion icon that people want to wear these stylish jackets.
Warmth without Bulk: People loved the fact that the coats and jackets are extremely warm and yet are very lightweight, because of the high quality of down feathers used in it.
Another feature is that Canada Goose jackets never ever go on sale. This is to help not dilute the brand, making it quite the style statement if you wish to opt for these jackets.
How Warm Are Canada Goose Jackets Really?

Incredibly warm. The kind of warm that makes you immediately toasty and comfortable, such as you believe that you will never feel any kind of cold as long as you have these on. Winter itself will turn into a completely different experience for you.
Early morning walks become pleasant and breezy for you since the early morning humidity causing wind chill really cannot get to you through these jackets. The protection against wind chill is truly incredible.
The fur-trimmed hood does an amazing job at protecting your ears and face from the cold and the wind chill, even when you aren't wearing it. It can trap your radiant body heat into it, so when you are wearing it you will simply feel like you are in a nice toasty environment. No wonder miners in Alaska wear this underneath the ground, this is the kind of jacket that can offer you protection even when it's -20°C outside.
The length of the zipper is also protected from the outside cold wind, which means that the zipper itself will not leak cold into the jacket making you feel cold. This is another feature that is usually not talked about enough when you consider the fact that Canada Goose makes all-purpose winter jackets and coats: it's waterproofing ability.
Canada Goose jackets are made of high-quality water-resistant shells and will protect you from any kind of downpour, even if you are stuck outside in the middle of a storm, with the kind of ease that few other brands will be able to boast of.
In fact, the Canada Goose jackets are so warm that if you wear these and go for an adventure sports activity, such as skiing, they will actually make you sweat. This is also why they are not recommended for adventure sports of any kind or any continuous sporting activity.
In addition to the features we talked about above, Canada Goose also specializes in providing cuts and seams that are unparalleled in seamlessness and quality. If you look at the shoulders for any of the designs, you will find that the seams and stitches have been designed and executed perfectly to make the jacket absolutely leak-proof even if you go out in pouring rains.
Even the most tight-fitting designs seem to have been worked on meticulously and have incredible build quality. The cold winds will not seep up through the sleeves and zippers or even the hood, which is a testament to their high-quality adherence to these minor details.
One thing you may have to keep in mind is to choose the parka that is right for you and pick the correct size. If it has been chosen according to your size, the parka lies perfectly on your shoulders and looks extremely aesthetically flattering as well, even for such a bulky and warm design.
One advantage of buying the Canada Goose jacket for smaller men and women especially is that the size S is the standard size available that will fit your body perfectly if you are a small size. Canada Goose also, however, has recently begun to offer XS which can be great for smaller framed users.
So if you live in a country which faces extremely harsh and cold winters, this fabulous brand should be your go-to option for choosing the warmest and most comfortable jacket out there. Even though spending this much money on a mere jacket seems like a waste, we can assure you that that money will definitely be well-spent considering you are getting the best in the world in terms of design, build quality, durability, and insulation, as well as the quality of the down and the fur-trimmed hood.
You will surely find yourself wearing this brand of jacket everywhere you go, no matter what kind of winter you have this year since it is an absolutely indispensable item in your wardrobe that cannot easily be replaced with anything else when it's freezing cold outside. It can easily live up to its promise of keeping you toasty warm even in sub-zero cold weather outside, which is a promise that is kept over many years, across various countries and customers.
How To Choose The Best Canada Goose Jacket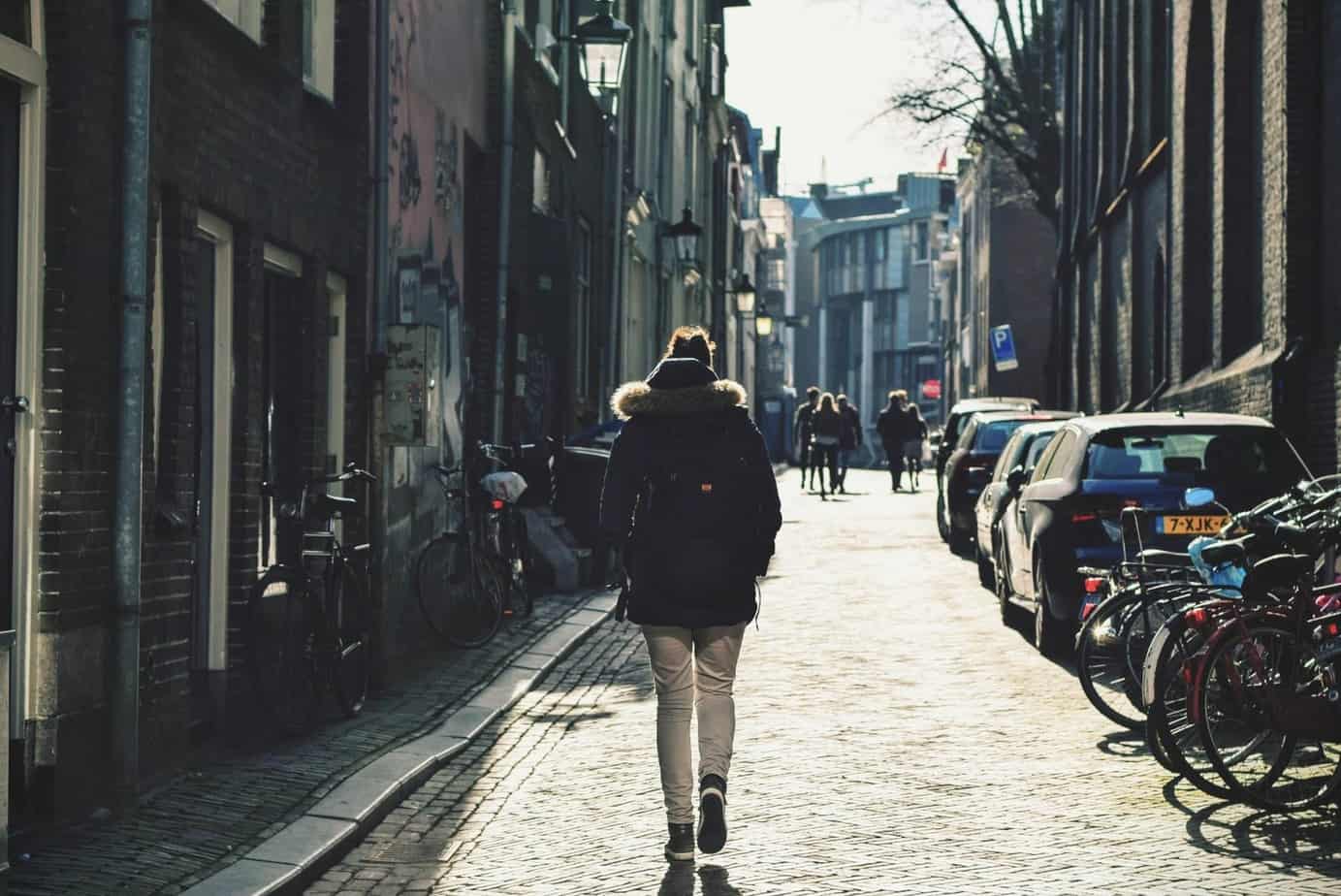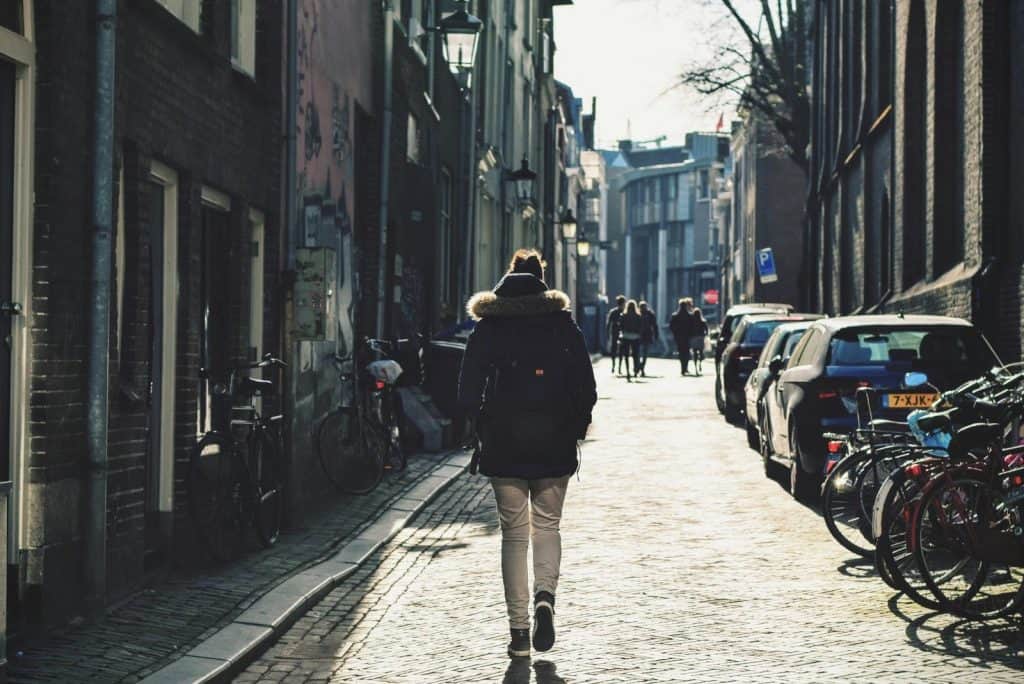 One of the important aspects of Canada Goose jackets is the fact that it offers an expansive choice, even if you exclude aesthetics out of it. How can you choose what kind of jacket you must go for? Canada Goose, therefore, has offered a measure to mark the different types of jackets called Thermal Experience Index (TEI). Let's look into what TEI is and how it can help you with choosing the best Canada Goose Jacket for your needs.
TEI 1: Lightweight (5°C to -5°C)
"Lightweight for active pursuits."
This type of jacket has a time and place. Use it if you need to go skiing or performing any kind of extreme adventure sport where you will likely be expending a lot of radiant heat and so may not require that much protection against the cold. However, be sure to layer it up and pair it with the right kind of gear for your hands, feet, and face. Another option is to use it on chilly autumn nights and mild winter days.
These include the Women's Hybrid Lite Hoody, Women's Hybrid Lite Canada Goose Coat, Men's Hybrid Lite Jacket, Men's Hybrid Lite Hoody Jacket.
TEI 2: Versatile (0°C to -15°C)
"Ultimate in core warmth, comfort, and versatility."
This is the second type of jacket that you can find, which is great for a normal Canadian winter day. This style will keep you warm during any moderate winter day activity. However, you will have to layer it with a stronger shell to get the best waterproof insulation.
These include Men's Polar Bear International Lodge Hoodie Jacket, Women's Camp Down Hooded Jacket, Women's Camp Down Hoody, and Men's Hybrid Perren Jacket.
TEI 3: Fundamental (-10°C to -20°C)
"Fundamental warmth fashioned for everyday use."
This is the most popular choice available when you look for the Canada Goose jacket. However, whether or not it will be perfect for you depends on how cold the winters in your country are. These choices include heavier fabrics and heavier down to allow these jackets to keep you warm even in colder, harsher weathers.
Canada Goose Coat products like the Kensington also feature interior shoulder straps to make it easier to carry the parka around with you like a backpack instead of having to wear it, in case the sun comes out quickly and the weather changes.
These include the Women's Chilliwack Bomber Jacket, Women's Kensington Parka, Women's Victoria Parka, Women's Finnegan Parka, Women's Beechwood Parka, Women's Altona Parka, Men's MacMillan Parka, Men's Pritchard Coat, Men's Chilliwack Coat, Men's Bromley, Bomber Jacket and Men's Wyndham Parka.
TEI 4: Enduring (-15°C to -25°C)
"Inspired by the Arctic and made for enduring daily warmth."
If you are the kind of person who needs to spend long hours outside in the cold in sub-zero less than ideal temperatures, then you will need the TEI 4 jackets. These are perfect for both harsh winters and will protect you against the wind chill factor in sub-zero temperatures. You can even use these in city elements as a style statement piece since they feature extremely sleek designs that will flatter your silhouette to maintain a great aesthetic appeal.
These include the Men's Callaghan Parka, Women's Trillium Parka, Men's Clarence Coat, Women's Rowley Parka.
TEI 5: Extreme (-30°C onwards)
"Field tested for the coldest places on earth."
For the northern-most parts of Canada, where temperatures fall to ridiculously inhospitable levels, these jackets are sustained for absolute coverage against possibly the harshest elements out there. Designed to protect as much of your radiant body heat as possible even in temperatures 60°C below your basal body temperature, these jackets will keep you safe and allow you to move out and about outside.
These include the Women's Mystique Parka, Men's Resolute Down Parka, Men's Snow Mantra Parka, and the Men's Down Arctic Rigger Overall.
One important thing to remember when you are making your choice from the above list about which category to filter out is that everybody experiences temperature changes differently, based on a variety of factors such as acclimatization, body muscle to body fat ratio, fitness levels, ethnicity, amount of sleep, level of hydration, how you prefer to layer your clothing, and level of activity and many more. The designations are a general guideline and should not be taken as the only truth.
Best Selling Canada Goose Jackets
Now that we have established how to find the best Canada Goose Jacket and make your choice, let's go over a few examples of Canada Goose jackets that have been the bestselling jackets in the past year. This way, instead of just having one jacket to go for, you have a wider variety of choice to opt from.
The Vernon Parka is the top best-selling product in 2019 in Canada Goose jackets. This children's jacket comes with a thick polyester/cotton outer shell and is full-sleeved to keep your child nice and warm when the winter comes down on you hard.
It is obviously very expensive, but the cost is well worth it if you wish to make a long-term investment in a parka. This has the Gosling graduate system, which automatically increases your sleeve length up to 1½ inches if need be, to accommodate for your child's growth spurts.
Highly durable, machine-washable and perfect for children, this Canada Goose jacket will keep your child toasty warm all through winters. Another great feature is that it has a removable fur-trimmed hood, so if your child prefers earmuffs, you can simply manually remove the hood at a moment's notice.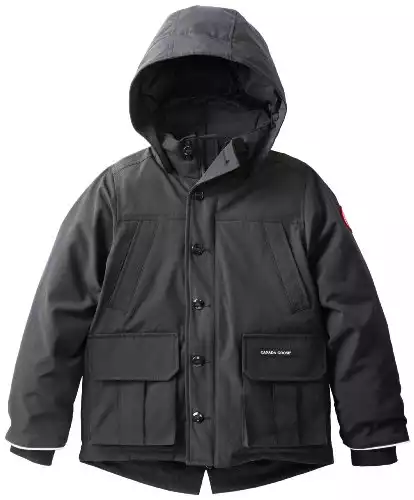 Canada Goose Vernon Parka | Amazon
Featuring an adjustable and removable down filled hood, the Vernon Jacket carries a military inspired look. Reflective piping found along the opening cuff edges provides more visibility and safety, while the stylized reinforced elbow patches improve durability.
Buy at Amazon.com
We earn a commission if you click this link and make a purchase at no additional cost to you.
This Canada Goose parka is the type of jacket you would like to wear when you want to stay warm while also making a fashion statement wherever you go, and catching appreciative glances in the process. The Kensington Parka Coat has a classy appearance, but it also comes packed with features that you can benefit from.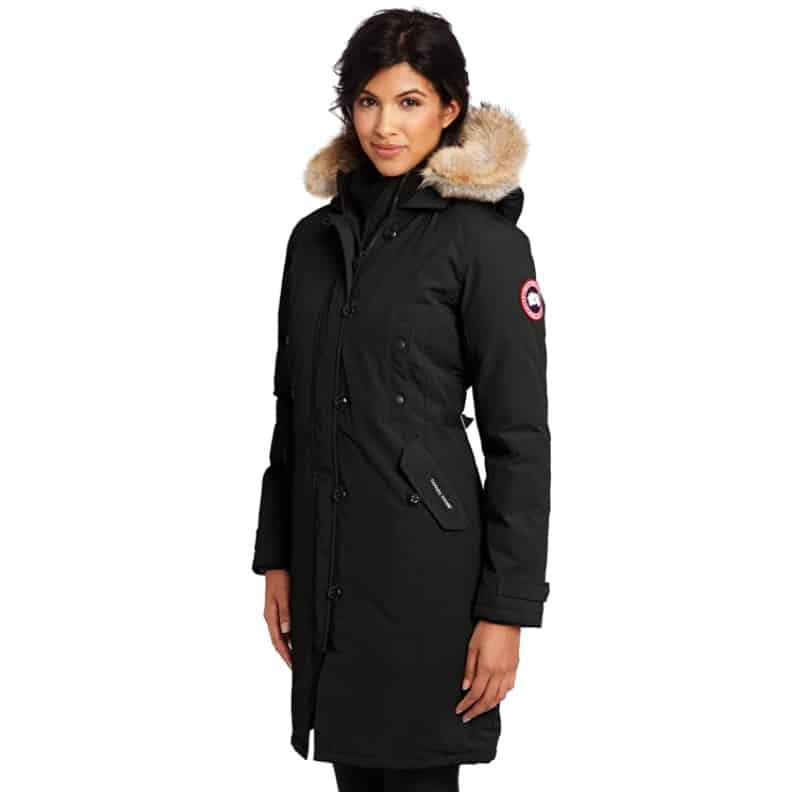 For example, it comes with interior shoulder straps so you can carry your jacket on your back like a backpack instead of having to hold it in your hand when the weather is extremely unreliable as it often tends to be, or if you need to be making pitstops indoors when you're out and about, but don't want to be sweating buckets when you step foot in a coffee shop or office.
So if you enter an establishment that has central heating, you won't need to worry about hoisting the heavy jacket over one arm as you attempt to do your work in the other uncomfortably.
This jacket also comes with adjustable exterior straps that can cinch your waist if need be, but also make any adjustments you need to if you need it to slim down or extend the girth of your jacket. This way, not only does it allow you to customize it according to your needs, but you can also share the jacket with a friend or your partner should they need it, without worrying about whether it will fit them.
Best Coat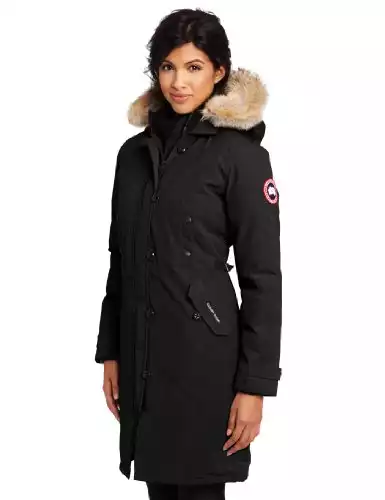 Canada Goose Kensington Parka | Amazon
A stylishly modern take on our classic women's parkas, the Kensington is slimmer, longer and lighter than our Trillium for greater coverage.
Buy at Amazon.com
We earn a commission if you click this link and make a purchase at no additional cost to you.
The Chateau Jacket allows you a slim fit with a modernized look. It also comes with a modern mid-thigh length and waistline drawstring design that is sure to keep you toasty warm in most extreme environments.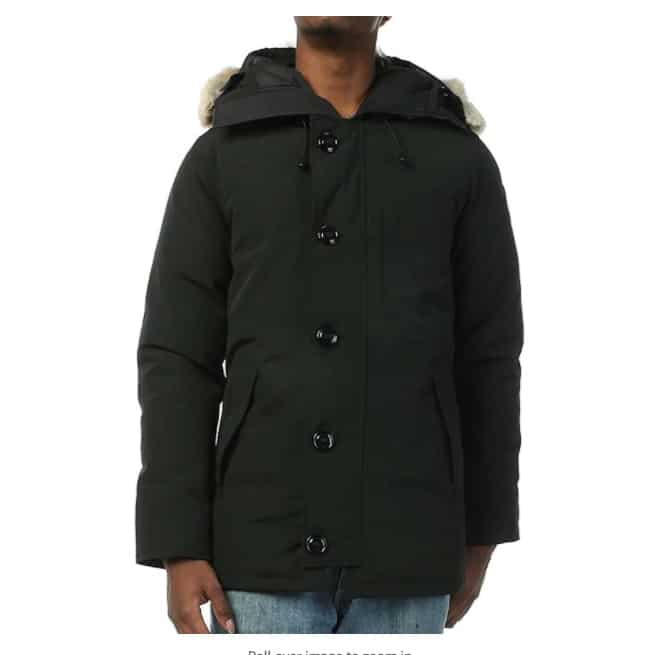 This jacket is a part of Canada Goose's Arctic Down collection. It comes with a handy storm flap that is attached with buttons over a heavy-duty front zipper that can be zipped up for protection.
The sleeves are finished with heavy-duty cuffs as well, that are sure to protect your forearms against the cold that seeps up through the sleeve. This feature along with the drawstring design on the waistline and mid-thigh area will ensure the inside of this jacket stays warm and does not allow you to be cold.
It is 100% water-repellent, which is great for those days when you want to avoid the sickly, wet wind chill resulting from the rain. The Arctic shell of this jacket is made from an 85/15 polyester-cotton blend that has been treated on the outside to make it durable and water-repellent.
It comes with a coyote fur-trimmed hood, which is manually removable which gives you various Canada Goose options of style, according to your preference.
Warmest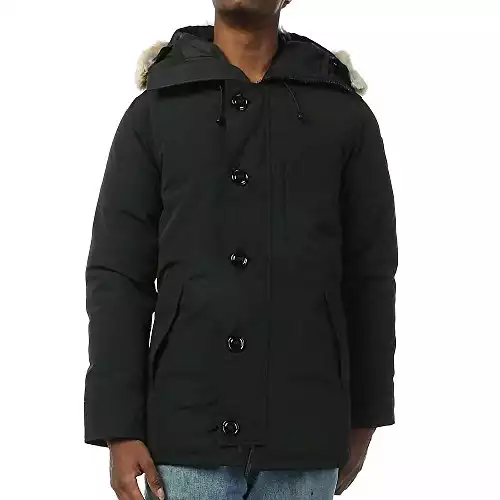 Canada Goose Chateau Fusion Fit Parka | Amazon
Centre back grab strap for hanging with sewn-on 'Canada Goose' patch. Two lower fleece-lined welt handwarmer pockets. Napoleon pocket with zipper closure. Three interior pockets; one security pocket with zipper closure and two drop-in pockets Recess, heavy-duty rib-knit cuffs.
Buy at Amazon.com
We earn a commission if you click this link and make a purchase at no additional cost to you.
02/14/2023 02:09 pm GMT
Next up, we have this lightweight and outdoorsy jacket for men, which is perfect if you wish to engage in some winter sports or adventure sports, like cross-country skiing, hiking or bicycling. The jacket is compressible which allows for great storage.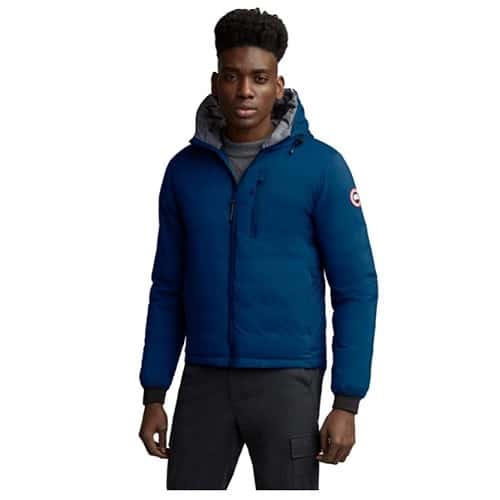 It is constructed from premium Canadian Hutterite down insulation which is then covered with a quilted, rip-stop nylon shell that gives you absolute protection against the wind chill factor.
The two-way reversible coil zipper is the perfect protection that prevents the cold from seeping through the zipper area and allowing your body's radiant heat from escaping, making you cold in the process. This allows you to stay extremely warm and comfortable and is the quintessential important feature that Canada Goose jackets permit.
The collar is also filled with down insulation and comes with a drawstring that you can easily tighten and tie up, to prevent the wind from blowing down your back. The back of your neck has a brushed tricot material to make it comfortable to wear for long periods of time.
This jacket will also come at your hip length if you are the average male height, which allows you the ability to run or ski comfortably without getting in the way.
Most Affordable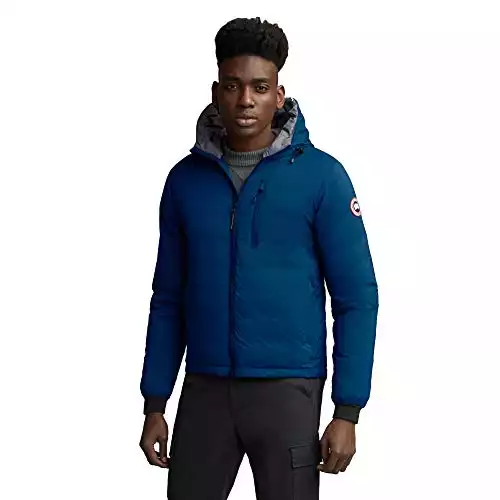 Canada Goose Lodge Hoodie | Amazon
Warm and windproof but compressing to almost nothing, the Lodge Hoody is ideal for backcountry activities and lightweight packing.
Buy at Amazon.com
We earn a commission if you click this link and make a purchase at no additional cost to you.
This is our last but equally important option, that made it to one of the bestselling Canada Goose jackets for Women. The Chilliwack Bomber Jacket usually has a reputation of being extremely stylish and quite the fashions statement, but with Canada Goose, you have the added assurance of absolute warmth and comfort.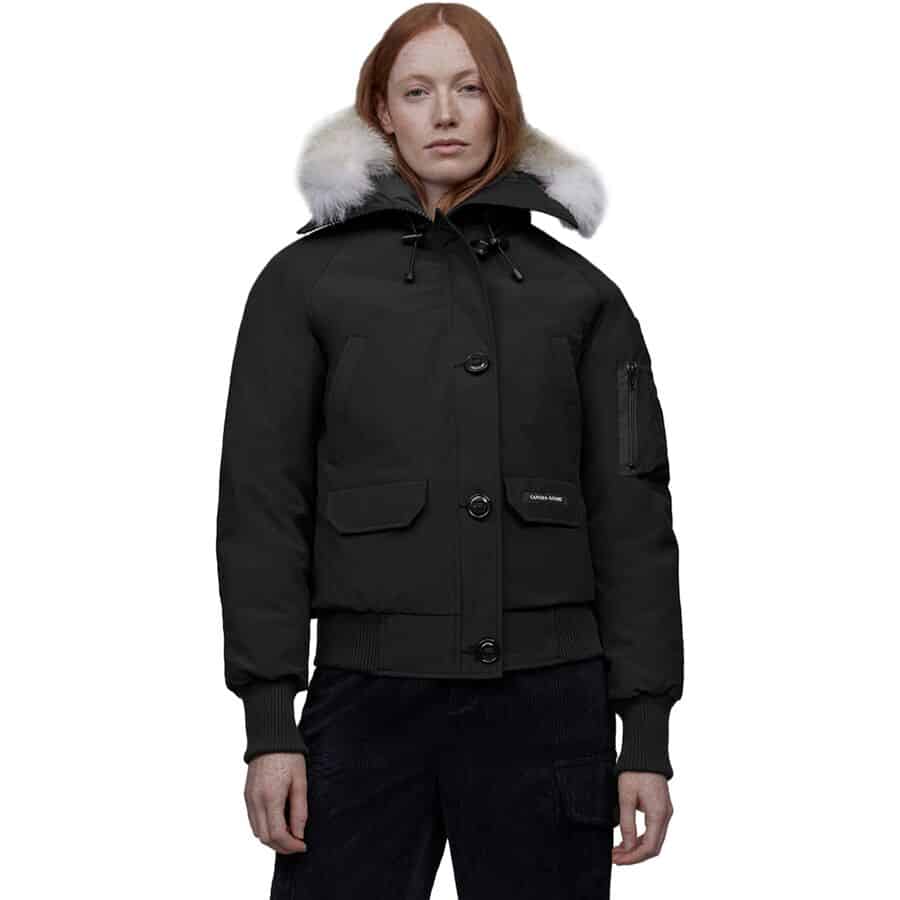 This jacket comes with an adjustable tunnel hood that can be adjusted from both ends, either vertically or from the opening of the hood, making the hood for this jacket the most impressive feature on this list. The hood also comes with a coyote fur trim, which has a wire inside it for added sturdiness.
The length of the bomber itself is longer, as is the style of this type of jacket, usually going up to the middle of your hips. Here's a fun fact about this style of jacket: it was originally used by fighter pilots who did not have any means of protecting themselves from the cold when high up in the stratosphere, so this type of jacket would offer them the most protection from the cold and keep them comfortable enough to focus on their duty to the country.
Did you like our list? Tell us what you think about Canada Goose jackets in general, and which ones are your favorite.
Best for Women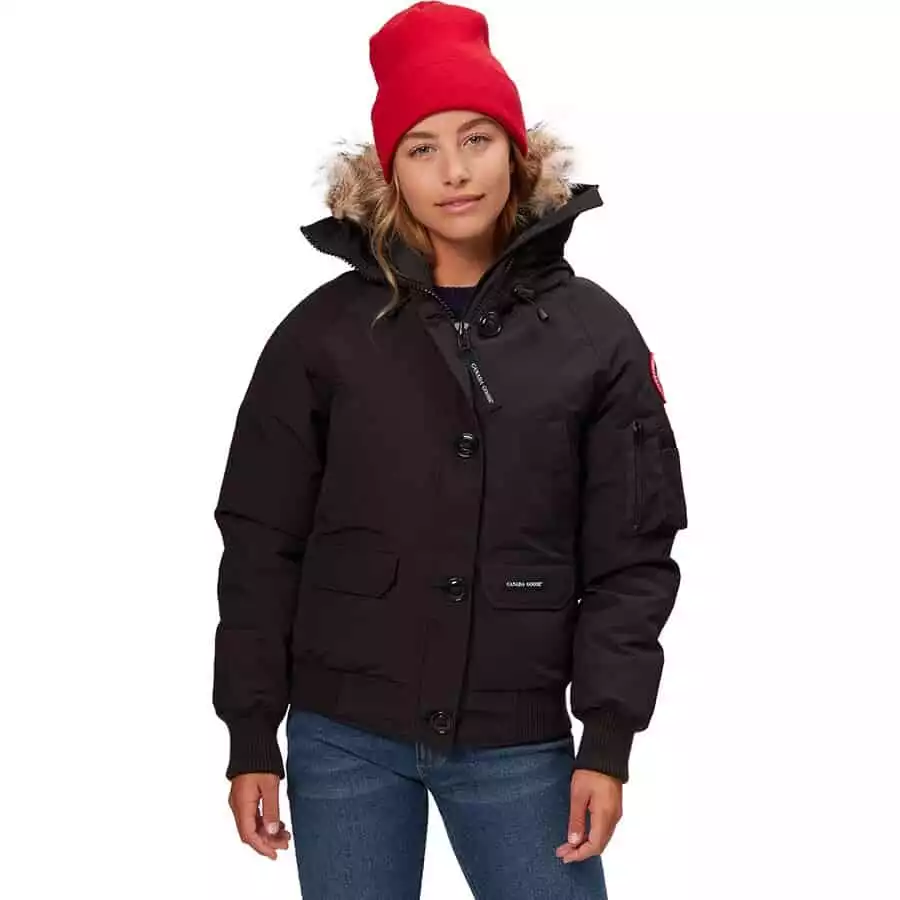 Canada Goose Chilliwack Bomber - Women's | Backcountry
Whether this jacket becomes your winter-time staple, or you only get to rock it when you have to leave the coast to visit the family for the holidays, channel your inner female-aviation pioneer with Canada Goose's Chilliwack Bomber.
Check Price
We earn a commission if you click this link and make a purchase at no additional cost to you.
Stay warm!
Further read: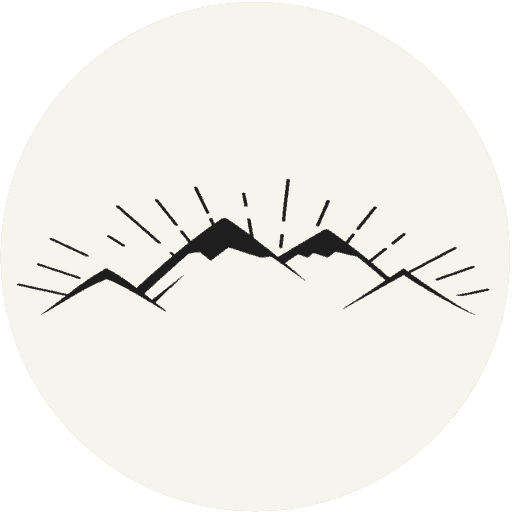 The All-Outdoors Guide team is comprised of enthusiastic experts that enjoy helping others that aspire to be better at outdoor fun. Part of that is making sure you have the right gear and information when it's time to go out and have fun. Some of our team have accomplished amazing feats like climbing 6000 feet to the top of mountains, others have explored every dirt trail they could find and we even have some people that have backpacked solo on various continents. No matter what our readers want to learn and do, our team is here to help them accomplish those goals.