Choosing the right waterproof jacket for your hiking and backpacking adventures can make the difference between a happy time on the trails and a downright miserable one.
A very wide range of the jackets out there could easily provide the level of protection we need, but for most of us finding "The One" comes down to striking a balance between our budget and the level of overall performance required as very few models manage to combine a palatable price with fault-free performance.
This being so when a jacket by such a reliable, reputable brand as Mountain Hardwear pops up on the shelves at such a reasonable price, we are interested. Very interested. Three questions spring immediately to mind:
What sacrifices have they made to put the Finder out there at such a favorable price point?
How does the Finder compare to its budget-priced rivals?
Is the Finder "The One"?
In the following article, we're going to attempt to answer each of these questions. We'll start off with an overview of what we expect to find in a great waterproof hiking jacket before then moving onto a detailed, in-depth review of the Mountain Hardwear Finder to discover if it's the jacket we've all been waiting for.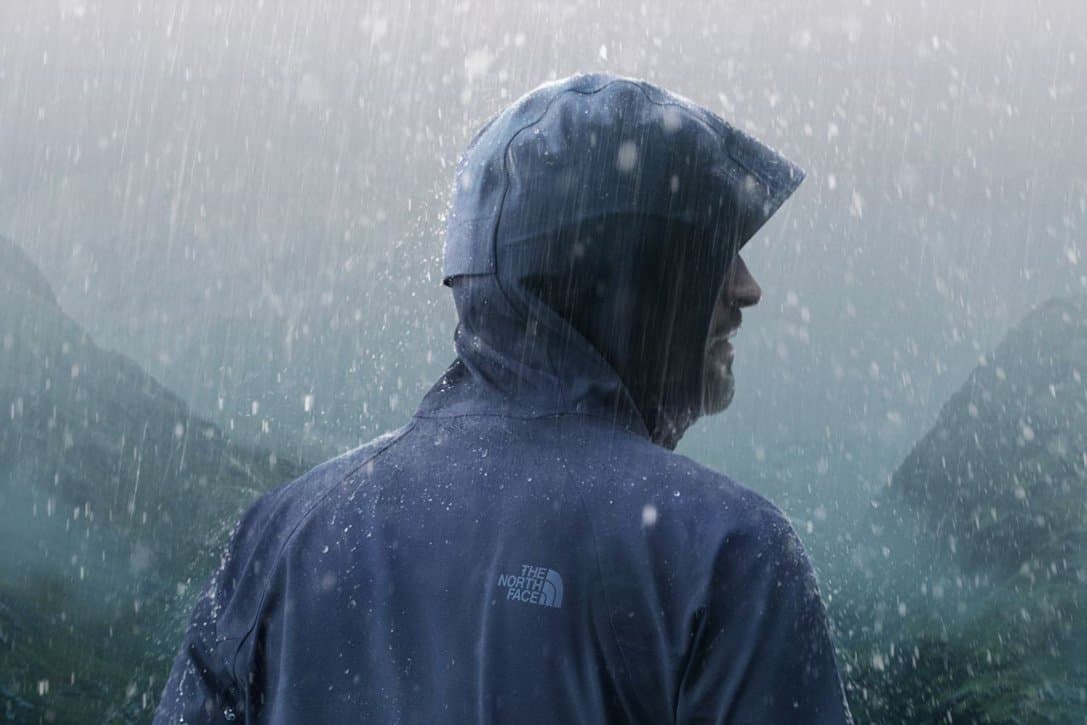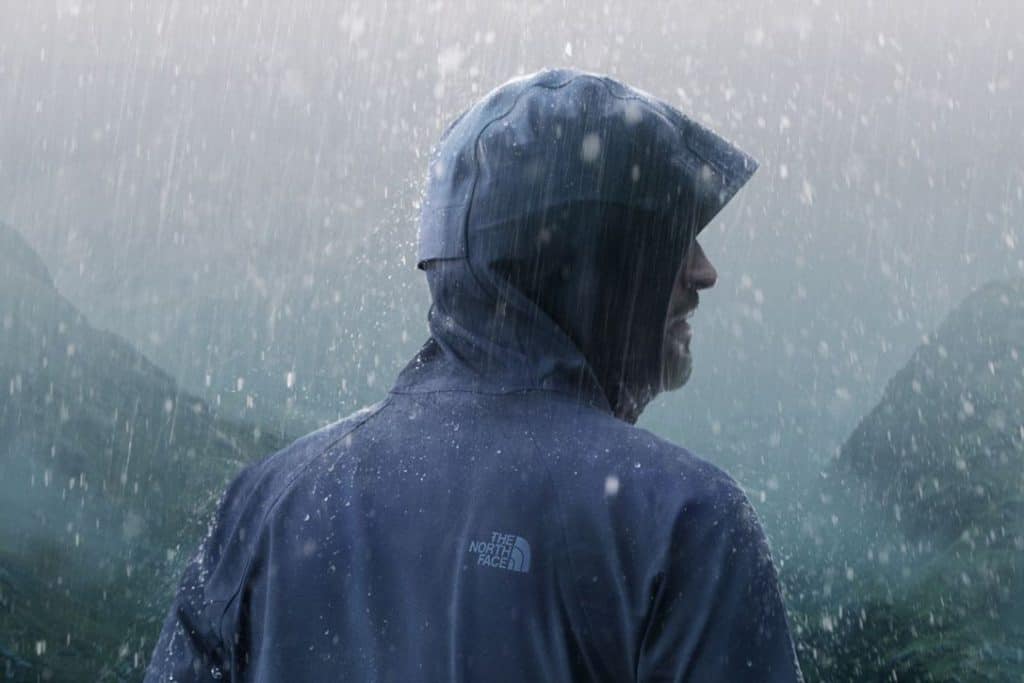 How to Choose a Rain Jacket for Hiking and Backpacking
Back in the day, a waterproof hiking jacket was a waterproof hiking jacket — the scores of different specs and features that we're bombarded with by manufacturers these days were nowhere to be seen.
While developments in fabric technologies and outerwear design have certainly been to our benefit and gone a long way towards making hiking in the rain a far less frustrating affair than in the past, the sheer quantity of jacket types on offer and the confusing lingo employed by the brands producing them make choosing a much trickier business than it really should be.
Waterproof Rating
When surveying the specs and features of any given rain jacket, you're likely to find a waterproof rating given as a number between, most commonly, 10,000 and 30,000mm. This figure represents the jacket's hydrostatic head (HH) rating, which is the measurement used to quantify a fabric's degree of waterproofing.
To be more precise, the figure quoted indicates how much water pressure the jacket's fabric withstood in laboratory tests before water began seeping through. As you might have guessed, the higher the number, the more waterproof the fabric.
The ideal hydrostatic head rating for you will depend largely on what type of activities you plan on doing when wearing the jacket and the level of weather protection you need. To help you understand exactly what level of performance you can expect from varying HH ratings, below we'll take a look at what each of the three most common ratings offers in practical terms.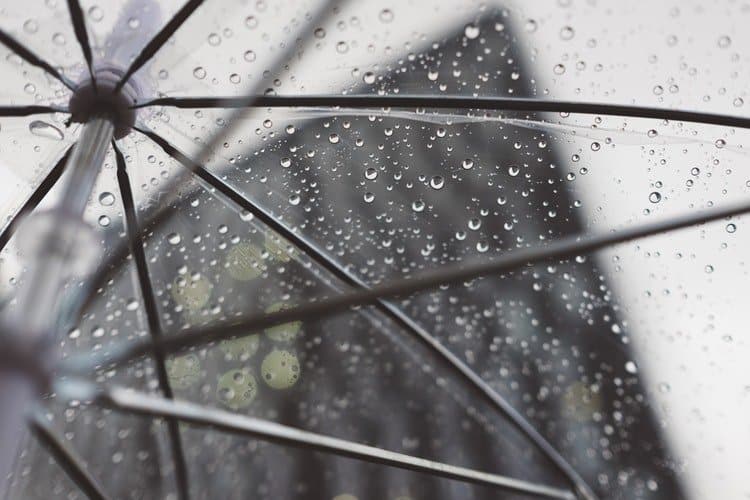 Hydrostatic Head Ratings
The range of hydrostatic head ratings in outdoor garments is very wide, encompassing products that are only marginally waterproof to those of the "bombproof" variety and capable of keeping the user dry in even the heaviest of downpours. While a rating of just 1,500mm is required for manufacturers to market their garments as "waterproof", in practice products with this rating will prove inadequate in all but the very lightest of rain showers.
The majority of genuinely waterproof rain shells on the market will fall into the 10,000mm to 30,000mm range, with anything below or above likely to be underkill and overkill respectively for the average hiker.
10,000mm — Found in many day-to-day rain jackets and also ultralight performance jackets, most models with this rating will keep you dry in a short-lived downpour or through lighter showers but are likely to leak when exposed to precipitation for longer periods or when added pressure is placed on the fabric by a heavy pack or strong winds. On a more positive note, many jackets with this rating offer superior breathability and, as such, are a better option for warmer climates or hikers who tend to move particularly fast and/or are prone to working up a sweat.
20,000mm — Offers very solid waterproofing that will keep you dry even in a heavy downpour and a happy medium between the light water resistance of 10k models and almost impenetrability of 30k+ models—in most cases, importantly, without compromising too much on breathability. For anyone not likely to be doing their hiking in exceptionally extreme conditions—i.e. high alpine environments or during monsoon season—a 20k-rated jacket will offer as much water resistance as you need.
30,000+mm — In a word: bombproof! While many brands (such as eVent) consider 30k-rated fabrics to be overkill for their rain jacket lines, others (such as GoreTex) use this rating in products designed for the most extreme conditions, i.e. mountaineering, where sustained exposure to the elements and added pressure from strong winds and contact with rocks and equipment is expected.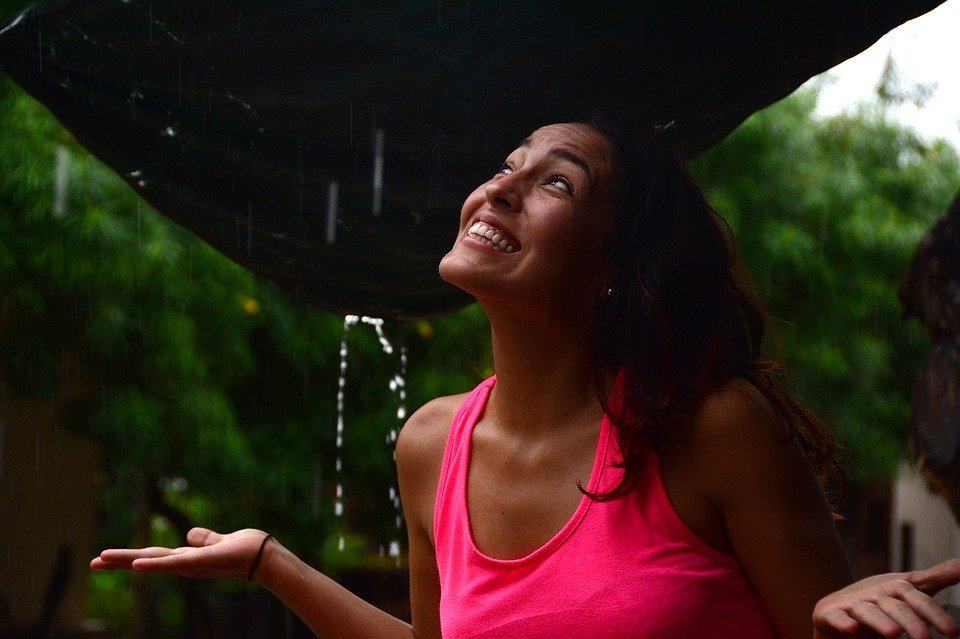 Tip: When buying your waterproof jacket, take care not to place too much importance on waterproof ratings, or at least don't use this as the only yardstick by which you measure a jacket's suitability for your needs.
A number of other factors contribute to a rain jacket's overall performance in wet conditions—heat-sealed seams, water-resistant zippers, and "storm guards"*, for example—and many jackets that score high in terms of their waterproof rating compromise significantly on breathability.
*These are the flaps of material that run the length of potentially exposed areas such as zippers and pockets.
Breathability
Breathability is one of the most important factors to take into consideration when choosing a wet-weather hiking jacket. That importance, moreover, increases exponentially with the degree of aerobic effort required by the type of activity you'll be getting up to in the outdoors.
The bottom line with regard to breathability is this: even if your jacket is a bombproof rain-resister, without breathability you're likely to end up soaked by the sweat that's unable to escape through the fabric of your jacket by a process known as "wicking" or MVT — Moisture Vapor Transfer.
Breathability, then, refers to you rain jacket's proficiency in transporting perspiration from the inside of the jacket to the outside, all while ensuring the stuff falling from the sky doesn't breach the defenses of its outer layer.
Every outdoor jacket, of course, will contain some degree of breathability, but the level of breathability can vary greatly from jacket to jacket. So, you may ask, how the heck are we to know just how breathable a jacket will be without putting it to the test for ourselves? The answer lies in a relatively new meter of measurement known as the Moisture Vapor Transmission Rate.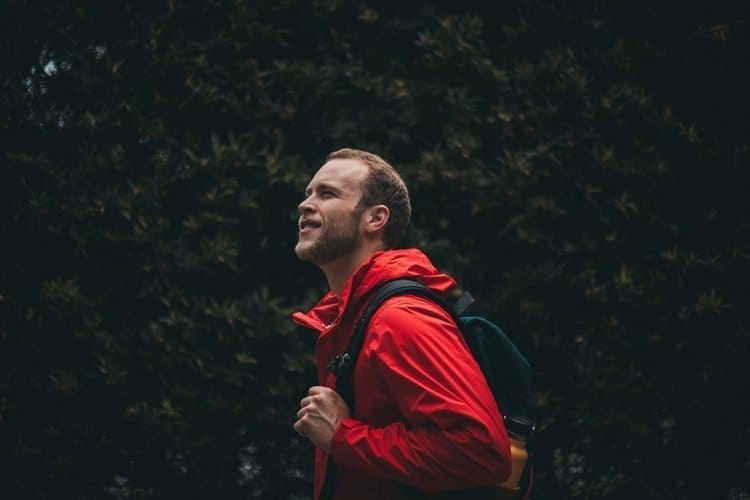 Breathability Rating (MVTR — Moisture Vapor Transmission Rate)
Moisture Vapor Transmission Rates are measured in grams per square meter per 24 hours, which is usually represented as g/m2/24h ("10,000g/m2/24", for example). This rating is measured by manufacturers by stretching one square meter of fabric over a water container and then measuring how much water permeates the fabric over a 24-hour period. In short, the higher the MVTR, the more breathable the fabric will be.
Below, we've included a short summary of commonly found MVTR ratings and how these translate into performance in the field.
5,000 g/m2/24 hrs — This low breathability rating is most commonly featured in hardshell rain jackets intended for use in extreme environments and extreme conditions where keeping out precipitation is more of a priority than minimizing the build-up of sweat on the jacket's interior. While a good bet for ice-climbing, technical mountaineering, or any other activity that's less aerobic in character, for everyday hikers, trail runners, and ski mountaineers, a jacket with such a low rating is sure to leave things a little sticky on the interior a short way down the trail.
10,000—15,000 g/m2/24 hrs — These ratings are found on the vast majority of out-and-out hiking jackets and are adequate for the purposes of those hiking or backpacking in all but the warmest of climates.
20,000+ g/m2/24 hrs — The ideal rating for those hiking in very warm climates or trail runners, ski-mountaineers.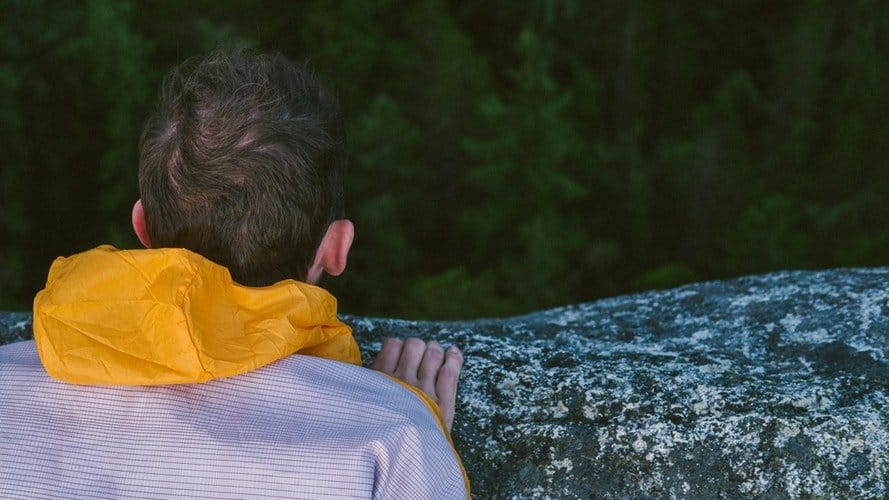 Tip: If you are concerned about the breathability of any jacket that you've lined up as a potential purchase, a few bonus features on the jacket can complement the fabric's breathability and provide the option of a quick "heat dump" when need be. The most notable of these are pit-zippers, adjustable cuffs, and mesh-lined pockets, all of which can increase airflow quickly without compromising the jacket's ability to keep you dry.
Pit zippers — These underarm zippers are a relatively new feature on outdoor jackets and a very welcome one at that. Located in the area of your jacket that is least exposed to precipitation and where you tend to perspire the most when things start getting a little toasty inside you can use these to freshen things up without having to worry about exposing your lower layers.
Adjustable cuffs — While many budget models of jacket use elasticated cuffs that close tight over the wrists, those with adjustable Velcro closures give you a quick and easy means of boosting airflow when need be.
Mesh pockets – Jacket models that use membrane-lined pockets tend to lack breathability in the pocket areas due to there being two layers of fabric for sweat and body heat to pass through instead of just one. Mesh pockets, on the other hand, not only offer less resistance to moisture vapor transmission but can also double up as vents if you open the pockets when things start heating up or when approaching a steep incline where you're sure to be working up more of a sweat.
Materials and Durability
The most important factor in contributing to a jacket's durability is the thickness of its fabric. This is quantified in the denier textile measurement, which you will usually find — on rain jackets — in the form of a number ranging from 5-100, i.e. 50D.
The fabrics used in most outdoor rain jackets have a denier count in the region of 20 to 80D, but in recent years a number of featherweight models have arrived on the market with denier counts as low as 5D. At the other end of the scale, a handful of jackets intended for extreme alpine use measure in at over 100D.
As you might have guessed, jackets with a high denier rating offer, for the most part, a lot more durability and abrasion resistance but also have a heftier pack weight and are less packable. Jackets with low-denier fabrics, on the other hand, are far more prone to ripping but are far friendlier in terms in pack weight and portability.
Which denier count you need for your adventures will ultimately depend on what type of adventures you plan on having. If you're an occasional hiker who tends to hit fairly easy-going trails where coming into frequent contact with rocks and branches is unlikely, then you can afford to plump for a jacket at the lower end of the scale denier-wise.
If, however, you envision yourself traipsing through dense forest, scrambling, or otherwise putting your jacket through a decent amount of rough treatment, then we'd recommend opting for a jacket with a denier count in excess of 50D.
For general hiking and backpacking, a denier count between 30 and 60 is usually a safe bet and tough enough to deal with the usual rough and tumble you can encounter on the trail and around the campsite.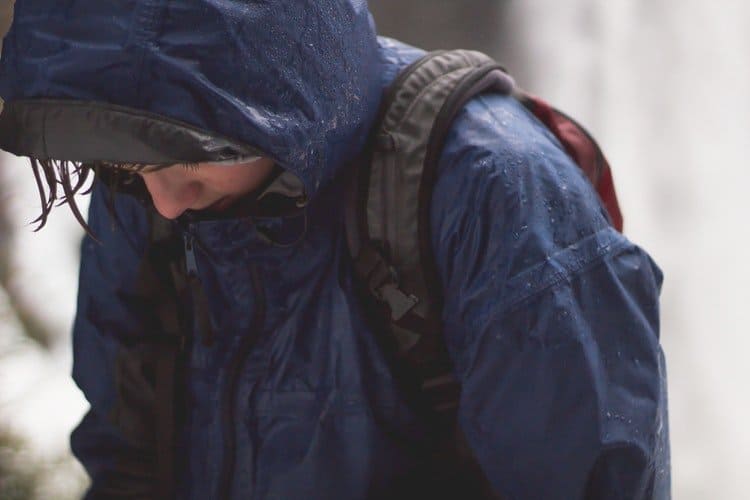 Packability and Portability
Weight and size are always crucial considerations when buying any item of outdoor gear. Many buyers, however, are prone to forget that their waterproof jacket will be spending most of its time inside their pack when taken along on their hikes "just in case" they get caught in a rain shower and so discount weight from their pre-purchase calculations when "weighing up" the pros and cons of the jackets on their shortlist.
Given that tough, "bombproof", 3-layer models of rain jacket can weigh in excess of 25 ounces, whereas ultralight varieties can weigh as little as 6 ounces, the difference your choice will make in terms of overall pack weight is far from negligible.
How heavy or lightweight you go with your jacket will depend upon a number of factors, most importantly the nature of your activity and your own MO in the backcountry.
If you're a long-distance hiker, for example, then the chances are you'll be trying to cut every ounce from your total pack weight and looking for a jacket that offers as much protection from the elements as possible without pipping the one-pound mark. If, however, you're an occasional day-hiker then you're less likely to resent an added ounce or two of pack weight as long as you're getting proportionate weather protection in return.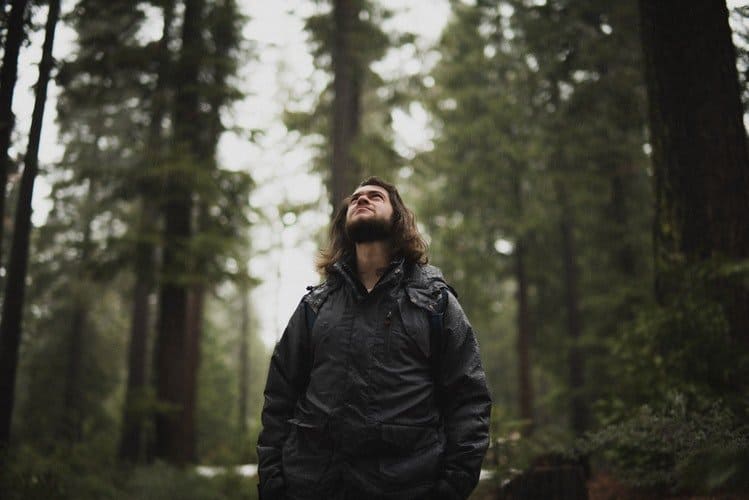 Additional Features
A handful of additional features can boost your jacket's overall performance, convenience, and suitability for your activity type. The most important of these to consider before buying include:
Helmet-compatible hood — if your outings in the backcountry venture into terrain where using a helmet is required, an oversized hood that leaves an extra inch or two of space is highly recommended as this allows you to pull the hood over the top of your helmet without simultaneously lifting up the rest of the jacket's material and, thereby, exposing your waist area to drafts and rain.
Adjustable hood — this may seem like a trivial concern, but only to people who haven't had to repeatedly deal with a non-adjustable hood flopping over their eyes, off their head, or being blown into their face by crosswinds when out on a hike on a windy day! While most jacket hoods are adjustable, the efficiency of the systems used in different models can vary greatly.
Peaked hood — this small, wire "awning" at the front of a hood helps to keep the rain off of your face and out of your eyes. Again, a very handy feature that can save you a heap of frustration.
Pockets — this feature, granted, might appear to be a no-brainer, but many jackets have pockets that are too small to carry essential items you need to have at hand (a map, for instance) for map or which are located where they can't be easily accessed, i.e. behind your backpack's hip belt. If you like to keep a few items — map, GPS device, snacks, etc. — close to hand, then be sure to look for a large chest pocket and/or pockets placed higher on the torso so they are accessible even when wearing your pack's hip belt.
Taped seams — usually featured on pricier jackets and alpine models, taped seams add protection in the areas most prone to leakage on budget models of a jacket.
Mountain Hardwear Finder Jacket Review
Now that we know what to look for in a rain jacket, let's get down to our review of the Mountain Hardwear Finder to see how it scores in each of the features and characteristics identified above.
Waterproofing and breathability
The Finder is a 2-layer, budget rain jacket and, as such, naturally compromises on a few features and characteristics found in pricier, 3-layer models. That said, in terms of the weather protection you get in return for your financial outlay, we found the Finder to perform none too shabbily on the waterproofing front.
The Finder uses Mountain Hardwear's proprietary waterproof-breathable Dry.Q Core technology, which MH claim "meet(s) or exceed(s) industry standards for the durability of wind-proofness, waterproofness, and breathability." They do, however, also throw in the potential caveat that this fabric — the lowest-performing in their range of Dry.Q models after the Active and Elite models — is "designed to meet the demands across a broad spectrum of users," which is, essentially, marketing speak for middling or run-of-the-mill performance.
While Mountain Hardwear does not release specific hydrostatic head or Moisture Vapor Transfer Rate (MVRT) ratings for their waterproof garments, in practice the Finder offers performance comparable to other jackets with an HH rating in the region of 10,000mm and a breathability rating of 15,000 g/m2/24h.
So, what does this mean for you? In short, the Finder offers very middle-of-the-road waterproofing and slightly better than average breathability. While this might strike you as a criticism, in reality, it's something of a compliment given the poor breathability offered by many far more expensive models of a jacket with superior waterproofing and the poor waterproofing offered by many other jackets in its price range.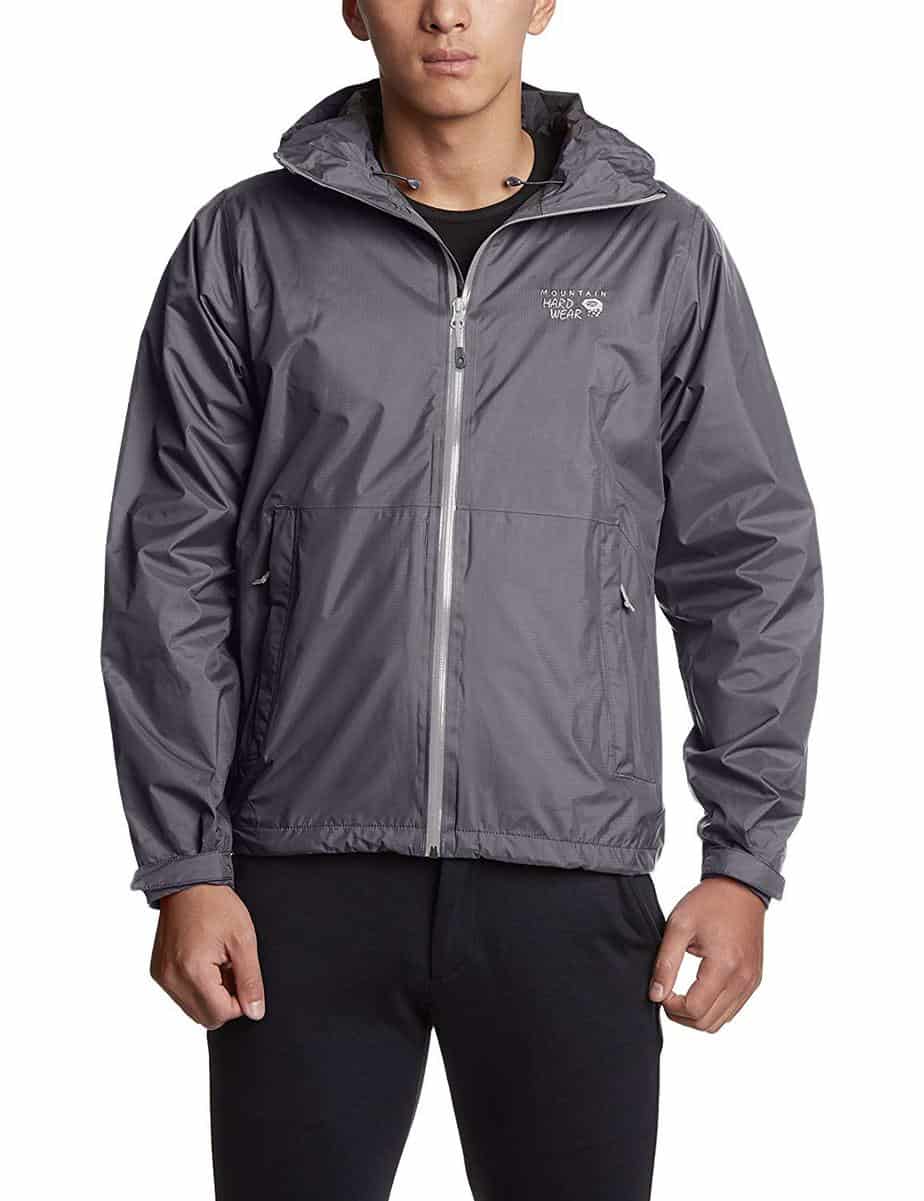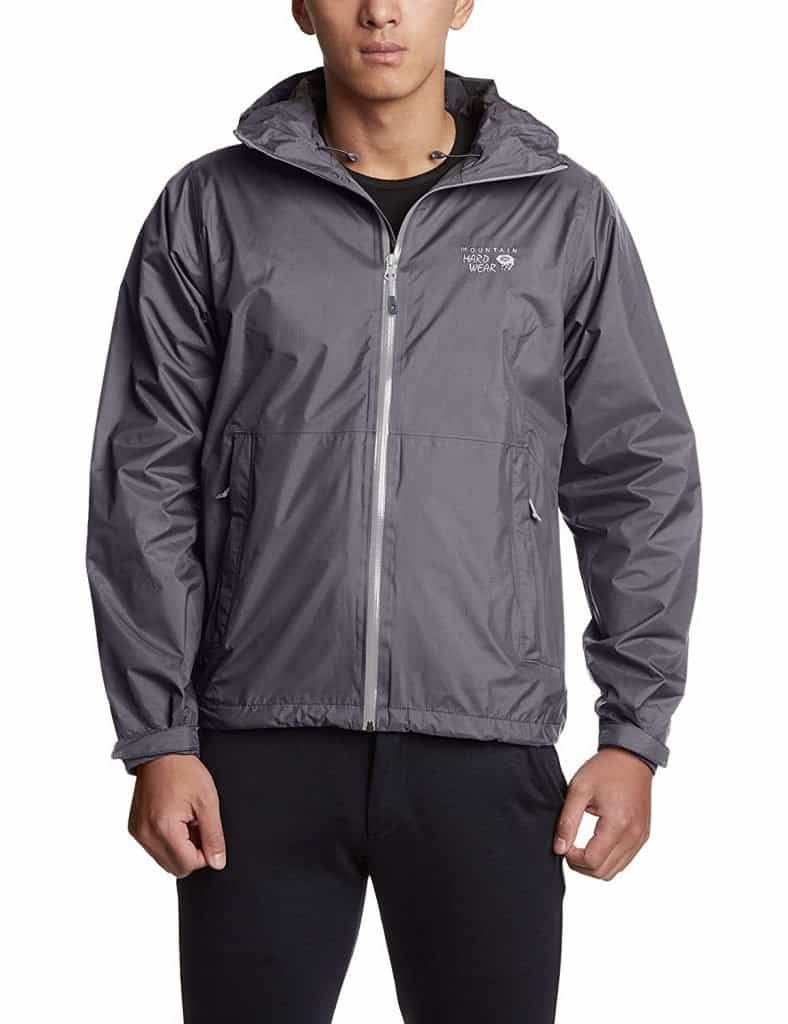 Portability and Packability
Weighing in at 13.4 oz, the Finder is a fraction on the heavy side for a 2-layer rain jacket. That said, much of its extra weight owes to its use of 70D fabric, which for many potential buyers will represent a feature, not a bug.
Size-wise, the Finder is also a little on the bulky side, compressing down to around the size of a 40oz water (or beer!) bottle. While this isn't likely to pose any problems on day-hikes if you're headed on a lengthy thru-trek a jacket that's a little less greedy on pack space will probably be a better option and breed less resentment on those days when it's in your pack as opposed to on your back.
Materials
The Finder uses Mountain Hardwear's proprietary, 100% nylon Dry.Q™ Ripstop fabric with a thickness of 70 deniers. While this comparatively chunky 2-layer construction may add to the weight and decrease packability, there's no doubting the Finder's materials are extremely tough and will give you added peace of mind if hiking through dense forest, narrow ravines, or anywhere else it might come into frequent contact with possible sources of abrasions or punctures.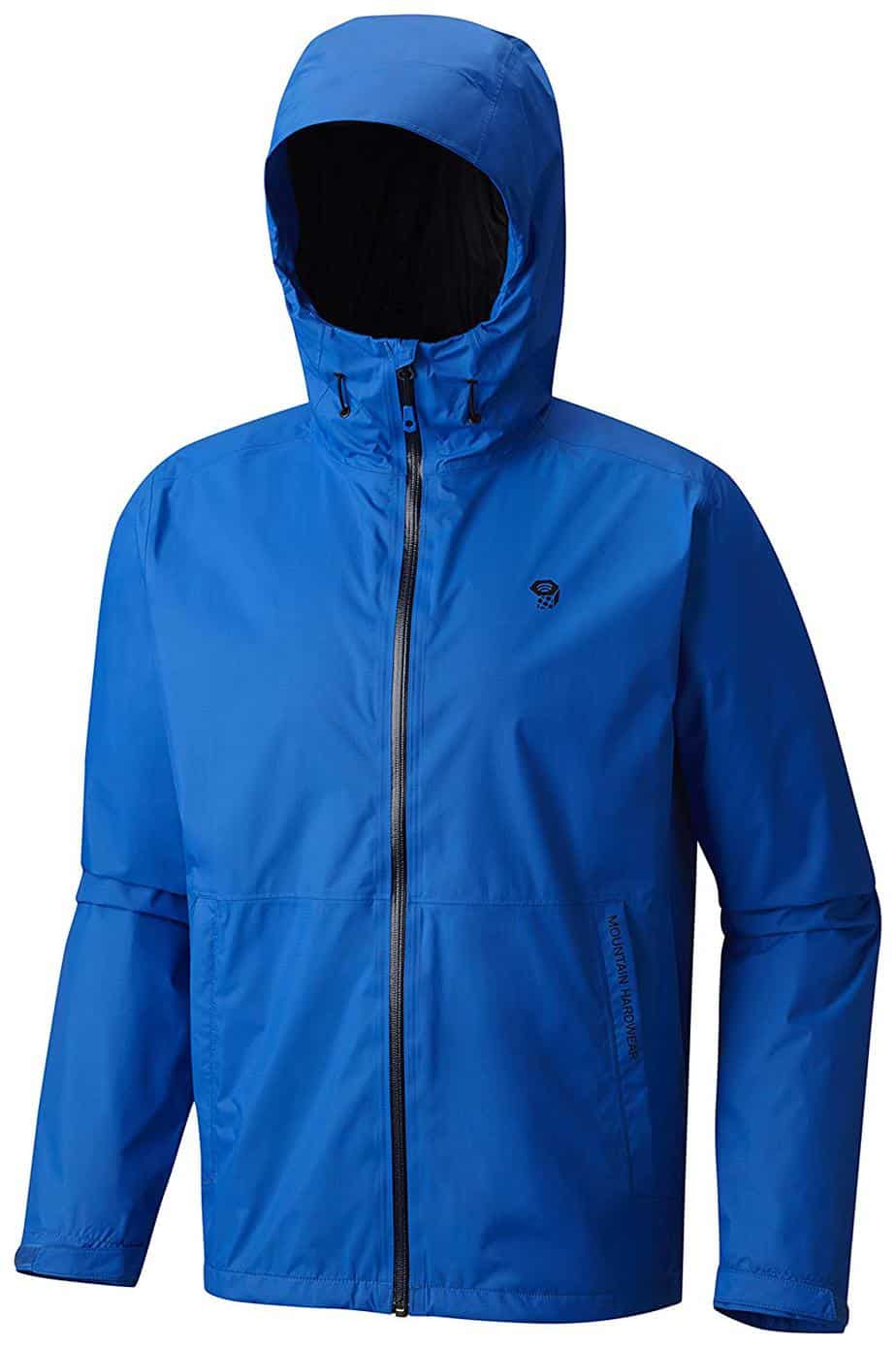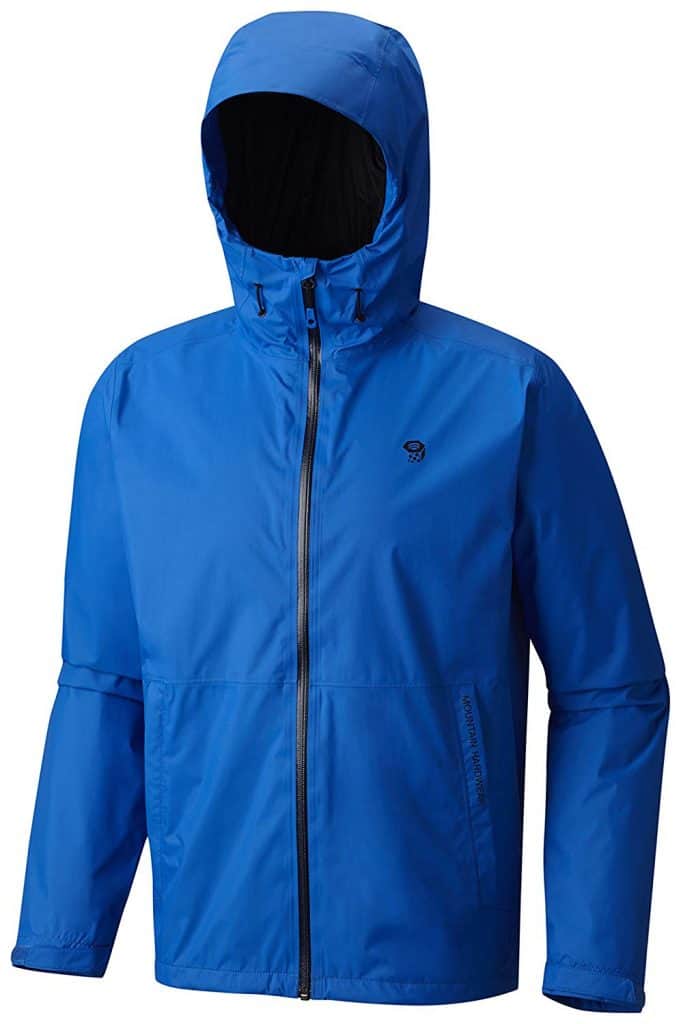 Sizing & Fit
The Finder Jacket uses an athletic, close-fitting cut that runs true to size in both the women's and the men's version. For this reason, if you plan on using this jacket with substantial insulating layers underneath you'd be best to go one size up when buying.
Mountain Hardwear Finder Jacket Pros and Cons
Pros
Very affordable
Very tough, 70D ripstop nylon fabric
Highly breathable for a budget-priced jacket
Reasonable waterproofing capacity
Waterproof PU front zipper
Two covered, zippered hand-warmer pockets
Athletic fit
Reasonably light (13.4 oz)
Smallish pack size
Adjustable (but not stowable) hood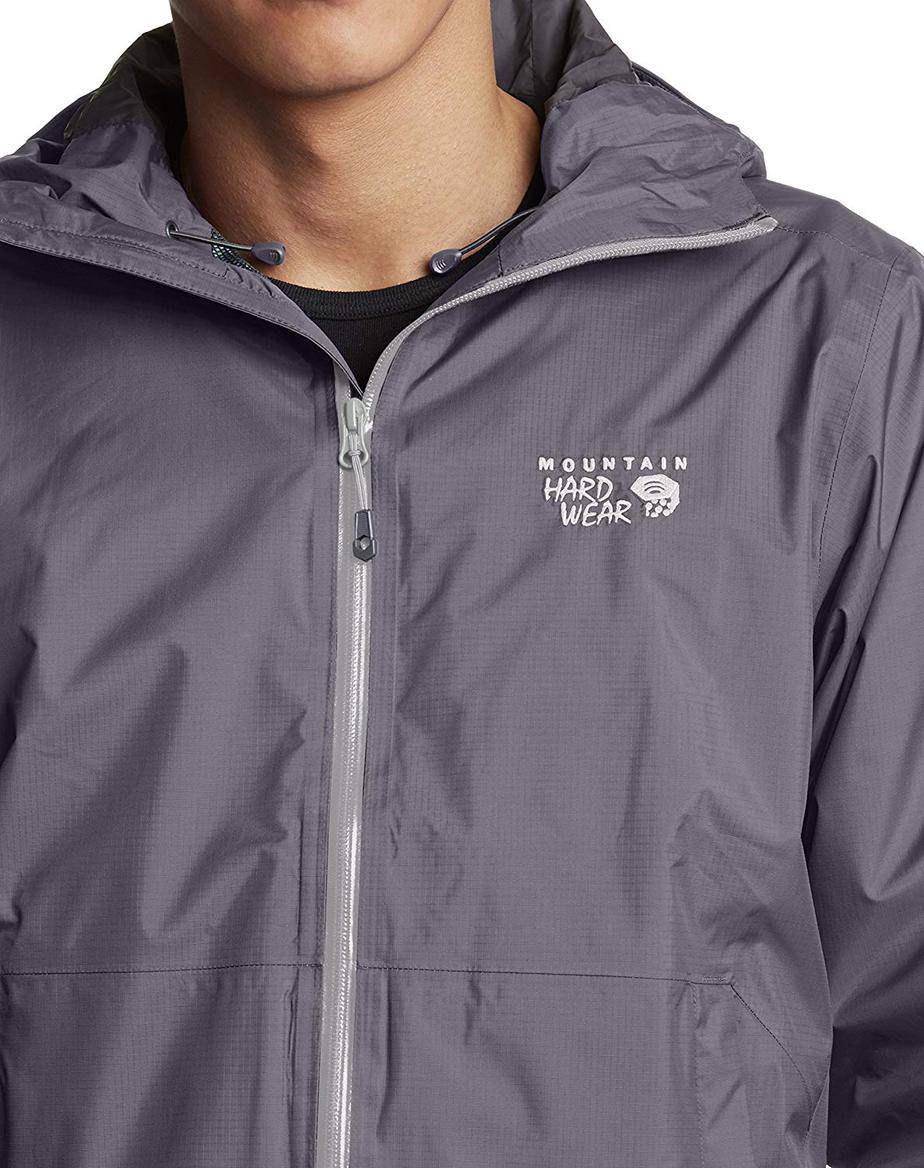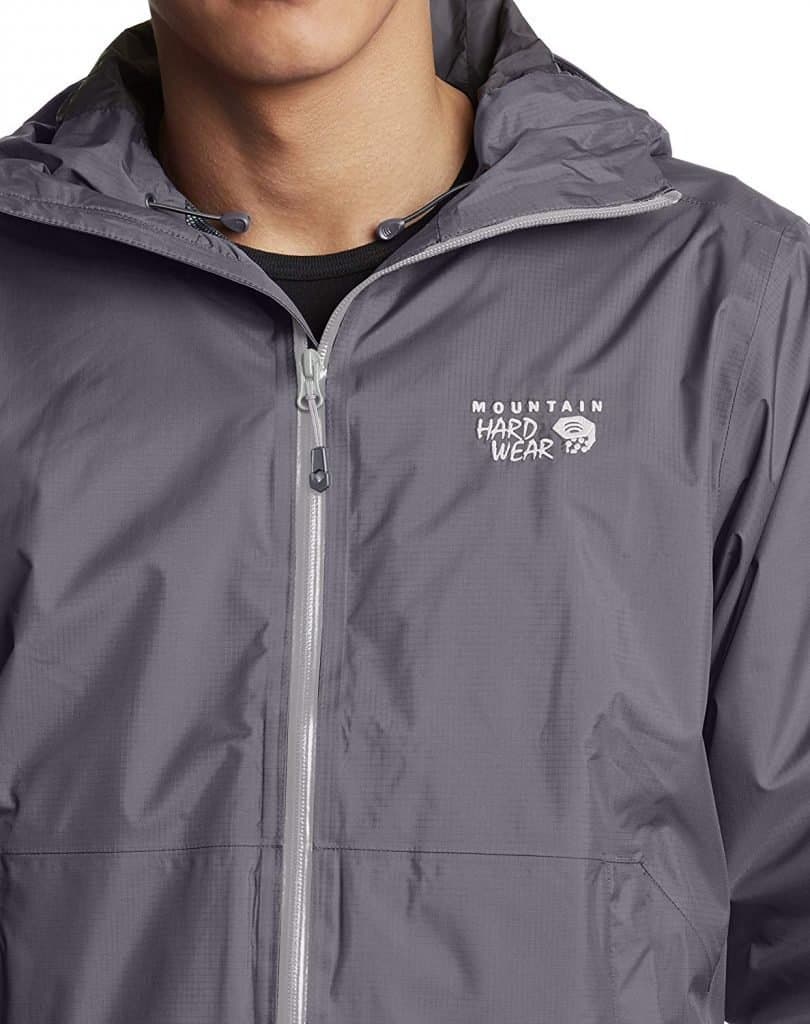 Cons
Needs reproofing more frequently than GoreTex jackets
Not the lightest 2-layer jacket out there
Performs well in moderate rain showers but not the best bet for torrential rain or prolonged exposure to precipitation
No stow-flap or collar attachment to let you tuck away the hood when not in use
No pit-zippers
Mountain Hardwear Finder FAQs
1. How does this jacket compare to other budget rain jackets like the Marmot Precip?
Performance-wise, there's very little to separate the highly popular Precip and the Finder. The Precip offers a little more in terms of waterproofing, but the difference is negligible and not enough to prove a dealbreaker for those with one eye on the Finder.
One feature that might help you decide between the two is the difference in fit. While the Finder has a more athletic, streamline fit, the Precip is just a little looser around the midriff and is a fraction more comfortable when wearing thicker layers underneath.
2. What features does the Finder include?
The Finder has adjustable Velcro cuffs, an adjustable and peaked hood, and two large hand-warmer pockets. The only two notable absentees in its feature set are pit-zippers and an interior pocket.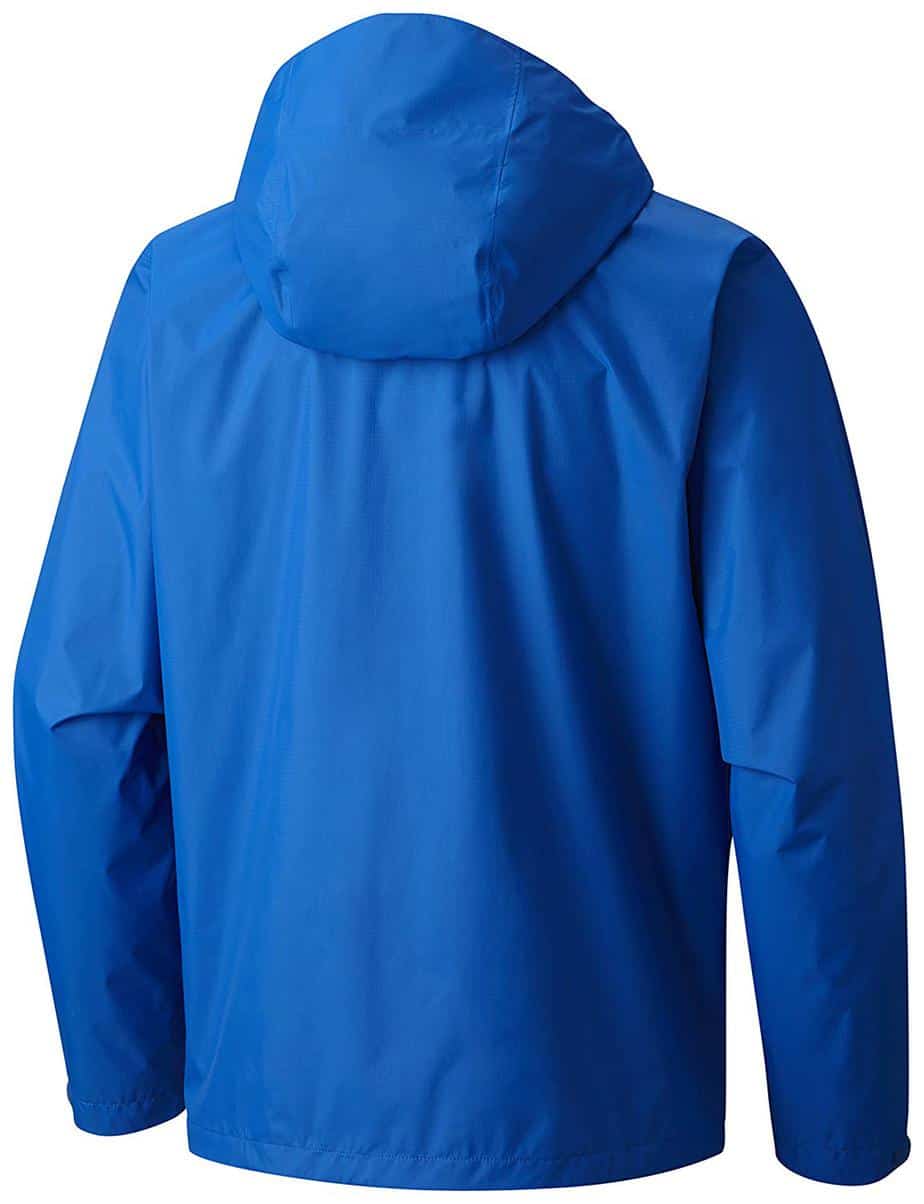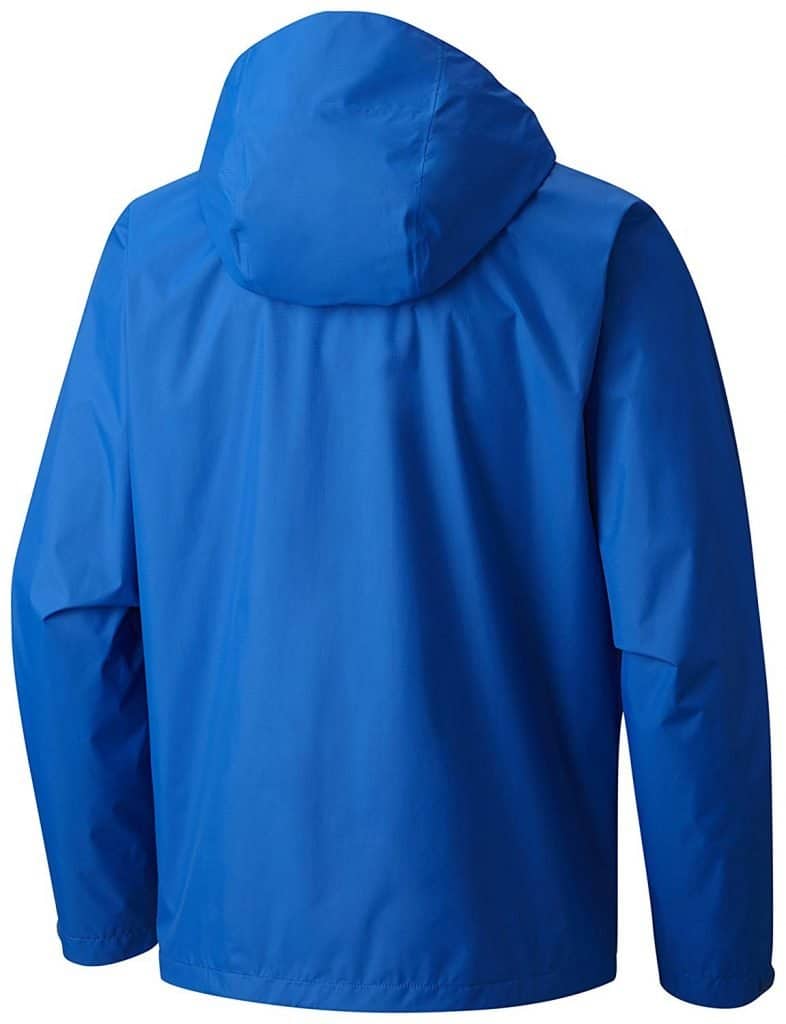 3. I'm 6'2" and 210 pounds, what size is best for me?
While the Finder is a touch longer than most rain jackets, the Large might be a fraction on the tight side around the torso if wearing added layers. As such, we'd recommend plumping for the Extra Large.
The Verdict
The Mountain Hardwear Finder Jacket offers an awful lot of bang for your buck. While you wouldn't want to trust it to see you through a day-long downpour in howling winds, for anything less extreme and everyday hiking it offers more than adequate rain protection and, all things considered is an absolute steal given the price.
What makes the Finder a standout among other entry-level, budget rain jackets is that it combines tough, durable materials with highly respectable levels of breathability and waterproofing. Whether or not it's "The One" for you will depend on what you plan on getting up to while wearing it, but if that doesn't happen to be anything too extreme in nature, then the Finder is well worth a place on your shortlist.
Further read:
https://alloutdoorsguide.com/patagonia-torrentshell-review-jacket-worth-money/
https://alloutdoorsguide.com/a-review-of-the-columbia-omni-heat-alpine-action-jacket/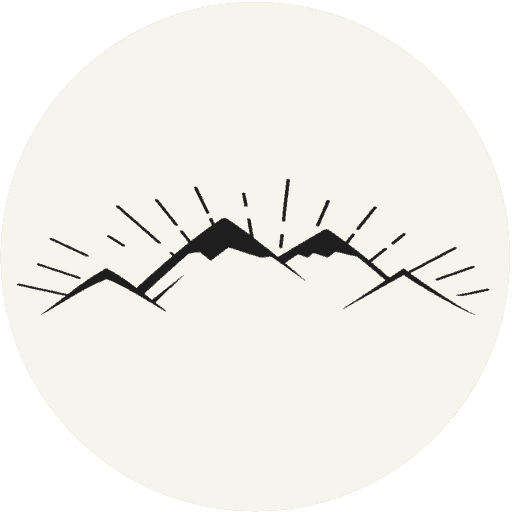 The All-Outdoors Guide team is comprised of enthusiastic experts that enjoy helping others that aspire to be better at outdoor fun. Part of that is making sure you have the right gear and information when it's time to go out and have fun. Some of our team have accomplished amazing feats like climbing 6000 feet to the top of mountains, others have explored every dirt trail they could find and we even have some people that have backpacked solo on various continents. No matter what our readers want to learn and do, our team is here to help them accomplish those goals.