Most camping trips involve cutting something at some point. If you just need to cut a length of string, or open a stubborn pack of cookies, a folding knife will do the job for you. That's just one reason a good knife is an essential tool for anyone who ventures outdoors – but is it enough?
Not always. If you ARE looking for some good camp utility knives, check out my assessment here. Some cutting jobs need force as well as a sharp edge, and that's where you could do with a heavier tool.
Clearing low branches from a path, sizing poles for a drying rack or A-frame, dressing game or even that eternal campsite task of cutting firewood are all tasks where the extra cutting power of an axe comes in really handy.
Essential Criteria to Look At
Many modern campers think an axe is overkill – they use a stove for cooking and carry a tent, so they're not planning on cutting wood. Emergencies can happen anytime though, and what happens if you need to make a litter to carry an injured person to safety?
What if one of your tent poles breaks and you have to improvise a replacement, or your stove fuel runs out and you need a fire? Those are just some of the situations where a good axe will save the day. The question is what kind of axe you want to carry, and a lot of that depends on the style of camping you prefer.
Here are your choices:
Full-size axe. Long enough to be wielded with two hands, these are perfect for felling trees or cutting up large branches. They're also good for splitting logs or chopping kindling. On the other hand, they can be heavy and bulky. Look for one with a handle between 24 and 28 inches long; that's big enough for two-handed use and has the length to apply a lot of force, but its size and weight are still manageable. It might be a bit much for long-distance hiking, but it fits easily in any vehicle and is a very useful tool to have around a campsite.
A smaller, one-handed tool, a hatchet is still able to cut down saplings or chop through decent-sized branches. It can be used as a wedge for splitting logs, and it's an essential tool for dressing large games. Most hatchets are compact and light enough to suit the average backpacker; for most campers, they're the ideal compromise.
Survival hatchet. Ultralight backpackers want to save every ounce they can, so a normal hatchet is still more than they're willing to carry. There's a whole class of survival hatchets that might be perfect, though. Usually using advanced materials to reduce weight, and well under a foot long, these can be tucked away in a backpack until needed to be worn comfortably on a belt. Their smaller size means they have less cutting power, but they're still capable of splitting wood or chopping small branches.
There are a few other things to consider, too. Modern materials are tough and low-maintenance, making them ideal for emergency gear or lightweight camping. Traditional methods have their place too, though.
Carbon steel takes a sharper and longer-lasting edge than stainless, but needs to be protected against rust. Wooden handles occasionally crack but can be easily replaced; if a composite handle breaks the whole axe is usually scrap.
A lot of it comes down to personal taste; there are advantages either way. Anyway here are our top picks for all three types of camping axe.
Cold Steel Trail Boss
Features At A Glance
4-inch blade
4½-inch cutting edge
Hickory handle
[Cold Steel is best known for their innovative knife designs, but this traditional tomahawk-styled axe is one of their best products. It's a simple but highly functional design, large enough for practically any campsite cutting task.
The heart of the Trail Boss is its drop-forged carbon steel blade. This is an extremely solid piece of metal, with a massive socket that should be almost completely immune to cracking or stretching. It's also solid enough that the top face of the socket can be used as a hammer if necessary.
The blade is fixed with a wedge to a 26-inch American hickory handle. The blade end is oversized to maximize the gripping surface inside the socket, then sharply tapers down to a slim but very tough handle; the other end flares slightly to prevent slippage.
This is a good-sized axe that's comfortable to use and delivers a lot of cutting power. It's ideal for chopping or splitting firewood, and quite capable of felling a small tree. It's also extremely durable; hickory is a famously tough wood and the Trail Boss's handle seems to be a well-selected and nicely finished piece.
With a minimum of care and attention it should last a lifetime; because the blade's carbon steel it needs to be regularly cleaned and given a light coating of oil, otherwise it'll rust, but it will take a sharper edge than stainless and hold it much longer.
Verdict: A classic outdoorsman's ax, very well made and highly effective. Look after this and it will do everything it needs to. It's also very good value for money.
Gerber Bear Grylls Survival Hatchet
Features At A Glance
3½-inch blade
Full tang
Polypropylene non-slip handle
Nylon belt sheath
If you're an ultralight backpacker there's no way you're going to carry something the size and bulk of a full-sized axe – but what are you going to do if you need to chop something? That's where a compact tool like Gerber's Bear Grylls Survival Hatchet comes in.
Weighing just 1.4 pounds and less than 9½ inches long overall, this is the axe you've been looking for.
The Bear Grylls hatchet is a single-piece chrome-molybdenum stainless steel forging comprising the blade and full-length tang, so it's extremely strong. For an axe, it's also very light, but most of its weight is concentrated forwards to maximize cutting power.
The head is quite slim but the back of it is crosshatched to use as a striking surface; whether you're knocking in tent stakes or pounding the axe head to split a log, it adds even more versatility. The tang is covered by a shaped polypropylene handle that's rubberized for good grip in any weather conditions.
A compact hatchet like the Gerber isn't going to be felling any large trees, but it's still capable of most campsite tasks. Trimming shelter poles, cutting firewood or splitting logs are all well within its abilities, and it's one of the most compact axes you'll find.
This hatchet comes with a military-style nylon sheath, with handy loops for attaching it to your belt. There's also a pocket survival guide written by Grylls.
Verdict: An extremely compact but still very functional axe; ideal for backpacking or to have ready for emergencies. Well-made and comfortable to use.
Estwing E24A Sportsman's Hatchet
Features At A Glance
3¼-inch blade
One-piece forged construction
Leather handle
Striking surface
Estwing's range of hammers and axes are familiar to anyone who's been in an American hardware store; they're also favorites with construction workers around the world. This classic sportsman's hatchet is typical of their products – meaning it's extremely high quality and very functional.
This is a standard size one-handed hatchet, designed for the sort of small chopping and splitting jobs the average camper might want to do. It's easily capable of lopping small branches or felling a sapling, and makes a great tool for splitting logs too.
This E24A version is 14 inches long overall and weighs in at 1¾ pounds; there's also a slightly smaller version, the E14A, which is twelve inches long and slightly lighter. The E24A gives some extra cutting power with not much extra weight, though, so unless you're really shaving ounces it's a better choice.
The E24A follows Estwing's usual style; the head and handle are manufactured as a carbon steel single drop forging, making this an extremely strong axe. It's a much heavier piece of steel than the already sturdy Gerber; the head is massive, with a broad striking surface on top, and the shaft is profiled for extra strength.
The handle is built up from leather washers and finished with varnish, giving it a very classy appearance. When new it can be slightly slippery when wet, but the grip rapidly improves with use. It's also very comfortably shaped, and even extended chopping sessions don't put too much strain on your hand.
The broad striking surface makes the blade into an extremely effective wedge for splitting logs – it's easily the equal of the Trail Boss at this, and beats the slimmer blade of the Gerber.
The Estwing comes with a leather sheath (stamped Made In Taiwan – but this only applies to the sheath; the axe is from Illinois). It's attractively priced and very easy to find.
Verdict: A good compromise between size and effectiveness, ideal for backpacking and built solidly enough to last at least one lifetime. You can
Council Tool Velvicut Hudson Bay Camp Axe
Features at a Glance
Axe Head Material: 5160 steel
Handle: Hickory heartwood or sapwood or combination of both
Forging: Drop Forged
Sheath: Leather
Origin: American
Council Tool is one of the oldest names in American axe making history. For over 120 years, the company has been making the best of American striking tools for everyday users, the military, and the Forestry Department. However, the Velvicut Hudson Bay Camp Axe is the epitome of axe-making in efficiency, capacity, and design. With a 2-pound polished axe head made of 5160 alloy steel, Council Tool Velvicut Hudson Bay Camp Axe offers unparalleled cutting power and ease of use perfect for cutting, felling, kindling, chopping, and dressing among others.
If you are a serious camper and outdoor enthusiast, there is no substitute to a high-quality two-handed axe for hard-core wood-chopping in the great outdoors, and you will find the Council Tool Velvicut Hudson Bay Camp Axe to be the campers' dream axe.
Unlike many Swedish boutique axes dominating the market which are made from 1050 0r 1055 grade carbon steel, the Council Tool Velvicut Hudson Bay Camp Axe is forged from 5160 steel, a considerably harder and stronger metal compared to the standard grades used in most competitor brands.
Due to the natural hardness of 5160 steel, it's extremely tough, and the tempering helps to optimize the bit for increased edge holding ability. This means that the edge is easier to sharpen and is not likely to be damaged during use in damp conditions. If you need a wieldy axe with overwhelming cutting power and ease of sharpening, then the Council Tool Velvicut Hudson Bay Camp Axe is a perfect choice.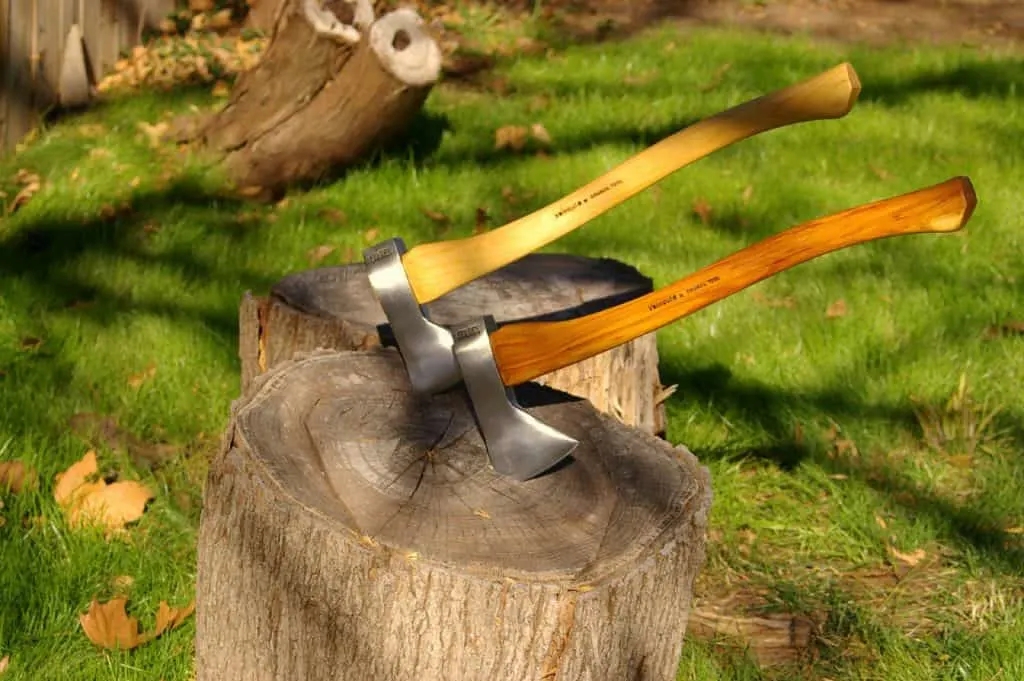 The Council Tool Velvicut Hudson Bay Camp Axe has a thicker profile compared to the company's standard versions and competitors. The pattern of the axe is designed for survival in the wilderness. It's light enough to carry on your outdoor travels and incredibly efficient at splitting wood, a constant activity if you are going to survive in the wilderness.
The thicker profile makes the Velvicut axe a utility striking tool perfect for splitting and chopping, with hollowed-out cheeks and a heavy head that cuts deeply with little resistance without the need to wriggle it free of the wood. The heavier and more sophisticated profile of the Council Tool Velvicut Hudson Bay Camp Axe makes it efficient at felling, chopping, splitting and shaping wood, especially if you need to cut wedges or tent stakes.
Unlike Swedish and some American brands, the edge of the Velvicut appears thicker than usual, but that thickness gives it exceptional splitting power. The shape and size are excellent for fast-moving expeditions such as hiking, hunting, and camping. While its small enough to pack and carry, it packs a powerful punch that gets the job done with finesse.
The axe comes out of the box razor-sharp, and you can start using it immediately to chop, split and shape wood. A leather sheath that covers the head entirely comes with the axe as well as a cord to fasten it to your bag or person while on the move.
The Velvicut comes in a sleek, smooth finish reminiscent of American production axes of old. The company applies a smooth satin finish to the handle while the bare metal is given a coat of light machine oil.
The Council Tool Velvicut Hudson Bay Camp Axe has one of the best balances of a pattern axe on the market. The excellent balance, perfect profile, and razor sharp edge make the Velvicut axe safe, reduces glancing out of a cut, and easy to use.
Whether you are an avid camper, enthusiastic canoer, hiker or camper, this mid-sized axe is a perfect tool for wilderness survival. Plus, it's also a great tool to have at home or in the vehicle for occasional yard jobs and odd encounters while on the road.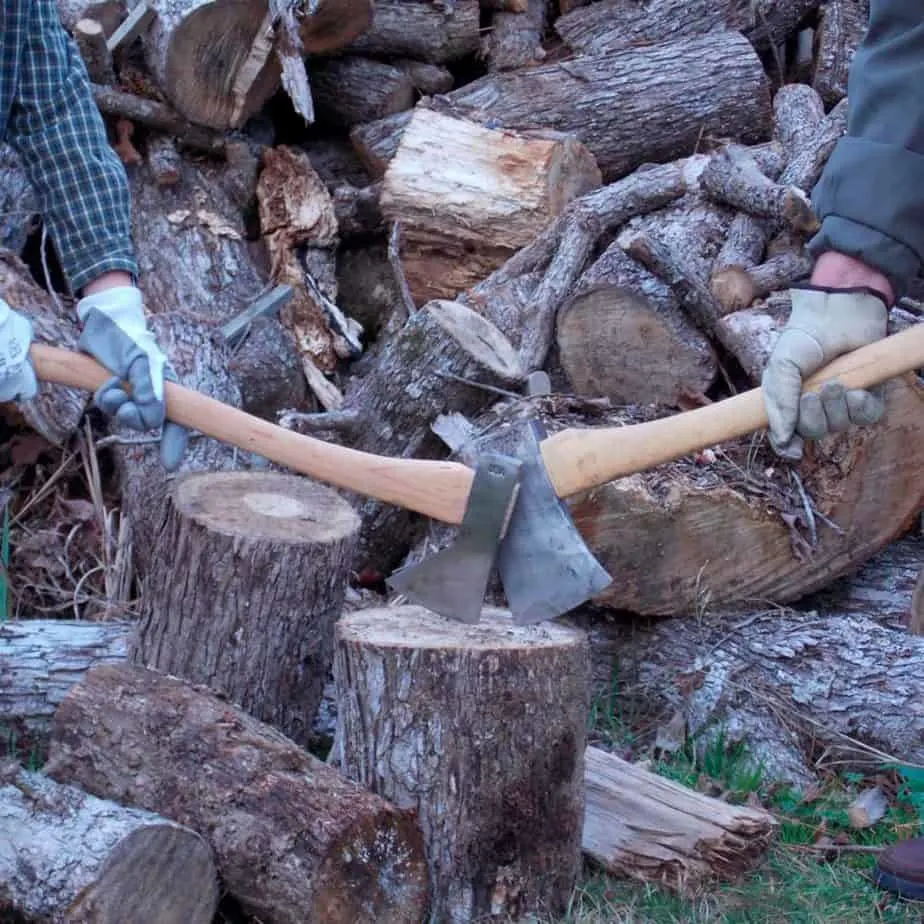 The handle of Velvicut axes are expectedly made of American hickory, the preferred tree used for mounting striking tools. Council Tool Velvicut Hudson Bay Camp Axe can be mounted either on hickory sapwood, heartwood, or combination of both.
The shape of the handles is emblematic of classic American axes. Small diameters make the Velvicut perfect for people with smaller hands and offer increased grip, and wielding flexibility. The axe handles are available in three lengths including 19″, 24″, and 28″ grade A specially-sawn American hickory. The handles provide a secure, comfortable grip due to manual sanding and linseed oil finish, making then extremely gently on the hands even after heavy use.
Despite many people believing that axes with wooden handles are not efficient, the handle of the Council Tool Velvicut Hudson Bay Camp Axe proves to be truly exceptional regarding efficiency, ergonomics, safety, and superior design. In fact, it's one of the best axes handles you will ever wield as an outdoor enthusiast.
Concerning performance, the Council Tool Velvicut Hudson Bay Camp Axe is in a class of its own. Whether for wilderness survival to make tent stakes, fell small trees, cut branches, or make kindling to get the fire going on a cold night up in the mountains, or at home for chopping wood, or making kindling in preparation for the harsh winter season, Velvicut axes are truly exceptional in their cutting power and ease of use.
With this axe, you won't suffer any blisters or sores even after heavy use throughout the day, the chances of glancing out is reduced, and the head is heavy enough to split small or big sizes of wood at once. The exceptionally tough 5160 alloy steel is also easy to sharpen and will last a lifetime with regular maintenance.
Verdict
The Council Tool Velvicut Hudson Bay Camp Axe is ideal for the camper, hiker, canoer, trapper or lover of the outdoors who love their axe light, sharp, and efficient. This axe will do everything from wood chopping, felling, kindling, and everything you need to perform with an axe. Its design is vintage American and will serve you for many years to come.
Gerber Splitting Axe II
Features at a Glance
Overall length: 28.5 Inches
Blade Length: 3.2 Inches
Weight: 5.5 Lbs.
Blade: Forged Steel
Handle: Fibercomp
Origin: Finland
Since 1939, Gerber has continued to produce some of the best American-made striking tools, and the company's Splitting Axe II is not an exception.
One of the most common activities you will engage in while outdoors whether as a camper, hiker, or trapper is wood splitting. You also do a lot of wood splitting at home in preparation for winter. To get the job done quickly and efficiently without an aching back or blistered palms, you need a top quality purpose-built splitting axe like the Splitting Axe II.
Experience shows that splitting wood can be tedious and dangerous if you lack the right tools. But this axe is a great tool for any outdoor lover and comes handy when it's time to stock up on wood during the fall.
Gerber Legendary Blades has shown over the years it's a true legend in the art of making highly durable and super-efficient blade tools. The Gerber Splitting Axe II stands out in many ways which you can only find in a Gerber product.
Using its proprietary Fibercomp handle, wielding this powerful axe is easy, comfortable and offers superb balance as well as shock absorption with every strike into the wood.
This shock-absorbing feature is important for protecting your hands if you miss your strike; rather than have the force of the strike travel through your hands into your body, the glass-filled nylon frame absorbs the shock so you can correct your position and get on with your wood splitting work.
Gerber striking tools are popular for their durability, and the Splitting Axe II and wood chopping axes are the embodiment of superior design and material. Gerber is so sure of the durability of its product that it offers a lifetime warranty on all its blades, and they never fail to deliver.
The Splitting Axe II features an extremely tough blade drop forged out of high-quality, strong stainless steel which can cope with rigorous and extensive use. The axe comes out of the box razor-sharp, making it exceptionally efficient at splitting wood.
An excellent feature of the Gerber Splitting Axe II is the tapered blade which resembles the shape of a splitting wedge, but its more efficient and faster than any wedge can ever be.
The Splitting Axe II has one other unique feature; it can split any kind of wood with one strike, irrespective of the size. This is an important feature if you are in the outdoors where you have limited stores and need to conserve energy to the best of your abilities. This ability has to do the scientific design of the axe. The single strike cutting power of the blade is courtesy of it being treated with a low-friction substance which enables it to slice through any type of log with minimal resistance.
Unlike many other brands on the market, the blade of the Splitting Axe II won't get stuck in the wood after each strike. The blade and handle ratio also offers immense balance, allowing you to swing with maximum power and efficiency.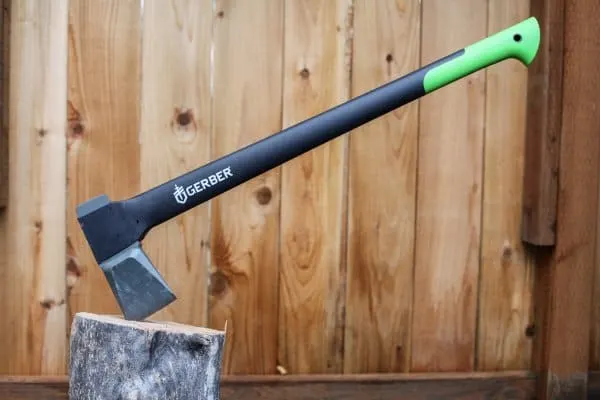 The bright green textured grip on the handle of the axe features a lanyard hole for attachment and makes it conspicuous in inclement weather. The black nylon handle is filled with shock-absorbing black glass.
The blade features a blunt backend which can be used as a hammer to drive nails or stakes when you are establishing your camp.
Unlike other brands that come with a leather sheath for the blade, the Gerber Splitting Axe II and other axes from the company now feature a plastic, green sheath with a strong elastic strap which fits snugly around the back of the axe head. While this sheath makes the axe unique, some users believe it can come loose easily if it falls heavily on something.
The Gerber Splitting Axe II is made in Finland, although the company is based in the United States. The axe is extremely lightweight, offers a razor-sharp cutting edge and is easy to carry on the go. Its offers exceptional cutting power and is perfect for splitting, chopping, kindling, and can also be used as a hammer.
Verdict
The Gerber Splitting Axe is an incredibly powerful chopping axe. It can do most medium-level activities and can handle small trees. Some of its outstanding features include the highly durable, shock-absorbing Fibercomp handle, a tactile grip, superior balance, and a strong, sharp forged steel blade. With the Splitting Axe II, chopping wood has never been easier.
Gransfors Bruks Small Forest Axe
Features at a Glance
Overall Length: 19 Inches
Weight: 32 Ounces
Blade: Carbon-steel alloy
Handle: Hickory
Sheath: Vegetable-tanned Leather
Origin: Sweden
Gransfors Bruks is one of the oldest Swedish axe makers, and one of the three remaining axe forges in the country. The company has a long history of making high-quality camp axes and its earlier models have become highly coveted collectors' items. An overwhelming majority of the company's axes are hand-forged with the highest levels of craftsmanship.
The Small Forest Axe is a perfect example of Gransfors Bruks pedigree as a master axe forger. This axe is exceedingly effective for felling trees and branches, despite its small size.
The razor-sharp blade of the Small Forest Axe is forged from a special carbon-steel alloy, giving it enduring strength and cutting power. Each axe head comes stamped with the initials of the smiths who forged it in vintage Gransfors Bruks style.
Like every axe maker worth its name, the Small Forest Axe features a hickory handle with a slight curvature close to the grip. The grip is shaped in a way that provides maximum surface contact, and the length of the handle offers superb balance and striking power.
A vegetable-tanned sheath covering the entire blade completes the perfect picture. If you are a camper, hunter, hiker, or outdoor person, the Small Forest Axe is extremely efficient at felling, chopping, kindling, and every other little activity to make the most out of your time in the great outdoors.
Verdict
Despite its small size, Gransfors Bruks Small Forest Axe doesn't betray its heritage. It's easy to haul on long treks, delivers a powerful cut, and oozes the spectacular quality of the best Swedish forged striking tools.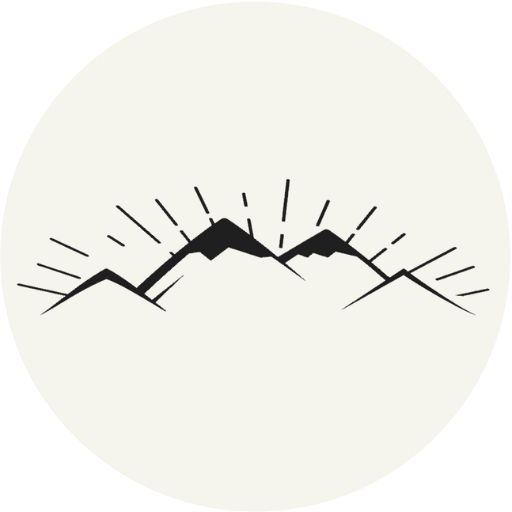 The All-Outdoors Guide team is comprised of enthusiastic experts that enjoy helping others that aspire to be better at outdoor fun. Part of that is making sure you have the right gear and information when it's time to go out and have fun. Some of our team have accomplished amazing feats like climbing 6000 feet to the top of mountains, others have explored every dirt trail they could find and we even have some people that have backpacked solo on various continents. No matter what our readers want to learn and do, our team is here to help them accomplish those goals.