Whether you are traveling to another country or taking a long backpacking trip, you may want to invest in a personal water filtration system. A personal water filtration system makes it so you can drink from any source of water, including streams and lakes, and not get sick.
When it comes down to personal filtration systems for outdoor enthusiasts, there are two popular options: the Sawyer Mini and the Lifestraw personal water filter (original).
Both have proven to be top quality products and each has their own avid following. If you are new to these brands, it can be tricky to decide which one to purchase.
While both filters are obviously excellent products, they have some differences that could mean the difference between you having a great experience or disappointing one.
Before getting into reasons why you may or may not want either product, let's get the basics for each out of the way.
Bottom Line Up Front:
The Sawyer Mini is the better choice because it filters to a 0.1 rating vs 0.2 for the LifeStraw AND it has a usable life of 100,000 gallons vs just 4,000 for the Lifestraw. The Sawyer Mini is also comparably priced here, so the choice isn't a typical price point discussion.
Sawyer is one brand that definitely isn't new to the art of creating water filters for outdoorsmen. They are a very respected company and have a number of popular/successful products, from personal filters to larger filters capable of supplying safe water for a group.
The Sawyer Mini is one of their best filters for a few reasons. It is compact, lightweight, does what it's supposed to, and is priced perfectly. Here is a summary of what you need to know.
Sawyer Key Specs
Created specifically for outdoor recreational use (camping, hiking, scouting, etc) as well as travel and emergency preparedness
Removes 99.99999% harmful bacteria
Removes 99.9999% of protozoa
Filters down to 0.1 microns
Super compact filter fits in your hands
Weighs 2 oz
Filtration lifespan of 100,000 gallons
Easily field cleanable with water plunger
Comes with a foldable 16 oz pouch for water storage and a drinking straw
Compatible with most plastic bottles
Hydration reservoir compatible can be attached inline
Functions as a filter straw (drink directly from a water source)
The Sawyer Mini comes is really a great little filter. A nice touch is that it comes in 5 different colors – black, blue, green, pink, and orange. It seems to be a trivial feature but having the option of bright orange is nice in the backcountry for better visibility if dropped or misplaced.
The nice thing about this filter is that you can use it for a really long time. It filters 100,000 gallons before going bad. Part of the reason for this is because of your ability to clean the filter after use with the included plunger that you push water through the filter in the opposite direction with.
Another key feature of the filter is it is extremely versatile. You can screw it onto almost any plastic water bottle, use it in-line on a hydration pack, or attach the included straw to drink directly from the source.
Specs and Features of the Lifestraw
Lifestraw is a newer company that was created to help provide aid for those without access to safe drinking water. It is perfect for emergencies, with its small size being ideal for stowing in an SHTF kit or even in your car. The design also works well for hiking, backpacking, and camping. It is a fairly unique straw-like design that you quite literally dip into the water source for direct drinking.
If you really just want the most basic and budget-friendly water filter you can find, the Lifestraw is probably going to work well for you. Here are the specs of this device.
Lifestraw Personal Water Filter Key Specs
Removes 99.9999% of waterborne bacteria
Removes 99.999% of protozoan
Removes 99.999% of microplastics
Filters down to 0.2 microns
Has a 4,000 liters filtration lifespan
Weighs 2 oz.
9″ long with a 1″ diameter
Meets US EPA safe drinking water requirements
Lifestraw materials are completely BPA-free
Buy one, a child in need gets safe drinking water for a year
There isn't really a lot to say about the Lifestraw, simply because it's a fairly basic product. It is a disposable design, meaning there is no field cleaning possible. You simply use it until you reach it's lifespan then throw it away, replacing it with a brand new one.
It has a durable case and the filter life space is decent for most people. Typically casual backpackers or campers will get the most use from this device since it can only be used in one way.
Although, lifestraw has come out with a new water bottle adapter called the Universal Kit. It's more expensive because it comes with two adapter caps and fits most water bottles, such as Kleen Kanteen and Hydro Flask. This includes all of the wonderful features of the original Lifestraw.
Lifestraw is also a great company to buy from. For every Lifestraw purchased a child that does not have access to clean water receives a school years worth of safe drinking water. This is one of the main reasons this company was started. To give third-world countries access to clean drinking water.
With the details out of the way of both filters, here is how they stack up against each other.
Major Differences Between the Mini and Lifestraw Water Filters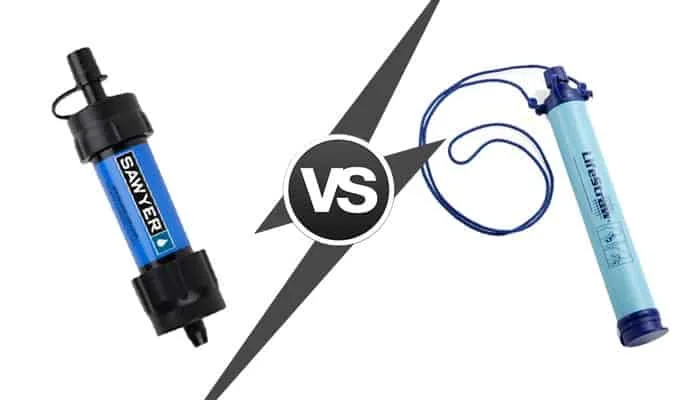 There are really only two major differences between the Sawyer Mini and the Lifestraw:
Filter Pore Size
Versatility
Both the Mini and the Lifestraw filtration systems are great and deliver safe drinking water from most sources, but there is a difference in pore size. The Sawyer Mini is a slightly better filter since it has a smaller pore size. As mentioned earlier, the Mini has a 0.1-micron filter whereas the lifestraw has a 0.2-micron filter.
Both filters remove almost all bacteria, including E-Coli, along with nearly all protozoans, including Giardia and Cryptosporidium. Lifestraw removes 99.999% of all microplastics though. Not only making your water safe to drink but also making it taste better.
A note on viruses: A virus IS different than bacteria. Typically, bacteria is the main culprit in the backcountry. Viruses are typical human related concerns, but there's still a small chance you may come into contact with a virus-contaminated drinking source. NEITHER filters protect against viruses. You generally need a PURIFICATION system to do that. The best mobile often is something like the MSR Guardian Purifier available on REI here.
When it comes down to it, the Lifestraw was designed to function as an emergency water filtration system for those unable to access safe water. Lifestraw's mission is to make safe drinking water available to everyone in the world. Making it very durable and easy to use.
Lifestraw has a decent filtration lifespan but was made to be disposable. In this capacity, it works exactly as it should. However, outdoor enthusiasts popularized the product and it quickly started being recommended for this application.
There is no doubt the Lifestraw does work well for outdoor activities but its downfall is versatility. Simply put, the Lifestraw doesn't have any versatility. It is just a simple filtration drinking device that you put directly into dirty water, appropriate for drinking water.
There is no way to filter water for storage in a reservoir or fill a bottle. If you are camping you will end up having to waste fuel boiling water for cooking or cleaning rather than being able to filter water in advance.
The Sawyer Mini is specifically designed for hikers, backpackers, and campers, so naturally, it is a superior option for these activities. When it comes to the versatility it blows the Lifestraw out of the water.
Sawyer designed this product to work with a number of systems – you can attach the filter to a collapsible bottle/pouch, set it up inline with your hydration reservoir, filter from a plain plastic bottle or use it as a straw for direct drinking.
The Sawyer Mini is also half the size of the Lifestraw. You can pack it so much easier even with all of the accessories that come with it. There just is no competition between the two when it comes to versatility.
Side by Side Comparisons
| | | |
| --- | --- | --- |
| | Sawyer Mini | Lifestraw |
| Microns (pore size) | 0.1 | 0.2 |
| Weight | 2 oz | 2oz |
| Size | 4 in. x 1 in. | 9 in. x 1 in. |
| Accessories | 16 oz. squeeze pouch, 7 in. straw, cleaning plunger | None |
| Life span | Filters 100,000 gallons | Filters 1,000 gallons |
The Winner: Sawyer Mini vs Lifestraw
When it comes down to a simple Mini vs Lifestraw comparison, the Sawyer Mini available here comes out on top.
The main selling points of a filter should be a combination of three things:
Filtration capabilities
Ease of Use/Usability
Price
The Sawyer Mini has more powerful filtration. Not to mention it is field cleanable and will filter roughly 100,000 gallons (better flow rate). It has proven to be reliable and overall usability is high since it is versatile in how it can be used.
The Lifestraw may be the most simple – simply put the end in the water and drink – but lacks versatility.
You can use the Sawyer Mini with a whole bunch of other products, such as your hydration pack or a plastic water bottle. Whereas you would have to find a source of water every time you wanted a drink with the Lifestraw.
When it comes to price the Sawyer Mini is almost equal to the Lifestraw even though it comes with extra versatility. The Lifestraw typically retails for $19.95 (check this listing for the latest live prices). However, a closer look will show that the Mini is still a better buy.
The Lifestraw only filters 4,000 liters or 1,000 gallons before it needs to be replaced versus the 100,000 gallons you'll get with the Mini. The Mini could last you a lifetime. It really is no comparison when it comes to value.
Bottom Line: With all that being said, the Lifestraw is still a good option for some applications. If all you want is the simplest device possible to drink directly from natural water sources, the Lifestraw may be a good fit. But if you want the option of filling your bottle or reservoir with clean water and if you know you'll be using the device often, go with the Mini. All in all, the Mini does everything the Lifestraw can do but better.
All in all, the Mini does everything the Lifestraw can do, but better. Even though Lifestraw has upped its game over the years to meet customers' needs, it still can't outperform The Sawyer Mini. You will love to backpack, camp, hike, or any other outdoor activity you can think of where you may need some extra water with this Mini water filter.
Further Reading on Water Filters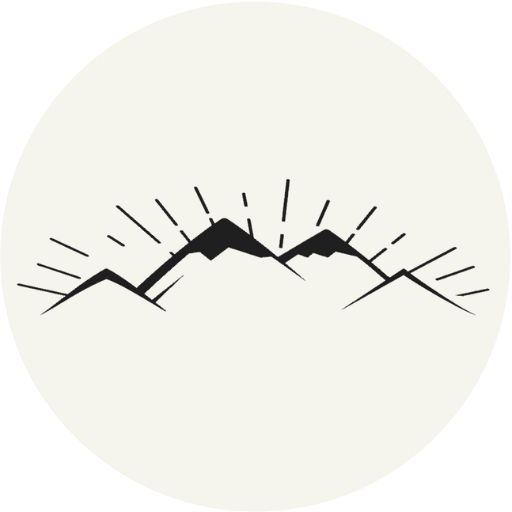 The All-Outdoors Guide team is comprised of enthusiastic experts that enjoy helping others that aspire to be better at outdoor fun. Part of that is making sure you have the right gear and information when it's time to go out and have fun. Some of our team have accomplished amazing feats like climbing 6000 feet to the top of mountains, others have explored every dirt trail they could find and we even have some people that have backpacked solo on various continents. No matter what our readers want to learn and do, our team is here to help them accomplish those goals.