Sometimes too much of a good thing is actually a great thing- at least when it comes to the solidity and resilience of Hilleberg's Tarra tent. This fortress of a shelter is equally at home in the harshest of deserts as it is in the coldest of backcountry mountains.
It sticks to the ground like a suction cup, can withstand snowstorms as well as powerful wind gusts, and is still quick to pitch in a hurry.
If you are a lover of outdoor adventures that push the limits but find that past tents leave you cold, wet or worried of toppling over, the Tarra could be the answer to your problems.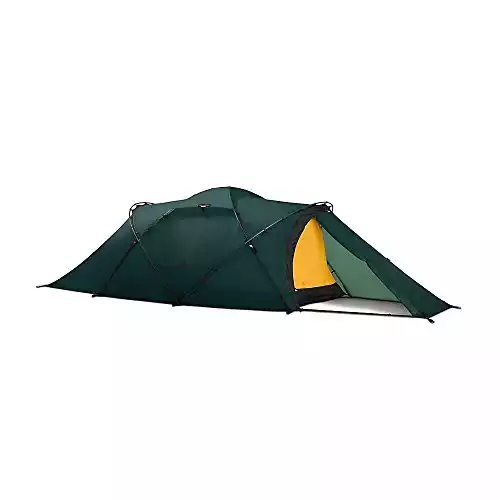 Specs and Features of the Tarra Tent
Before getting into the main advantages of the Tarra, here is a rundown of the details and main features this model offers.
Specs include:
4 season usability for mountaineering, alpine and expedition purposes
2 person capacity
Comes in 3 color options – Green, Red or Sand
Minimum weight – 8lbs 6oz (tent & poles only)
Packed weight – 9lbs 8oz (complete setup)
Total dimensions – 168″ x 55″ x 41″
Interior dimensions – 82″ x 49″ (30.1ft sq)
Dual vestibules on ends, each are 14ft sq or 55″ x 43″
Main body material is Kerlon 1800
Comes with 8 poles and 18 Y-pegs
The main features are:
Strongest 2 person tent Hilleberg offers and one of the strongest on the market in the same category
Year round usability and versatility – you can extend the tent walls to the ground of maximum warmth or use the adjustable fabric panels over the mesh areas for use in warmer seasons
Dome-shaped tent body with numerous poles allow for superior stability and strength under snow
High-wall bathtub floor keeps out all water
Hybrid double- and single-wall design – the Tarra has two walls but they are connected for durability and ease of setup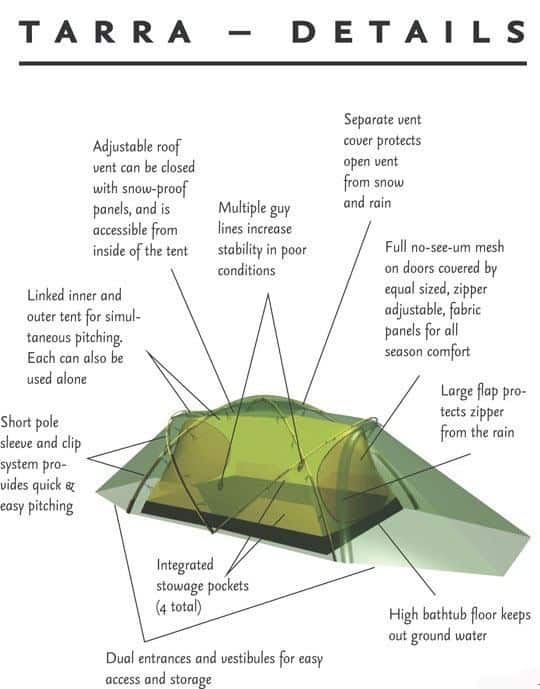 Pitching just the inner tent is possible but you will need the optional pole holders
Tent only requires poles for pitching – the lack of pegs makes setup possible even on the hard, impenetrable ground
Dual vestibules and entrances allow versatility and give plenty of storage space outside of the main tent body
Get the optional footprint to expand the floor cover to the vestibule
Doors are both backed with No-See-Um mesh
Four built-in storage pockets
Heavy-duty zippers are protected with large zipper flaps to prevent leaking from rain
The top of the tent has a roof vent with a sturdy snow panel and additional vent cover to protect from water leakage
Built-on guy lines attached to poles gives added durability in storms or snowy conditions
Has won awards from Outdoor Gear Lab as their Top Pick and German magazine Outdoor
With the technicalities out of the way, next are the main benefits of choosing this tent.
Advantages of the Tarra Tent
As you can tell from the features list, the Tarra really has a lot going for it. If you condense it all down there are 3 main advantages this tent has.
Ease of Pitching
The ease of pitching is always an important consideration, especially when you plan to be taking your tent out into inclement weather conditions. If you are expecting a storm or are feeling chilled, your main focus is to get the tent up properly and as quickly as possible.
The Tarra is easy to set up, even for a single person in less than pleasant weather conditions. Hilleberg added color-coded sleeves to the tent so it's easy to figure out which poles go where. There are also plastic clips that attach to the poles for added strength.
All you need to do is set up the poles, attach the clips, stake out the vestibule with pegs and attach the elastic guy lines. As mentioned, this tent has double walls but sets up like a single wall tent. This makes pitching much faster and the elastic guy lines ensure the inner walls are secured to the tent body properly.
Another added bonus of this setup system is that you can pitch it without taking off your gloves. Other tents with grommets or other pitching systems often force you to remove your gloves which isn't pleasant in winter.
Weather Resistance
It is incredible just how weather resistant the Tarra is. The overall dome design of this tent makes it pretty much impervious to whatever you can throw at it – rain, snow, slush, hail, high winds, etc. The shape of the tent is superior in forcing wind to pass around it and for snow or rain to run off of it.
While it is recommended to knock off snow buildup as often as possible, the Tarra can take on a very impressive snow load overnight without sagging or having poles snap.
The material used in the body and fly of the tent is very strong and very water-resistant. While many tents have a polyurethane coating for water-resistance, Hilleberg went with triple silicon layers. This silicon coating performs quadruple-duty: it keeps out water, protects against UV-rays, is less likely to be punctured, and is tear-resistant if punctured.
User Comfort
Comfort for the inhabitant(s) is another important factor. A tent should keep you dry, provide ventilation and help trap warmth within the tent. The Tarra provides all of these things.
It might not have the biggest sleeping space but it makes up for it with the huge vestibules for gear storage- which leaves the sleeping area free from bags or other clutter. It is plenty of room for two people or even three, if you are comfortable being cozy.
Aside from gear storage the vestibules also help keep the tent interior clean since you can remove dirty/wet clothes and boots. It also offers a small outdoor kitchen area that is still protected from the elements. The Tarra is comfortable to sleep in and hang out in since it has such a great ventilation system. Any good tent vent system should prevent condensation and stale air by getting rid of hot, humid air while allowing fresh air to enter.
The roof vent of the Tarra does this perfectly. This tent is even more breathable since the inner tent walls and doors allow for more ventilation.
In warmer weather, you can also zip down the fabric panels over the mesh doors or even lift up the tent fly if there is no chance of rain. These features really make this tent perform well in very cold and even quite warm climates. Although the Tarra is highly praised and recommended, there are two possible downsides to this model.
Disadvantages of the Tarra Tent
There are only 2 things to consider before purchasing this tent:
The price
The weight
Despite only being a 2 person capacity shelter, this Tarra is a lot of tents in a small package. It is the strongest tent that Hilleberg offers and easily outperforms other 2 person tents in terms of durability, design, and quality. This is really a high-end piece of gear and the price reflects that.
Typically you won't be able to find this tent brand new from retailers or Hilleberg for less than $1k (For the latest prices and discounts, check here).
It's safe to say that is way out of budget for the weekend or casual camper but this tent is well worth it for the serious outdoorsman who will really put this tent through the wringer in harsh conditions.
The Tarra is heavier than most other 2 person tents- or larger, for that matter. Again, this is due to the design and quality materials Hilleberg used in creating this model. The extra weight won't be an issue if you are into mountaineering or alpine camping as the reliability, warmth, and stability the Tarra offers is well worth it.
Hilleberg Tarra Alternatives
If the price and/or weight means the Tarra isn't quite right for you, here are some other options:
Other Great Hilleberg Tents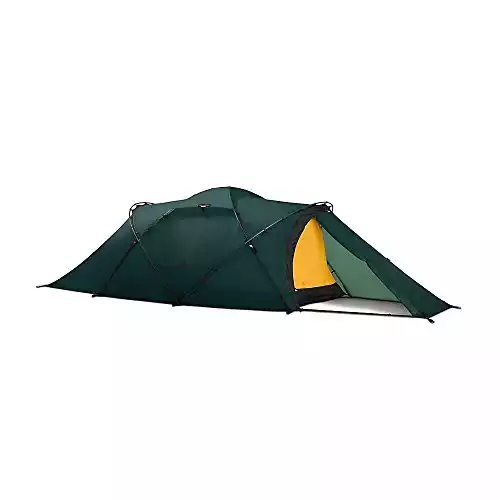 Final Take – Is the Hilleberg Tarra Worth the Price?
While almost anyone would be impressed with the Tarra, it's best saved as a shelter for serious 4 season use. It is certainly overkilled for the average outdoorsman, who would be happier with a lighter weight, less expensive tent by Hilleberg. But for the true mountain man or woman who is tired of collapsed tents, leaks, and weak design, the Tarra really won't disappoint.
Where to Buy the Tarra 2 for a Decent Price?
With all this discussion of pricing, there are a select few online retailers that consistently list for a good price.
Further, read: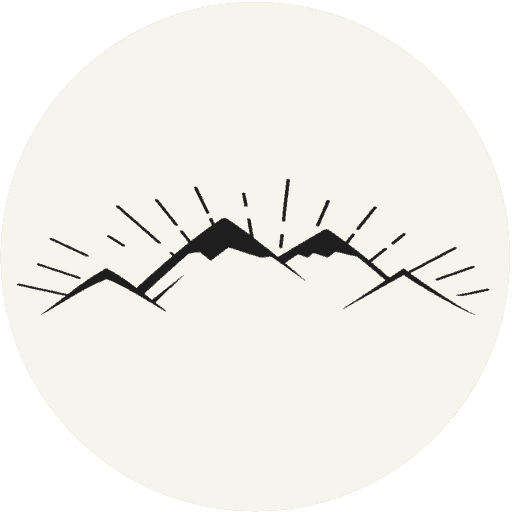 The All-Outdoors Guide team is comprised of enthusiastic experts that enjoy helping others that aspire to be better at outdoor fun. Part of that is making sure you have the right gear and information when it's time to go out and have fun. Some of our team have accomplished amazing feats like climbing 6000 feet to the top of mountains, others have explored every dirt trail they could find and we even have some people that have backpacked solo on various continents. No matter what our readers want to learn and do, our team is here to help them accomplish those goals.