In our Columbia Interchange Jacket Review, we're going to have a look at how the Whirlibird IV shapes up. Predominately used as a ski jacket, the Whirlibird IV is also ideal as an everyday winter coat and it can be used for a variety of outdoor activities.
Columbia Sportswear is well known as a value brand but does that mean that the Interchange Whirlibird IV isn't as good as some other jackets out there?
We're going to explore the ins and outs of this winter jacket and see if it is worth buying. We'll also show you some alternatives to the Columbia Interchange Whirlibird IV jacket as well.
Editor's Choice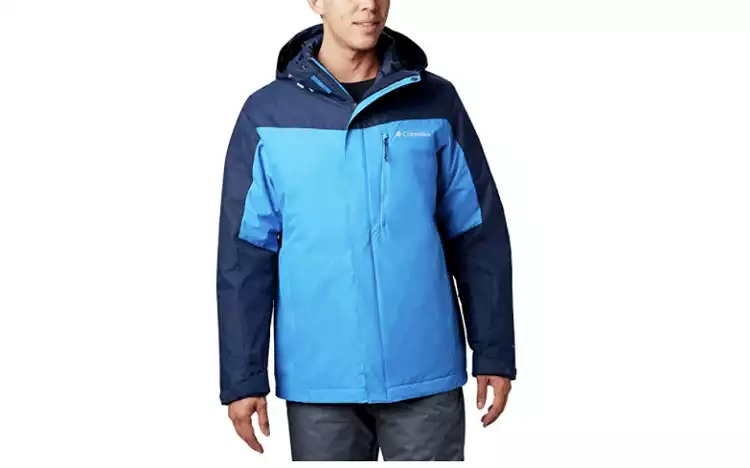 Features of a winter jacket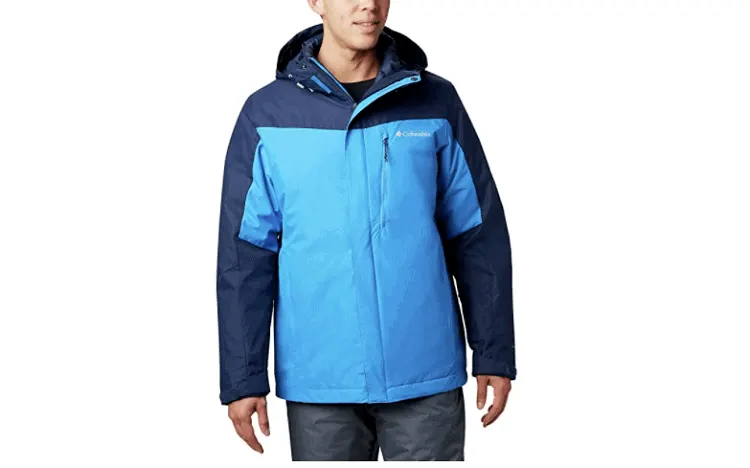 Before we get into our Columbia Interchange Whirlibird IV jacket review, we need to tell you about different things you should look out for. Buying a jacket for outdoor activities takes some thought because there are many different features you need to think about.
Warmth
It seems pretty obvious but you need a winter jacket to be warm. While a summer jacket is perhaps more about style and fashion because it is necessarily something you buy to keep yourself warm, a jacket for the winter months is different.
Depending on what outdoor activities you are pursuing, you may need a jacket to have extra insulation. If you are skiing, for instance, you'll need a warmer jacket than if you are hiking. So, looking at the warmth rating and the insulation for a winter jacket is important.
Ventilation
Ventilation is another big thing to take into consideration. A breathable jacket means that it not only retains heat but that it also allows air to escape too.
This is designed so that you don't sweat too much which when combined with the warm nature of an outdoor jacket, you'll overheat and get too hot. This is especially necessary for skiing jackets like the Columbia Interchange Whirlibird IV. Because you are partaking in a pretty strenuous activity that means you'll build up a sweat, you need to let your body breathe as well to regulate your temperature better.
Waterproof
How waterproof a jacket is will determine not only how comfortable you'll be when wearing it in wet conditions but it will also impact on its durability too.
Waterproof jackets are measured with something called a Hydrostatic head. This is how tall a column of water can get because it'll seep through the material. As a general rule, a 3000 mm rating is considered fairly good. This means that water rises to 3 meters before it will start to penetrate through the material.
That being said, the climate where you are and the activities you take part in will determine how waterproof you need a jacket to be. While having some protection against the rain is always recommended, you might not need to go too overboard with this.
Comfort
Another thing to look out for with a winter jacket is how comfortable it is. If you are using it for activities such as hiking then you'll want it to be easy to wear for the duration of your hike. An uncomfortable jacket is going to make these types of activities pretty unenjoyable.
The overall comfort of a winter jacket is depending on several things such as how many layers it has, the material that it is made from, and also if the hood is adjustable or not. An adjustable hood can make a lot of difference to how pleasant the jacket is to wear. Also, things such as a fleece chin guard can help to stop your face from rubbing against the outer material.
Style
Finally, if aesthetics are important to you and you want to look good outdoors, you need to think about the style of the jacket too. Just because you want a jacket to look nice doesn't necessarily mean that you have to sacrifice any performance.
There are many jackets that have great aesthetics but also have a ton of great features such as waterproof ability, ventilation as well as warmth.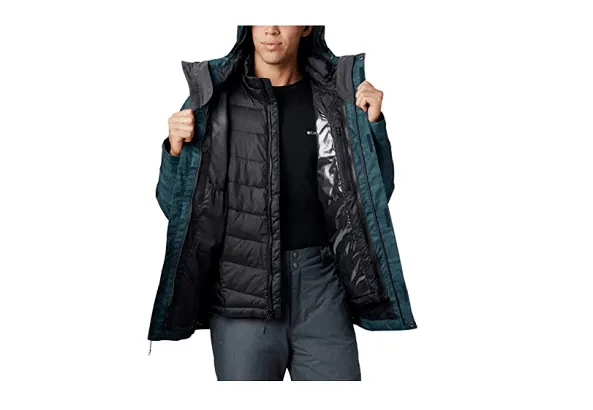 The Columbia Interchange Whirlibird IV Jacket is available for both men and women and we're going to have a look at the features that this jacket offers.
Warmth
As far as retaining heat goes, the Columbia Interchange Whirlibird IV Jacket does a fairly good job. As this is predominately used as a ski jacket, you would expect some decent warmth from it. The jacket has an outer shell with a hanging mesh lining and this is complemented with an insulated synthetic inner layer.
There is an 'Omni-heat' thermal material as well on the inside which further helps to keep heat in. It uses an 80g MicroTemp synthetic as the insulation and nylon as the main material. Essentially this is a 3-in-1 jacket and you can actually wear each layer separately if you want.
Don't get us wrong, there are warmer jackets out there even if you have the 3 layers on at the same time. It certainly isn't going to completely block out the cold during days of really low temperatures especially if you are hitting the slopes. That being said, it does do a decent job at retaining heat for the price and you aren't going to be freezing with it on.
Ventilation
This is one area where a jacket with three layers has the edge over an all-in-one model. So, in terms of ventilation, the Columbia Interchange Whirlibird IV Jacket should perform pretty well. The pit zips on this jacket help to encourage airflow which does help with ventilation overall.
If you are just wearing the outer shell then ventilation is really good with this jacket. The problem is that more than likely this won't provide enough warmth especially when skiing. Add in the synthetic insulated layer and the ventilation decreases by quite a bit.
The 'Omni-heat' thermal material doesn't help much either as it certainly traps heat but isn't ideal for 'breathability'. This isn't the worst jacket for ventilation that we've come across but it could be a bit better.
Editor's Choice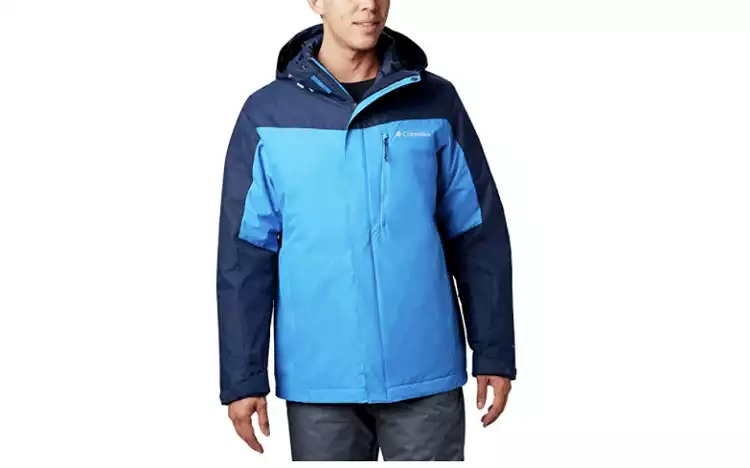 Waterproof
Overall this jacket is good at keeping water out – for the most part anyway. It features Columbia's OmniTech waterproof membrane which helps with weather resistance and anytime we have tried it in the pouring rain it has performed fairly well.
One downside with the Columbia Interchange Whirlibird IV Jacket is the fact that the zippers aren't waterproof. This usually wouldn't be a massive deal however the big zipper which is on the chest area can let water through. It is also in a place that is highly likely to get wet when you are out and about to. The hood is fixed but it is designed in a way to help keep water out as well and there is also a powder skirt that prevents snow from getting into the jacket.
Comfort
The good thing about the Columbia Interchange Whirlibird IV Jacket is that we found it to be comfortable when worn. There is a bit of a restriction in movement which mainly comes from the slightly bulky feel of the jacket but it isn't as bad as some other jackets in this price range.
The fleecy chin guard helps to avoid any annoying rubbing on the jacket itself. You'll come across jackets that offer more comfort than this one but really for the cost it fits well overall. Even though it can feel a bit 'boxy' when worn, it isn't enough to be really noticeable when you are out on the slopes.
For frequent skiers, you'll probably notice the comfort problems a lot more than if you are just putting this now and again.
Style
The final criteria that we are judging in our Columbia Interchange Whirlibird IV Jacket review is how the jacket looks. Aesthetics might not be everything to you when you are seeking a ski jacket or a winter coat to cope with the great outdoors but you don't want something that looks terrible either. Is the Columbia Interchange Whirlibird IV Jacket going to win a design award?
No, probably not. Is it the worst-looking jacket we've ever come across? No, it isn't. Really it sits somewhere in the middle.
It doesn't give off a cheap appearance even given its budget nature although there are better styles out there. Some people don't particularly like the 'boxy' look that it gives off. Although the fact that you can wear individual layers means you have several styles to choose from.
Pros of Columbia Interchange Jacket
Affordable winter jacket that is tailor-made for skiing
Provides good warmth and heat retention with 3 layers
Can be used for outdoor pursuits or simple as an everyday jacket
Offers decent waterproof capability and weather resistance
Cons of Columbia Interchange Jacket
The Hood doesn't detach but can be adjusted for a tighter fit
Heat retention could be a bit better
Looks OK without really standing out
Alternatives to Columbia Interchange Whirlibird IV

North Face is one of the most popular outdoor clothing companies and they make a wide range of different jackets and other apparel. If you are looking for an alternative to the Columbia Interchange Whirlibird IV jacket then the North Face Inlux Insulated Jacket is a good choice.
It is slightly more expensive than the Interchange but is an ideal purchase as a skiing jacket. It has Heatseeker insulation and its waterproof and weather-resistant capabilities are boosted by the Durable Water-Repellent (DWR) finish.
The Inlux Insulated Jacket has that typical North Face style as well so you'll look great on the slopes as well as having a highly functional jacket. It offers a very comfortable fit while it provides good durability as well. All around it is a great skiing jacket and one which can easily be used for a range of different outdoor activities too.
Alternative Pick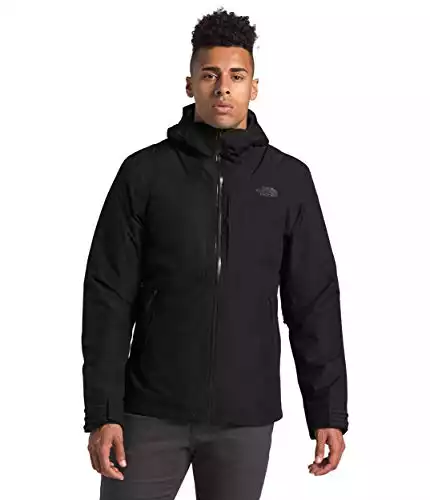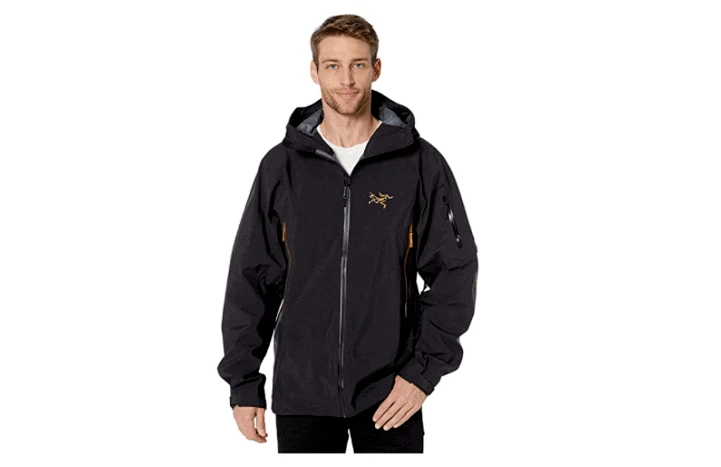 We're a big fan of Arc'teryx jackets here at the All-Outdoors Guide and the Arc'teryx Sabre AR Jacket is a great choice for skiing. So, it is a bit more expensive than the Columbia Interchange and when we say a bit more expensive we actually mean a lot more expensive.
However, if you want a step up in quality then this is it. The jacket features very good breathability and protection while you're in snowy conditions and the Stormhood is helmet-compatible.
This jacket also has a powder skirt, pickets that are securely fastened so you don't lose anything when on the slopes while there are good motion and movement too. Even though the Arc'teryx Sabre AR Jacket comes at a high cost it is definitely worth it. If your budget can stretch a bit further and you are looking for something different from the Columbia Interchange Whirlibird IV, this is the one we recommend.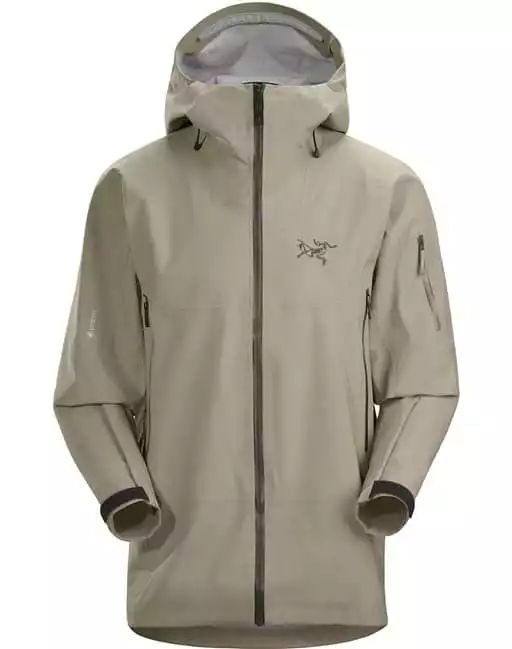 Sabre AR Jacket Men's | Arc'teryx
Equipped to handle the vertical aspects of big mountain skiing, the Sabre AR Jacket is built for freeride touring. Patterning and features align to deliver optimal freedom of motion, breathability and protection.
Check Price
We earn a commission if you click this link and make a purchase at no additional cost to you.
FAQs
What should I look for in a winter jacket?
Aside from style and fit, there are several things you should look out for when buying a winter jacket. This includes its heat retention to keep you warm, ventilation which prevents the build-up of sweat as well as how waterproof the jacket is.
Is Columbia as good a brand as North Face?
We've had a look at how Columbia and North Face compare previously. Columbia tends to be more at the budget end of the pricing scale when compared to North Face and North Face largely have a modern style to their clothing range. Just because Columbia is often cheaper doesn't mean that the quality is always inferior and Columbia do have some modern style jacket too.
Does the Columbia Interchange Whirlibird IV jacket have zipped pockets?
Yes, the Columbia Interchange Whirlibird IV jacket does come with zipped pockets so you can safely secure any valuables and other items that you have out with you when skiing.
Is the Columbia Interchange Whirlibird IV jacket waterproof?
Yes. The Columbia Interchange Whirlibird IV jacket will offer protection against rain. One thing to note however is that the zippers aren't waterproof and the main zipper on the chest of the jacket can let in water.
Can I use the Columbia Interchange Whirlibird IV jacket for activities other than skiing?
If you want. While the Columbia Interchange Whirlibird IV jacket is predominantly a skiing jacket you can use it for other outdoor pursuits. This includes hiking and camping if you need additional warmth. It can also be used as an everyday winter jacket too.
Conclusion: Is the Whirlibird IV Worth it?
It is quite obvious that the Columbia Interchange Whirlibird IV jacket isn't the absolute best skiing jacket that you can buy. The reality is that it doesn't pretend to be so, either.
Sitting firmly in the 'budget but still a little but pricey' range, the Whirlibird IV isn't going to break your bank. What it does offer for this price is a range of good features. This includes reasonable warmth in all but the coldest of climates, decent enough ventilation so you don't work up too much of a sweat with this on and it is waterproof as well.
There are a few issues around the zippers not being waterproof and offering a potential route in for water during heavy downpours. The jacket isn't going to win an award for its style but you aren't going to look silly and out of place on the slopes either.
If you are someone who has a passion for skiing and you go frequently then perhaps it is best to have a look at the alternatives we have mentioned in this review.
However, if you are an occasional skier and want a good jacket that will provide warmth, protection, and be fairly comfortable into the bargain too – opt for the Columbia Interchange Whirlibird IV.
Editor's Choice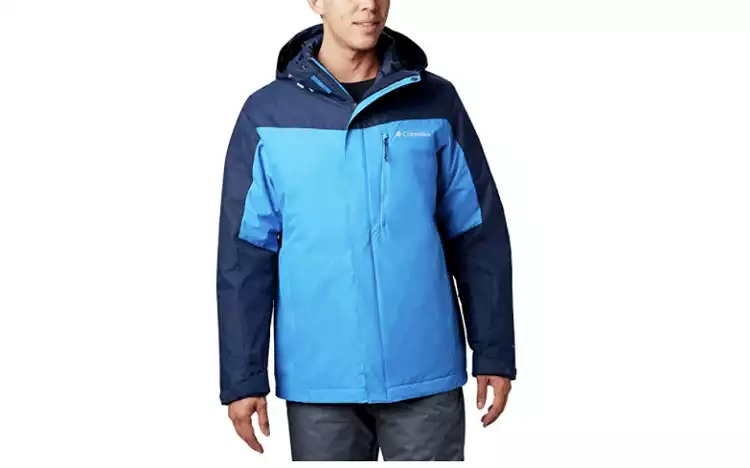 Further Reading on Outdoor Jackets: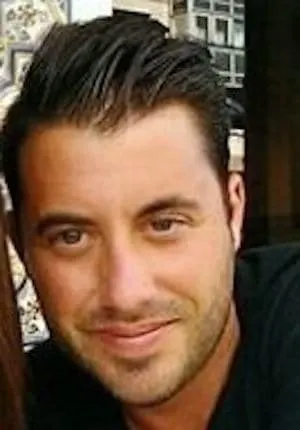 David is a strong advocate of outdoor-related activities and has many years of experience backpacking and hiking around the world, including the Italian and Austrian Alps in Europe as well as central and southern Asia.
Locally, he has also led many groups cycling through Vermont, Nova Scotia, and Wisconsin. David constantly uses and tests the latest gear for the outdoors, which in turn allows him to help others make more informed buying decisions. He's excited to share more of his knowledge and to see others enjoying the great outdoors more because of his advice and recommendations.