Are you looking for versatile and durable cookware for your outdoor adventures? If you're an avid camper, a good camping mess kit should be an essential part of your equipment. There are many different types of kits containing all sorts of containers, utensils, and tools.
If you're not sure which one will serve you the best, this article will give you plenty of helpful inspiration and guide you through some of the best camping mess kits available on the market in 2021.
What You Should Know About Camping Mess Kits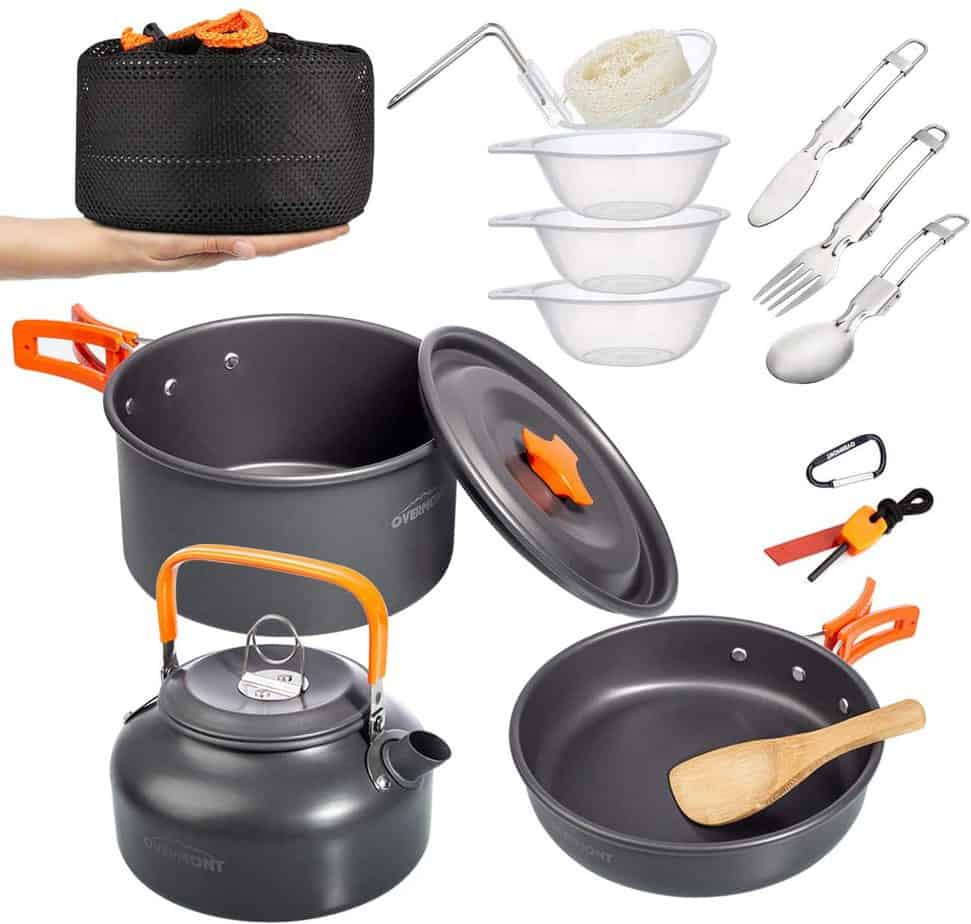 Mess kits are helpful, versatile, and highly convenient collections of cookware, utensils, cutlery, and various additional tools that can be used whenever you plan to prepare a meal in the outdoor environment. Their roots are linked to military history – mess kits were traditionally handed out to troops heading to the battlefield.
Nevertheless, their practical functionality made them very popular with hikers, campers, and adventurers of all sorts too.
If you're planning to get your very first camping mess kit, you should know what to expect from this gear, how it should look and work, and what options the market currently offers. Before we provide you with concrete tips and inspiration, let's discuss mess kits shortly in general, focusing on their main features and qualities one by one.
Size
Standard civilian mess kits can accommodate between one and eight people. If you're usually traveling or camping alone, you can quickly settle with the smallest alternative – it will be conveniently compact and perfectly light to carry around.
Nevertheless, I've often found myself in situations when the second set of cutlery or a reserve pan would come in handy. Just imagine wanting to share your dinner with a new friend you've just met at the campsite or losing a spoon and having to cope with instant soups without it for another 3-4 days.
Compactness
One of the main attributes of literally every mess kit out there is its compactness. Although this set can include dozens of components, they all should fit one right into another like a Russian doll, providing you with one compact, easy-to-pack, and carry bundle of kitchenware.
Of course, some kits perform much better in this regard than others. If finding the right order and place for each of the components in the kit is too complicated, you'll probably end up frustrated with your mess kit quite fast.
Material
Typically, camping mess kits are made of aluminum, which provides a great combination of durability, hygiene, and lightness. Some kits can also be made of enameled or stainless steel. Saucepans can have a non-stick layer; cutlery can be made of durable titanium or extra light yet not-so-durable plastic.
Some mess kits are dishwasher-safe – although you're most likely not going to enjoy this feature while in nature, it's nice to get your equipment thoroughly cleaned in the washer once you return home. Many campers now also prefer using BPA-free and phthalate-free equipment or kits made of recyclable materials.
Content
A standard camping mess kit provides you with one larger saucepan, one deeper pot, plates, cups, and primary cutlery corresponding with the number of people the kit claims to accommodate. Of course, in practice, this varies significantly from kit to kit.
Some are oriented more on the cooking itself, providing you with several utensils, gas cookers, or open fire cooking accessories, etc. Others might have more accessories for serving and eating/drinking.
In any case, try to get a mess kit that contains everything you consider essential for your style of camping and food preparation in nature. If you have to pack another cookware along with the mess kit, it will come with additional costs and more occupied space in your backpack. On the other hand, try to avoid carrying around too much unnecessary stuff in your mess kit too. It will just add to the weight of your backpack without any additional benefits.
Price
Camping mess kits differ in price significantly. Some will cost you only $14; others might be sold for hundreds. What price is adequate? Let's just say that all of the factors we have mentioned above should be fairly reflected in the price tag.
The bigger, more complex, more durable, and versatile the kit is, the more it's going to cost you. Of course, some brands are more expensive than others just for the sake of their reputation.
Now when you know what to look for, let's check the top 10 camping mess kits currently on the market:
10 Best Camping Mess Kits for Every Budget
Coleman Rugged 1-Person Mess Kit
Suppose you're usually camping on your own, and you're the no-nonsense type of adventurer who likes to avoid carrying around anything unnecessary. In that case, this simple, rugged mess kit from Coleman should suit you perfectly.
It's a 5-piece compact aluminum set with one convenient frying pan, one pot with a lid, a dish plate, and a cup – all the essential cookware you might need on your solo adventures.
On the other hand, for a total cooking experience, you're going to need some additional cutlery and utensils along with this mess kit too.
Pros
Very affordable
It boasts nice red and black design
Rugged aluminum for extra durability
Only the most necessary things – no nonsense
Cons
There are no utensils or cutlery in the kit
Very minimalistic, not-so-versatile in unexpected situations
Specifications
| | |
| --- | --- |
| Material | Aluminum |
| Content included | 7-in. Frying pan, 6-oz. Pot with lid, 6.5-In deep-dish plate, 8-oz. Aluminum cup |
| How many people | 1 |
| Price | Click here for the latest quote |
Overmont Camping Cookware Set for 1-3 People
Overmont's camping cookware set is a small, compact, yet very useful mess kit for one to three adventurers at a reasonable price. This kit is made of anodized aluminum, which is durable and scratch-resistant, yet there are some potentially problematic plastic components, too (especially those plastic handles look like a bad idea to me).
Besides all the essentials, this compact kit also has some nice extras like a kettle or mesh bag for super-convenient storing – just hang the bag with your kit on your backpack, and you're ready to go.
Pros
The price is excellent.
Comprehensive kit with almost anything you might need
Anodized aluminum for durability
Nice design with practical carry-around mesh bag
Cons
Plastic components are not going to last very long, handles can even melt on fire.
Designed for up to three people, yet contains a single set of cutlery only.
Hard to clean with remains of food sticking to the surface of the pans
Specifications
| | |
| --- | --- |
| Material | Anodized aluminum + plastic |
| Content included | 1x 1.15 Liter pot, 6.8×3.6", 1x frying pan, 7.1*1.7", 1x small kettle for camping, 3 x plastic bowls, 1 x spoon, 1 x spatula, 1 x cleaning towel, 1 x net bag for storage, 1 x D-shaped buckle, 1 cutlery set, 1x flint |
| How many people | Up to 3 |
| Price | Click here for the latest quote |
Odoland 22pcs Camping Cookware Mess Kit for 4 people
If you're ready to invest a bit more into a nice mess kit perfectly suitable for up to four campers, the Odoland 22pcs mess kit should be on your radar. This full outdoor cooking kit contains pretty much everything you're going to need, from pot to pan to the kettle to four sets of basic cutlery.
There are also four color-coded cups, so you won't have to think twice about which one is yours once they're all standing on one table.
This mess kit is made of two of the most durable materials on the market – stainless steel and aluminum. On the other hand, it is a bit heavier and bulkier than some smaller sets, so you might want to reconsider if you need everything it contains.
Pros
Comprehensive set with everything you might need
It can comfortably accommodate up to four people
Aluminum alloy and stainless steel for outstanding durability
Excellent design with practical bags and colorful cups
Cons
Larger and heavier than some other mess kits
Higher price
Specifications
| | |
| --- | --- |
| Material | Aluminum alloy + stainless steel |
| Content included | 1x 1.15 Liter pot, 6.8×3.6", 1x frying pan, 7.1*1.7", 1x small kettle for camping, 3 x plastic bowls, 1 x spoon, 1 x spatula, 1 x cleaning towel, 1 x net bag for storage, 1 x D-shaped buckle, 1 cutlery set, 1x flint |
| How many persons | Up to 4 |
| Price | Click here for the latest quote |
Wealers Unique Complete Messware Kit for 4 people
Having lunch or dinner under clear blue/starry skies doesn't have to be a pure survivalist experience. If you'd like to add a bit of style and comfort to it, Wealers Unique mess kit might be exactly what you need. It contains full-size dishes, cups, and shiny polished cutlery for four adventurers, all packed in stylish colorful bags and pouches.
The cookware and utensils from this set are all made of stainless steel, although some users complain that the kit is quite prone to rust, which is not very convenient especially in humid environments.
Pros
Stylish colorful design
Polished stainless steel cutlery for a home-like eating experience
Practical mesh bags
Dishwasher-safe
Cons
Users claim the steel is not properly stainless – beware of rusting
Higher price
Specifications
| | |
| --- | --- |
| Material | Stainless steel |
| Content included | 4 x Cup (10 Ounces), 4 x Plates (8.5 inches), 4 x Bowls (6 inches), 4 x Cutlery (7 inches – full sets of knives, spoons, and forks) |
| How many persons | Up to 4 |
| Price | Click here for the latest quote |
Stanley Base Camp Cook Set for 4
Stanley is one of those brands every avid camper has probably already heard about. They have produced top-quality accessories and cookware since 1913, and their expertise clearly shows off. After all, they don't offer a lifetime warranty on all of their products for no reason.
Stanley Base Camp cook set for 4 is a 21-piece mess kit containing everything you're going to need for a convenient camping experience – stew pots, bowls, cutlery, even a cutting board. Everything is made of top-quality stainless steel.
This thoughtful camping cook set will surely satisfy even the pickiest customer. On the other hand, it is a bit pricier and heavier than average mess kits of this kind.
Pros
Great quality
Reputable producer
Cookware suitable to prepare larger amounts of food at once
Lifetime warranty
Cons
Heavier than some other kits
Higher price
Specifications
| | |
| --- | --- |
| Material | Top-quality stainless steel, BPA free components |
| Content included | 1x 3.5L pot with vented lid, 1x 7″ 3-ply frying pan, 1x cutting board, 1x Spatula, 1x serving spoon, 4x 6″ plates, 4x 22oz bowls, 4x sporks, 1x dish drying rack, 1x heat resistant trivet, 1x locking bungee |
| How many persons | Up to 4 |
| Price | Click here for the latest quote |
Keith Titanium Ti3060 Canteen Mess Kit
If you're looking for a super-lightweight solution, Keith Titanium Ti3060 canteen-style mess kit is something you might like. Unlike the other camping mess kits from our list, this is not a full cookware and cutlery collection.
This rather minimalistic set includes just two multipurpose canteen-style containers with a sealable lid and a flask-type cup which can be used in many different ways. Just beware that the lids can reportedly leak.
Although its capacity is large enough to accommodate food or drinks for two people, we would mostly recommend this kit to a solo adventurer. It is made of super-durable food-grade titanium and it also comes in a stylish and convenient carrying pouch.
Pros
Top-quality materials (odorless, non-toxic, etc.)
Ultralight
Convenient and stylish carrying pouch
Dishwasher safe
Cons
Silicone lids can reportedly leak
Higher price
Specifications
| | |
| --- | --- |
| Material | Titanium + silicone |
| Content included | 2x multi-purpose canteens (1000 ml + 700 ml), 1 x lid, 1 x flask-type sealable cup |
| How many persons | Up to 2 |
| Price | Click here for the latest quote |
MSR Trail Lite Duo System Cook Set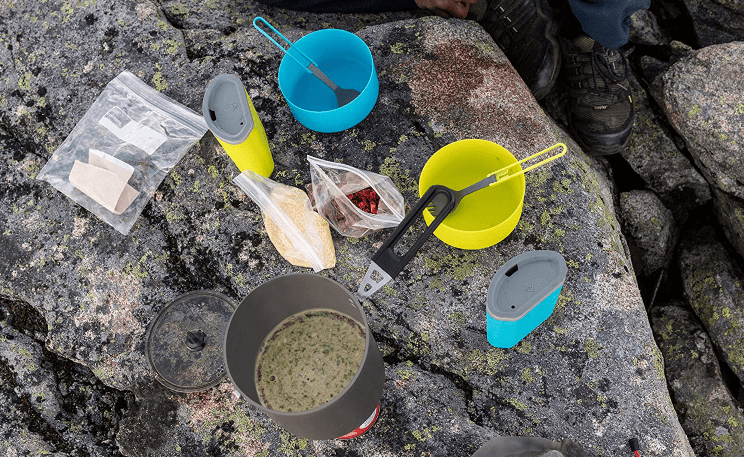 MSR is another brand that is widely renowned for its reliable, durable, and attractively designed products for the outdoors. Their Lite Duo System cook set is another great addition to their vast portfolio. It is a super-light, very stylish, and highly durable mess kit ready to serve up to two people in any type of environment and condition.
The containers and accessories from this kit are mostly made of anodized aluminum – durable, sleek, and highly hygienic material that can withstand heat or cold perfectly. Unfortunately, the inner walls of the pots are now no longer coated with ceramics, so they are considerably harder to clean. The remaining components are made of top-quality plastic materials free from BPA and other toxic substances.
Pros
Very light
Stylish, effective, and precise nesting
Easy to clean
Durable and reliable
Cons
The producer used to provide a ceramic non-stick coating on the pots but stopped doing it some time ago. It's all just anodized aluminum now.
Higher price
Specifications
| | |
| --- | --- |
| Material | Hard-anodized aluminium + BPA-free polypropylene |
| Content included | 1 x 2.0 L Hard-Anodized Aluminum Pot with a strainer lid, 2 x Double-Wall Insulated Mugs, 2 x DeepDish™ Bowls |
| How many persons | Up to 2 |
| Price | Click here for the latest quote |
UCO 4-piece Mess Kit
Back to minimalism! UCO's simple yet perfectly efficient 4-piece Mess Kit is suitable for any solo camper who likes to travel or hike light and in style. It contains a plate, a bowl, a 3-1 spork utensil, and a tether to secure everything in its place.
Of course, this is not a full cooking kit, so if you plan to prepare hot meals on the go, you will have to carry some additional gear too. Nevertheless, this simple mess kit will be perfectly suitable for those who just need some equipment to serve pre-prepared meals in nature.
This ultra-light mess kit weighs just 0.6 pounds. It's made of BPA and phthalate-free, microwave and dishwasher-safe polypropylene, and it comes in numerous optional colors too.
Pros
Ultra-light yet durable materials
Colorful and stylish
Dishwasher and microwave-safe
Affordable
Cons
Good for serving, but cannot be used for cooking
Accommodates one person only
Specifications
| | |
| --- | --- |
| Material | BPA and phthalate-free polypropylene + TPE |
| Content included | 1 bowl container, 1 lid serving as a plate, 1 multifunctional spork, and 1 reusable tether |
| How many persons | 1 |
| Price | Click here for the latest quote |
Mil-Tec German WWII Style 3-Piece Mess Kit
Mess kits were traditionally used in military environments. If you'd like to commemorate their origins by getting yourself a true, nostalgic military-style mess kit similar to those used during World War II, Mil-Tec's German WWII Mess Kit should satisfy you completely.
This simple yet thoughtful mess kit is made of 100% aluminum with a stylish military-green coating. There is a deep pot, a lid that can be used as a pan, and an additional container that can be used for serving.
Although the kit will surely make any war history enthusiast happy, it barely has everything you are going to need for proper outdoor cooking. Also, some users claim that it might not be suitable for open fires as the outer paint is prone to peeling off in the heat.
Pros
Stylish military look
Simple yet efficient 3-piece design
Durable and hygienic aluminum
Large capacity
Cons
Only the essential containers, no utensils or cutlery
Might not be suitable for an open campfire
Specifications
| | |
| --- | --- |
| Material | Aluminum |
| Content included | 1 pot container, 1 lid serving as a pan, 1 container serving as a plate |
| How many persons | Up to 2 |
| Price | Click here for the latest quote |
GSI Outdoors Pinnacle Camper Cooking + Mess Kit for 2-4
Some of the mess kits we've mentioned so far were suitable for cooking, others were just good for serving and eating. GSI Outdoors Pinnacle Camper Cooking Set is an all-rounder that can do both. Although it's one of the most expensive mess kits in our selection, if you consider everything it contains and the overall quality and versatility of each included component, you might conclude that the price is actually right.
The pots and pans are coated with Teflon Radiance non-stick technology – just like top-quality pans for home cooking. Plates and cups are made of Infinity Clear polypropylene, free from any toxic substances, and color-coded for each user.
This set has everything you're going to need for a true outdoor feast for two couples or a family of four. Hard to find any cons on this one!
Pros
Complete set of cookware, utensils, and storage boxes
Top-quality materials
Very compact and lightweight for a 4-person kit
Numerous thoughtful details
Cons
The price is higher
Some users claim to have received damaged or incomplete kits. Returns should work smoothly in such cases though.
Specifications
| | |
| --- | --- |
| Material | Anodized aluminum with Teflon coating, durable plastic |
| Content included | 3 L Pot, 2 L Pot, 2 Strainer Lids, 9″ Fry Pan, 4 14 fl. oz. Mugs w/ Insulated Sleeves, 4 14 fl. oz. Bowls, 4 7.5″ Plates, 4 Sip-It Tops, Folding Pot Gripper, Welded Sink |
| How many persons | Up to 4 |
| Price | Click here for the latest quote |
FAQs
Question: Is it necessary to carry a camping mess kit when hiking?
Answer: If you're planning to hike for several days or weeks in a row, you basically have only two options regarding your nutrition: you can either pack a large amount of pre-processed survival-style food products or bring cookware to prepare real hot meals over a gas cooker or campfire.
The latter is certainly better for your health, and it can also provide for a nice camping experience, especially if you're hiking with a group of friends or family. Of course, this option depends on having a good camping cook set or a mess kit.
Question: How do you clean a camping mess kit?
Answer: Depending on their material and general recommendations from the manufacturer, camping mess kits can usually be cleaned manually with detergents just like any standard cookware. Some products may also be dishwasher-safe, but don't try it if the producer doesn't explicitly include this information in the user's manual.
Question: Can the pots and pans from camping mess kits be used on an open fire?
Answer: If the pots and pans included in your camping mess kit are made of thicker steel, aluminum, or some other heat-proof materials, you should be able to use them safely over a campfire too. Nevertheless, beware that they might change in color. It's also suggested to place them as high over the fire as possible.
Conclusion
If you're planning to spend some time outdoors, buying a reliable, fully usable, and easy-to-maintain camping mess kit is certainly important. The good news is that there are many great kits on the market with various useful features and countless thoughtful extras.
Some of them are very cheap, like the minimalistic Coleman Rugged 1-Person Mess Kit, which we recommend as one of your best budget options. Others, like Stanley Base Camp Cook Set from one of the most reputable producers on the market, come with a lifetime warranty for complete peace of your mind.
If you're willing to spend a bit more on top-quality equipment, we recommend this kit as one of your best overall options.
We hope that this article helps you pick the camping mess kit that suits your expectations, needs, and budget the best. Do you already own some of these mess kits? Share your experience with us in the comments below.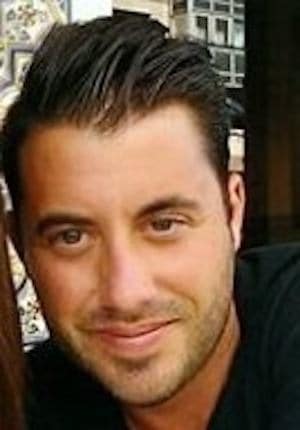 David is a strong advocate of outdoor-related activities and has many years of experience backpacking and hiking around the world, including the Italian and Austrian Alps in Europe as well as central and southern Asia.
Locally, he has also led many groups cycling through Vermont, Nova Scotia, and Wisconsin. David constantly uses and tests the latest gear for the outdoors, which in turn allows him to help others make more informed buying decisions. He's excited to share more of his knowledge and to see others enjoying the great outdoors more because of his advice and recommendations.