As Osprey's attempt to create a smaller companion to larger bags including the Farpoint 40 and 55, the Osprey Daylite is the perfect bag for short day trips where the last thing you want to do is carry around a bulky and overly large backpack.
Granted, the small size of the Daylite doesn't lend itself well to every hiking situation, but for a lightweight, sturdy day pack, Osprey hit the nail on the head with this one.
Not to mention that thanks to Osprey's lifetime warranty, you never have to worry about this pack failing and if for some reason it does – Osprey will replace it free of charge. Not too shabby for a pack that only retails for $49.95.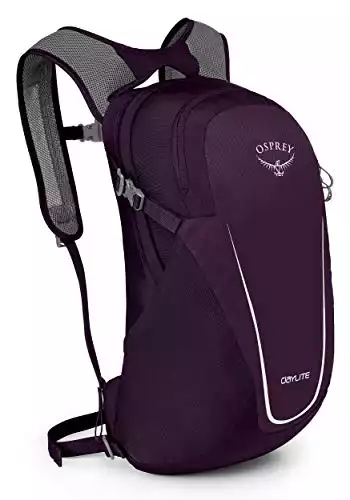 Overview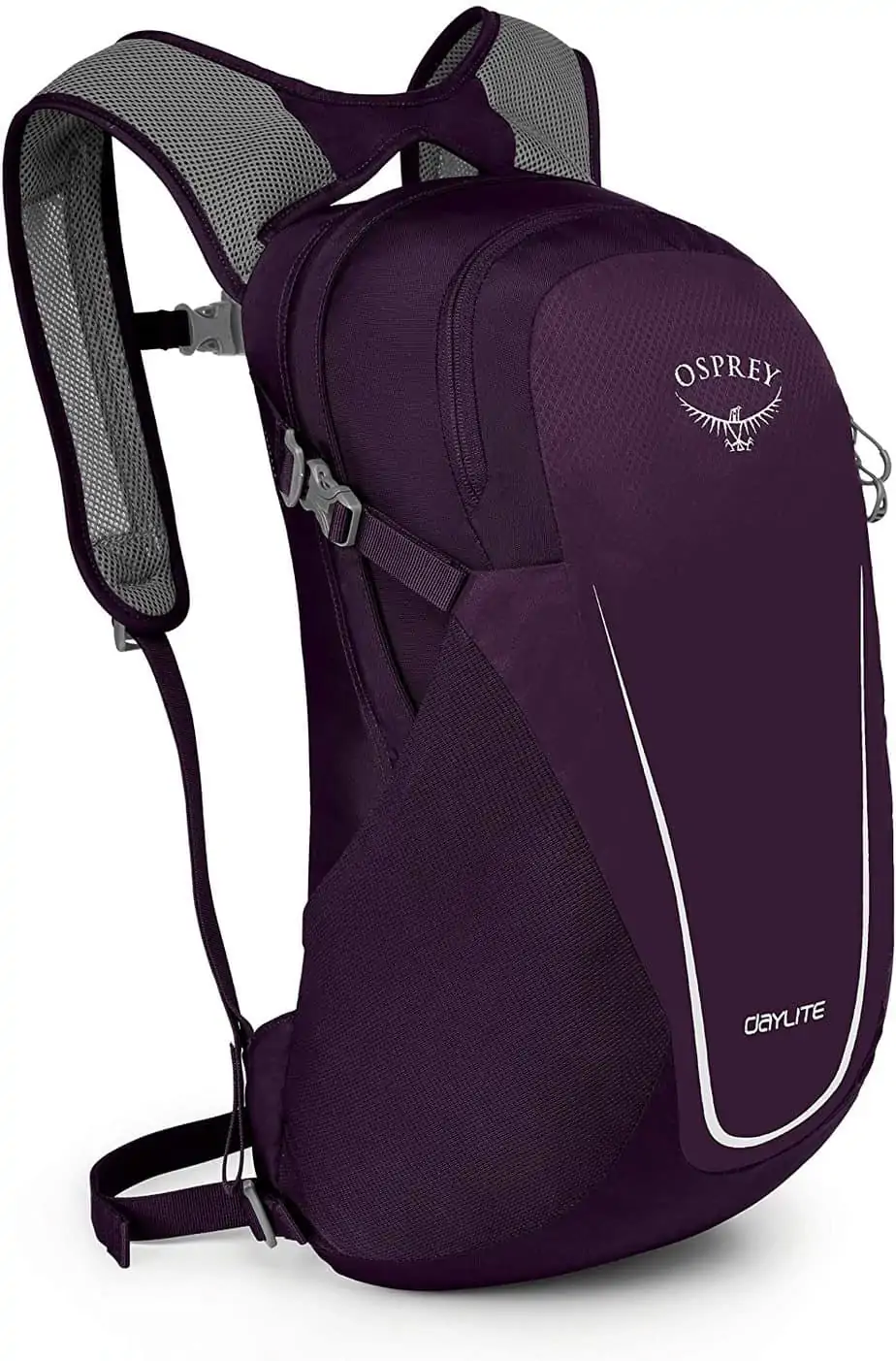 With lots of convenient pockets as well as tons of room to store things thanks to its 13-liter main storage compartment, you shouldn't have any problem fitting a day's worth of equipment into the Daylite. The pack even includes a hydration sleeve if you plan to use the pack for running or other strenuous outdoor activities. Like all Osprey products, the Daylite is made of high-quality materials and built to last a lifetime.
At only 13 liters, this pack isn't big but then again, it isn't supposed to be. That said, you can fit a lot more gear into this daypack than you think you would be able to just by looking at it.
Featuring extremely comfortable padded shoulder straps as well as straps for both the chest and waist to keep the load secure when moving at speed, the Osprey Daylite stays firmly (yet comfortably) attached to your back no matter where your adventures take you.
The Osprey Daylite also includes external water bottle pouches that are easily accessible while the pack is on your back. One note about these water bottle pouches: they seem to have a hard time keeping 'standard' water bottles secure while moving around.
If you plan to run or hike with the bag you are probably better off using the integrated hydration sleeve to stash your water supply. Not only does this ensure you don't lose your water bottles while on the trail, it also serves to keep the weight of the water closer to your back for an improved feel and better weight distribution.
Key Features of the Osprey Daylite Daypack include:
Large main compartment with panel loading to make finding gear easier
Interior sleeve perfect for an iPad, tablet, or other small items
Mesh back panel with a foam padding for improved comfort and ventilation
Shoulder straps easily tuck away and include an integrated handle
Hydration bladder sleeve located behind the back panel for easy access
The front pocket includes a mesh organizer and key clip
Mesh water bottle pockets on either side
Compatible with all Osprey AddOn-series packs including the Aether and Ariel backpack lines
Includes three exterior pockets plus main compartment
Made of high-quality durable nylon
Weighs only 1 pound
Performance
The Osprey Daylite is extremely comfortable and fits snuggly to your back so that even when moving through congested streets, subways or other high traffic areas the pack does not feel bulky or get in the way. The chest and hip straps help keep the pack firmly in place and are not uncomfortable despite the lack of padding on these straps.
The mesh back panel provides plenty of ventilation and effectively keeps you cool even when exercising, running, biking, or hiking at a fast pace. The hydration bladder sleeve is well-placed and allows for refilling even when the pack is full of gear.
The side mesh pockets are designed to carry water bottles but as previously mentioned, these pockets do not do a very good job of securing the bottles, especially when performing physically demanding tasks. During testing, the water bottle fell out on numerous occasions – an annoying trait that made using the hydration bladder a much better option in most cases.
That said, some water bottles probably fit into these side pockets very well; it just comes down to finding water bottles of the correct size and shape.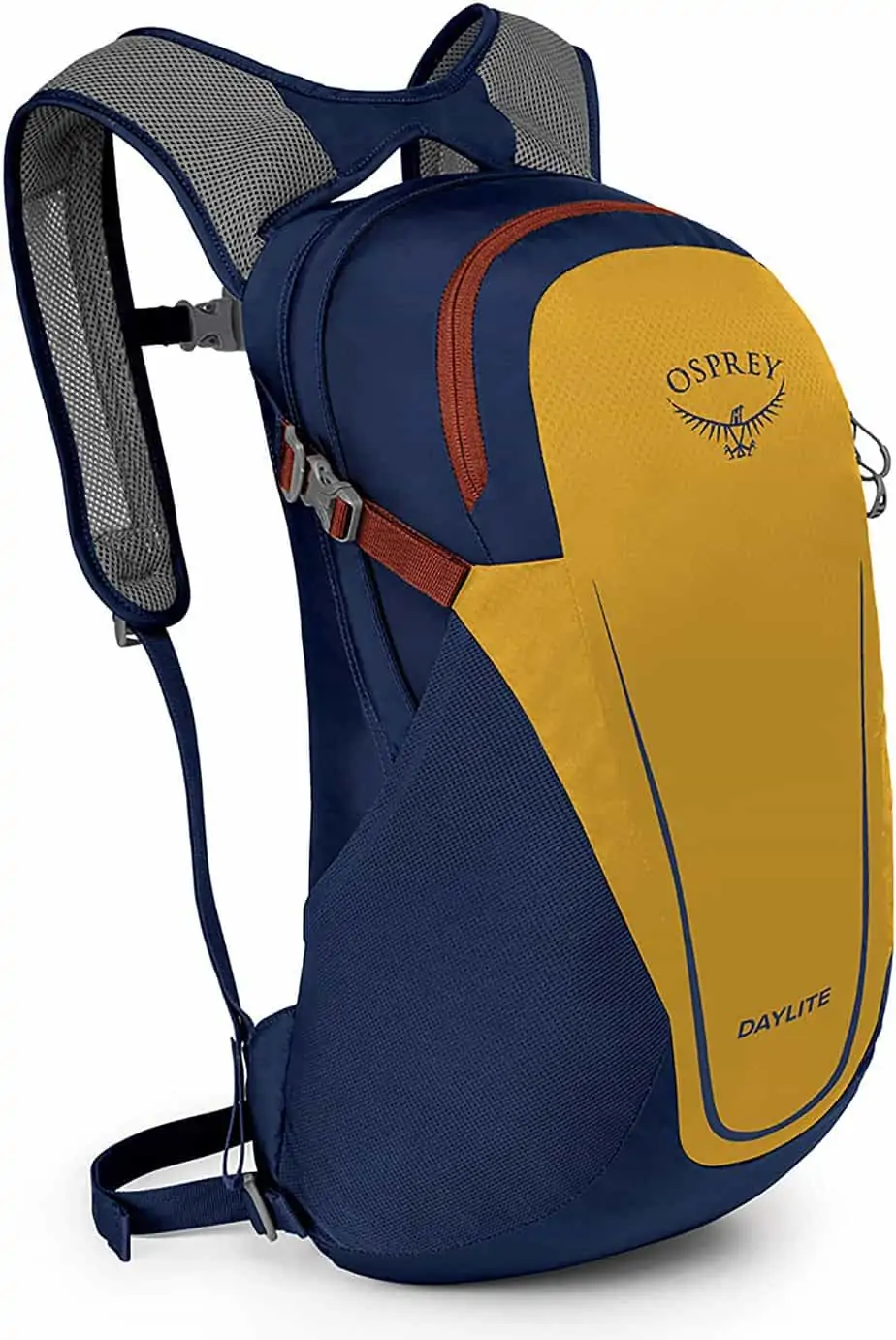 Although the pack has ample interior space for a daypack, the Osprey Daylite is too small to fit a laptop computer with a 15" or larger screen. Smaller laptops and tablets fit inside the pack without an issue but a 15" laptop was just a little too large to fit – a serious consideration for anyone planning to tote electronics around town with this pack.
Since the Daylite is compatible with Osprey's Add-On system, the pack can be attached to a larger compatible pack for longer trips and then easily detached when only the Daylite is needed (such as taking day hikes from basecamp). This is an excellent feature that greatly improves the versatility of this small backpack.
Although this system works relatively well, some users complain that it can be difficult to attach the Daylite to a larger pack when the larger pack is full of gear because the Daylite barely reaches the top loops of the Add-On system. That said, the ability to add an additional 13 liters of storage space to a compatible backpack is an option that few other manufacturers offer.
One missing feature that some people may find annoying is that there are no hidden pockets to stow the waist straps when not in use. Older versions of the Daylite did have this feature but the newer version does not.
Without these hidden pockets, the waist straps tend to be in the way unless they are being used and for casual hiking around town or on light trails this can become a nuisance. Fortunately, these straps can be removed from the pack entirely if this becomes a problem.
Overall Rating
The Osprey Daylite is the perfect example of what a lightweight daypack should be. Comfortable, durable, and snug-fitting, this pack will feel right at home whether you are running, hiking, or simply walking through crowded city streets.
With enough storage space to carry a small computer or tablet, a change of clothes, a hydration bladder, and some snacks, you can carry everything you need for a day-long adventure thanks to the simple, no-frills design of the Daylite.
Pros
Versatility
Compatible with Osprey's Add-On system
Comfortable and well-ventilated
Large storage capacity for its size
Cons
Cannot accommodate laptops with screens 15" or larger
No hidden pockets for waist straps when not in use
Add-On compatibility is limited based on the amount of gear in a larger pack
Overall, the Osprey Daylite daypack is an excellent multi-purpose daypack from one of the best names in the backpacking industry. The high-quality construction of this bag ensures that it will last a lifetime no matter where your adventures take you.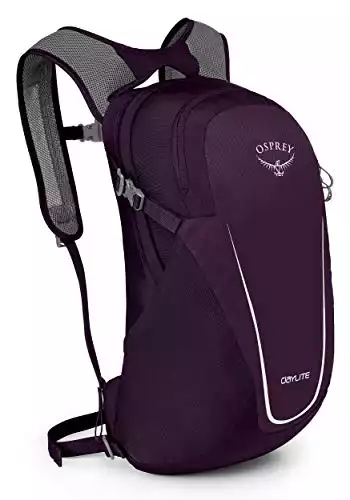 Recommended Reads: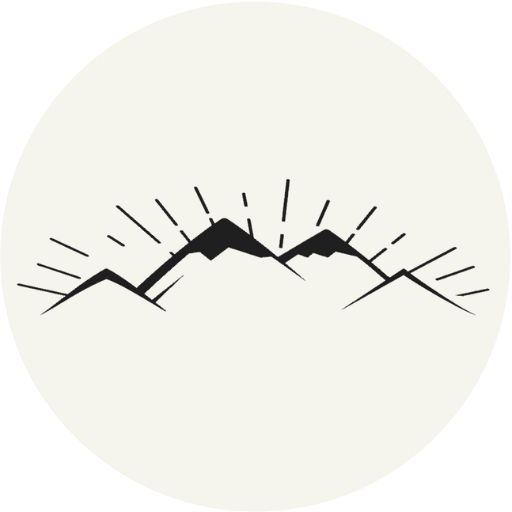 The All-Outdoors Guide team is comprised of enthusiastic experts that enjoy helping others that aspire to be better at outdoor fun. Part of that is making sure you have the right gear and information when it's time to go out and have fun. Some of our team have accomplished amazing feats like climbing 6000 feet to the top of mountains, others have explored every dirt trail they could find and we even have some people that have backpacked solo on various continents. No matter what our readers want to learn and do, our team is here to help them accomplish those goals.