Zamberlan is an Italian footwear company that was founded back in 1929. This brand is still owned by the Zamberlan family today, with the third-generation siblings now running the company.
The Zamberlan footwear brand is very well-known, is made of high-quality materials and constructed for beauty as well as durability. Italian boots and shoes are often favored for their apparent superiority over mass-produced US brands and Zamberlan boots do fit the stereotype.
Like other footwear companies, Zamberlan produced a variety of shoes and boots with good traction, primarily broken down into activity categories. You can find footwear specifically designed for mountaineering, hunting, work, Icona, approach, backpacking, and light hiking.
Their backpacking footwear is also suited for more serious or strenuous hikes. One of the brand's most beloved backpacking boots is the 996 Vioz GTX – a classic leather boot designed for hikes, and backpacking trips into the backcountry.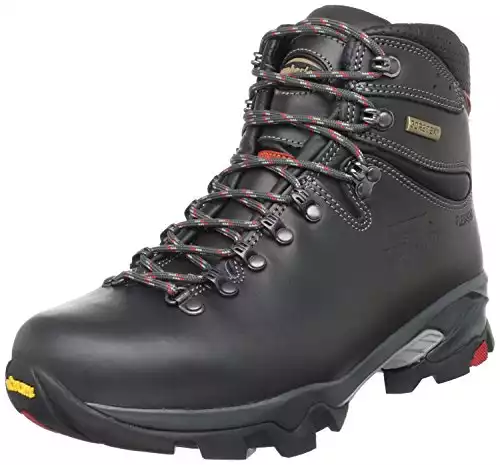 Design and Features of the Vioz GTX Boots
The 996 Vioz GTX is Zamberlan's best-selling boot thanks to its combination of high performance, comfort, and excellent design.
This burly boot is as tough as they come and manages to offer a comfortable, dry experience for casual hikes up to serious multi-day treks. Many fans of the Vioz GTX consider this quite a luxury boot to have, but well worth the investment.
Some of the technical specs you should be aware of this pair of boots include –
Classic backpacking boot with over ankle support, lace-up design
Upper made of full-grain waxed leather with Hydrobloc
Lining made of Gore-Tex waterproof membrane + nylon
Midsole made of low-density PU wedge
Thermoplastic urethane shank support
Vibram 3D Rubber outsole (can be resoled)
Average weight per pair is 3lbs 8oz
Available in Dark Grey (dark charcoal gray with red accents)
Two widths options include Regular and Wide
Comes in men's sizes 8 to 15, with half-sizes up to size 11
Retails for $295.00
In terms of the design of the Vioz GTX, here are the main features you can expect –
Hydrobloc full grain leather uppers are sleek, smooth and exceptionally durable for backpacking trips
3D molded Vibram rubber outsoles provide plenty of grip over varied terrain
Gore-Tex Performance Comfort membranes provide waterproof and breathable features
Microtex nylon collar wicks moisture from around ankles
Zamberlan Flex Systems (ZFS) allows the wearer to achieve maximum flexibility with lateral support
Zamberlan Performance Fit last wraps around the heel cup, arch, and top of the foot
Non-restrictive toe box allows for wiggle room
Based on the features and design of this water-resistant boot, it comes as no surprise that the Viox GTX has gained hundreds of positive reviews from happy customers. Before you buy yourself a pair of boots it's worth it to compare some of the advantages and potential drawbacks of this model.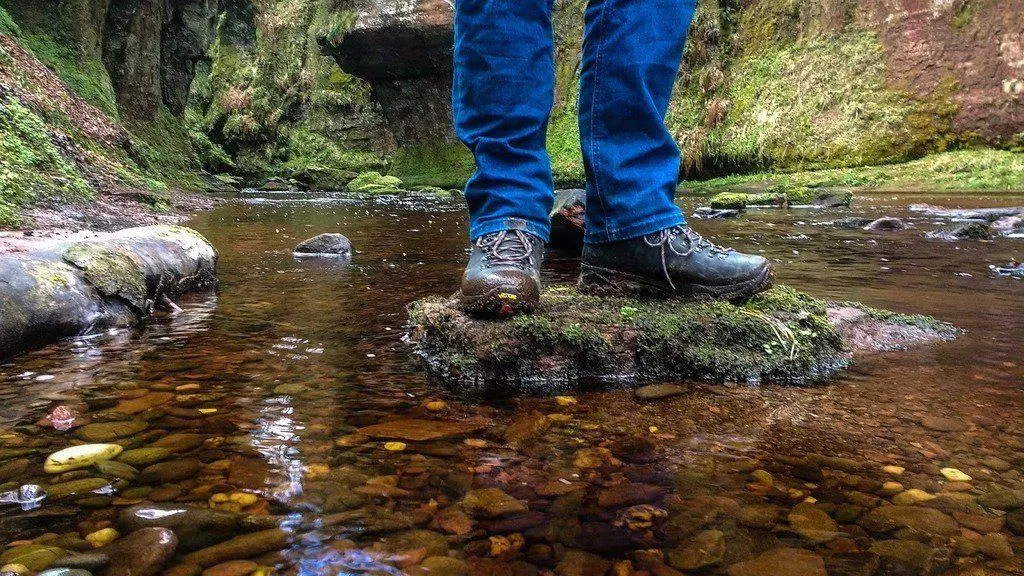 Advantages of the Vioz GTX Boots
The majority of 5-star reviews for the Vioz GTX can be summed up in these four major advantages.
Exceptionally Durable and Long Lasting Design
The Vioz GTX boots are as about as tough as you'd expect a hiking boot to be. The leather upper is smooth and offers incredible protection against the elements as well as the terrain.
Depending on your style of hiking and how often you'll be used these boots, it's safe to say you'll get a few years of use at a minimum. Better yet, once your soles naturally wear down you are able to have them resolved. This extends the life of your boot and the value of your original purchase.
Offers True Water and Weather Protection
A characteristic of real leather hiking boots is that they tend to be quite water-resistant naturally. Zamberlan takes this to another level with the Vioz GTX. Aside from having complete leather construction, Zamberlan also added their Hydrobloc treatment to this model.
Hydroboc occurs during the tanning process of these boots which enhances their water-repellency. Through proper maintenance and use of the Hydrobloc care line, you'll maintain the waterproof nature of these boots. All in all, the Voiz GTX can really handle any type of weather condition and keep your feet dry.
Grippy, Aggressive Sole Handles Different Terrain
The Vibram 3D outsole is a very versatile sole that is capable of handling a variety of different types of terrain. It proves stable and supportive on loose rocks and non-slippery on wet rocks or through the mud.
The wide lugs prevent mud, dirt, snow, or small pebbles from getting stuck and make it a breeze to clean off. The boot design coupled with the sole offers excellent downhill traction control, giving you a braking effect when traversing down mountains and hillsides.
Incredibly Comfortable and Non-Tiring to Wear
After you break in your Vioz GTX you'll find that it's super comfortable to wear and fit your feet almost as if they were custom made. Zamberlan managed to design this boot in a way that they hug the heel and foot, but still allow the wearer flexibility in movement.
Another incredible aspect of this boot's design is that it is non-tiring to wear for long periods. There aren't overly heavy and the rubber Vibram sole feels as if it propels your feet forward with each step. These boots are a great choice for those that have had issues with foot fatigue.
The Vioz GTX is certainly deserving of a solid 4.5/5 star rating. Chances are high that you won't have any problems with your own pair, although there are a couple of things to consider prior to purchasing.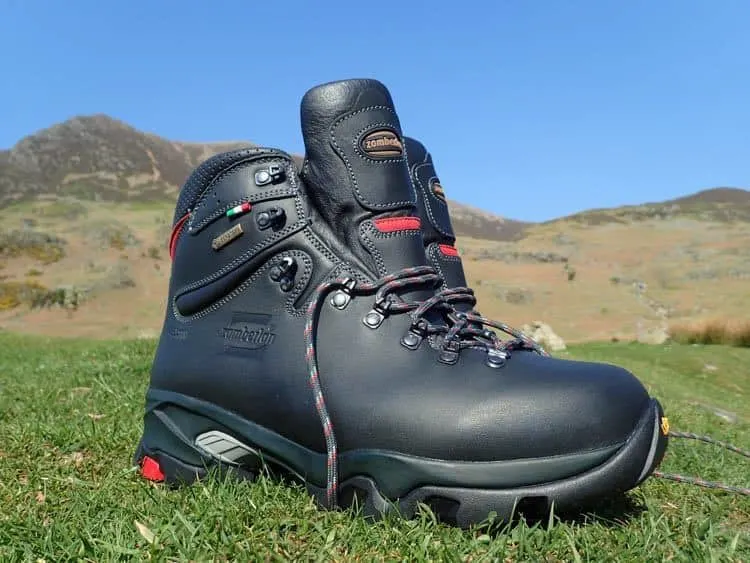 Disadvantages of the Vioz GTX Boots
You'll find that poor reviews for the Vioz GTX are rare, but there are three potential issues to keep in mind.
Requires a Breaking In Period
The advantages of a traditionally-craft leather boot, like the Vioz GTX, comes with a cost. Like most leather boots, these do require breaking in prior to taking them out on long hikes.
Although some newer types of shoes feel great right out of the box, it isn't uncommon to experience soreness, blisters, or hot spots if you fail to break these in. Thankfully after a brief breaking-in period, you will find these to be quite comfortable.
Leather Upper Requires Proper Care
Classic leather Italian hiking boots are undoubtedly beautiful, but only if they are properly cared for. Customers accustomed to the no-fuss care needs of nylon or mixed Nubuck and nylon boots might find caring for these leather boots to be a pain.
Care for leather boots involves special leather cleaners and conditioners. Others who expose their boots to very wet conditions also use a waterproofing treatment, though this isn't always required.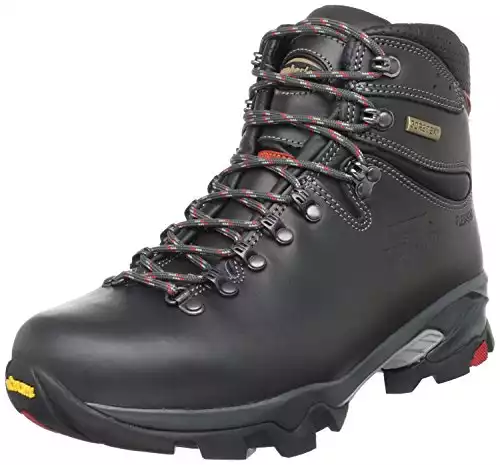 Lacking a Sizable Toe Cap
Unlike many hiking boots designed for serious use, the Vioz GTX is lacking a toe cap. The Vibram sole does run-up to the tip of the toe, but otherwise, this boot has no toe protection. Those that regularly hike in rocky or rough terrain might experience a lot of scuffing on this area of the boot.
What you consider to be a dealbreaker for a hiking boot is really personal preference. Although this boot isn't flawless, if you are comfortable with the drawbacks then chances are you'll be happy with your purchase.
Take the time to break them in properly and if they start looking a bit drab, be sure to clean them up and slap on a little conditioner. The numerous benefits of the Vioz GTX make them an excellent choice for nearly any hiker, regardless of experience level.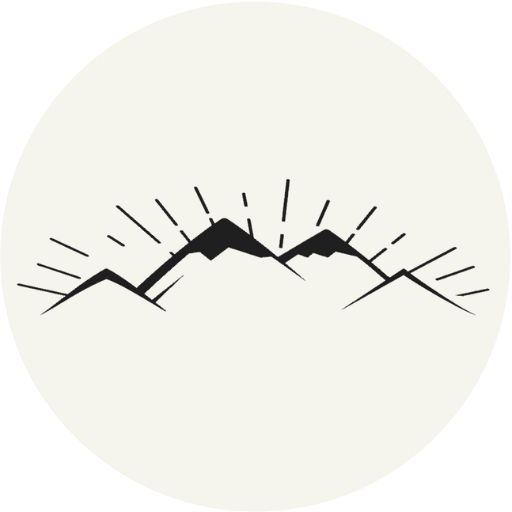 The All-Outdoors Guide team is comprised of enthusiastic experts that enjoy helping others that aspire to be better at outdoor fun. Part of that is making sure you have the right gear and information when it's time to go out and have fun. Some of our team have accomplished amazing feats like climbing 6000 feet to the top of mountains, others have explored every dirt trail they could find and we even have some people that have backpacked solo on various continents. No matter what our readers want to learn and do, our team is here to help them accomplish those goals.