If you do anything for 20 years you're bound not to suck at it. This is the review of the Camelbak M.U.L.E in its 20th year. I've used these backpacks for literally 10 years, this was my first real outdoor backpack. I'm on my third iteration of the Camelbak M.U.L.E. and the long and short of it is, I love it, you'll love it and you're not going to wear it out through normal use.
I've carried these packs all over the world. It's been on my back through jungles, up mountains, into caves. It has been on my lap during flights, train rides and served as a pillow on more than one occasion. Extreme ultralight fastpacking, casual mountain biking, as a portage bag during paddleboarding, or even a camera & laptop case, this pack is small but does anything you can throw at it-or fit in it.
Camelbak pioneered the tube-fed hydration system in the mid-90s as a way for troops and hikers to drink hands-free. For soldiers, it was a godsend because you don't have to put down your weapon to stay hydrated. For recreational outdoorsmen, it means a convenient way to drink, keep your water cold, and stay light on the trail.
Wildly popular with mountain bikers, the Camelbak M.U.L.E. offers a way to carry the essentials, but nothing else. The whole design of the pack revolves around a high-speed low drag concept that is really appealing to anyone who carries little gear and moves through technical terrain.
Materials & Quality
Fabric– The body of the backpack is made of a doubled-up 70d diamond weave ripstop nylon. It is a nice upgrade from the taffeta and canvas material that these packs used to be made of. The face of the fabric is very soft and consistent throughout.
Webbing- The ¾ inch webbing throughout the entire pack is strong and stiff but not sticky or rough to the touch. All of the critical seams have been reinforced with webbing sewn over the material seam. All of the tie-outs have been doubled over and double sewn for reinforcement.
Padding– The padding in the shoulder straps is a light closed-cell foam that breathes well but is not very cushy. There's no padding on the hip belt. The padding on the back of the pack adds a level of support to the suspension but isn't cushy.
Buckles- The buckles are mini 3/4inch buckles made of rigid plastic. They "feel" cheap but don't appear to have any durability problems.
Reservoir– The antidote reservoir is the best on the market for recreational use. The bag itself cleans easily and doesn't hold odors or flavors. I wouldn't mix kool-aide in it but iodine tablets are good to go. The ¼ turn closure is convenient and seals easily. The mouthpiece is replaceable and lasts adequately long.
Zippers– All of the zippers glide like butter. Twice during my review, I experienced a heavy downpour and they barely leaked, even with no flaps. The pulls are long enough to pull with gloves on and the reservoir zipper has a blue metal marker on it. All of the zippers hold their shape and they're sewn in perfectly.
Stitching– The real way to measure a piece of equipment is to look at the underside of the seams inside the main body of the pack. Make sure they are all uniform with no loose ends, not to tight and not too loose. These are perfect, even in the non-critical areas they're reinforced for durability.
Overall Feel & Impressions– This is a top notch pack. No cut corners, zero imperfections and good to go. I'm most impressed with how well the fabric has been doubled over and sewn through with reinforcement.
Camelbak M.U.L.E. Video Review
For the full video analysis, check out my take:
Features & Details
Hydration Capacity: 100 oz / 3L
Total Capacity: 9L (549 cu in) + 3L Reservoir
Total Weight: 1 lb 5 oz / .61 kg (pack only)
Dimensions: 19 x 10.5 x 2 in
Torso Length: 16.5 in / 42 cm
Harness: Independent suspension™ with ultra-light 3D mesh and perforated foam
Belt: Removable 20mm / .75″ stability
Fabric: 70D / 210D diamond ripstop nylon w/ 70D / 140D block dobby nylon
Design & Uses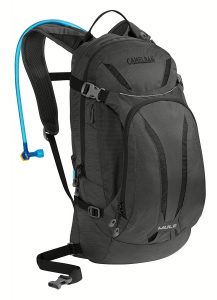 The pack measures a scant 10 inches across. This is much sleeker than other packs of even the same volume and it works to make the pack smaller than your shoulders. If you can walk through the brush, doorway, or around that rock the pack will too without scuffing, scratching, or scraping.
In the earlier models, this small width made it uncomfortable to fully secure the sternum strap because the shoulder straps would hit the side of your neck. This has thankfully been remedied by cutting the straps wider and flaring them out so it doesn't rub or chafe.
At only 19 inches long it may feel cramped to some people. If you crank down the "hip belt"-if you can call a strip of webbing a hip belt- it shouldn't hit you on the belly button. This pack is made to ride low, this keeps you stable on a bike or while running. It'll make the pack feel heavier than if it were closer to your shoulder blades but it's hard to get this pack super heavy anyway.
Essentially you have one big compartment that is long and narrow, it'll hold a Nalgene bottle horizontally but it's tight. This is the pocket where you put your lunch, your medical kit, etc. You have a smaller pocket about the size of a Nalgene bottle on the front that'll hold a bike pump, a spare tire, and a cell phone charger.
In between the two pockets, there's a "Kangaroo Pouch" that is sized for a jacket or rain gear. This is a great feature because you can stuff things down into the pocket that's wet, dirty, or bulky and secure it with the cinch straps on the sides. The downside here is the more you stuff into the main body of the pocket the less you can fit into the kangaroo pouch.
The location of the zipper for bladder access has changed thanks to over-the-shoulder straps rather than under. This is the heart of the pack, the whole reason to buy a Camelbak and it's now very easy to get into and out of. The zipper is heavy-duty and keeps its curved shape well when zipping and unzipping.
Gone are the annoying storm flaps that cover the sippers and get caught up. Gone are the bulky proprietary buckles. Gone is the cheap grosgrain webbing. Gone are 99% of the annoying design flaws that cheaper manufacturers use to cover up subpar materials and bed designs.
Here to stay are the reinforced seams, doubled up fabric and neat even stitching throughout, heavy duty easy glide stitches and bombproof buckles throughout the bag.
The design of the pack lends itself well to short and light excursions of ½ a day or ¾ of a day but after that, you start to run out of room to pack food. You're limited to how much you can stuff into the pockets by the bottom piece of material that all the pockets are sewn into. As you fill up one pocket the other starts to close up.
This keeps you from overstuffing it and making it too heavy to carry, it has no suspension or hip belt, but it does limit you to carrying less bulky items especially if the bladder is full.
The best uses for the Camelbak M.U.L.E. are:
Mountain biking
Day Hiking
Trail running
Fastpacking
Day Tripping
Commuting
These are the bread and butter activities for a light, well-thought-out small hydration bladder. The confined harness would make it hard to use for climbing and it's way too small for general backpacking this is a great day pack for any of the above activities and it'll last you literally over a decade if you treat it right.
Flaws & Oversights
As well thought out as the Camelbak M.U.L.E is there are a few things they dropped the ball on. I miss the felt-lined media pocket, the new one is much larger and fits smartphones better but they could've lined it to prevent scratching.
I don't like the netting around the kangaroo pouch, it's too soft and feels flimsy they should've used a heavier mesh or netting as they did on models past. They could've included an insulation sleeve for the drink tube, an almost mandatory accessory otherwise your water gets piping hot in just a few minutes.
I absolutely HATE the Velcro covers for the shoulder straps that gather up the excess webbing. I understand they need to be gathered so it's not flying around while biking, but they're horribly designed. They're usable but they're so tight and small you have to take the pack off to adjust the shoulder straps.
This may be a bonus if you prefer to set the straps and forget it but the Velcro could be better designed.
Final Review of the Camelbak M.U.L.E.
This is a great pack for a day hike, biking trip or as a general use backpack. It's sized for the essentials and gives the feature set of a large pack. It's rare to see packs this small so well done and Camelbak is really the main source for this type of equipment.
The Camelbak M.U.L.E. is a fantastic pack that everyone can find a use for and that's why it's been made for 20 years and is one of the bestselling hydration packs of all time.
I've found it for a good price at this listing.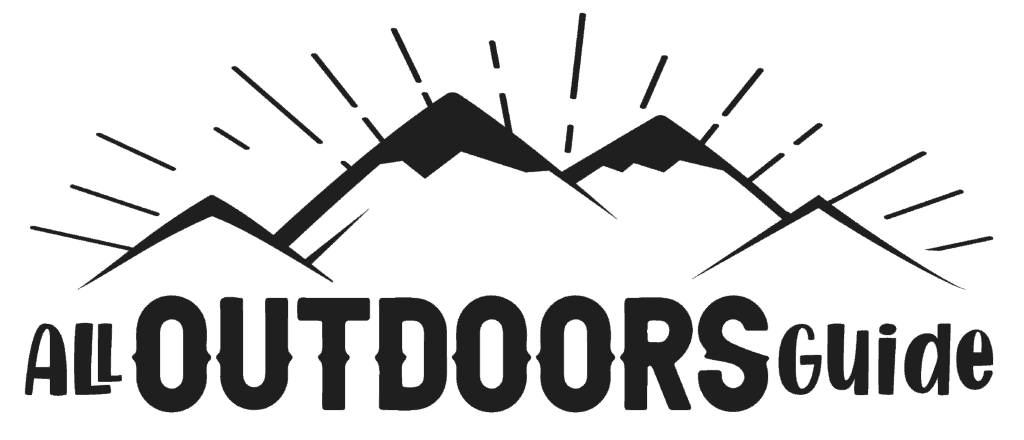 The All-Outdoors Guide team is comprised of enthusiastic experts that enjoy helping others that aspire to be better at outdoor fun. Part of that is making sure you have the right gear and information when it's time to go out and have fun. Some of our team have accomplished amazing feats like climbing 6000 feet to the top of mountains, others have explored every dirt trail they could find and we even have some people that have backpacked solo on various continents. No matter what our readers want to learn and do, our team is here to help them accomplish those goals.