While trekking poles have always been in vogue among a certain set of outdoor enthusiasts, they have quickly become a necessity for even the casual trekker. A good, reliable set of trekking poles can be almost as helpful as a good set of hiking shoes.
There are actually quite a few varieties of trekking poles on the market, so it can be difficult to compare them to each other. Some trekking poles even have some pretty nifty advanced features that can save you from taking a tumble in challenging terrain.
In the following article, I've analysed, tested, and posted my recommendations for the top trekking poles on the market.
Criteria to Judge Good Trekking Poles
Before venturing further into the world of trekking poles, it's important to lay down a good framework for evaluating what criteria make the best trekking poles. While they might seem fairly straightforward, there are actually some critical differences between even the most popular trekking poles.
Length
Most good trekking poles can extend to fit most users. The key aspect I look at is the minimum and maximum length each respecting set of poles can extend to. You definitely don't want to purchase a set without checking this first, particularly if you are at either end of the height spectrum.
Many users also find different pole heights optimal for different types of trekking. For example: ascending or descending terrain.
Shock Absorption
While it might not be a concern for some, serious trekkers will appreciate built-in anti-shock features to help ease the pressure on joints. Some of the more advanced trekking poles do come with this feature. It isn't a "must-have" for me, but it certainly can help and some trekkers will find it a necessity.
Pole Material
There are different types of material used for trekking poles. Some come with inherent benefits over others, so it's important to at least know what kind of material you are getting.
Higher grade aluminum can run you a higher overall price tag, but a lightweight pole can be really helpful over a long trek. I've had good luck with all kinds of material composites, not just aluminum.
Grip Material
A good grip will become a natural, intuitive extension of your arm. A bad grip can mean awkward cramps and even blisters. To properly assess this feature, I dedicated 2 weeks of daily use (4 days per week of hiking) to see how they felt. Similarly, I don't want my grip to degrade over time, leaving me with a naked pole.
Locking Mechanism
Collapsible trekking poles are great but are really only as good as their locking mechanism. Especially on cheaper models, you'll really have to ensure the locking mechanism is firm enough to hold in even the most difficult terrain, while still be easy enough to adjust on the fly.
I've had some really bad locks ruin an otherwise good set of poles. This was one of the key areas that I wanted to pay special attention to in this analysis.
Durability
This is a little more difficult to assess, but I like to assign an "overall durability" rating to every pole I use and test. Some poles just feel "flimsy" and some actually start showing signs of breaking down after even just a few weeks of consistent use.
A trekking pole can have all the other features of an excellent pole (good material, grips, etc…), but suffer from the overall design and integration flaws that just make them unusable after a short while. This is the only rating that is a bit more subjective, but I consider it the "missing piece" in a lot of reviews that I've read online over the years.
Value/Cost
Cost is important. Not everyone has $100-200 to spend on trekking poles and if you do, you probably don't want to spend that much on a "learning experience" with a bad set of poles. The bottom line matters and I set out to provide options for people in ALL budgets, not just the higher end of the spectrum.
Trekking Poles That I Can Recommend
Without further delay, let's get started with the results. See below for my top recommendations:
1) Black Diamond Trail Ergo Cork Trekking Poles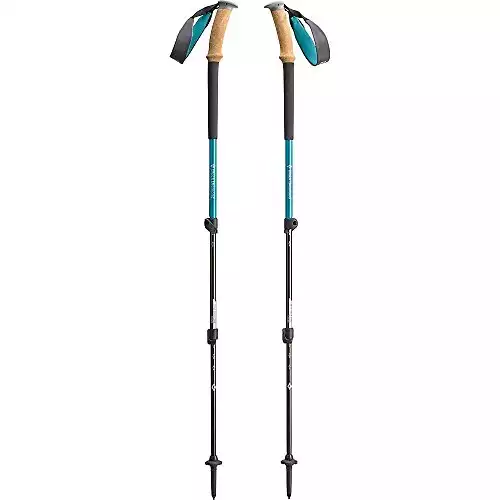 Black Diamond is one of the better-known companies for making high-quality trekking poles. I've had nothing but good experiences with almost all of their poles, but I've really enjoyed my Trail Ergo Cork poles the most.
There are a few features that I really enjoy about this set of poles. First, the handgrips are ergonomically designed and angled for optimal use, hence the name "Ergo". They are made with a natural lightweight cork material that holds up very well with extended use.
The angled grip is perfect for natural pole placement, helping you to keep proper posture and safe placement. Second, Black Diamond has some of the best locking mechanisms out there, with double flick locks, offering three sections of the adjustable pole to work with. The flick locks really work flawlessly, without any problems.
Another nice feature is the interchangeable tips, depending on the terrain. You can opt for the long flexible tips for icy or rough terrain, or the "baskets" for powder snow conditions or wet, marshy ground. The pole material itself is nice lightweight aluminum, and the total pole weight comes in at just 1.2 pounds per pair (or 18 oz. per pole).
I can't say enough good things about these poles. I've actually owned this particular pair for over a year, even before I started reviewing poles. They are my default choice for day hikes/treks and any backpacking trips over, particularly rough terrain.
They are not cheap, but they also aren't crazy expensive. You get what you pay for with these. You can find them for less than $100 here (the best price for these I've seen anywhere).
2) Pace Maker Expedition Trekking Poles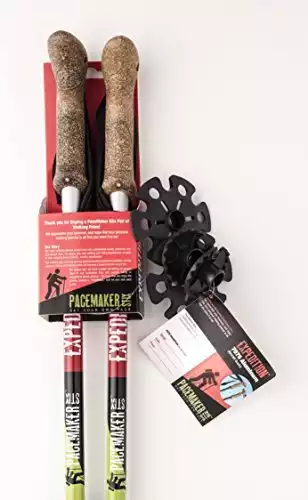 If budget is a relative concern, I really like the Pace Maker Expedition poles for less than $50 (a set). For frequent trekkers, a more expensive "Black Diamond" pair might be worth the investment, but there is not THAT much separating the less expensive models like Pace Maker.
There are a few really nice aspects to the Expedition poles that I've come to appreciate. They are made using professional "aircraft grade" lightweight aluminum which helps keep the overall weight in check at just about 10.5 ounces per pole.
That's among the lightest poles I've tested. What's more, they still feel quite sturdy and durable. Like some of the other poles I like, the Expedition's use cork-based grips for greater longevity and comfort.
These poles have a couple of great "tip" options. The tungsten steel tips are excellent for difficult icy terrain while the vulcanized rubber feet extensions are perfect for pavement, hardpack, and other surfaces.
They also come standard with a variety of other attachments like baskets for snow (to name just one). The locking mechanism to extend or collapse the poles works well and has an excellent fail-safe. You can telescope them from 27 inches up to 54 inches as needed.
If you still are hesitant to pull the trigger on this purchase, PaceMaker does over a one-year warranty against defects. I've purchased a few poles in my lifetime and had a few genuine "lemons" so this is a great "peace of mind" feature. You can find these poles for about 40% of list price here, which is a really good deal.
3) Black Diamond Alpine Carbon Cork Trekking Poles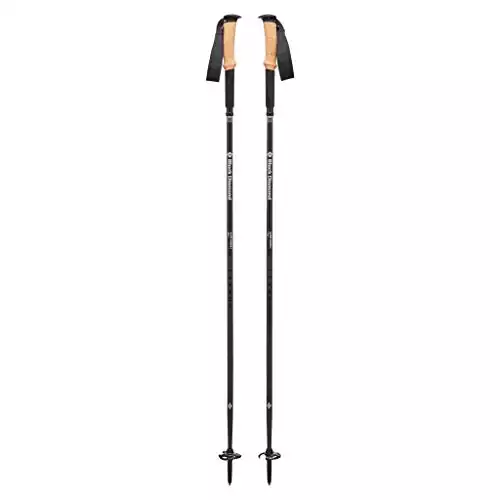 If you are looking for top-of-the-line trekking poles then these are your Rolls-Royce poles. If you make the investment and spring for these, you'll probably never need another pair. I was a bit wary to make the investment at first, but they are definitely worth it.
Here's what I like about these. First, they use a completely different material for the actual pole construction. It's a complete carbon fiber build, allowing them to weigh in at just 9.4 ounces each. These were the only ones that I've found with a lighter build than the Pace Maker's (reviewed above).
Like others, the handles are made of durable and versatile material. I also really like the "360-degree straps" which are not only very functional but can also help prevent wrist injury from awkward twists and pulls. To top it off, they also have non-slip extension grips – made of foam – under the cork grips for a secure "choke" position, as needed.
Your standard kit will come with interchangeable carbide trips, and baskets (both "trekking" and "powder"). I really like the FlickLock mechanism for adjusting and locking. It's a bit more advanced than most and is made of high-caliber graphite material.
These are some extremely versatile poles. Yes, they are more expensive than most, but they are worth it. They are rated for your average Trek/hikes and backpacking but are also "expedition" grade, ideal for long trips.
They are durable in all weather conditions, including freezing rain and ice. You can find them for the best price right here online.
4) Black Diamond Trail Pro Shock Trekking Poles

I don't usually use anti-shock trekking poles, so I was very eager to test out the Black Diamond Trail Pro Shock poles. I do know a number of fellow trekkers with degenerative joints who swear by anti-shock poles. Upon their recommendation, I selected these poles to try.
You will get all the same great features of other Black Diamond trekking poles, including the industry-leading FlickLock technology, interchangeable carbide tips, 360 degree padded straps, and more. These poles come with a non-slip foam extension (under the handles) and the actual grip material is specially designed with extra density to help absorb shocks.
The key selling point is obviously the anti-shock mechanism just under the handles. They use patented "control shock technology" which works by allowing progressive absorption and then controlling the rebound. I was very interested in testing this feature out so I took them for a pretty rugged day hike (rocky terrain, loose rock, and tree roots).
As it turned out, these saved my "behind" two times on the first go around. I'm not sure if I was being more adventurous because I wanted to test it out, or genuinely would have fallen, but these poles provided an excellent cushion for the uneven terrain.
Every last detail is designed for comfort. The combination of the padded wrist straps, extra dense grips, and anti-shocks created a full spectrum support system. It really opened my eyes to what's possible. I know that they have been a lifesaver for many with knee injuries and other joint problems, so if you have even slight pain these poles are an excellent option.
While I personally don't "need" anti-shock poles, I was convinced of their efficacy after using these poles. Especially for longer treks and people over 40, these poles can greatly extend your activity. In particular, you can keep on trekking! Normally they retail for close to $139, but I've found them here for under $95 a pair.
5) Cascade Mountain Carbon Fiber Trekking Poles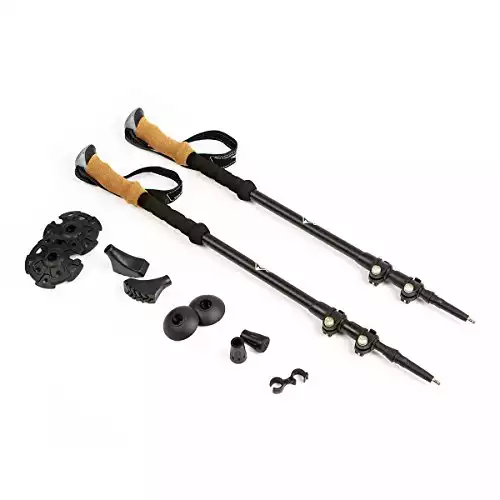 Cascade Mountain is another reputable brand that I've had a good experience with. There is another "mid-level" trekking pole option if you are a bit wary of spending more than $50. If you are shopping in this range, I'd definitely add these poles to the list to check out and compare.
These poles feature a cork grip (which I love) and a variety of attachments for different terrain, including tungsten steel tips for rougher areas. They also use a carbon fiber build which has some natural shock-absorbing qualities, although not a true "anti-shock" pole. In terms of weight, they come in at just 13.6 ounces which is quite good.
The only drawbacks I've heard about (but not personally experienced) are some issues with the grips slipping and the poles snapping with aggressive use. By "aggressive use" I mean rapid descend through rugged terrain.
For men over 200 pounds, a rapid descend with lots of planting and twisting might cause one of the poles to snap at the lower locking mechanism. Again, I haven't experienced this but it is one of the things I researched before buying. I took it on some moderately paced treks through difficult terrain without any issues.
Overall, there are some drawbacks (hence my ranking it #5 as opposed to #1 or #2) but it's still a good buy for the price. A lot of times the cheaper models will have a "twist-lock" mechanism which can come undone relatively easily on some poles.
The Cascade Mountain poles are one of the most affordable options that also offer "twist locking", but I didn't experience any issues with it. The advantage to this twist lock is that it's MUCH easier to adjust on the go.
I'd recommend these trekking poles as rated for up to moderately steep terrain. They are great for more traditional treks, but probably not the best for rapid ascends and descends over steep terrain. For the average trekker, these will work very well. You can find them for less than $40 right here.
6) BAFX Trekking Poles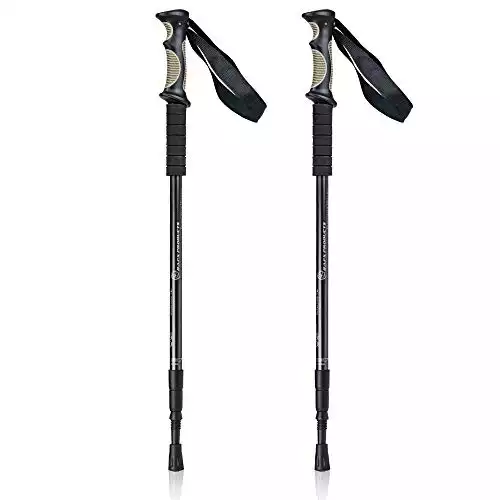 The last pole I tested and wanted to recommend as an option were the BAFX trekking poles. They are not last because they are "the worst" but they are the most affordable. You'll sacrifice some features, but if you want a good, cheap pair of trekking poles, these are the best for the price.
First off, these are rated as "anti-shock" poles, coming standard with built-in springs for absorbing impacts. This is an exceptional value at a less than $30 price point. You'll be hard-pressed to find a reliable pair of trekking poles with anti-shock functionality for less than $50.
What's better, they actually work! Secondly, the material is a nice durable lightweight aluminum and the poles weigh under 12 ounces each (with the heaviest attachments).
Where these poles save money is with plastic grips as opposed to cork or high-grade foam or rubber. The little compass that comes affixed to the top of the poles really doesn't work (at least for me) and appears to be a cheap gimmick, but this wasn't the reason I bought them anyway.
I could care less if the "toy" compass works. Another drawback is the twist clasps for adjusting the pole length. However, from speaking with fellow trekkers and reading reviews online, it doesn't appear to suffer from any of the common lock "slipping" problems that are prevalent with other low-budget brands.
BAFX also offers a 1-year warranty which provides some exceptional assurances at this price-point. These are a very capable set of trekking poles. I'd recommend them for someone looking to buy trekking poles for the first time, or as a quick affordable replacement on the fly.
Bottom line: you can't really go wrong with these. For less than $30 retail, you won't find a better deal on trekking poles.
Comparing the Best Trekking Poles (head-to-head)
The following is an "at a glance" comparison of the key features and price ranges for the trekking poles I've discussed in-depth above.
Model
Length (min)
Length (max)
Anti-Shock
Pole Material
Grip Material
Locking Mechanism
Overall Durability
Cost

Black Diamond Trail Ergo Cor

k
29.5 inches
55 inches
No
Aluminum
Cork
10/10
9/10

$$$

Pace Maker Expedition Trekking Pole

s

27 inches
54 inches
No
Aluminum (aircraft grade)
Cork
9/10
8/10

$$

Black Diamond Alpine Carbon Cork

25 inches
51 inches
No
Carbon Fiber
Cork
10/10
10/10

$$$

Black Diamond Trail Pro Shock

27 inches
55 inches
Yes
Aluminum
Dense Foam
10/10
9/10

$$$

Cascade Mountain Tech Carbon Fiber

27 inches
55 inches
No
Carbon Fiber
Cork
6/10
7/10

$$

BAFX Anti-Shock

25.5 inches
53 inches
Yes
Aluminum
Soft Plastic
8/10
8/10

$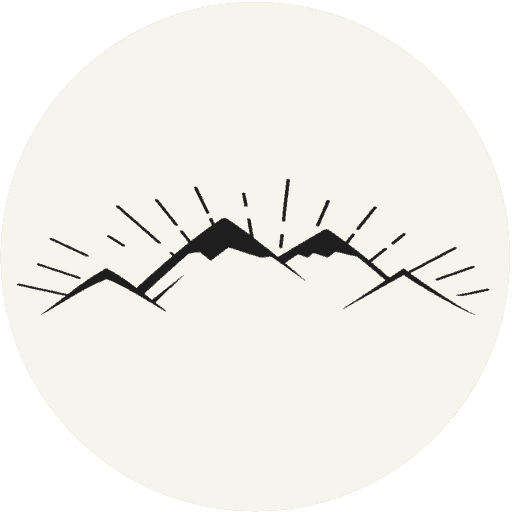 The All-Outdoors Guide team is comprised of enthusiastic experts that enjoy helping others that aspire to be better at outdoor fun. Part of that is making sure you have the right gear and information when it's time to go out and have fun. Some of our team have accomplished amazing feats like climbing 6000 feet to the top of mountains, others have explored every dirt trail they could find and we even have some people that have backpacked solo on various continents. No matter what our readers want to learn and do, our team is here to help them accomplish those goals.