Usually, when you think of outdoor boots, slip-on isn't the first thing that comes to mind. However, some pretty inventive slip-on outdoor boots have been coming out lately, and I am here for it. Nothing is quite as exciting as mixing convenience with some of my biggest passions.
I'll be going over what makes these slip-on boots suitable for all your outdoor activities, whether hiking, gardening, or shoveling snow.
Plus, you'll get to see some of the best slip-on outdoor boots for all of these activities based on a few tests done by yours truly. Personally, I have been loving every minute of the outdoors in these slip-ons, and I think you will too.
Best Slip-On Outdoor Boots Up Front
My favorite slip-on outdoor boots are the two pairs of Muck boots I own, the Apex Mid Zip and the Arctic Sport II.
Between these two pairs of boots, I have a slip-on that is great for hiking, enjoying the outdoors in freezing temperatures, walking through muddy conditions around the lake, and walking my dogs through the woods. A few other pairs of slip-on outdoor boots that you may love on this list are as follows: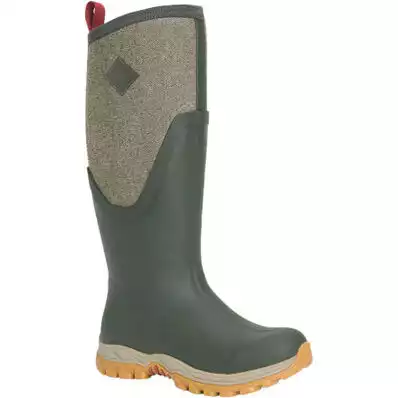 What Makes a Good Slip-On Outdoor Boot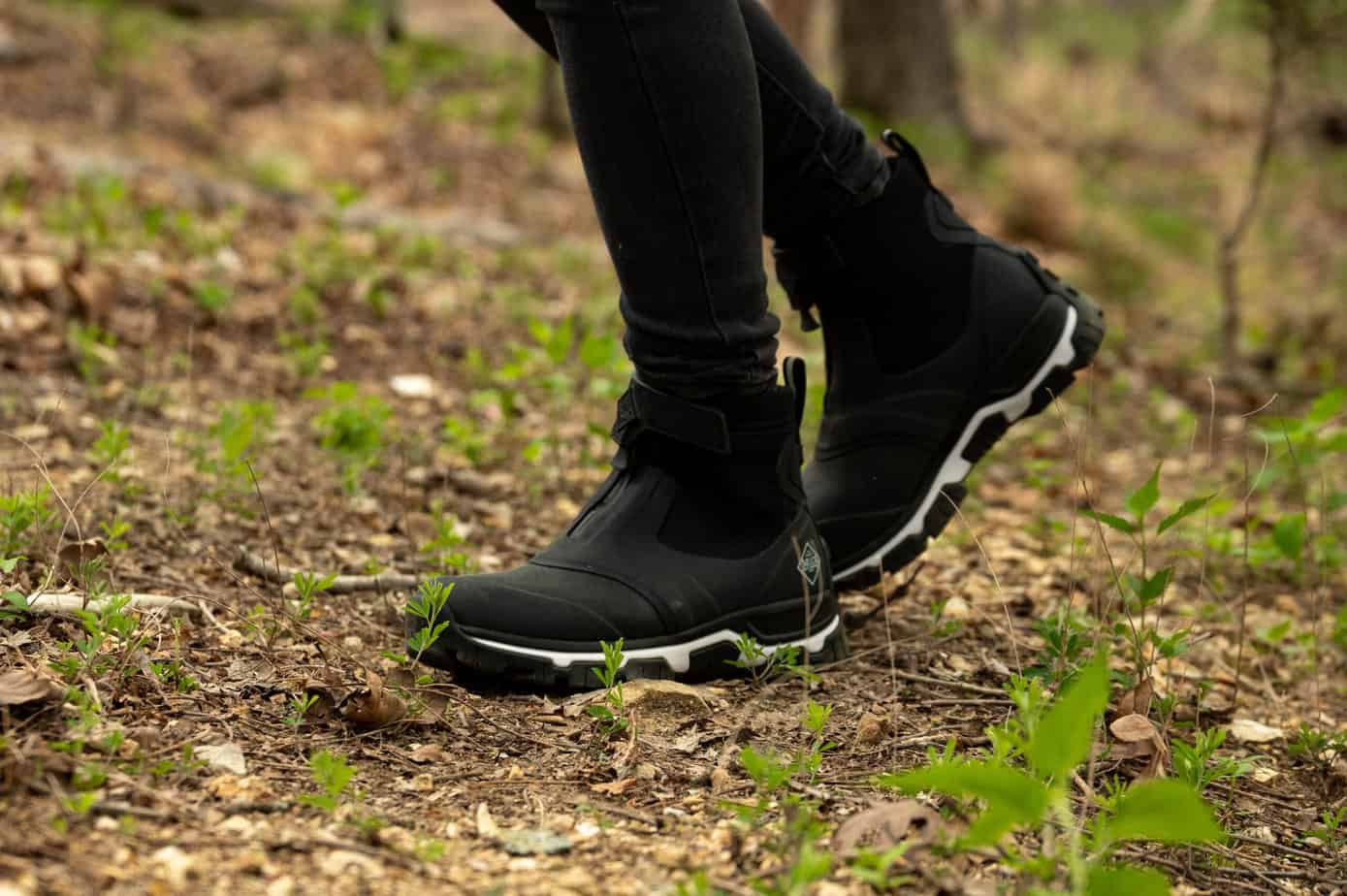 After walking around in my slip-on outdoor boots for a couple of months now, I've learned there are a few things that make these boots specifically better for outdoor activities than any other slip-on boots.
Below are just a few things you should look for in your slip-on boots to ensure they will work for all your outdoor activities.
Support
Ankle support is the one thing that I was worried about my slip-on boots lacking when I first got them to try out.
Although slip-ons are typically stretchy around the calf and ankle, these boots have multiple characteristics that give them more support. Simple things, like zippers, velcro straps, exoskeletons, and arch support can make a world of difference.
Traction
If your boots have good traction, you won't need to rely on ankle support as much as you would think. When you aren't struggling to walk over rough terrain or move through mud, snow, or water, ankle support becomes more of a comfort thing than necessary.
Firm outsoles with sharp and deep lugs can keep you on your feet while helping you move through sticky situations. You should also consider metal studs if you live in a place that gets a lot of ice.
Durability
Slip-ons need a lot more flexibility than most other types of boots to slip them on and off easily. This means they also need to be a lot more durable to handle that repeated stretch every time you put them on or take them off.
There are multiple ways that these slip-on outdoor boots manage to handle the frequent stretching, such as dual elastic sides, zippers, velcro straps, or simply making them taller with a wider calf.
Best Slip-On Outdoor Boots
So many things could be considered an outdoor activity, and each one has there own needs. There's something for almost every outdoor activity on this list, whether you need something that can grip to ice or something for warm weather romps in the woods.
No one boot is suitable for every single activity out there, but you're sure to find the perfect pair for you here.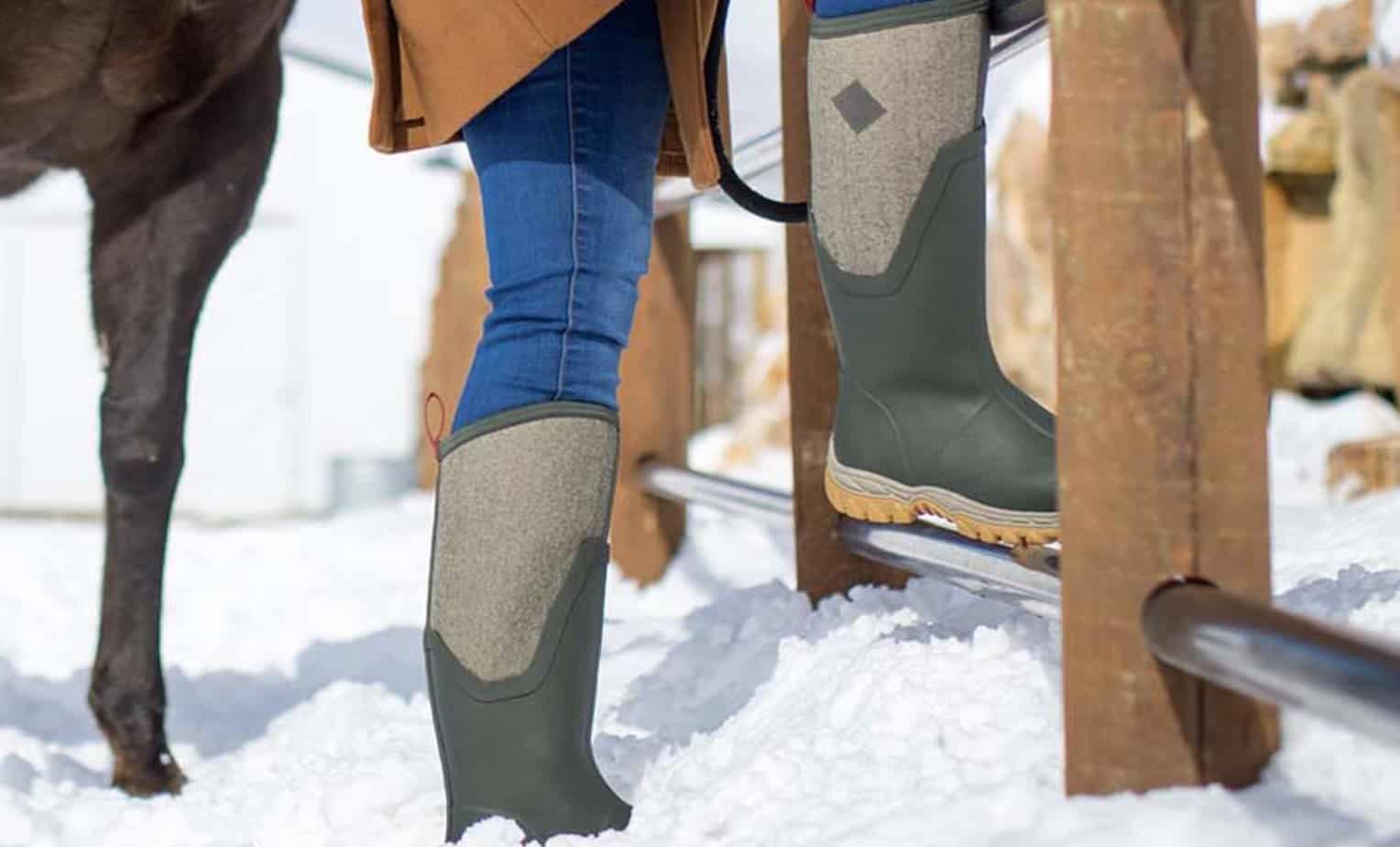 I was super excited about getting these muck boots in the mail because I have never seen slip-on outdoor boots that come up quite as high on the calf as these do.
At 16 inches tall, these boots come up to my knee, which I love because I tend to flick around mud and water quite often when walking. I also live near a lake where I like to take my dogs, so it's nice to be able to wade in the water pretty far with them.
These rubber boots are some of the warmest I've put on my feet. Rubber is naturally insulating, and these are lined in fleece insulation with a -40 F comfort rating.
They are also waterproof to the top, which also helps keep your feet warm by keeping them dry. I stood in the lake's water in the middle of March for about 10 minutes, and my feet never felt like they changed temperature.
Even though these boots are incredibly spacious inside, they feel very supportive when walking on different terrains.
When I walked through deep mud to test them out, the shoes stayed on my feet without feeling like they would slip off, and I could quickly get my feet out of the mud to take another step. They also feel sturdy when walking on sharp rocks. This is most likely due to the rigid outsole with deep, sharp lugs that wrap around the sides.
I found the Arctic Sport II boots to be more comfortable than rubber outdoor boots like these. The insole has arch support and a couple of cushioned layers, and plenty of room to move around inside the boot without them feeling like they're going to fall off.
I like my shoes to fit tighter, so I wish I had sized down instead of up from my half-size. Although, they still don't feel too big because they're form-fitting.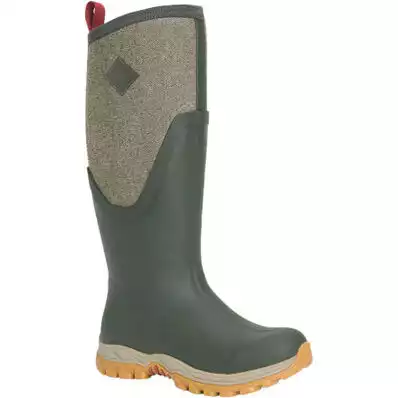 Pros:
The top of the boot bends in towards your shin, so snow and ice won't be able to flick up into your boot.

They are fully waterproof, even the fabric section at the top of the boot.

Rubber is a natural insulator that traps heat, but fleece insulation also lines the entire boot.

The outsoles are rigid, giving you stability on uneven surfaces, and have excellent traction that wraps to the sides.

Has a comfortable EVA insole with lots of rebound and arch support.

They come in a 12-inch height and 16-inch height.
Cons:
They are loose-fitting, but if you are a half-size like me, sizing down should fix that.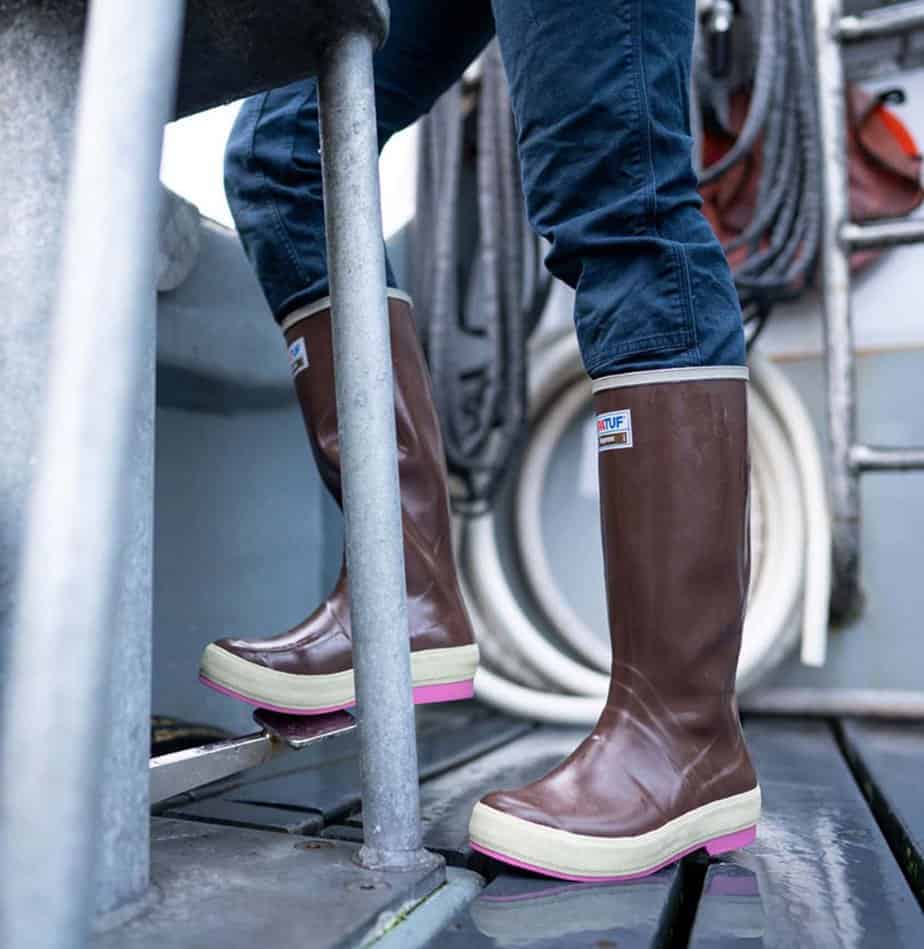 Xtratuf has some of the best-fitting and most comfortable slip-on boots I have ever put on my feet. On top of that, they are highly waterproof and can even protect you against chemicals like pesticides or fertilizers.
The Xtartuf Legacy boots are highly convenient to put on quickly and walk out the door to work on your garden all day.
Xtartuf boots are hand-layered and triple-dipped in neoprene, a super durable rubber. Making their shoes this way allows them to be reinforced in certain areas while keeping flexibility where you need it most. These boots will last years without cracks, warping, or leaks.
I also love how tall these boots are. At 15 Inches tall, they will keep out any dirt or water that might flick toward your boots.
But if you wanted shorter boots to make it easier to kneel or slip on and off, they can be rolled down and even have stylish patterns inside. The outsole of these is super slip-resistant as well, for those of you that may have a deck garden.
Pros:
Extremely comfortable with flex in the right areas, arch support, and cushioned insoles.

They are tall enough to keep dirt out but can be rolled down to turn them into shorter boots.

They come in a wide variety of colors and patterns.

100% waterproof with a neoprene coating resistant to acids and viruses.

Super slip resistant with a chevron outsole that sticks to wet surfaces.
Cons:
They are a slimmer fit, so they can be uncomfortable for those with wide feet.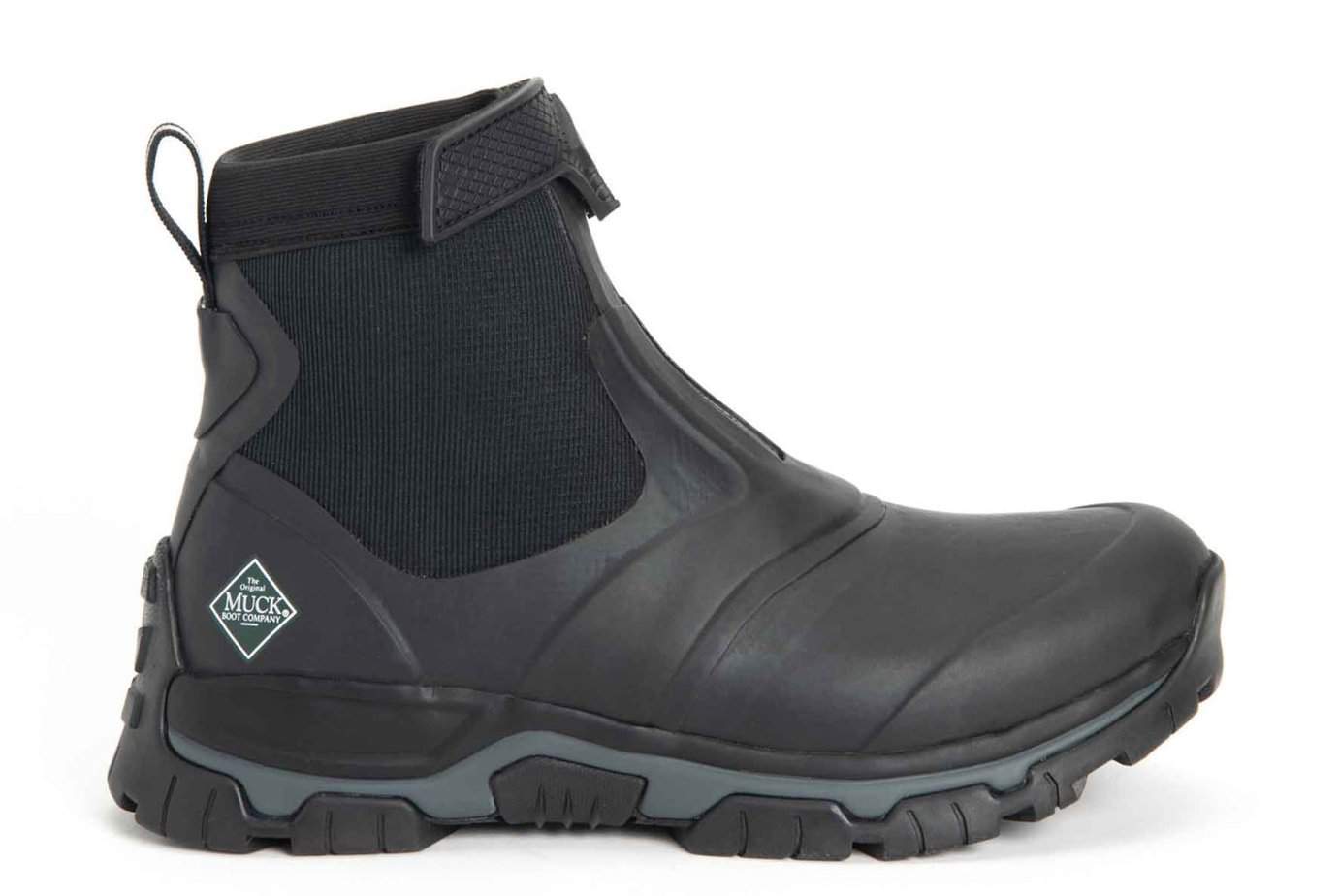 While these boots aren't technically slip-on because they have a zipper, I had to get them because they looked just as easy to put on while still capable of handling all terrains.
The stretchy sides are super flexible, there's a pull tab in the back, and the zipper allows me to slide my foot in while keeping the boot tighter around my foot once zipped up. There isn't any better way to make a slip-on boot for hiking while also making it tight enough to give your feet the support it needs.
One of the most significant advantages I noticed while wearing these boots is how cool they keep my feet. I was nervous at first with it being a waterproof rubber boot since rubber naturally traps heat.
However, I could feel a breeze coming in from the sides of these boots, keeping my feet dry from the inside. The mesh lining does a great job of moving the air throughout the boot and wicking away sweat.
These boots are also just as comfortable as some of the best hiking boots I've worn. The insoles have layers of memory foam and EVA, plus an antimicrobial and odor-control layer to keep your feet fresh on long treks.
I was also surprised by how lightweight these boots are. They are under 3 pounds, and it hardly felt like I had something on my foot.
The outsole on these shoes is excellent for multiple terrains. I walked on loose gravel, sharp rocks, and deep mud, and the boots kept me on my feet.
The outsole comes up the back of the boot too, which I initially thought would only be helpful in taking them off with my other foot. Even though it did come in handy for that, it also protected me from sticks and the bigger sharp rocks.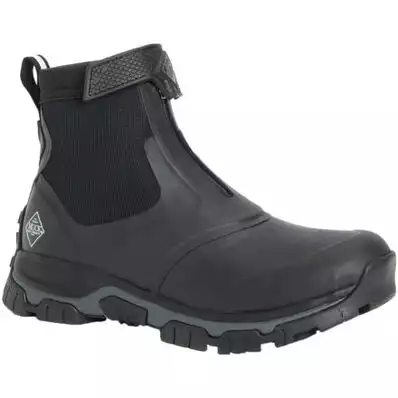 Apex Mid Zip | Muck Boot Company
Designed for athletic hunters and outdoor enthusiasts of all types to move fast and with confidence on tough terrain. Apex is built with an innovative construction for high-endurance treks that require a more athletic and agile boot while still providing comfort and waterproof protection.
Check Price
We earn a commission if you click this link and make a purchase at no additional cost to you.
Pros:
Fully waterproof with a rubber outside and a waterproof tongue under the zipper.

The velcro strap makes them slightly more adjustable than a standard slip-on.

Comes in Mossy Oak camo patterns.

They do a fantastic job of keeping your feet cool, with mesh lining surrounding the inside of the boot.

A multilayered insole makes these boots extremely comfortable to walk in with decent rebound.

They are incredibly lightweight, making them feel like nothing on your feet.
Cons:
The velcro strap rubs on your shin if you're not wearing tall socks.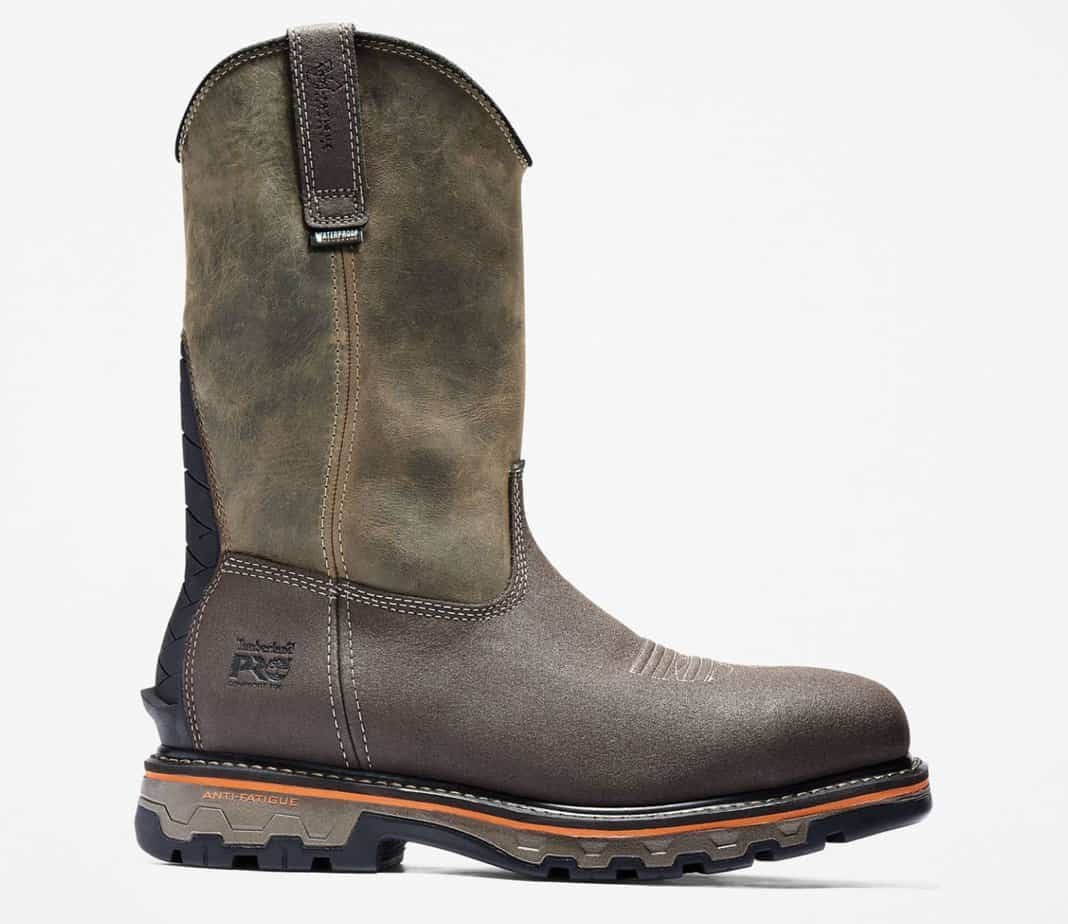 Finding a pair of slip-on work boots that can withstand the trials and tribulations of a job site can be difficult. The Timberland Pro True Grit boots do a great job of taking everything that you could encounter on a job site and packing it into these slip-on boots. From safety to comfortability, these boots have it all.
The first thing that always worries me with a slip-on work boot is heel slippage. The True Grit boots have an exoskeleton along the back of the heel to ensure that these boots fit your foot perfectly. It may take some time to adjust and get these boots to fit your heels just right, but they definitely won't let your foot fall out.
These boots are fully waterproof, have moisture-wicking properties, and the rubber outsole keeps your feet on the ground and safe from electrical shock.
The toe cap is made of carbon fiber, which is strong enough to keep anything from smashing your feet but is about a third lighter than a steel toe. On top of keeping your feet safe, they are also extremely comfortable with a layered footbed with just the right amount of cushion and rebound for long work days.
Pros:
There is an exoskeleton that forms to your heel to lock it in place so that you won't have any heel slippage.

It has a composite toe cap made of carbon fiber to keep your feet safe.

They have a rubber outsole that is slip resistant on oily surfaces and protects you against electrical hazards.

Waterproof leather with moisture-wicking mesh lining throughout the boot keeps your foot dry inside and out.

The insole has a memory foam outer layer and EVA mid-layer with a unique pattern to give you extra rebound.
Cons:
You will need time to break them in, especially around the heel.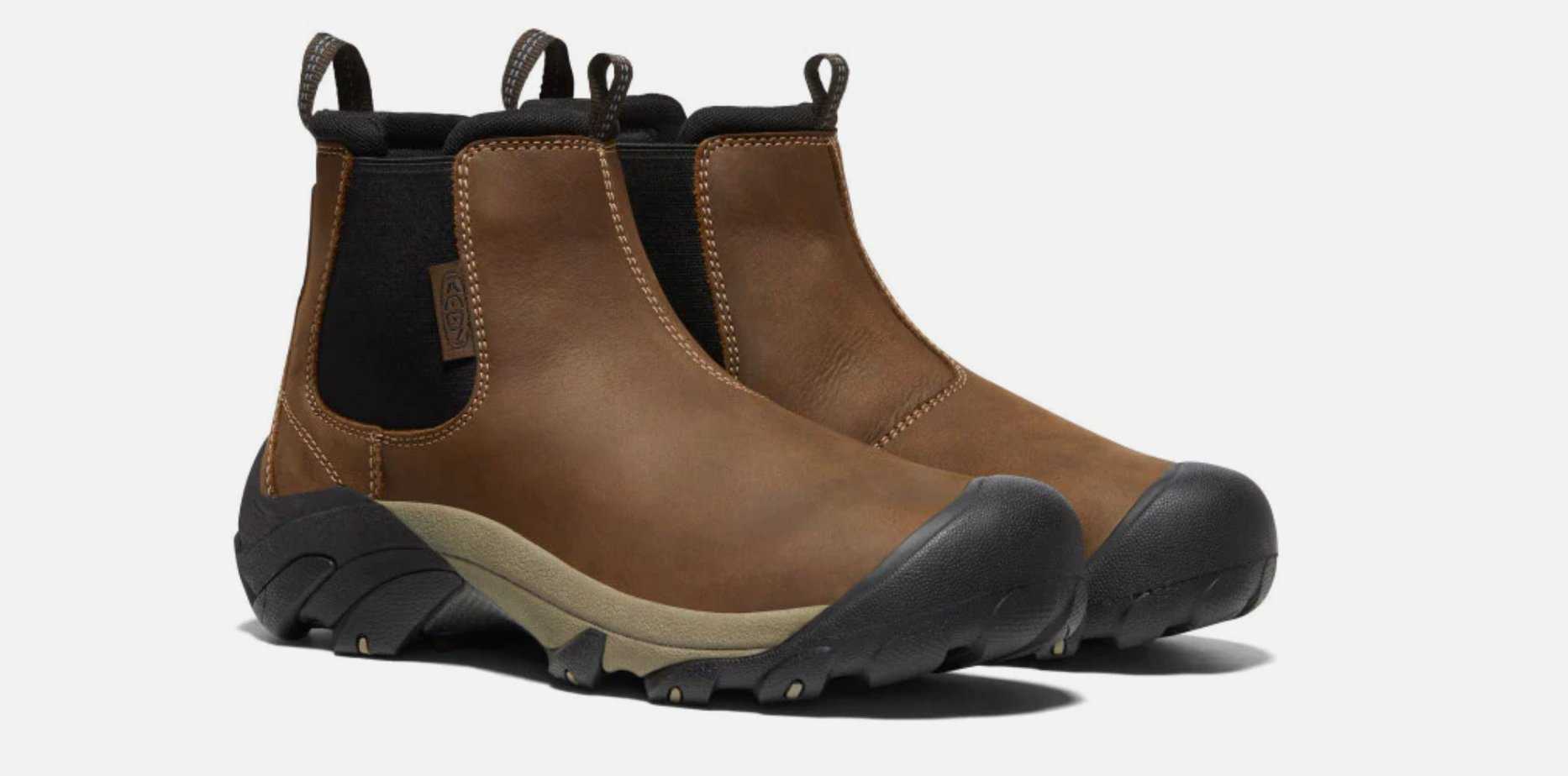 Keen is known for making comfortable boots in every aspect, from giving your feet plenty of support to having enough space to move your foot inside the boot freely.
The Targhee II is a Chelsea-style boot with pull tabs on the front and back of the boot and elastic sides that make them extremely easy to slip on and off. They also have a few great features to keep your feet safe while enjoying the outdoors.
The outsole is the primary component that makes these boots so great for any outdoor activity. The lugs are deep enough and patterned in a way that locks these boots onto the ground so you are sure to keep moving forward.
The tread even wraps around the sides of the boot quite a bit. With the rubber outsole creating a toe cap, your toes will also be safe from sharp rocks and sticks.
When the terrain gets really rough, the outsole features a steel shank to help give your feet support. You won't have to worry about the leather upper rubbing on your ankle in these Chelsea boots because the mesh lining comes up and over the top of the boot. Plus, the elastic sides give your ankle plenty of maneuverability when walking on uneven ground.
Pros:
The traction wraps around the sides of the boot, giving you an excellent grip on any terrain.

A steel shank along the bottom of the boot gives you more stability on uneven surfaces.

They have a larger-than-average toe box to give your toes plenty of room to spread out.

The PU insole is removable, so you can replace it if you have an insole better suited for you.

The elastic sides are super stretchy, and the mesh lining comes up over the top, so you won't have any rubbing or resistance around the ankle.
Cons:
They may be too loose fitting for some serious outdoor work or hiking.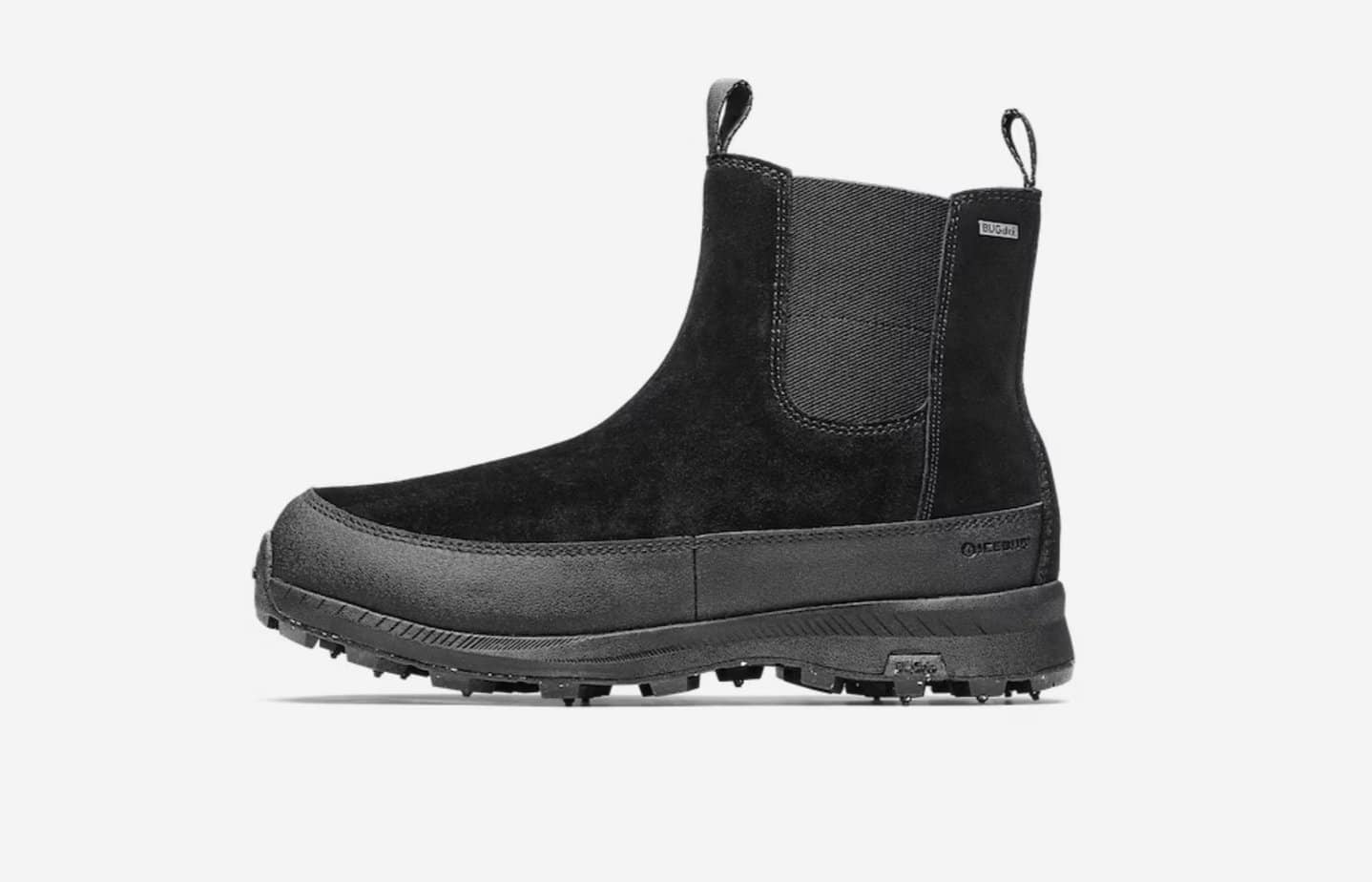 If you spend a lot of time walking on ice, you probably know by now that the only thing that really grips on ice is metal spikes or studs. I have a pair of removable metal spikes for my hiking boots, but this can definitely get annoying when I'm doing hike after hike on ice. That's where the Icebug Hova BUGrips come in.
The Hova BUGrip boots have steel studs built into the tread on the outsole. They are placed specifically to work with the tread pattern and rubber material. While most people recommend not wearing metal studs on any other terrain but ice, these are built to handle multiple elements, and you can even lose a few studs before they become unusable.
On top of that, they come with everything you would expect out of a good winter boot. There is synthetic insulation, a waterproof membrane, and Merino wool felt on the insole.
A lot of the components in this boot are also sustainable, with nearly everything being made with some percentage of recycled material and some of the boot being biodegradable.
Pros:
You can choose steel studded outsoles, the only thing I've found to be able to grip on ice.

It has synthetic insulation made from recycled and biodegradable materials.

A waterproof membrane lines the entire boot.

It has an EVA insole lined with recycled wool that is moisture-wicking and removable in case they need to be dried.

A zipper is on the inside to make them fit better around the ankle.
Cons:
The studs on the outsole are not meant to last forever, but they are built so that you can lose 3 or 4 studs and still have an excellent grip on ice.
FAQs
Question: Why are Chelsea boots so popular?
Answer: Chelsea boots are so popular now because they are very functional and easy to slip on and off.
You basically got all the benefits of every other type of boot you would wear, whether it's an outdoor boot or commuter boot, but with an elastic ankle and pull tabs on the front and back. They are convenient and useful at the same time.
Question: Do slip-on boots provide ankle support?
Answer: Some slip-on boots can provide ankle support. You'll want to look for a few things with slip-ons, like exoskeletons that give shape, elasticity around the top, or even zippers on the sides.
They won't be as supportive as lace boots but are supportive enough to get the job done while also being easier to get on and off.
Question: Are slip-on boots supposed to be tight?
Answer: Some slip-on boots will be tight initially, but they simply need to be broken in over time. If your slip-on boots are not tight, your foot could slip out of them, and they won't give you the support you need.
What I like to do with my slip-on boots when I first get them to make them more comfortable faster is take a hot metal spoon and rub out the tight spots to loosen them up where needed.
Question: Are slip-ons better than laces?
Answer: It depends on your priorities when looking for a boot. If you are looking for convenience when putting on and taking off your boot, slip-ons are the way to go.
If you are looking for support, laces will be a better choice. I have a pair of lace-up and slip-on outdoor boots. If I do something more rigorous, I'll go for the lace. However, I go for my slip-ons for everything else.
Which Slip-On Outdoor Boots Are Right for You?
Finding the perfect pair of slip-on outdoor boots depends on what you do outdoors most. I love my two pairs of slip-on Muck boots.
I mostly hike, walk my dogs through the woods, and play in the lake with them. Between the Arctic Sport II boots and Apex Mid-Zip, I have a pair of slip-ons for warm weather hikes, wading in the water with my dogs, and walking through muddy conditions in the woods.
If I were looking for a more casual outdoor boot, the Keen Targhee II Chelsea boot is my go-to. I would also love to try the Icebug Hova BUGrip, but I need to hike or work in icy conditions more to make it worth it.
I also own a pair of Xtratuf boots, and they are some of my most comfortable pairs of slip-ons. You can't really go wrong with any pair of these boots when it comes to outdoor boots.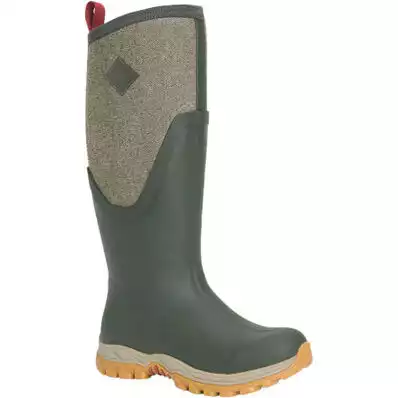 Read More: Best Insulated Muck Boots Guide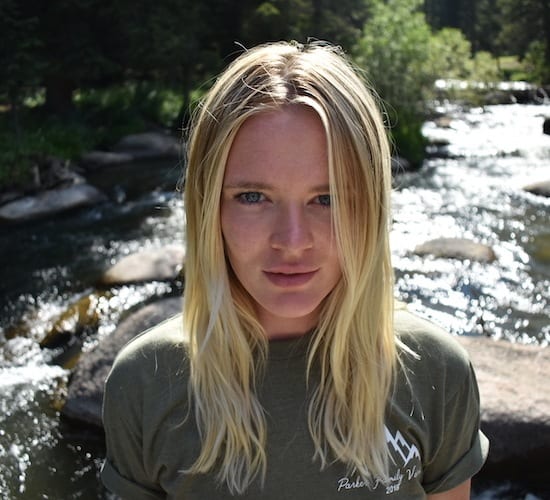 Haley loves hiking and camping. That state of calmness is like no other. A top 14er rock scrambler, Haley wants everyone to experience the highs and joys of outdoor living and here is to help prep the rest of us to do so safely. Here to share her top gear, tips and climb to the top hiking strategies, Haley is a bonafide outdoors guide to love!