Muck boots and hunting go together like peanut butter and jelly. They have all the necessary features to combat cold, wet, and rough conditions. If that wasn't enough, Muck recently came out with a sportier boot that is basically made for hunting.
Even though you could wear just about any Muck boot out hunting comfortably, I'll be going over some of the best Muck boots for hunting that go beyond their original boots.
Best Muck Boots For Hunting Up Front
My favorite Muck boots for hunting are the Apex Mid Zip boots. They are effortless to slip on while also giving my feet structure and support with a zipper and velcro strap. These boots are also a fraction of the weight of other Muck boots weighing under 2 pounds.
I also can't get over how breathable they are. A few other Muck boot alternatives that could work great for hunting are as follows: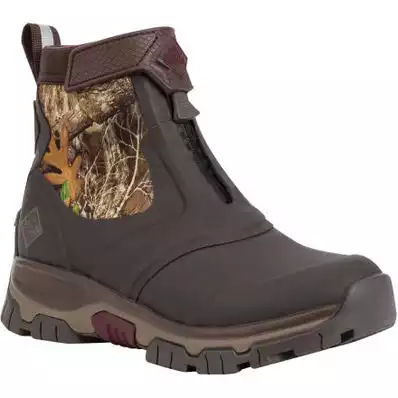 What Makes Muck Boots Good for Hunting
We all know that Muck boots are some of the best boots on the market for outdoor work, but does that actually bleed over into other outdoor activities? Below are a few reasons you'll love wearing your Muck boots in the deer stand or duck blind.
Waterproofing
While hiking around the woods, wet feet can lead to blisters and make your feet much colder than if they were dry. Muck is known for their superior waterproofing in all of their boots. Keeping your feet dry can make the difference in whether you can sit in the cold morning weather waiting for the perfect Buck or pack up early and head out.
Protection From the Elements
Other than protection from water, Muck boots can protect you against sharp rocks, sticks, and certain snakes. Reinforced rubber around the toes, heels, and sides can be found in every Muck boot.
This keeps your feet from getting smashed or jabbed. Rubber also traps heat, so Muck boots will keep you warm without insulation during those early morning hunts.
Traction on Slippery Terrains
Whether hiking through mud, slush, or ice, Muck boots keep you on your feet. Their outsoles are made of rubber, which sticks to slick surfaces and slides through mud easily. The outsoles are also very firm and have deep, multi-directional lugs. This helps grip loose gravel or dirt and protects your feet from sharp rocks.
Comfortable for Long Hours on Your Feet
Unlike other rubber boots, Muck has arch support and uses an EVA midsole in all of their shoes for maximum rebound and comfort.
Each boot also comes with an insole that has moisture-wicking properties and, in turn, helps with odors that may form while sitting in your boots. A few Muck boots for hunting even have a dual-layered insole that is far more comfortable than other Muck boot insoles.
Overall Best Muck Boot for Hunting:
Apex Zip Mid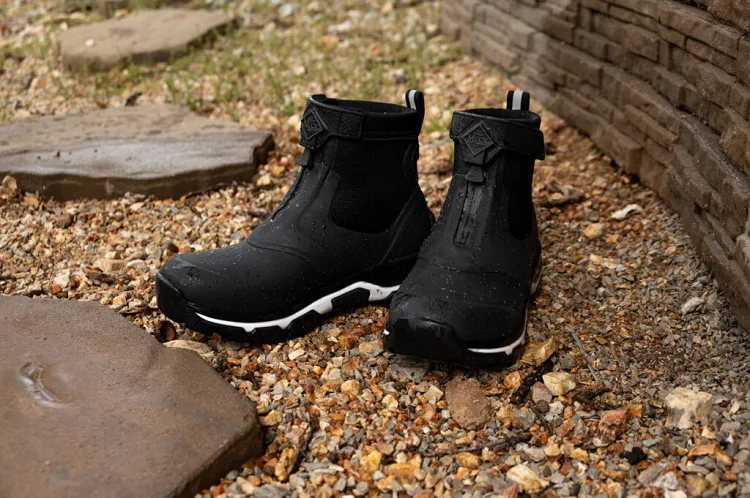 The Apex series is one of Muck's newest lines of shoes, and they are built for those who need a Muck boot for sportier activities like hunting and hiking. At first glance, I never would guess these are Muck boots.
They look like your typical hiking boot but with the rubber outer that we all know Muck for. The Apex Mid Zip is shaped like a hiking boot, has an outsole similar to a hiking boot, and even has closures at the top of the boots.
The first thing I want to address about the Apex Zip Mid boots is their fit. Unlike other Muck boots, these have a zipper and velcro strap along the top.
This alone makes these boots have a more supportive fit. The zipper allows the boot to be tighter around the top of your foot while still being able to slide your feet in easily. The velcro strap can also be slightly adjusted to fit tighter around your ankle.
I took these boots over some rougher terrain, like big rocks and steep hills, and my foot felt much more secure in these than in other Muck boots. The shoe has a slimmer fit, keeping my feet from sliding around in the boot.
These boots also have a dual-layered insole, which you don't see in many other Muck boots. They are incredibly comfortable to walk in and feel like you have a lot of cushion and rebound under your feet when on sharp rocks.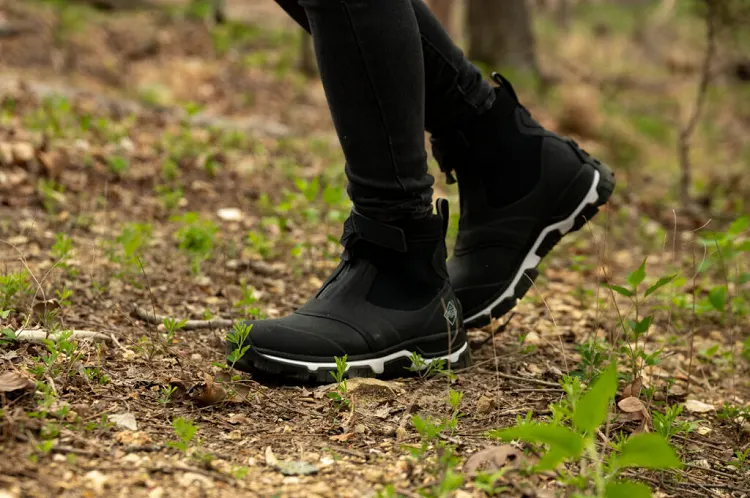 The real test came when I dunked my feet entirely in water. I wondered how they would do at the zipper because usually waterproof hiking boots are everywhere but at the closure.
No water came in through the zipper, which probably has something to do with the leather-like tongue underneath it. Although, I splashed around too much when testing them out. Water went over the top of the boot and inside, but I didn't notice it much because of the mesh lining.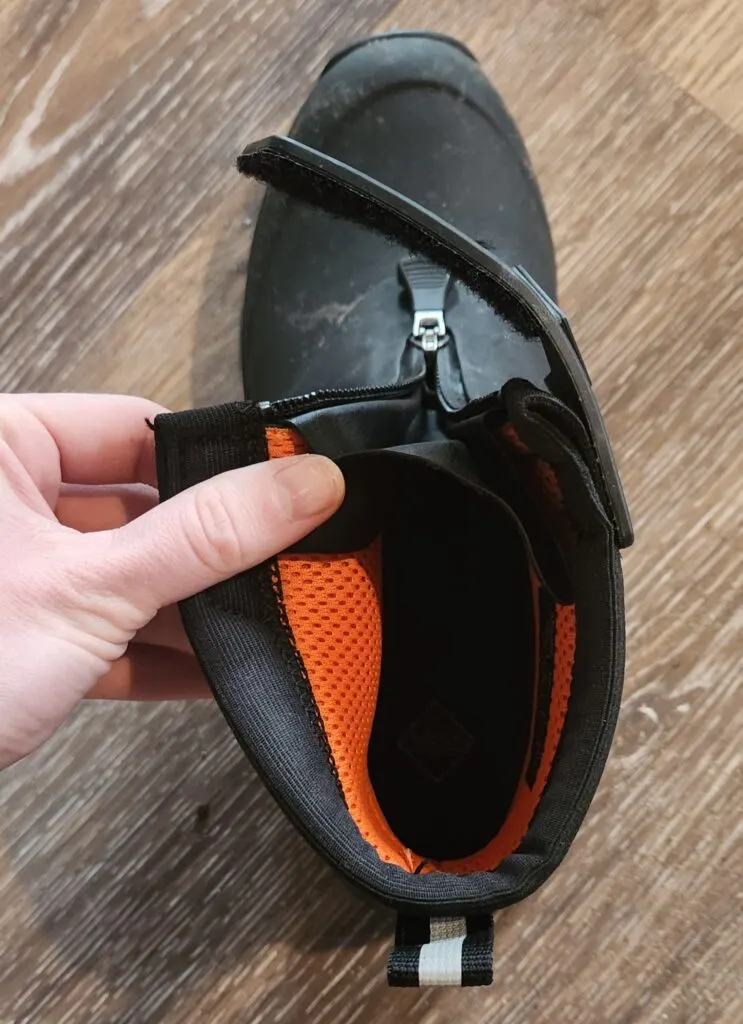 That brings me to the next thing I love about these boots: their breathability. The entirety of the boot is lined in a thermal regulating mesh, from which I could feel a breeze coming through where the fabric part of the boot is.
The rubber outer shell around the bottom portion of the boot kept my feet from feeling too cold. I could wear these any time of year and feel relatively comfortable in them.
I also took these boots walking through loose gravel, mud, and a shallow stream. The traction on these boots does an excellent job of keeping me moving without sliding around.
The outsole is made of rubber, which catches on slippery surfaces and is pretty durable. The lugs are relatively deep and have sharp points that go in different directions to grab onto the ground and keep you on your feet.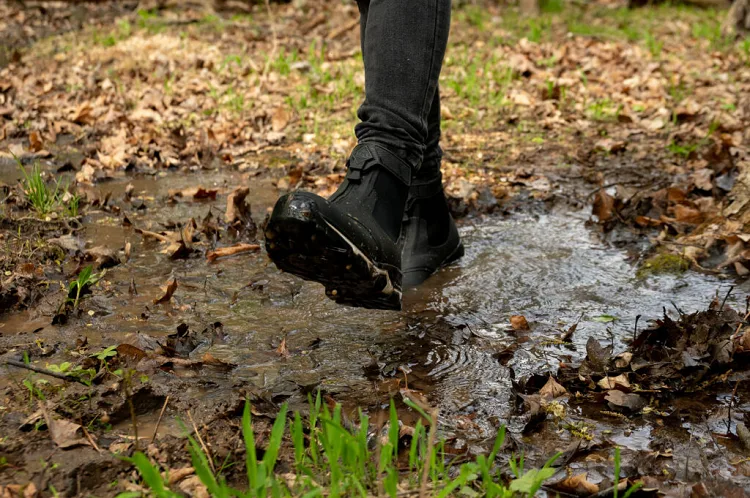 Pros
These boots are super easy to get on and off with a quick zipper and velcro strap to adjust.

They are incredibly comfortable to walk in, with a layered EVA insole.

The mesh lining is moisture-wicking and breathable, so my feet stay dry and cool from the inside.

The zipper is even waterproof, with a waterproof fabric covering the inside.

The boots are more form-fitting than other Muck boots, making them more supportive.

They are much more lightweight than other Muck boots, reducing fatigue.

Comes in Realtree camo and other unpatterned colors.
Cons
The velcro strap rubs on your ankle if you don't wear tall socks.

I wish I had sized down rather than up from my half-size for a snugger fit.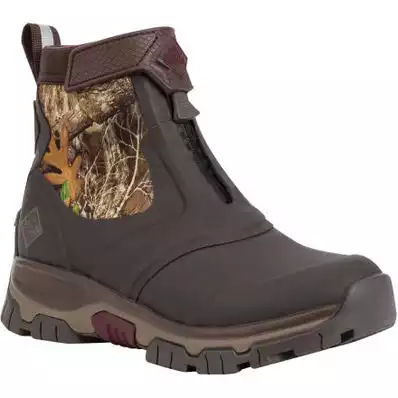 Best Muck Boots for Hunting Alternatives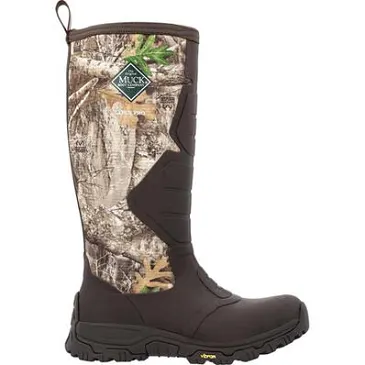 The Apex Pro Vibram Arctic Grip boots look more like the traditional Muck boot that we all know and love, but the foot portion of the boot is built like other Apex boots. They are more form-fitting and have a super cushioned insole.
The key difference in these boots is that they have an outsole with traction made explicitly for ice, and they work really well for gripping those slippery surfaces.
These boots also have thermal regulating insulation lining the entirety of the boot. This insulation keeps you warm with synthetic fleece but is much more moisture-wicking.
They are also different from other Muck boots in that the rubber doesn't cover as much of the boot. Muck kept the reinforcements where needed, but this takes a significant amount of weight off your feet.
Pros
The 16-inch version is lined in thermal regulating fleece to keep you warm while still wicking away moisture.

Comes in Realtree and Mossy Oak camo, plus a couple of colors.

They have the Vibram Arctic Grip outsole, made with a mixture of materials that grip better on ice.

Comes with Muck's dual-layered insole, which is much more comfortable than their standard insoles.

They are made with less rubber, making them more lightweight than the traditional Muck boot.
Cons
They won't be warm enough if you get into negative temperatures.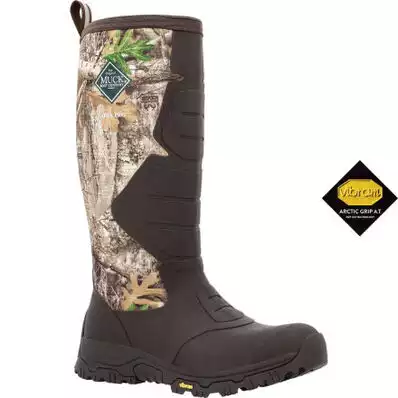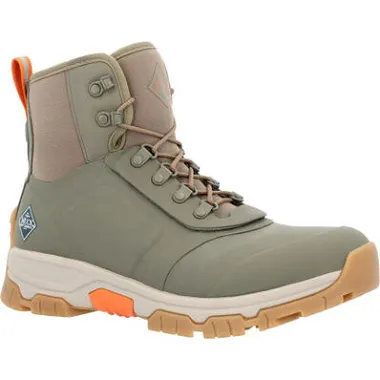 The super breathable areas of my Apex Mid Zips are where the stretchy fabric is on the outside. These boots have the same breathable mesh lining throughout but many more fabric areas on the outside of the boot.
It is all around the ankle and comes down over the top of your foot, so these boots will have the most breathability you can get from that feature of the Apex line.
I also love that Muck decided to come out with a lace-up boot. There really is no other way to get the max amount of support and adjustability as there is with laces.
The top of the boot is dressed with speed hooks, so you can still quickly get these boots on and off. The boot's outer is also made with a slightly thinner neoprene than standard Muck boots. You'll get a lot more flexibility in these, making them more comfortable to walk around in the woods.
Pros
Laces with speed hooks make these Muck's most adjustable pair of shoes while still being quick to put on and take off.

The fabric portion comes down over the top of your foot, where you get the majority of breathability.

They are as waterproof as any other Muck boots, even with the tongue and laces.

The neoprene outer is slightly thinner than other Muck boots, giving you more flexibility.

Reinforced areas along the toes, sides, and heel.
Cons
You'll want to wear tall socks with these because you can feel the speed hooks on your ankle when the laces are tight.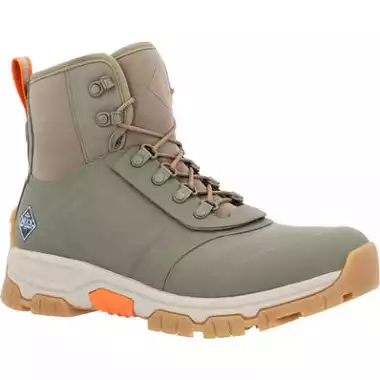 Men's Apex Lace Up Boot | Muck Boot Company
100% waterproof construction coupled with breathable mesh linings to provide elite protection and moisture management. Lugged rubber outsole is designed for optimal traction in various terrain, including rocky, cold/wet ground and of course, the Muck.
Check Price
We earn a commission if you click this link and make a purchase at no additional cost to you.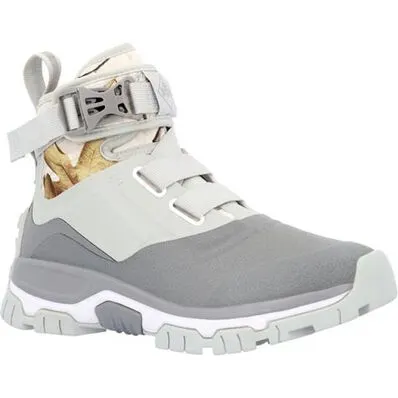 I like the look of these Muck boots over all of the Apex boots. They look more like tennis shoes, except with buckle closure that looks more modern. Not only does the closure look good, but it also makes these boots extremely adjustable.
The buckle strap zig zags over the top of your foot to tighten the sides and top of the boot. Then goes around the ankle so you can make them fit tight at the opening. You can make them as wide or compact as you need them to fit your foot perfectly.
These are also the only Apex boots with Muck Skin coating on the outside of the rubber. Muck Skin is a textured rubber coating that keeps your shoes from getting scraped and makes the rubber last longer.
They are lined with Muck's thermal regulating fleece, so they are slightly warmer than the mesh-lined boots but still do a great job of keeping your feet from overly sweating.
Pros
Comes with a buckle clasp that works similarly to laces but also wraps around the ankle.

Has thermal regulating fleece throughout the inside, so they will be slightly warmer than the other Apex Mid boots.

They have the Muck Skin coating to help with wear and tear.

The layered insole has odor control and moisture management properties.

These look the most stylish out of them all.
Cons
The is only one camo version, but it is a winter camo.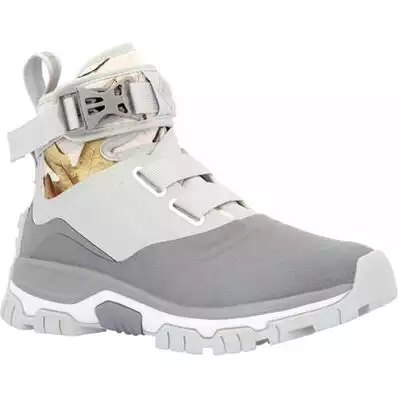 Women's Apex Pac Alt Closure Mid Boot | Muck Boot Company
This boot offers a fresh new adjustable closure system to fit the needs of all our Apex consumers. Built to be always ready for most any outdoor pursuit, this highly versatile boot also includes our new and improved Thermal Regulating Fleece.
Check Price
We earn a commission if you click this link and make a purchase at no additional cost to you.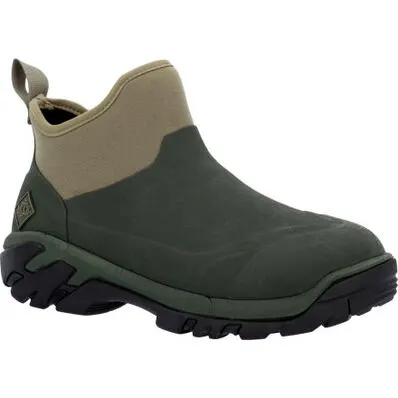 These are not part of Muck's Apex series but are an excellent alternative for hunting if you like the original fit of Muck boots.
These boots are exceptionally comfortable, with plenty of room to wiggle your toes, soft insulation to keep your feet warm, and the usual foam insole and EVA midsole. What makes them great for hunting is they have a more rugged outsole that is made to handle the woods.
The Woody Sport Ankle boots are one of Muck's shortest boots, making them extremely easy to slip on your foot. With the stretchy ankle area, you can easily step into these and take them off without ever bending over and using your hands.
However, they stay on your feet well walking through mud or slush because the heel area leans towards your ankle.
Pros
A short ankle boot with all-around stretchy fabric and a pull tab makes these super easy to get on and off.

Built similarly to the original Muckster but with a beefy outsole and more reinforcement.

Insulation lines the entirety of the boot.

Has the roomier fit that you usually see in Muck boots.

Stay on your feet through sticky situations, even though they are so short.
Cons
The pull tab is not very durable, but you won't even use it with how easy they are to get on.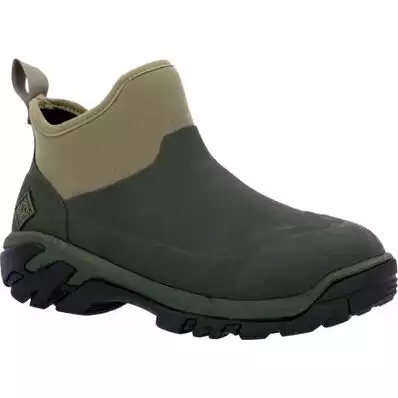 Men's Woody Sport Ankle Boot | Muck Boot Company
It is built to keep you dry and comfortable all day long. This outsole provides exceptional traction on various terrain, whether it be mud, slush, or snow, you can confidently wear this boot no matter the elements.
Check Price
We earn a commission if you click this link and make a purchase at no additional cost to you.
FAQs
Question: Can you wear Muck boots hunting?
Answer: Yes! Muck makes a wide range of boots specifically for hunting that is just as waterproof and comfortable but with an outsole made for the woods.

They also make adjustable boots, giving them more support than their original boots. You can wear them for nearly any type of hunt, whether duck hunting in cold water or hiking up to a tree stand.
Question: Are Muck boots warm for hunting?
Answer: All Muck boots have a level of insulation since rubber naturally traps heat. However, specific Muck boots have a layer of insulation that makes them even warmer for hunting. The waterproofing on all Muck boots also helps keep you warm since your feet will stay dry during the hunt.
Question: Are Muck boots snake-proof?
Answer: Not all muck boots are snake-proof. Snakes can bite through regular rubber, but Muck makes a pair of snake-proof boots. They are the Muck Wetland Pro Snake Strike boots. These have snake-resistant rubber that has been tested to ensure you stay safe in the fields or waters.
Question: Should Muck boots be tight?
Answer: This is a personal preference, but you do not need your muck boots to be extremely tight. They are built in a way that they will stay on your feet without needing to be tight. I like my shoes a bit tighter because they give me more support, but it depends on what you plan on doing in the boots.
Muck Boots Will Be Your New Favorites for Hunting
Whether you prefer a slip-on, a tall boot, or adjustable support in your hunting boots, Muck boots do a fantastic job. Muck can't be beaten because they are waterproof, more lightweight than ever, and comfortable beyond other rubber boots, especially since they have come out with their new Apex line.
My Apex Mid Zips are the perfect mixture of an easy-to-get-on boot with ankle and foot support that does the job well.
I can't believe how breathable these boots feel while keeping my foot warm in the toe box. I'll definitely be wearing these boots year-round for any adventure, with impressive waterproofing, great traction, and comfortability beyond compare.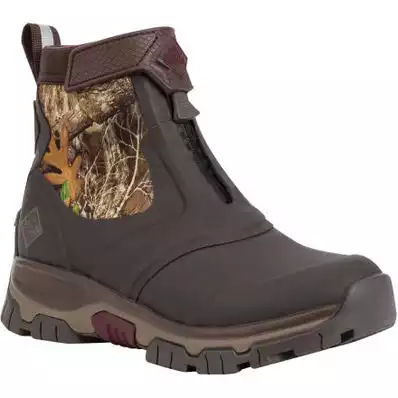 Read More: Best Insulated Muck Boots Guide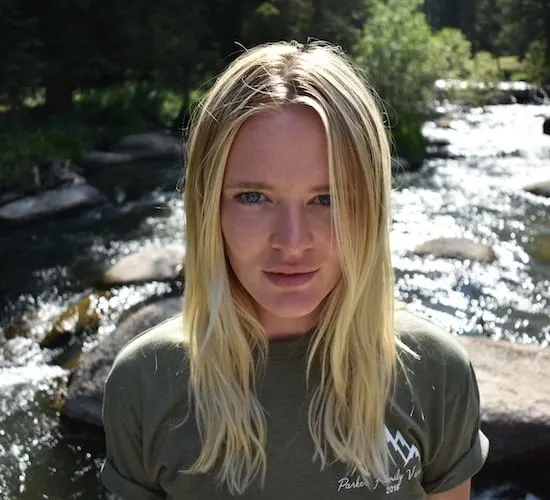 Haley loves hiking and camping. That state of calmness is like no other. A top 14er rock scrambler, Haley wants everyone to experience the highs and joys of outdoor living and here is to help prep the rest of us to do so safely. Here to share her top gear, tips and climb to the top hiking strategies, Haley is a bonafide outdoors guide to love!