When it comes to camping gear and accessories, one area that you don't want to cut corners is your sleeping bag. Staying not only warm but also comfortable is paramount for restful sleep, which is why today we are going to discuss the best sleeping bags under 100 dollars (cold-weather sleeping bag, double sleeping bag and lot more) for good night's sleep.
If you aren't much of a camper it may not be the best idea to spend several hundred on a sleeping bag that may not get a lot of use for your next camping trip.
Thankfully, with some careful research, you can find some excellent quality bags for under $100.
First, let's get to some questions. I hear it all the time — you get what you pay for. And, while I think that is typically truer than not, especially when it comes to outdoor and survival gear, if you do your research (like me) you can get lucky and find some suitable finds for cheap!
When I'm evaluating a new product, I always take into account the real-world conditions these products will be in. If you are an avid camper, hiker, all-around adventurer like me, you know what the 'real world' trail, mountain and stream conditions can be like. That's why I like to choose products that last!
How do you choose a decent sleeping back for under 100 bucks?
There are always things you should invest your money on and in this case, investing in a camping sleeping bag that will be able to resist even snow, rain and keep you warmer is always a must.
Depending on your sense of adventure, where you plan on using your sleeping bag or camping, you might not have to invest a lot of money in a compact sleeping bag. I've done my research and found 3 that I would safely recommend, but that doesn't mean these will hold up in ANY weather conditions. On the plus side, if you are looking for an ultra-lightweight sleeping bag, these all fit into this category. These can be used as a kid's sleeping bag or for adults too, and are easy to pack and carry no matter the distance you are covering.
If you are, for example, going on a serious backpacking trip somewhere in the northeast, where you might encounter snow, I would recommend you invest in a serious cold-weather sleeping bag. There are many things to consider when buying a sleeping bag. Will you be sleeping on the ground? Will you be in a cold climate?
Can you really find a quality sleeping bag for under 100 bucks?
Yes, you can. I chose 3 but there are many more. If you are new to camping and don't want to spend a ton of money, you can start with this list. I believe everyone should experience the joys of camping. If you are planning on roughing it in a cabin somewhere, during the summer months in the mid-west with your family, you won't need to shell out top funds for a decent sleeping bag.
What features should I look for in a decent sleeping bag?
There are many features that you need to look for in a backpacking bag that will hold up, especially if you are going to find one for under 100 bucks. Firstly, if a sleeping bag looks like a cheap sleeping bag – it is. You know those flimsy, thin ones you find in your local hardware store – avoid those. Those are only good for indoor sleepovers or hiking when you are under 10.
Start with the outer shell, what is it made of, what materials is it? Then look for the filling, sleeping bag liner, keeping in mind the overall rating of the sleeping bag. Sleeping bags always come with their own weather ratings, so pay attention to that. I would always err on the side of caution when it comes to temperature ratings as well — you don't want to sacrifice warmth for the price when you are sleeping outside!
Here are 3 of the best economical sleeping bags on the market
Marmot Trestles 30 Sleeping Bag
First up is .
This is a really nice mummy-style sleeping bag that can handle temps down to 20F but is best saved for temps above 30F unless you are an experienced camper with proper cold weather gear. It is a nice size bag for the average man or woman but may be too snug for those who are wider or taller than average.
Kelty Discovery 30 Sleeping Bag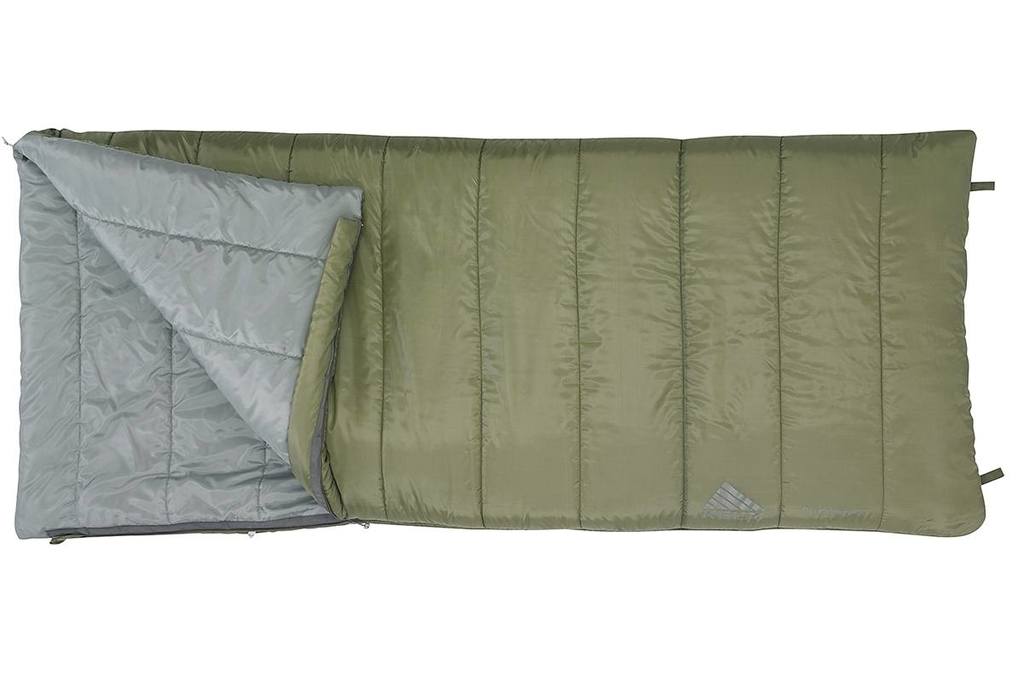 Kelty may be known for the high-tech camping gear but they do have some great products for those who may not be serious campers or those on a strict budget. The Discovery 30 is designed and produced by Kelty but sold through REI. This is a classic sleeping bag that is surprisingly versatile.
Specs:
Unisex sleeping bag in classic rectangle shape
Temperature rating of 30F
Comes in two sizes:

Regular – fits up to 72″ / 3 lbs 12 oz
Long – fits up to 78″ / 4 lbs 3 oz

Comes in two color options – Sequoia and Twilight Blue
Compresses down to roughly 18″ x 11″
Materials:
Shell – 190T polyester taffeta
Lining – 190T polyester taffeta
Synthetic insulation with Cloudloft polyester fibers
Fill weight of 42 oz for Regular and 45 oz for Long
Features:
Right or left zip with anti-snag zippers
Locking zippers with sliders located at top and bottom of bag
Ability to zip up bottom zipper for ventilation
Ability to zip together two different Discovery bags of the same size
Draft tube is full length of zipper for keeping out chill
Bag has sleeping pad attachment points to prevent slipping
Comes with a compressible stuff sack
One Honorable Mention: Kelty Callisto 30 Degree Regular Sleeping Bag
The Kelty Callisto 30 Degree Regular sleeping bag is another one (a bonus selection) that I can safely add to my list of recommendations here. It came out a couple of years ago, but most of the reviews of this bag are positive. It has a temperature rating of 30 F, so it should keep you warm on most camping trips. I love the teal color one as well. You can also buy more than one and zip them together for extra body heat!
Technical Details
| | |
| --- | --- |
| Item Weight | 2.15 Kg |
| Product Dimensions | 182.9 x 7.6 x 86.4 cm |
| Item model number | 35417717RR |
| Color | Deep Teal |
| Size | One Size |
| Height | 11 inches |
| Length | 23 inches |
| Weight | 1.53 kilograms |
| Width | 11 inches |
| Temperature Rating | 30 Degrees Fahrenheit |
| Included Components | Sleeping Bag |
| Batteries Included? | No |
| Brand Name | Kelty |
My Analysis
The REI exclusive Kelty Discovery 30 sleepings bags are basic, resembling the classic rectangular sleeping bag. Don't let that fool you though. The design of the Discovery 30 may be simple but it performs its job of keeping you warm very well.
The Cloudloft polyester fill is plenty warm for nights down to 30F, making it a great all-around bag for most spring, summer and mild fall camping trips.
The Discovery 30 is a bit more flexible than most sleeping bags. Since it is rectangular in design you can easily unzip the bag completely to use as a comforter-style blanket or combine two of the same size bags together to make a dual bag for two or a maybe 3 kids.
This versatility makes it perfect for someone that wants more from their sleeping bag. It is perfect for car or backyard camping.
Coming in at under $65 for the largest size, the Discovery 30 is a killer deal. It's available exclusively online via this listing. It may not be the most beautiful sleeping bag but it does its job very well. For the price, you will be hard-pressed to find a sleeping bag so warm and able to be used in different ways.
Bonus Sleeping Bags If You Decided to Invest More
*Tip: You can visit the official site of Sierra Designs for more sleeping bags of different price range and resistance!
The Final Zip
Just because you don't have hundreds to spend on a sleeping bag doesn't mean you have to settle for a badly designed, backpackers from your local big box store. Save yourself the trouble and have a better night's sleep out in the backcountry by choosing one of these three models instead which are waterproof insulation type, and will keep you warm on your outdoor adventures. Also, if you need more designs and cheaper sleeping bags you can visit the official site of slumberjack country squire.
Still not sure? Check out our comprehensive sleeping bag buying guide here. It will help you evaluate your needs and the best fit for you. And, as always, enjoy your next camping trip! Get out there!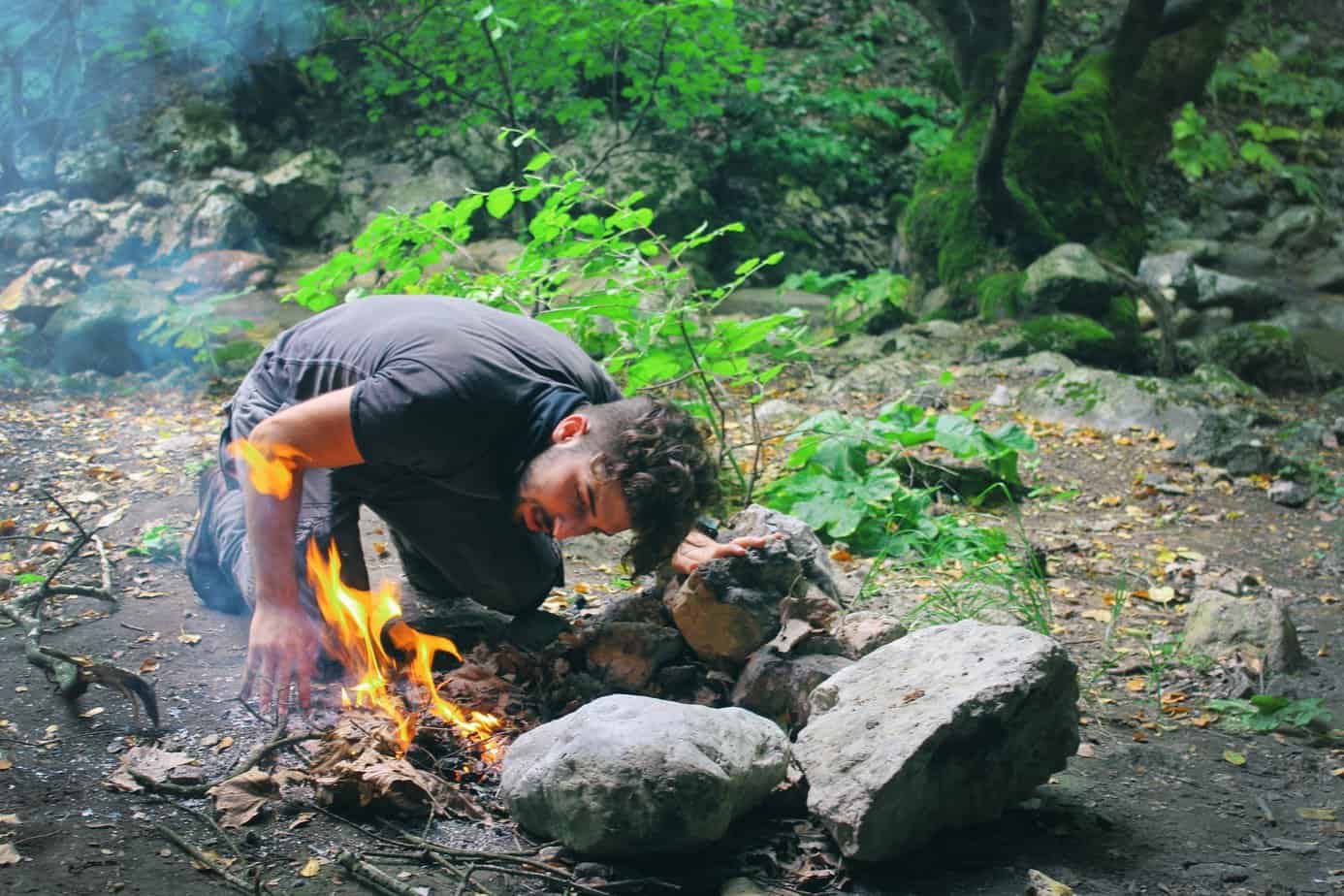 Sam Hardy is an outdoor enthusiast with a penchant for survival skills. He writes about the great outdoors and his favorite equipment here.