If you are at all into athletics or outdoor sports/activities, it's safe to say that you've heard of Under Armour. Under Armour or UA, was founded in 1996 as a sports clothing and accessories company. The brand has certainly come far, now producing its own footwear and having quickly risen to the top in popularity.
Unlike other brands that have questionably expensive products, UA consistently produces high-quality apparel and accessories that really make them stand out from the competition. The company has a few different apparel lines named after the technology used in the design. One of their most popular lines is ColdGear. However, they've since developed a technology even more impressive.
UA ColdGear Infrared Technology
The original ColdGear design uses double-layered fabrics made to wick away moisture while also circulating body heat to protect the wearer from the chill. For temps under 55F, ColdGear is going to work very well. Despite the success of this line, UA decided to improve it further with their ColdGear Infrared tech.
Imagine all of the advantages of the original ColdGear, with even better heat retention. Essentially UA used their ColdGear fabrics with the addition of ceramic-infused ink within the clothing. It sounds a bit crazy but this soft ceramic coating is extremely thermo-conductive.
It naturally absorbs your own body heat without affecting breathability and wicking properties. In fact, the Infrared line offers no extra weight or bulk over the original ColdGear line.
Just like the first ColdGear line, Infrared technology is available in men's, women's, and kid's apparel. Clothing-wise there are plenty of selections of fleeces, jackets, shirts, pants, leggings, and more. UA even has sport-specific Infrared apparel for snowboarding, golfing, and more. Accessories like hats and gloves are also available.
Top UA ColdGear Infrared Apparel
If you're interested in trying out Infrared's impressive capabilities, here are four of their best styles to choose from. Actually, those who are diehard UA fans may want to pick up all four for a complete Infrared layering system.
UA ColdGear Infrared Long Sleeve Shirts
As the name would suggest, UA is well-known for its base layers. The Infrared LS shirts are one of the popular items in the line and for good reason. UA's base layers fit well, are incredibly stretchy (some say as a second skin), and seem to magically wick sweat away without making you feel chilled.
The men's LS base is simply named after the line with while the women's is labeled as the Infrared Crew. They are virtually the same in design and offer the same benefits.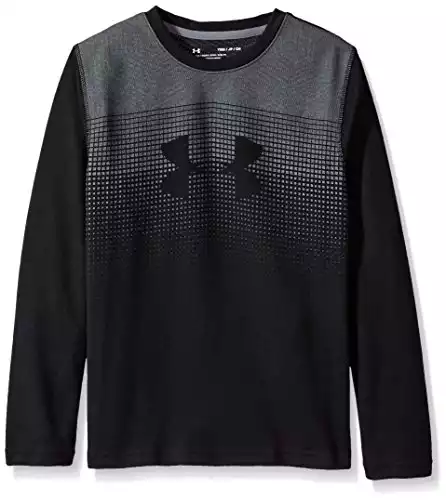 Mens:
Available in Black, Steel, Legion Blue or High-Vis Yellow, in sizes SM to 3XL
Loose cut
4-way stretch ColdGear fabric for maximum mobility
UA's Moisture Transport System technology gets rid of moisture while maintaining body heat
Has duo anti-odor and antimicrobial properties
Polyester/Elastane blend
Womens:
Available in Carbon Heather, Blue Knight or Rebel Pink, in sizes XS to XL
Fitted, 'next to skin' fit
Ribbed cuffs for style
Polyester/Rayon blend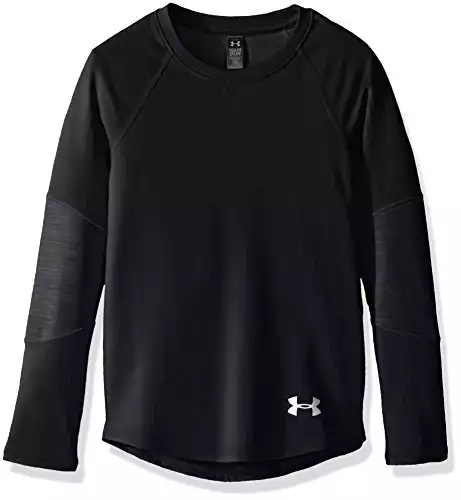 If you were only going to get one thing from the Infrared series, you'll want to get one of these base layer shirts. Many find that these shirts are so warm they can easily wear them solo in fairly chilly weather if they are actively moving. These shirts are perfect for sports as well as casual wear. They look great and are incredibly durable.
UA ColdGear Infrared Leggings
In addition to the long sleeve shirt, the Infrared leggings are a final base layer. These leggings are seriously warm and offer some compression. The women's are simply labeled as leggings while the male equivalent are called Infrared Fitted.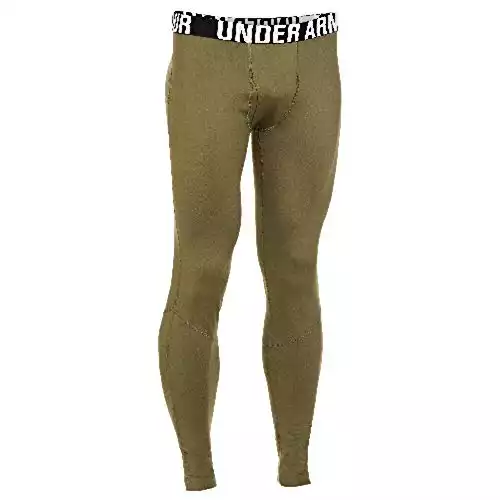 Mens:
Available in Black sizes SM to 3XL
Fitted cut with compression
Made with ColdGear Evo fabrics
4-way stretch
Same Moisture Transport System as the LS shirt base
Has anti-odor properties
Elasticized waistband
Womens:
Available in Carbon Heather sizes XS to XL
Flat, yoga pants-style waistband
Ribbed cuffs on the ankle cuffs
The UA Infrared leggings essentially serve the same purpose as the long sleeve top. If you are going out in cold weather you will be happy to have these under your normal
UA ColdGear Infrared Zippered Fleeces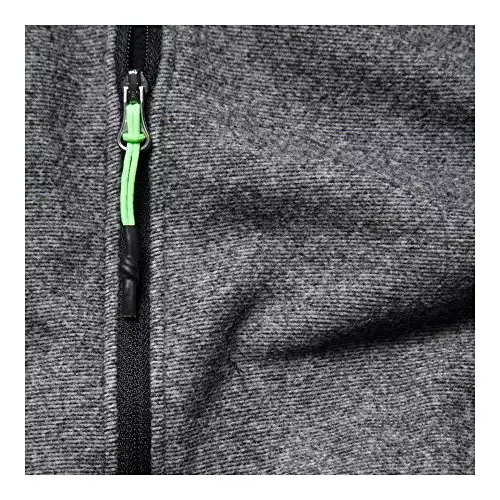 The UA Infrared series has quite a few different fleeces available in various styles. Fleeces are a popular type of outerwear. They are often incredibly soft and warm enough to keep you comfortable on mild to moderately cold days if paired with a good base layer.
Unlike the other pieces of clothing featured, UA doesn't have matching men and women's styles for their fleeces. However, the men's Infrared Fleece Hoodie and the women's Infrared Hybrid Full Zip are quite similar.
Mens:
Available in Academy, Steel, Greenhead or Cobalt, sizes SM to 3XL
Has a loose, full cut for easy layering
Made of a brushed fleece on both sides
Protective woven inlays in hood, chest, and shoulders for durability
Designed with Moisture Transport System for wicking
Mesh hand pockets
Elastic cuffs and hem for trapping body heat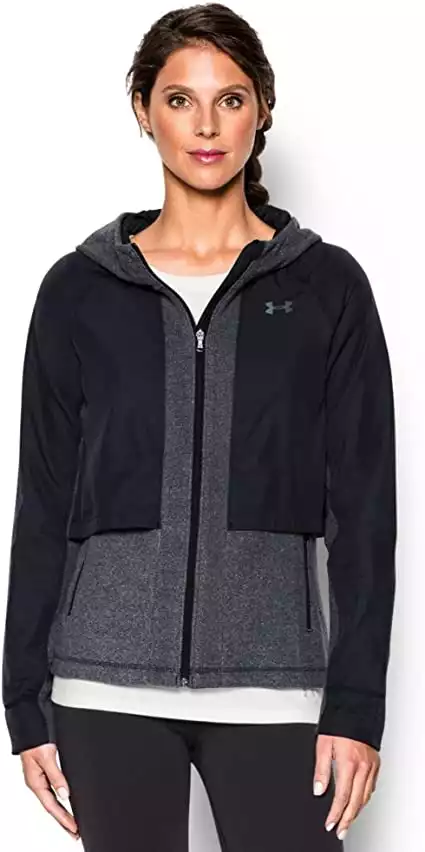 Womens:
Available in Veneer, Black or Ox Blood, sizes XS to XL
Has a loose, relaxed fit
Made with a textured microfleece
Protective woven inlays in neck and pockets
Slouch collar for extra warmth
Has UA's Moisture Transport System
Drop tail hem for back coverage
Extra-secure zippered hand pockets
Although the women's fleece featured doesn't have a hood, UA does have other hooded fleeces with Infrared technology. These fleeces are super lush and made to last. They are also very well priced compared to some high-end fleeces that don't offer nearly as much warmth.
UA ColdGear Infrared Micro Jacket
An improved take on the traditional winter puffer-style jacket is the UA Micro. This sleek jacket is perfect for winter sports and casual wear alike. It is surprisingly warm, despite the lack of bulk. This isn't a rain shell but it's resistance to water is impressive. Added touches like the slightly extended collar for additional warmth is welcomed.
Like the other apparel choices, the Micro is available for both genders.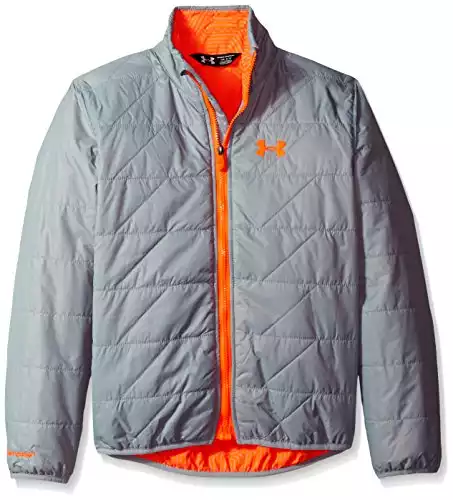 Mens:
Available in Black, sizes SM to 3XL
Has a loose cut (or size up for layering under)
UA Storm DWR finish makes this jacket water repellent
PrimaLoft Silver Insulation used (80g in the body and 60g in the sleeves)
UA MagZip zipper stays puts and clicks closed
Double hand pockets + left chest pocket for audio tech
Compresses down into hand pocket
ColdGear cuff inserts and hem drawcord for keeping out the cold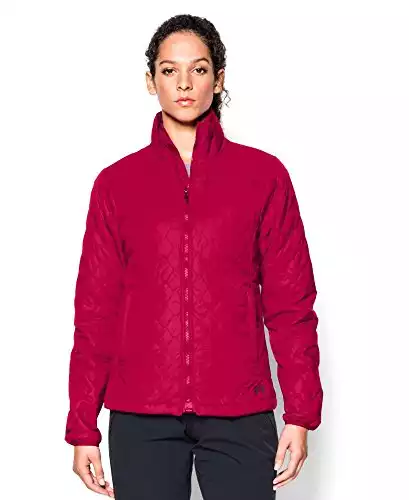 Womens:
The women's jacket is nearly identical to the men's version with just a few differences.
Available in Black or Ivory, sizes XS to XL
Has a fitted cut and tailored fit
The Micro is a great all-around cold weather jacket. It isn't going to keep you warm in a blizzard but you'll be quite a toasty solo in chilly weather or with the Infrared LS shirt base under it for frigid temps. Women should size up if they plan to layer under this model, however.
If you've never worn any of this brand's apparel before, you should really give it a try. Whether worn casually or for sport, Under Armour produces some of the best-designed base layers and outerwear.
It's not surprising that their ColdGear Infrared line has been popular and well-received. Those who remain active throughout the winter months will be glad to have this lineup to rely on.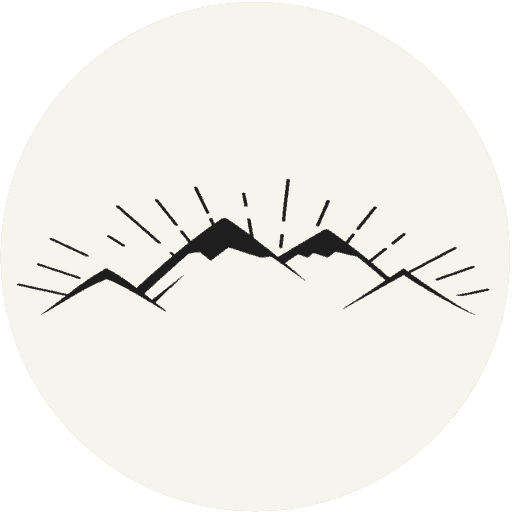 The All-Outdoors Guide team is comprised of enthusiastic experts that enjoy helping others that aspire to be better at outdoor fun. Part of that is making sure you have the right gear and information when it's time to go out and have fun. Some of our team have accomplished amazing feats like climbing 6000 feet to the top of mountains, others have explored every dirt trail they could find and we even have some people that have backpacked solo on various continents. No matter what our readers want to learn and do, our team is here to help them accomplish those goals.