Kammock is technical outdoor gear company that specializes in shelters, both on the ground and up in the air. Kammock is best known for their hammocks and, like many small outdoor gear brands, began out of a need for higher quality equipment.
Greg McEvilly was made abruptly aware of a lack of quality hammocks in 2010 when his hammock failed in the middle of the night. While hammock camping certainly isn't new, it still is far less common than tent camping.
Due to this it is trickier to find high quality hammocks that will hold up. McEvilly decided to take matters into his own hands and start producing gear the Kammock Glider with a focus on clean designs and high-performance materials.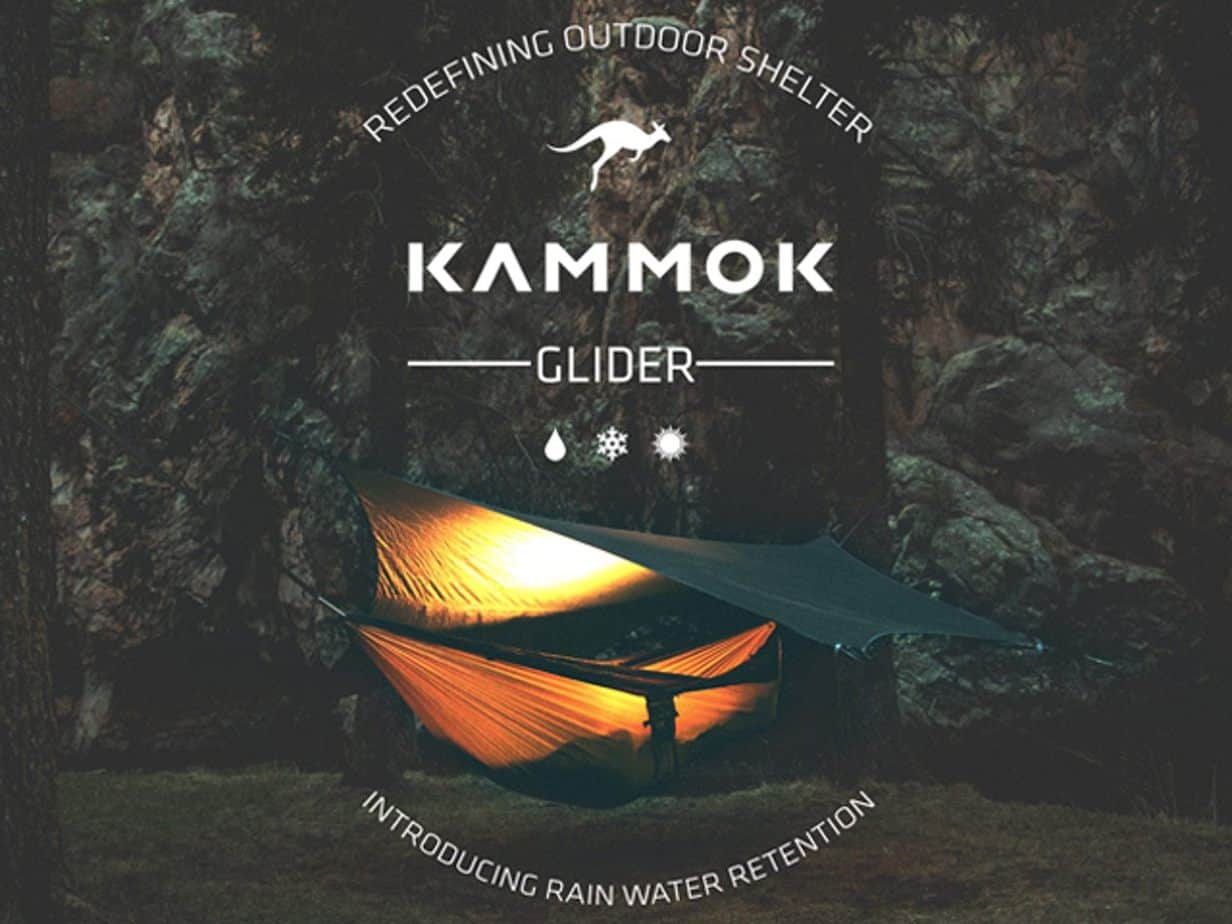 Kammock doesn't have a huge range of products – in fact they have quite a modest selection of tents, shelters, and accessories. Don't let this put you off, however. Each piece of gear in their line has been carefully researched, designed, and finally constructed with some of the highest quality materials.
The Kammock brand team uses this gear themselves, ensuring that what they would want from their gear is exactly what customers are getting. This is a huge reason why Kammock has such a loyal fan following.
If you're hammock camping, naturally the most important piece of gear is the hammock itself. But don't forget about what you trust to keep you safe from the elements. The shelter or rainfly you decide to put over your hammock has just as much, if not more, of an effect on your comfort.
Even a budget-brand hammock that isn't too comfortable is a better choice than purchasing a rainfly or shelter that sags, leaks, or develops rips at the most inopportune times. One of the best shelters offered by Kammock is the Glider Extreme Weather Shelter. Not only is this a best-seller for the brand, but it also stands out against the competition as a whole.
Design and Features of the Kammock Glider Weather Shelter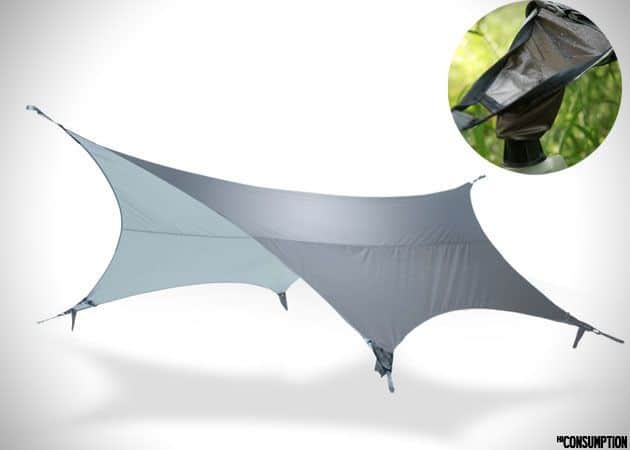 The Glider Weather Shelter is just plain impressive. It is designed to handle essentially all weather/seasons and is highly durable in even the harshest sunlight or storm. Most importantly, it doesn't just protect you from the elements, but also has a very cool feature to allow for easy rainwater collection.
Here is a rundown on the basics you need to know about the Glider:
Completely waterproof design holds up in extreme downpour

Innovative integrated rainwater collection system simplifies camping

Advanced heat reflective exterior means you stay more comfortable in the sun

Designed with high-tech Amphibiskin fabric for heat, rain, and snow protection

Designed to be used with Kammock's Roo Hammock and Dragonfly Bug Net

Retails for $230 from Kammock (and most other retailers)
Comes in a neutral but beautiful stone gray color

Comes with a lifetime warranty from Kammock
If you're interested in the technical side of things and how the Glider is constructed, here are some specs:
Offers a 12′ ridgeline with 9′ curved sides

Total weight of 23 ounces or 652 grams

Packed dimensions are roughly 5 ¾" in diameter x 8″ high
Total of 10 reinforced guy out points

Comes with Tri-Ring Easy & Reflective guy lines

Guy lines have built in Quick Lock line locks

Features telescoping pole grommets

Reflective drawstring for easier nighttime visibility and safety

Made of Amphibiskin Ripstop Nylon complete with a DWR finish

All seams are factory taped for waterproofness

Total of 4 rainwater collection funnels, complete with removable debris filter
The Glider Weather Shelter is impeccably made and is a reliable shelter for pretty much any weather situation you can throw at it. It comes as no surprise that this model consistently has 4.5 to 5 star ratings across majority of websites, including Kammock's own site as well as other retailers.
Reasons to Purchase the Kammock Glider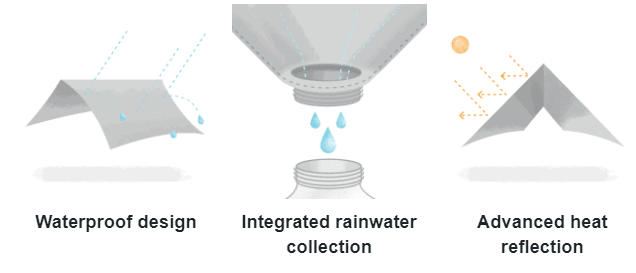 The Kammock Glider shelter is a wonderful shelter to use, ideal for new hammock campers as well as the more initiated. Some of the main reasons customer are so happy with the Glider includes these three main benefits.
Water Collection System Makes for Easier Cooking and Hydration
Camping in rainy weather isn't the most enjoyable more obvious reasons. Even if your shelter is impeccably designed and waterproof, having to exit the shelter to gather water for hydration or cooking could leave you soaked.
The rainwater collection points on each of the four corners ensures that you even in the heaviest downpour you'll be able to stay dry under your shelter. Just be sure that you allow for rain to fall for a bit before you begin collecting to ensure any debris on the shelter runs off first.
Designed for True All-Season Use in Any Terrain
The Glider is the ideal all-season shelter since it can handle both very hot and very cold climates. Many durable shelters that can take on some snow, high winds, or heavy rain are so thick that they seem to just trap heat during the summer.
The Glider manages to effectively reflect the sun and keep you cooler in the summer, yet it will still keep you protected in the bitter cold. Combined with a proper hammock system there is little that the Glider can't do.
Versatile Enough for Hammock Use, Day Camping or as a Simple Shelter
While the Glider is designed to be a rainfly for a hammock, it is a surprisingly versatile shelter overall. Firstly, the Glider will work with essentially any other brand of tent, though Kammock naturally recommends it be paired with their Roo Hammock and Dragonfly Bug Net.
For day camping trips you can use it as a shelter from the sun, wind, and rain while you set up a base camp for the day. You can also take in along on a camping trip with a tent to function as a covered, protected outdoor space for hanging out, cooking, or for extended gear storage.
Even when not being specifically used for its designed purpose the Glider is still a very useful piece of gear.
Potential Issues with the Kammock Glider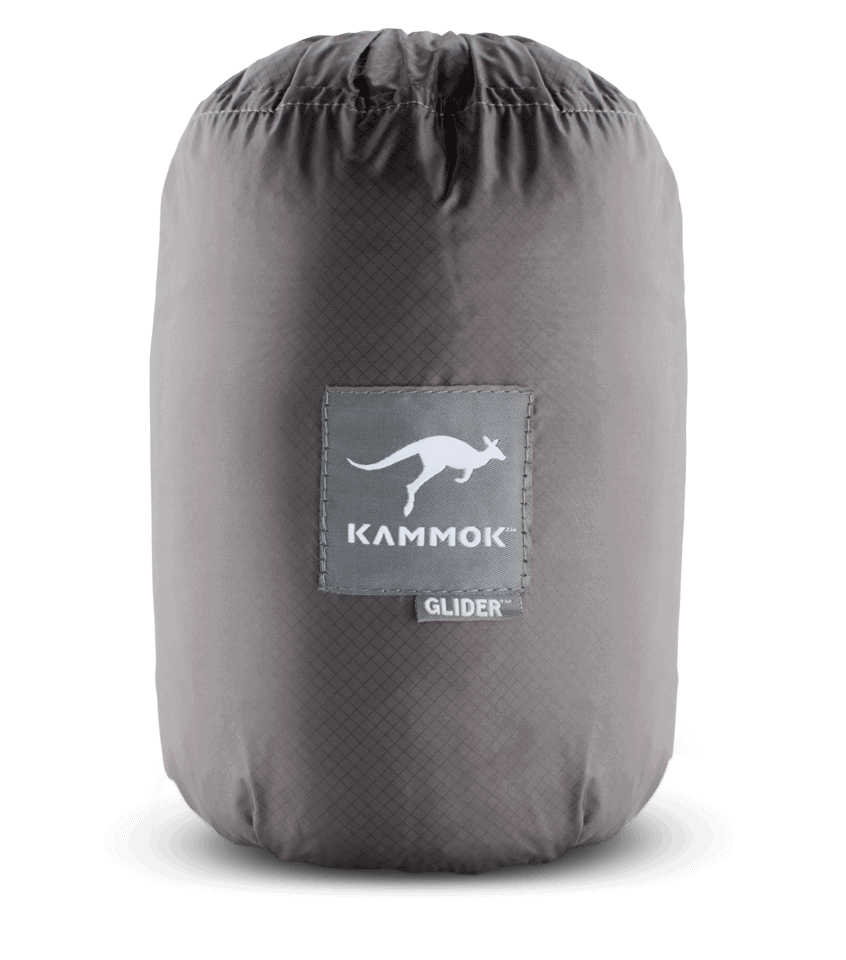 Though there really isn't anything wrong with the Glider itself, in terms of design or functionality, there are two reasons why this model might be a pass.
The Price Tag is a Bit Steep Compared to Similar Shelters
While it's true that the Glider really is one of the most durable manufactured hammock shelters on the market for some it may be a bit too expensive to warrant purchasing. There are other durable shelters similar in design and weight that are less expensive.
Consider how much camping you are going to be realistically doing. If you're a novice hammock camper or only ever go camping during summertime, spending the money on a $230 shelter might not be the best choice.
Dedicated Hammock Campers Prefer Custom Shelters
It's interesting to note that many dedicated hammock campers aren't pushing for people to purchase the Kammock Glider. This is no fault of the product but rather shows that those seriously into hammock camping typically end up designing their own customer shelters.
If you already have a tried-and-true shelter setup for your hammock, the Glider may not offer you very much more in terms of features.
Overall the Kammock Glider Weather Shelter is a very high-quality product, made of an impressive material that truly gives it total weather protection. It is a versatile shelter and considering that it has a lifetime warranty the Glider is worth every penny of its $230 pricetag in most customer's opinions.
While dedicated hammock campers might not want to ditch their custom rigs for this shelter, new hammock campers will really enjoy this high-performance model.
Further read:
How To Find The Best Outdoor Sleeping System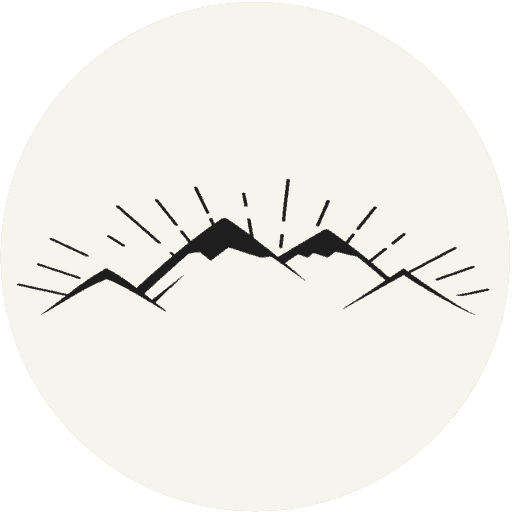 The All-Outdoors Guide team is comprised of enthusiastic experts that enjoy helping others that aspire to be better at outdoor fun. Part of that is making sure you have the right gear and information when it's time to go out and have fun. Some of our team have accomplished amazing feats like climbing 6000 feet to the top of mountains, others have explored every dirt trail they could find and we even have some people that have backpacked solo on various continents. No matter what our readers want to learn and do, our team is here to help them accomplish those goals.