Most overseas visitors to Europe tend to follow a fairly predictable itinerary. After a day or two dithering in Rome or Venice, shopping in Paris, partaking of the local "delicacies" in Amsterdam, beer-tasting in Bavaria, and maybe a stopover in London or Prague, they head home thinking they've ticked the box as well as it might be ticked.
While each of these destinations has its merits, we'd suggest that city-hopping visitors miss out on the very best of what Europe has to offer, namely its wealth of natural beauty, epic diversity of landscapes, and frankly an astonishing number of outstanding hiking trails.
Since the development of commercial tourism in the world's greater ranges—the Karakorum, Himalaya, and the Andes—trekking and mountaineering in continental Europe has taken something of a step out of the spotlight. But all the mountains and trails once walked and climbed by legends such as Walter Bonatti, Reinhold Messner, Kenton Cool, George Mallory, Maurice Herzog, and Edward Whymper are still there, still magnificent, still eminently worthy of wandering for anyone with a healthy a desire to see our planet's most memorable and majestic natural sights.
Below, we'll introduce you to twenty of the best hiking trail Europe has to offer, starting off with an assortment of long-distance, high-altitude Odysseys for those with vacation days to burn and an appetite for real adventure before then moving onto a selection of routes more suitable for those on a tighter schedule and who prefer a few creature comforts mixed in with their dose of lonely landscapes.
Ladies and gents, without further ado, we bring you…
The Twenty Best Hiking Trails in Europe
1. The GR20, Corsica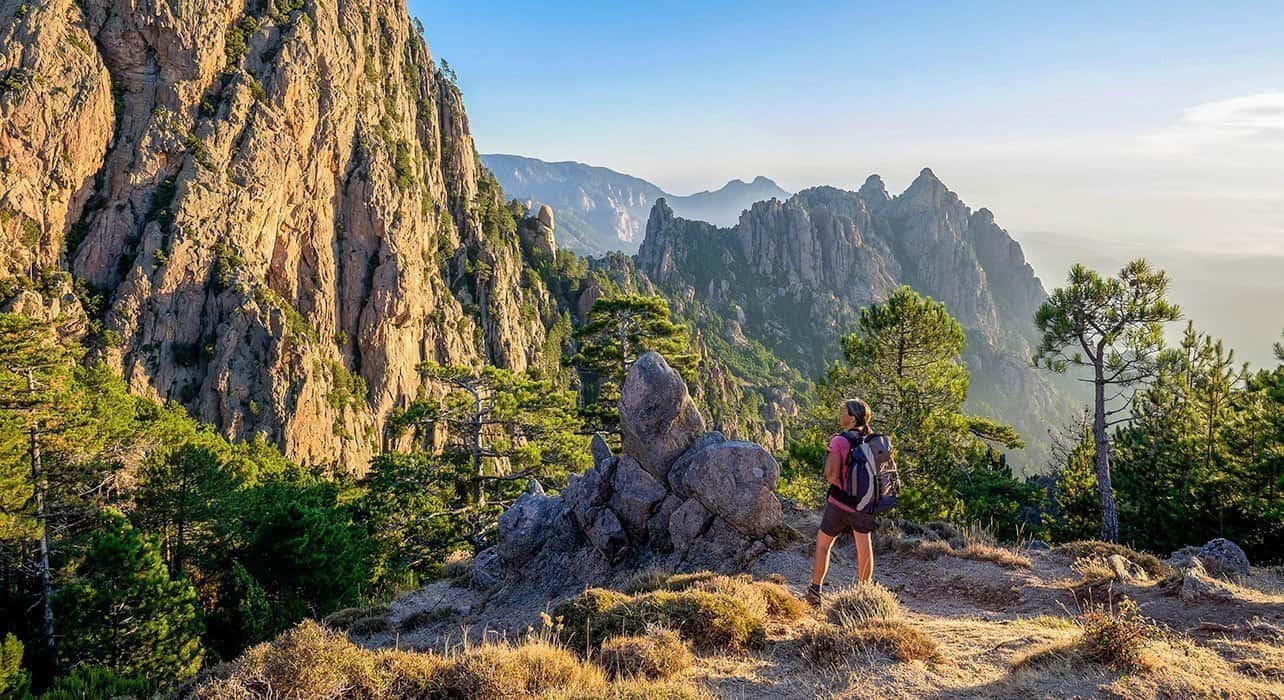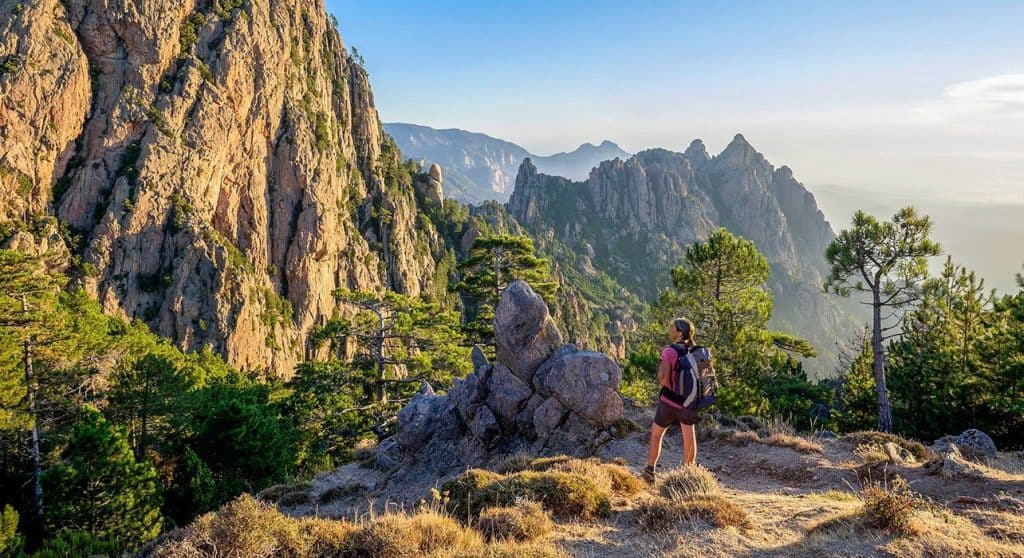 Corsica's Grande Randonnée 20, or GR 20, is a trek without peer the world over. It's not the longest trail out there or the most challenging, nor does it take place in any of our planet's highest or most fabled mountain ranges. What it does do, however, is utterly unique.
Traversing the Mediterranean island of Corsica's exceptionally rugged, wild mountains from north to south, the GR 20 combines a winning blend of raw, unblemished alpine scenery with some of the most stunning seascapes imaginable.
At no point does the trail veer more than a mile or so from views of Med's famous azure waters, and from the top of the island's tallest peak (Monte Cinto), moreover, hikers can see out across those azure waters as far as the French Riviera and all the way down to the Apennine Mountains near Rome.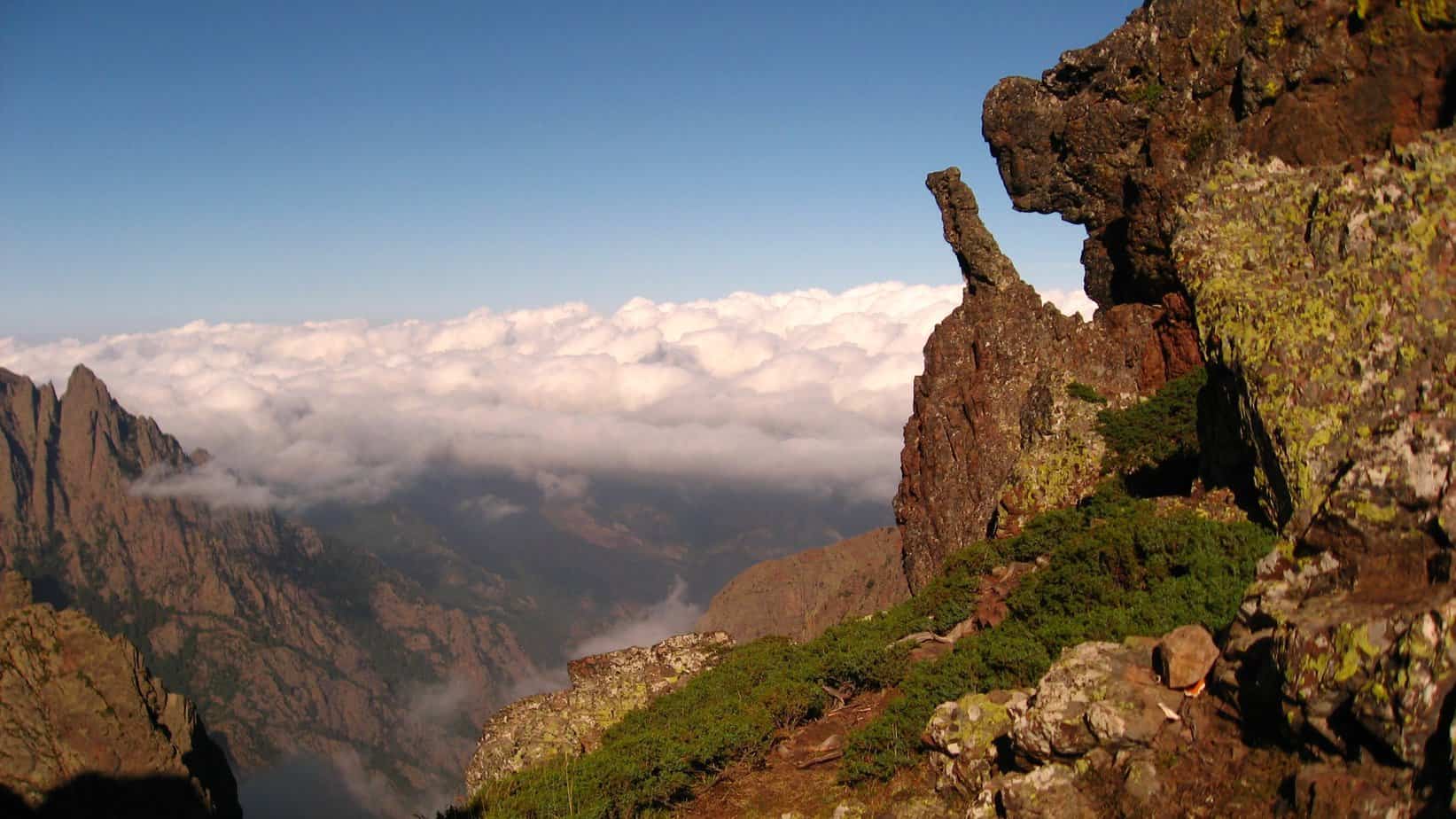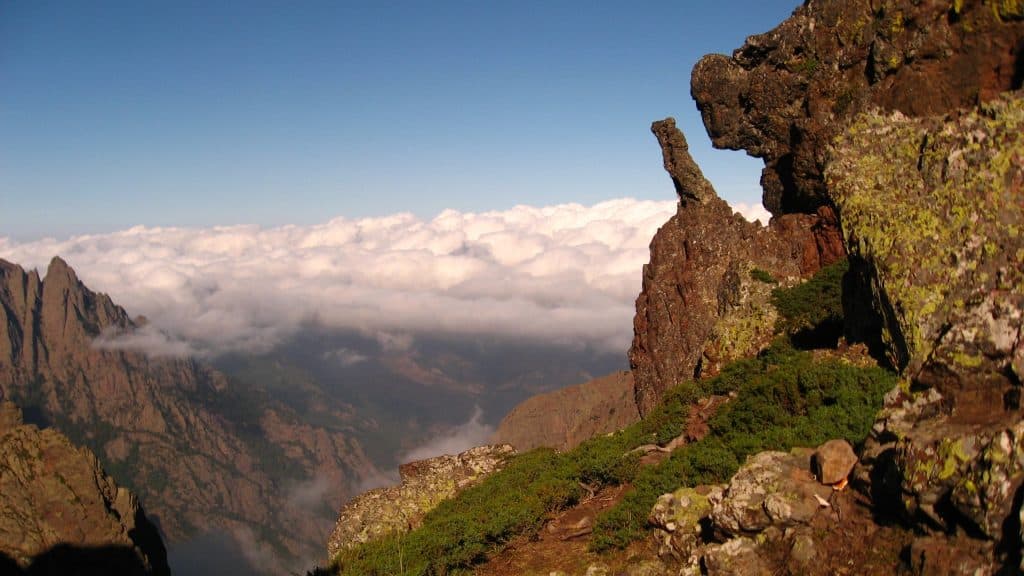 At 112 miles in length, this one might appear on paper to lack the challenge to staying power posed by longer routes around the globe such as the Appalachian Trail or Great Himalaya Trail. Owing to the trail's remoteness, the lack of resupply points (barring a collection of mountain huts in peak season), and the often exposed, invariably steep nature of the terrain, however, it offers a true test of mettle for even the most hardened of hikers.
This is never more true than on the section of via ferrata near the Cirque de la Solitude (see the video below), where the near verticality of the route (and a number accidents) convinced local authorities to install a series of chains to give hikers a helping hand!
In short, this is a trail that doesn't mess around. While more energetic aspirants may be able to complete the route in as little as four or five days, the trail's 40, 000 feet of total ascent and descent means accomplishing the feat would be far more masochistic than memorable. And with so much delightful scenery to be enjoyed, we'd suggest that attempting to do this route in a hurry would not only be exhausting and potentially dangerous but also something of a crime!
2. Alta Via #1, the Italian Dolomites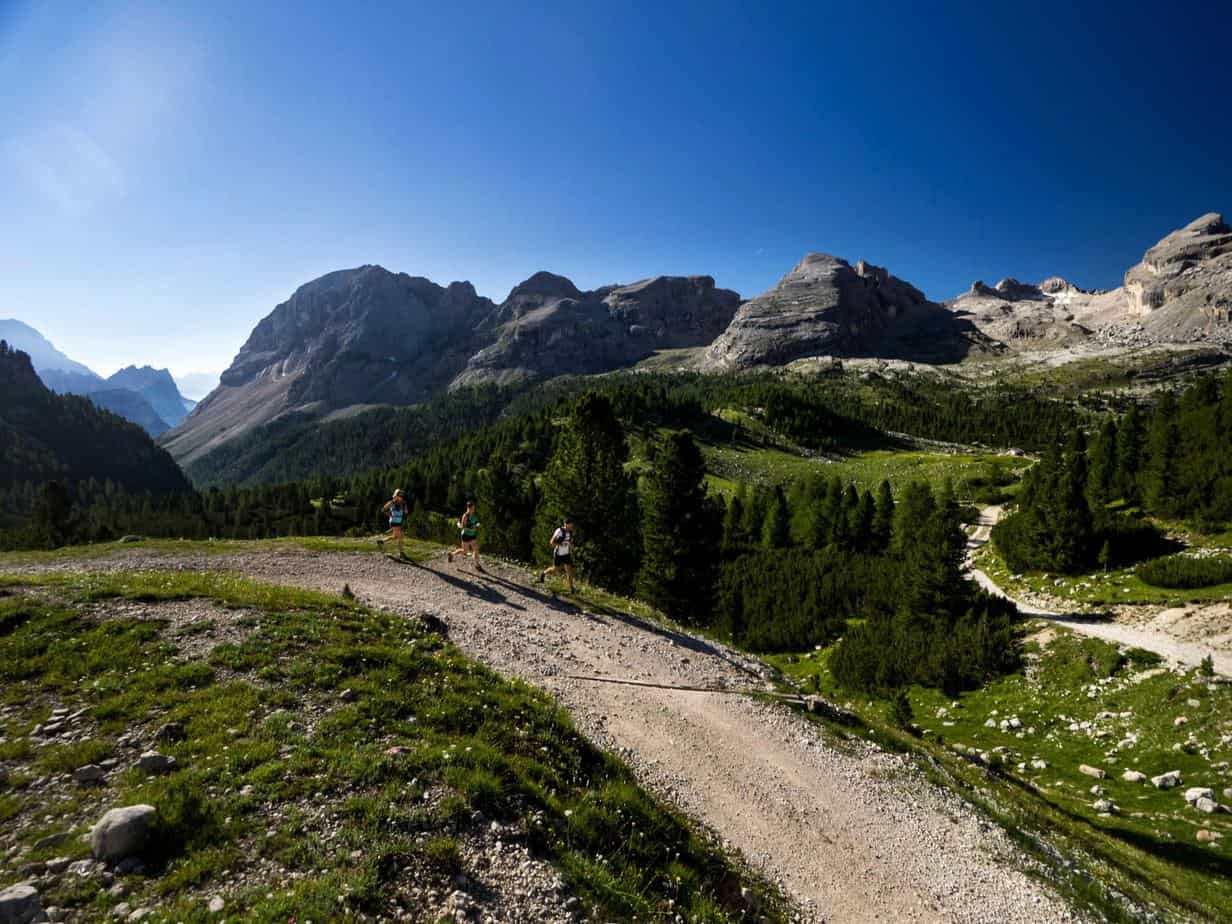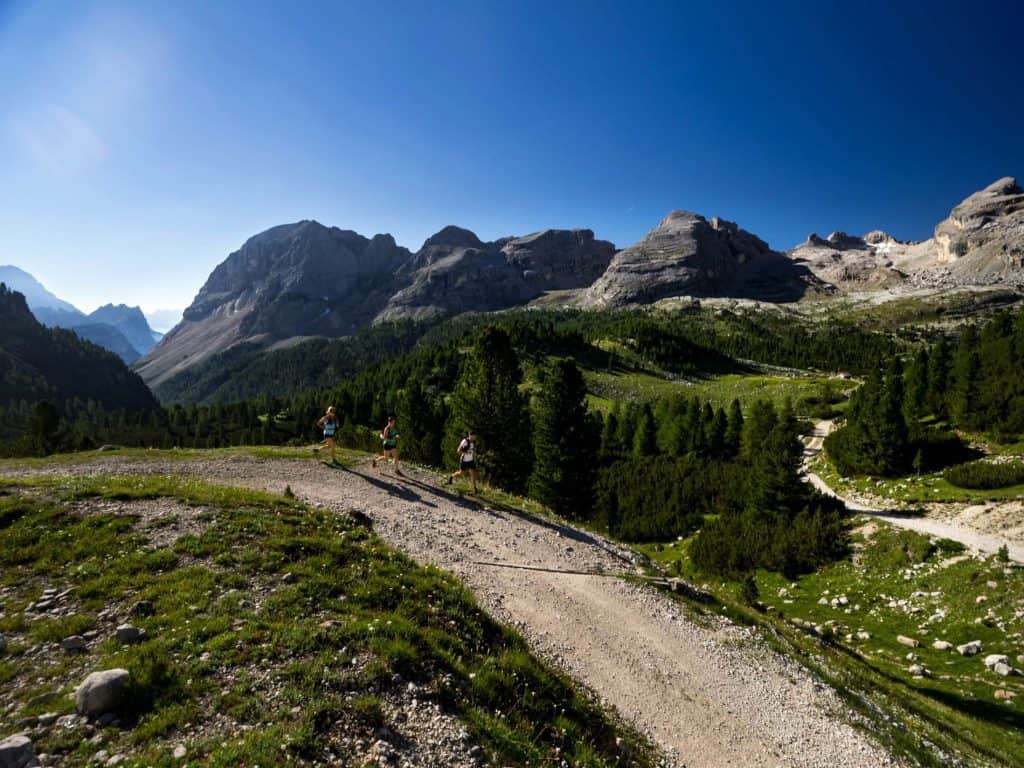 If we had to choose one European trail that tops them all, it would have to be the Italian Dolomites' simply sumptuous Alta Via Number One. In fact, if asked to choose one trial to walk for the rest of their lives, we can be fairly sure that a large percentage of previous AV#1 hikers would choose this as their trail for eternity—and most, moreover, would do so gladly.
The route wends a wild, wonder-strewn course through ever-changing alpine environments, starting off on the shores of the delectable Lago di Braies before then heading up into some of the most varied and spectacular mountainous terrains in the world.
Along the way, you'll catch sight of a wide variety of alpine flora and fauna, turquoise alpine lakes, idyllic valleys, a handful of well-preserved historical sites from WWI, and, of course, dozens upon dozens of giant peaks. Our pick of the numerous detours available on the hike is the ascent of Monte Civetta, a full-day ascent of one of the region's most thrilling via ferrata routes.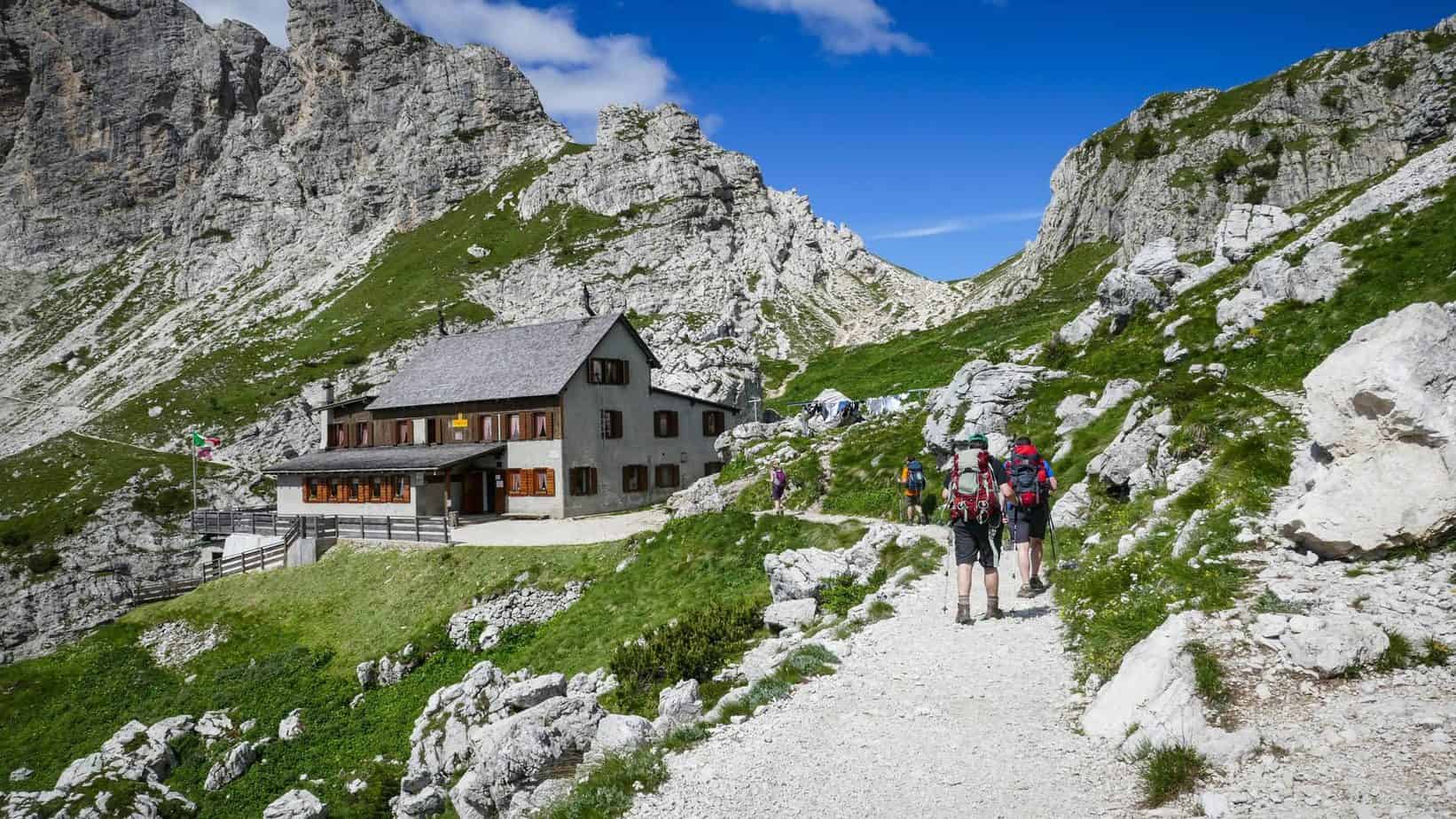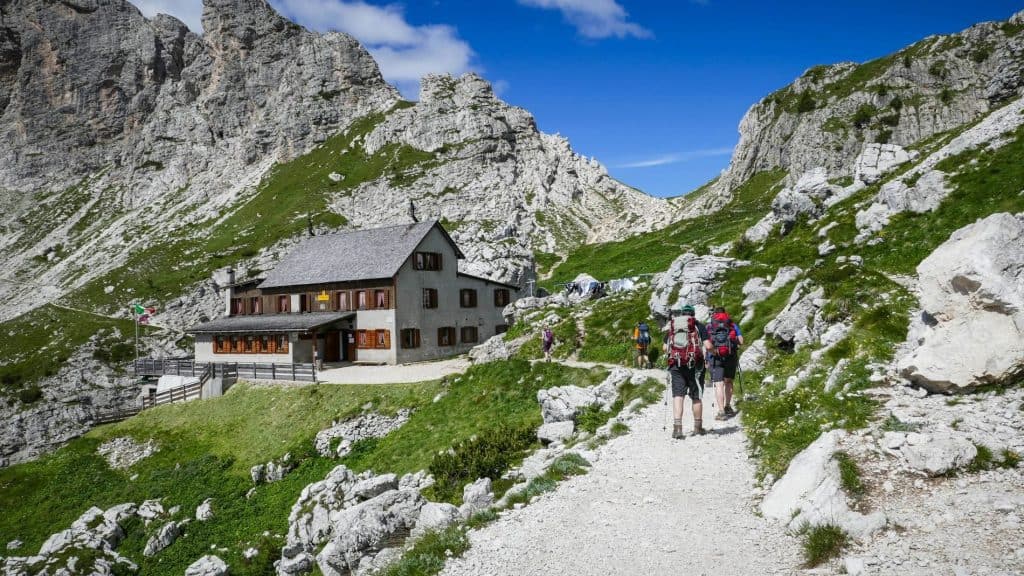 At only 75 miles long, you could be forgiven for thinking this one's a bit of a dawdle, but the 24,000ft total altitude gain and recommended a duration of 8-12 days tell another story entirely—one, we should add, that gives a far more accurate picture of what to expect.
If you don't happen to make any side trips onto the optional via ferrata sections on the AV#1, at no point is the trail any more than moderately difficult, but it is fairly relentless in terms of ups and downs and at times spookily exposed, so should not to be taken lightly or attempted in any kind of a hurry.
The trail can be broken up into very manageable sections, with each stage of the route being served by a handful of rustic but comfortable and invariably friendly rifugi (alpine huts) that offer basic overnight accommodation and surprisingly tasty grub.
3. Alta Via #2, the Italian Dolomites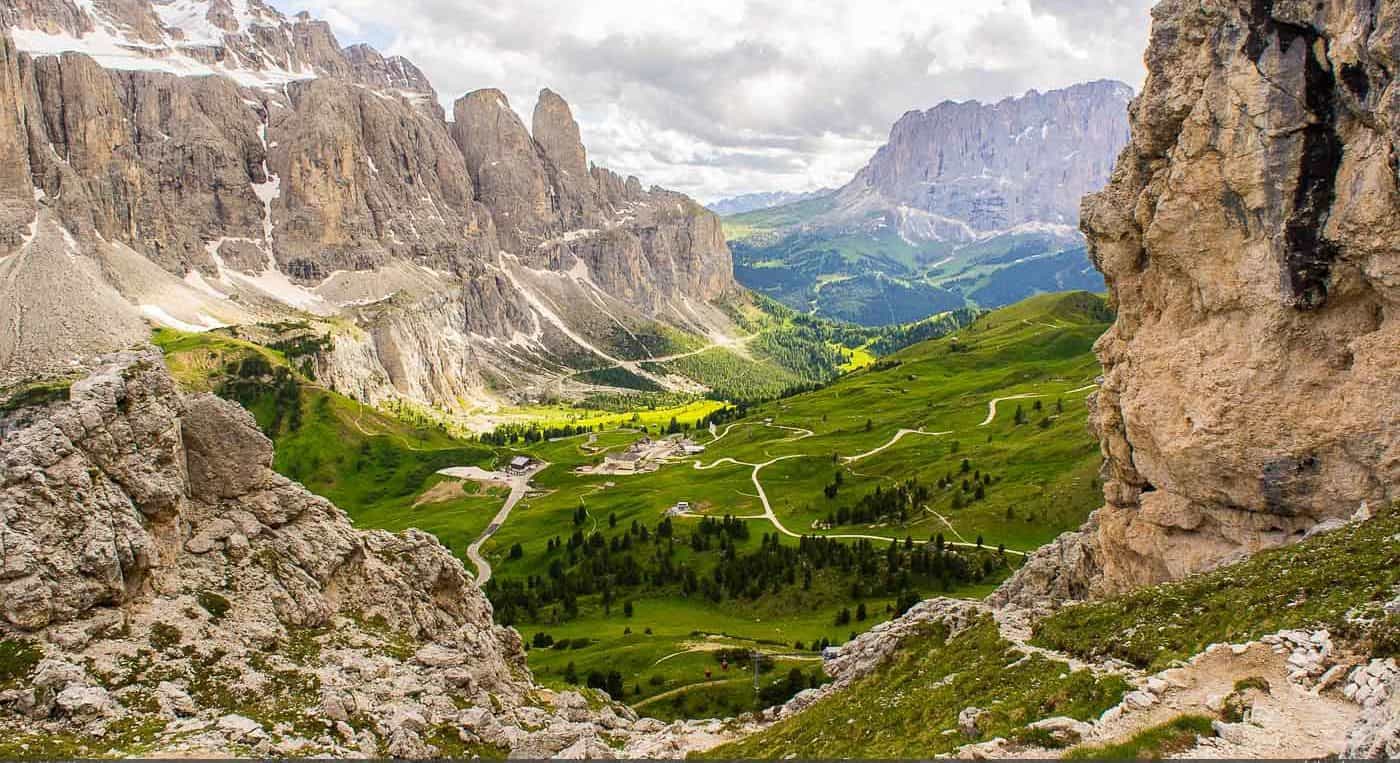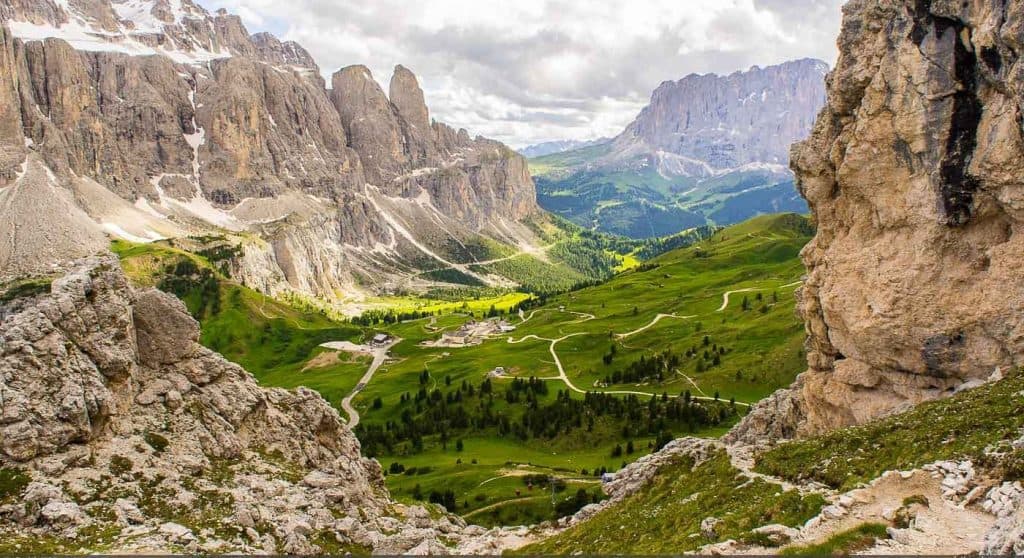 It would be difficult to justify the inclusion of the Dolomites' Alta Via #1 without making mention of its only slightly younger sibling, Alta Via #2, "The Way of the Legends."
Remember that oft-voiced complaint that sequels are never as good as this originals? Well, in this case, it categorically does not apply. At 114 miles in length and with over 35,000 feet of total ascent, AV#2 presents a tougher test of your stamina and steel than AV#1 and, depending on any diversions you take along the way and how your calves are doing after the punishing ascents hikers are put through on the first stages of the route, can take three or four more days to complete.
As with all Alta Via routes in the Dolomites, the trail is broken up into stages, with numerous cozy mountain huts offering food and lodging at frequent intervals.
Although the terrain on the AV#2 is more varied than on AV#1, the family resemblance remains in the utterly sublime nature of the landscapes encountered en route. The highlights of this one are nothing short of awe-inspiring, with the Marmolada (at 10, 968 feet, the Dolomites' highest peak), the Pale di San Martino, the lunar landscapes of the Sella Group, and the exquisite Val Gardena the pick of the bunch.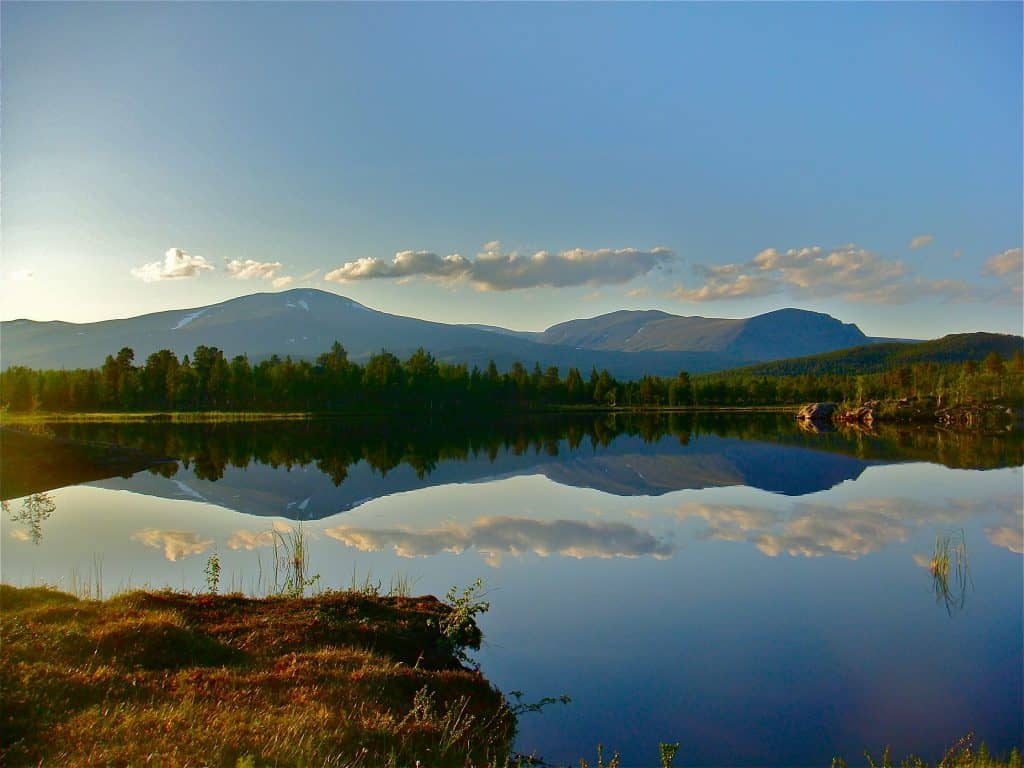 This 270-mile route in Sweden's far north unfolds in one of Europe's largest and last remaining wildernesses and passes through the Vindelfjällens Nature Reserve, one of the biggest protected areas on the continent. Although a popular route, without venturing into the Carpathians in Romania or Norway's arctic circle, there are few spots in the "Old Continent" where you're likely to encounter such unspoiled, raw, and unpeopled terrain as this.
The Kungsleden can be done on foot in summer months or on cross-country skis in the winter and spring—we imagine, however, that once you've done one you're likely to want to return to do the other!
The route can take anything from two weeks to four weeks, during which you'll be treated to a visual feast of stark arctic tundra, snow-capped peaks, mile upon mile of old-growth forest, and a succession of landscapes that, despite the trail's popularity, appear to have been entirely untouched by mankind.
As an added bonus, wild camping in Sweden is legal, so you can pitch your tent wherever your "tank" happens to run empty at the end of any given day. If you'd prefer a little more in the way of creature comfort, however, there are over twenty rustic mountain huts on the route where you can cook, eat, sleep, enjoy a bit of banter with fellow trail-goers, and even stock up on a few essentials such as trail bars, cooking gas, and toiletries.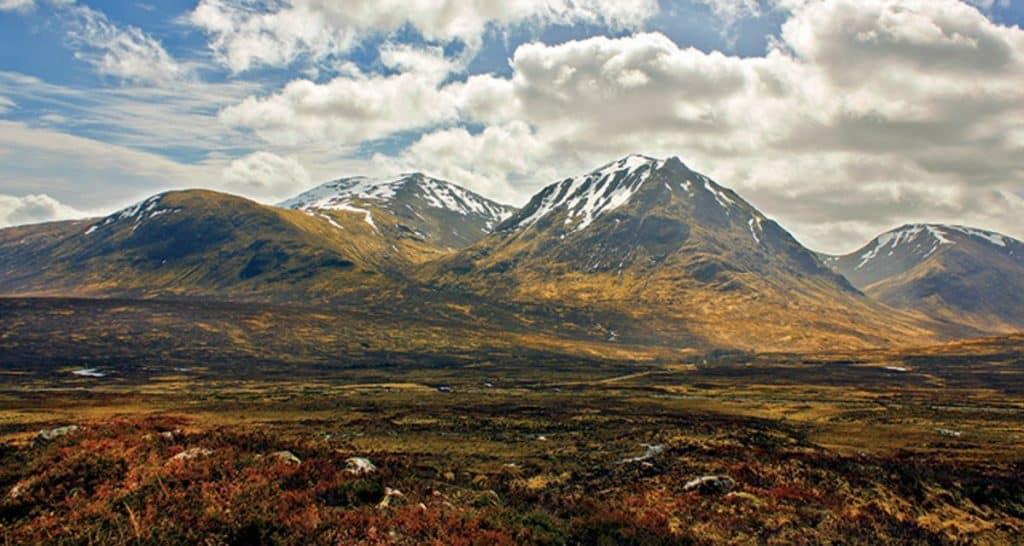 This 96-mile route is Scotland's most popular trail but, despite the relatively high volume of foot traffic, still manages to reward visitors with an almost eerie sense of isolation as it threads its alternatively gentle and grueling course through a delectable succession of lonely glens, rugged glacial cirques, long, wild stretches of heather-clad, loch-strewn upland, bleak moorlands, and exquisitely picturesque valleys.
Connecting the town of Milngavie with the outdoor hub of Fort William, this route takes in some of the most ancient mountains on our planet, the most notable being the picture-perfect pyramid of the Buchaille Etive Mor and Scotland's highest mountain, Ben Nevis.
Wild camping is permitted in Scotland, but be sure to pack a can of bug spray and pick up a head net to fend off Scotland's most infamous and universally despised local, the dreaded "midge." This tiny flying insect may be all but invisible to the naked eye but is capable of driving even the most level-headed camper absolutely nuts with its propensity to evade all defenses employed to ward it off. If you'd prefer a midge-free zone for sleeping, the route can easily be divided into sections with stopovers at bed and breakfasts and guesthouses along the route.
6. Tour du Mont Blanc, France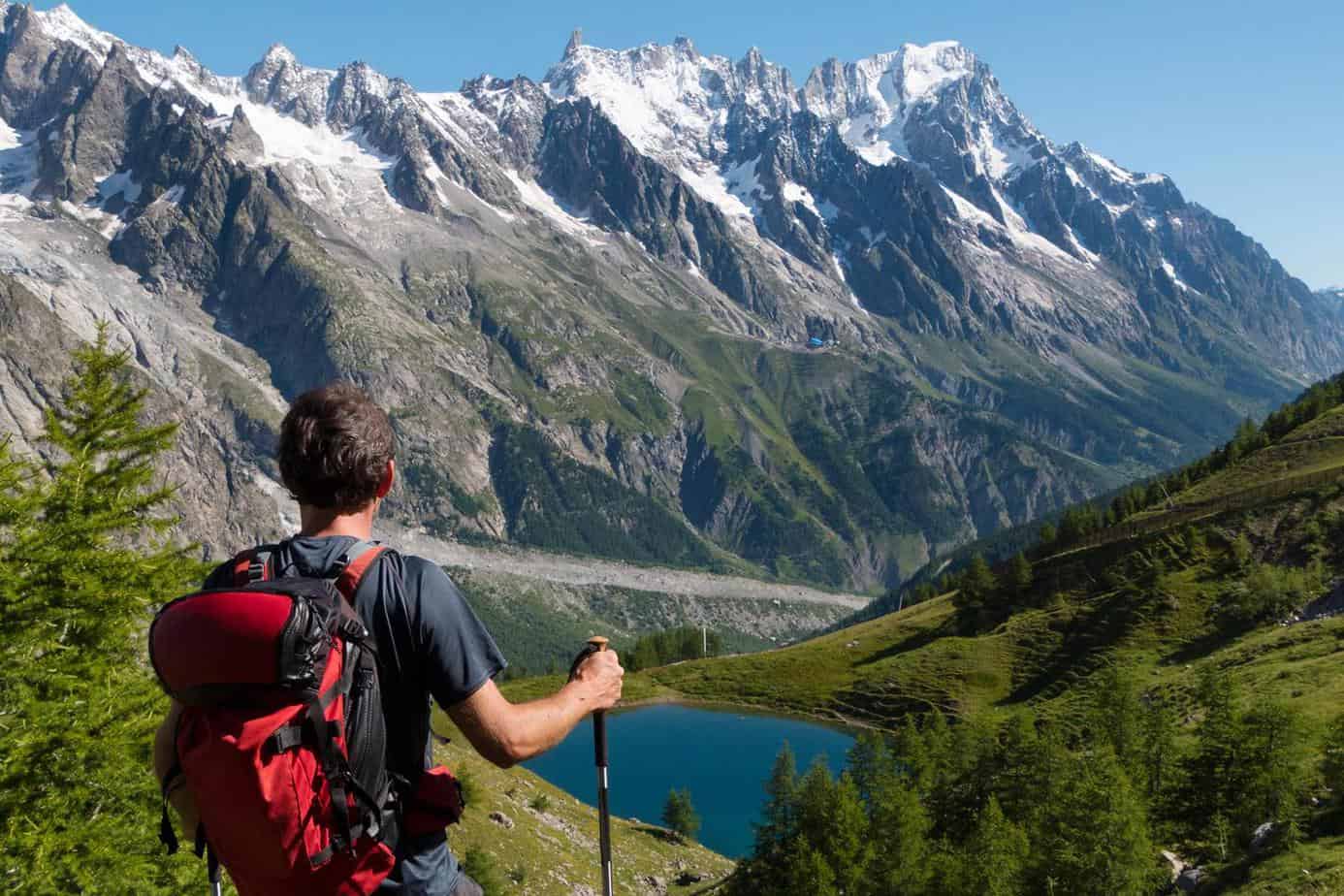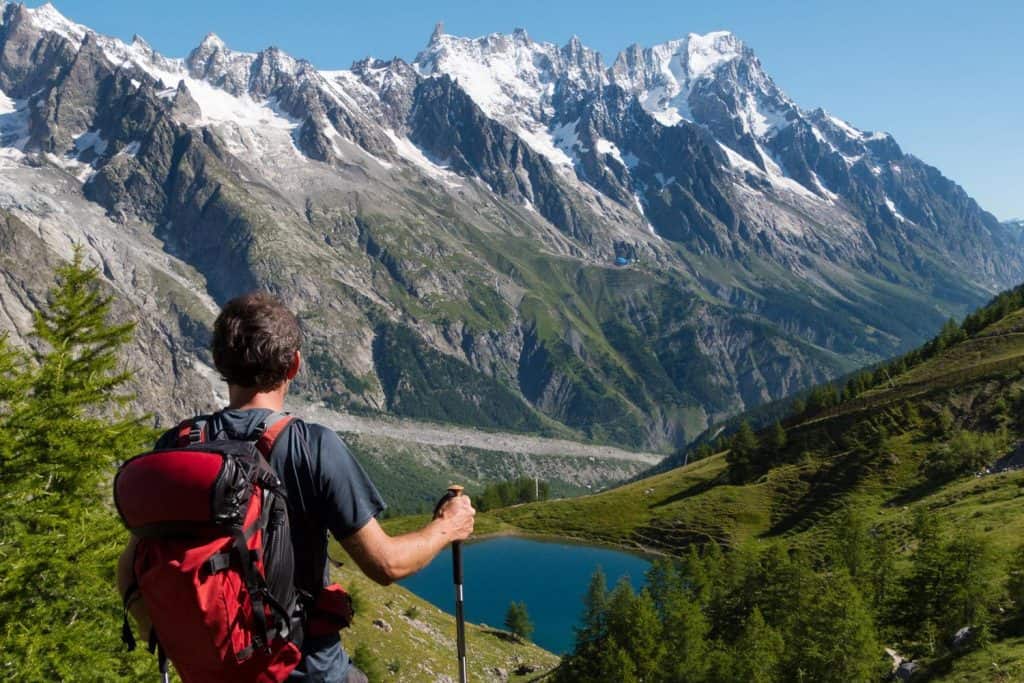 Mont Blanc is the Monarch of mountains; They crowned him long ago, On a throne of rocks in a robe of clouds – With a Diadem of Snow.
When one of history's most celebrated debauchees, alcoholics, and fornicators is moved to put aside his usual subject matter—ill-fated love affairs, war, the meaning of life—to offer such glowing praise of a mass of rock, snow, and ice, it's a fairly good indicator that said mass of inanimate matter is probably just a little bit special.
And few who have laid eyes upon continental Europe's highest peak, Mont Blanc (or "Monte Bianco" if you're on the mountain's Italian side) would care to differ.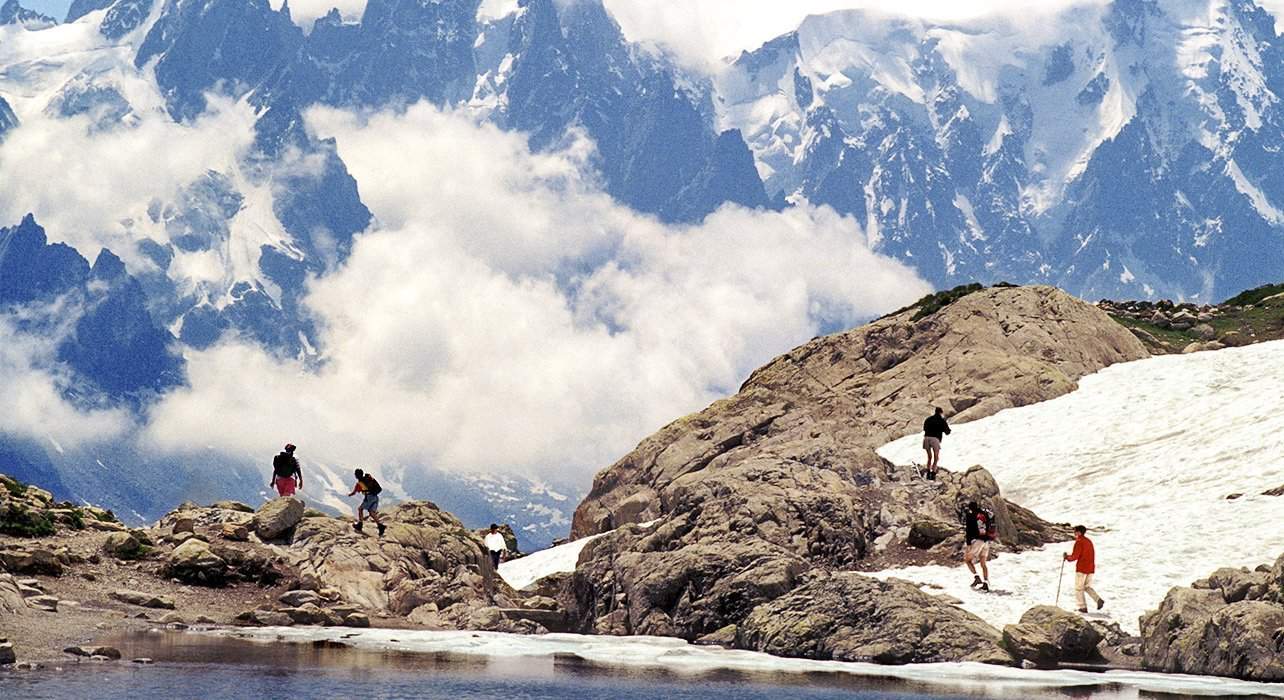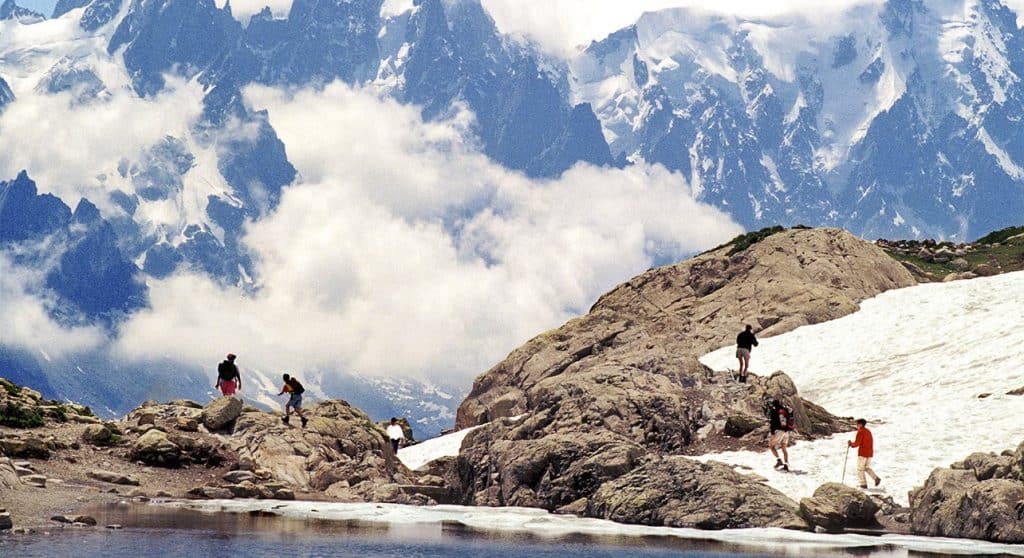 There are countless ways to see the 15,780-foot "Monarch," but undoubtedly the most rewarding and visually enthralling is the classic Tour du Mont Blanc, a 10-12 day, 106-mile trek around the massif that lets you see the "White Mountain" from every angle imaginable.
The trail begins and ends in the popular ski resort of Chamonix, France, and while circumnavigating its gargantuan centerpiece passes through neighboring Italy and Switzerland, giving hikers views of the Grandes Jorasses, Aig d'Argentiere, Aid du Midi, the Dru, and an array of other mighty peaks along the way.
Camping is forbidden on the route, but hikers can stay in a network of very accommodating—if slightly pricey—mountain huts and use these as a base to take on a number of worthy trail variants that could potentially extend the tour by another six or seven days.
The trail is popular, so be sure to book your bed in the huts well in advance and bring along a pair of earplugs to block out the din of the dozen or so snoring bed companions you're sure to be sharing with in the very "cozy," dorm-style sleeping quarters!
7. Selvaggio Blu, Sardinia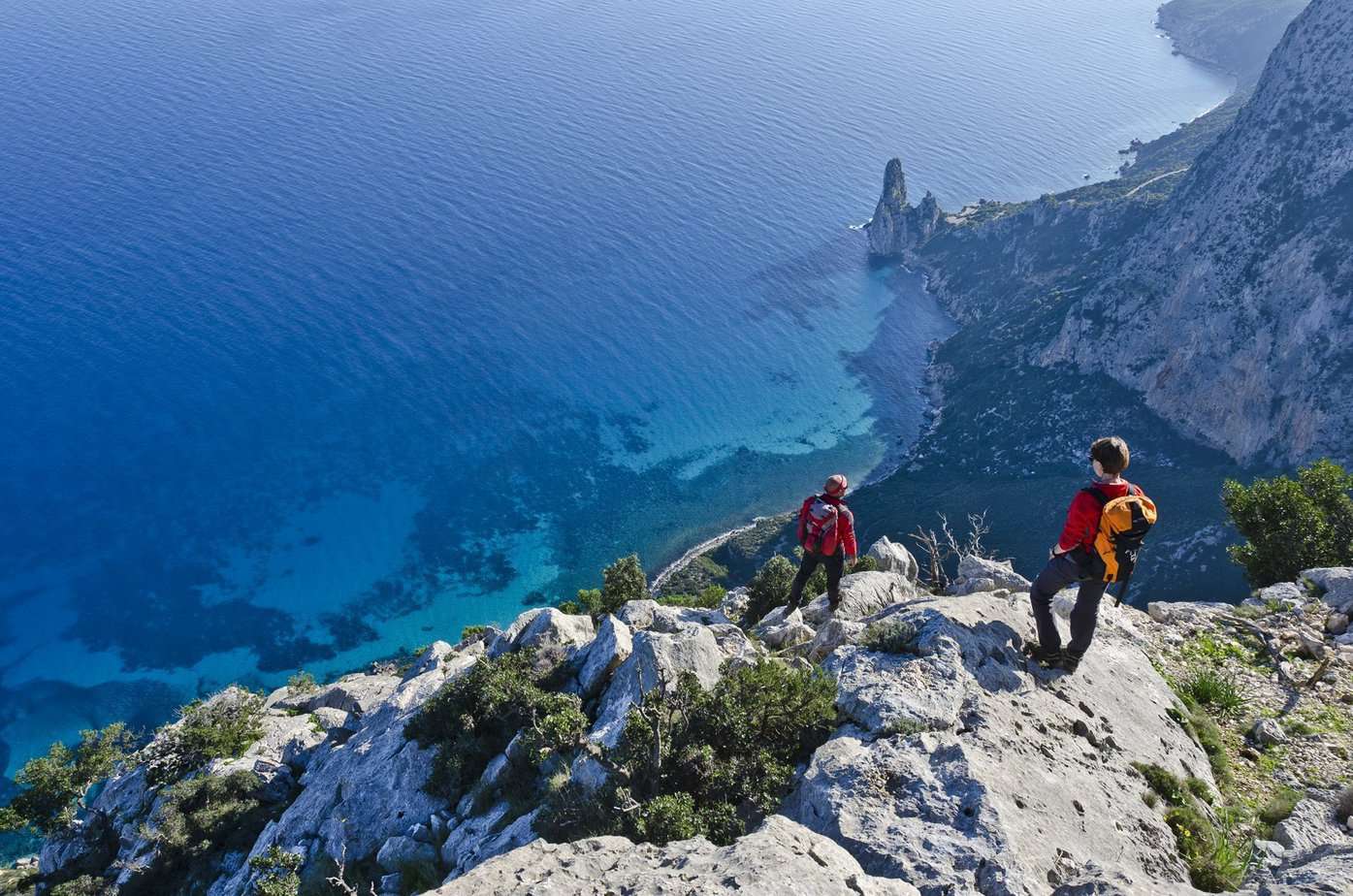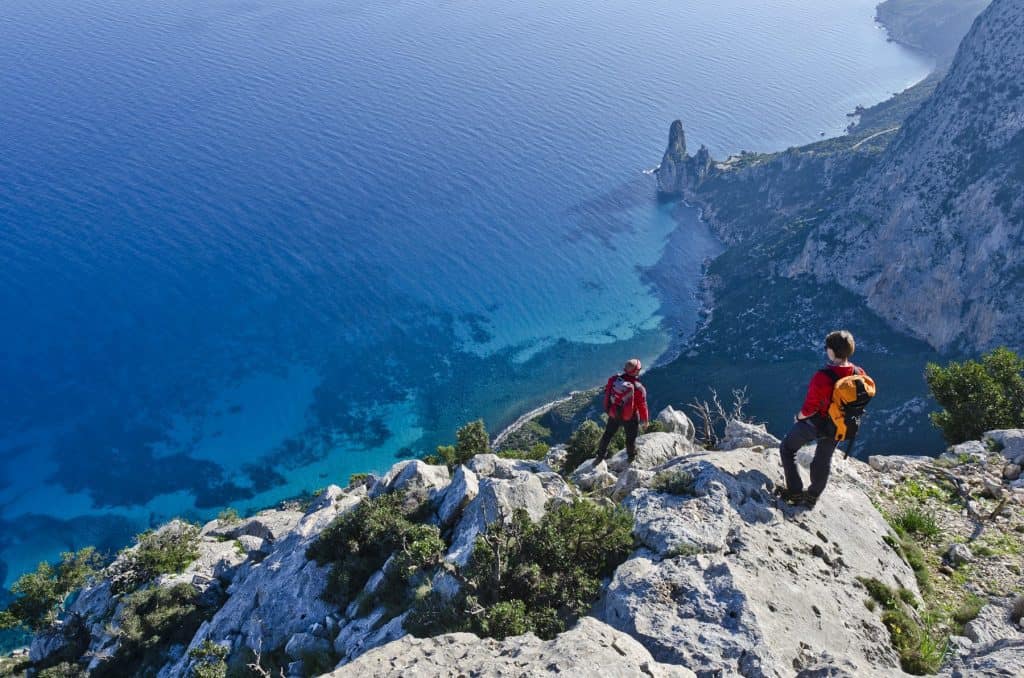 The Selvaggio Blu is a route that defies definition. Neither an out-and-out trekking trail nor a climbing route or via ferrata, it combines all three in a very full-on, 60-kilometer challenge of any aspirant's mettle, navigational skills, head for heights, fitness, and resistance to the temptation to just kick back on one of the many undeveloped, pristine, an utterly gorgeous beaches passed en route.
The route traverses a particularly barren stretch of Sardinia's eastern coastline, ascending and descending steep mountainsides and limestone cliffs, wending through ancient Mediterranean pine forests, and hopping between lonely beaches by way of airy connecting trails on the testy terrain above.
It takes in some of the most outstanding scenery Sardinia has to offer and at no point feels like many of the more domesticated and tourist-heavy routes found in more popular outdoor destinations in Europe or the rest of the world.
Translated directly in English, the Italian term means "wild blue," which is as apt, if terse, a name as any it might have been given. The trail covers some of Sardinia's (and indeed Europe's) wildest terrain, and at almost every stage along the way participants are regaled with uninterrupted views of the raw limestone wonderland along the Gulf of Orosei on the island's east coast and, of course, the ever-present azure of the Mediterranean Sea.
Unlike other trails in Italy, "Wild Blue" is not waymarked and is not served by a network of rifugi (mountain huts) where you can sleep, eat, and stock up on supplies. To get around this logistical problem, most aspirants hire a guide or work with a local guiding outfit who provide support by making food drops on selected beaches along the route.
8. Haute Route, Switzerland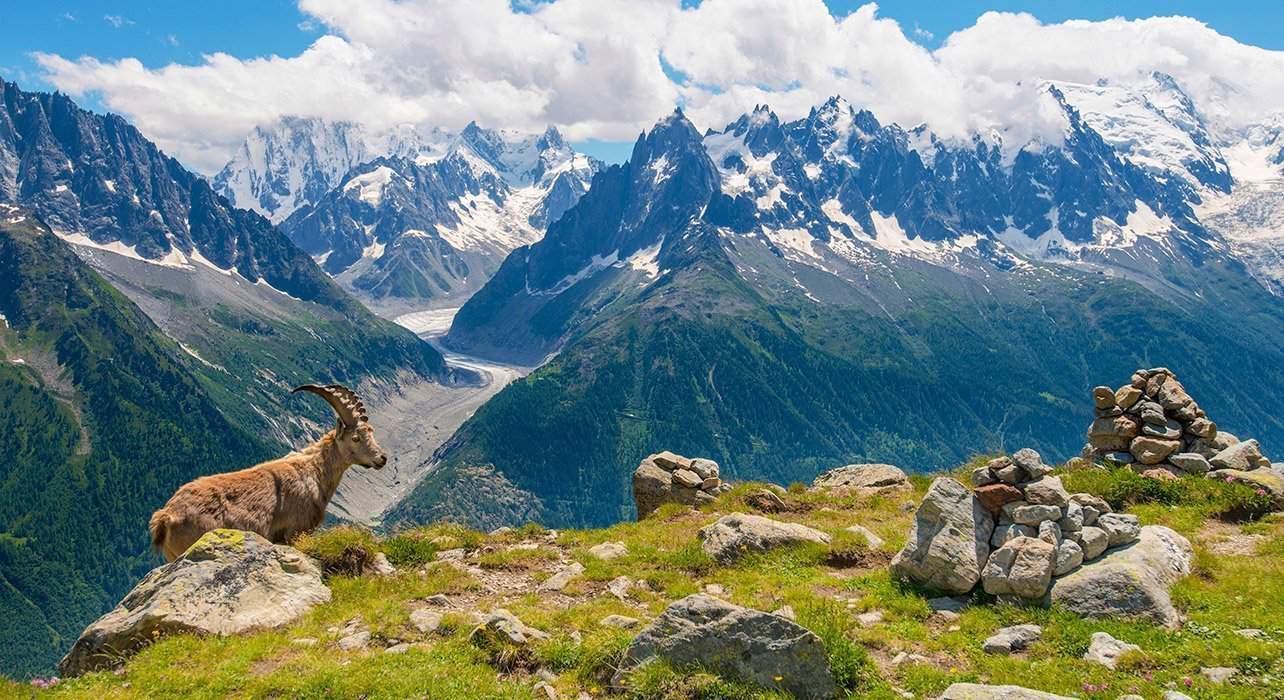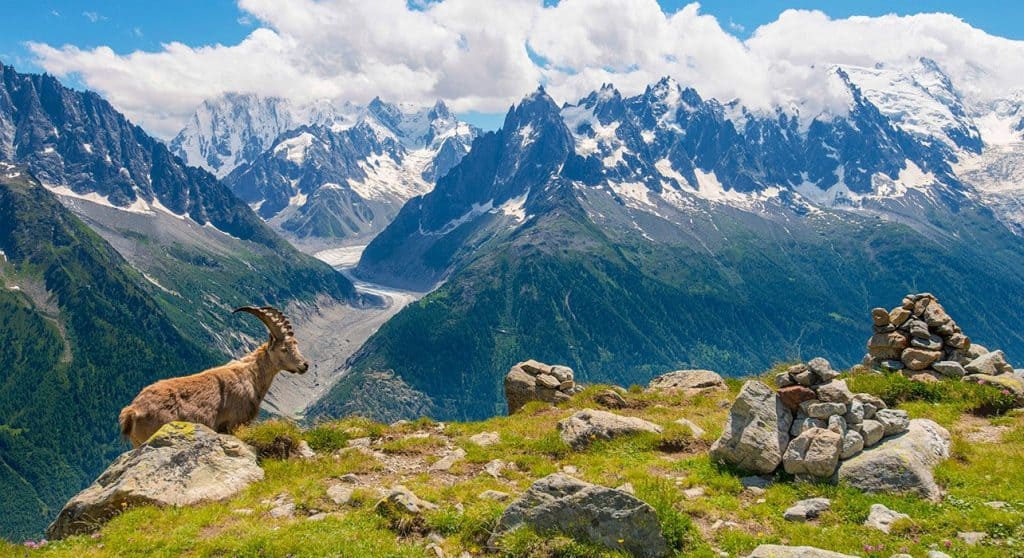 Another of Europe's treks that falls into the "all-time classic" category, the Swiss Haute Route has been a favorite of Europe's most hardened hikes for over a century. And with such sights as the Matterhorn, Mont Blanc, and Monte Rosa to be enjoyed en route, it's not hard to see why.
Two versions of the route exist: the first a high-altitude, alpine route that involves glacier crossings and mountaineering expertise; the second a lower-level route that stays below 10,000 feet and is suitable for walkers of all levels of fitness and ability. Both routes take around twelve days to complete, starting at Chamonix in France and ending in the shadow of the Matterhorn in Zermatt, Switzerland.
9. Cinque Terre Coastal Path, Italy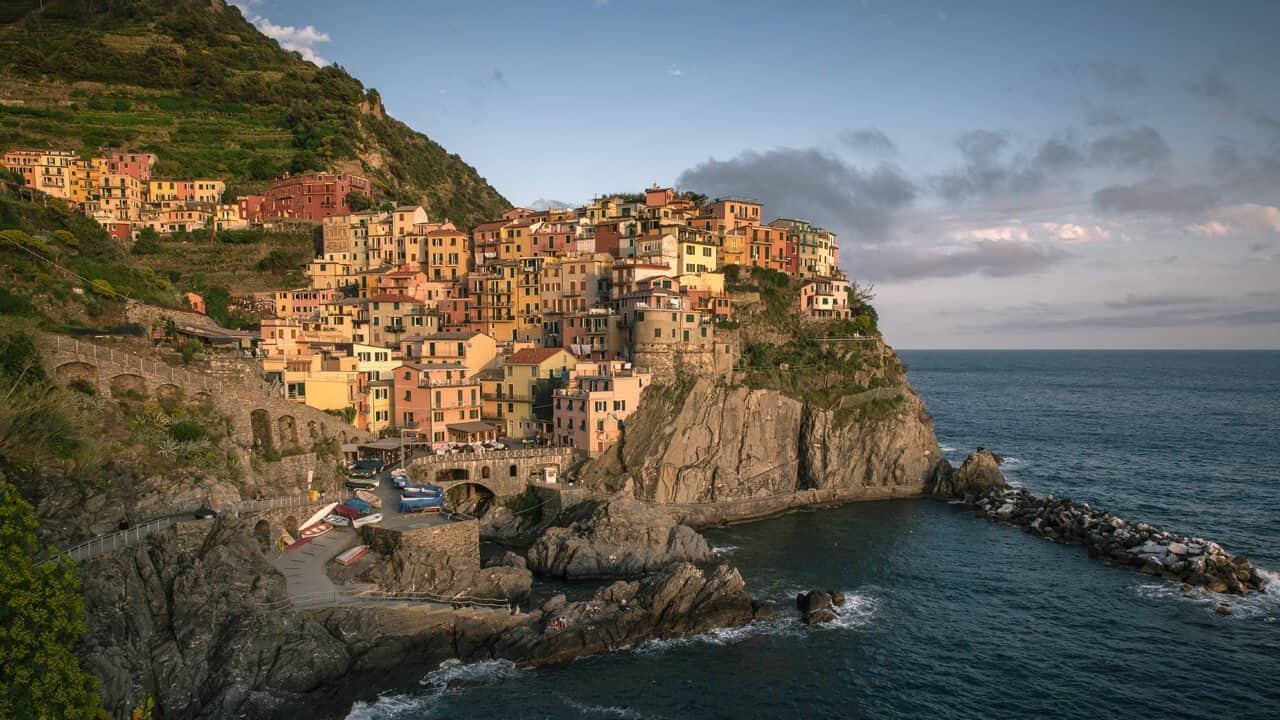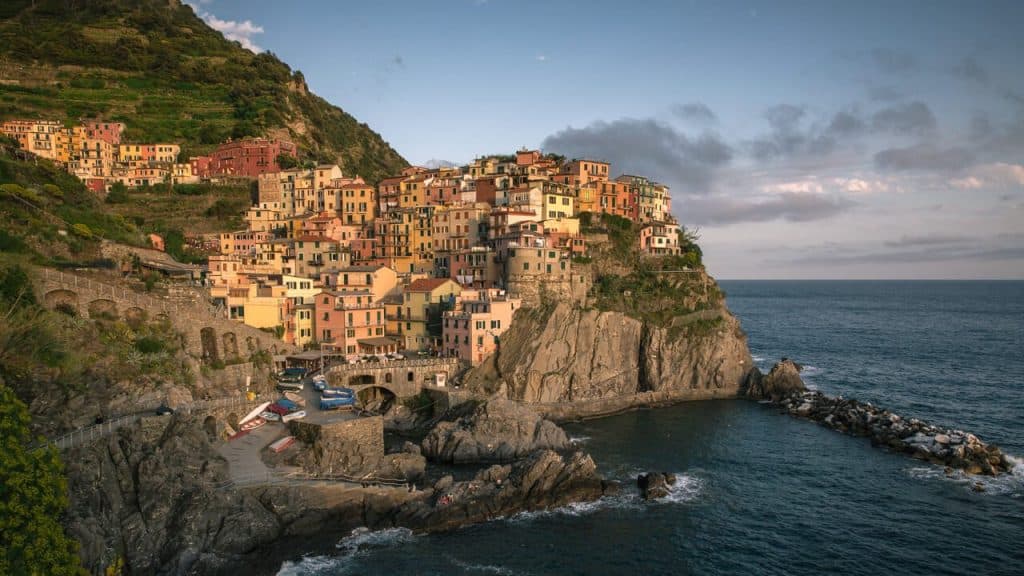 In recent years, Liguria's Cinque Terre has become Italy's must-see destination. Famous with outdoor-goers, celebrities, foodies, and film stars alike, this is a location quite unlike any other. Dotted along a short stretch of the Italian Riviera's rugged limestone coastline, the route is split into sections beginning and ending in a handful of the most outrageously picturesque coastal villages you're ever likely to lay eyes upon.
The Coastal Path connects a number of smaller trails and is the best way to evade the crowds that descend upon the villages (in all seasons, sadly) by taking you up onto the overlooking hillsides, where—gladly—things are a little less claustrophobic.
The route runs from the town of Levanto in the north to Portovenere in the south, maintaining a high line through the national park's tree-lined hills, but offers plenty of variations that descend to the seaside and coastal trails linking the area's famed five villages: Monterosso, Vernazza, Corniglia, Manarola, and Riomaggiore. The most unmissable section of the route is Trail #2, "The Blue Route" (Sentiero Azzurro), which takes in all five of these villages on a very easygoing 7.5-mile stroll along what is arguably Italy's most stunning stretch of coastline.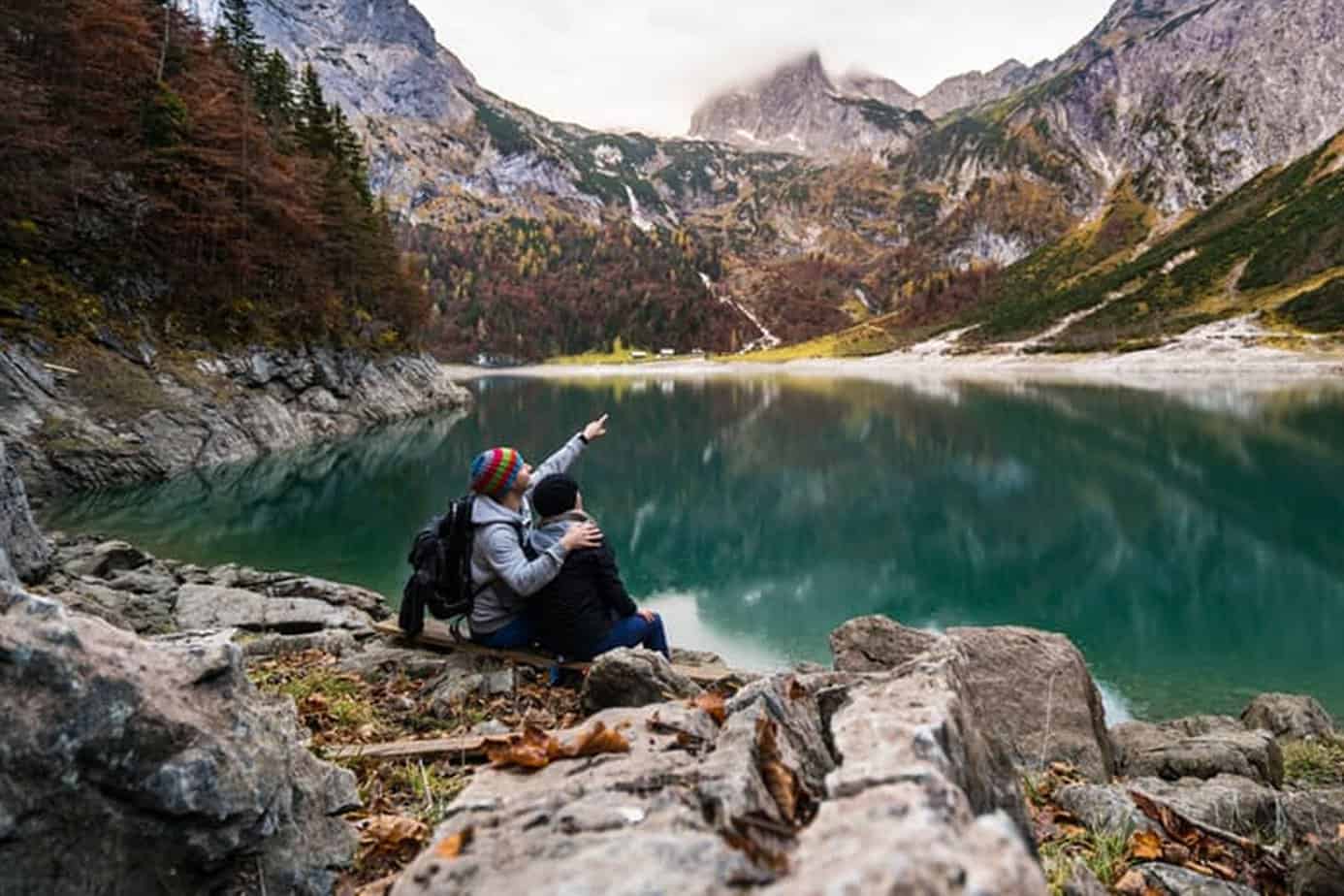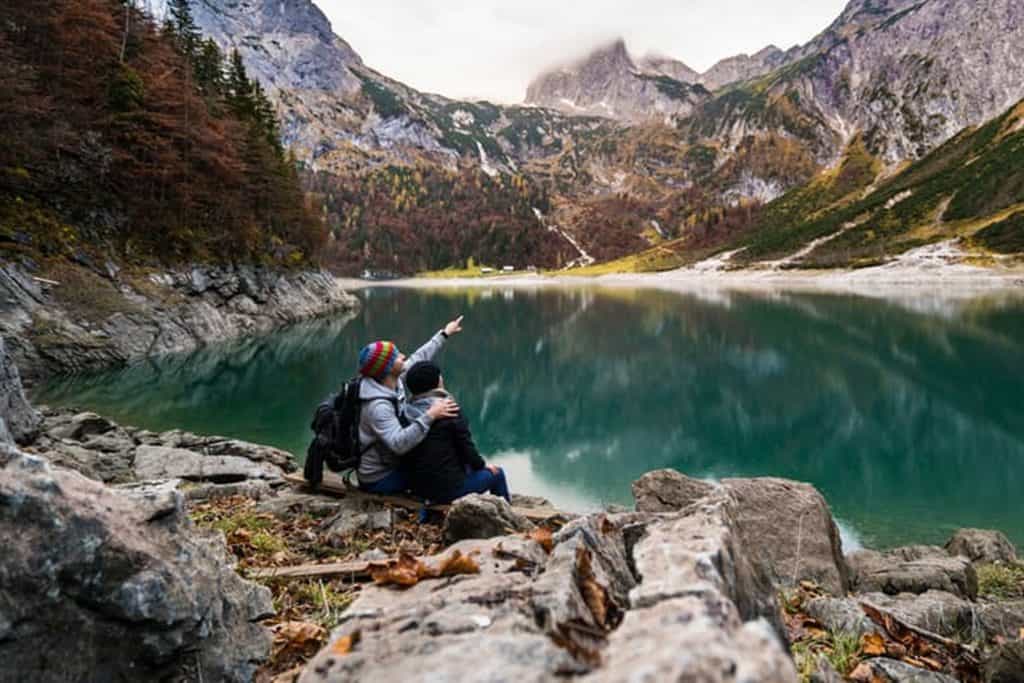 For those who like to mix up their hiking with a little bit of a spiritual quest, Spain's epic pilgrimage route to the site of the relics of Saint James is one not to be missed.
There are many variants of this route, with the longest of them beginning as far afield as Rome, Vienna, and even Bristol, England, but the most common itinerary begins in Roncesvalles in northern Spain and concludes at the cathedral in Santiago de Compostela. Even this "abridged" version runs a total of 500 miles, so be sure to book enough vacation days (in the region of 30, at a bare minimum) if planning to walk St. James's Way in its entirety.
First walked after the discovery of St. James the Great's remains by a local bishop in 812 AD, today the route attracts hundreds of thousands of visitors every year, most of whom make use of the plentiful guesthouses and pilgrim's hostels providing cheap accommodation along the way.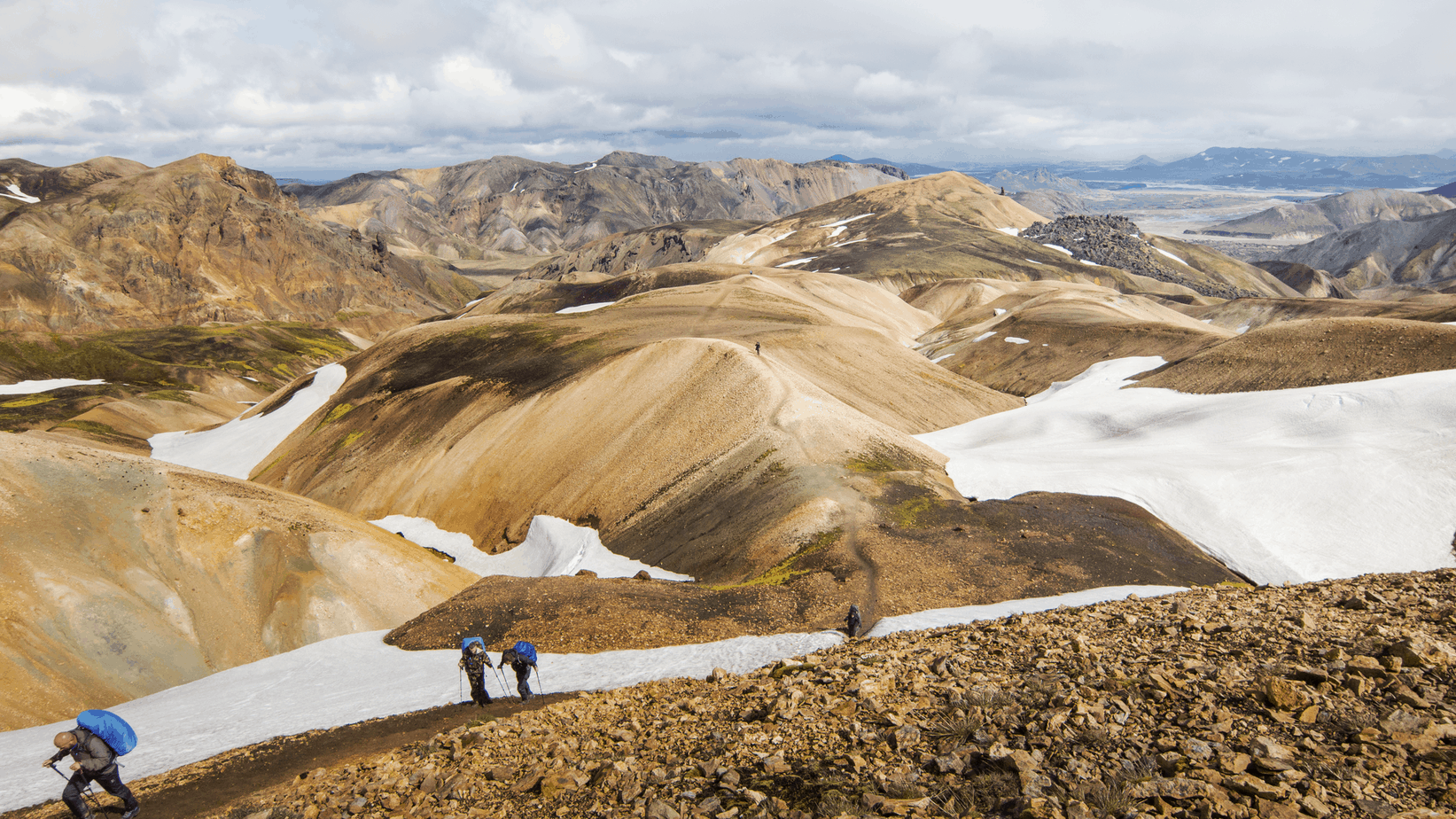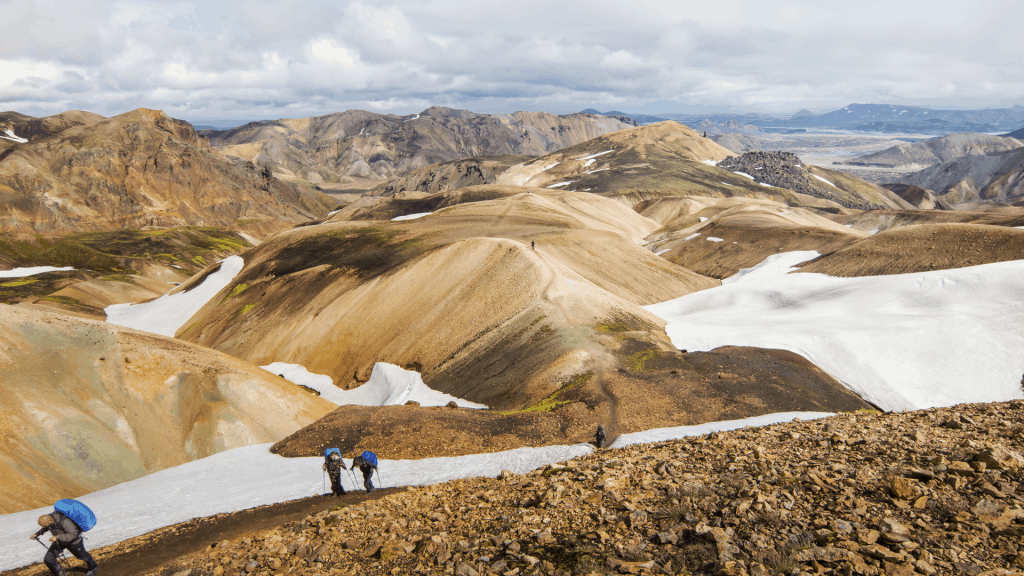 Very few trails around the globe take in a network of scenic natural hot springs and offer views of rolling glaciers, active volcanoes, outrageously multi-hued mountains, and Eden-like valleys all in the space of a mere 34 miles. Iceland's Laugavegurinn Trail, indeed, is a trail unlike any other.
Throughout this route, hikers barely get the chance to digest and recover their senses from the latest marvel they've stumbled upon before another arrives just around the next turn in the trail. While the trail is doable in a weekend or even a very (very) long day, we'd recommend making use of at least four of the six huts that divide the route into handy, bite-sized sections, and taking your time to soak up all that scenery.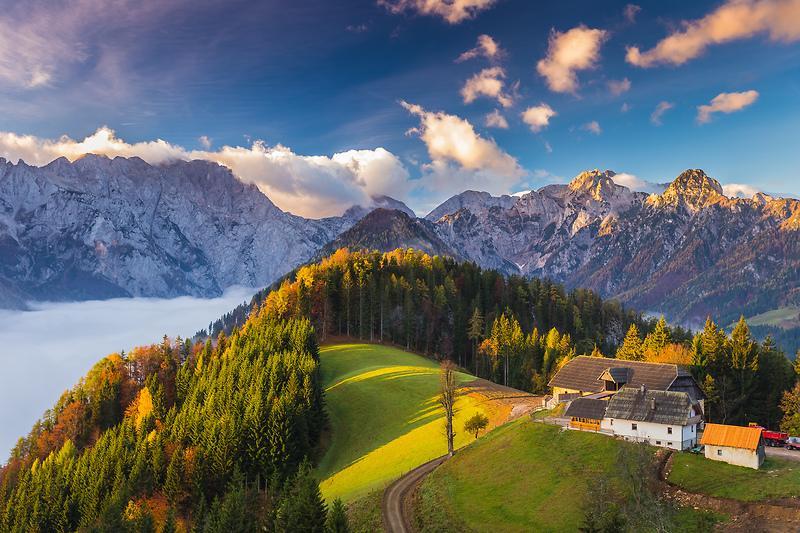 Slovenia is without any doubt one of the most inexplicably and unjustifiably overlooked hiking destinations in Europe, if not the world. Home to giant peaks, gorgeous alpine lakes, enormous north faces, and a network of superb mountain huts that put those of most other hiking destinations to shame, this is a small country with a lot to offer for those with a head for heights and a passion for majestic alpine scenery.
Beginning in the alpine town of Maribor, the Slovenian Mountain Trail links Slovenia's largest mountain ranges—the Julian Alps, Kamnik-Savinja Alps, Pohorje, and Karavanke—on its way to the trail's terminus in the coastal village of Ankaran, some 310 miles from the starting point.
In between, the route takes you along knife-edge mountain ridges, up and over huge (and often snow-capped) peaks, and down into some of the prettiest alpine valleys on the planet. It is served by over 50 mountain huts, all of which are far more favorably priced than those found in more popular trekking areas in western Europe but can be particularly busy from July through September.
The pick of the bunch has to be the Kredarici Hut, which provides the perfect base for a summit push on Slovenia's highest peak, Triglav, the following morning.
13. Alta Via della Valmalenco, Italy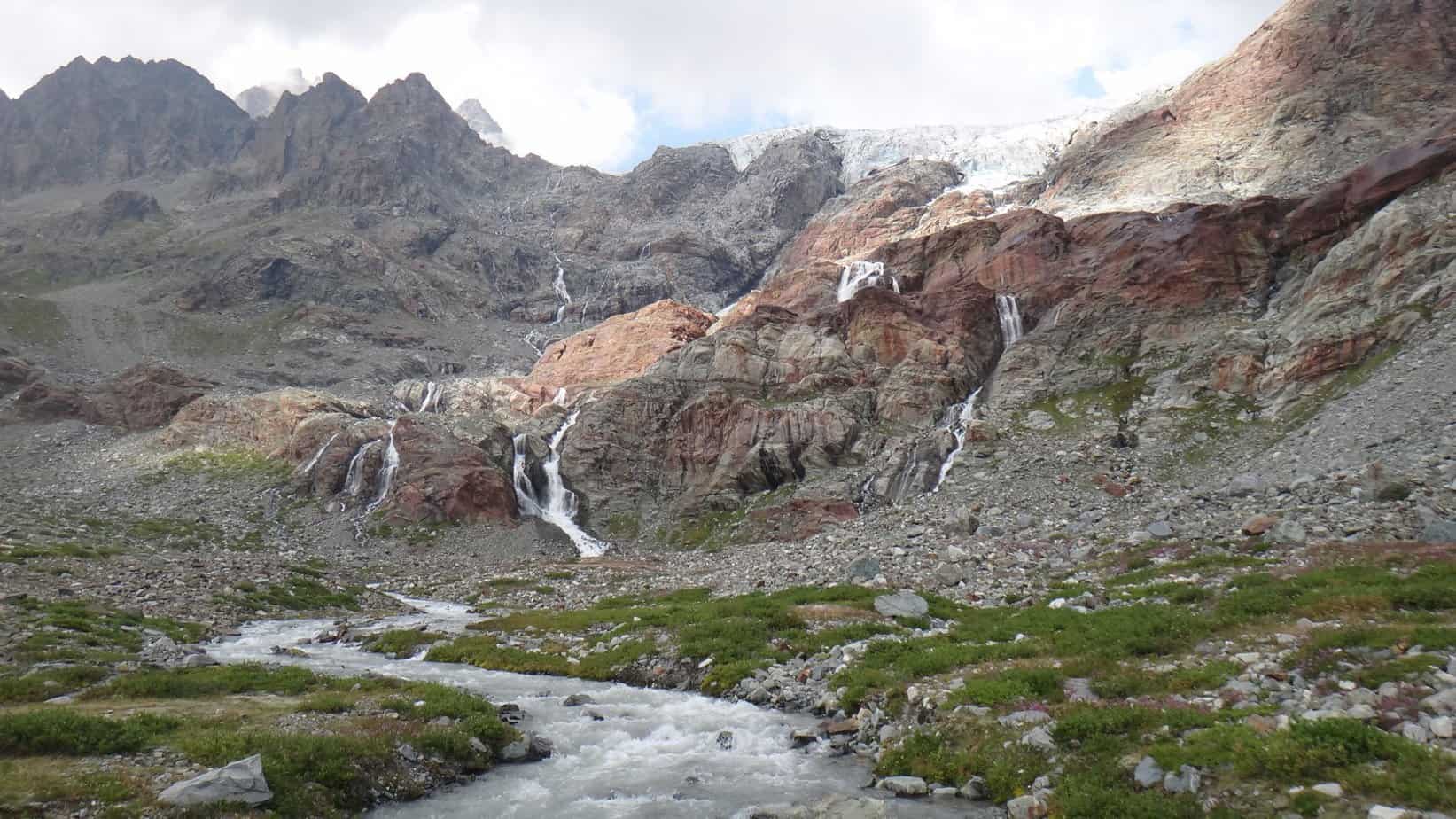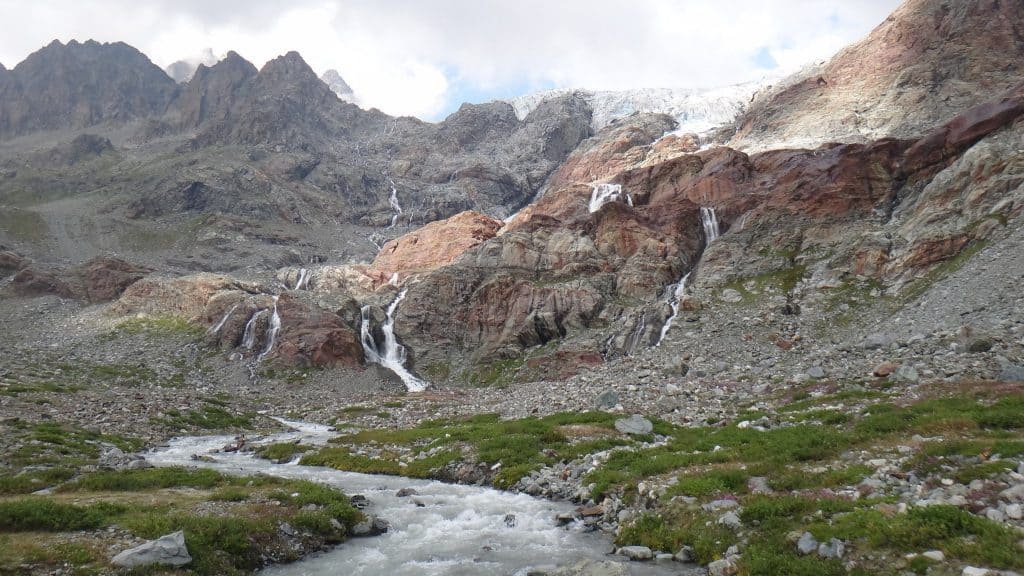 With such giants as the Matterhorn, Gran Paradiso, Mont Blanc, Monte Rosa, and the Tre Cime di Lavaredo on show for hikers in Italy's most popular outdoor destinations, many other outstanding mountainous areas in the bel paese rarely get a look in from overseas visitors. One of the most worthy of these is the region of Sondrio's Valmalenco, an area that packs a plethora of mighty peaks, exquisite scenery, and exhilarating trails into one oversized valley and its offshoots.
This 68-mile Alta Via della Valmalenco ("High Route of Valmalenco") takes 5-8 days to complete and passes through some of the most outstanding scenery Italy has to offer, from huge glaciers and snow-capped peaks to alpine meadows and almost edibly quaint mountain villages. With over 20,000 feet of ascent and descent, this hike is no cakewalk, but with trailheads just two hours from Milan it's a very doable and attractive option for those with less time on their hands.
Like most long-distance trails in Italy, the route is served by a handful of cozy, efficient mountain huts, with the pick of the bunch being Rifugio Marinelli and Rifugio Bignami, both of which lie at the foot of spectacular glaciers and are overlooked by the giants of Piz Bernina and Piz Palu respectively.
14. Stubai High Trail, Austria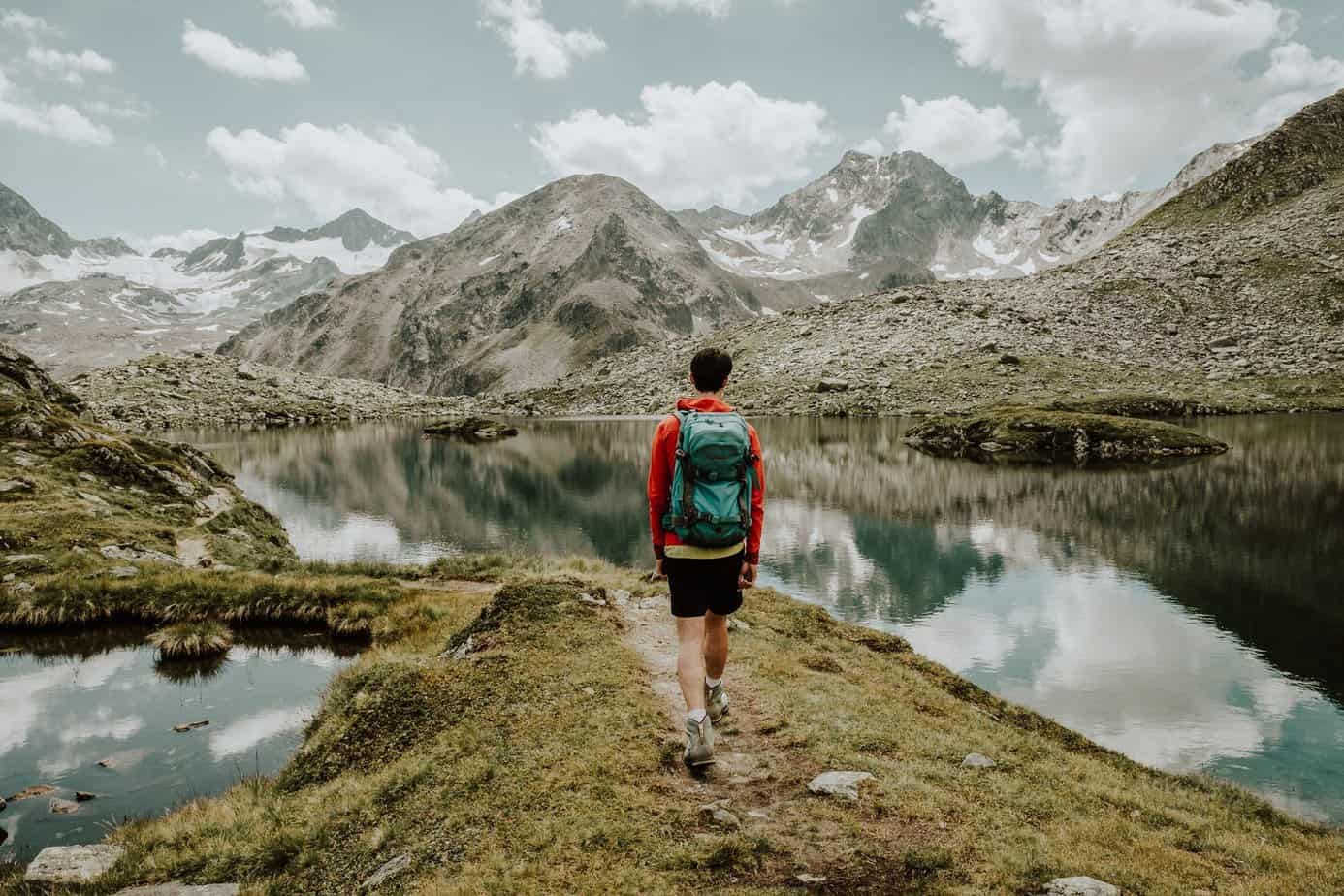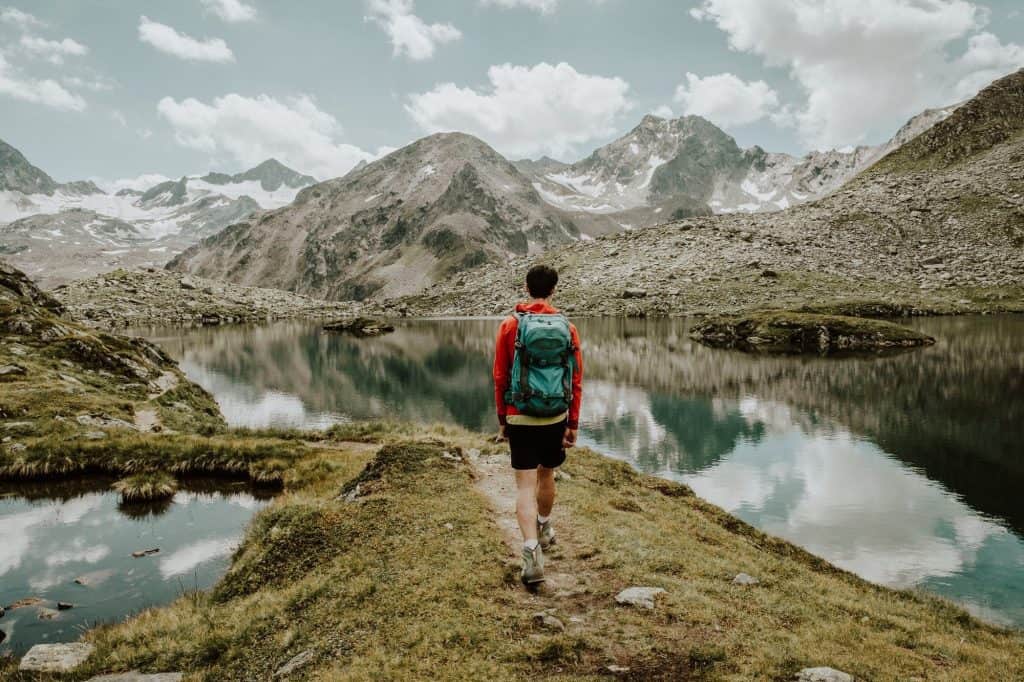 If spending a week in a veritable wonderland of high alpine scenery peppered with dozens of visual delights in the form of gushing waterfalls, massive glaciers, enormous peaks, and florid alpine meadows sounds appealing, Austria's Stubai High Trail in the Tyrolean Alps merits its place on your shortlist of must-do hikes in Europe.
This 62-mile trail is served by eight well-run, friendly mountain huts that allow you to travel light and dine on a selection of hearty local dishes at the end of each day on the trails. And you'll deserve them, too…Although fairly short compared to many other thru-treks in Europe and elsewhere, the Stubai Höhenweg has over 26, 000 feet of total ascent and descent and throws in a handful of lung and calf-busting climbs along the way.
TIP: Before heading to take on the Stubai Trail, sign up as a member of the Austrian Alpine Club online to get reduced rates on accommodation and meals in the mountain huts.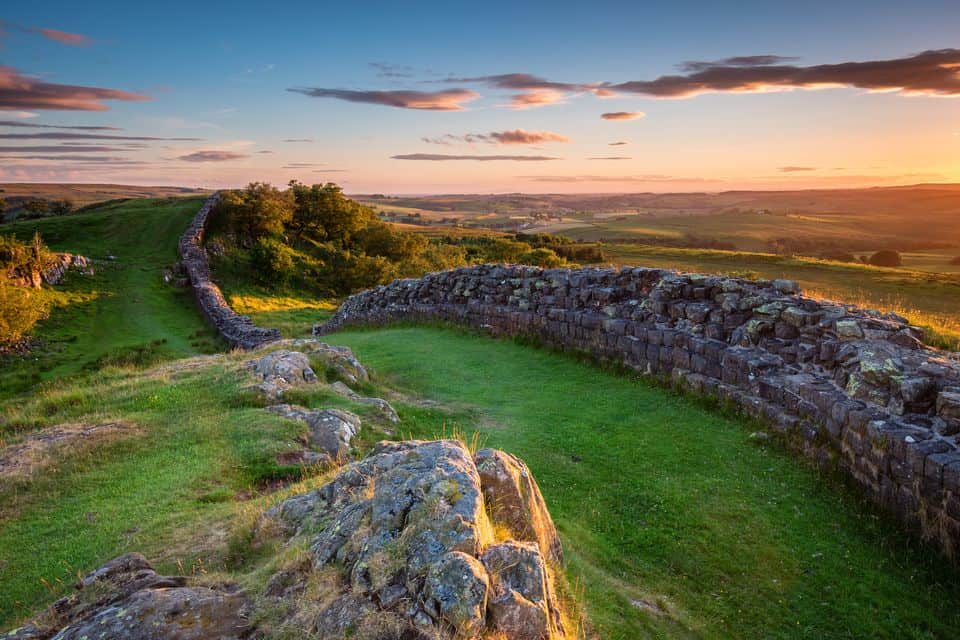 Northern England's version of China's "Great Wall," Hadrian's Wall once marked the northern terminus of the Roman Empire. These days, the remains of the line of defense erected to ward off bands of invading tribes from neighboring Scotland (at that time Dalriada) is a UNESCO World Heritage Site that stands as the waymarker of all of all waymarkers on an 84-mile, coast-to-coast footpath traversing the highly picturesque counties of Northumberland and Cumbria.
The trail is dotted with numerous points of historical interest—Roman forts, mile castles, and museums—and passes through dozens of quaint villages where hikers can brave the local cuisine (!) and brews and find accommodation in guesthouses, bread and breakfasts, hostels, and reasonably priced campsites.
16. The Skye Trail, Scotland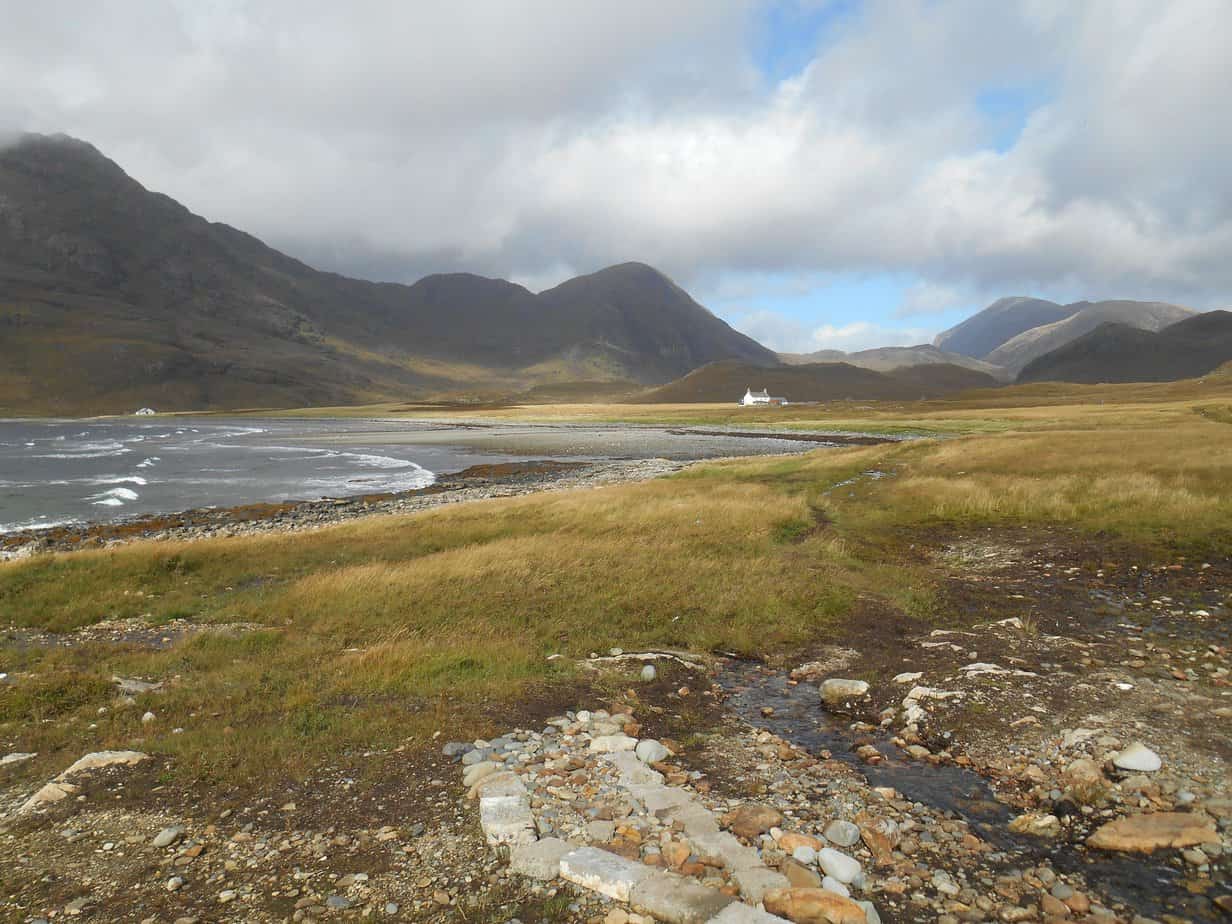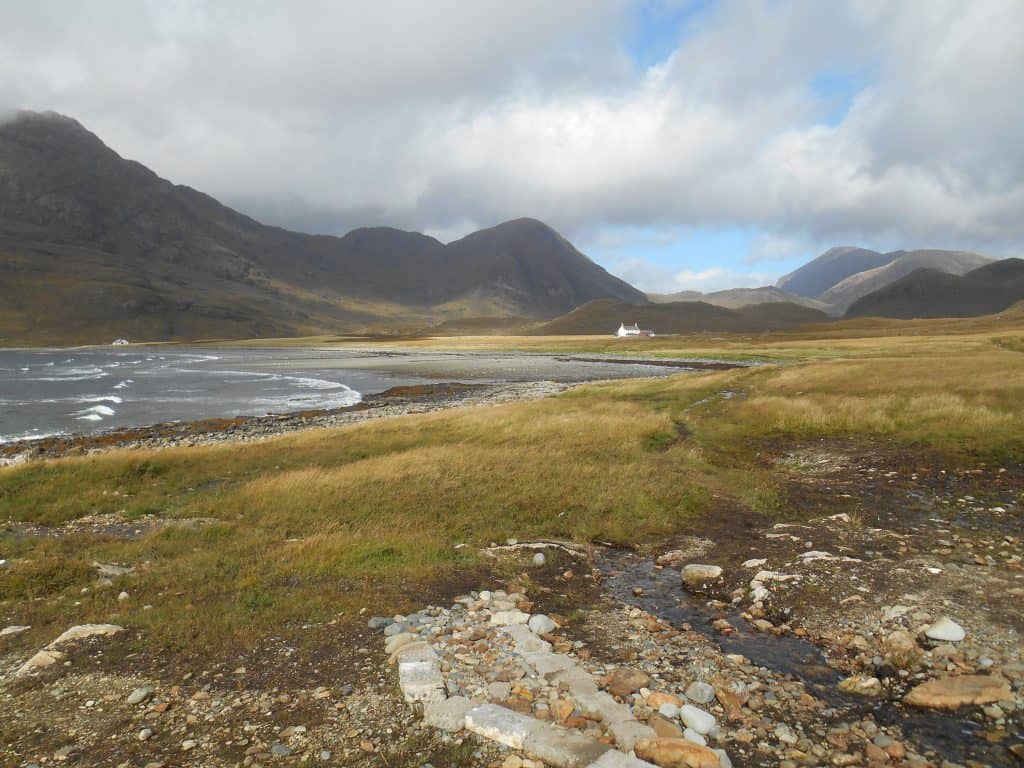 In 2014, National Geographic awarded the Isle of Skye a top-ten slot in its list of "tours of a lifetime". Though the consequences of the accolade have seen the island overrun by tourist traffic in the intervening years, the trails that wend their way through this magical location's fascinating terrain remain, thankfully, largely untrafficked.
The 80-mile Skye Trail runs from the village of Broadford in the south of the island to the lonely, windswept Rubha Hunish peninsula in the north. The route is unmarked, remote, and requires not only good navigational skills but also a decent tolerance for vagaries of weather—like most parts of northern Scotland, Skye is no stranger to biblical downpours, sleet, and frigid temperatures even in summer months.
This route serves up a steady feast of incredible landscapes from end to end, from the outlandish rock formations of the Quairang and the Old Man of Storr to the wonderfully moody Cuillin Mountains and the Trotternish Ridge. Cameron McNeish, editor of British outdoor magazine TGO says of Skye: "Any argument that says this is not the most astonishing landscape in Britain is surely indefensible." We're with Cameron…and we're sure you will be too!
17. Hardangervidda Plateau Traverse, Norway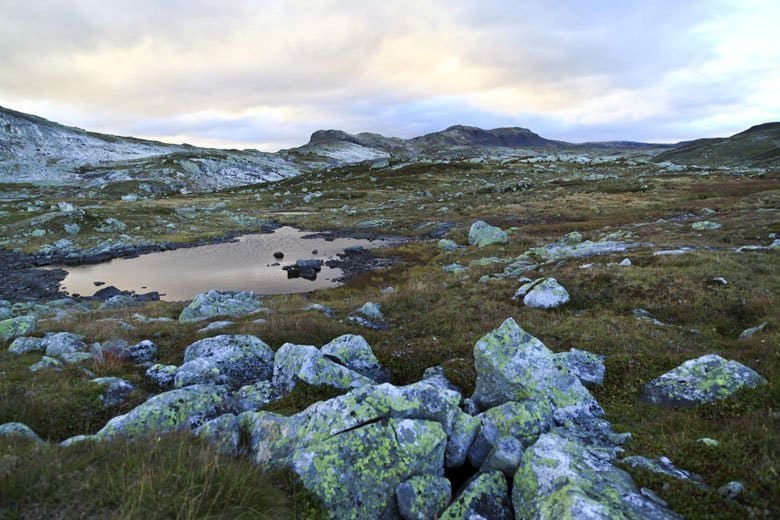 As detailed in our guide to the 15 Best Hiking Trails in Norway, southern Norway's Hardangervidda Plateau Traverse in Hardangervidda National Park takes in some of the wildest terrain in all of Europe.
Although served by a network of 30 public huts and boasting countless miles of trails, this high, barren expanse gives hikers a last-humans-on earth kinda feel and the type of wilderness experience fast becoming a rare commodity elsewhere in Europe. The 65-mile trail from Liset to Haukeliseter takes in the best this incredible area has to offer on a route that's largely unfrequented and possibly the wildest of the bunch. Served by a trio of lonely mountain huts at one-day intervals, hikers can afford to leave their tents at home, travel light, and enjoy their wander through this huge expanse of gorgeously stark mountainous terrain.
18. Transylvanian Mountain Trail, Bucegi and Făgăraş Mountains, Romania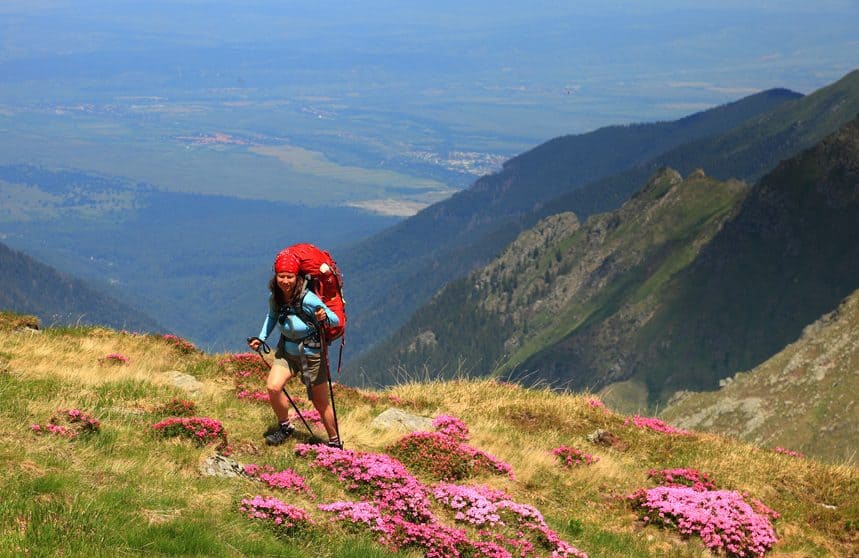 Frequently alluded to as "Europe's last great wilderness," Romania's Carpathian Mountains offer up a very different trekking experience to those found elsewhere in Europe. "Wild" doesn't really begin to cover it, and those with a preference for routes where creature comforts and mild pampering might be integrated into the rough and tumble of trail time would be best to look elsewhere.
For those for who like their mountains served raw, unseasoned by "optional" services and amenities, and largely uncluttered by crowds of other hikers, however, this could well be the hiking destination you've been looking for.
The term "Transylvanian Mountain Trail" is a bit of a misnomer, with the route being composed of multiple smaller trails that together make up an 80-mile route that traverses three of Romania's highest peaks in the Făgăraş range and the Bucegi Massif.
It offers oodles of epic mountain scenery en route and even throws in a handful of fascinating historical sites if you're willing to make the odd diversion down into the valleys below. The most notable of these is, as you might have guessed, the world-famous Bran Castle, reputedly the former residence of the infamous Count Dracula.
19. Cambrian Way, Wales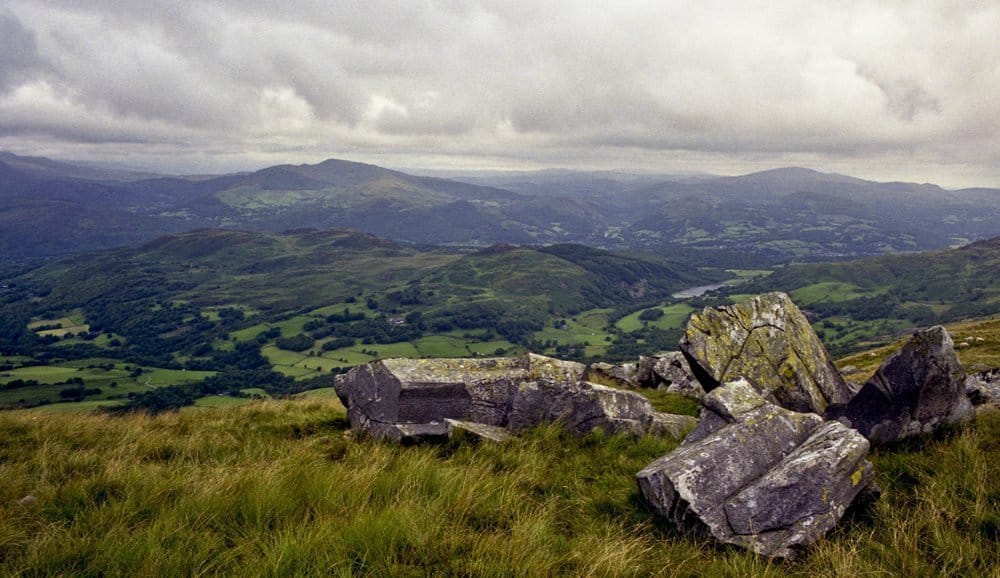 Few nations in the world excel in bucolic, pastoral scenery quite like Wales. From emerald-green dales dotted with picture-perfect farmsteads to dainty villages surrounded by fields where sheep and cows stand awaiting depiction on a landscape artist's canvas, "The Land of Song" does pretty better than any other nation we know.
Less well known—outside of the British Isles, at least—is Wales' plenitude of dramatic coastal and mountainous scenery, the main part of which is encountered on the epic Cambrian Way, the country's longest trekking route.
The Cambrian Way is a moderately strenuous trail that runs for 291 miles between the Welsh capital of Cardiff and the town of Conwy. Though never rising above the 3,000-foot mark, the trail is unmarked for the most part and traverses large swathes of wilderness where thick fogs and storms blowing in from the Atlantic can easily overwhelm the unprepared.
As such, for that intent on taking on the Cambrian Way, proficiency with a map and compass and is essential. The highlights of the route are undoubtedly the sections in Snowdonia National Park, where hikers have the opportunity to take on Wales' highest peak, Mount Snowdon (3, 560 ft).
Most of your overnight stops on the route will be in your tent, but the trail passes through a number of incredibly cute market towns, a vineyard or two, and plenty of small villages where you can stock up on supplies and treat yourself to locally produced ciders and beers before staggering back onto the trail.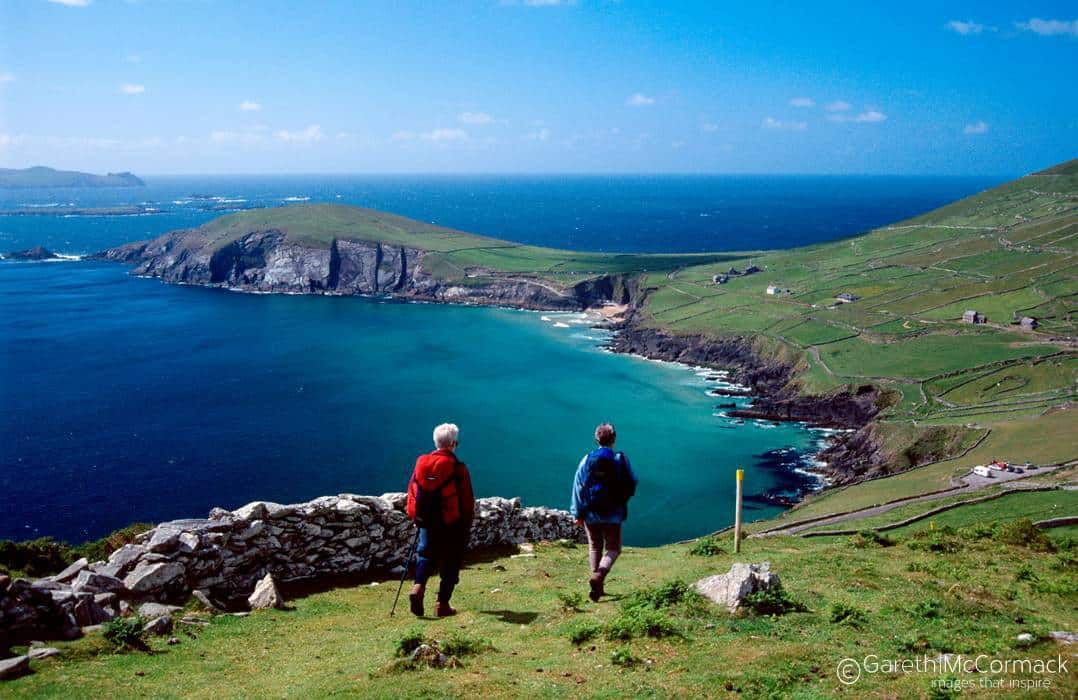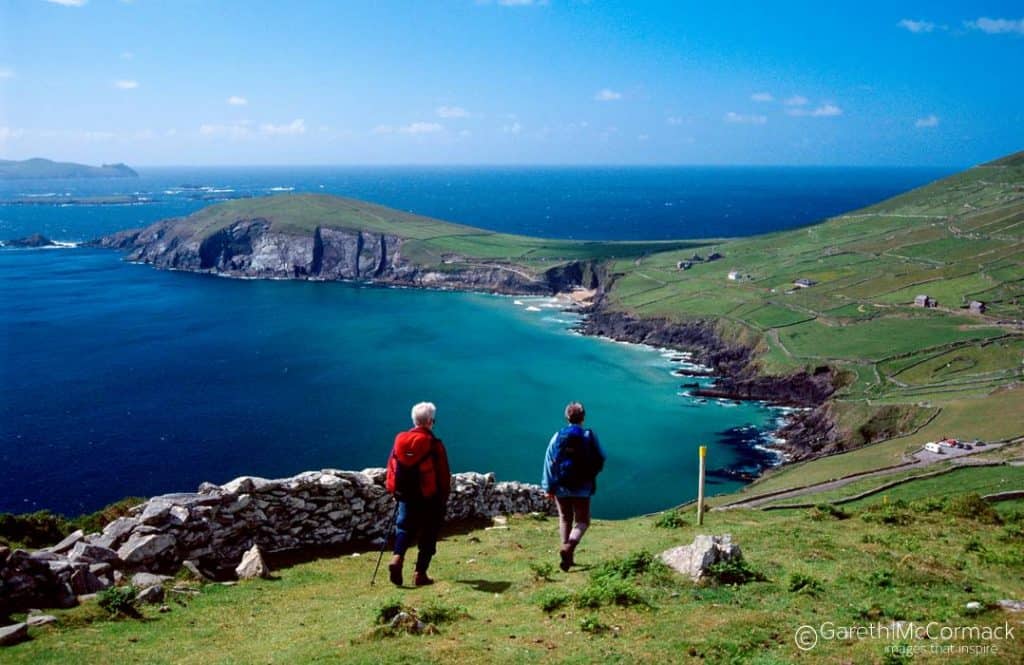 Most walkers of this 111-mile circuit around County Kerry's spectacular Dingle Peninsula are guaranteed to return home with a few more friends and a few more pounds around the waist than they started with. Though taking anywhere from five to ten days to complete and no cakewalk in terms of the physical effort involved, trying to avoid the temptation to indulge in the many treasures of Irish cuisine and culture found in the villages along the route is a largely futile endeavor and one we wouldn't recommend.
If anything, this "bonus feature" serves as the perfect complement to the awesome adventure out on the coast-hugging trail. It also becomes altogether excusable on those not infrequent days when an afternoon in the pub a far more appealing proposition than one spent battling fierce Atlantic gales and a downpour while negotiating a narrow path above a succession of 300-foot cliffs!
The scenery between bars and guesthouses on the Dingle Way is never anything short of superb and the non-liquid and culinary highlights of the trek are the huge, uninterrupted expanses of rugged coastal scenery, the towering cliffs of Dingle Bay, the turquoise waters of Slea Head, and a jaunt up the 3,064-foot, fin-like Mount Brandon on a pilgrimage route first walked as part of the Gaelic Lughnasa harvest-time ritual some 4,000 years ago.
For the perfect combo of culture and awe-inspiring natural scenery, this one's just about the best there is!
Further read:
https://alloutdoorsguide.com/the-best-hiking-trails-in-austin-dont-miss-out/
https://alloutdoorsguide.com/the-best-hiking-trails-in-phoenix-that-youll-love/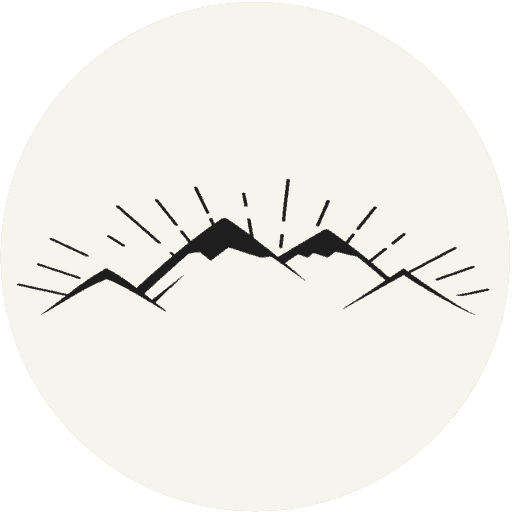 The All-Outdoors Guide team is comprised of enthusiastic experts that enjoy helping others that aspire to be better at outdoor fun. Part of that is making sure you have the right gear and information when it's time to go out and have fun. Some of our team have accomplished amazing feats like climbing 6000 feet to the top of mountains, others have explored every dirt trail they could find and we even have some people that have backpacked solo on various continents. No matter what our readers want to learn and do, our team is here to help them accomplish those goals.