A four-person tent from a reliable outfitter that you can get your hands on for about half of the price of its similarly sized competitors?
Yeah, we were skeptical too…. So skeptical, in fact, that we had to get our grab ourselves our very own REI InCamp 4 to put it to the test and see how this very affordably priced, three-season, the four-person tent would measure up in out in the field.
So, was our skepticism merited? Did this budget-priced car-camping tent offer only budget-priced performance? Or have the guys and gals at REI delivered yet another low-cost wonder that will amaze us with performance and functionality levels comparable to far pricier competitors?
Below, we aim to answer these questions and provide a thorough analysis of the REI InCamp 4's every feature and flaw. We'll start off with a look at what you should be looking for in a three-season car-camping tent and then get down to business with our in-depth review.
What to Look For in a Car-Camping/Family Tent
Because of the divergence in intended use and the nature of the activity, the must-have features for a car-camping tent vary significantly from those of a backpacking or trail tent. Below, we've identified the most important factors you need to take into consideration pre-purchase and offer our advice on how they impact a car-camping tent's performance and general desirability.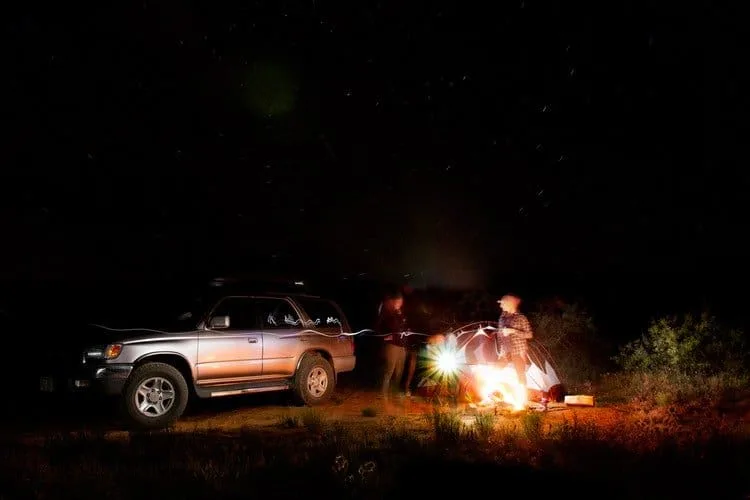 Spaciousness
The chances are that if you're in the market for a car-camping or family tent as opposed to a backpacking or trail tent then the top of your tick list of desirable features is livability. The most important factor in contributing to a tent's livability, particularly when it's going to be hosting numerous bodies, is spaciousness.
While we may be able to get away with a "cozy" (read: spatially deprived) tent if we're only doing the odd overnighter here and there, in the long term, or if we're on a multi-day trip, then every extra square foot becomes prime real estate and inordinately valuable.
When buying your tent, it's a good idea to ignore the "person" or capacity rating ("4-person", "5-person", etc.) given by the manufacturer and jump straight into the measurements given in the product specs.
While we wouldn't want to drop any unseemly accusations, many manufacturers are apt to become incorrigible optimists when assigning their tents a person value (most probably to make them appear to have a more favorable weight-to-volume ratio, we imagine) and inflate the figures accordingly.
So, just how much space do I need?
Four factors are worth considering: square footage, vestibule area, peak height, and length (or breadth if the positioning of sleepers inside the tent is oriented side-to-side as opposed to top-to-bottom):
Square footage — The overall square footage of your tent gives you an idea of just how many people it can comfortably accommodate. As a rough guide, we'd recommend at least 14 square feet per adult to prevent things from being a tight squeeze or a little less (around 12 sq. ft. per person) if camping with your kids.
Vestibule area — The size of the "porch" area(s) of your tent can have a significant bearing on the tent's livability by impacting the amount of usable space both inside and outside the tent.
A large, well-protected vestibule area can, first of all, serve as a storage space for all your kit, thus freeing up space on the tent's interior. Secondly, when it comes to wriggling into or out of your clothing at the start and end of the day, using this space can save you from assaulting your sleeping partners with elbows and knees and also keep any dirty clothing (boots, pants) away from your sleeping area.
Peak height — While banging your head of the tent's poles or ruining your "do" when coming into contact with condensation on the tent's roof isn't likely to figure a deal-breakers for most campers, a little bit of extra headroom can definitely still be a deal maker.
If you're out in the tent for a few days at a time, that added allowance up top can make a real difference to livability by reducing claustrophobia, allowing you to stretch your legs from time to time without exiting the tent, and also move around the interior without resorting to crawling on all fours or shifting about in a squatted position — which, we can assure you, can get very tiring very quickly.
Length/Breadth — Taller sleepers need to ensure that the sleeping area in their tent is going to be long enough to accommodate them without the need for any fetal-style sleeping positions or having to endure the tent's fabric being pressed against their feet or head throughout the night.
Because you'll have your sleeping mat/pad and sleeping bag in there with you, we'd recommend finding a tent with a few inches to spare on either side.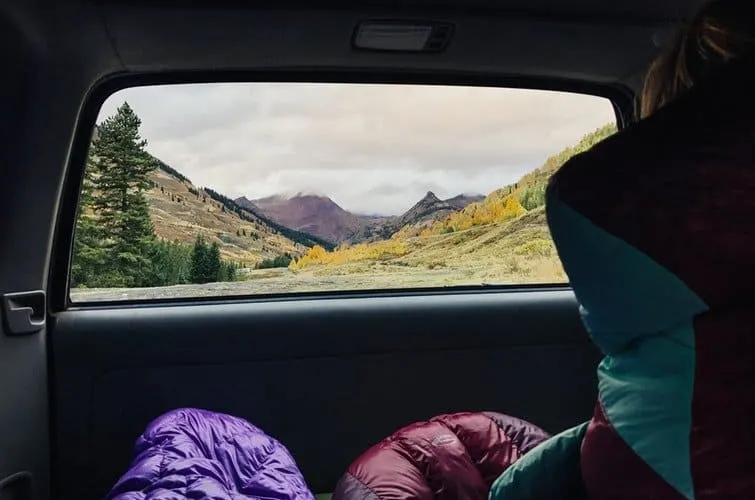 Weight
Car-camping tents are blessed with a ready-made excuse for weightiness in the fact that we never have to carry them any great distance.
Unlike with other backcountry gear items intended for use on the trail, with this one you can throw caution to the wind and opt for a model as heavy as you like (or are capable of carrying the short distance from your car to your pitch).
Ease of Setup
Few frustrations compare to that of attempting to pitch an unobliging or non-user-friendly tent, particularly when you have an audience of well-intentioned but nonetheless riling commentators or onlookers watching your every move from a neighboring pitch or the warmth of the car.
If you happen to arrive at camp late in the day or when the heavens have opened and are doing their best to complicate matters, then the potential for embarrassment and chagrin multiplies tenfold.
Larger tents are also, in most cases, far more unwieldy than their lightweight backcountry brethren. This being so, when buying you want to make sure your potential future campsite bolthole packs a few features that will simplify the whole pitching up process.
The most important of these include color-coded poles and grommets, easy-to-use pole attachment clips (or a color-coded-sleeve), and a freestanding design that lets you pitch up and attach the rainfly without first having to peg out the tent body.
Convenience
A few handy add-ons can go a long way to enhancing a tent's livability and convenience. While not essential, these optional extras can make life a lot more comfortable and make your night's in the tent something to look forward to rather than a necessary evil to be endured with stoic acceptance for the duration of your trip. The most important of these features include the following:
Interior storage pockets to help keep things organized and free up floor space
Large vestibules for storing gear and changing clothes
Multiple, large entry points to avid clambering over your camping partners when moving in and out of the tent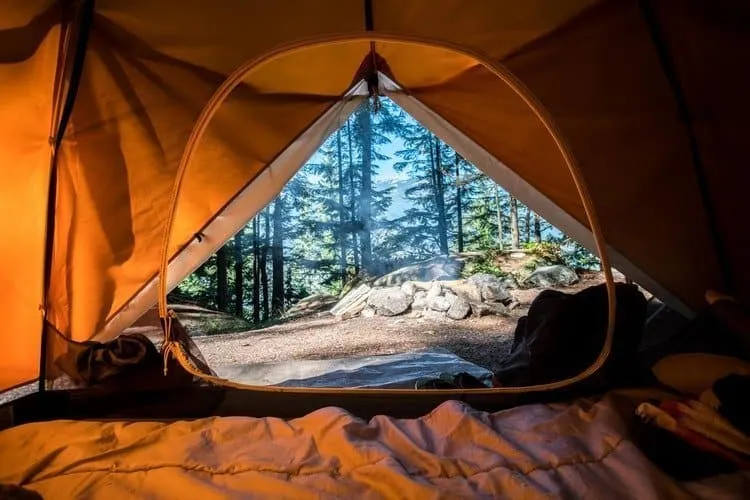 Weather Resistance
Though it's unlikely you're going to be planning too many family camping trips or group trips with friends when all hell's raging down from the skies in liquid form, it's always a good idea to choose a tent that offers solid weather resistance in case things take a turn south during the night or the forecasts — as they are prone to — take an unexpected turn for the worse while you're on the road.
When making your short-list of candidates for the role of your future tent, look for rugged, ripstop fabrics that have a high denier count. Denier counts — usually abbreviated to a 'd' — quantify a material's thickness and, as you might have guessed, the higher the number prior to the 'd', the tougher the fabric will be.
To give you a rough idea, For car-camping tents we'd recommend looking for a bare minimum of 50d on the canopy and rainfly, 30d mesh, and flooring in excess of 200d — owing to the added pressure of body weight and gear upon the fabric, the floor area of the tent is more liable to rips, tears, and leakage than any other.
With regard to waterproofing, we need to look at the tent fabric's hydrostatic head rating, which quantifies the amount of water pressure any fabric can withstand before allowing liquid to pass through.
For the flysheet, we'd look for a hydrostatic head rating in the region of 1,500mm and for the tent floor a rating of, or above, 2,000. For groundsheets or "footprints", the higher the rating the better, and as you don't need to be overly concerned with weight when car-camping we'd recommend opting for a heavier sheet with a hydrostatic head rating of around 3,000mm or higher.
Review of REI InCamp 4 Tent
At-a-Glance Specs
Season rating: 3-season
(True) Capacity: 4-person
Minimum Trail Weight: 10 lbs. 6 oz.
Packaged Weight: 12 pounds
Pack size: 21 x 10 x 10 inches
Floor Dimensions: 8 ft. 4 in. x 7 ft. 6 in.
Floor Area: 62.5 square feet
Vestibule Area: 8.3 square feet
Peak Height: 5 feet 1 inch
Doors: 1
Number of Poles: 3
Pole Material: Aluminum
Canopy Fabric: 75-denier nylon taffeta / 40D nylon mesh
Floor Fabric: 210-denier polyester oxford
Rainfly Fabric:75-denier polyester taffeta
Design Type: Freestanding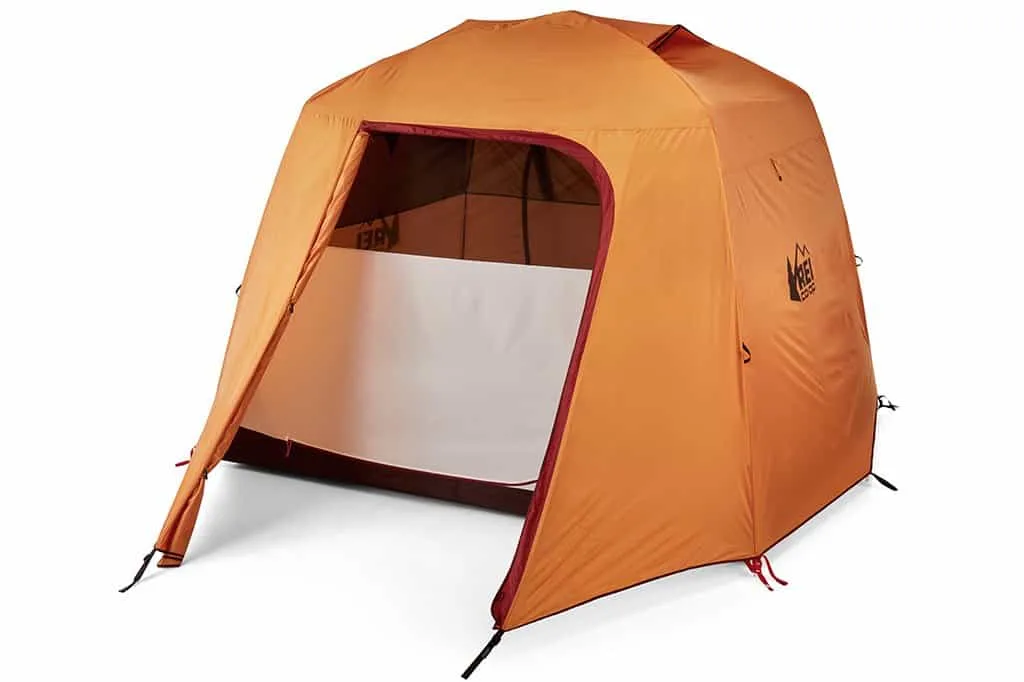 Spaciousness
The InCamp 4 is one of those rare birds among camping tents that actually accommodates comfortably the number of people it claims to. With 62.5 square feet of interior space, in fact, it's almost palatial in there! Ok, so maybe not palatial, but two adult couples could spend a happy weekend inside without any discomfort on account of spatial shortages and a family of four could easily bring along the family pooch too. Not bad for starters…
…and the rest of it's none too shabby either.
At five feet and one inch, the peak height of the InCamp 4 is definitely one of its key selling points and most endearing features. While this isn't high enough to allow most campers to stand up fully, it's more than enough to stretch your legs and perform most in-tent tasks without having to crawl on hands and knees — something that can't be said of the many of its 4-person, 3-season competitors in the same price range.
Finally, the floor dimensions on this tent are a very roomy 8 feet and 4 inches by 7 feet and 6 inches, meaning there's plenty of room for taller sleepers even when the sides or bottom of the tent is crammed with gear — which, we should add, shouldn't be necessary given that the tent's vestibule area measures 8.2 square feet in total.
Weight
With a minimum trail weight of 10 pounds and 6 ounces, this tent isn't going to be winning any prizes for portability any time soon. That said, this weight is very nearly par for the course for three-season car-camping tents and in return, you get oodles of space and a very robust, 3-pole design with very high-denier fabrics (75d on the canopy and rainfly, 210d on the floor).
To give you some grounds for comparison, the very popular Mountain Hardwear Shifter weighs in at a far friendlier 8 pounds and 7 ounces, but also offers only 55 square feet of interior space, a peak height of 4 feet and 5 inches, slightly thinner fabrics, and a footless total width. Oh, and it's almost double the price of the InCamp 4, too!
Perhaps the most important thing to remember here is that the nature of your activity decrees that weight isn't such a big issue — if you're pitching up where you park, there's little point in sacrificing space or other desirable features for weight savings alone.
Ease of Setup
For a large tent, the InCamp is pleasingly easy to set up. Although the poles and grommets don't feature the red/blue (or similar) markings featured on other tents to ensure you get things right, there really isn't any need for them.
Of the three poles used in the design, the two silver-colored poles are interchangeable (they're the same length) and the third, orange pole's positioning is easily identified by the orange strap it fixes into (by grommet) and the orange sleeve above the tent door. If you happen to get these mixed up in front of a campsite audience, you deserve all the jibes and ridicule coming your way!
While listed as a "freestanding" tent, there's little chance you'd be willing to risk using the InCamp 4 without pegging it out, particularly after seeing just how easily the steep front wall gets caught in the wind.
But this, we should add, isn't a major drawback — knocking a few pegs in the ground takes a matter of seconds and is fairly standard procedure even with the most stable of freestanding models.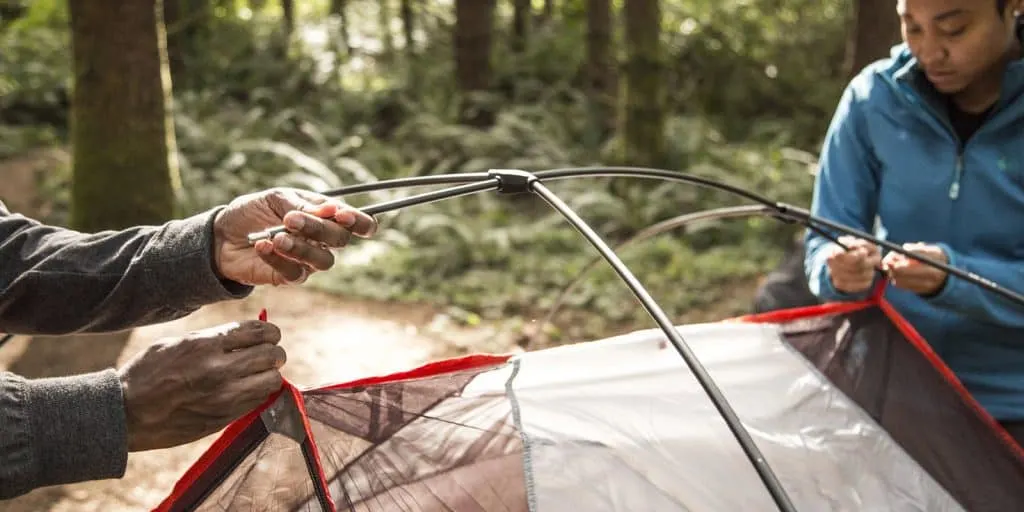 One slight oversight on the part of the manufacturers here is the lack of any clear markings on the rainfly that let you identify the front and back in a hurry. Given that the tent only has one door, the zip is, of course, a bit of a giveaway, but when pitching up in the dark or when the rain's kicked in it's always nice to have every little bit of help you can get…
Convenience
While not exactly "feature-rich," the InCamp 4 has enough handy little extras and nice touches to make it very user-friendly. To provide an overview, we've itemized these in the list below:
A huge door on tent body opens on both sides, giving a very "open-plan" feel to the overall setup on sunny days
Multiple pockets and hang loops on the interior help with organization
A single, 8 square ft. vestibule (this is a little on the shallow side but adequate for gear storage and putting on boots one person at a time)
The fly door can be converted into an awning
The door on tent body rolls up and can be fastened on the tent roof
Spacious, duffel-style carry sack
Weather Resistance
And now time for the bad news…
If there is one aspect in which the InCamp 4 lets itself down it's in its ability to deal with inclement weather. Although adequately sturdy to handle strong winds, when the wet stuff starts falling the tent suddenly starts to show performance levels more in keeping with its price tag.
Somewhat inexplicably, REI doesn't provide a hydrostatic head rating on the fabrics used in this tent, but the presence of the wet stuff on the tent's interior is a fairly unambiguous indicator that whatever that rating is, it isn't high enough for anyone who prefers to do their sleeping without worrying about uninvited liquid guests gatecrashing their slumber during the night.
While much of this problem lies in the lack of waterproofing in the tent's fabrics, the design of the tent doesn't necessarily help matters. Above the tent door, and between the lip of the awning and the tent's central peak, there is a hollow, bowl-like area in which any precipitation quickly collects and, given time, begins seeping through the fabric.
The bottom line? Unless you're a good-weather-only kinda camper, we'd recommend looking elsewhere…
Pros and Cons
Pros
Reasonably priced (even when factoring in additional expenditure required for a footprint and poles)
Easy to set up — even a complete novice should need no more than five minutes
Very spacious, even for four adults
Good peak height (5' 1") allows you to move around freely inside
Fly door converts into an awning
The door is huge — great for lounging inside whilst keeping an eye on the family on sunnier days
Plenty of interior pockets and hang loops let you keep things organized and free up floor space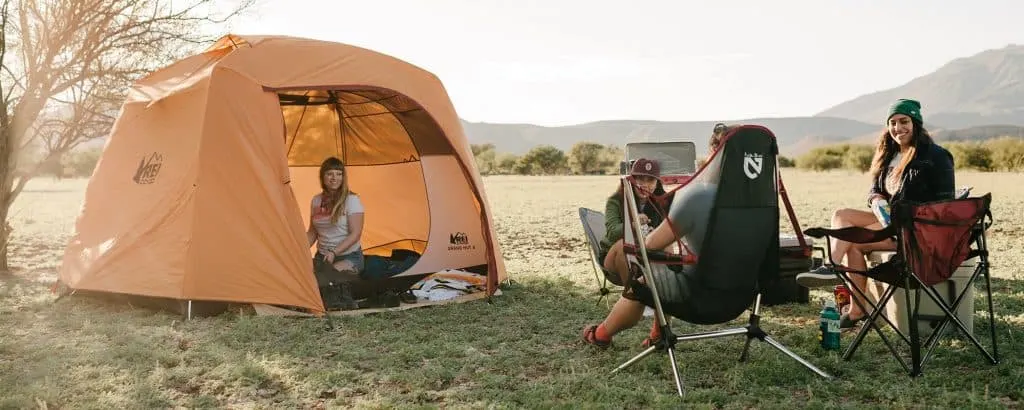 Cons
Very poor weather resistance makes it only suitable for good-weather camping
Footprint and poles must be purchased separately
Zippers have a tendency to snag
Very heavy — not a big issue if car-camping but worth noting if you're not a fan of schlepping large, ponderous bundles even small distances
Conclusion
There's a lot to love about REI's in camp 4 car-camping tent. It's very spacious, livable, has a front door big enough to drive a small car through, and packs a handful of very handy, endearing features like interior storage points and that fairly unique facet that is the tent door that converts into an awning. It's also cheap — very cheap compared to many other true four-person tents with a three-season rating.
But the "but" is a big one…
While this tent performs admirably in almost every category highlighted above, its poor waterproofing capacity leaves it trailing in the wake of most of its pricier rivals and even a large proportion of three-season tents in the same price range.
This being so, we'd recommend this tent for anyone who is intent on fair-weather camping only and wants a cheap, well-made tent with oodles of space for four people, but for everyone else, sadly, we'd suggest a serious upgrade on the weatherproofing front.
A good place to start looking in that respect is the Big Agnes House 4 — a tent that very nearly matches the InCamp 4 for spaciousness and, most importantly, offers pretty much "bombproof" weather resistance.
Further read: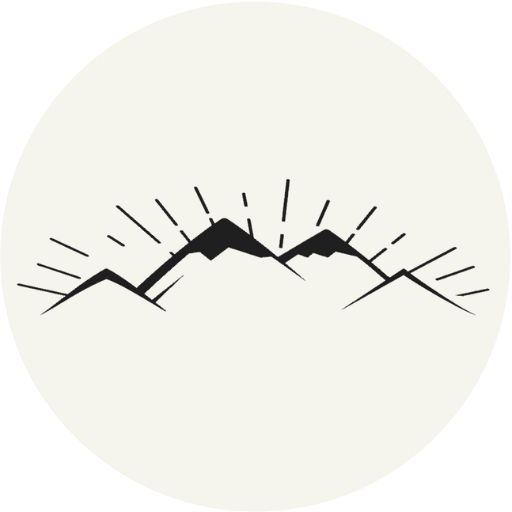 The All-Outdoors Guide team is comprised of enthusiastic experts that enjoy helping others that aspire to be better at outdoor fun. Part of that is making sure you have the right gear and information when it's time to go out and have fun. Some of our team have accomplished amazing feats like climbing 6000 feet to the top of mountains, others have explored every dirt trail they could find and we even have some people that have backpacked solo on various continents. No matter what our readers want to learn and do, our team is here to help them accomplish those goals.