The navigation system built into your smartphone might be fine for casual use, but if you're serious about outdoor sports you're much better off getting a proper, dedicated GPS receiver. There are a lot of advantages to having a separate navigation device akin to the Garmin eTrex 20.
They're usually a lot more weatherproof and robust than a phone, for a start. Most handsets use easily rechargeable batteries, so running out of power is less of an issue. They also generally have a lot more specialized features that come in useful for outdoor activity.
Criteria for Evaluating a Good GPS Navigation Unit
What exactly you're looking for in a handheld GPS navigation unit is going to depend on what you plan to do with it. General backpacking and hiking use doesn't call for the same features like a day out geocaching with the kids – you'll probably be more concerned with battery life and route tracking features than cache software.
Small boat sailors want handheld GPS devices that are completely waterproof, while military and security personnel will be looking for compatibility with standard NATO map projections. Here are some of the main things to keep in mind:
Anything you use outdoors is going to take some knocks eventually, so it needs to be tough enough to withstand them. Rubber armor and Gorilla glass are good things to look for, although there are alternatives. Consider the weather too. Heavy rain will quickly wipe out most consumer electronics, and taking a ducking in a river will get most of the rest. A good GPS handset will be made of tougher stuff. Look for at least IPX 7 water resistance – half an hour submerged at a depth of a meter.
Power supply. We're used to phones, media players and cameras that come with built-in rechargeable lithium-ion battery pack and power packs. Most GPS handsets haven't gone down this route. High-end systems like some Garmin Oregon models have it as an option, but even these let you take it out and replace it with standard batteries. Most handsets run on two or four AA cells. These are widely available and you can carry a good supply of them; if you get stuck away from a power outlet you can just fit a new set. Battery life can vary widely between devices though, so beware of power hogs.
Older GPS units didn't do much more than show your current coordinates, your speed and maybe the direction to your next waypoint. Then compass functions were added. The real revolution came with the appearance of digital mapping and color touch screen; now most gps navigation handsets come with at least some mapping, and many have basic relief maps of the whole world preloaded. More detailed maps can be uploaded to internal memory or installed with a memory card.
Basic functions include the ability to set waypoints and plot your route over the ground. You might also need more advanced capabilities, like being able to upload paperless geocache data.
It can be tough to pick the GPS that's right for you – there's a huge choice now, and while most of the better known models are competent performers it isn't easy to find one that suits everybody. We've tested a wide selection and come up with what we think is the best all-round GPS on the market.
Garmin eTrex 20 Barometric Altimeter
Features At A Glance
2-inch color screen
IPX 7 water resistance
Preloaded worldwide relief base map
GLONASS capable
Comes with Basecamp Software
Since its introduction in 2000, the compact eTrex series has been one of Garmin's most popular offerings and it's stayed right up to date. Aimed squarely at backpackers and outdoor sports enthusiasts, eTrex models go from entry-level to mid-range devices – and at every price point, they have a lot more features than you can expect, such as an electronic compass, GPS tracker, hiking GPS, etc.
The Garmin eTrex 20 is widely seen as the standard to aim at in the sub-$200 GPS market, a title we think it definitely deserves.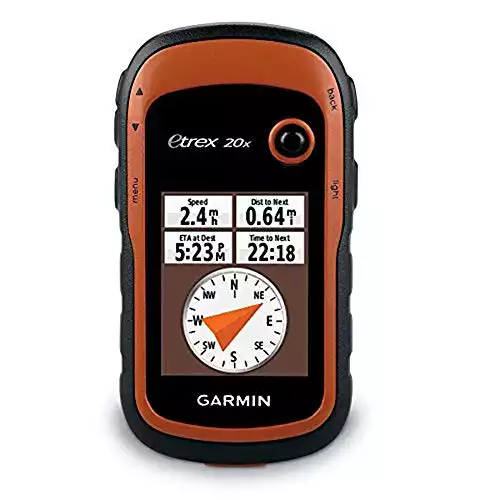 Garmin eTrex 20x
eTrex 20x is our upgraded version of the popular eTrex 20, with enhanced screen resolution for a more readable display and internal memory expanded to hold more maps.
Buy at Amazon.com
Buy directly at Garmin.com
We earn a commission if you click this link and make a purchase at no additional cost to you.
It's a very compact unit at just four inches long and slightly over half that wide, and weighs only five ounces with a pair of AA batteries fitted.
It feels solidly made, with a tough case and rubberized coating. It's rated as IPX 7 water resistance, which means it can handle being submerged for half an hour at a depth of one meter without any water getting in; that's more than adequate for any activity on land and most water sports.
Spray, or even the odd whitecap, coming into the cockpit of your boat isn't going to faze the Garmin eTrex 20; it shrugs off rainstorms like the proverbial duck. The back of the case features Garmin's "backbone" attachment system, so mounts, belt clips and other accessories simply snap on. The battery compartment is securely fastened with a captive screw. It requires 1 lithium-ion battery
The screen is one of the two keys to the usability of any handset and the sTrex has an excellent one. In keeping with the size of the unit, it's quite small, at 2.2 inches diagonally, but it's sharp and clear. Resolution is 240 by 320 pixels according to Garmin, and it's billed as sunlight readable.
We certainly didn't have any issues viewing it in a variety of weather conditions, including pretty bright sunlight. This is one of the best small non-touchscreen high-resolution display we've seen on a GPS, especially at this price point.
The only gripe we have with the screen is that it's not recessed into the case at all, so it's practically the highest point of the device. Watch out for anything that could scratch it.
As well as a good screen you need a usable user interface, and the eTrex has this too. There are buttons arrayed round both sides of the case; on the left two small keys to let you zoom in and out, plus one that takes you straight to the main menu. On the right there's a "back" key, to return to the previous page, and the power/backlight switch.
What you'll use most, though, is the mini-joystick on the front of the device just above the right edge of the screen. It's small but easy to use, and you can quickly hop round a page of menu options.
Once you get to the item you want a press on the joystick will select it for you. All the controls are rubberized and weatherproof.
That just leaves how well it works, and the answer is very well. Impressively for a handset at this price, the eTrex 20 can use the Russian GLONASS system as well as GPS, and the extra satellite imagery let it find its position noticeably faster than a GPS-only unit.
Once you know where you are you can enter up to 2,000 waypoints and 200 routes – there's 1.7Mb of free internal memory, as well as a MicroSD card slot hidden under the batteries for loading additional mapping.
Like most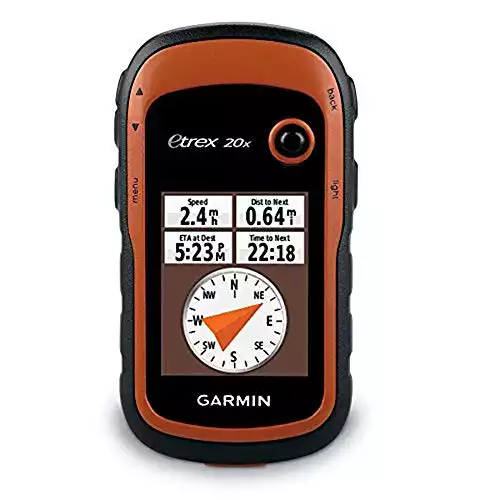 Garmin eTrex 20x
eTrex 20x is our upgraded version of the popular eTrex 20, with enhanced screen resolution for a more readable display and internal memory expanded to hold more maps.
Buy at Amazon.com
Buy directly at Garmin.com
We earn a commission if you click this link and make a purchase at no additional cost to you.
is stuffed with functions, including an almanac that gives you sun and moon data plus predicted good times to hunt or fish. There's a proximity alarm that will tell you when you come within a specified distance of a location. You can even calculate the size of an area by walking round its perimeter.
One of the most popular functions, however, is probably going to be its ability to download paperless geocache files straight from your computer. Just plug it in with the supplied USB cable, install the Garmin plugin for your browser and you can send GPX files straight to the eTrex.
Once they're loaded there's a smartphone GPS app already in the menu that will list all your stored geocaches; just select the one you want and navigate to it. Data – including geocaches – can also be shared wirelessly between eTrex handsets.
The eTrex series were designed as primarily handheld GPS units, but don't feel restricted. A variety of mounts are available, so you can easily fit yours to your bike, car or boat. With the right mapping installed it's perfectly capable of doubling as an in-car satnav, although you won't be able to run it off the vehicle power socket – it's strictly battery powered.
Battery life is good, by the way, at up to 25 hours from a pair of AA cells – although the backlight will eat into this rapidly, so don't use it if you don't have to.
My Garmin eTrex 20 Verdict: A rugged and compact design, with a lot of features, the eTrex 20 is the best all-round GPS handset we've found so far. It has all the performance you need for just about any outdoor activity. To save a 5-10% of the list price,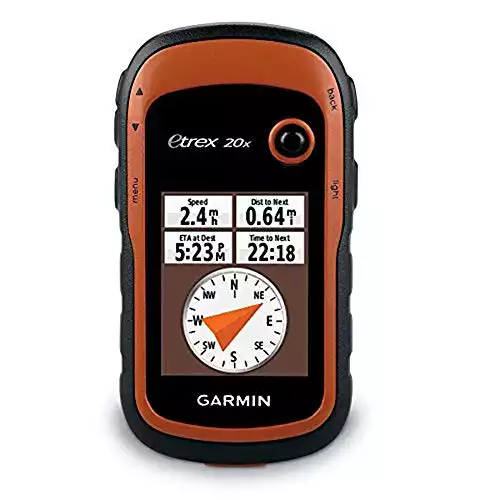 Garmin eTrex 20x
eTrex 20x is our upgraded version of the popular eTrex 20, with enhanced screen resolution for a more readable display and internal memory expanded to hold more maps.
Buy at Amazon.com
Buy directly at Garmin.com
We earn a commission if you click this link and make a purchase at no additional cost to you.
Recommended Reads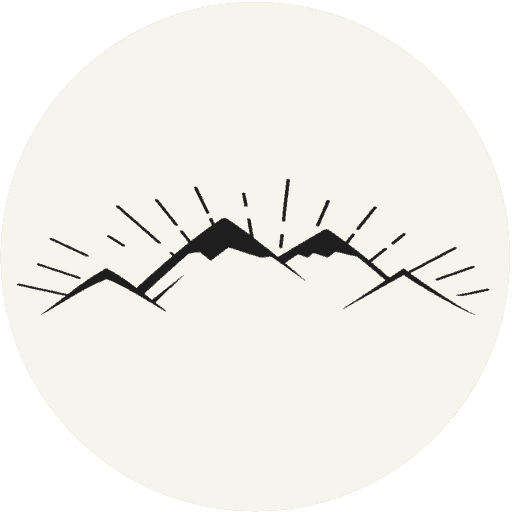 The All-Outdoors Guide team is comprised of enthusiastic experts that enjoy helping others that aspire to be better at outdoor fun. Part of that is making sure you have the right gear and information when it's time to go out and have fun. Some of our team have accomplished amazing feats like climbing 6000 feet to the top of mountains, others have explored every dirt trail they could find and we even have some people that have backpacked solo on various continents. No matter what our readers want to learn and do, our team is here to help them accomplish those goals.