These days just about every smartphone comes with GPS capability, so why would you want to spend money on a dedicated GPS handset? It turns out there are a few reasons.
For a start, a lot of phones actually use Assisted GPS – their main way of finding out where they are is through cellphone towers, with satellite tracking as a backup.
These systems can become spectacularly inaccurate when you move out of cellphone coverage – and depending on your plan you might find data charges adding up rapidly.
Smartphones also tend not to be as robust as a good standalone system, and their battery life is often much shorter. Many GPS handsets use replaceable common batteries and aren't tied to a charger.
Finally, a phone is a very personal item with a lot of data stored on it; it's not the sort of thing you necessarily want to pass round a group when you're on an expedition. A straightforward GPS doesn't have all your emails, texts and photos stored in its memory.
If you only need GPS capability occasionally your phone is probably adequate, but if you do a lot of outdoor activities you're probably much better off getting a proper handset, and keeping your phone for backup.
The good news here is that you can now get a decent, compact navigation system for less than $120, and if your budget's higher than that some amazing functionality is available. Let's look at three popular handsets that cover all the bases.
Economical Performance – Magellan Triton 2000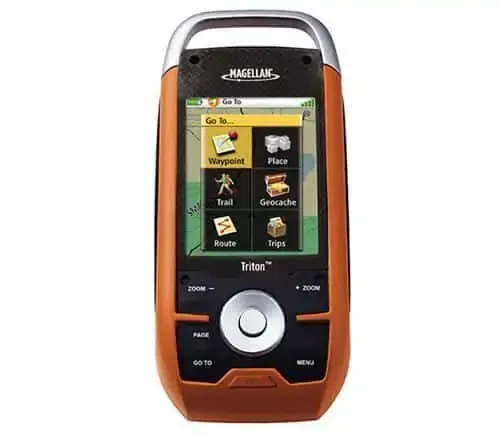 Features At A Glance:
7 inch touch screen
Waterproof case
2MP camera
MP3 player
LED flashlight
The Triton 2000 from Magellan is an entry level handset, costing just under $299 (For the latest prices and discounts, check here). Normally you'd expect a pretty basic unit for that price but the Triton packs in quite a few surprises. The first one isn't all that welcome; the printed instruction manual isn't great. Get on the Magellan website and download the PDF one from there.
Once you have the instructions you can start getting used to the Triton's functions, and it has plenty of them. It's all packaged in a neat, fairly compact unit that seems robust and well put together – it definitely doesn't feel cheap.
The case is covered with orange rubber armor, and the function buttons are also under rubber. They take some pressure to operate but you soon get used to it. What takes a bit more getting used to is the menu system.
This is slightly clunky, and some simple tasks involve clicking through multiple screens, but you'll soon master the basics.
As a navigation unit the Triton does all you could ask of it. Basic mapping for North America is built in and it has a slot for SD cards up to 4 Gb, which lets you load more detailed sheets. The GPS chipset is the popular SiRFstar III and it has Wide Area Augmentation System capability to bring accuracy down to three meters.
The Triton's camera isn't the easiest to use – its controls are buried under several layers of menu – and the 2 MP resolution is low by modern standards, but it's fine for the occasional snapshot. Images, or videos up to a minute long, can be stored on an SD card.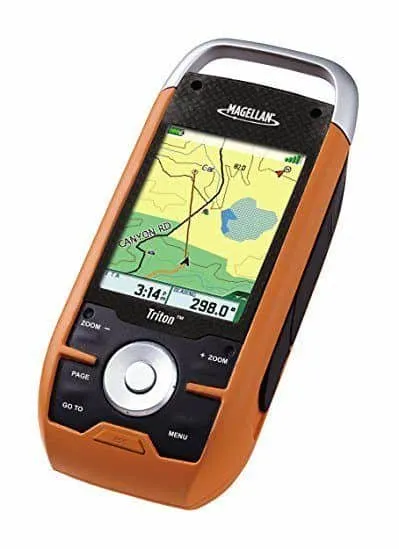 The MP3 player is also adequate; again it uses an SD card for storage. Just be aware that using either of those features will eat battery life, which isn't great to start with. The Triton takes two AA cells, and it's a good idea to carry plenty spares.
Pros
Good screen
Rugged construction
Excellent price
Cons
Awkward menus
Mediocre battery life
Verdict: Decent performance at a very attractive price, with some useful extras. If you're looking for a capable GPS but don't have a big budget, this is the one for you. Check it out here.
Excellent all-rounder – Magellan eXplorist 110
Features At A Glance:
2 inch screen
Waterproof case
Paperless geocaching support
Preloaded world road map
500Mb free internal memory
The eXplorist 110 costs slightly more than the Triton 2000 – you can usually find it for around $130 here – and doesn't have many of the cheaper unit's features, but it also has a few advantages. It's more compact and has much better battery life – up to 18 hours on two AA cells.
Like the Triton, the eXplorist is protected by rubber armor and the case will withstand being submerged under a meter of water for up to 30 minutes. It also uses the SiRFstar III chipset with augmentation, for three meter accuracy. You'll find a few more navigation options though.
The eXplorist can store 25 different routes and up to 1,000 waypoints. It tracks and records your movements, and you can display them on the screen later. There's a handy dashboard function displaying the compass, bearing to next waypoint and other basic details.
If you're into geocaching it also has support for paperless caches; you can upload a mass of information on up to 500 of them. Finally, if you have a laptop with VantagePoint software you can attach the eXplorist with a USB cable and display your progress on the big screen.
There are definite downsides to the eXplorist; it doesn't have a touch screen, which is pretty much a standard feature these days, and the screen is the smallest of the three. As a pure navigation tool it's flawless, though, and that's what it's designed to do. Particularly for geocaching, this is a very good option.
Pros
Very sturdy
Compact
Good battery life
Cons
Verdict: A good GPS handset that will do well for most outdoor pursuits. Highly focused on navigation – which is what it's for. It's also very affordable,available for about $130 here.
Full Featured Flexibility – Garmin Oregon 650
Features At A Glance:
3 inch glass multi-touch screen
Waterproof case
GLONASS support
8 MP camera
Flash with emergency strobe mode
5 Gb internal storage
Garmin's Oregon 650 is a much more expensive piece of kit – it should cost you around $400 (For the latest prices and discounts, check here) . Obviously the big question is, what do you get for the extra money? Quite a lot in fact. As you'd expect the Garmin feels well made, but that can't account for the price difference between it and the two Magellans.
It's when you start using it that you see where the extra money was spent. The Oregon has a lot of functions, and the big screen with its smartphone-style interface makes it easy to get to them. In fact the only button on the Oregon is the power switch; everything else is done through the screen.
To speed the process up you can create your own shortcuts, and multi-touch makes it really easy to zoom or rotate the extensive built-in mapping (it comes with basic relief maps of the whole world, and regional detail can be added on an SD card).
One other thing that needs to be said about this is that, as a navigation device, it's outstanding. It boots up quickly – usually around 10-12 seconds – and gets a satellite fix faster than either of the Magellans.
As well as the GPS network it can also use the Russian GLONASS satellites, so it has a better chance of finding enough satellites even where sightlines are restricted.
That helps accuracy too, plus it has the same augmentation functions as the Magellans – this handset is very precise. It also has plenty of storage; there's room for 4 million geocache locations, i.e. all of them and then some. Caches can be listed or displayed on the mapping, and the list is easily searchable.
The additional features are handy too. The camera has a respectable resolution and automatic flash, which can also be used as a flashlight or emergency strobe. The Oregon comes with a rechargeable battery pack but can also use standard AAs. Battery life is reasonable for a device like this, but not as long as the eXplorist.
Overall this is a very capable handset and you definitely get what you pay for. It's rugged, accurate and packed with features. It is slightly bulky compared to some competitors but not enough to be a problem. Slightly cheaper versions are available without the camera or with reduced (1.5 Gb) storage; these go for about $300.
Pros
Extremely tough
Very accurate
Good camera
Massive storage
Global base mapping
Cons
Verdict: If you're looking for a high-end GPS capable of handling anything this should definitely be on your shortlist. It's extremely hard to beat. Check out this listing for the lowest price I've fond.
Recommended Reads: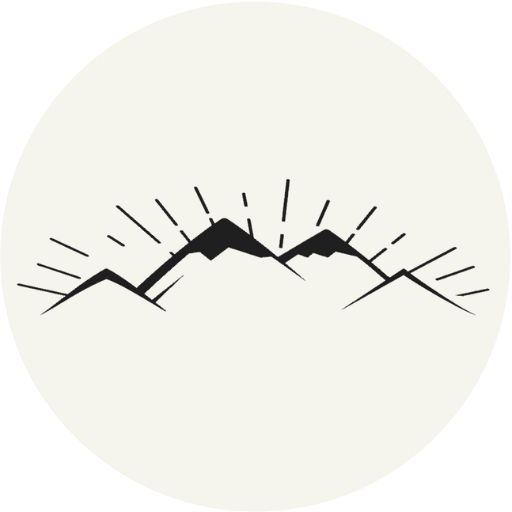 The All-Outdoors Guide team is comprised of enthusiastic experts that enjoy helping others that aspire to be better at outdoor fun. Part of that is making sure you have the right gear and information when it's time to go out and have fun. Some of our team have accomplished amazing feats like climbing 6000 feet to the top of mountains, others have explored every dirt trail they could find and we even have some people that have backpacked solo on various continents. No matter what our readers want to learn and do, our team is here to help them accomplish those goals.