The days of simply hanging up your food in a bag suspended by a rope over a tree branch are long gone. While some campers and backpackers now use an improved suspended bag technique, others are switching entirely over to the use of special canisters.
Why Bear Canisters?
Bear canisters are extremely durable containers made of materials like steel or tough plastic. They are designed to protect food by blocking scent as well as deter bears from actually breaking into the container.
Bear canisters are an excellent investment, considered to be a must-have by many outdoor enthusiasts. In fact, some state parks only allow campers to store their food in approved bear-proof canisters so if you plan to visit you will need one.
Not all bear canisters are as effective as others. Weight is also a concern, especially when backpacking into the camping area. Here are three of the best bear canisters, chosen for their design, weight, and price-point.
Every camper and backpacker should have at least one quality bear canister in their gear cache. Some backpackers even choose to carry a canister for day-long treks into the backcountry in areas known for bears.
The Simple Reason: Stop risking your safety with storing food at the camp and save time by skipping the tricky suspended technique- switch to an approved bear-proof canister before your next trip.
#1 Lighter1 Polycarb Canister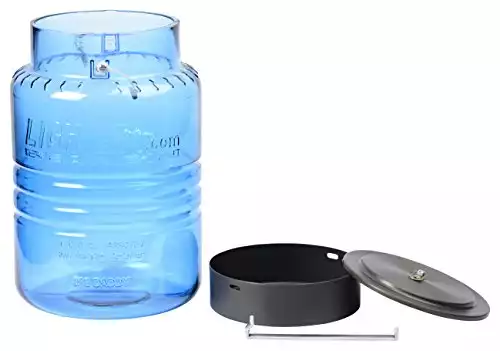 Lighter1 Big Daddy Bear Canister | Amazon
The Big Daddy features unique canister/cook pan combination system, with the anodized aluminum canister lid doubling as a cook pan and the internal aluminum bracket working overtime as a detachable pan handle.
Buy at Amazon.com
We earn a commission if you click this link and make a purchase at no additional cost to you.
Lighter1 is a new brand but has already made quite an impression. Right now Lighter1 has two polycarbonate bear-proof canisters for sale- the Big Daddy and the Lil' Sami.
Both canisters have been approved by the IGBC or the Interagency Grizzly Bear Committee. This means that these canisters are approved for uses in National Parks like:
Yosemite
Sequoia
Denali
Kings Canyon
Kluane
Rocky Mnt.
Glacier
These canisters all passed the Grizzly and Wolf Center Live Bear Test as well.
One very cool feature available with Lighter1 canisters is that each comes with a special cooking pan that functions as a lid. No other bear-proof canister has this feature, yet it is an ingenious way of saving space when it comes to food preparation.
Big Daddy details:
Ideal for long camping trips or group food storage on short trips
Packed size is 8.7″ x 6.7″ x 18″
671 cu. in. capacity
Weighs 2 lbs 4 oz
The cooking pan weighs 6 oz
The handle weighs 1 oz
Cooking pan lid weighs 2 oz (sold separately)
Retails for about $99.95 as of this writing
Lil' Sami details:
Ideal for solo or weekend trips
The packed size is 7″ x 9″
305 cu. in. capacity
Weighs 1 lb 5 oz
Cooking pan, handle and lid all same as Big Daddy
Retails for $94.95 as of this writing
Both canisters are made out of an extremely durable yet ultra-lightweight polycarb material. The special design of this canister means the pan that comes with its functions as the lid.
This means you have one less item to carry in your backpack. Not to mention it makes keeping all food items and cooking gear in one spot. They sell a lid for the pan separately, and at only 1 oz it doesn't add much to your load.
The Lighter1 Big Daddy and Lil' Sami have already been awarded as the Best New Camping Invention. It is a two-in-one product that is easy to open and fill yet difficult for bears to get into.
It is extremely light in weight and the translucent sides make it easy to see what contents are in it. You can purchase these canisters.
#2 Garcia Bear-Resistant Container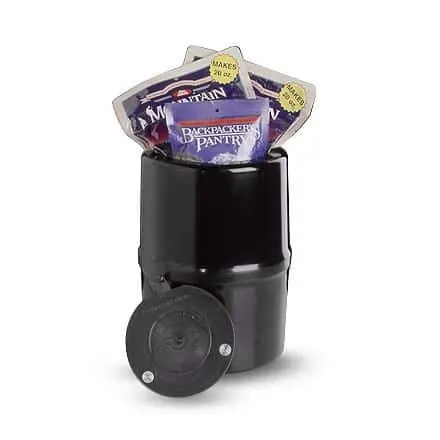 Garcia Machine may not have a lot of information out about its company but their Bear-Resistant Container is quite popular. There aren't a lot of bear canisters out there but Garcia's is one of the best for a few reasons.
Product Details
Made of ABS polymer for maximum bear protection
Smooth sides and rounded edges make it difficult for bears to hold onto
The lid is designed to open with a flat edge, such as a coin or a straight-slot screwdriver
Comes with a food-safe plastic bag to keep the container interior clean
Offers 10 liters or 614 cu. in. of storage space
Measures 12″ x 8.8″ and weighs 2 lbs 12 oz
Retails for $69.99 as of this writing
Garcia isn't new to making canisters. Since 1982 they've been designing containers that will reliably keep food safe from various types of wildlife. With the help of wildlife specialists and real tests by Grizzlies, they've developed some of the most reliable canisters on the market.
Studies done on the use of special bear-proof canisters prove that using these drastically reduces the chances of bear and human conflicts over food. These Garcia containers are so well-known that they are recommended and used by National Park rangers.
They are approved for use in major National parks and are recommended for state parks.
While a canister seems fairly simple, Garcia was able to add features that set it apart from others. For example, the smooth-sided and rounded edges are easy for people to hold but prove difficult for Grizzlies to grab onto or bite.
The lid has strong stainless steel locks which open without a key – instead, you use a coin or carry a small screwdriver to pop it open. This locking design makes it impossible for a bear's teeth or claws to open it.
The Garcia Bear-Resistant Canister isn't the most lightweight model but it is still loved by campers, backpackers, and outdoor professionals. With its proven reliability and its reasonable price, you really can't go wrong.
#3 BearVault Bear Resistant Food Containers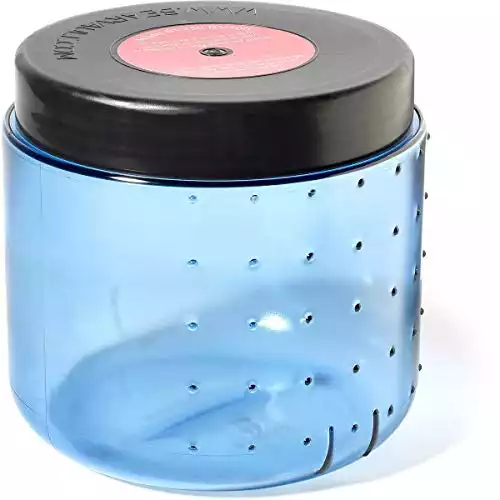 Similar to Garcia, BearVault has been around for a while and is a popular brand name. They are a top competitor of Garcia, and while both containers are equally reliable there are some differences.
First off, BearVault offers two models, which are currently available – the BV450 and the BV500.
BearVault BV450 details:
Weighs 2 lbs 1 oz
440 cu. in. or 7.2-liter capacity
7″ x 8.3″
BearVault BV500 details:
Weighs 2 lbs 9 oz
700 cu. in. or 11.5-liter capacity
7″ x 12.7″
Both canisters are virtually identical except for size. These containers have a wide mouth opening and are translucent to allow for easy viewing. Even though the lid is extremely secure it doesn't require any tools to open. The lid is also rain-proof so you don't need to worry about storing it out in the weather.
The polycarbonate body can handle bears of all kinds and is SIBBG approved for black bears and IGBC approved for grizzly bears.
Another really cool feature is that this canister has strap guides so you can carry it on the outside of your backpack. Most other models have to be carried inside your bag or in it's own special bag so this feature makes it perfect for campers and backpackers.
Another advantage of BearVault products is that they can be found in major outdoor retailers like Campsaver and even Amazon.
The Bear Facts
The use of bear canisters while camping is extremely important, even when staying overnight at places that don't often have bear sightings. Not only is there an obvious danger of bears harming people over food but even non-aggressive bears can become problems when they associate campsites with tasty treats.
This often ends with a bear having to be captured for relocation or even put to sleep due to safety concerns.
Simply storing your food in bear-proof containers will go a long way to keep both people and bears safe.
Further read: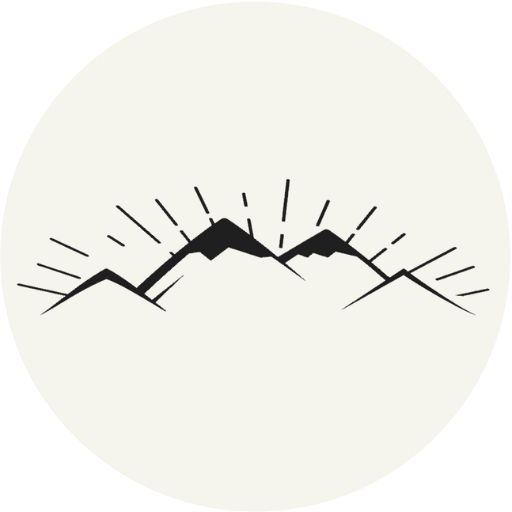 The All-Outdoors Guide team is comprised of enthusiastic experts that enjoy helping others that aspire to be better at outdoor fun. Part of that is making sure you have the right gear and information when it's time to go out and have fun. Some of our team have accomplished amazing feats like climbing 6000 feet to the top of mountains, others have explored every dirt trail they could find and we even have some people that have backpacked solo on various continents. No matter what our readers want to learn and do, our team is here to help them accomplish those goals.