The Oboz Footwear brand has been around for a decade now. Originally founded in Bozeman, MT, Oboz is now available worldwide and has succeeded in the very competitive world of outdoor footwear. Aside from being well-known for their quality shoes and boots, Oboz is also known for their One More Tree program.
The One More Tree program is in partnership with Trees for the Future, which works towards planting more trees to bring back sustainability and improve the land. For every pair of shoes, Oboz sells a tree is planted and so far they've planted over 1.5 million (and counting).
Not only is this brand dedicated to quality footwear, but they also help the environment at the same time. It's safe to say that any outdoor enthusiast can appreciate this. Oboz has a very nice selection of footwear, from sandals to boots, but all their footwear focuses on keeping feet comfortable so you aren't distracted during your excursions into nature.
Durability and solid construction are obvious goals, but so is the comfort and an attractive design. One particular model that does exceptionally well all around is the Firebrand II.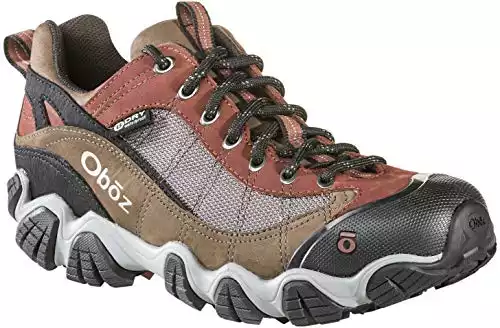 Design and Construction of the Firebrand II
The Oboz Firebrand II is a rugged hiking shoe designed with waterproof technology. It is a very versatile model, offering "multisport performance" and a solid fit that allows for very long treks. With the way, it is designed it nearly looks more like a hiking boot (minus the ankle support) than a hiking shoe.
As mentioned, this shoe is very well-designed, with Oboz including some excellent features. The design of this shoe includes:
O Fit Sculpted Insole
The O Fit insole is a proprietary design of Oboz. The black and yellow insoles might look fairly simple, but they are carefully designed with 5 different layers. Throughout the sole Oboz added a medium density EVA foam. This offers support without the excessive cushion.
The heel of the insole has an added EVA sculpted heel cup along with arch support. This foam is higher density, focusing mostly on keeping the foot stable. As for comfort, you can thank the low-density, soft EVA foam pods located in the forefoot. Feet are kept cool and sweat-free with an additional wicking top layer that finished the insole.
Cult Classic Sawtooth Midsole and Outsole
Protecting your feet from the terrain is the classic Oboz Sawtooth midsole and outsole combination. The midsole is specifically designed to work with the outsole, fitting it incredibly well. The nylon shank present in the midsole focuses on support while the overall EVA dual-density foam aids in balance as well as comfort.
As you'd expect, the outsole is all about grip. The Sawtooth sole is a favorite of hikers for its unique combination of flexibility in movement and supportive grip. This sole isn't overly aggressive, which only adds to its versatility. Interestingly, this sole design actually features the design of the Sawtooth Mountains in Idaho, which is where it gets its name.
Beautiful Nubuck Leather Uppers
A combination of Nubuck leather and abrasion-resistant nylon mesh paneling make up the upper of this shoe. This combines foot protection with breathability, an important pairing when you need moisture-wicking but don't need to be dealing with damp feet.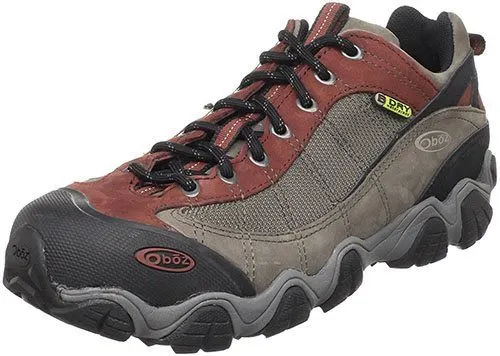 B-Dry Waterproof Technology
Oboz layered specific materials to achieve a waterproof yet breathable shoe. These shoes have a comfortable liner mesh inside, a layer of B-Dry Waterproof Membrane, an additional layer of tougher Trico mesh, finished with the naturally waterproof Nubuck leather upper.
Durable Rubber Toe Cap
Though it may seem a small feature to the eye, a rubber toe cap is a very important part of hiking shoe anatomy. Oboz added a molded, super tough toe cap to ensure your foot remains protected against rocks, shrubs, tree roots, and more. This top cap also protects the upper, thus extending the life of your shoe by reducing wear-and-tear.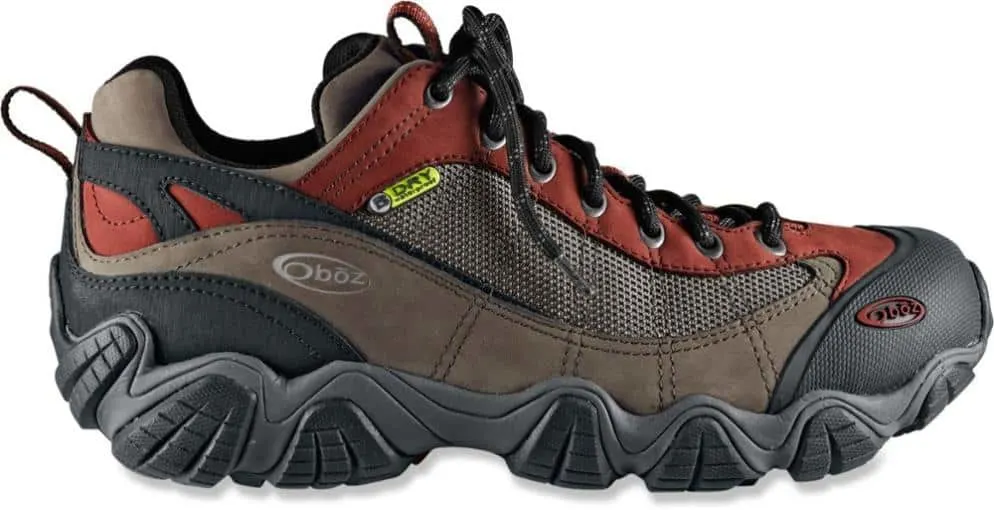 Some other details you should know about the Firebrand II include:
Comes in two color options – Earth (taupe and muted terracotta tones) and Gray (gray, taupe and light sand tones)

Available in men's shoe sizes from 7 to 14, with half-sizes for sizes 7 to 11

Option for either a Regular or Wide width

Retails for $140 from most retailers

Approximate weight of 2 lbs 5 oz per pair (will vary based on size & width)
With the main features and specs out of the way, let's consider why you may or may not want to purchase a pair of these for yourself.
Advantages of the Firebrand II
Here are the three main reasons why the Firebrand II is such a highly rated hiking shoe.
Very Attractive, Striking Appearance
Appearance certainly isn't everything, nor the more important thing, but it goes without saying that an attractive hiking shoe is pleasing to wear. The Firebrand II is very striking in design, with even the more muted Gray color choice still popping thanks to the use of varying tones and black rubber accents.
The Earth color is bright enough to catch your eye, which most seem to love. The burly look of the shoe is also appreciated by those that like the look of hiking boots, but either don't want the weight of them or simply prefer a shoe.
You probably won't want to wear these to the office, no matter how casual your work may be, but outdoors they look very technical and high quality.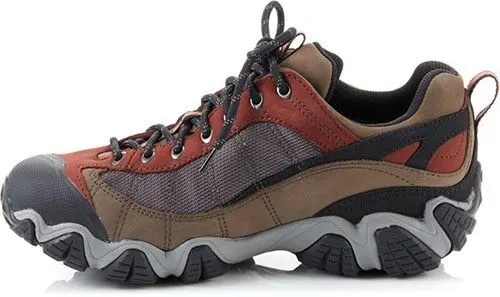 Truly "Weatherproof" and Highly Resistant to Water
One of the most important advantages of the Firebrand II is that it actually lives up to its waterproof marketing. There is nothing as disappointing as a brand making bold claims, just to find yourself with wet feet when you're miles from camp.
Oboz designed this shoe to be highly resistant to water and customers find it is. Overall weather-proofness is very high with these boots. Some find they can stand in water for a prolonged time and not experience leaks, meaning normal hiking with a surprise rainstorm or creek crossing is hardly an issue.
Very Comfortable for Long Hikes or Difficult Terrain
Waterproofness aside, the Firebrand II is a very comfortable shoe. It fits very well and most customers find that upsizing to the Wide width actually makes a difference for larger feet.
It has excellent grip, which seems to be able to tackle everything from rock, snow, to slippery wet cement with ease. The sole of this shoe is a bit stiffer than others, which really helps with maintaining balance and stability.
Disadvantages of the Firebrand II
It is difficult to find issues with the Firebrand II, but there is one common potential con to keep in mind.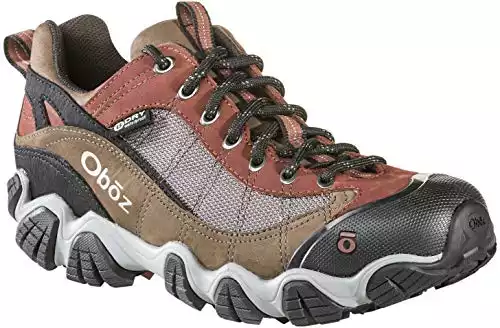 Unusually Warm for a Hiking Shoe
More than a few have found that the Firebrand II is surprisingly warm for a hiking shoe, offering insulation closer to a fall/winter hiking boot. This is either a boon or a bane for hikers. If you are hiking in chilly weather you will love the added insulation.
However, if you plan on going on with these in the heat of the summer, you find to be left with uncomfortably sweaty feet as you can only expect the shoes to be so breathable. This isn't quite reasoning enough to skip this model completely. Just be wary of high temps when you go to grab this pair.
Overall the Firebrand II is an excellent hiking shoe, particularly for those that want the hefty feel and warmth of a hiking boot but don't need/want ankle protection. These shoes seem to be able to go anywhere and everywhere, really acting as a testament to how experienced the folks at Oboz are at impeccable footwear design.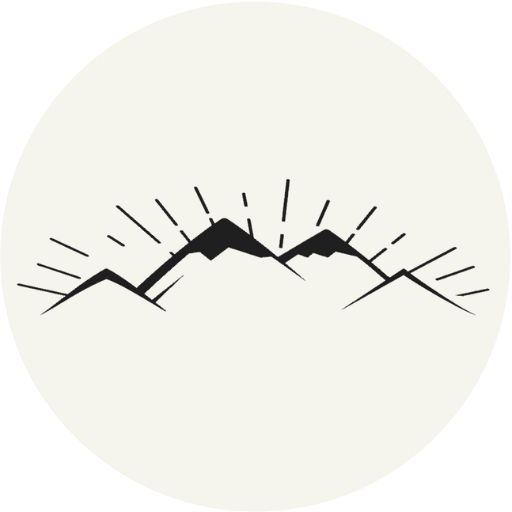 The All-Outdoors Guide team is comprised of enthusiastic experts that enjoy helping others that aspire to be better at outdoor fun. Part of that is making sure you have the right gear and information when it's time to go out and have fun. Some of our team have accomplished amazing feats like climbing 6000 feet to the top of mountains, others have explored every dirt trail they could find and we even have some people that have backpacked solo on various continents. No matter what our readers want to learn and do, our team is here to help them accomplish those goals.